If you're a working mom with a busy schedule and hectic routine, striking a balance between work and family life can be the hardest. You may often wish you could spend more time with your kids and look after your home. Sometimes, it can be challenging to do everything on your wishlist when you do have the time. Well, not anymore!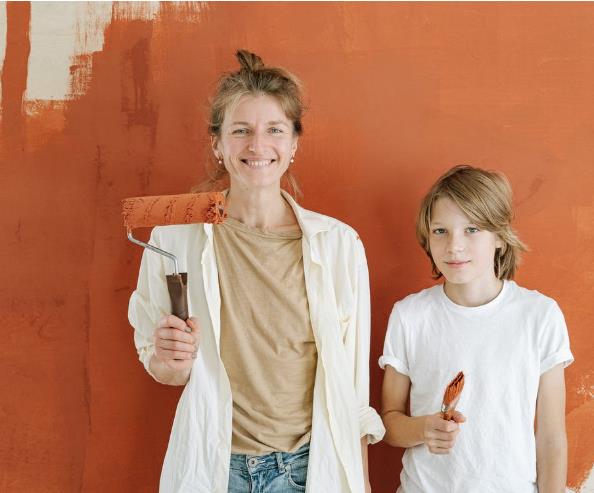 What if we told you that you could have the best of both worlds at the same time? Sounds interesting? Well, it sure is because we know the perfect way to enjoy a great bonding time with your kids while giving your home a new vibe and fresh look.
Here is a list of some amazing home improvement projects that you can do with kids and get them involved. We promise you that you and your little ones will have lots of fun and make beautiful memories that you can cherish forever. Take a look:
Painting—Get Creative
Whether it's the kids' room, furniture, or the fence around your yard, get your kids involved in the DIY home improvement painting project for hours of fun and excitement. This is a great way to give your home a new look while teaching kids a great skill and strengthening your bond with them.
As painting projects are easy to fix, you can let your kids go creative. This will help them think of unique ideas, spark creativity, and go crazy. Kids will have a fun time painting their space just the way they want, and you will be able to spend quality time with them while giving the room a new look. It's a win-win all the way.
Go Outdoors and Work Around the Yard
When it comes to home improvement, your outdoor landscape needs a makeover too. And what better way to give your yard a new vibe than to make the kids in charge. After all, kids love being outdoors. And the best part is that they can have some of the best ideas ever. So, get them involved. Give them the flexibility and power to make it a fun place.
There are innumerable ways to increase the visual appeal of your lawn. From a fun outdoor pool to kids swing set, slides, and monkey bars, there are so many ways you can improve your home's outdoor landscape and make it more kids friendly. By putting a swing set for kids, you can encourage them to play outdoors and soak up the sun. All this is much needed to promote a healthy lifestyle and ensure that kids don't just spend time in front of digital screens like phones and tablets; instead, they look forward to going outside and engaging in non-stop fun.
Gardening
Another great home improvement project that you can involve your kids in is gardening. Gardening is safe, educational, engaging, and super fun. Yes, things can get messy when little people are at work, but you'll simply love it when you teach and watch your kids nurture plants and care for them. As you involve them in the upkeep of your garden, like watering and growing new plants and transferring plants into bigger pots as they grow, all this will contribute to their learning and inculcate their habit of taking care of the plants. If you develop this habit from childhood, you will see that your kids will always be fond of gardening and ensure that the yard is well-maintained.
Besides this, you can also plant many of your kids' favourite vegetables with them, such as tomatoes, cucumbers, and zucchini. These are all very easy to plant and grow.
Other excellent home improvement project ideas to do with kids are building a playhouse or changing a room's theme with new furniture and decor. You can get them involved by taking some ideas from them and showcasing their aesthetics and interior decoration skills.
So, don't feel guilty about having a busy work schedule. Try to make great memories with your little ones whenever you get time. These home improvement projects are simple and safe. Get kids involved in activities that are fun and learning at the same time.
Use these ideas to have a great time bonding with your family while giving your home a new look. Your kids will enjoy decorating the house and will have many unforgettable memories of you. You don't have to beat yourself or live with the mom's guilt just because you were busy working while your kids were growing up. These home improvement projects are perfect for making pleasant memories and growing your bond with your kids.