A pergola is an archway consisting of pillars that support an open lattice ceiling. They can be installed anywhere in homes if you're looking for a nice place to spend evenings under the shade. Most commonly, you can find them in gardens, parks, and yards.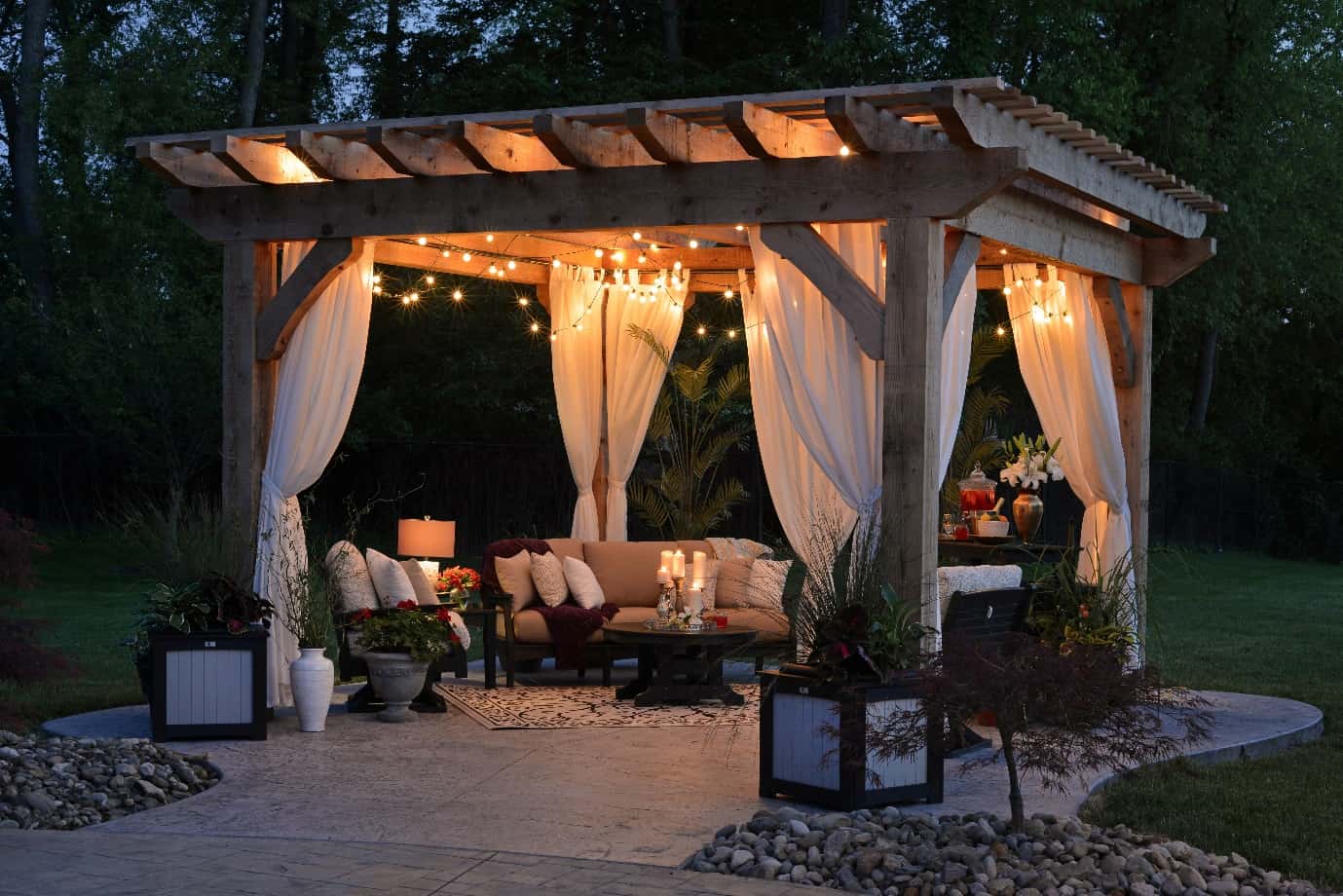 There are many styles a pergola comes in, and you can decorate it however you want. Some people put up lights and plants to give it a fresh airy look; others would put sofas and curtains under it to make it look comfortable and warm for people to enjoy their day.
They are beautiful to look at and offer a lot of benefits other than providing shade. Here is a list of 5 benefits you should consider when building a pergola in your patio or garden.
Benefits of Pergola
1. Pergolas Provide Shade and Weather Protection
As obvious as it may sound, but pergolas are great for providing shade. The spacing in the ceiling would, however, determine how much shade it provides, but if you're living in a hot sunny city, then you can customize your pergolas accordingly.
You can create a full-shaded space by putting curtains and a removable cloth over the ceiling to provide shade during the day, see the sky, and view the stars at night. You can also add climbing trees with thick. Lush leaves to keep the area around the pergola cool. This makes it a comfortable space to spend the day with your partner or family. You can now enjoy the outdoors all year long!
Pergolas also protect you and your belongings from harsh weather such as rain. It provides a cover over your outdoor garden sofas and chairs. With a fully covered ceiling, pergolas can be an excellent way to protect your possessions. They offer the ability to have furniture and other outdoor decorations that would otherwise get damaged in the open air.
2. Pergolas Are Beautiful
They are simply beautiful to look at, and installing them in your outdoor areas gives your home a new look. They have a very sculptural and architectural design and give your backyard, patio or garden an oomph factor.
Pergolas come in many different styles and designs, ranging from simple to modern and chic designs; you can decorate them however you want. Display your most precious plants to showcase their beauty and enhance the beauty of pergolas even more. You can even install lighting, giving it a bright and modern look.
3. Pergolas Are Affordable and Low Maintenance
If you're someone who likes to remain in their budget, then this structure is for you. With pergolas, you can amp up your outdoor areas without spending a lot of money. They are inexpensive, unlike other building structures, and very easy to build. The price of the pergola also depends on what styles you choose. But you can find an economical and beautiful pergola that fits your budget.
Some pergolas are easy to maintain and durable. If you are planning to build a pergola, go for vinyl pergolas. They don't chip, peel, rot, fade or become discoloured. Vinyl pergolas do not catch termites as wooden ones do. This material is a safe, affordable, and durable option for you and your family.
4. Pergolas Lend Plants a Helping Hand
Not only are pergolas beautiful, but their pillar and spacing between ceilings can lend support to other landscaping features such as climbing plants, vines, and ivy. Planting these close to pillars would allow them to weave their way up the pergola. You can look for plants you like, but plants like clematis and grapevines work best. Imagine your pergola with leaves, colourful flowers, and vines. Plants would make pergolas in the garden a more beautiful place to spend the evening in.
5. Pergolas Define Spaces
With pergolas, you can easily define your outdoor space. They divide your garden and define your outdoor living space. Plus, they are open, airy structures making your outdoor seating not seem small and congested. You can further define your area by changing up the flooring of your pergola; brick flooring, concrete pavers, and deck are a few common ideas people go for.
Was This What You Were Looking For?
Pergolas would be a beautiful addition to your home, and not only that, it is an affordable structure that can take your outdoor space to another level. If you're thinking of getting one made, wait no more! You've made the right decision. You can even lookup for ideas to decorate your pergolas to enhance their beauty even more.