Musicians will know the trouble — hiring a practice room at a real studio is expensive, your family or roommates complain about the noise you make at home, and storing gear can be inconvenient. That's why, if you're a serious musician and you have a spare room in the house, you should get first dibs on turning it into a home studio. It gives you the space you need to practice, record, and stash all your equipment out of everyone else's way.
Making the most out of a space can be difficult though, especially if it's small. Here are our top hacks for designing a compact home music studio.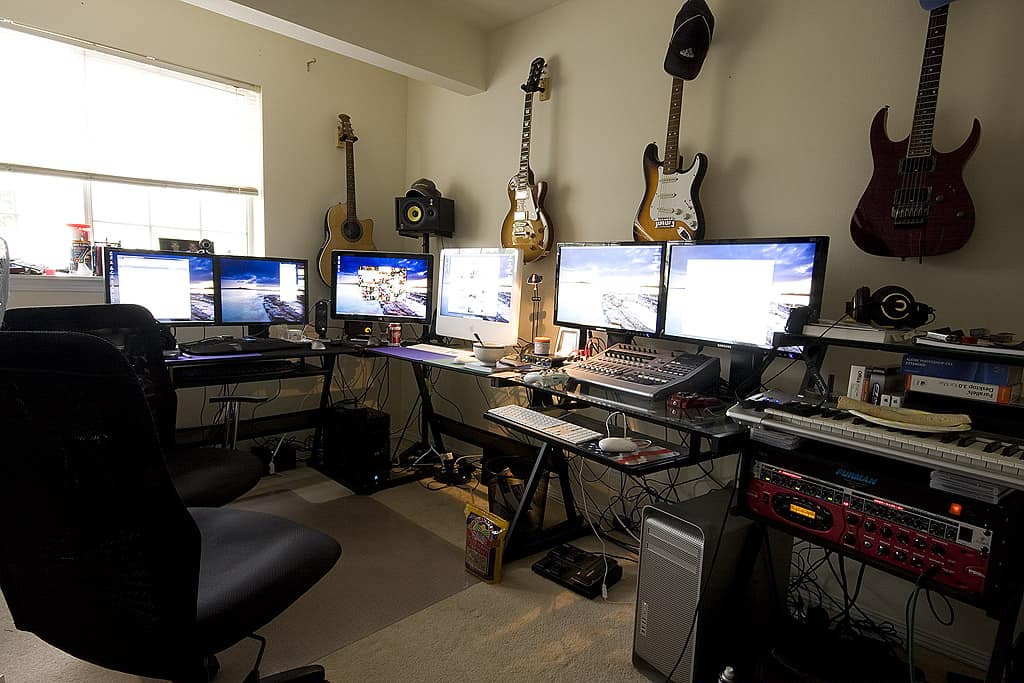 Soundproofing
If you live with others or have neighbors close by, some form of soundproofing is probably necessary. Everyone knows the best professional drum sets and electric guitars make a lot of noise.
Hard surfaces cause sounds to reflect off of them and become amplified. Luckily, there are some easy ways to dampen that noise and soundproof your room:
Hang tapestries, rugs, or aesthetically-pleasing blankets as decorations on your walls — these will absorb sounds. The thicker the material, the better.
If you're willing to spend some cash, putting up soundproofing panels may be the best way to go.
Cover hard floors with area rugs (although this can hurt the acoustics when recording). Rubber mats are also a great idea for underneath anything set on the ground like a drum set to stop sound vibrations from traveling.
Hang heavy curtains to stop sound escaping through the windows and road noise coming in and featuring on your tracks.
Get foam door sealant for around your doorframes, again to stop noise leaking out into the house and prevent household sound from getting in.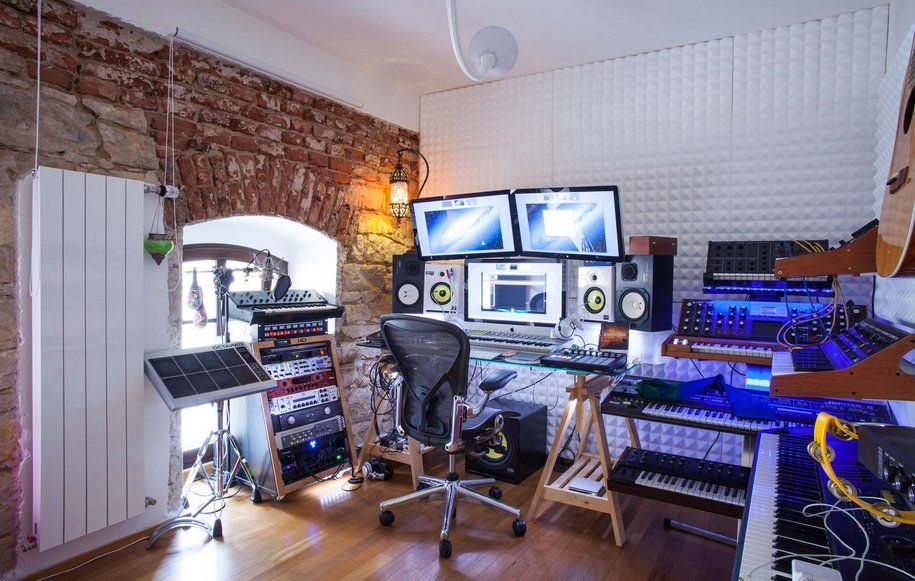 Storage
Storage is the key to good room design — we all have a lot of stuff, but without organizing it, it can look messy. The mess comes easily when making music, so ensure you have designated spots for all your equipment.
Smaller amplifiers can be stashed in under-desk storage.
A large desk is important for mixing equipment and speakers.
Hang guitars on the walls with purpose-built hangers (and ensure they're properly secured). Alternatively, you could use a standing guitar rack but this takes up space on the floor.
Get some vinyl racks and bookshelves to tidy away your records, papers, songwriting books, etc. The more storage that can be added off the ground, the better.
Cables
Obviously, there will be cables making your floor look like a snake pit if you don't keep them under control. Cable tidies can be found cheaply in any hardware or tech store. Under-desk cable tidies are an ingenious way to keep them hidden and prevent them from trailing under your feet too.
Be sure to drill holes in your desk so that you can feed wires from your desk setup underneath the table where they can be tidied up later on.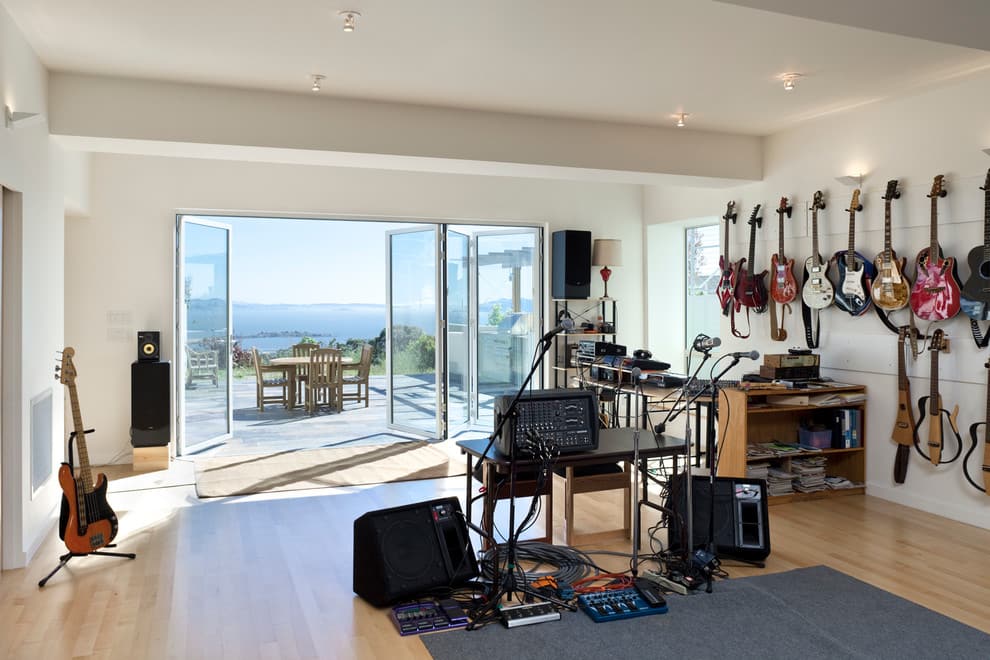 Design & Placement
It's likely that your computer setup and desk will be the focal point of the room — so start there when planning where everything should go. Put this down one end of the room, so the other end can be used for staging your equipment, adding your microphone stand, etc.
Comfort-wise, always get a proper computer chair that supports your back, a sofa to sit on while writing and jamming guitar stools, and drum thrones.
Bottom Line
It's a tough balance between aesthetics, acoustics, and soundproofing when designing a home music studio, especially if it's a small room. While it may not be as functional as a professional studio, our tips in this article will provide you with a great start for your own makeshift one, so you have your own space to be creative and to practice and record your music.