White wallpaper is always a good solution. It has a different texture, a wide variety of patterns. It is made from almost any material. Also, it is suitable for most of the current premises, both in an apartment and in a country house. White wallpaper in the interior of any room visually expands it, fills it with light. But it should be applied "wisely".
Contents: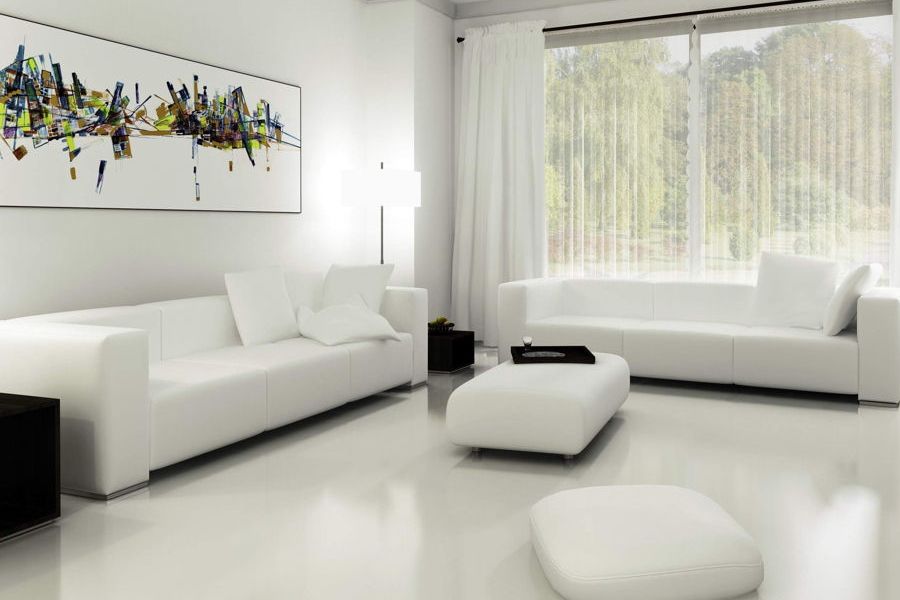 Design Features: Pros and Cons
Like all finishing materials, white wallpaper has its advantages and disadvantages. Their advantages:
will become an excellent background for furniture, decor;
white colors combine with all others, perfectly complimenting them;
this color has a good effect on the psycho-emotional state of a person: helps to combat stress, think about pleasant things;
light shades visually expand the room, making it lighter, fresher, more spacious, which is most important for cramped apartments;
the material is suitable for every room – you can wallpaper the entire room, selecting only different patterns, textures, combinations;
it is used in almost any interior;
wallpaper both walls and ceilings, separate elements of furniture;
wallpaper for painting after a while repaint, completely transforming the interior.
But there are some disadvantages:
snow-white wallpaper quickly gets dirty – dust is strongly noticeable on it;
when used in spacious rooms with large windows facing south, south-east, it is desirable to use dark decor – otherwise, your eyes will quickly tire from the abundance of white;
white gloss can reflect other colors – gray, light brown sofa or chair, on their background will create the impression of an unaesthetic dirty spot;
the paper will often need regluing.
Flaws can easily be avoided by choosing the right texture, pattern, and furnishings. Arranging the light correctly is also a must.
Types, Variety of Wallpaper
All existing wallpapers are distinguished by the following parameters:
the materials from which they are made – paper, vinyl, vinylene, fiberglass, bamboo, etc.;
texture – smooth, embossed;
design – matte, glossy, monochrome, etc.;
pattern – folk ornaments, floral motifs, geometric figures, plot images, stripes, etc.;
color combinations – one or more colors;
purpose – for the kitchen, nursery, bathroom, hall, etc.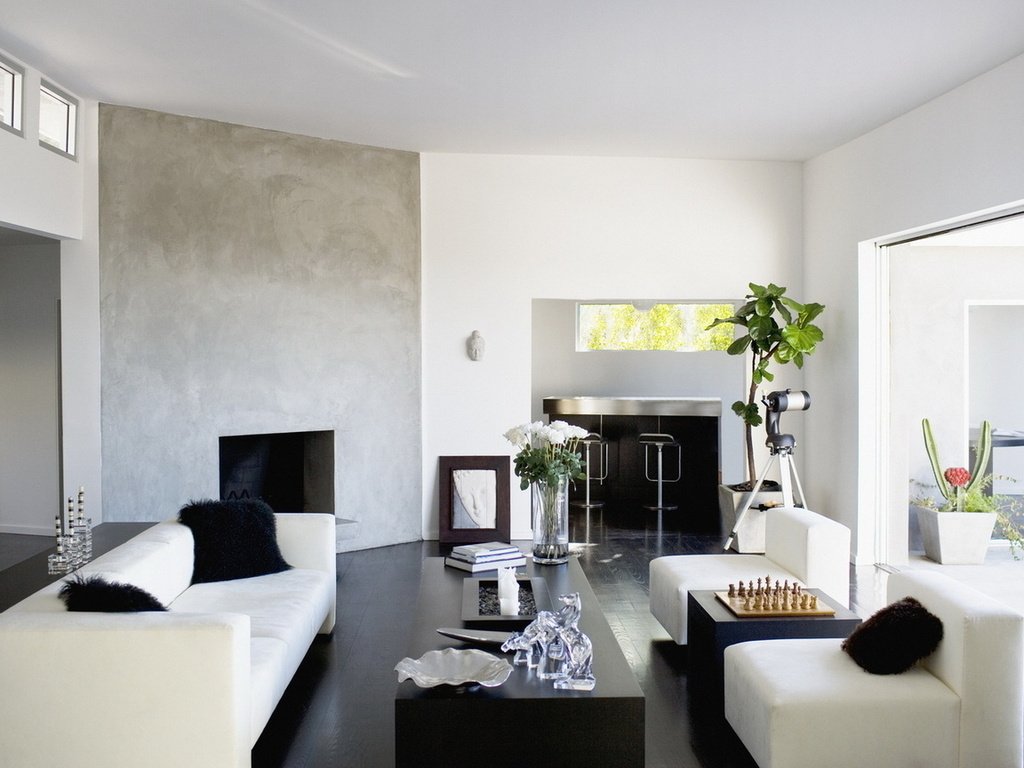 Material, texture, pattern for the walls to choose, guided by their own preferences, with a glance to the advice of professionals.
Wallpapers are made of different materials:
Paper is the most popular and the cheapest. They have several subspecies: simplex (single layer, smooth or embossed), duplex (pressed from two layers – the main and decorative), resistance to light. Wallpapers depict landscapes, still life, animals, famous paintings, abstracts. It can have a texture of "leather", "stone", "wood", "Venetian plaster" and others.
Vinyl – often used in recent years. They are made of fleece and paper, with a matte or glossy coating.  Its varieties:

vinyl foam (rough, volumetric), decorated with sequins,
vinyl kitchen (thicker than usual, smooth), is washable,
silkscreen. Wear-resistant material changes color depending on how the light falls on it.

Fleeceleaf – made of fleeceleaf fibers, on which is applied foam vinyl in the form of three-dimensional, structured patterns that contrast with the background or merge with it.
Textile wallpaper is beautiful and stylish. It is made of natural fabrics glued to the base or mixed fibers.
Fiberglass – made from a specific set of mineral components.
Acrylic – similar to foam vinyl, but instead of the latter here is acrylic. Canvases are very original, embossed.
Liquid – look not like a cloth, but a mixture of natural elements and glue. When curing, a textured layer is obtained, which, if necessary, can be restored if any defects have appeared.
Natural – from natural components applied to paper. Types: Lincrusta (paper base is covered by a layer of plastic made of natural materials, alkyd resins), cork (environmentally friendly, natural, does not cause allergies), bamboo (from split bamboo stems).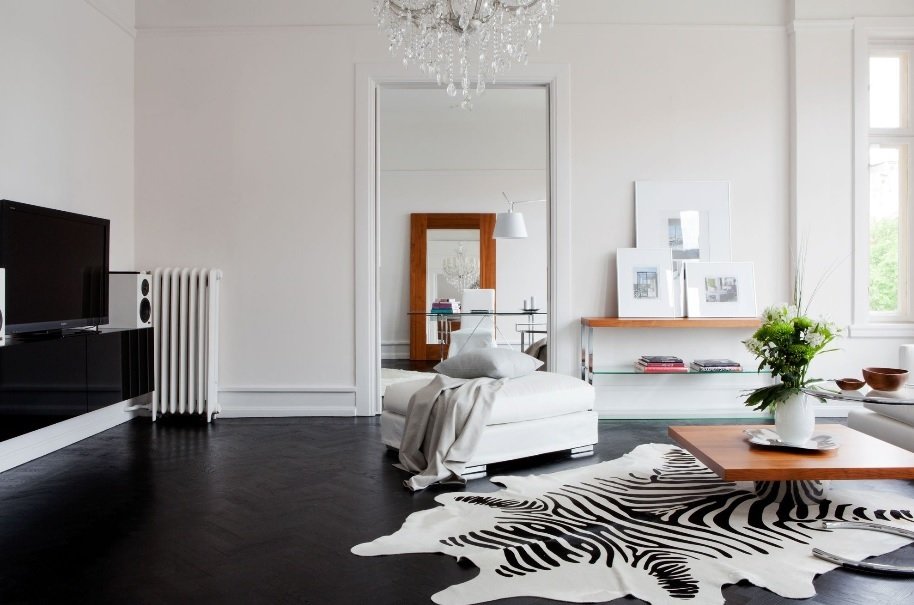 For large rooms, wide wallpaper is recommended. If the walls are very smooth, self-adhesive wallpaper is used.
Texture and Design
Textured wallpaper should be used where there is minimal risk of damage, deformation. It is pleasant to the touch, can be smooth, or have the following texture:
flax – like a dense cloth;
sand – fine-grained surface;
canvas – porous;
plaster-like brush strokes;
stone – slightly uneven;
brick – imitate white bricks.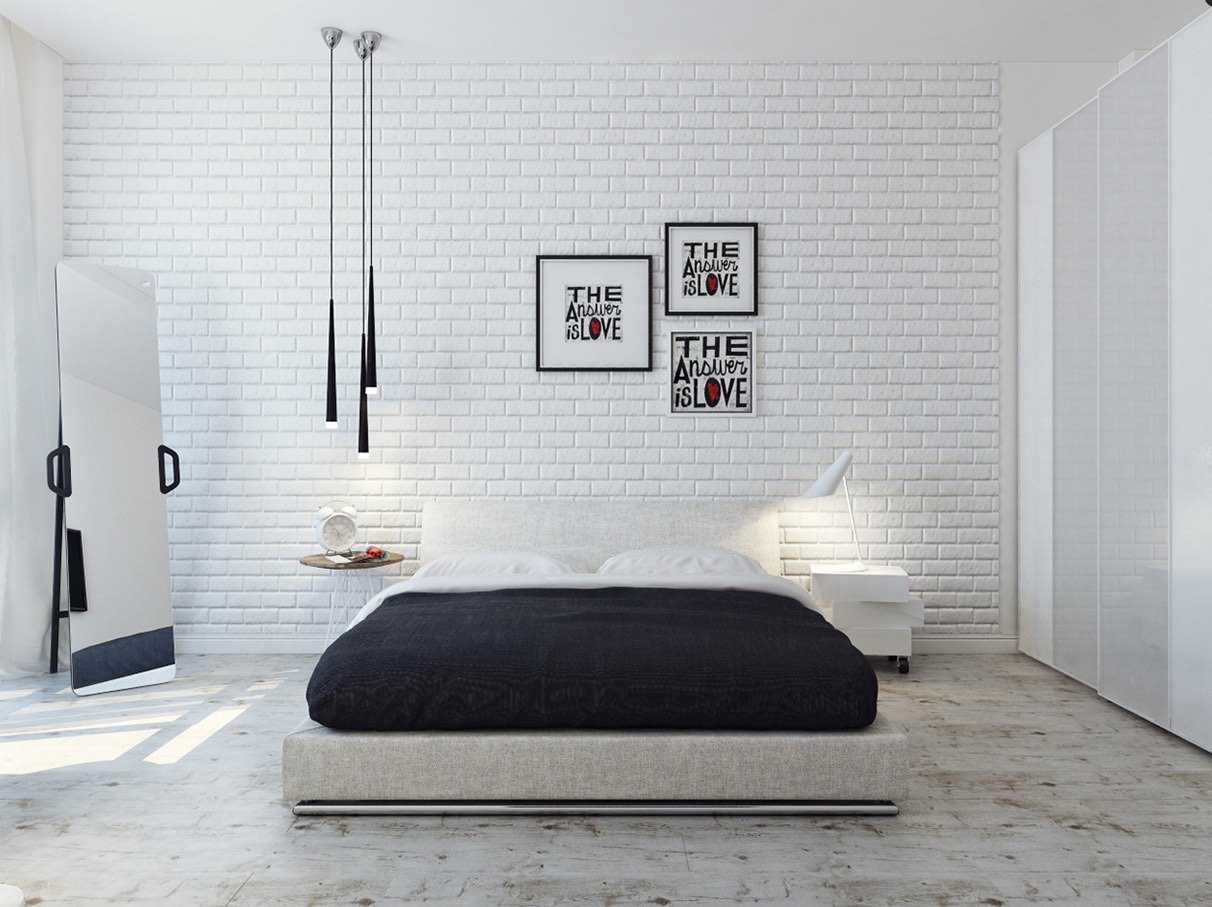 By design, the wallpaper will be glossy, matte, one color, or with all kinds of images.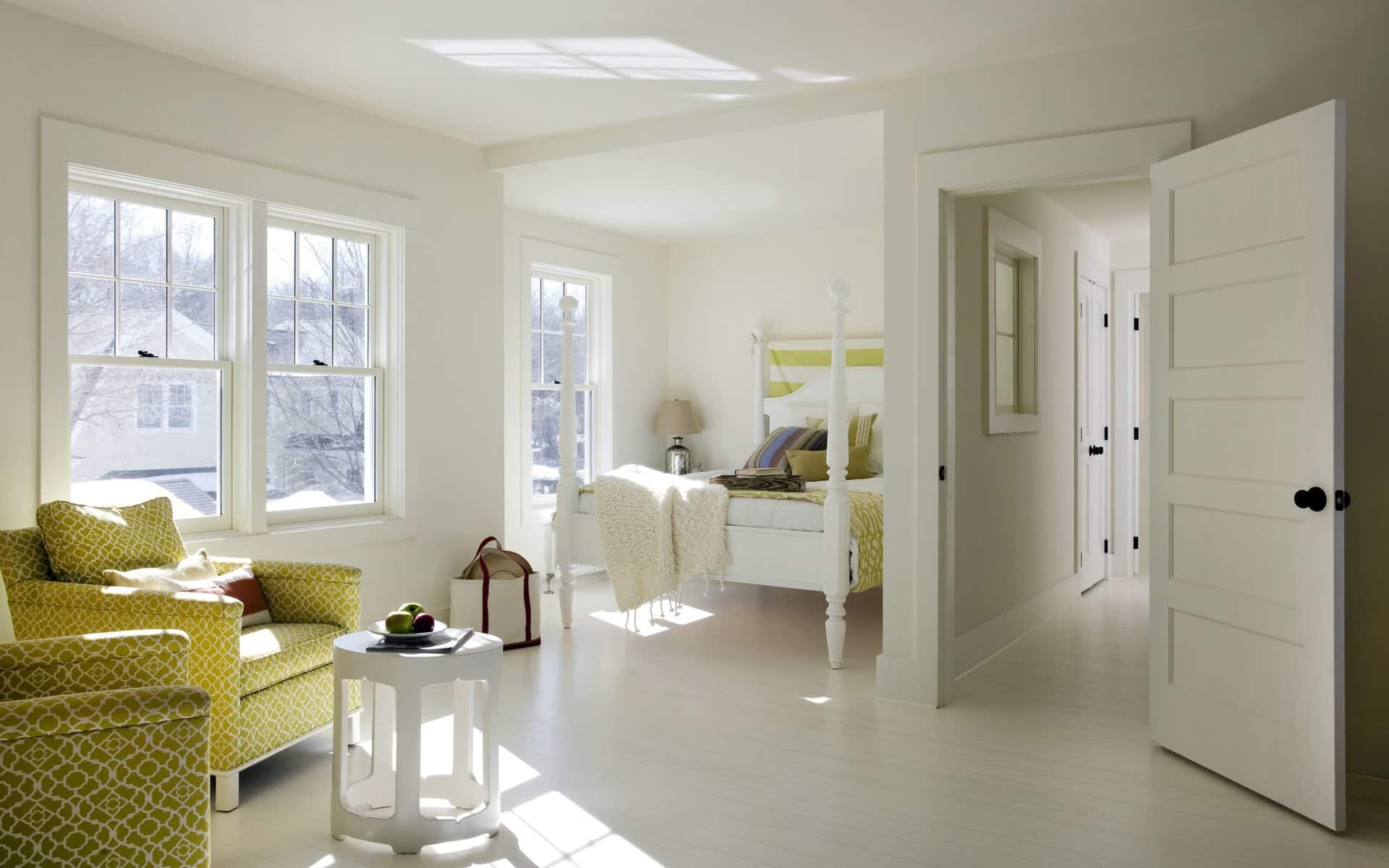 Drawing, Color Combinations on White Wallpaper
There are many variants of drawing on white wallpaper. The most popular are:
Stripes. Vertical ones will make the room higher, horizontal ones – wider.
Uniform geometric patterns. For large rooms, select a large pattern, in close rooms – a small one.
Ethnic ornaments. Imitating the Russian embroidery, Japanese hieroglyphs, Egyptian script, etc., will suit the appropriate interiors.
Floral, plant patterns. Are large or small, stylized or realistic.
Plot pictures: with fruit for the kitchen, with gnomes for the nursery, with soap bubbles for the bathroom, etc.
Inscriptions. Individual words, inscriptions, pages of text in English, other and even invented languages.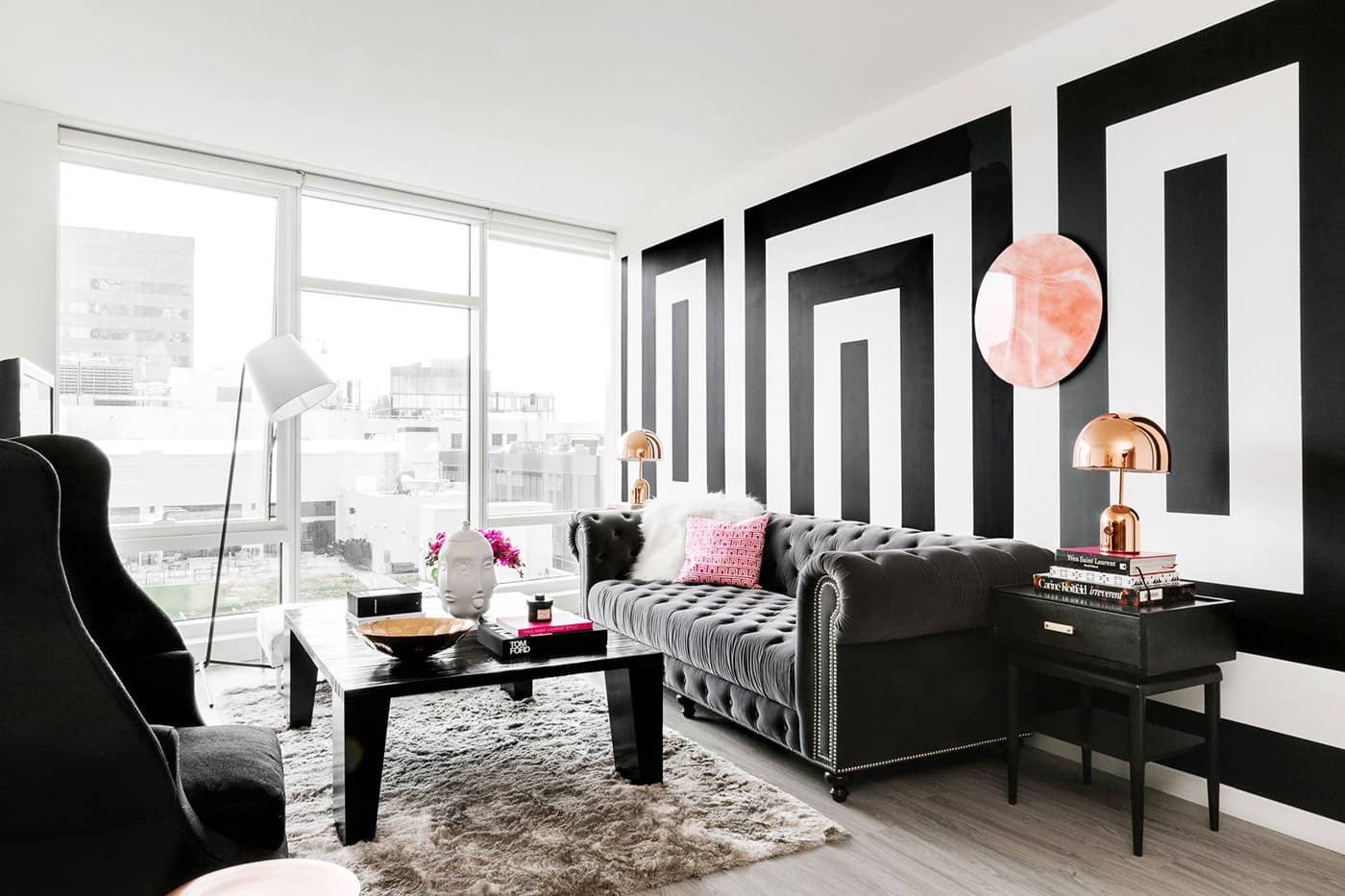 The color combinations are also different:
white with black;
thistle with brown;
flowery white with purple;
ivory with cement gray;
dull pinkish with grassy green;
light peach with terracotta;
creamy with blue;
creamy with greenish-blue;
silver with sunny yellow;
mushroom-pearl with milk-chocolate;
white-sand with navy blue;
wheat with fuchsia;
ghost-white with orange;
sky-blue with umber;
beige with coral;
mint-cream with "muraena" (dark mint turquoise, RGB #1c6b72);
linen with red-orange.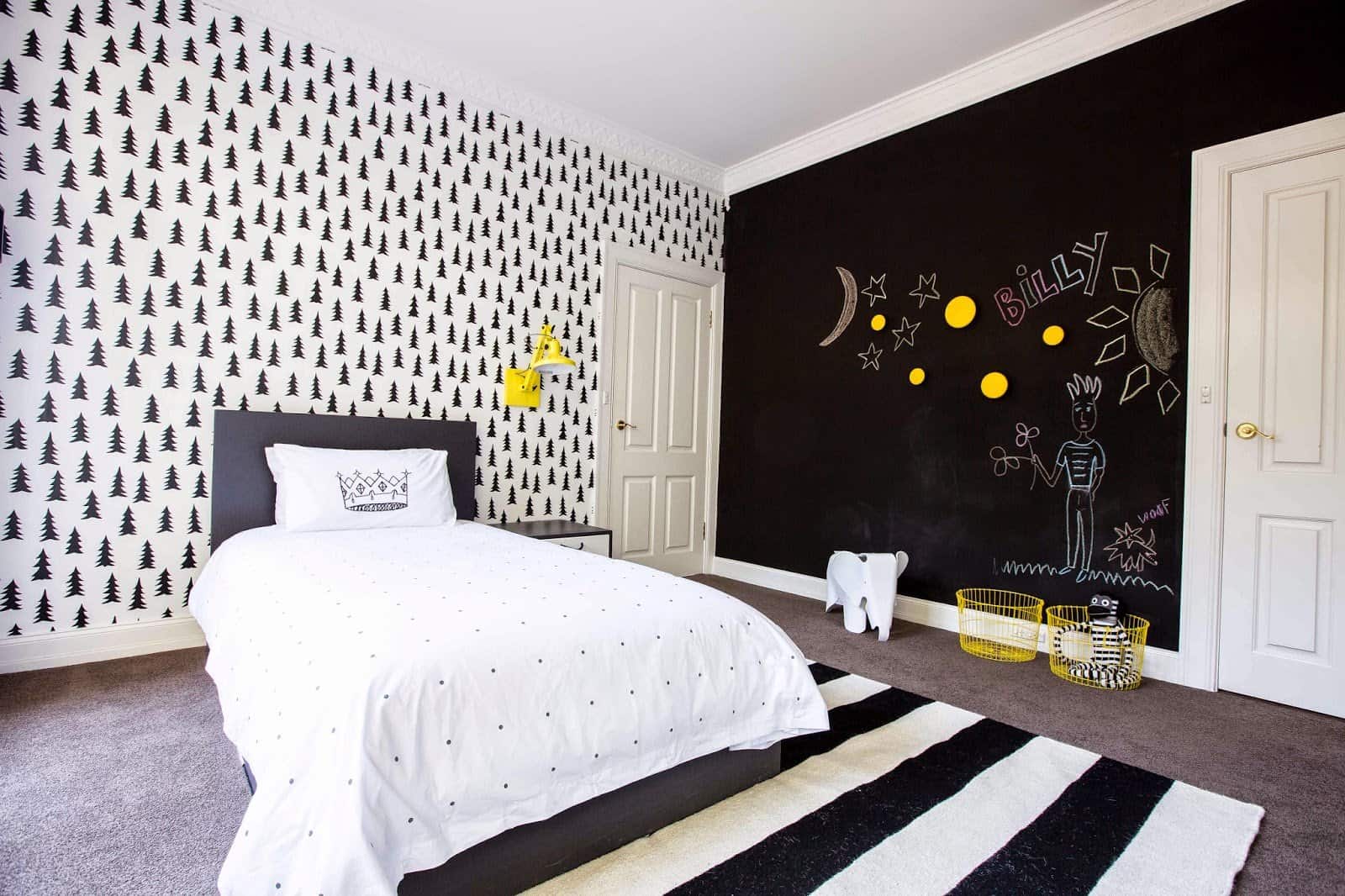 Combinations with several colors simultaneously are not uncommon, but then the additional colors are present in smaller, sometimes quite insignificant quantities.
What Interior Styles Use It?
Snow-white wallpaper is used in many interior styles:
Application of White Wallpaper in the Interior of the Apartment or House
Snow-white wallpaper is the only type of wall decoration or originally combined with other materials – wood, stone, plastic, metal, glass. "Unions" of two kinds of wallpaper with different patterns – small and large, monochrome and colored, as well as sharply contrasting look beautifully. The floor in the room with snow-white walls is made light, but necessarily darker than the ceiling, walls.
In the Hallway
Here snow-white walls are better to make well-cleaned at least at the bottom, as the street brings dust, dirt, especially in wet weather. One-third of the floor walls are decorated with plastic panels, bleached oak, other wood. The remainder is enhanced by wallpaper. Quality washable materials are glued from floor to ceiling or on the ceiling, too. Popular decoration of the corridor is a drawing of white bricks, on which the green liana winds; white-gray-yellow pebbles as if lying in the water; blue, brown boots, and umbrellas on a creamy white background.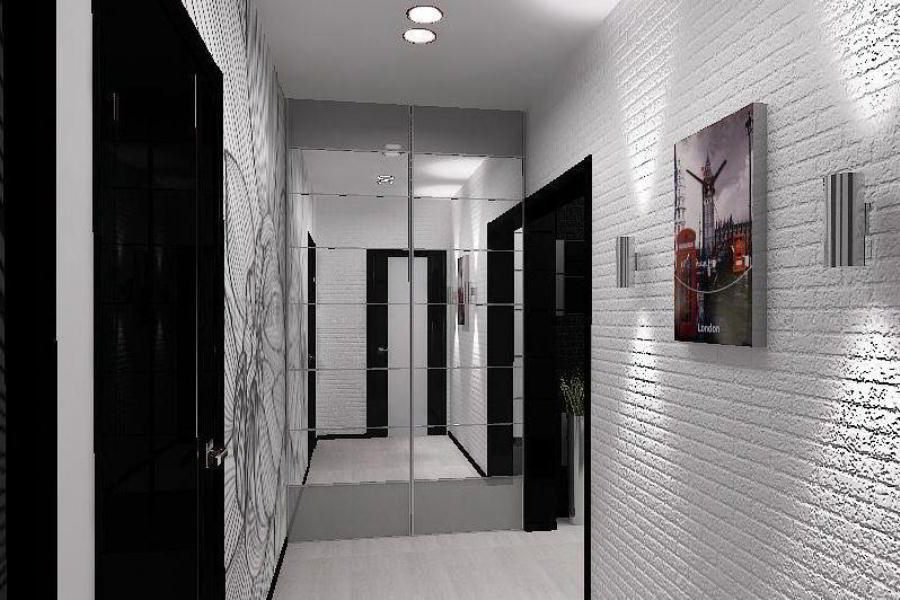 Discreet paper ceiling design with stripes running perpendicular to the long walls is suitable for a narrow corridor – it will visually expand the room.
In the Living Room
The light laminate usually goes to the floor, the ceiling is sometimes finished with wallpaper. Three walls may not have any picture at all, while the fourth will decorate the photo wallpaper with the image of morning city in white and pink colors, cream-green forest landscape, white and yellow butterflies, a bouquet of huge daisies, lilies, dahlias, tea roses, flowering apples, etc. Black and white images of animals – polar bears, penguins, rabbits, cats, etc. have an interesting look. Curtains usually have light contrasting or elements, and the tulle is snow-white. Contrasting borders on the perimeter of the ceiling diversify the interior. As for the furnishings, monochrome draperies should not use excessively gloomy colors, especially when the walls are glossy. In this way they will reflect the color, creating a feeling of "dirt".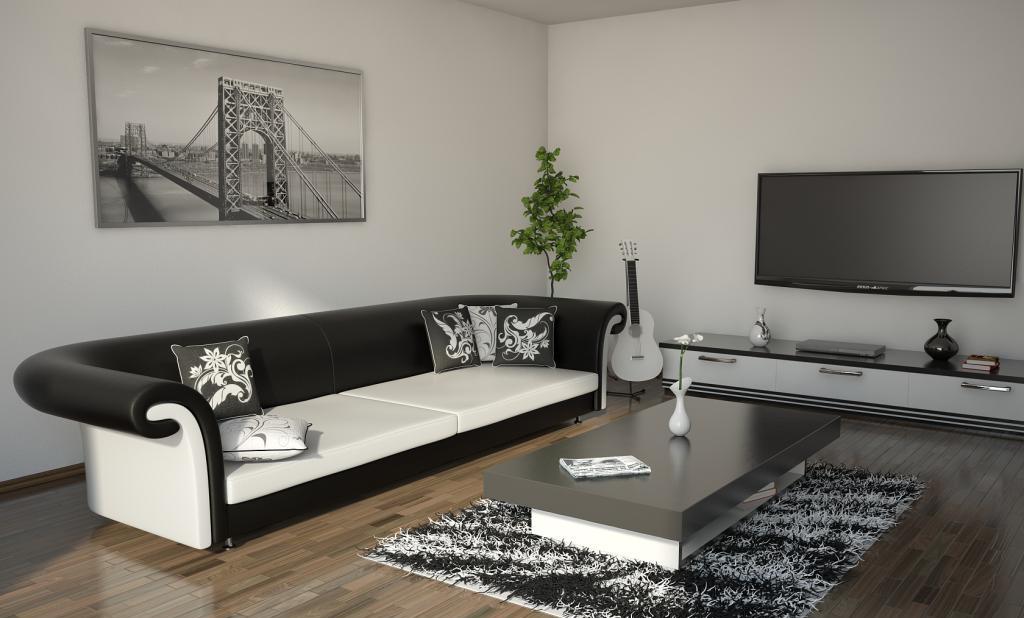 A huge flat-screen TV, several paintings, framed photographs, and a realistic fireplace look very colorful against the white background.
In the Kitchen
A completely white kitchen means excessive time-consuming cleaning. Therefore, snow-white wallpaper comes only for the dining area. Here will be appropriate images of fruits, flowers, dishes, "peas", squares. To give the interior freshness, designers use "frosty" pictures (such structure forms on the windows in winter ). The space of the kitchen backsplash, the place next to the sink, stove, is decorated with washable wallpaper or plastic panels. They often put light ceramic tiles on the floor here. The furniture set should impose a contrast. A transparent dining table with chairs is a clever move that will give additional space to the cramped kitchen.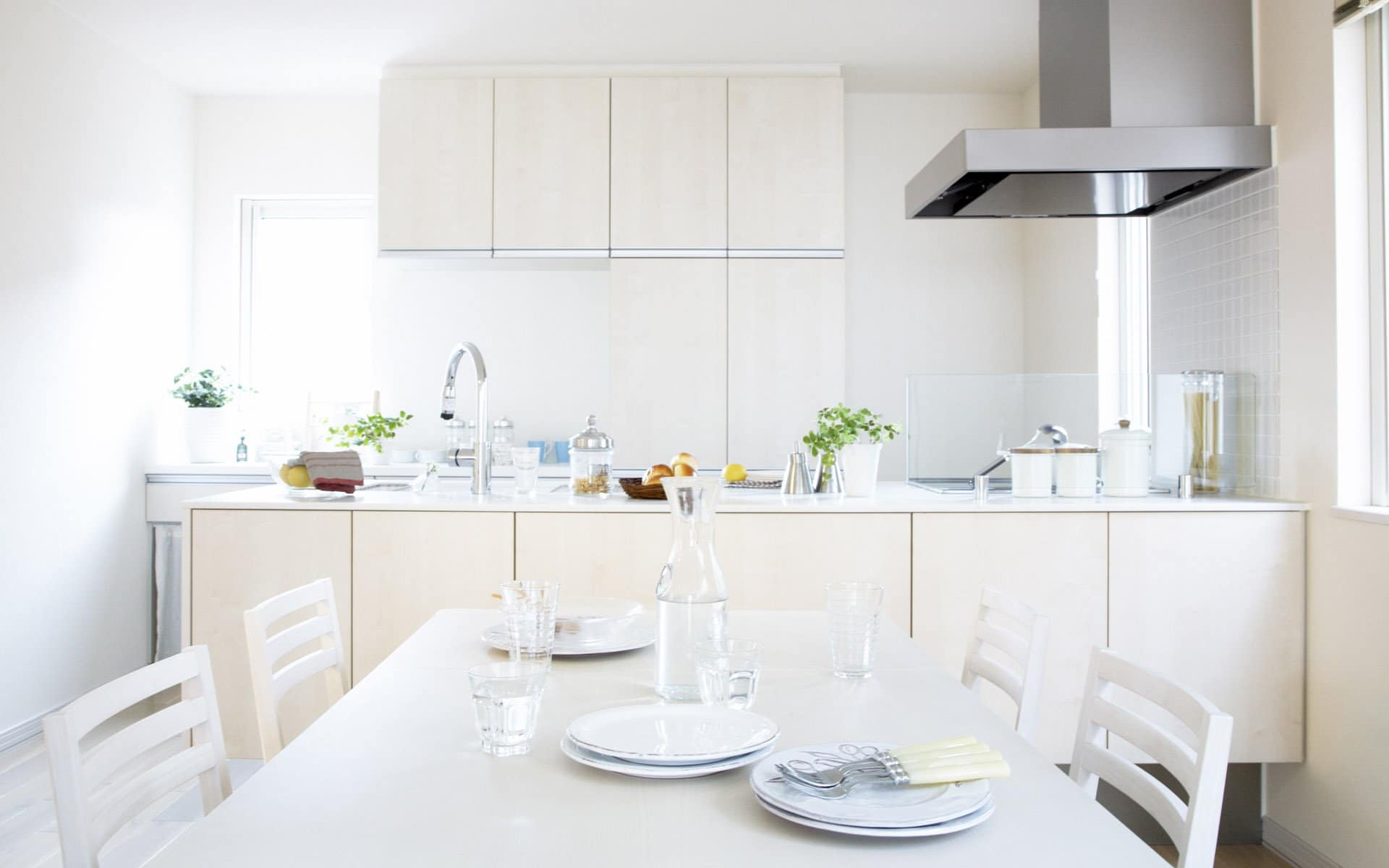 A suitable adhesive is chosen depending on the material used to make the wallpaper. Sometimes it combines several types – each sort for the middle and edges.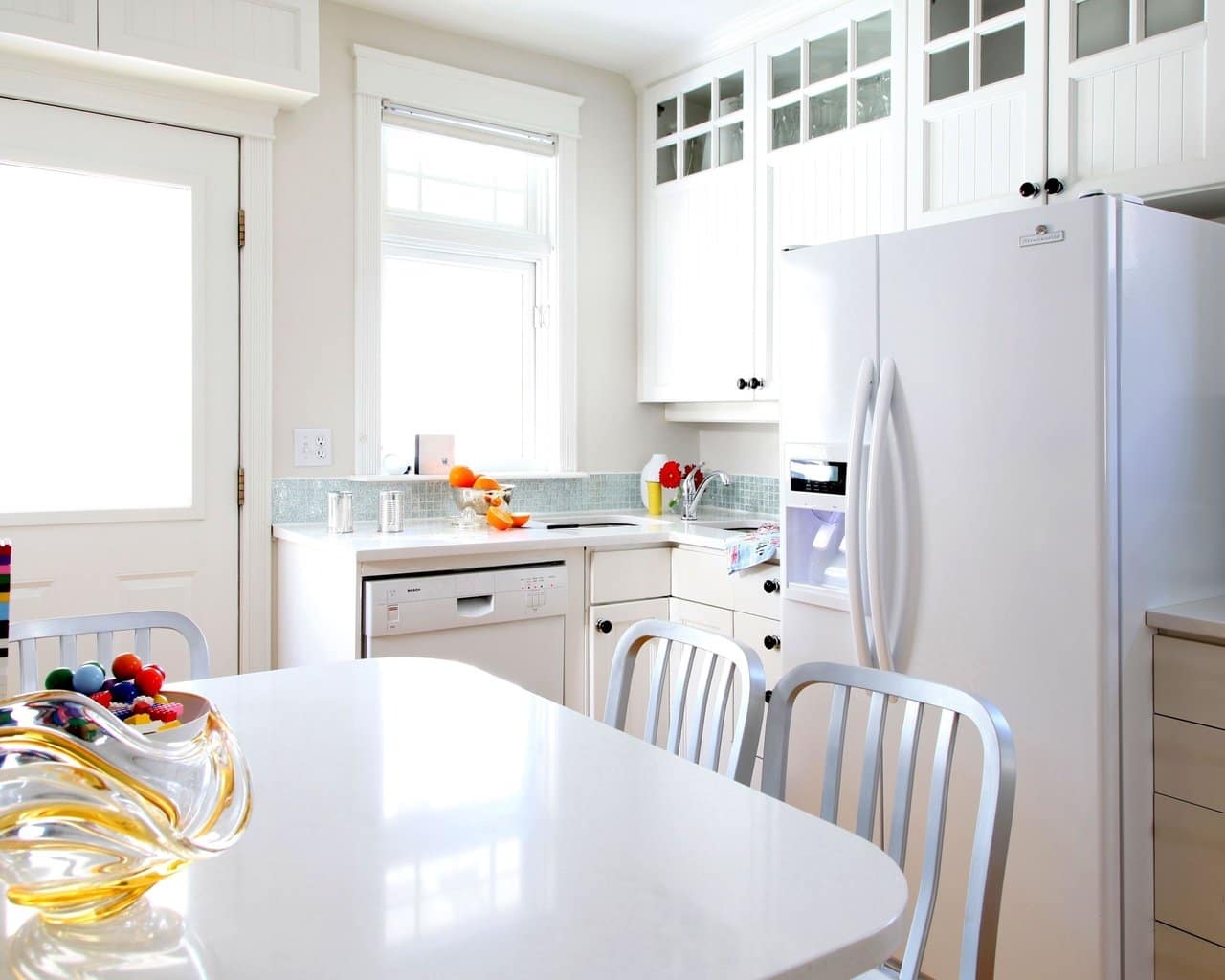 In the Bedroom
In the standard design of the bedroom, everything is pasted white. The wall in the headboard is better with contrasting wallpaper, photo wallpaper. Drawings are duplicated on other items, elements – curtains, bedspread, furniture upholstery, which are made in any suitable color. The furniture here is preferably light if there are other color accents. Or a contrast is allowed – then the walls will be just a background. The ceiling here is also wallpapered, but it should be entirely white or with a different pattern from the one on the walls. Light lace shades on the bedside lamps will make the interior complete.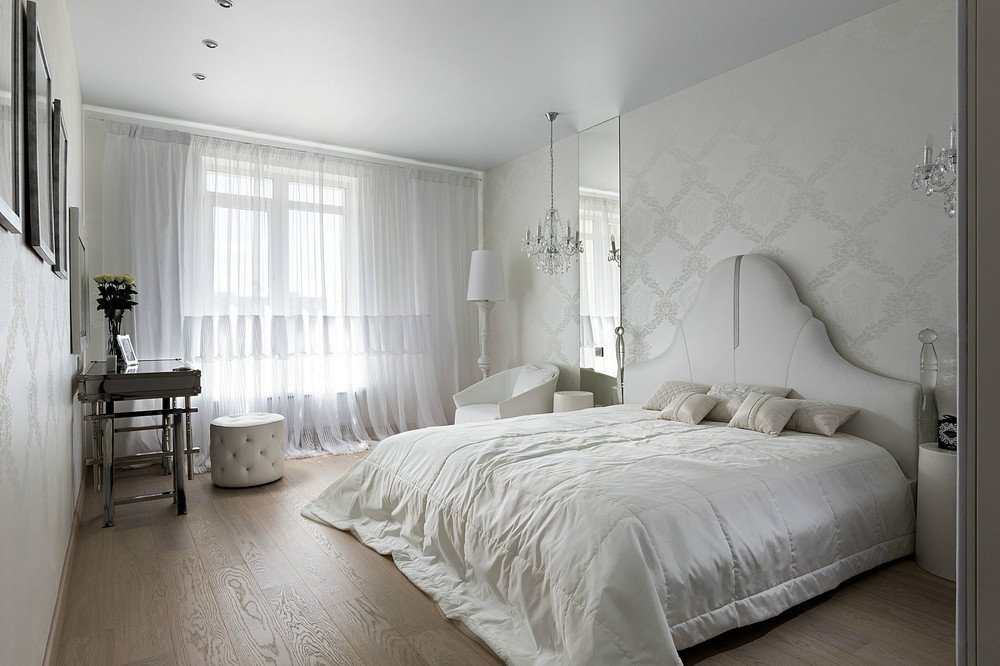 If you apply contrasting inserts of some other color to white walls, you get a peculiar picture.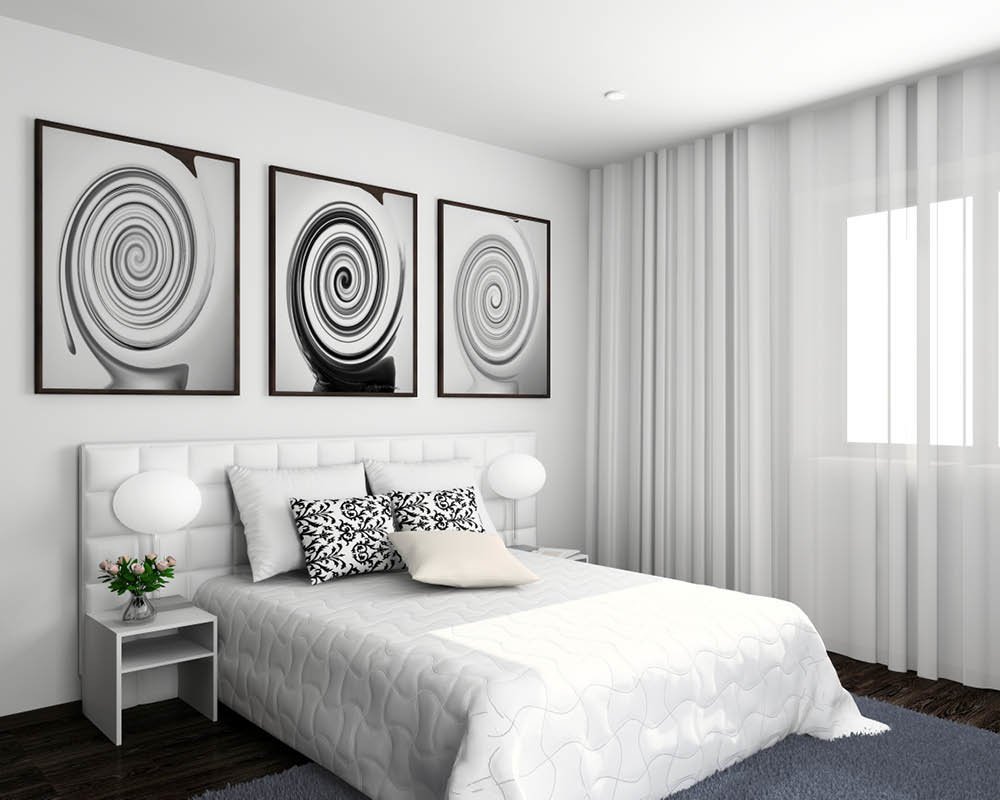 In the Children's Room
For a girl's room, photo wallpaper with white and pink princesses, fairies, flying ponies, floral scenes will do. All this is combined with lace on the bed linen, curtains, canopy over the bed. The boy will love the white and blue nautical themes – sailboats, anchors, foam on the crests of waves, blue and white drapery-belts.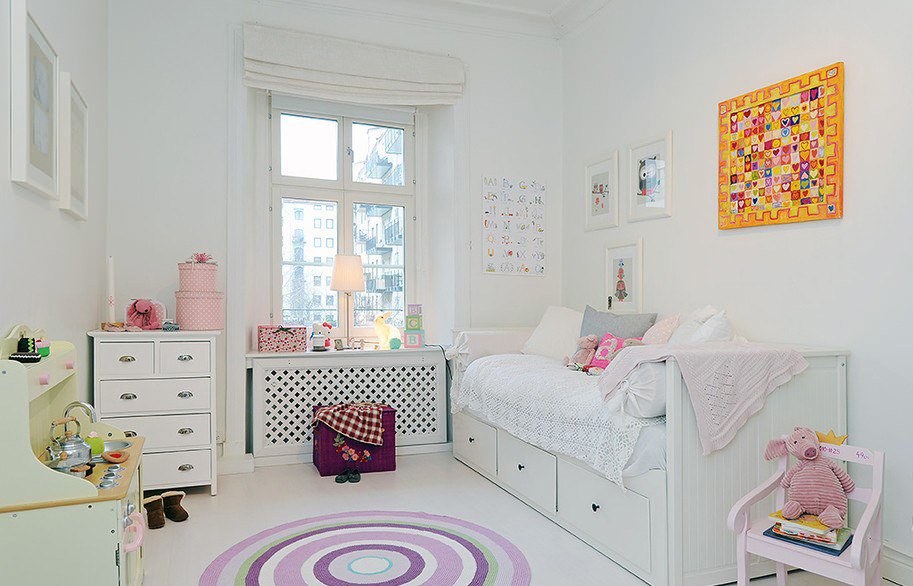 A teenager of either sex would probably prefer a combination of purple and black, gloomy brown, dark blue, and gray. This phenomenon is temporary, and wallpaper, especially paper-based, is easy to paste up at any time, completely renovating the interior.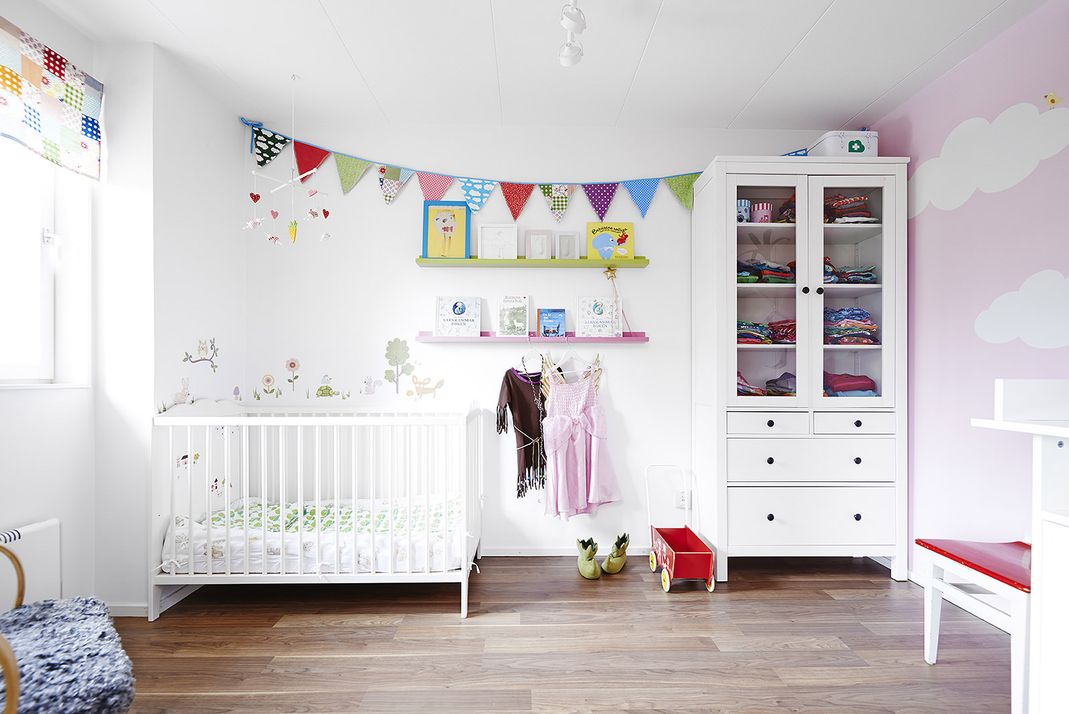 For the little ones, natural materials and pastel-colored drawings are used, since sharp contrasts can frighten the baby. Images of developmental cartoon characters, the first children's fairy tales will be just right.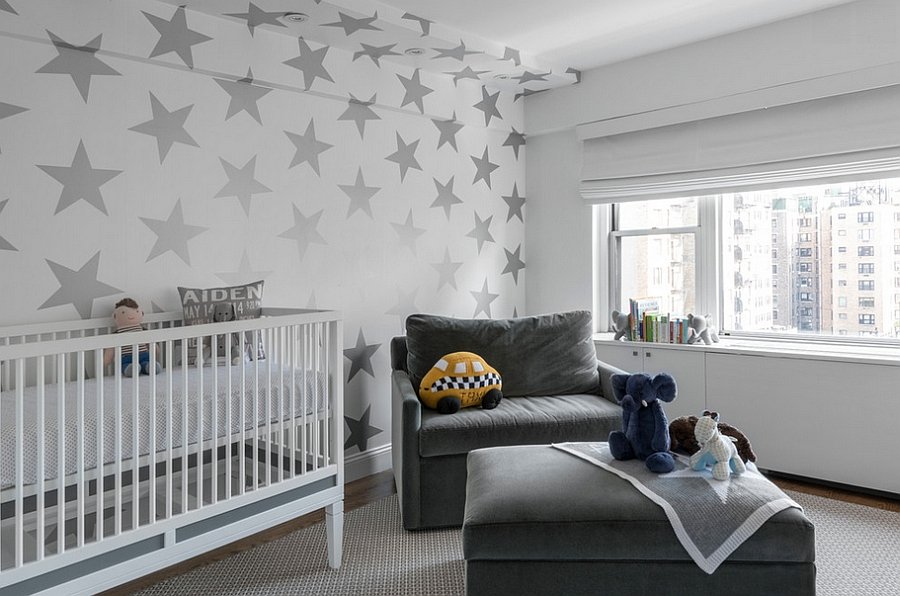 The design of the nursery in no case should not be associated with a hospital, white coats of doctors – for the child it is unnecessary negative.
Conclusion
Wallpaper is the most popular material for many years. They exist in different price categories – from very budgetary to elite. The variety of patterns, textures of materials, options for combining with other materials allows you to choose them for any interior. Wallpapers are glued on their own – alone, together, or with the participation of invited professionals-finishers.