Each color bears its own special meaning, affects the person in different ways: its mood, its state of mind, and even its physical state of health. And if you want to see a brown color in the interior of your home, then you provide yourself with reliability, stability, and devotion. This is what symbolizes the brown color and its shades. But this is not all. This color positively affects a person in many aspects. For example, it has a calming effect when a person is under stress. It can even alleviate physical pain during an illness. We have gathered the most trendy and catching brown color interior decoration ideas. The kitchen, bedroom, living room, and other rooms of your house or apartment could be finished in this relaxing and noble color.
Contents:
The Psychological Significance of Brown Color
In general, the brown color in the interior embodies the nature that surrounds us everywhere. This implies psychological influence on a person and his life. The brown color relaxes, soothes as if protects, and influences the prevalence of common sense. Interior in brown and its shades help to make calm and measured decisions. If you make furniture or floor brown, it will lead to a sense of stability and stability. Comfort and coziness – this is the main definition of the brown interior.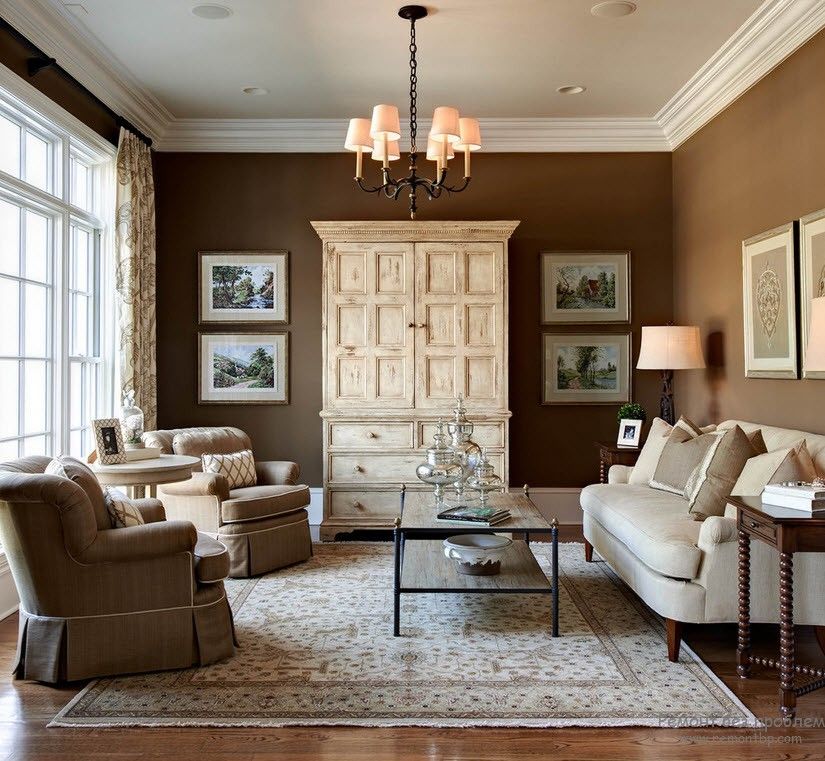 Brown color in the interior is good for those people who spend a lot of time in bright, juicy places, as well as those who move around a lot during professional activity or just travel. In addition, if you used to relax in rooms with colorful design and loud music or you work there, then the brown interior at home will remove all this colorful and noisy energy from you, give you a full psychological rest and fill you with new forces. According to psychologists, people who seek and even need mental and psychological rest prefer brown color for the interior. And historians have found out that this color has long been considered elegant and solid, which was preferred by rich and wealthy people.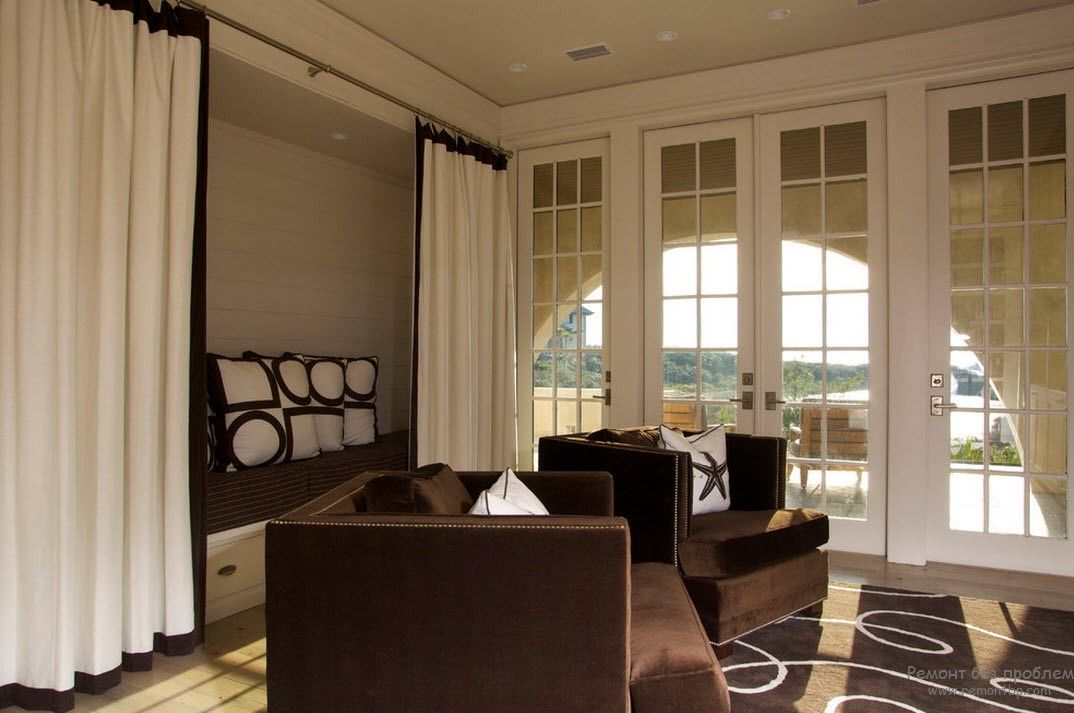 Brown in the Interior
Based on the diverse and beneficial effects of brown, it can be used for the interior of any room, whether it is a living room, bedroom, bathroom, hallway, children's, or home office. But here's what to worry about when choosing this color – it's still dark. And if the room is small, then the abundance of surfaces of a dark shade will make it gloomy and even smaller. But, of course, it is not worth dumping the brown color in such a situation. You can always play with the palette and shades. Simply select lighter colors for a compact room and combine them with brown. Add a few bright accents for diversity.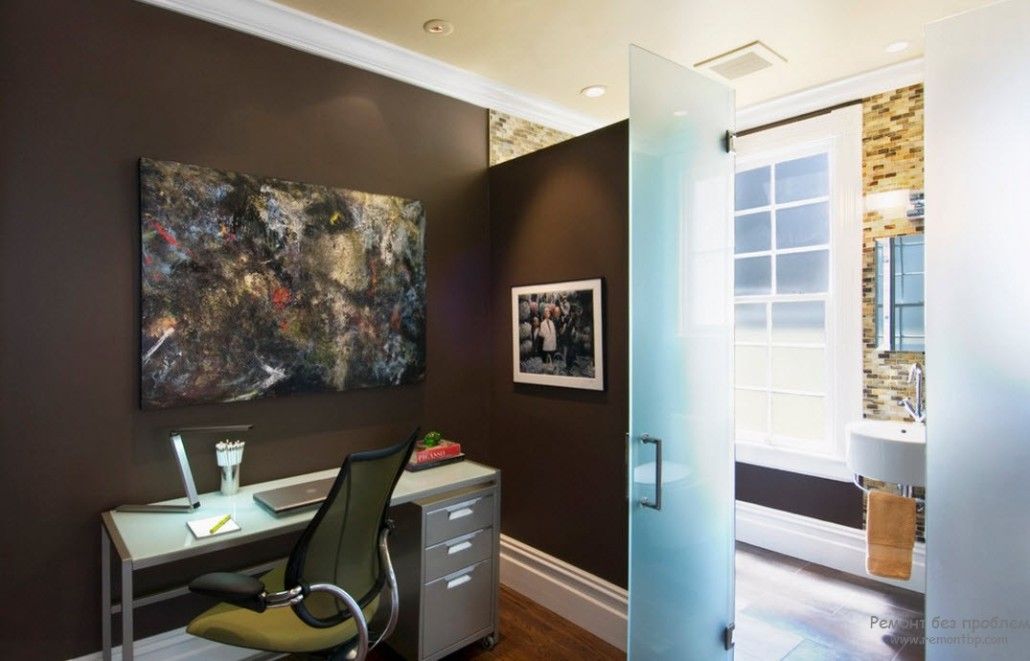 Brown Color in the Bedroom
Brown color for the interior of the bedroom is probably the best choice. It is here you can perceive its soft and relaxing effects so beneficently. He will provide you a calm and undisturbed sleep, and in the morning it will fill you with vivacity and freshness. A little play with shades and a combination with other colors and you will achieve a quiet cozy atmosphere of this intimate room.
Add white color and you'll refine your brown interior. Also, you can add some bright accessories, so that making the overall image not boring.
Beige and pale pink also perfectly dilute the brown color in the interior of the bedroom. There will be romance and tenderness.
Brown Color in the Interior of the Living Room
It can be said a lot about the meaning of the brown color in the interior of the living room. It will be much easier to create an ideal atmosphere of hospitality, comfort, and a friendly atmosphere with its help. The brown color for the living room is good for its calmness and neutrality. After all, not everyone will feel comfortable sitting, for example, in a red, pink, black, or salad living room. Many people simply cannot tolerate bright and juicy colors and feel uncomfortable in their surroundings. And, since the living room is mainly designed for guests, the design should be soft.
Bright decor items and accessories in no case are prohibited for the living room. Especially in the brown living room, it will be a certain highlight.
Brown color in the interior of the living room, where there is a fireplace will be flawlessly combined with a pale orange color. This union will fill the room with warmth and a sunny mood.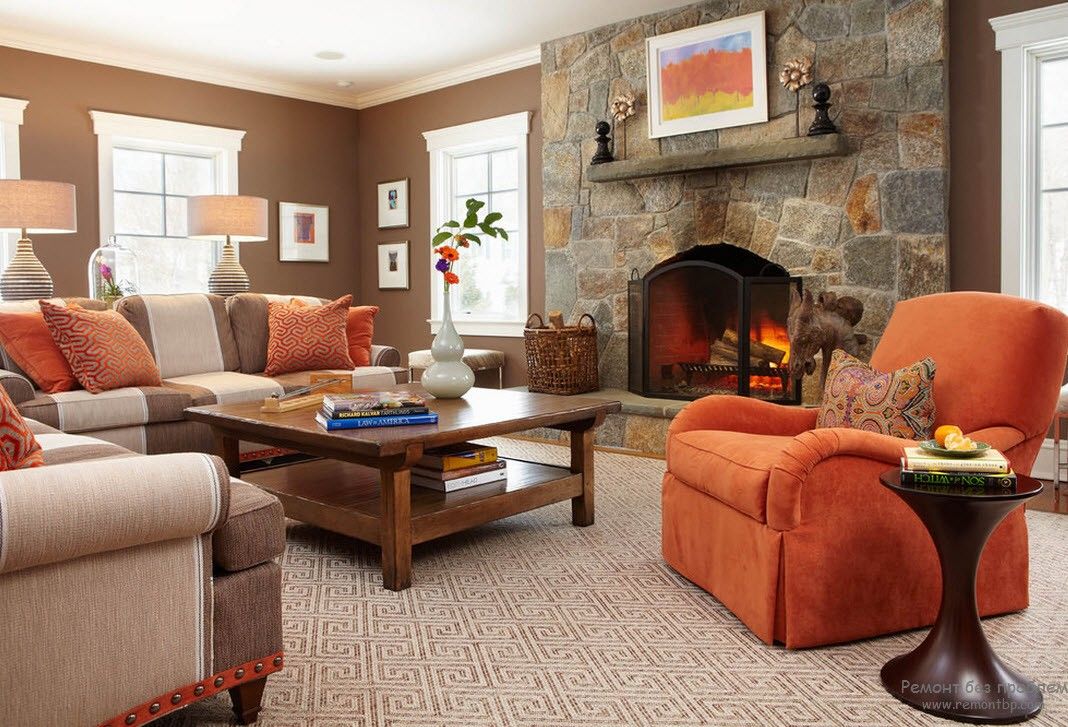 White color is the most frequent addition to the brown interior. It brightens and "rejuvenates" the dark saturation of brown. And this blend looks chic and elegant.
People with a cheerful disposition and a vibrant life position can add a lot of bright accents to the brown living room. It will look alive, joyful, and cheerful. In such a living room you'll want to stay longer.
Correct brown filing in the interior and competent design can transform any room and make it unusual and surprising.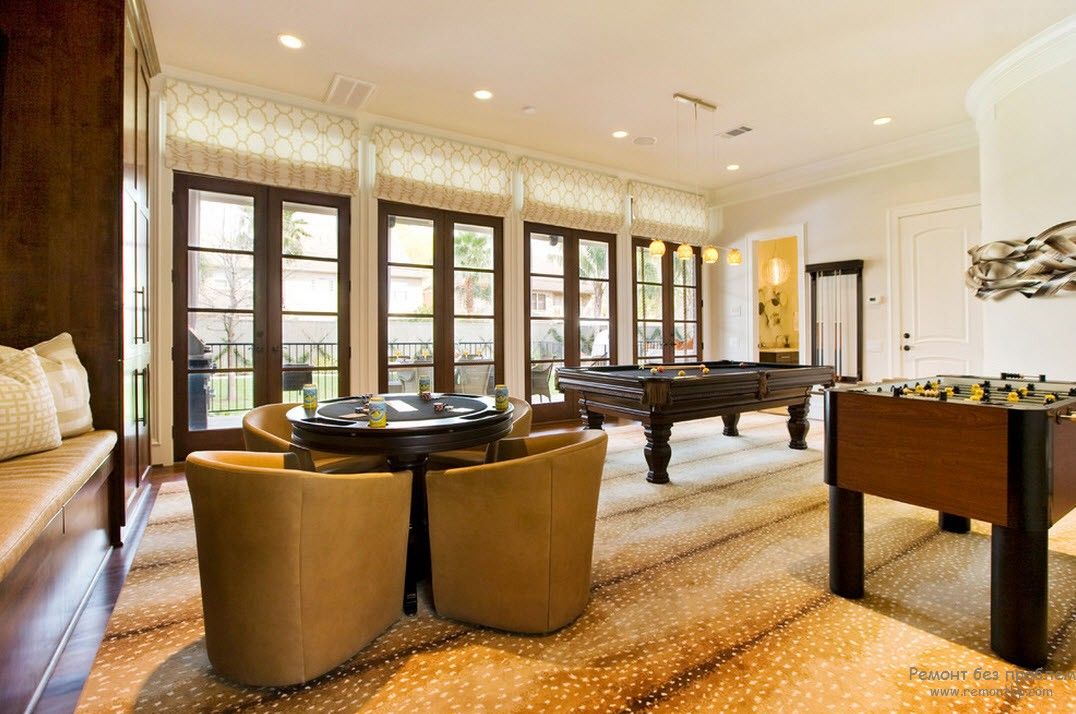 Brown Color in the Interior of the Kitchen and Dining Room
The kitchen or dining room in brown color looks very well. Chocolate walls and brown wooden hues will create an atmosphere of respectability and a good appetite. Here you will always fell yourself cozy and comfortable.
Brown Color in the Interior of the Children's Room
The abundance of brown is not entirely acceptable in the children's room, according to psychologists. But still in a small amount, with the addition of other shades and with a good representation, it will have a beneficial effect on the child's psyche. After all, this is a natural color that will stimulate the work of the brain, and soothe all childish experiences and fears.
Using a brown color in the interior of your rooms, you will have a reliable assistant and excellent stress resistance.