How to make a living and bright interior in your apartment? The simplest technique is to use invigorating, rich shade colors. Red is the color of the warrior, the color of manliness, he energizes and gives strength. Red color can be made basic in your interior. However, everything requires dosage. It is often used in oriental style. You can pick up red wallpaper, various shades of red for the design of the sleeping area: from a set of blankets, pillowcases for pillows to curtains. Correctly placed accents in the color scheme will make the interior revived, and the room will be filled with light and energy of red color interior decoration. Versatility of red shades will be explored below and we are sure it will not leave you unimpressed.
What is the best combination with red?
In the red spectrum there are more quiet shades, which successfully blend with rich red. It is purple, brown and even pink (a color beloved by many women). On contrasts you can mix electric blue, yellow and white colors with red, and you can add a little rigor to the interior and introduce black as an additional shade. Green extravagantly combines with bright red. This combination is reminiscent of a special Christmas theme. If you want to create a festivity, for example, in a country house, then this combination will be the most optimal. Red well goes in combination with beige, orange, yellow hues. For the bedroom and the kitchen there is no more suitable color choice. Warm colors always contribute to appetite.
Red color interior decoration. Versatility of red shades in living room
Kitchen
Dining and cooking zones of your home require more drive and creative. They should promote appetite and the passion to cook some amazing meals. The most suitable color for this is the color of "ripe sweet cherry" which will bestow your kitchen the proper temperament in dosed amount.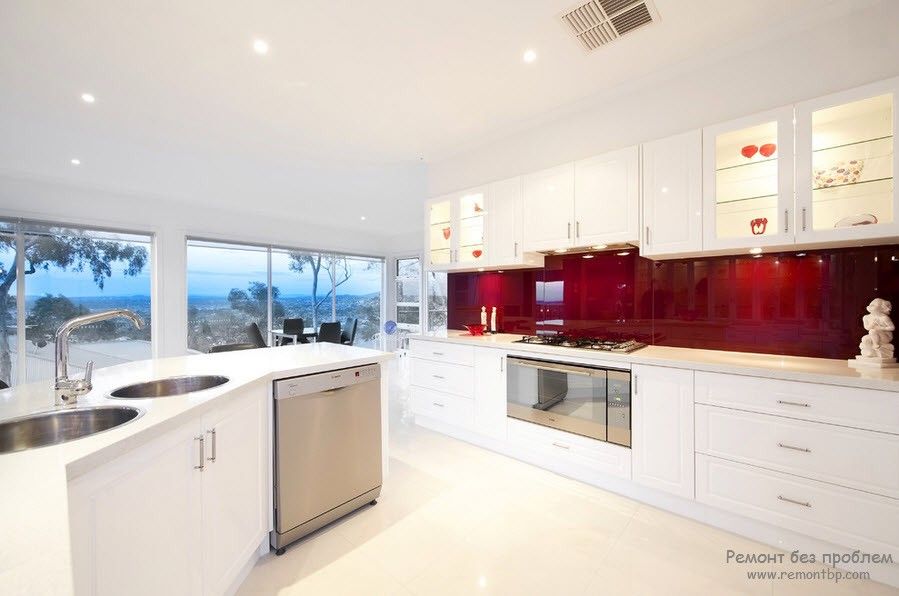 We can not forget about the nobility of red tree with its luxurious look and perfect compatibility with Rustic, Eco, Provence and other naturalistic village styles.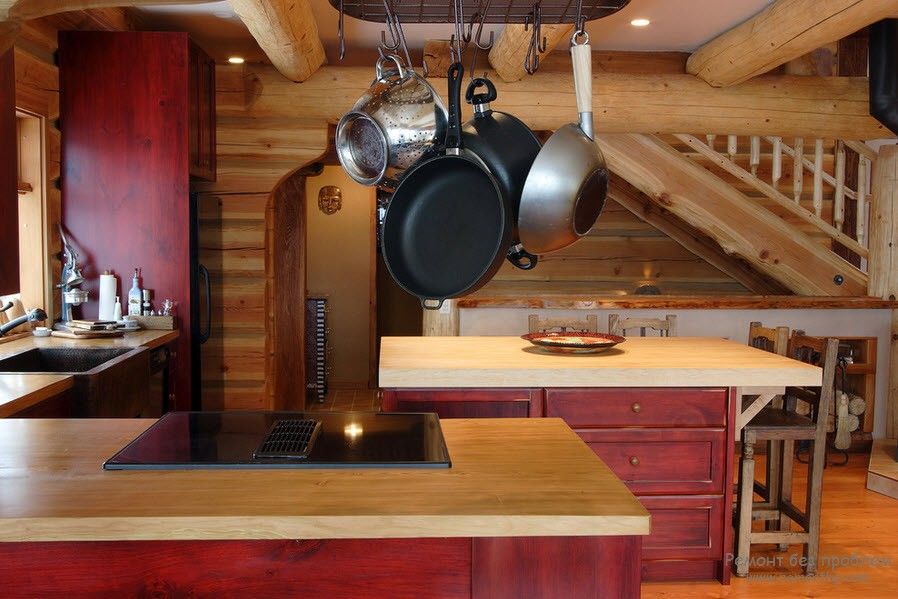 Small room can appear bigger in contrast of white and red colors. This method is often used by high level designers.
Bathroom
This room gives you all potent field of imagination and using of this beautiful color whatever you want. It can be just one element like the vanity or cabinet. Some people prefer of making an accent wall all red by applying the ceramic tile or mosaic. The compromising variant is setting the backsplash between the vanity and mirror in red mosaic.
Kids' room
Psychologist do not recommend to use active red color in children's room as it can distract your child from concentrated learning or bring unneccessary degree of agitation to his or her  mental state. However, the touch of red, especially in deep dark its hues can switch the creativity and even dispel the broing of the everyday life. Anyway, you should speak to your child first and try to introduce some small and easy replacable elements to its room to see the reaction.
Or you can try to paint the accent red wall, but it should not be monolithic and the other walls are better to make in calm pastel colors.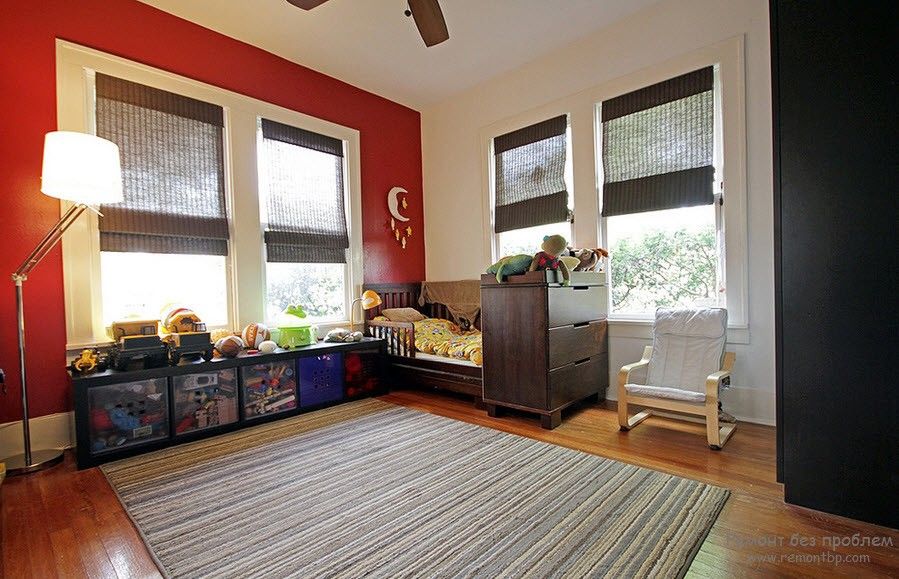 Bedroom
When it is necessary to create an unconventional interior for a business woman, gentle and at the same time charging with energy, you can prefer coral as the main color. Western designers appreciate its non-triviality, nobility and sophistication. Coral color carries positive energy. It is associated with the hot season, helps to feel freedom and a burst of creative potential. Coral transmits the energy of red, but at the same time it is soft and romantic like pink.
Versatility coral color is manifested in combination with other colors. It perfectly comes with milky and beige shades, the blue of the sky, the energy of fuchsia, with dark chocolate and even with black accents. In order to draw attention to coral color, it is necessary to use it in small details – in patterns painted on the walls, home textiles, textured materials. With correctly placed accents, the coral color will bring brightness and individuality to your interior.