Black wallpaper is a solution suitable for original, daring natures. They are characterized by elegance, sophistication, and a certain austerity.
Contents:
Features of Interior Design
When using black wallpaper in the interior, you should remember the following:
Black will be inappropriate in a small room. It will visually reduce the volume of the room.
On the main walls (for example, opposite the bed, around the TV) it quickly tires and depresses.
Black should be diluted with calm neutral colors (beige, gold, gray, and others) or add bright accents, for example, with textiles, decorative objects.
The room should get a lot of natural light during the day, or you need to plan in advance a competent arrangement of lighting devices.
Types of Wallpaper
In today's market, there is a large selection of types of wallpaper, and each has its own advantages and disadvantages.
Non-woven Wallpaper
Wallpaper is durable, fire- and moisture-resistant, does not burn out in the sun, and is easy to care for. Due to its loose structure, it is breathable and does not accumulate dust. It is important for people with allergies and bronchial asthma. There is a wallpaper for painting, the color of which can be updated or radically reapplied.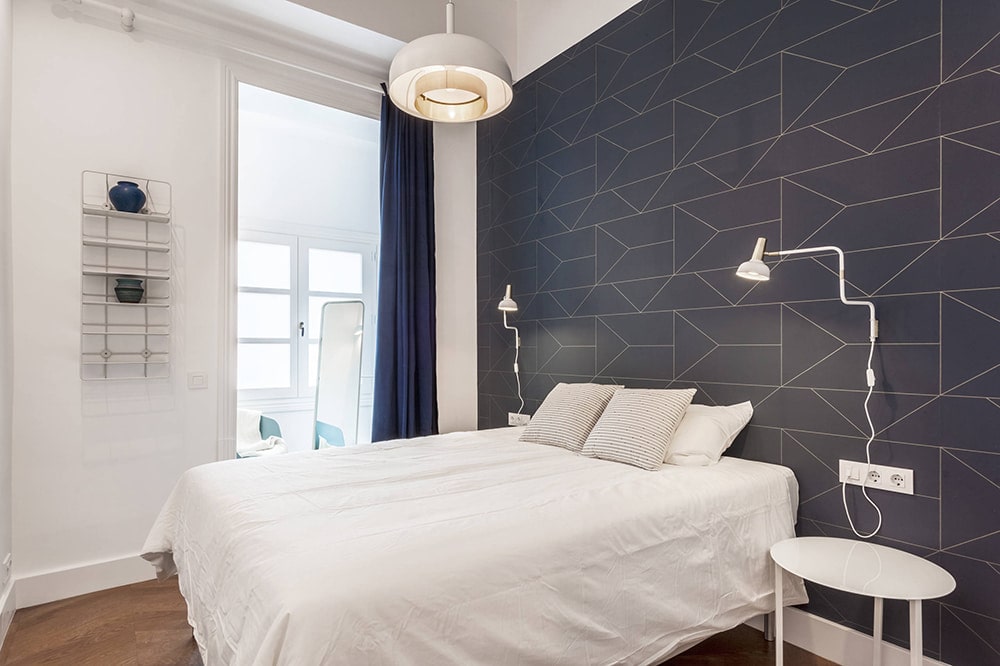 Vinyl
Affordable price and bright diverse design distinguish vinyl wallpaper. Nowadays there are many varieties of them, but especially popular are washable for kitchens and bathrooms. But air can not permeate them and also they have a pungent smell. Consequently, you should not use this type of wallpaper for children's rooms and bedrooms.
Paper
The most budget-friendly and environmentally friendly option. However, paper wallpaper is easy to wear out and quickly loses its attractive appearance. Because of the appeared dirt and stains, it will change its look. Also, it will be impossible to wash.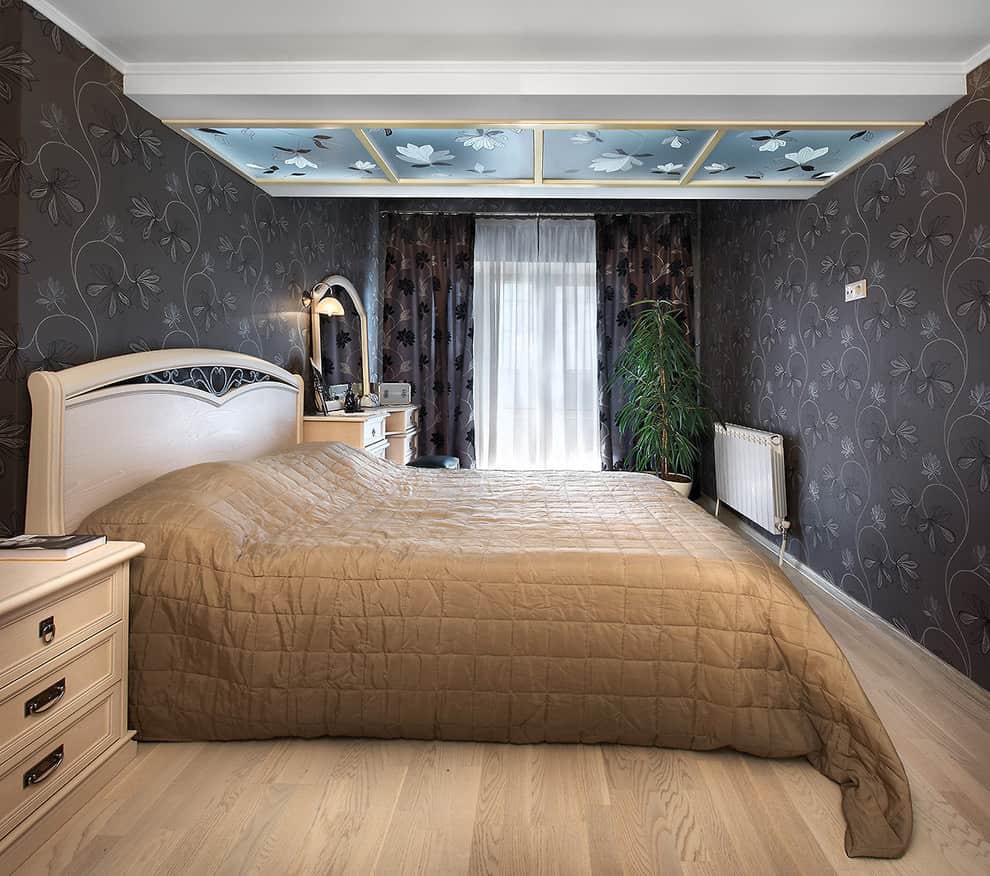 Liquid
Liquid wallpaper is a plaster, made with the use of plant fibers, which is distinguished by its high decorative value. It's easily applicable to walls of any complexity and creates a beautifully textured surface. But it characterizes by high glue consumption and high cost.
Photo Wallpaper
Photo wallpaper is an easy way to decorate a room with a complex realistic picture. A high-quality full-wall image with a receding perspective can add spaciousness and airiness to a room.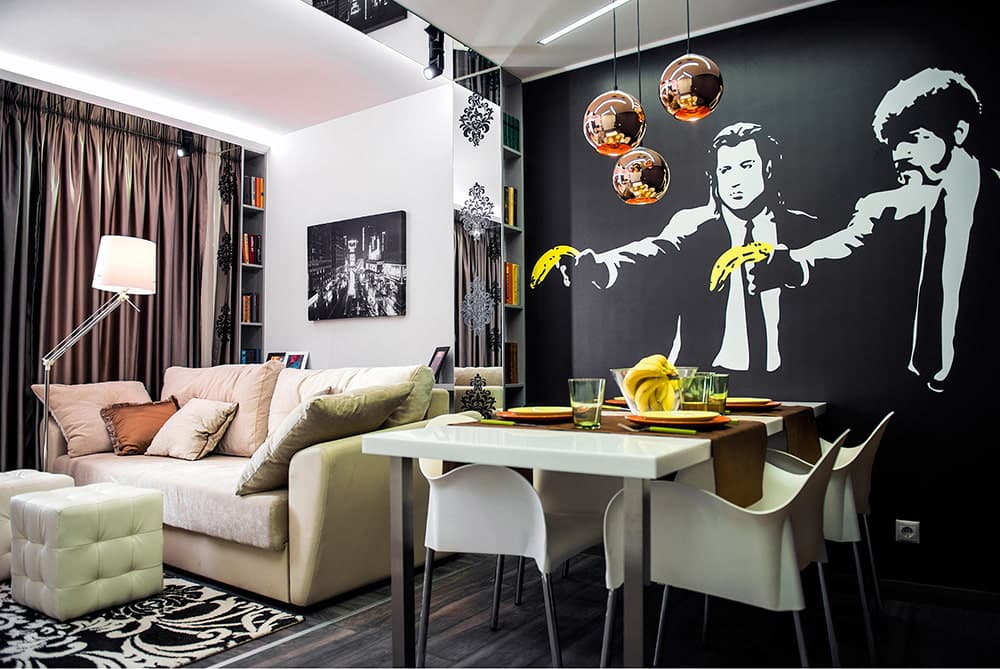 Textile
This type of wallpaper is made from both natural materials (cotton, linen, jute) and synthetic fabrics. They give the interior a special softness, coziness, and comfort. And velvet textile wallpaper emphasizes the luxury and richness of the interior.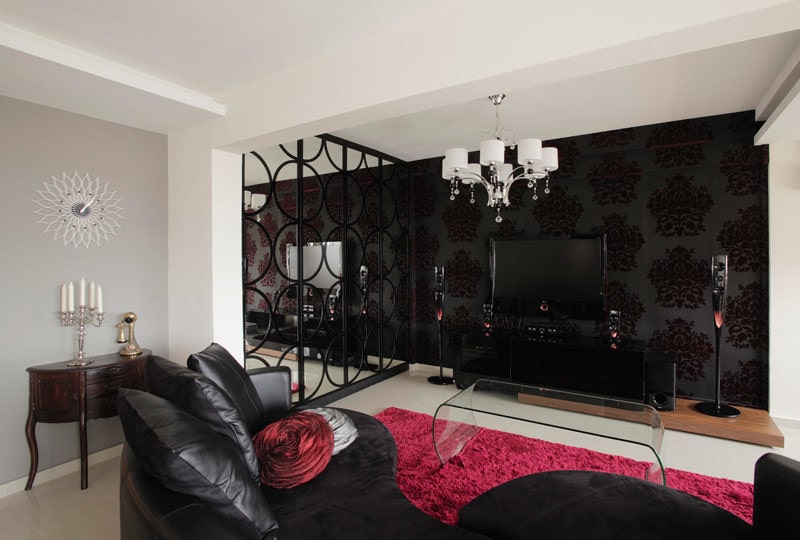 Silkscreen
This is a special type of vinyl wallpaper, created by hot stamping with the inclusion of silk or synthetic threads giving the wallpaper smoothness or beautiful relief. The surface of such wallpaper is soft, silky, with a fine sheen.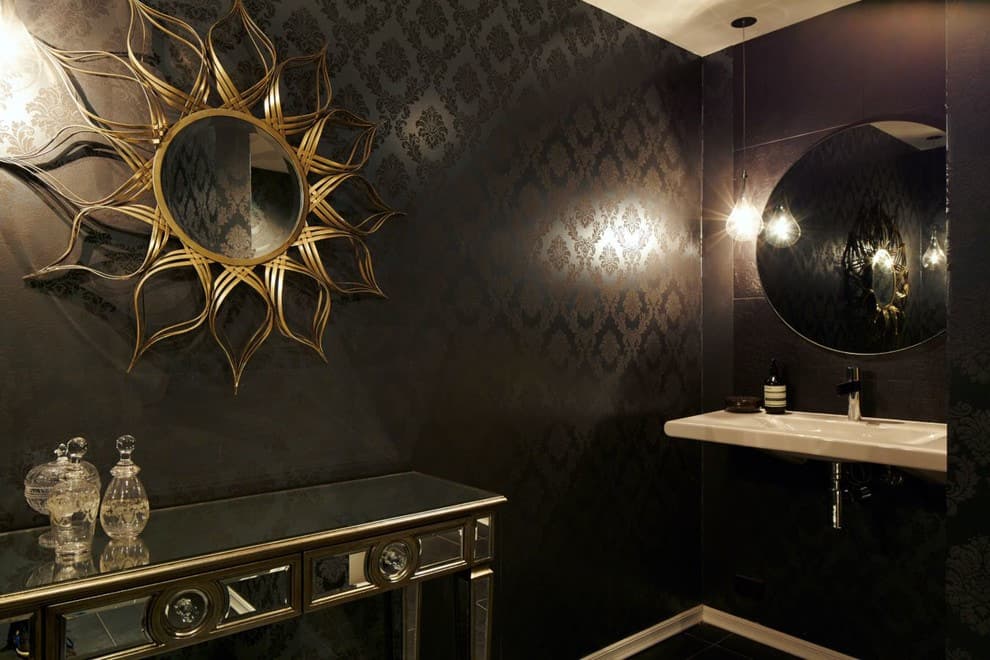 Bamboo
Bamboo wallpaper is environmentally friendliness and simplicity combined with durability and practicality. This way of finishing is simple but the result in the interior is exotic and atmospheric.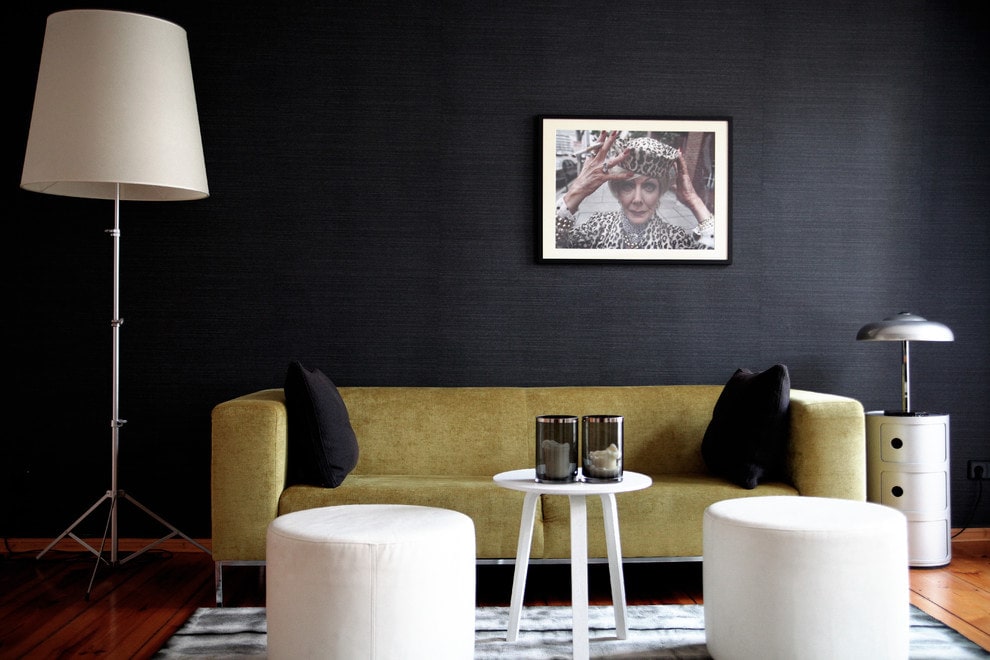 Design Options
Black wallpaper with different patterns and decorative elements will decorate the interior, add zest and charisma. By using different types of design, you can achieve diametrically opposite effects.
With Inscriptions
The final character of interior design can be achieved by using inscriptions on the wallpaper. Ornate font with monograms and scrolls will look better in an apartment with classic decoration. Straight laconic letters will give the situation brutality, severity, and fit better in the masculine interior.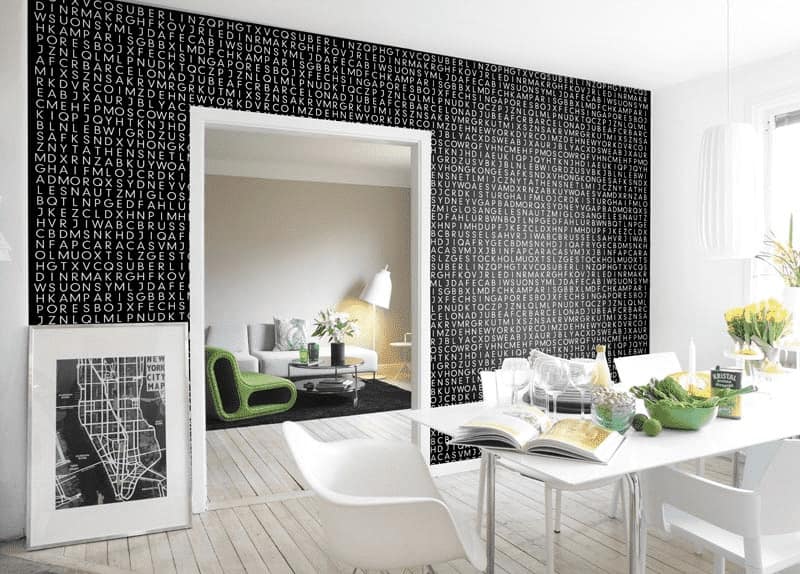 A white inscription in the form of a quote on the black wallpaper will be a contrasting accent, catching the eye and carrying the semantic load. And if you want to add an oriental touch to the interior, you can use Arabic inscriptions.
Monochrome
With monochrome black wallpaper is recommended to use companion wallpaper with a pattern, or independently choose suitable in color and style. The wall can be decorated with a composition of paintings or shelves with accessories.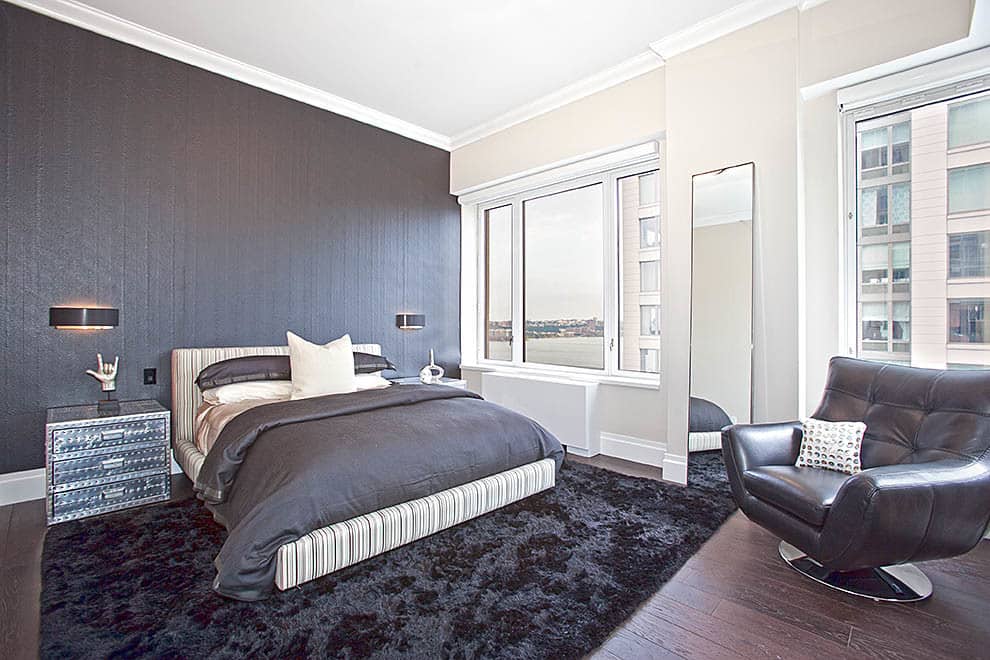 Brickwork Wallpaper
Wallpaper with a pattern imitating brickwork looks good locally in isolated areas, for example, in the kitchen, in the hallway, or the accent wall of the living room.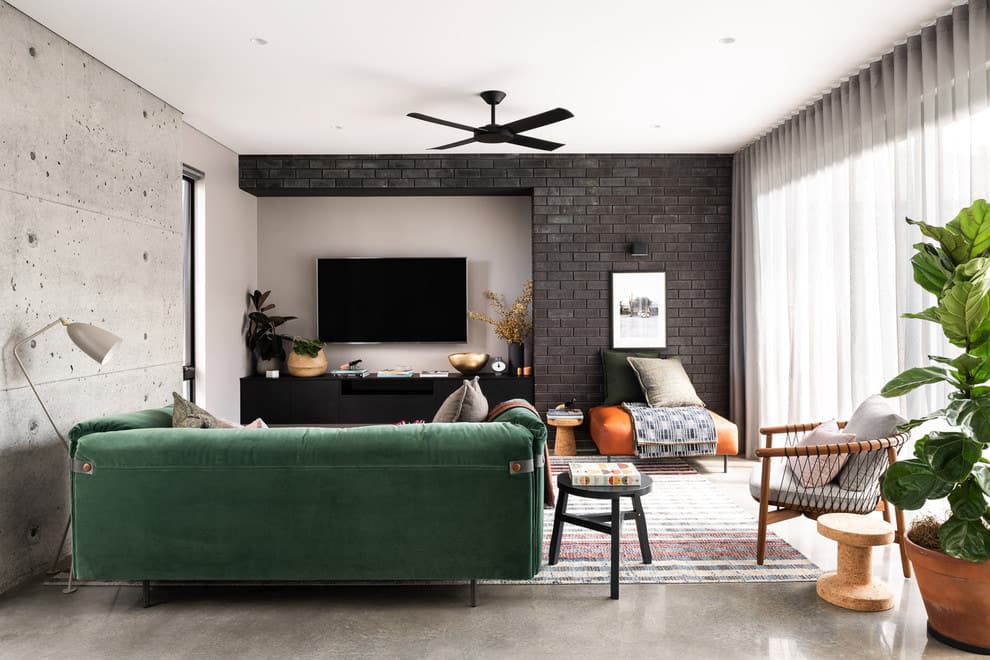 Wood Imitation
Wallpaper with imitation of boards or wood texture looks spectacular and original. The artificially aged figure, with traces of scuffs and peeling paint, will fit perfectly into the interior in the loft or minimalist style.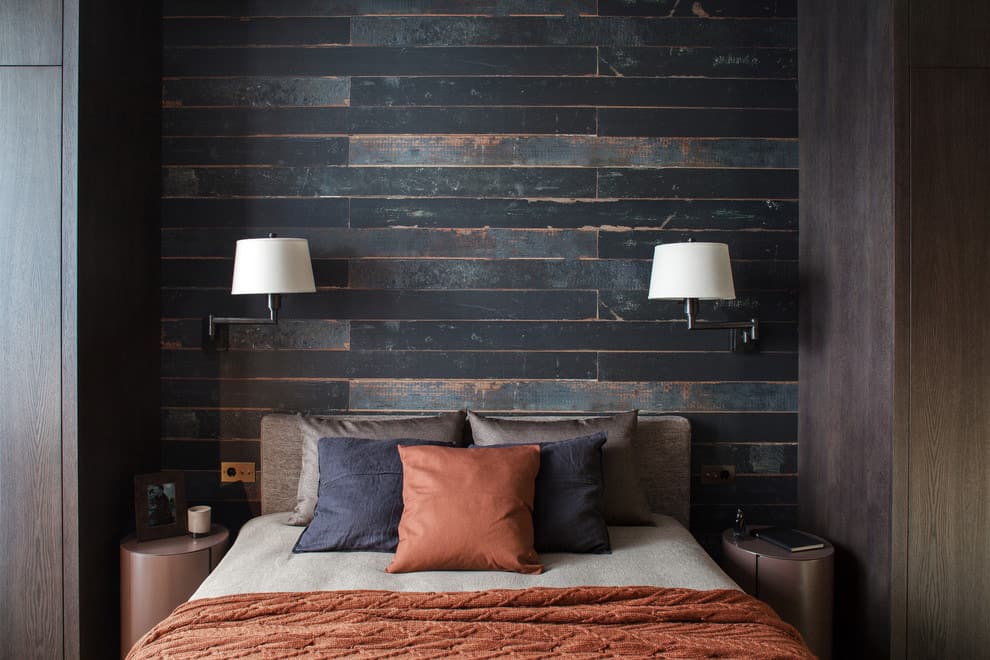 Leather
Wallpaper with leather imitation is saturated with a bohemian spirit and unpretentious luxury. Suitable for interiors in the Parisian style. Combined with velvet fabrics and gold elements will emphasize the status and influence of the owners.
Decorative Plaster
With the help of wallpaper, you can achieve various textured effects: polished marble, natural stone, ancient dry plaster.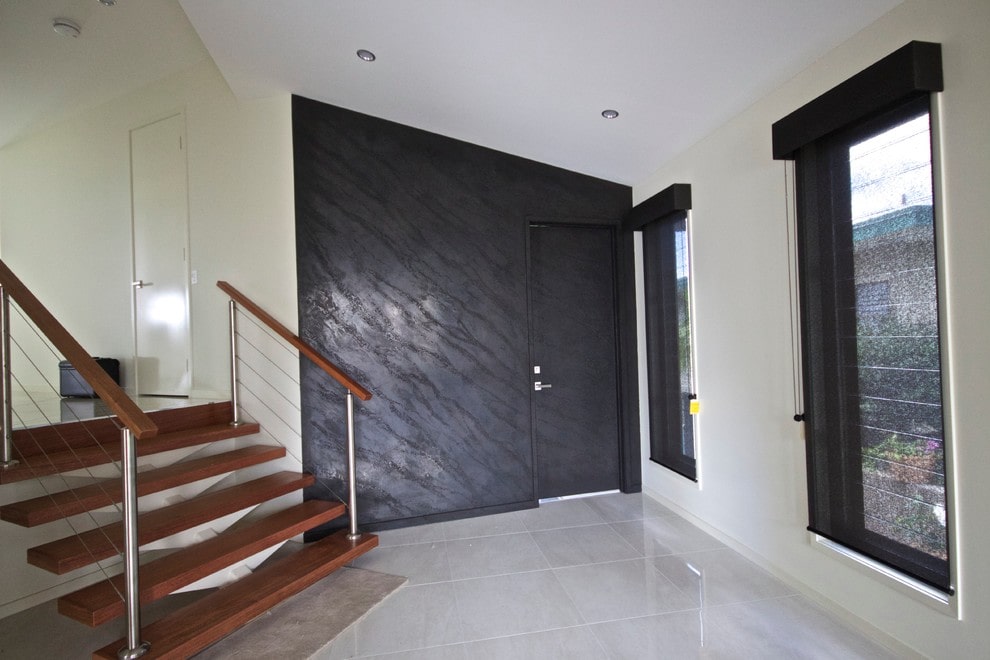 3D Wallpaper
Wallpaper with a stereoscopic pattern looks good in ultra-modern avant-garde interiors. This is an innovative step into the future for modern design.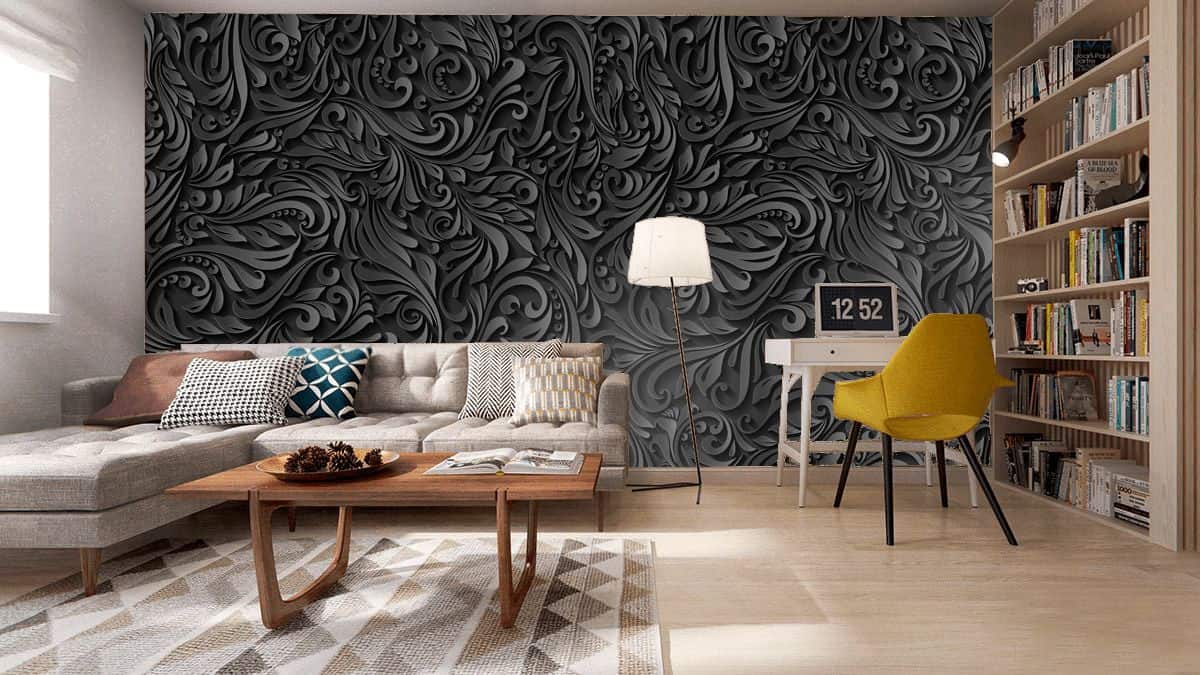 Urban Landscapes
A great choice is a wallpaper with an industrial landscape, especially such as an evening city. They will decorate even an ordinary interior, adding to its uniqueness and spontaneity.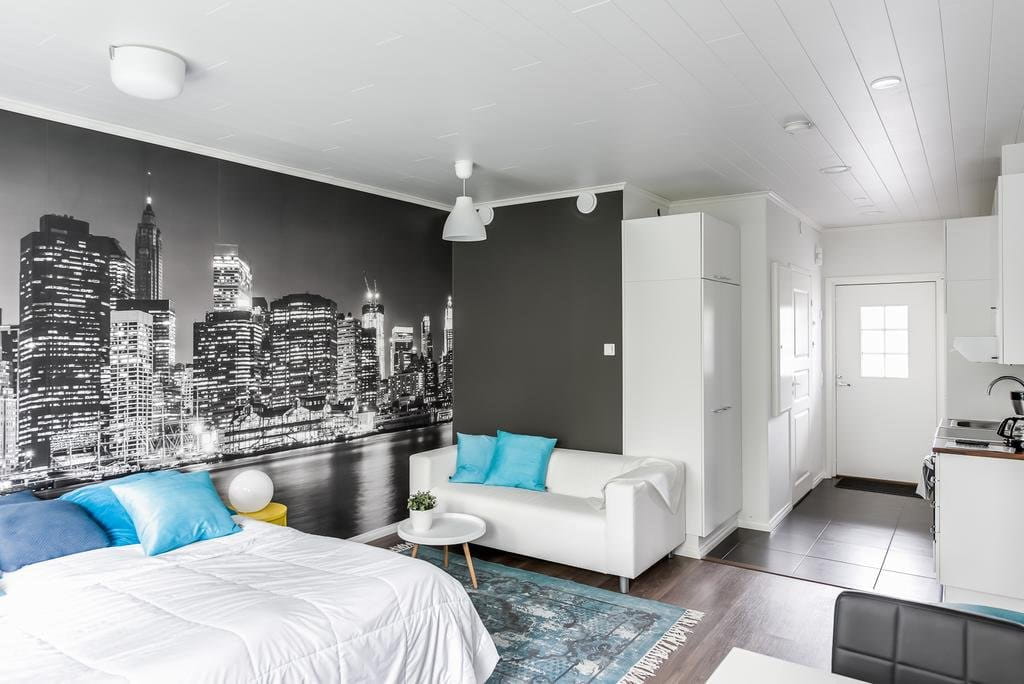 Stickers on the Wallpaper
If there is no possibility and means to conduct a global renovation, the solution can be self-adhesive stickers on the wallpaper. They will help change the atmosphere, arrange accents, hide existing defects.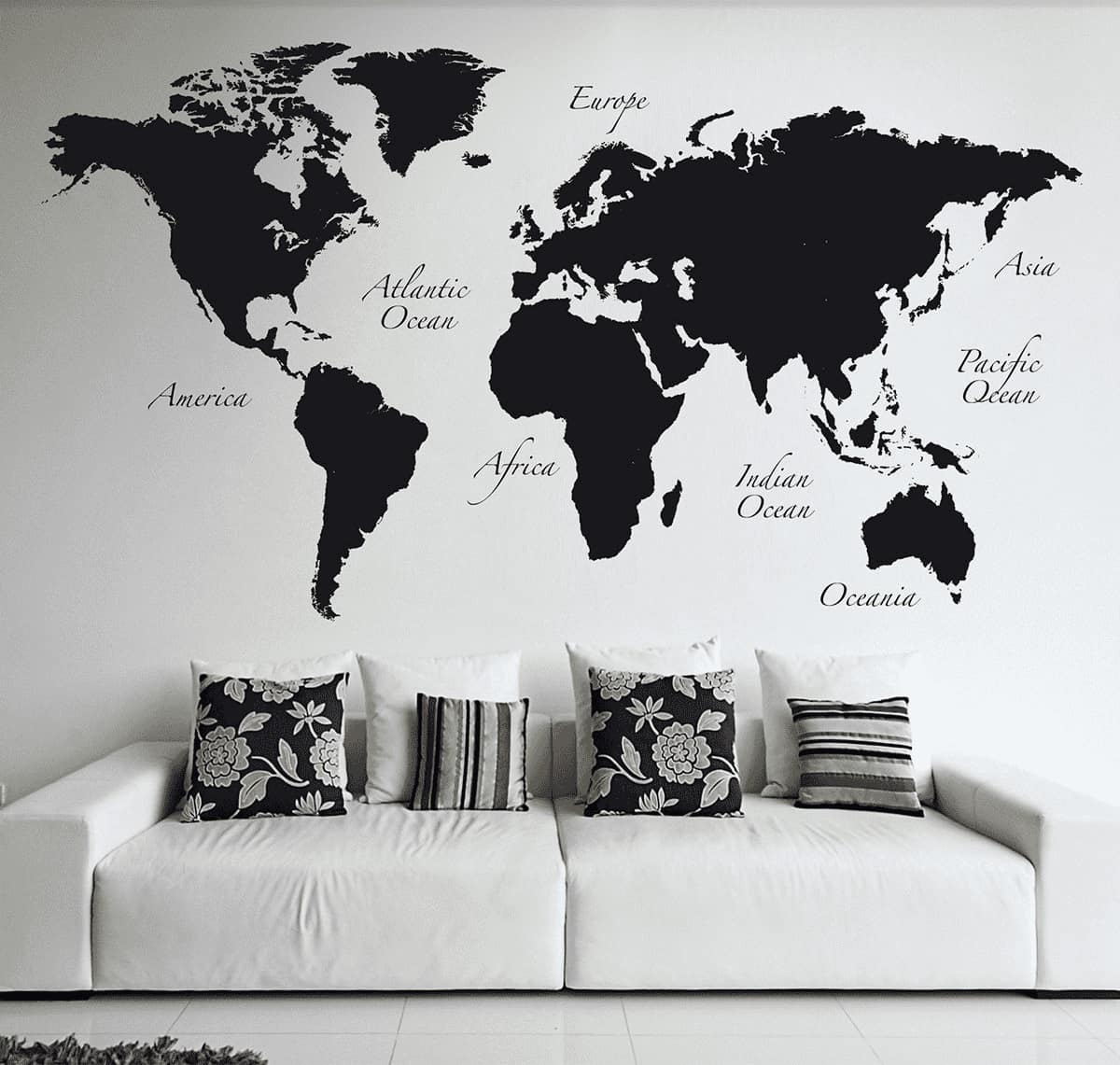 With Glitter
Black glittery wallpaper is another non-standard interior option for the bold. Glamour, neoclassicism – these are the styles to make the room look spectacular.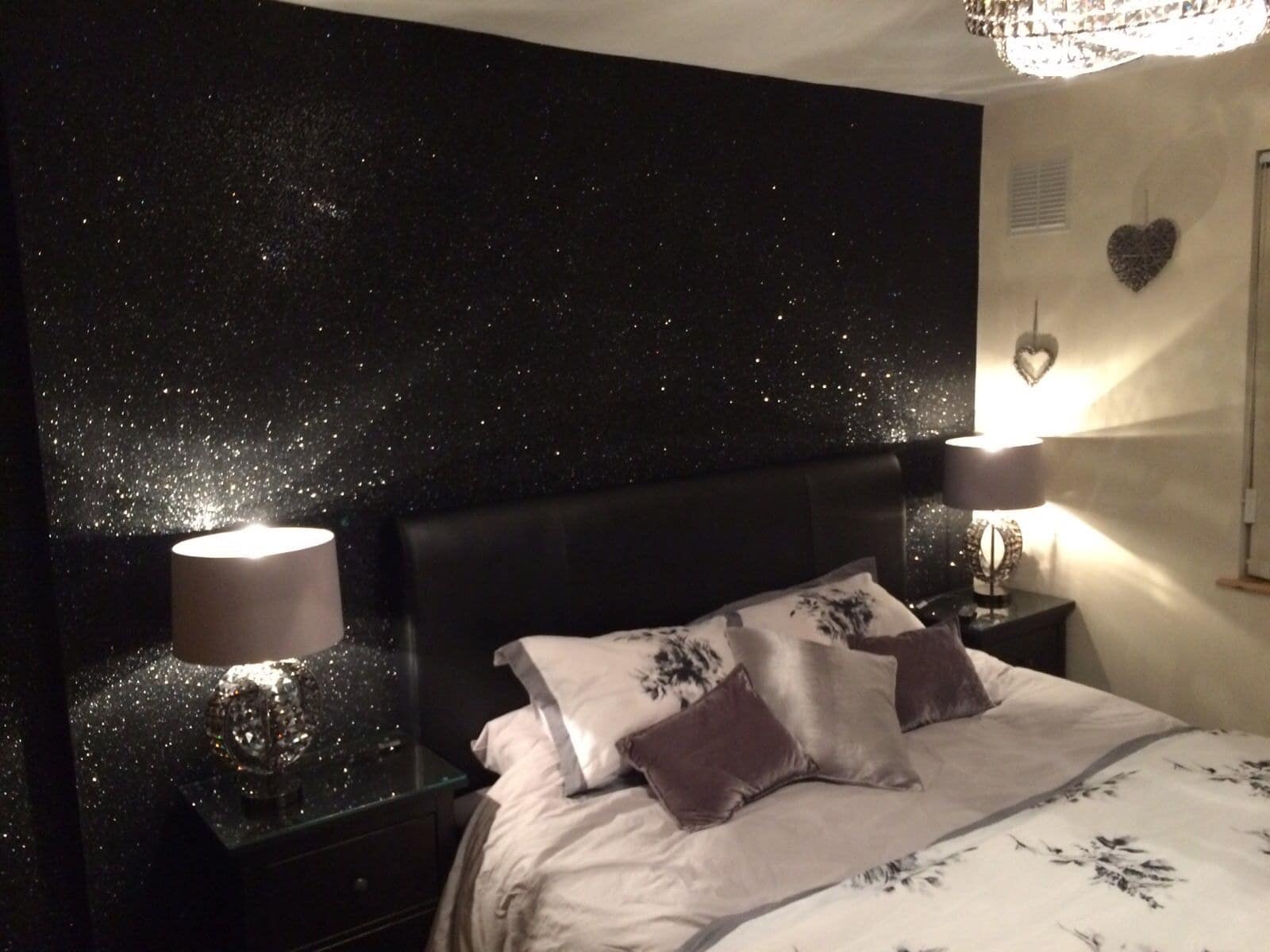 Wallpaper Ideas with a Drawing or Pattern
The pattern on the wallpaper can contribute to improve the overall look of the interior and even hide some of its flaws.
With Flowers
A dark background looks winningly with all colors. With a red accent, bright roses will bring drama and passion into the interior. Yellow flowers on a black background will look rich and sophisticated. Lilacs will reduce the tragedy and contrast of black, will calm and soothe. Peonies are a win-win elegance, while poppies and chrysanthemums are impersonation simplicity and minimalism.
Geometric Patterns
Geometric patterns are now at the rage. But you should remember that they can affect the perception of space. Horizontal stripe visually expands, vertical adds height to low ceilings. A large square takes away space, reducing it, but small elements such as rhombuses, circles, honeycombs, stars can on the contrary increase it.
With a Monogram
Wallpaper with monograms harmoniously fits into classical and modern interiors. Silver and gold patterns look especially rich and respectable on black.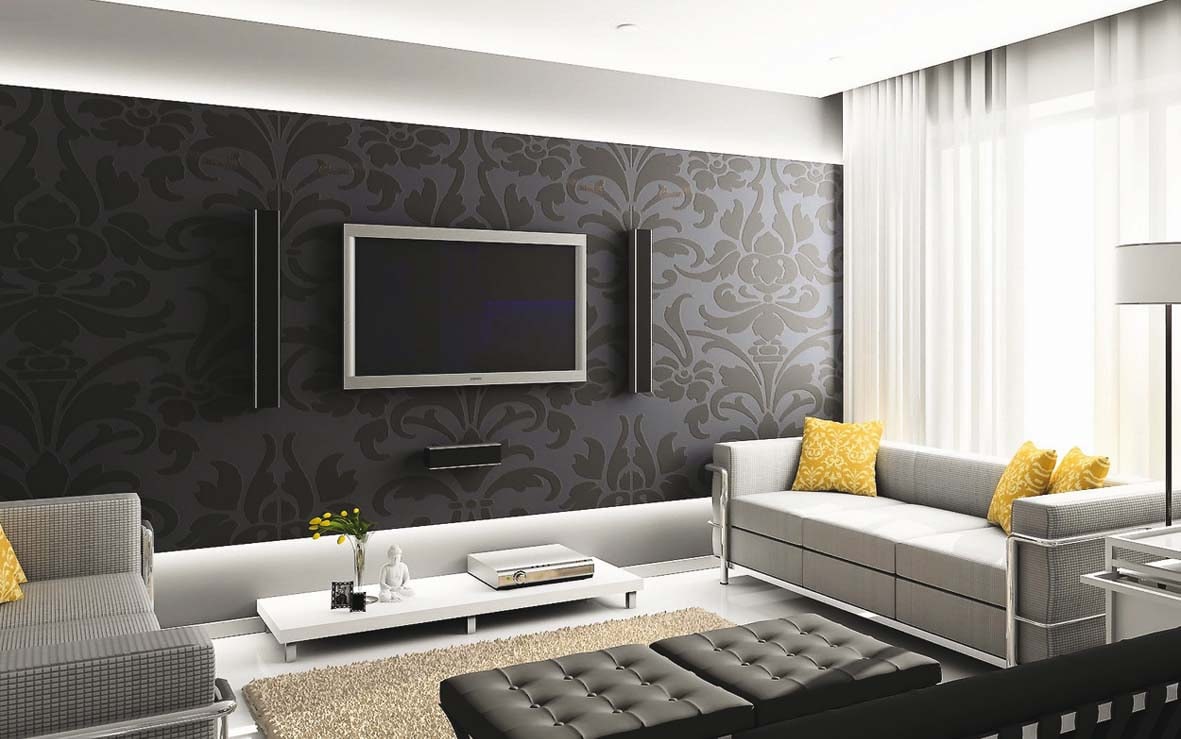 Ornaments
Ornaments on wallpaper can be geometric, vegetable, in the form of a continuous broken line (Greek meander). Use them better zoned for accent walls. Tender and subtle looks lace ornaments.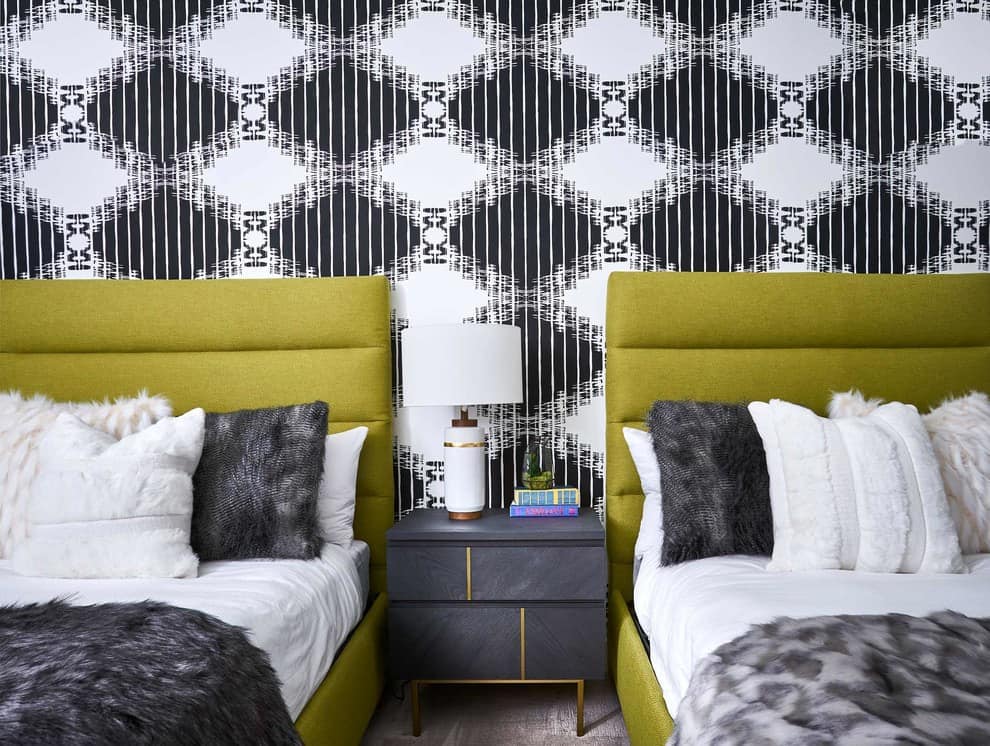 Damascus
Damascus is a very popular decorative element, which is actively used in many interiors: from vintage classic to modern. It symbolizes elegant taste, gives a special luxury and luster.
With Birds and Animals
An unusual variant of wallpaper in the interior is wallpaper with images of animals and birds. Among the black images are popular zebras, snow leopard, lion. Wallpaper with a small zoological pattern is more suitable for the design of a child's or teenager's room.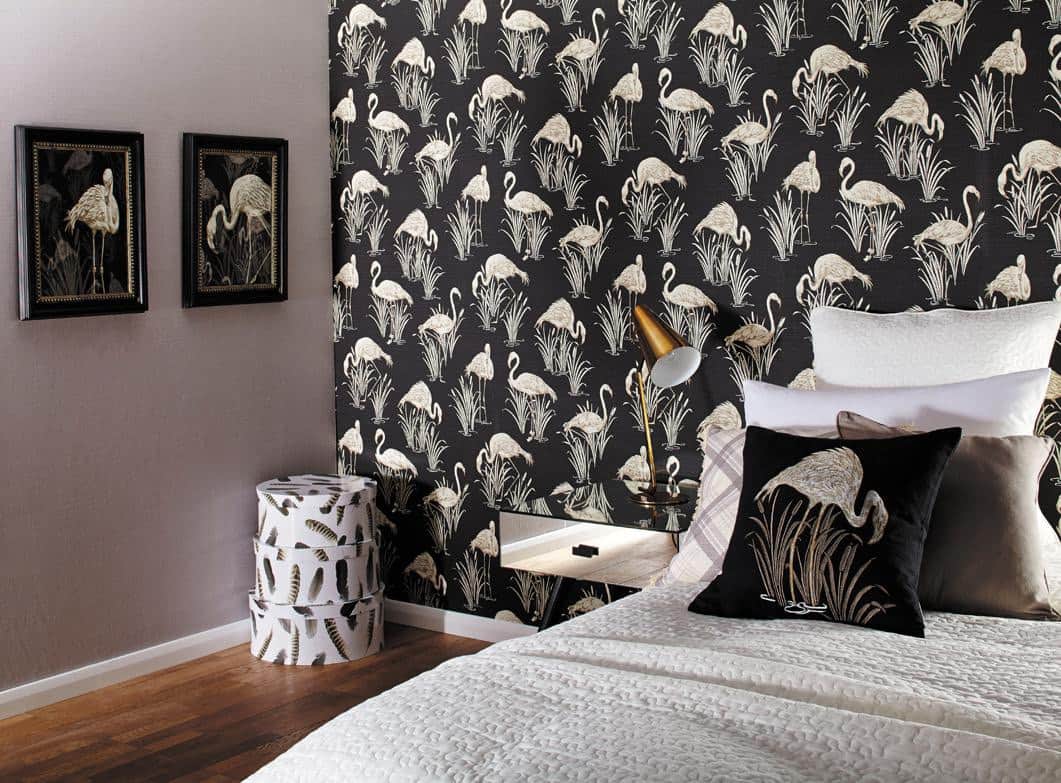 Nature
Wallpaper with a picture of nature is better used in rooms for rest and recovery. Images of leaves, woods will give a sense of calm, peace, and harmony.
Polka Dots
Polka dots are always perky, casual, and fun, even when it comes to a black wallpaper. When you add bright furniture or colored textiles, you can get an interior with special charm and irresistibility.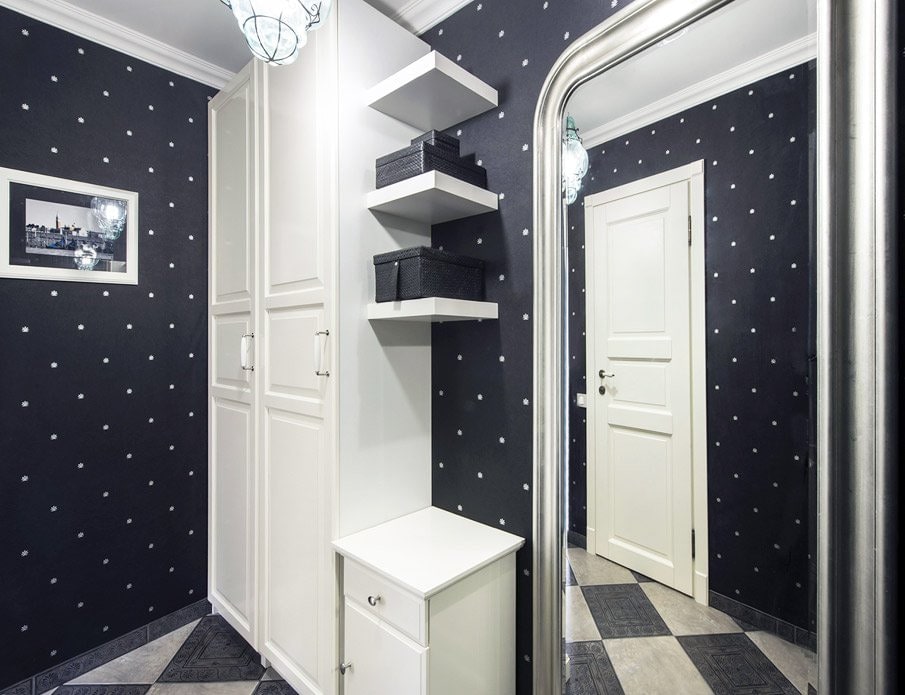 Abstraction
Abstraction in the interior is rare. As a rule, it is one accent wall, around which the entire composition is built. In order for the picture to fit harmoniously, it is better to use neutral colors and laconic furniture.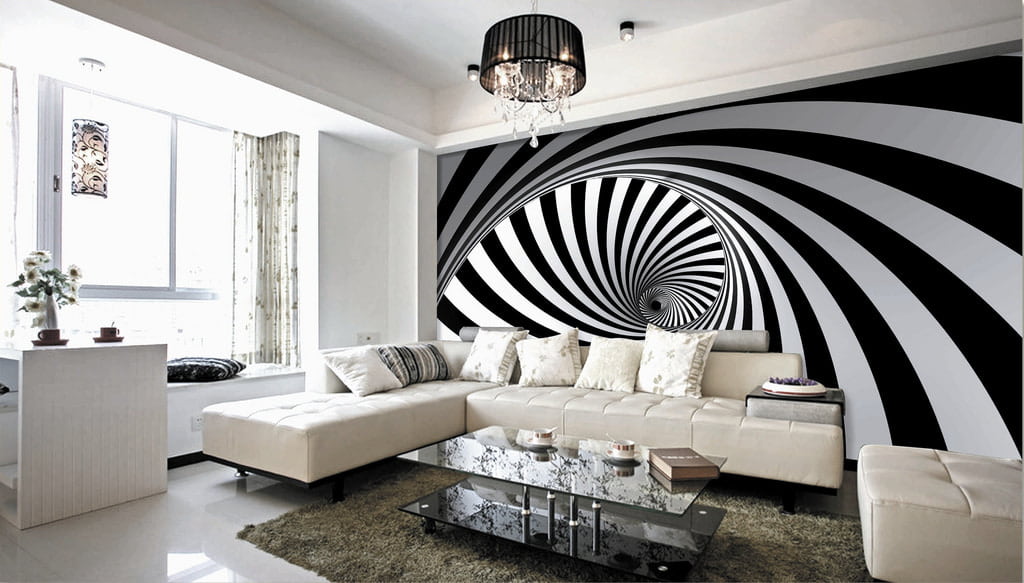 Combining Wallpaper in the Interior
A completely black interior will be gloomy and depressing, so it is important to skillfully dilute it with other colors. Each shade has its own characteristics. Which one to choose to give the room a certain mood?
Black and White
The combination of black and white is a classic. This is a win-win option for creating a modern interior. The design of black and white wallpaper is very diverse: alternating stripes, cage, various patterns, ornaments, abstracts. Frequent change of contrasting elements can visually overwhelm and fatigue.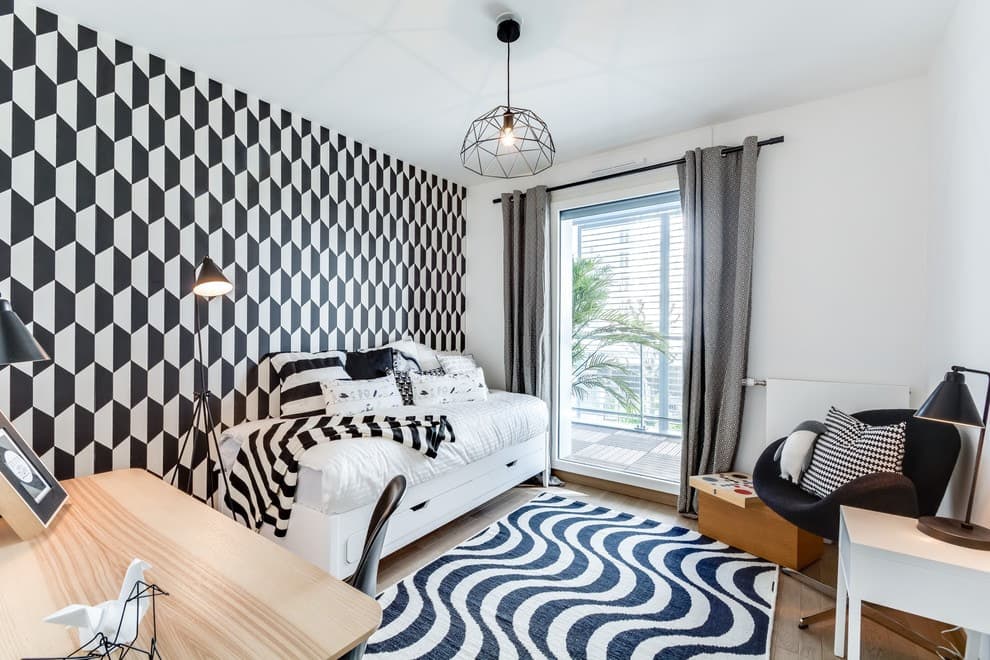 With Gray
Black and gray are perfect neighbors in austere and presentable interiors. That this combination does not look mournful, it is better to use light, silvery shades of gray.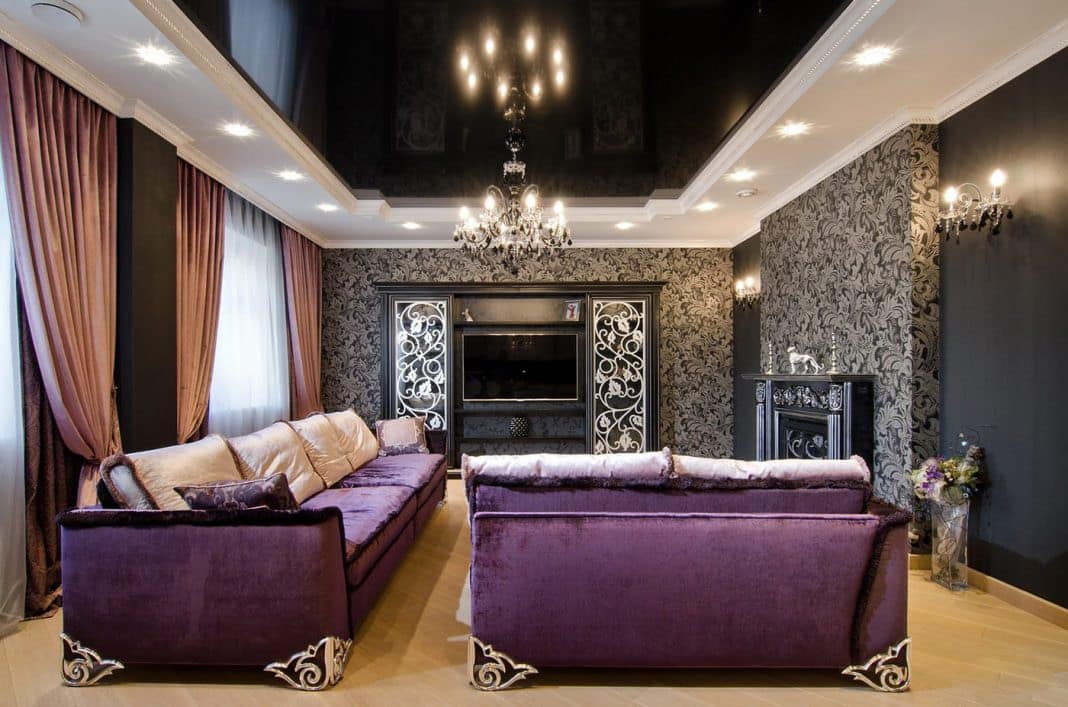 With Beige
The universal classic combination of black and beige looks good in the interior of the living room or bedroom.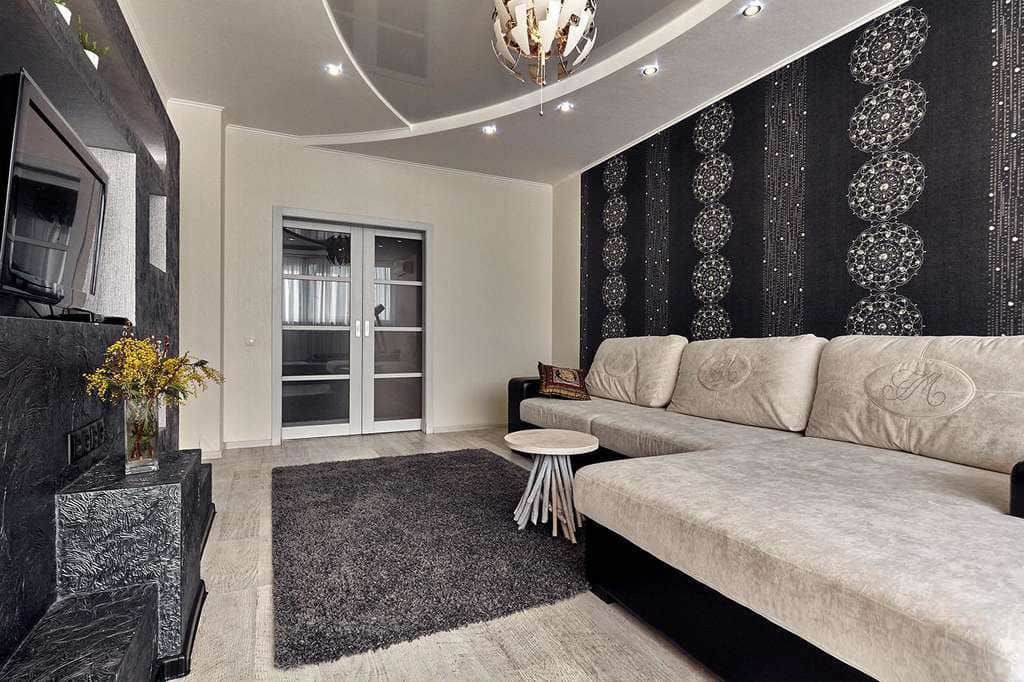 With Green
Black together with green look exquisite and elegant. Professionals add white to this tandem or combine it with several lighter shades of green, such as lettuce, apple, lime.
With Turquoise
Turquoise in any interior looks festive and attractive, and in the neighborhood with black, you can get a provocative, fashionable, bold design. Suitable for lovers of unconventional solutions.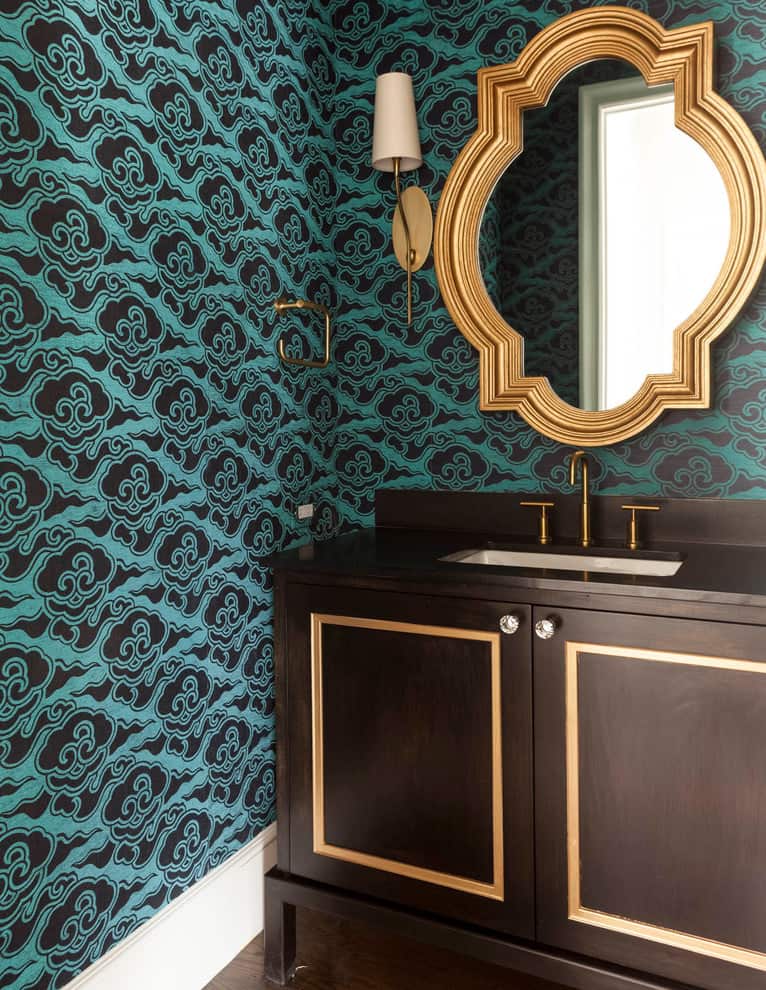 With Gold
The color combination of gold and black will give the interior nobility, wealth, presentability. Gold is associated with material wealth, as it was historically used in the decoration of castles and palaces.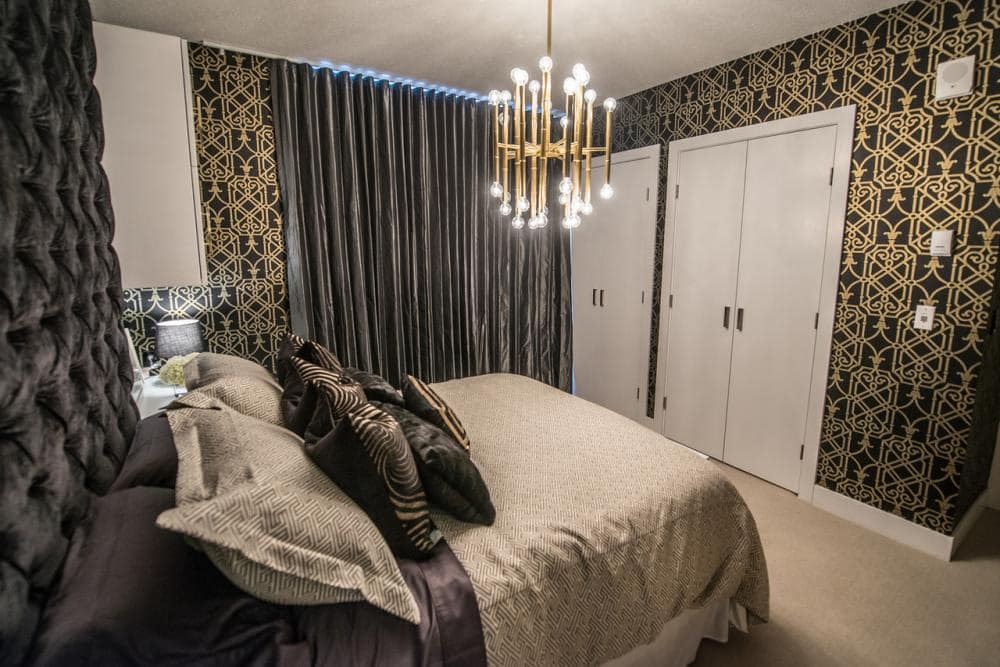 With Red
In pure combination in the living space, it is rare. The reason is that it can cause anxiety, aggression, a sense of danger, and anxiety. But when you add white, you get a fascinating mystical contrast, which will transform even a simple condo.
With Burgundy
Burgundy is a shade of dark red that gets its name from French wine. With black it looks complete and harmonious, bringing to the interior a fashionable chic, festivity, luxury.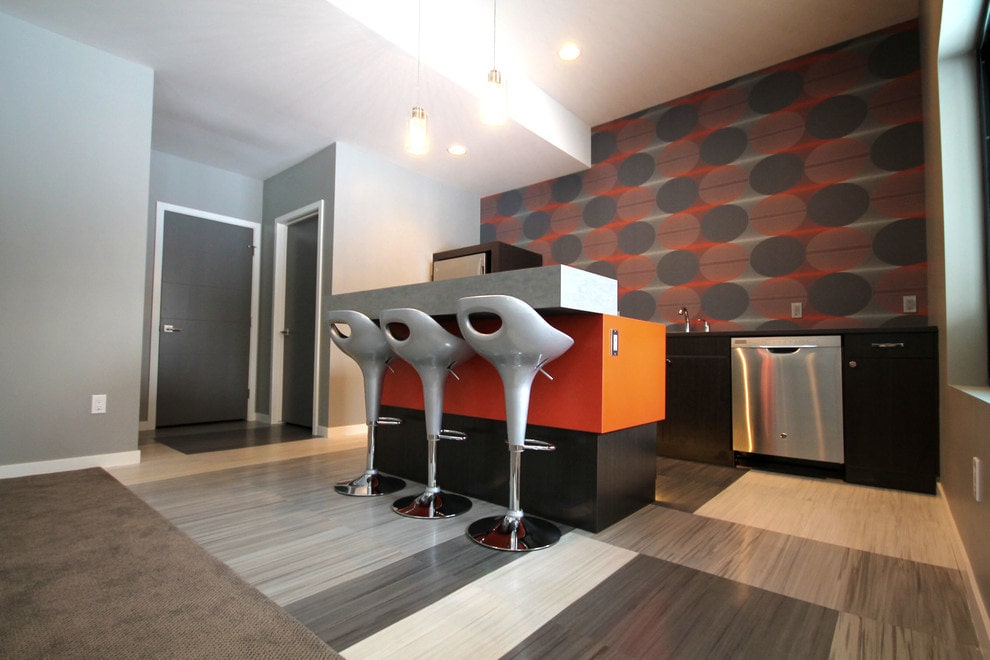 With Blue
Black and blue give a sense of austerity, independence, and solidity. Suitable for men's interiors.
With Lilac, Purple
Lilac color gives the interior a sense of carefree, calm, peaceful, helps to relax and sleep, so this combination is good to use in the bedroom.
The combination of black and purple in the interior looks pompous, mysterious, even magical, but not everyone will dare to use it because of the overwhelming majesty. Elegant thin candelabra and crystal look good against such a combination.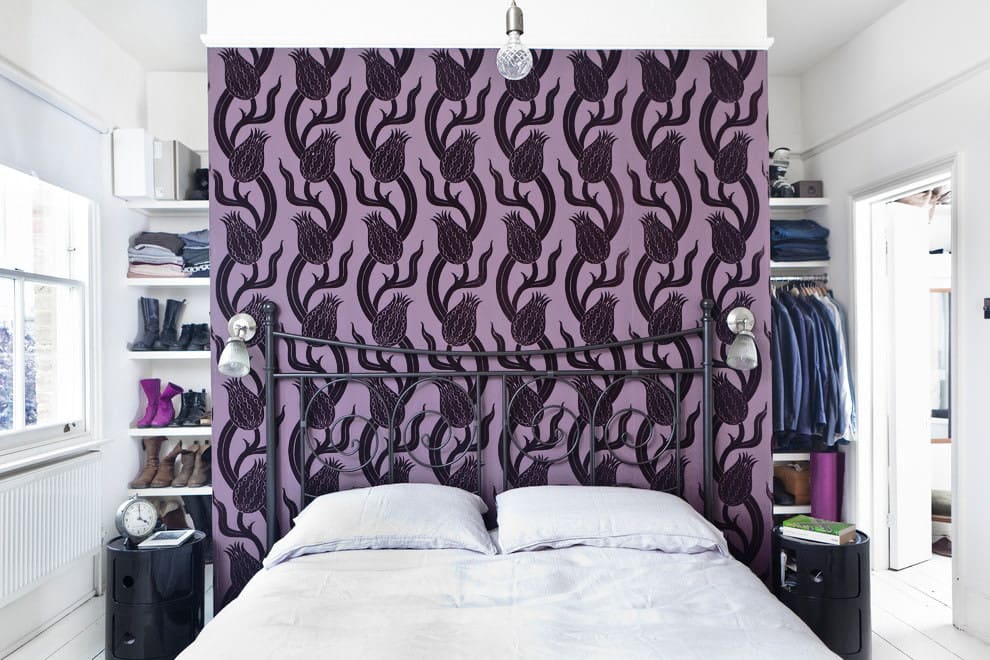 With Yellow
Black and yellow in the interior look positive and sunny, especially if you use muted shades or matte textured surfaces.  white and yellow patterns will be an excellent decoration of such a neighborhood.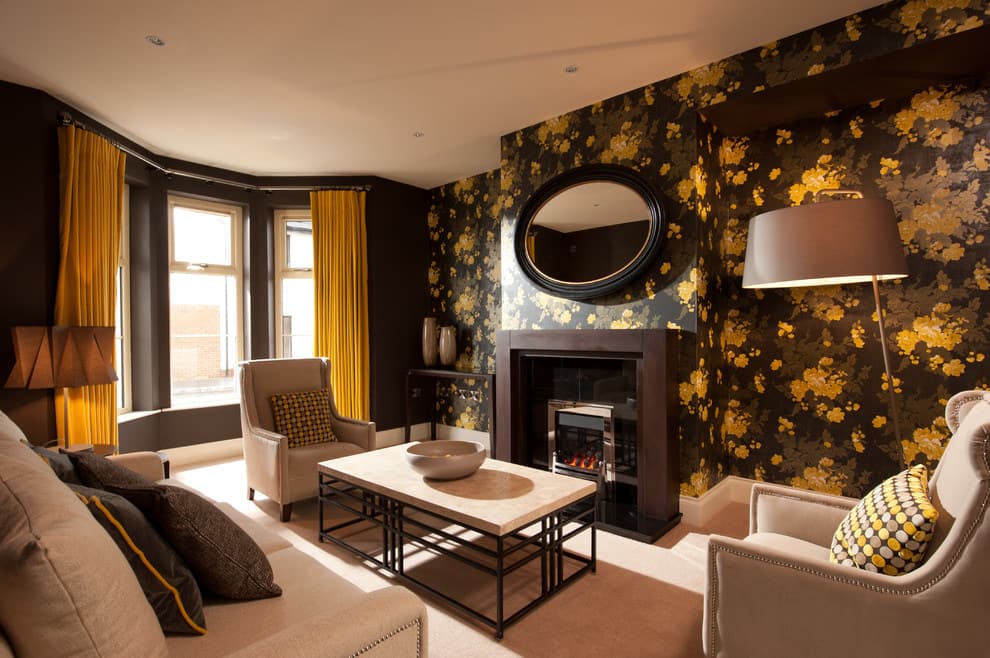 With Brown
The duo of black and brown looks expensive and respectable. Combined with quality materials and a rich finish it emphasizes the status of the homeowner. Fits well in the minimalist style with straight lines and laconic decor. Also, it is more suitable for rooms with a masculine character.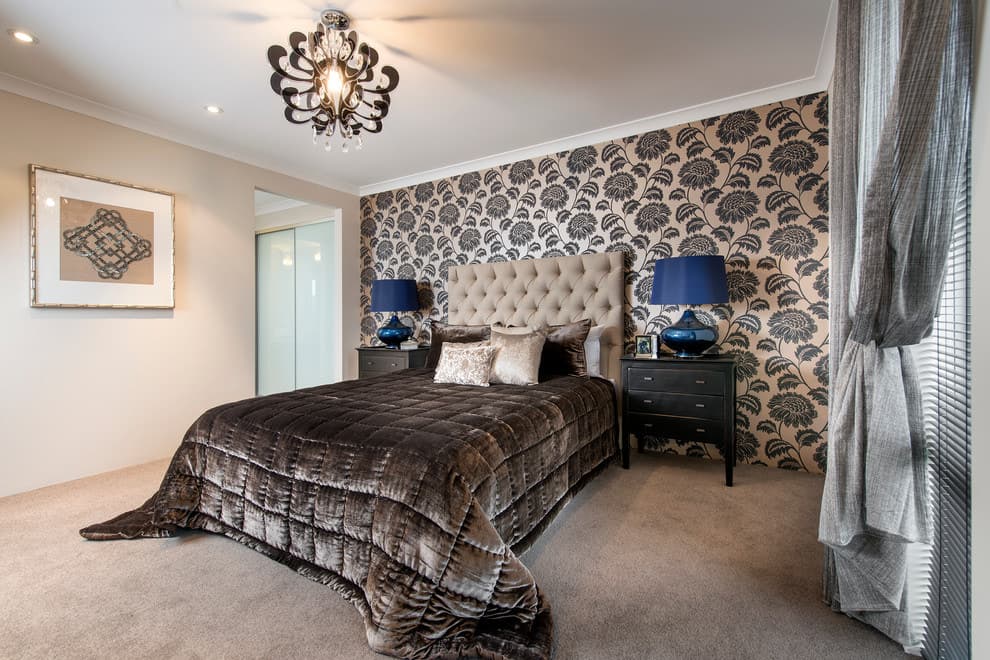 With Orange
Orange brings positivity, iridescence, and warmth to the environment, but the exclusive use of black and orange in the interior can cause anxiety and disturbance. It is recommended to dilute this duo with white, gray, or brown.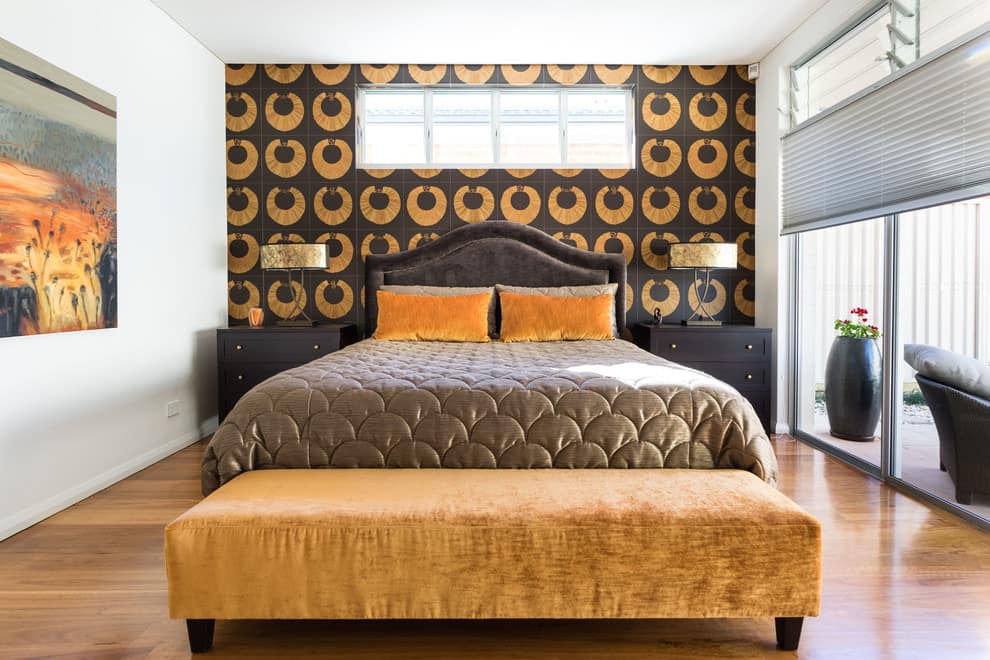 With Pink
If you want a stylish fashionable combination, you can add pink. It will give lightness, casualness, carefree and some glamour.
Photo Ideas in Different Styles
Black wallpaper will fit harmoniously into the interior of any style. In the hands of an experienced designer, it will be able to emphasize the advantages of the room.
Minimalism
Black and minimalism are two excellent companions. Brilliance and efflorescence of black color compensate the asceticism of straight lines, clear silhouettes, minimum of décor, typical for minimalism.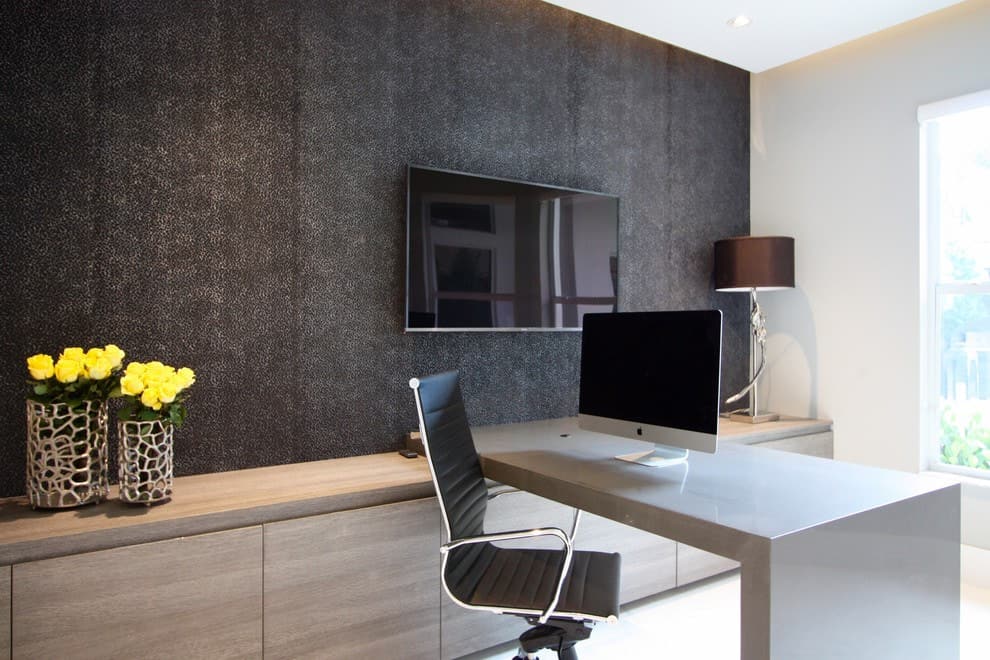 Loft
Loft and black are practically inseparable from each other. In the popular industrial loft direction pipe valves, wire knots, chains will look organic, reminiscent of the factory room on a black background.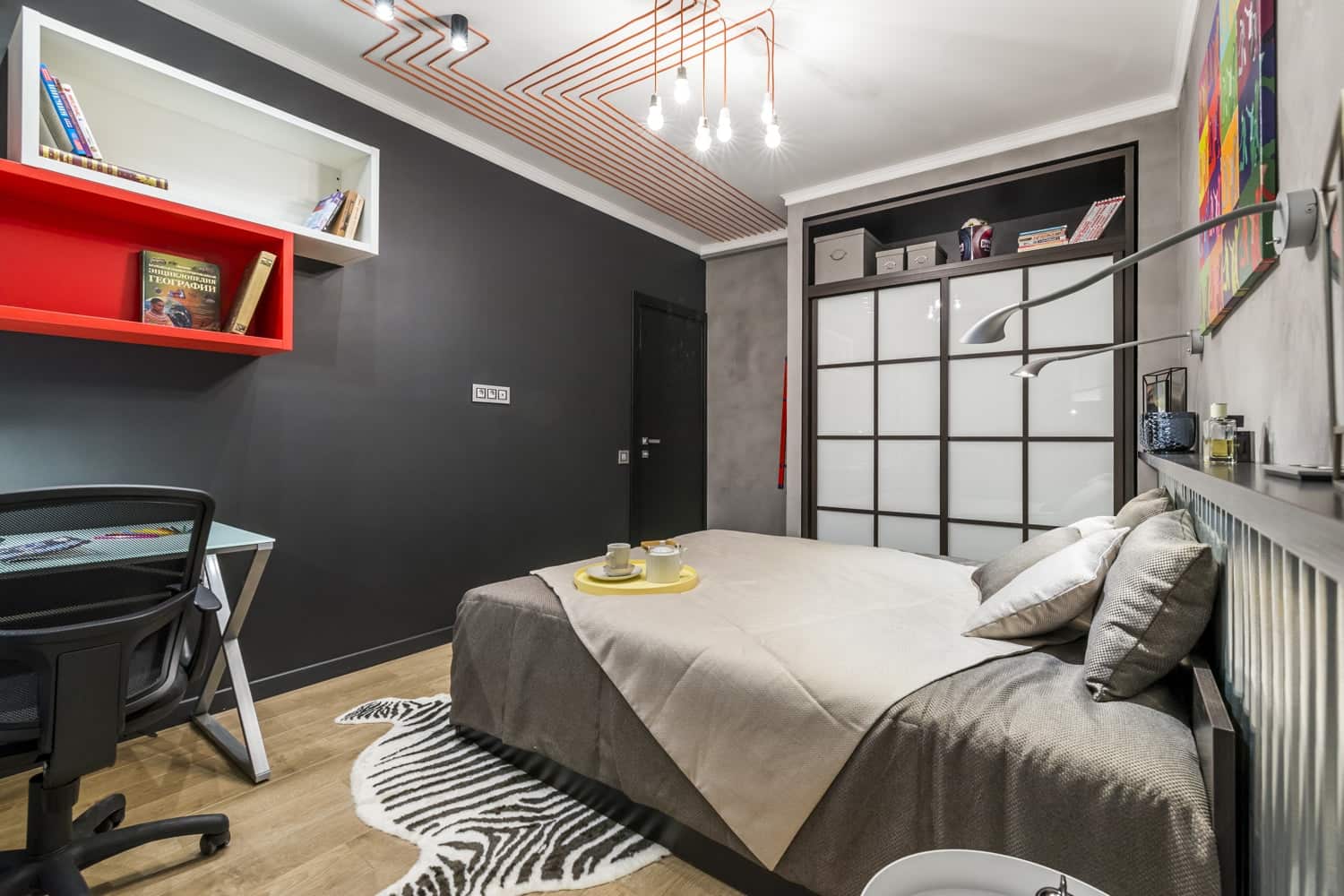 Modern
Black wallpaper will fit a modern interior successfully. Especially if its dosage is respected and colors-companions are competently selected.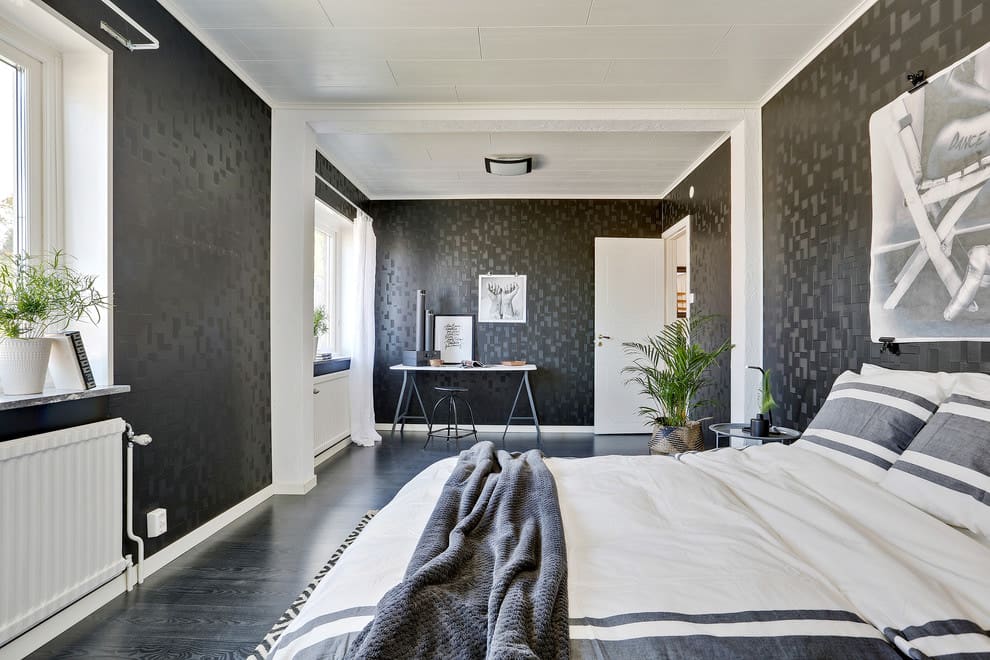 The photo shows a bedroom with a working area, which is united by a single stylistic solution and color scheme.
Classic
Classic in black tones is a rare phenomenon and is suitable for extravagant, extraordinary personalities.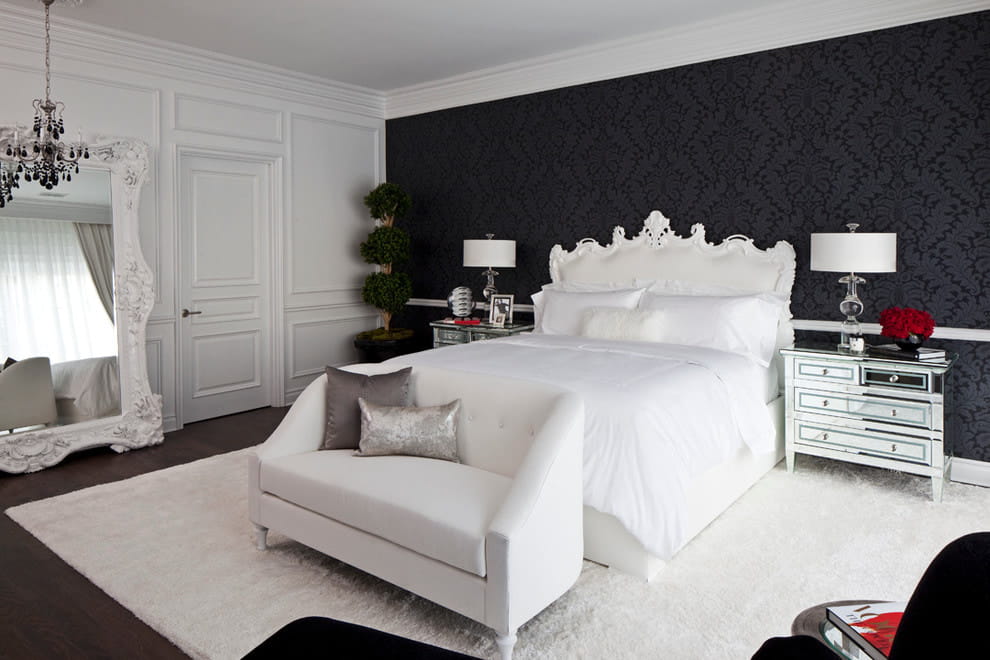 Examples of Wall Decoration in the Interior of Rooms
Wallpaper in black is suitable for decorating rooms of any purpose.
In the kitchen
For the calm interior of the kitchen, it is better to choose wallpaper with a pattern or plant ornament of beige, gold, gray, or pastel shades. Deep black with a glossy sheen is suitable for minimalist and laconic design.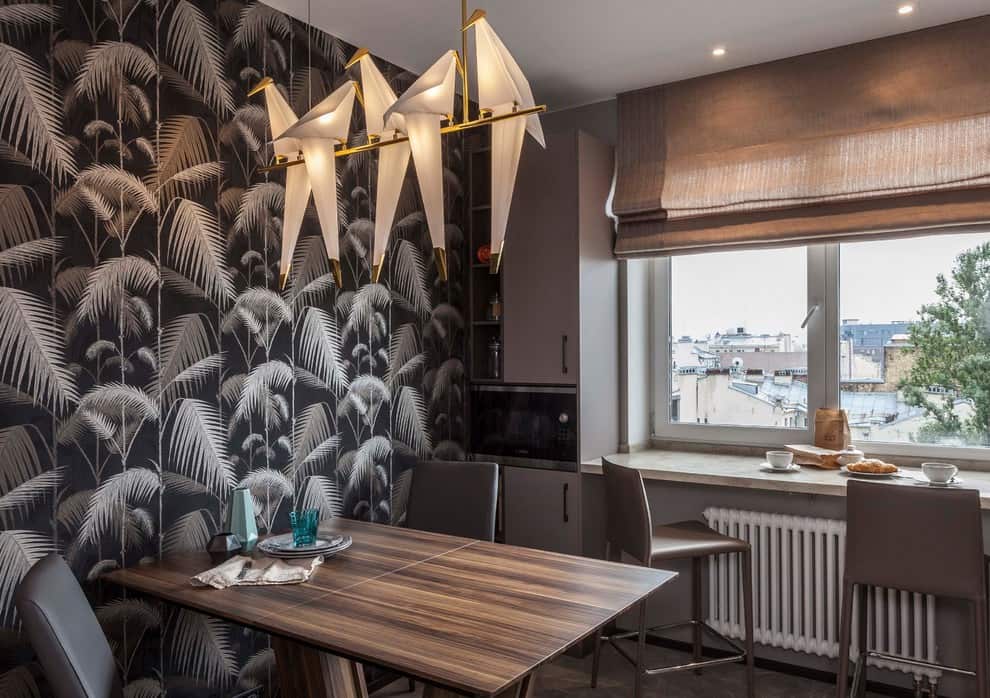 In the Hall and Living Room
If there are doubts about using black wallpaper in your apartment, try to decorate the living room with them. They will give this room vivacity, sharpness, and some drama.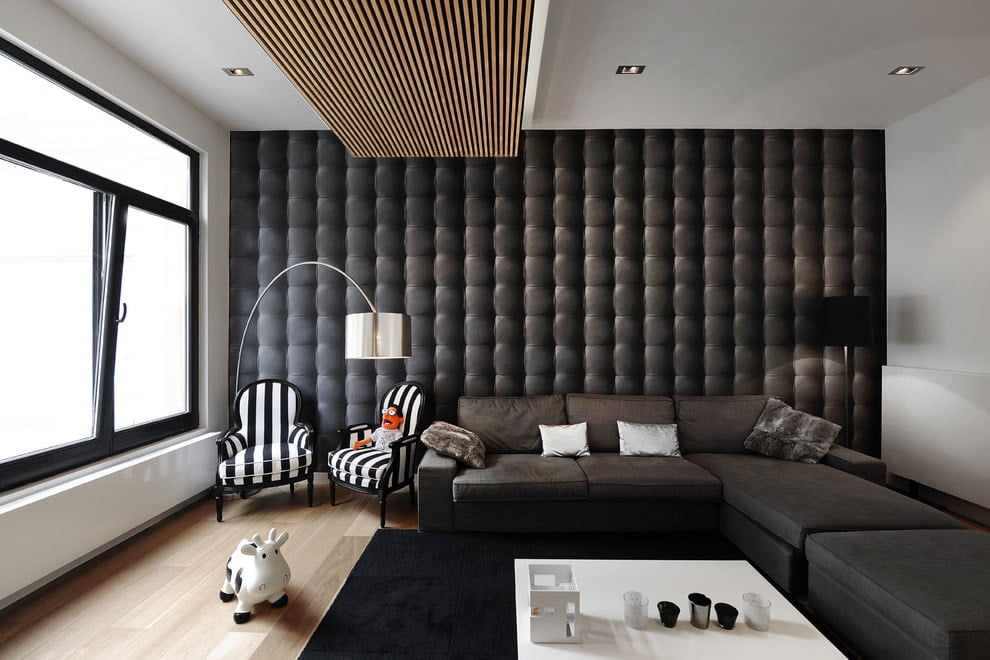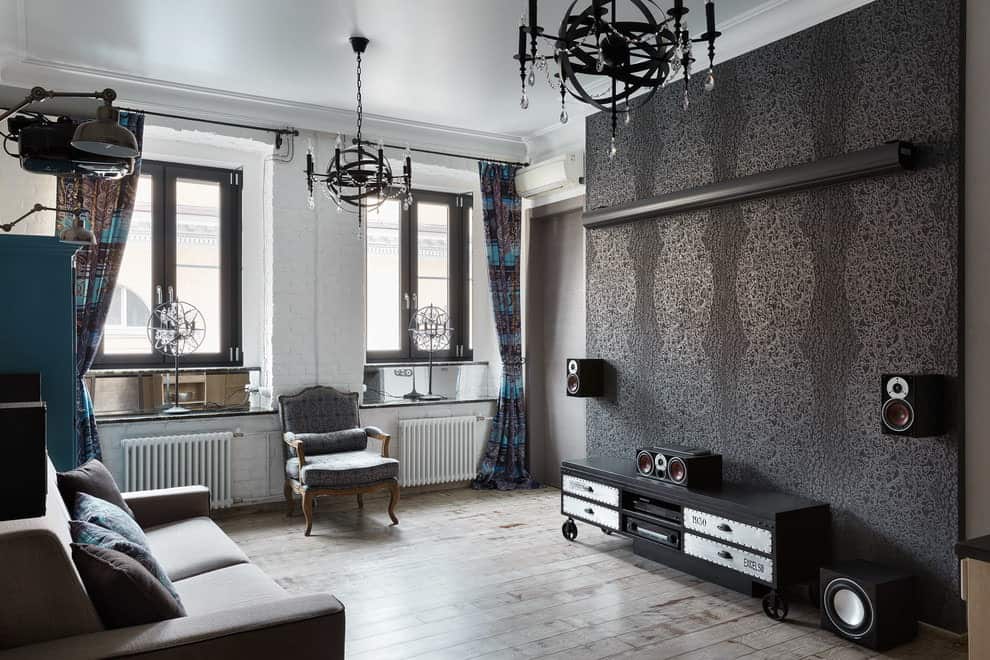 On the Loggia
Given that the loggia is full of light, black wallpaper can be used boldly and without restrictions. In combination with white frames, you will get a memorable contrasting version.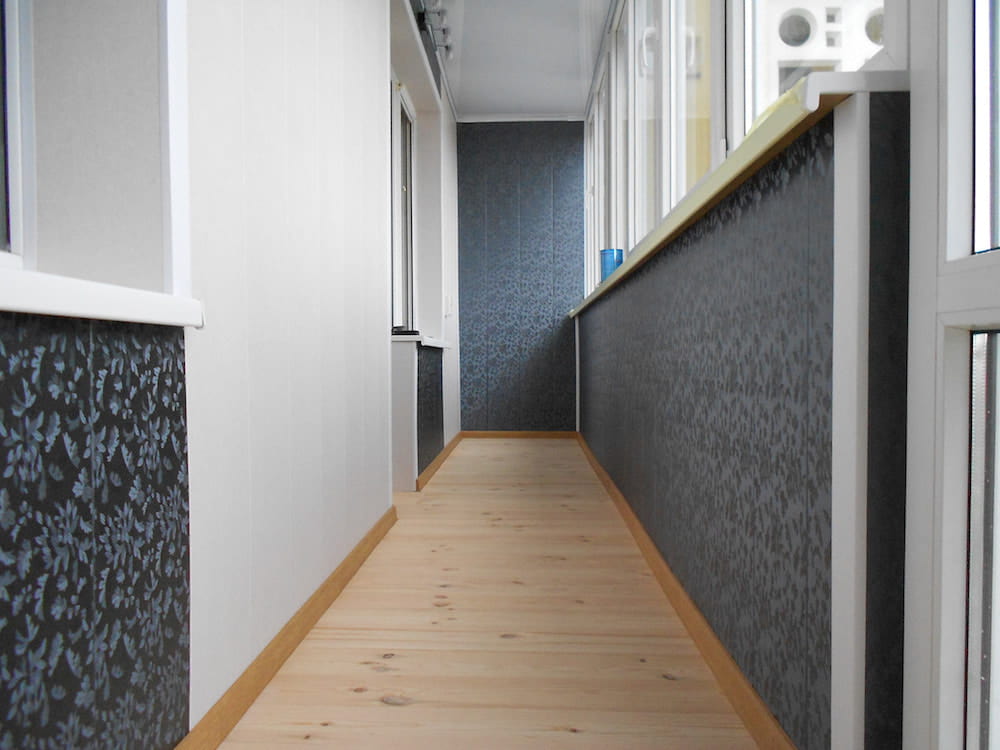 In the Hallway and Corridor
Treat with caution the use of black walls in narrow corridors, the space will visually shrink and become uncomfortable. But competently placed light sources in a black hallway will help to create a stunning interior.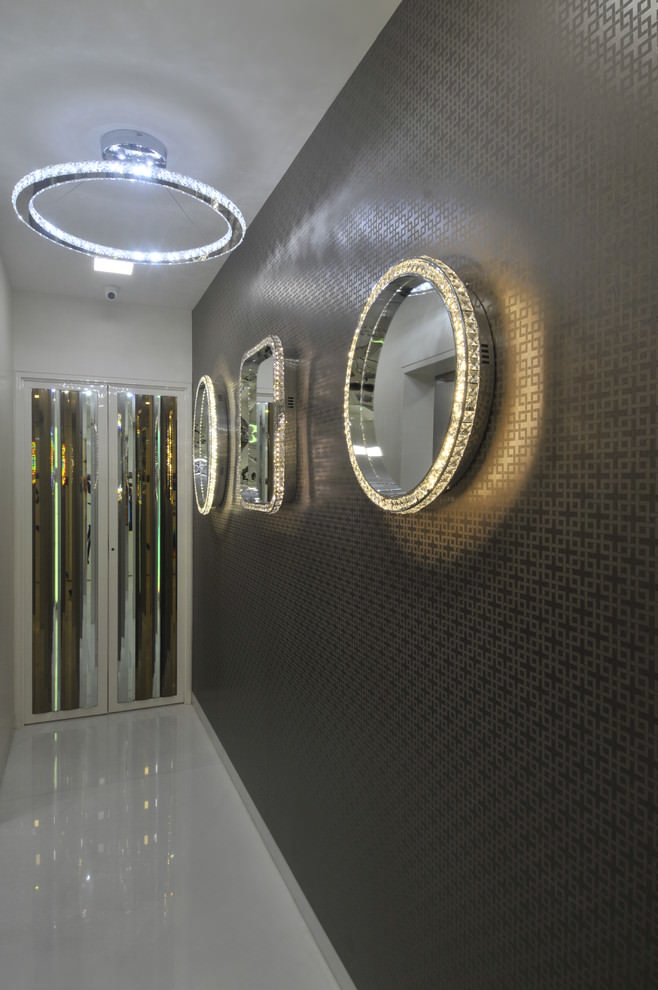 In the Bedroom
Black wallpaper in the bedroom is better to use on one wall in the headboard of the bed. Or place it in separate areas for the arrangement of accents. A great option in combination with light and pastel shades.
The photo shows a bedroom in dark gray and black tones with accents of green, pink. The natural pattern on the wallpaper in the form of flowers and trees with leaves
In the Children's Room
In the children's room, black wallpaper should be with a bright large pattern, for example, geometric for a boy, and floral for a girl. The colorful decor will dilute the dark shades. For a teenager, the combination of black with pink, turquoise, orange will be spectacular and stylish.
Color features for interior elements
An important contribution to the perception of the overall picture is made by the other elements of the interior.
Curtains
There are no restrictions when choosing curtains because all colors are combined with black. Dark curtains will merge with the wallpaper and extend, continue the room. White and light shades of other colors will create a contrast and delineate the space. Bright colors will become accent spots.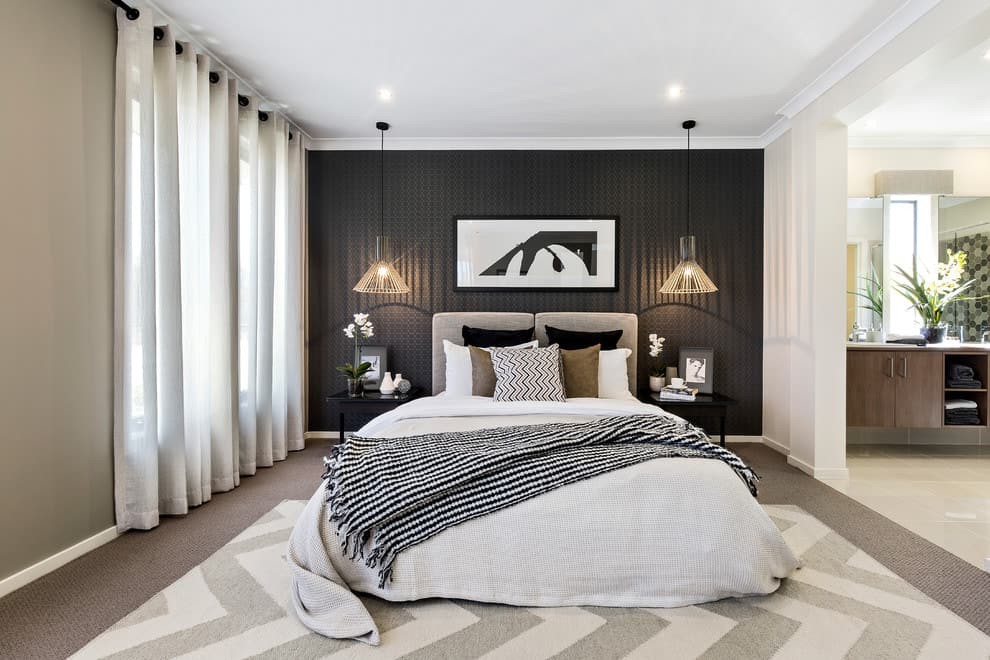 Furniture
Furniture should be chosen adhering to the overall interior style. The color of the kitchen set, bed, the sofa should organically fit into the interior so that they do not stand out from the general mood of the room.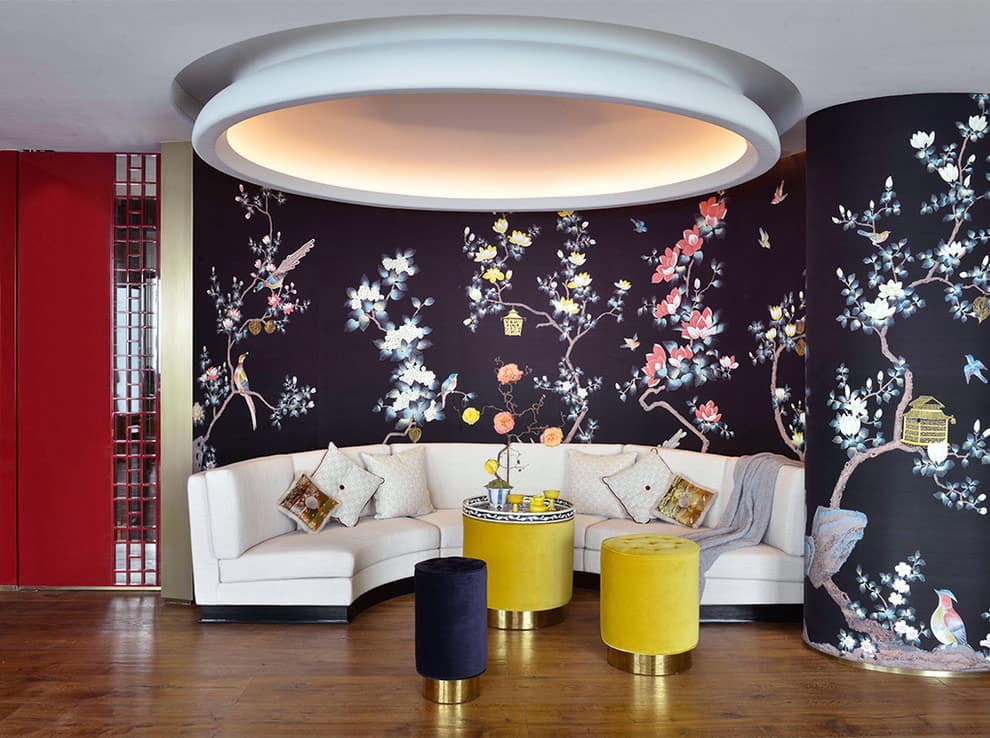 Ceiling
The light ceiling over black walls will visually add height to the room. Dark coloring can cause a feeling of pressure; it is better to use such a reception in rooms with high ceilings, in loft-style interiors.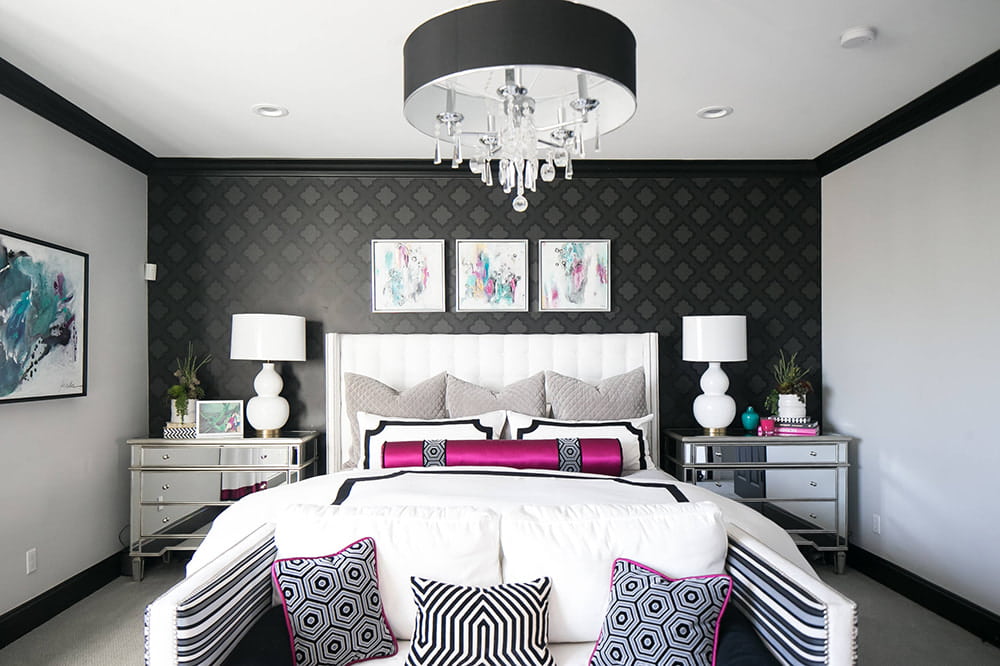 Floor
Any floor covering can be used, but its color is better to choose depending on the lighting of the room.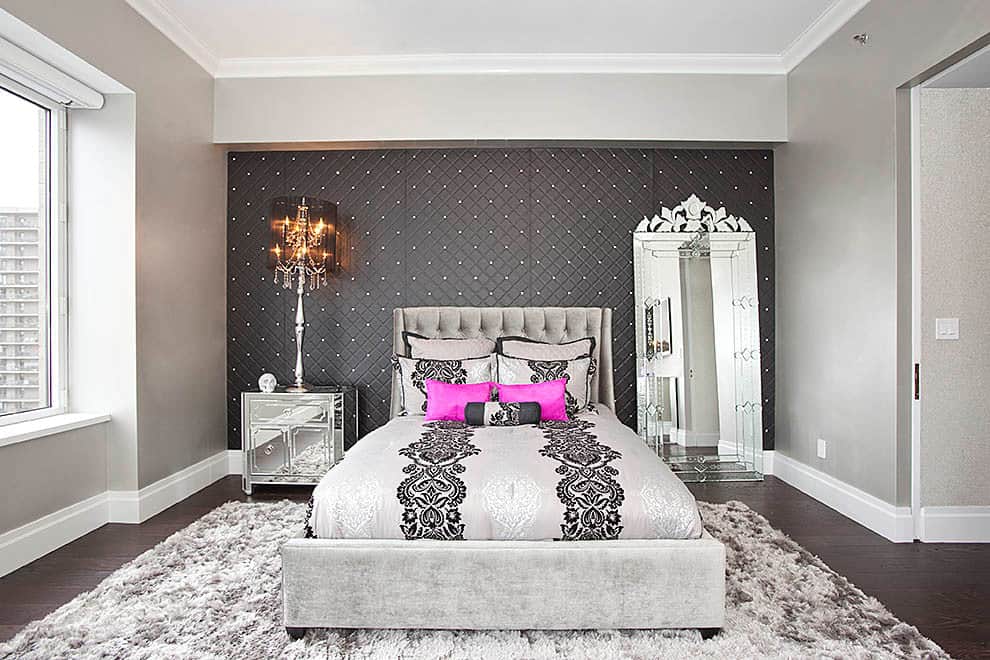 Door
Doors must not contradict the basic stylistic solution of the interior.