For the most part, people associate purple with non-festive events. In many cultures, it means grief, nostalgia, so it was practically not used in the interior of living quarters. However, in combination with other colors, or when the hue changes, the perception completely changes. Moreover, the violet background can calm, remove anger, relax, and remove anxiety and irritation. But it is important to know the limits in everything since oversaturation with this color can cause apathy and melancholy. Although this coloring is considered somewhat heavy for the interior, its lighter shades fit perfectly into the design of any room. For example, you do not need to go far – below we see a perfect example of how gentle shades of purple are not just added to the room, but essentially made this room all-purple! What associations do you have? Mentally we transfer ourselves to the sofa and rest with our soul and body. So, we can plunge deeper into the philosophy of these shades and explore some most splendid purple & violet color interior decoration ideas.
Contents: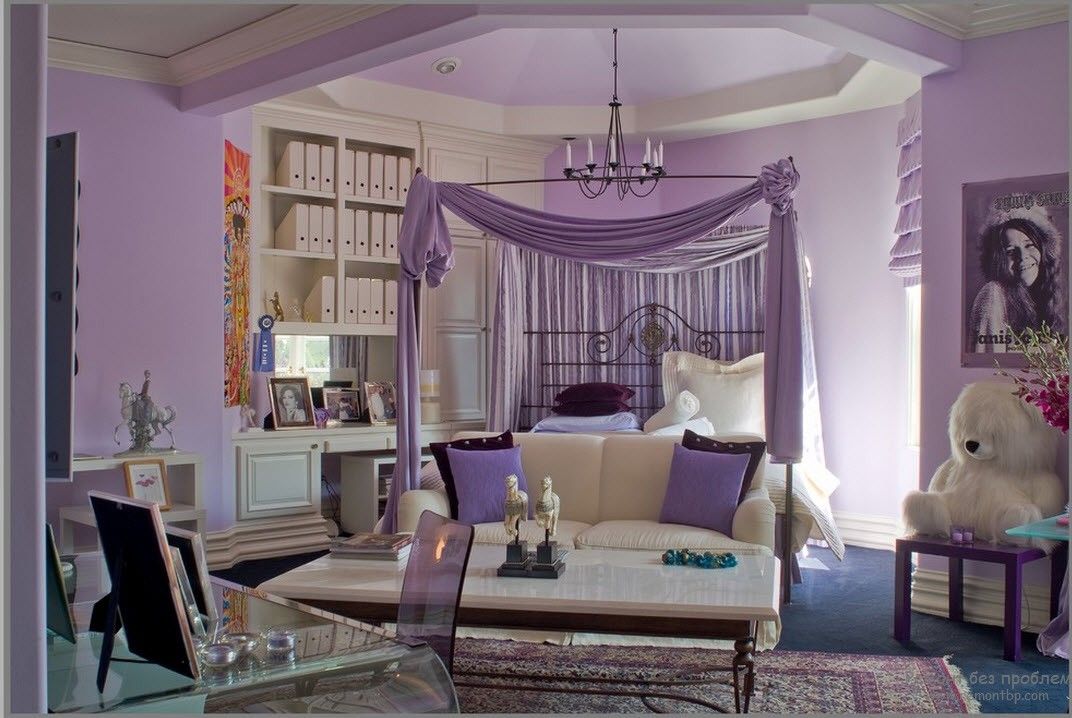 Let's say that you were offered to make repairs and paint the walls in a contrasting color scheme. One can imagine the critical glance that the advisor will be "gifted". However, such a person is quite normal, and his advice is practical. Well, is not this room cute? Colors do not mix, but, the room seems to be expanded.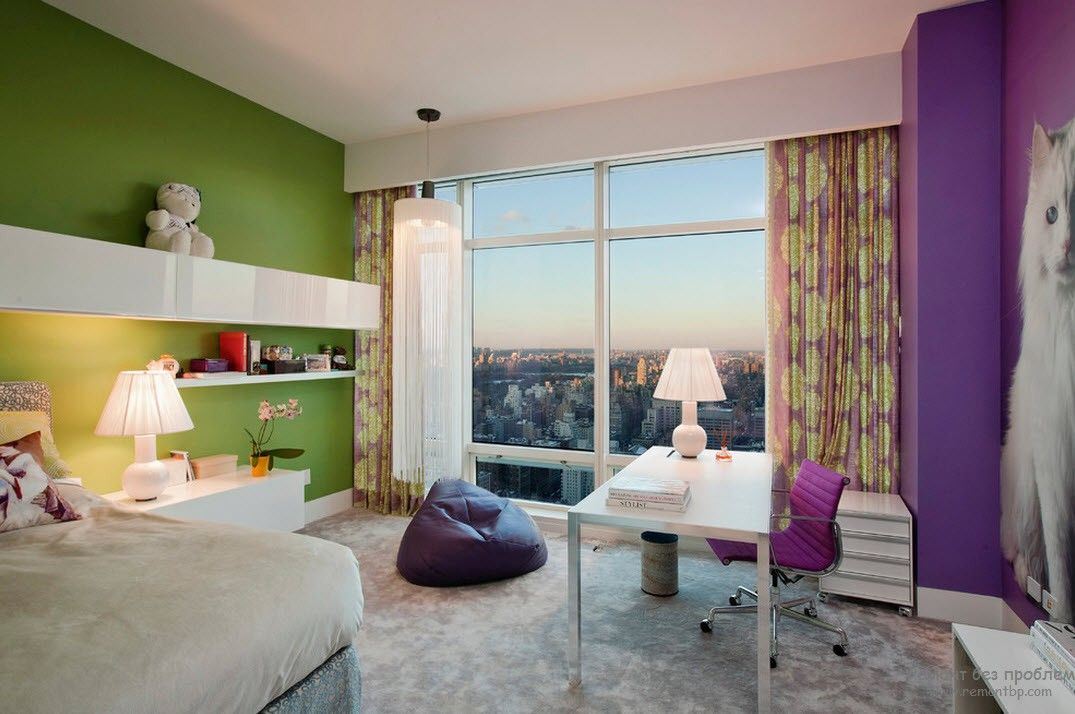 We see a slightly different picture further. There is almost no contrast, but the combination of different shades in this room makes it more attractive. Pay attention to the walls, which have different shades, and the curtains and upholstered furniture are chosen so that they soften this transition.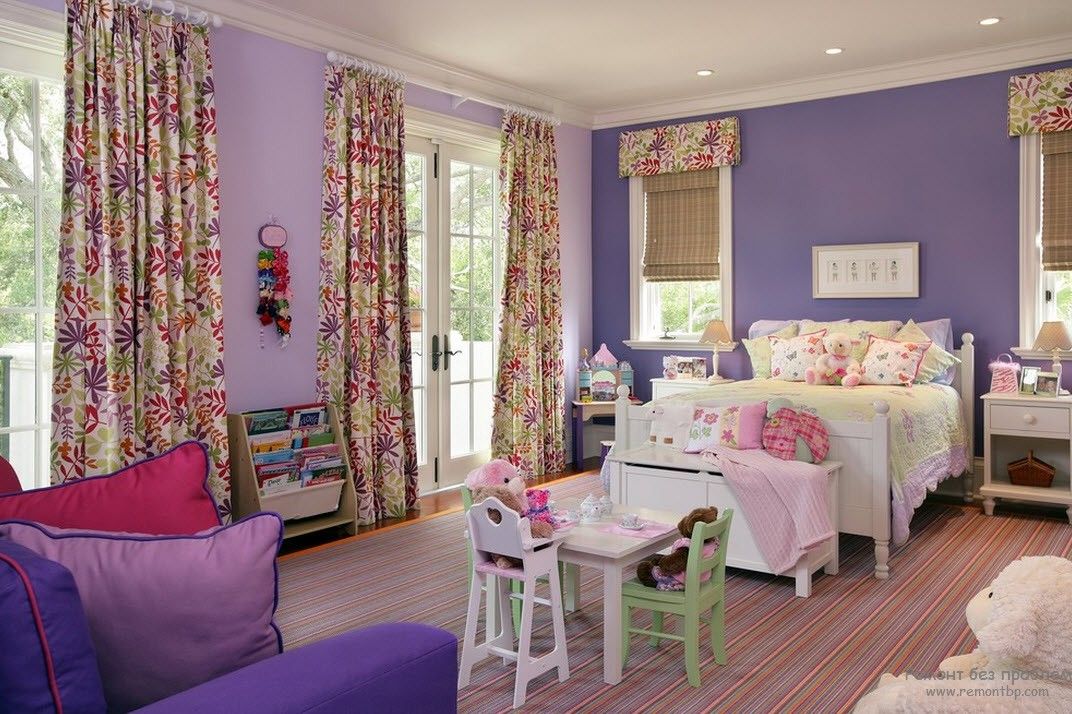 For lovers of dark colors, a contrasting interior, in which, due to the prevailing white color, the room looks elegant, will suit.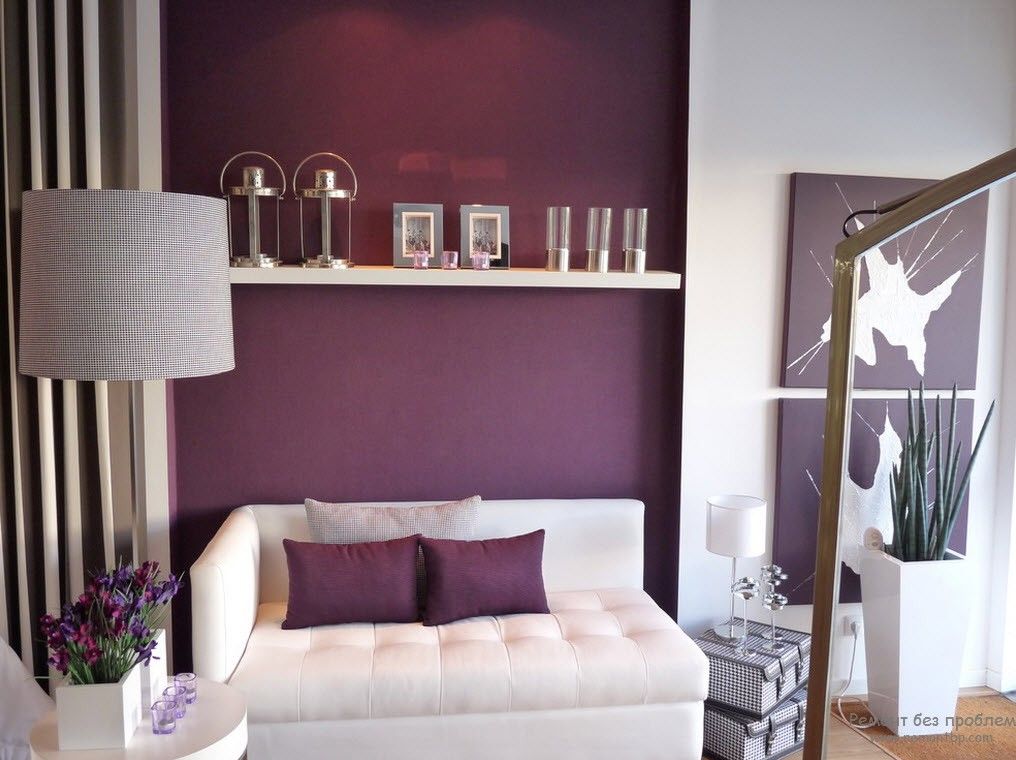 Take a look at the other possibilities for a successful combination of purple with other colors.
Purple Color in the Interior of the Kitchen
It's no secret that most of the time is spent in the kitchen than in other rooms, so it deserves special attention. It is better to use brighter shades of this color. A kitchen with a working wall of which corresponds to such requests can serve as an example. It's because the violet background is softened by another, lighter color. Here you can also use violet dishes, tablecloths, and napkins. If you have to eat in the kitchen, then use grape and wine shades. This will help improve appetite.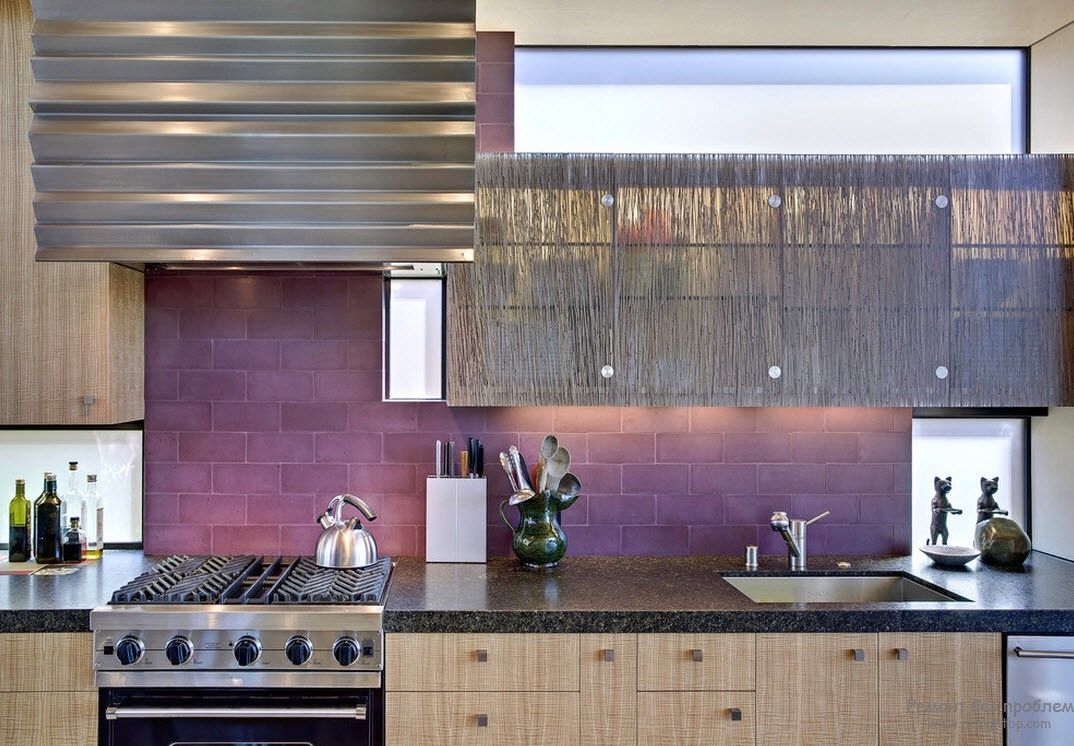 Purple Color in the Bathroom Interior
Among the variety of shades of purple, you will find one that will please you without any problems. Can I find something for the bathroom? Undoubtedly! It is important not only to choose a shade precisely but also to choose the right combination with a purple color. An interesting version of the bathroom, in which one wall is painted in a darker shade, but there is no sense of gloom. Just the opposite! Thanks to a good combination with lighter sanitary ware and white, vibrant colors as well as thoughtfully designed lighting, it pleases the eye.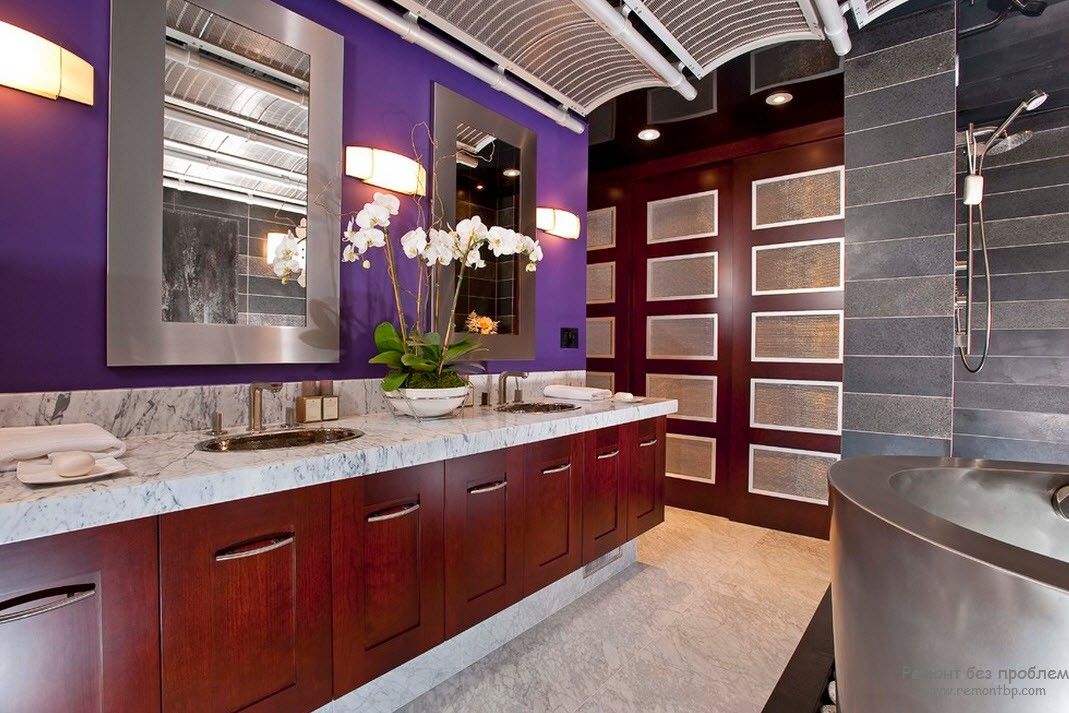 In another case, a small fragment of the wall painted in a bright color also emphasizes the style, fits perfectly into the design.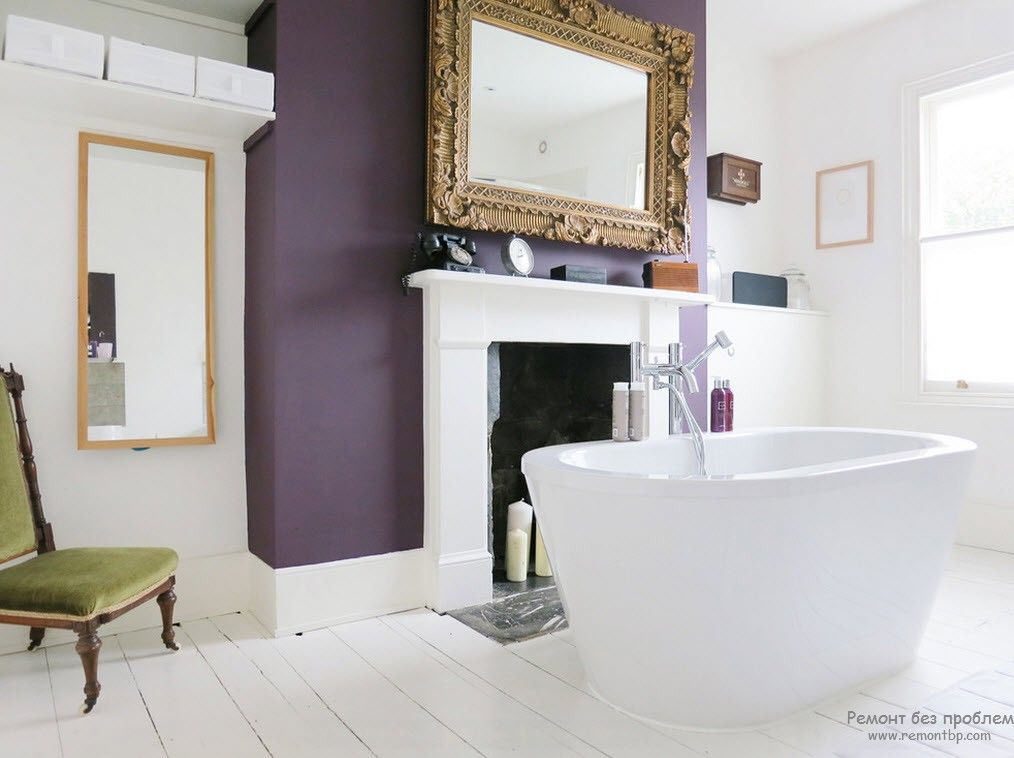 Purple Color in the Interior of the Bedroom
Nowadays, the violet color and its shades are in fashion, because they can make the bedroom interior elegant and original. However, when using purple, you need to be very careful, because it is quite complex. And therefore it is not easy to pick up a pair of purple. However, with the right design approach, you'll get a very elegant look.
These bedrooms have very gentle shades of violet which create a warm and cozy atmosphere.
Ways to Use Purple in the Interior of the Bedroom
Any color can be used in different ways in a room. It depends on the level of perception. And with the help of special techniques can you easily convey your idea to others by ​creating a single philosophy of the room.
Purple Walls
Using purple in the painting of the walls is one of the trendy bedroom paint ideas. But at the same time, it is a very subtle and complex reception. It is necessary to get the main idea in the room decoration to create a harmonious image of your bedroom. The light and delicate shades of purple are most commonly used, especially as the color of the walls in the rooms of teen girls.
Less commonly dark purple color is used. But they are easier to wield to create a contrast that is incredibly popular in modern bedrooms design. The very unusual and stylish look has wallpaper of dark purple hues combined with dark wood furniture, white bed decorated with contrasting purple cushions.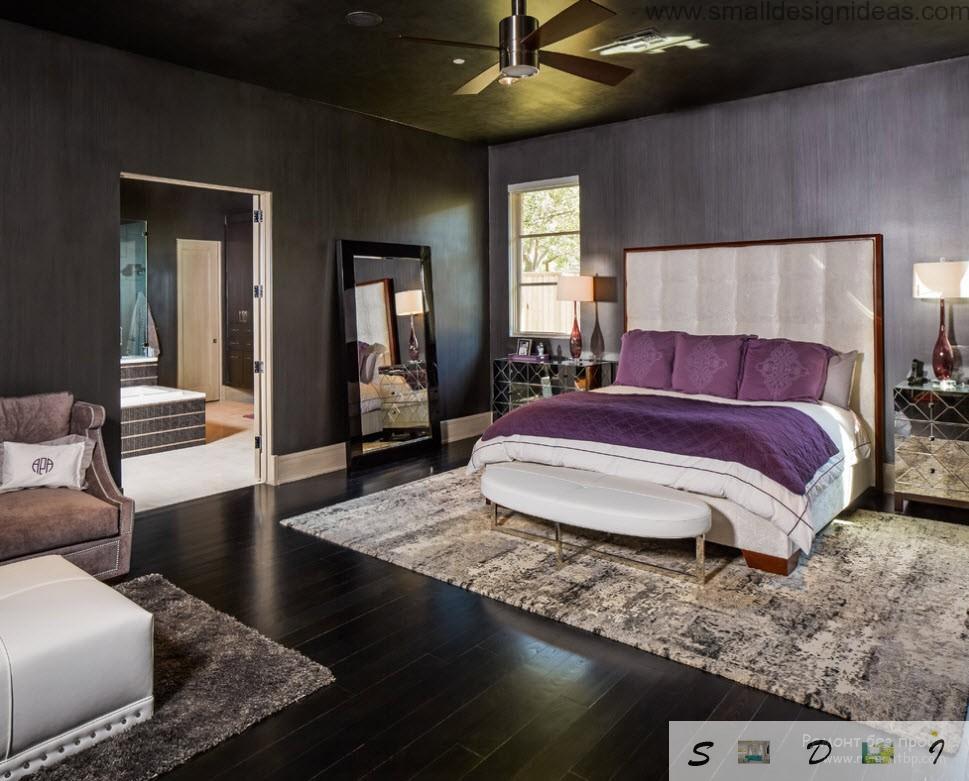 You can not create a totally purple room. You need to shade the color saturation and contrast in any way. This can be done with gentle shades of other colors that will make the room more light.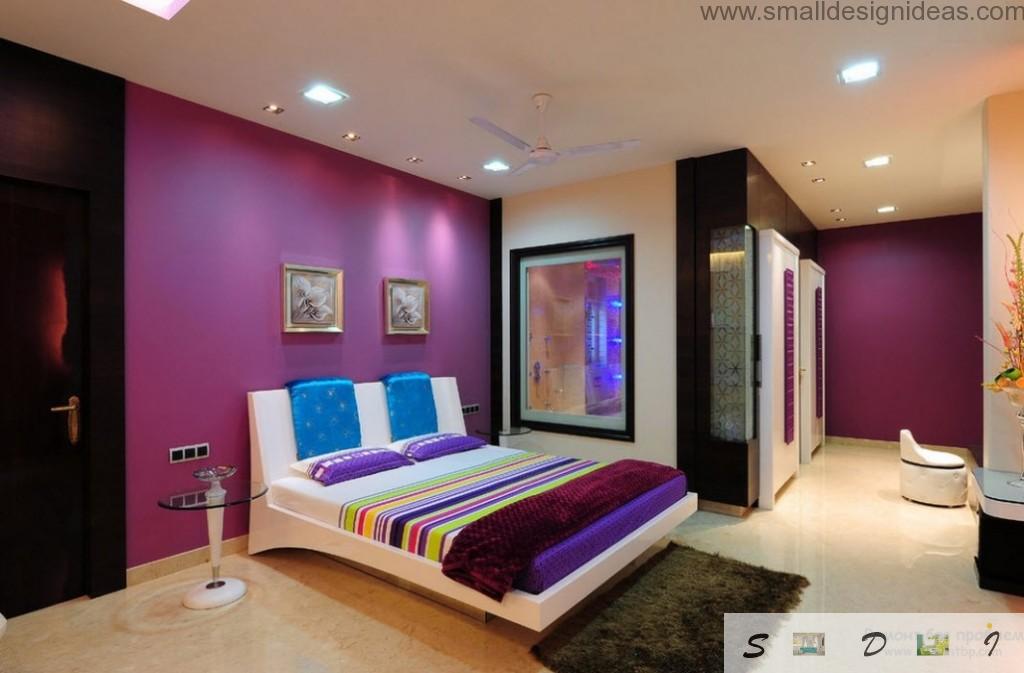 Purple accent
The most commonly used method of purple decorating is an accentual manner. When the general atmosphere of the room is supplemented with purple elements, the room becomes mysterious and majestic.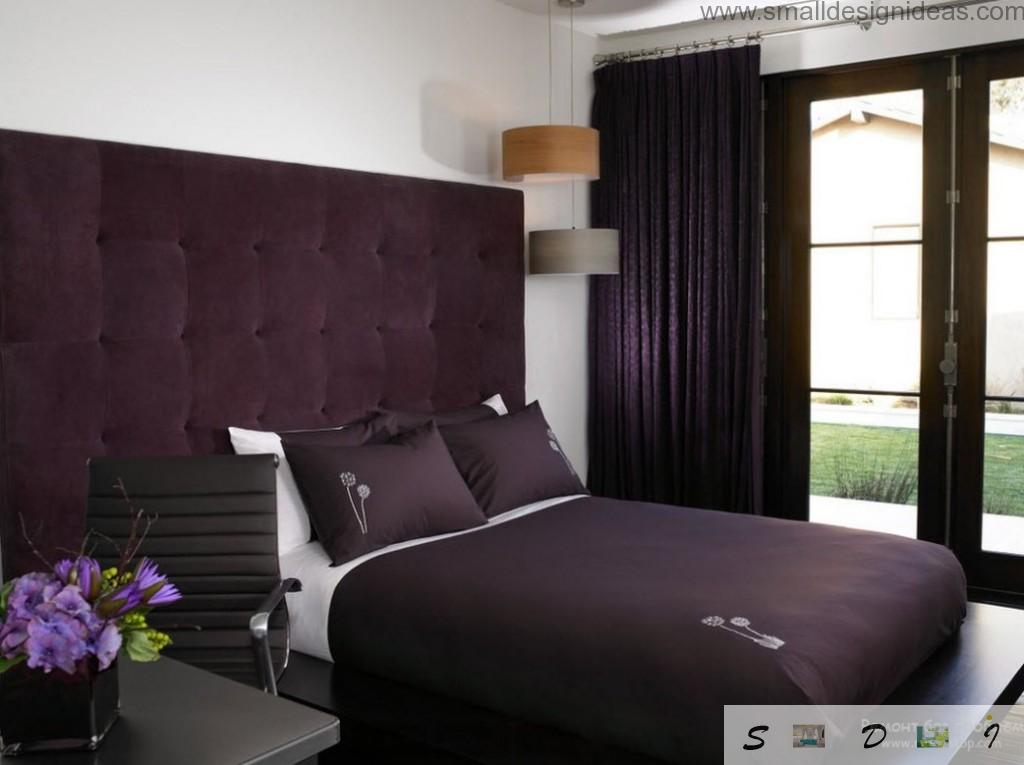 Furniture of delicate or rich dark purple hues can act as an accent. It is not only practical but also looks very well in comparison with other elements of different colors.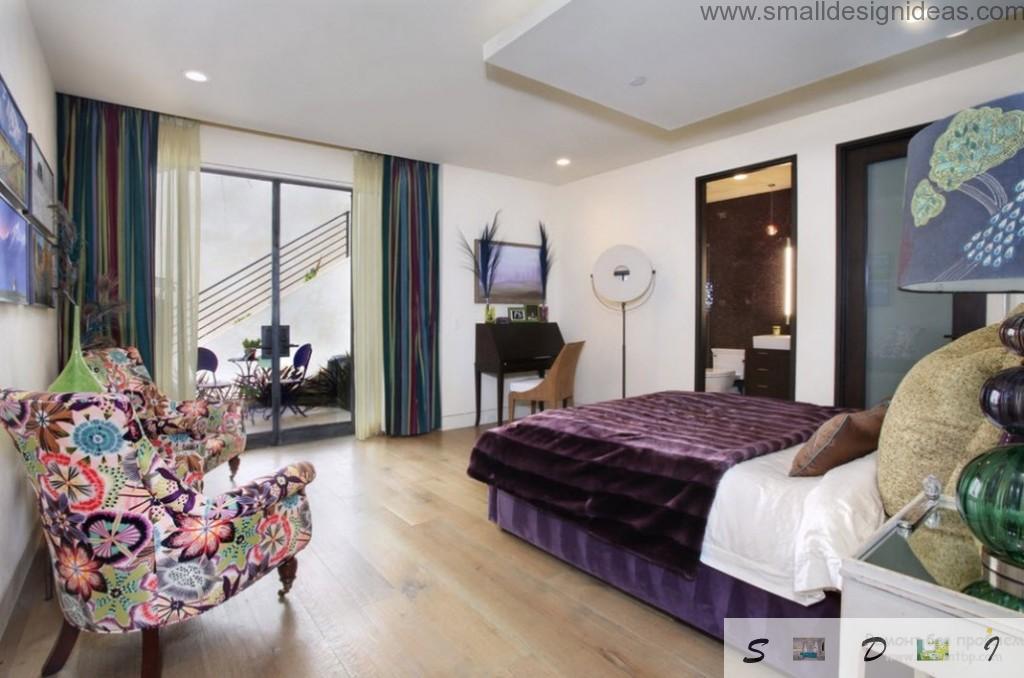 The dark purple bed, which stands in the center of the bright bedroom, will attract the eyes, alluding to the fact that it is a room where there is only you, as if on an island. In this bedroom, the vacation turns into a real pleasure.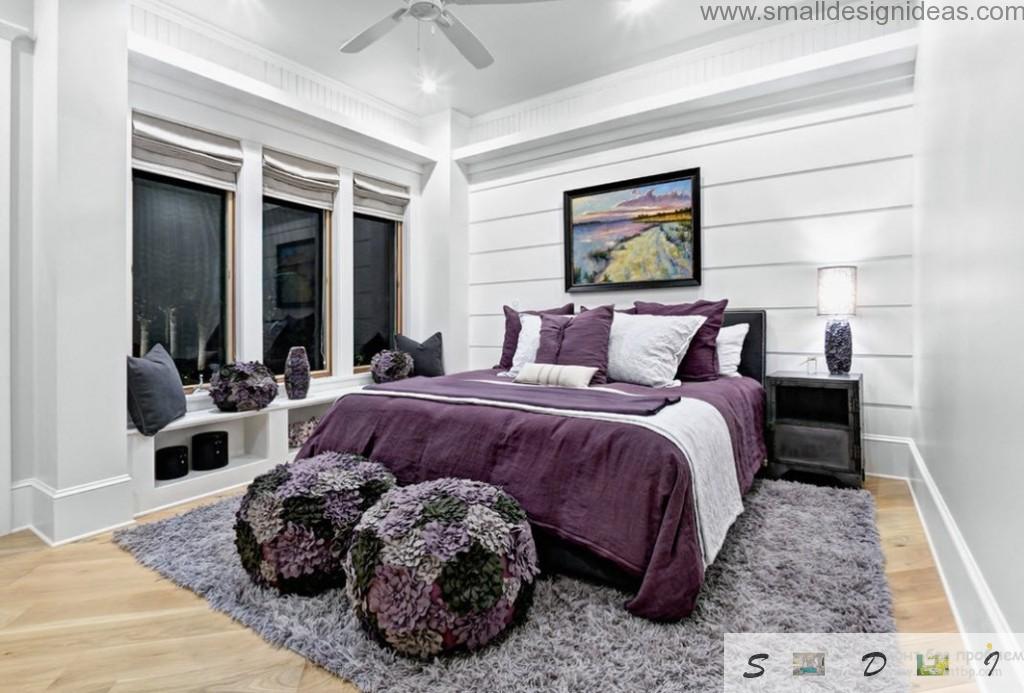 any part of the decor from a panel on the wall can act as a purple accent, the curtains on the window, carpet on the floor to soft charming cushions on the bed.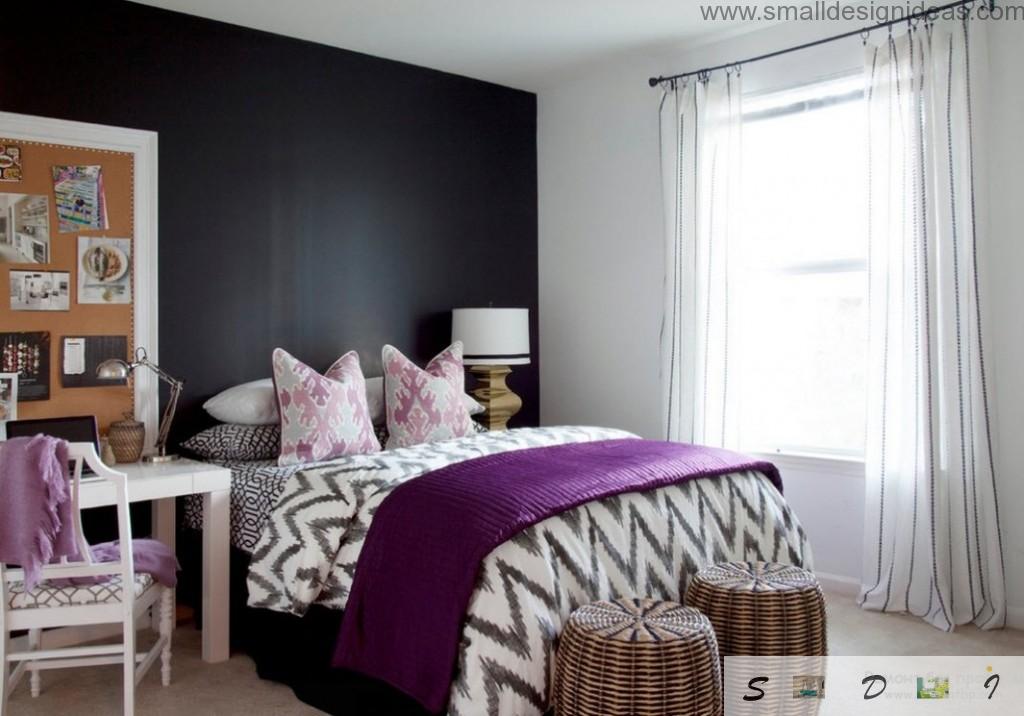 It looks wonderful art painting with the presence of purple elements. Purple flowers on a white background with bright green leaves are advantageously combined with each other.
Purple can be used everywhere, creating different visual effects – expanding a room or making it cozy and modest.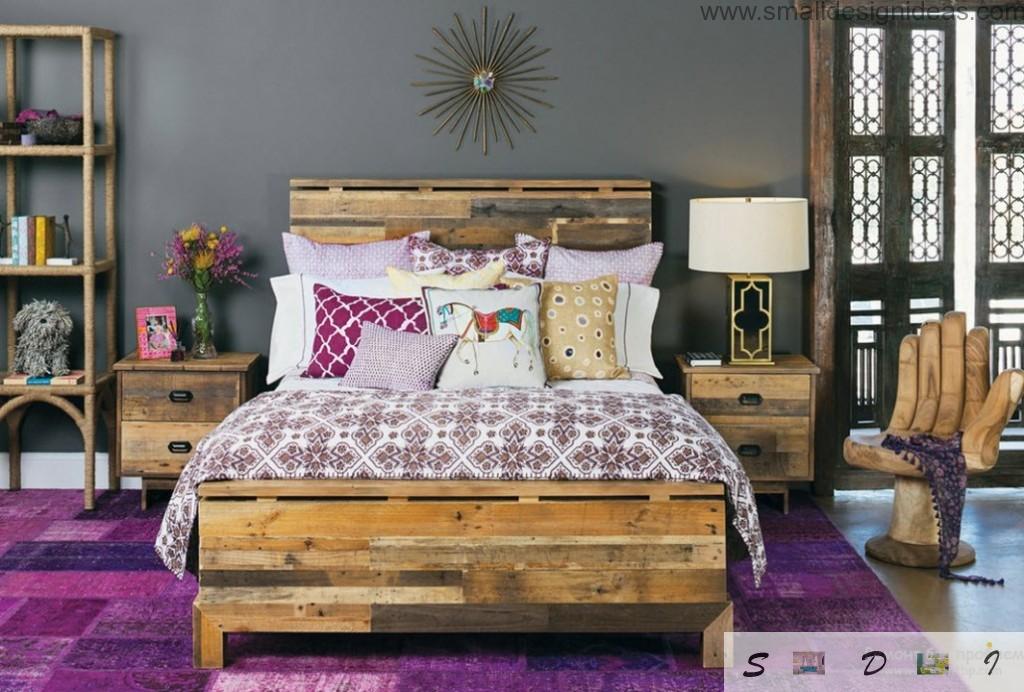 The Combination of Purple with other Colors and Shades
Purple color is combined with a few basic color schemes – white, black, green, yellow, with silver and gold motifs. Also, shades of purple combined together very stylishly to form a smooth transition between the different parts: the walls, furniture, and accessories.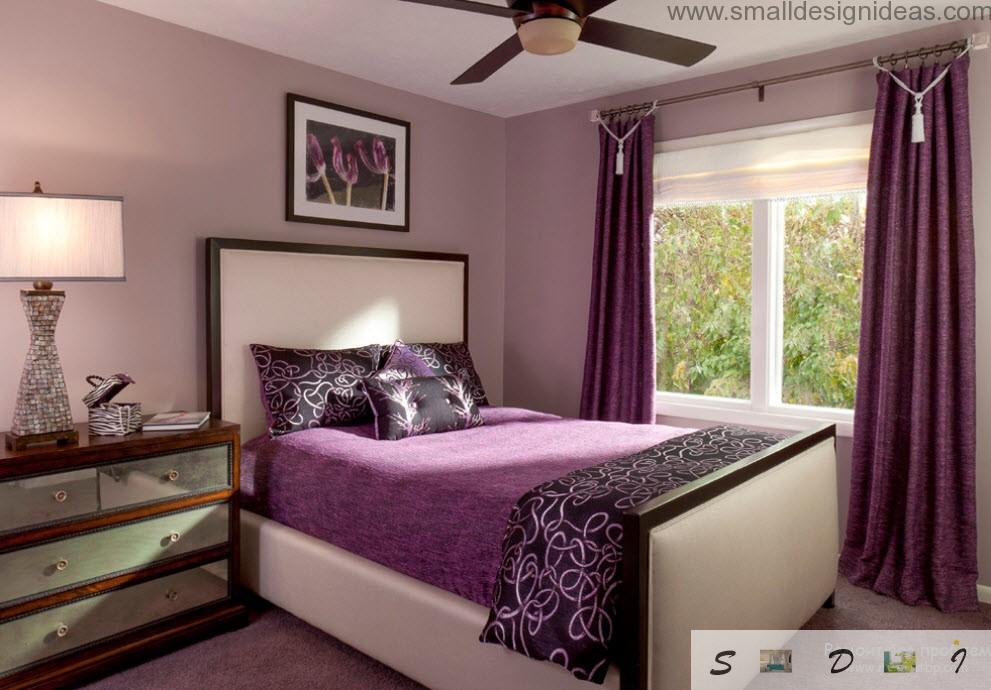 Perhaps the most successful combination of colors for the bedroom is purple with white. Gentle and cozy room white will never be boring if it contains shades of purple accessories.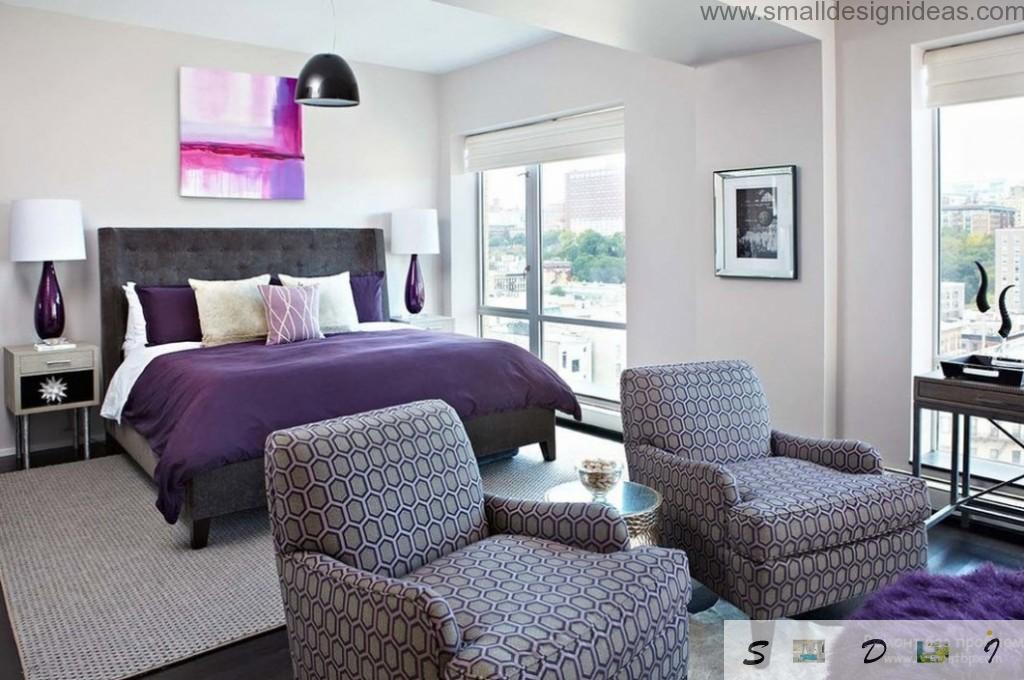 Purple is a mysterious and creative color. It always reserves the touch of mystery. Frilly bedroom interior with numerous purple elements will look as delicious as discreet design and sleek lounges with a minimum of purple.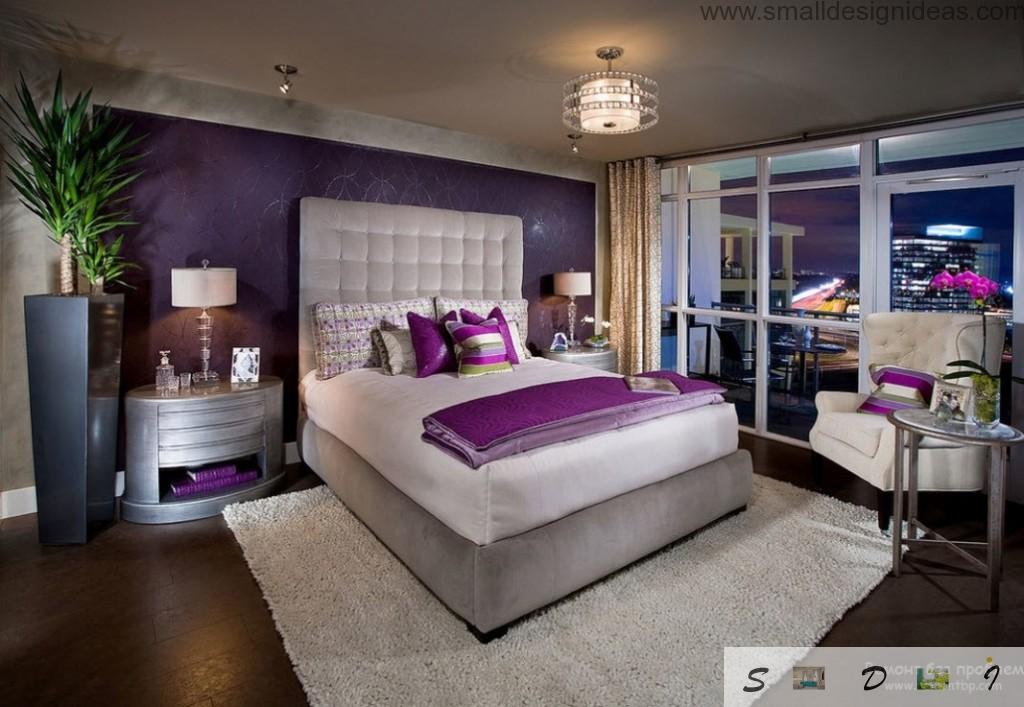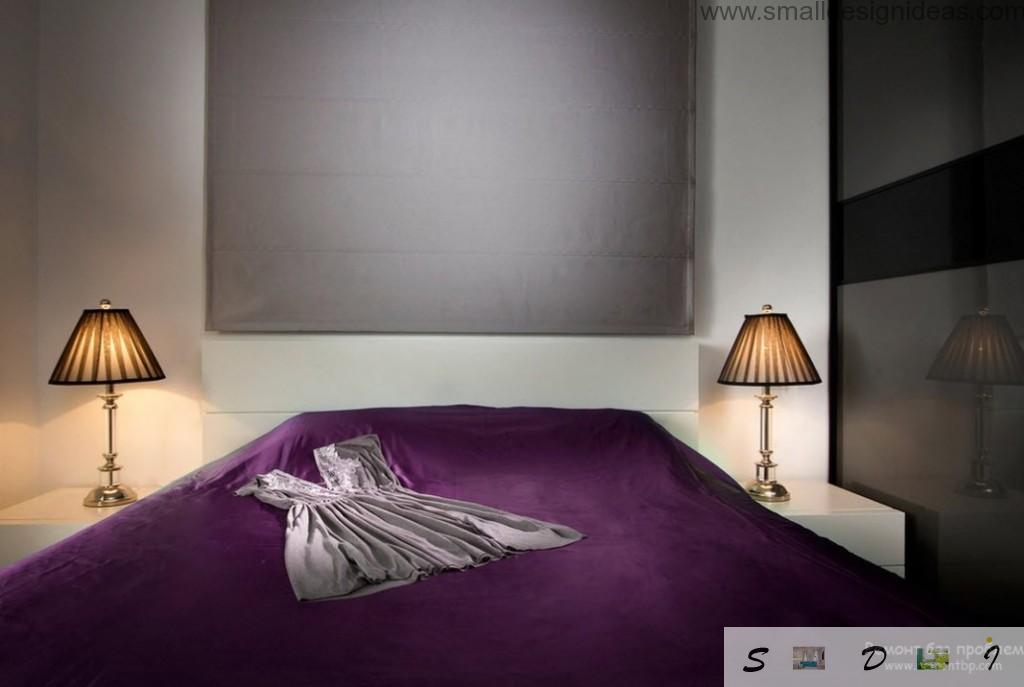 Anyone can add a drop of eccentricity and grandeur in their lives along with bright and trendy colors. However, each of the right to determine their own dose of purple.
Purple Upholstered Furniture in the Interior
Just some of the details can transform the room. Please note that the following photos do not have a purple color predominance in the rooms. The interior is complemented by "additional" details, namely soft furniture. It is not so much, but thanks to a rich color that stands out well against a light background, the room has a finished look.
Armchairs, covered with a cloth of light color, look superbly on the dark background. If this furniture has a different color, you can buy special capes of purple or lilac tone for it.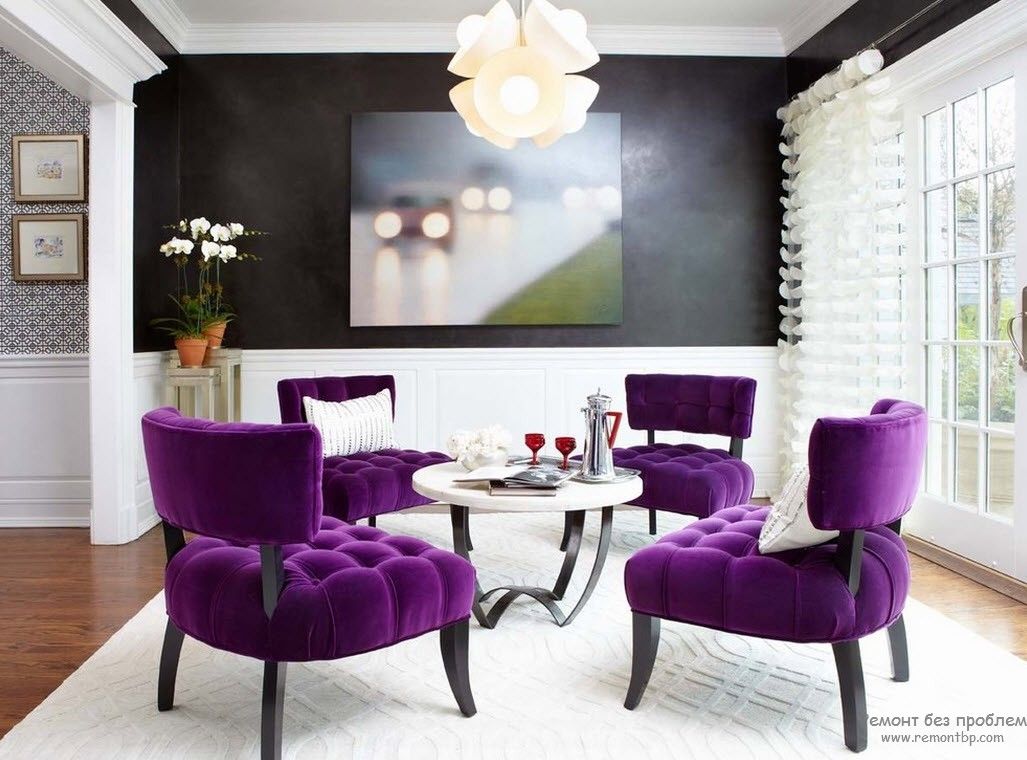 The same applies to the presence of other objects in the room. For example, we speak about paintings. In such a room it is good to conduct business negotiations since it adjusts to serious topics. So, you can arrange a private office, where you can do your own business with the illumination of a desk lamp.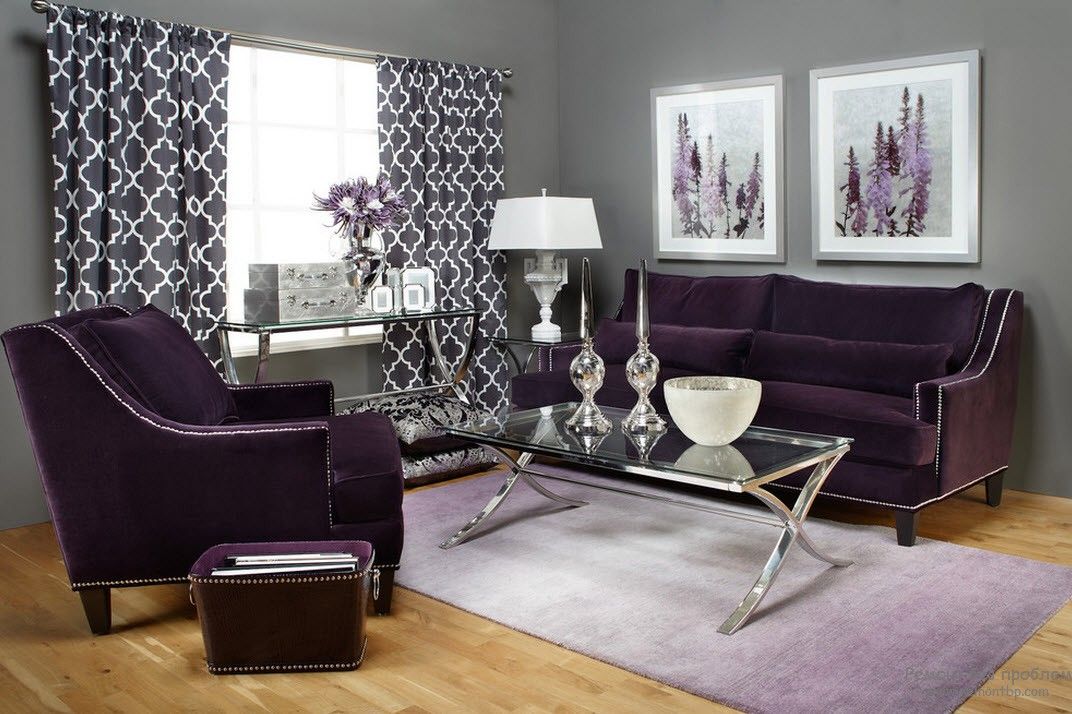 Only two paintings and a cushion can completely change the design of the room.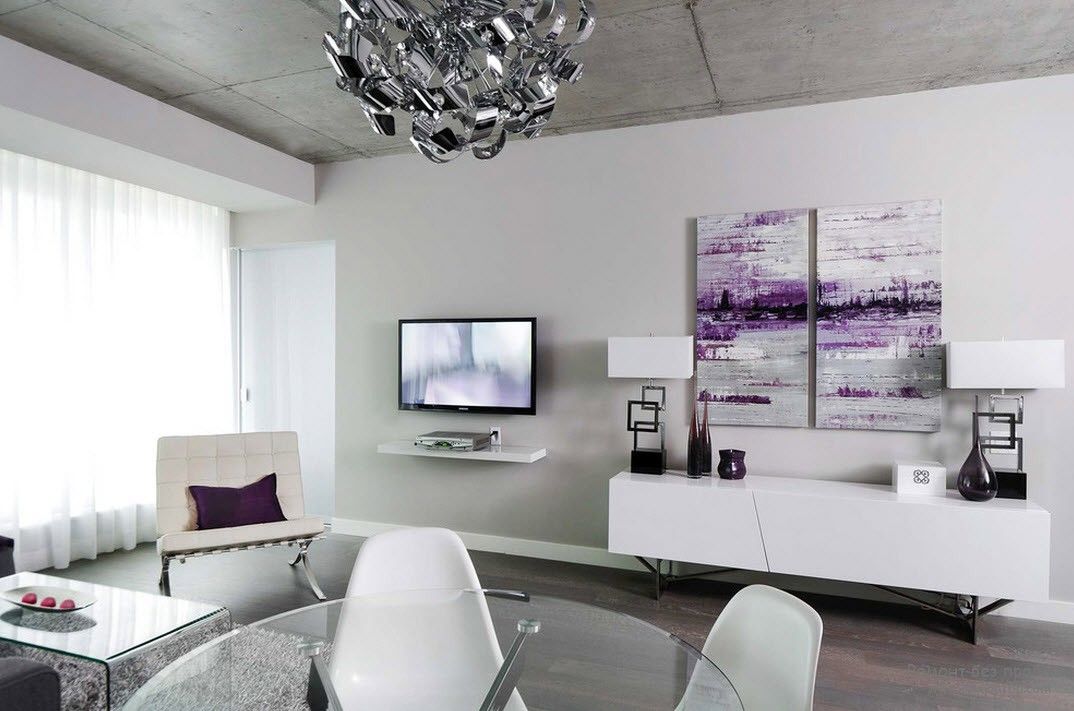 This collection gives an opportunity to see a wide variety of shades of purple/violet, thanks to which you can decorate the entire room or just emphasize its style. Many people like the violet color but consider it gloomy to use in the house. It is worth noting that if you use it incorrectly, you can make any room repulsive. But this applies to other colors too. Imagine that your room was made in blue, or dark green color! The psyche will not be calm, even on the contrary – it will cause nervousness. You should know that there is no right combination of colors, there is only a successful combination of colors and hues in the interior. This approach is the key to coziness in your home.