Yellow is associated with the sun, warmth, and light, it literally radiates a positive mood and causes bright joyful emotions. This year, yellow is especially popular and is among the fashion trends.
Content: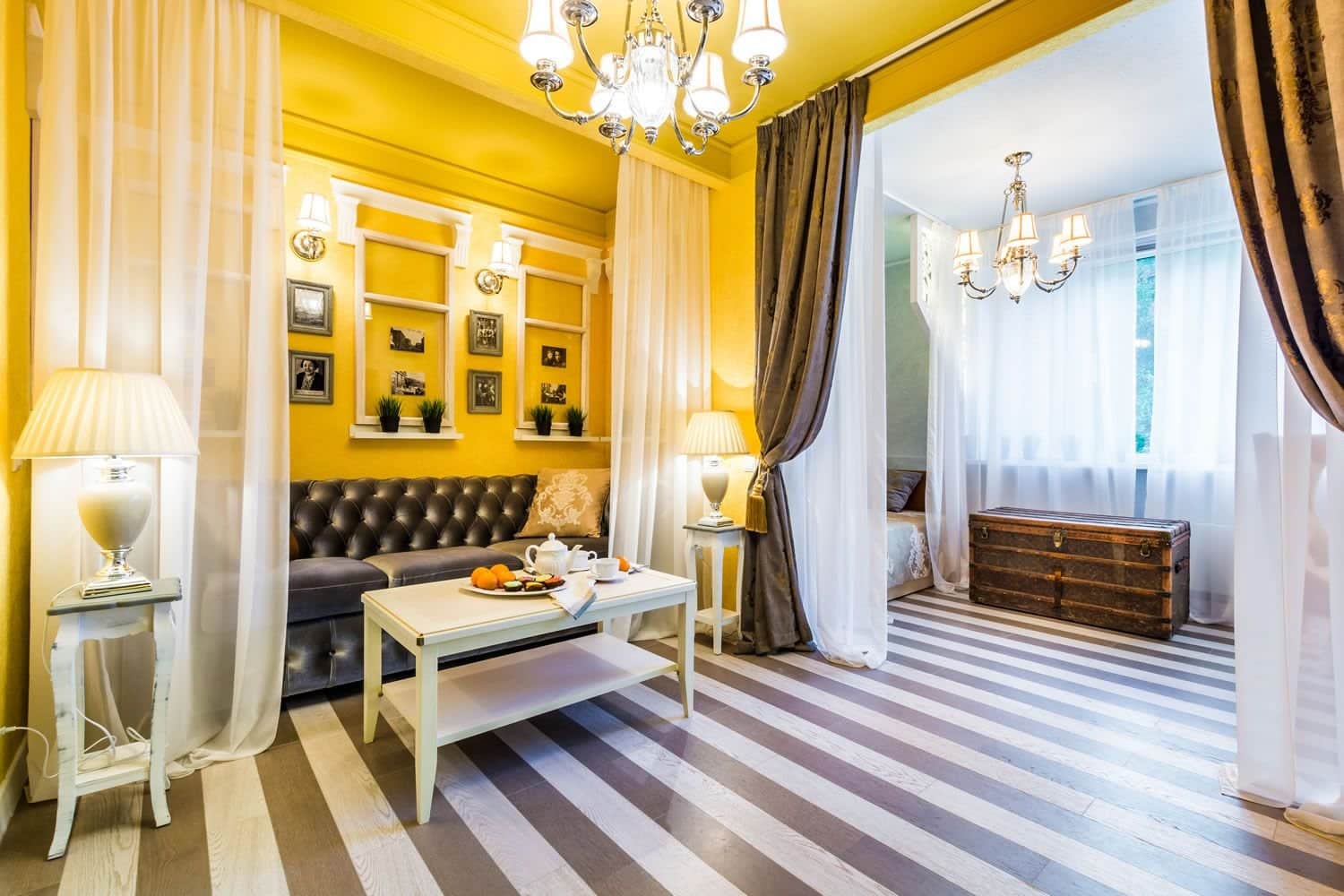 Yellow in the Interior of the Living Room
Given such a positive and pleasant impression of yellow, it is quite often chosen as the main color of the living room interior design. It is in this sunny and bright yellow living room we'd like to meet dear guests with an open soul and a pure heart. The only condition is the moderation of the shade. An excessive abundance of saturated yellow color can cause discomfort and irritation.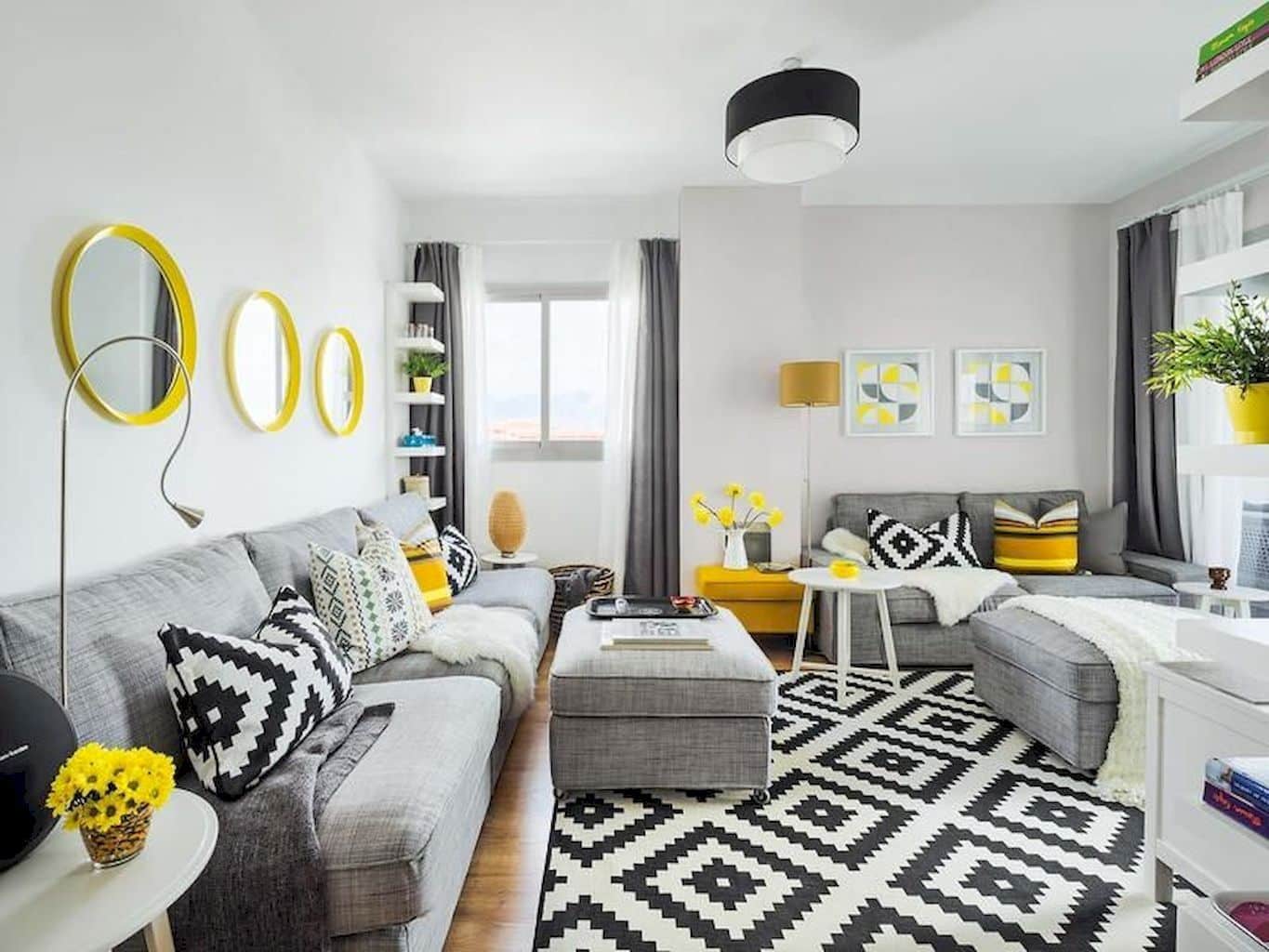 Yellow Curtains in the Living Room
Yellow curtains for the living room are excellent and pleasing to the eye choice. For a small living room, light shades of yellow will do. If it is necessary to visually increase the height of the room, then choose curtains with vertical patterns, stripes, or ornaments. Curtains are sometimes combined with white tulle – this is a great tandem. It is important to decide on the material of the curtains according to the main parameters: density, transparency, wearability, and choose a suitable natural or artificial fabric.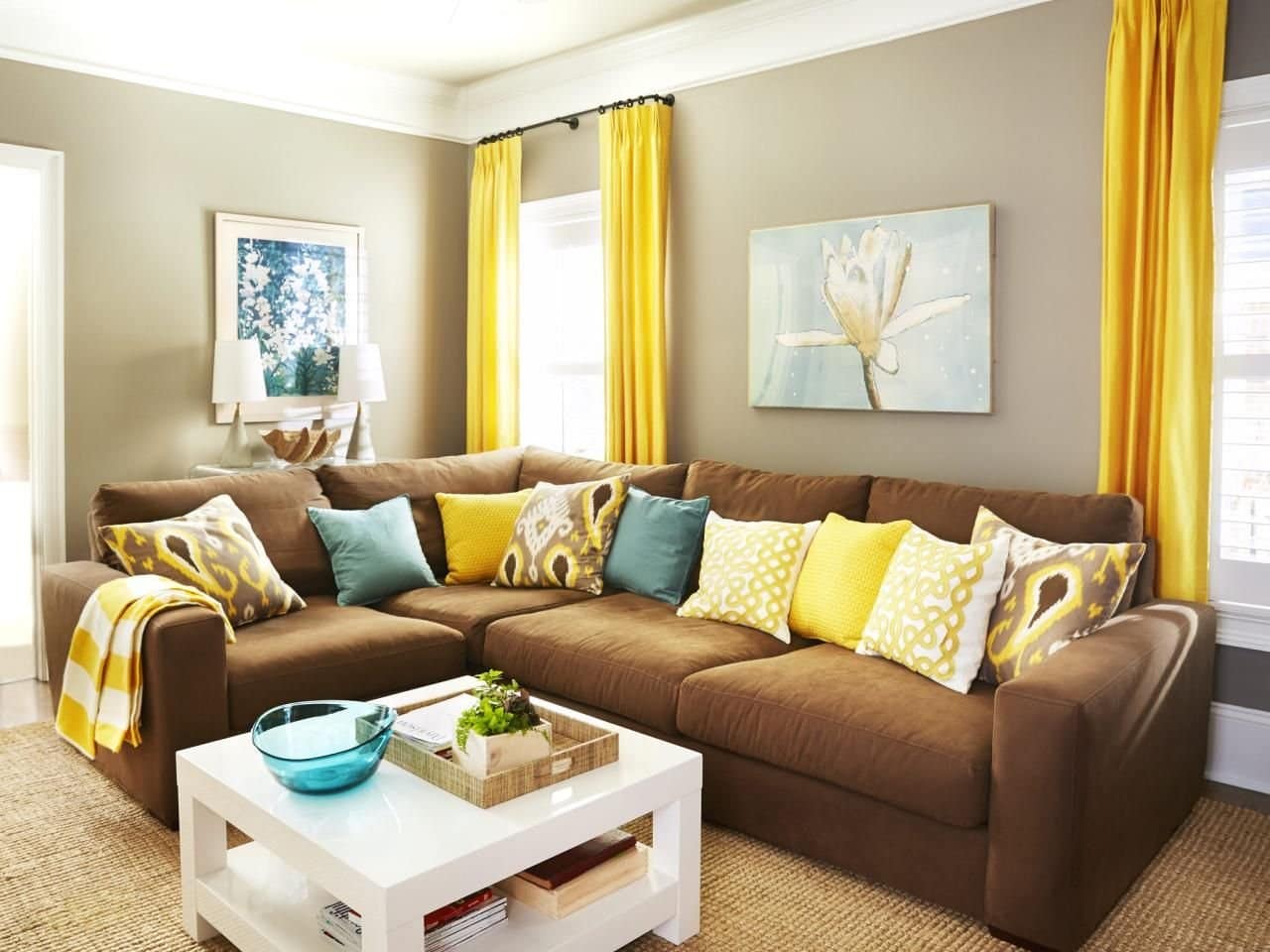 Yellow Wallpaper for the Living Room
Wallpaper in a variety of light shades of yellow – this is the ideal option for the living room with insufficient natural light. Such a lush and saturated color literally sparks a shaded room and gives it a sunny mood. And for bright living rooms, any shades of trendy color will work perfectly. After choosing a color solution, you need to decide on the type of wallpaper for the living room: vinyl, fleece, paper, textile, liquid, or painting imitation.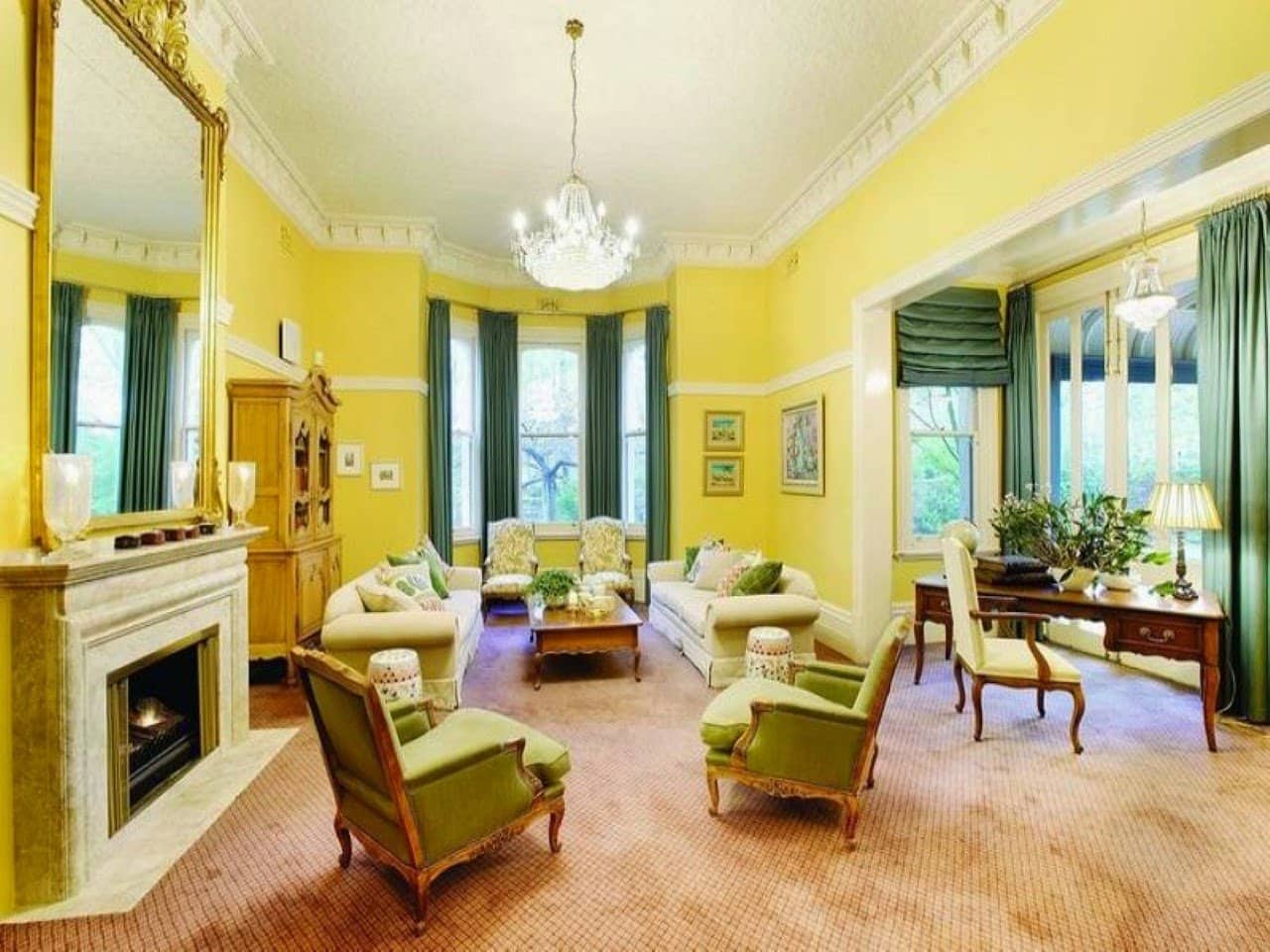 Furniture in Yellow Color
If you buy yellow furniture to place it in the living room, this decision is rather bold. We are used to the fact that furniture usually comes in conservative wood colors when it comes to cabinets, shelves, tables, and nightstands. However, yellow furniture is an incredibly spectacular design move. It looks very unusual and attractive. The same rich and bright impression is caused by yellow upholstered furniture (sofas and armchairs) that draw attention and are undeniably uplifting.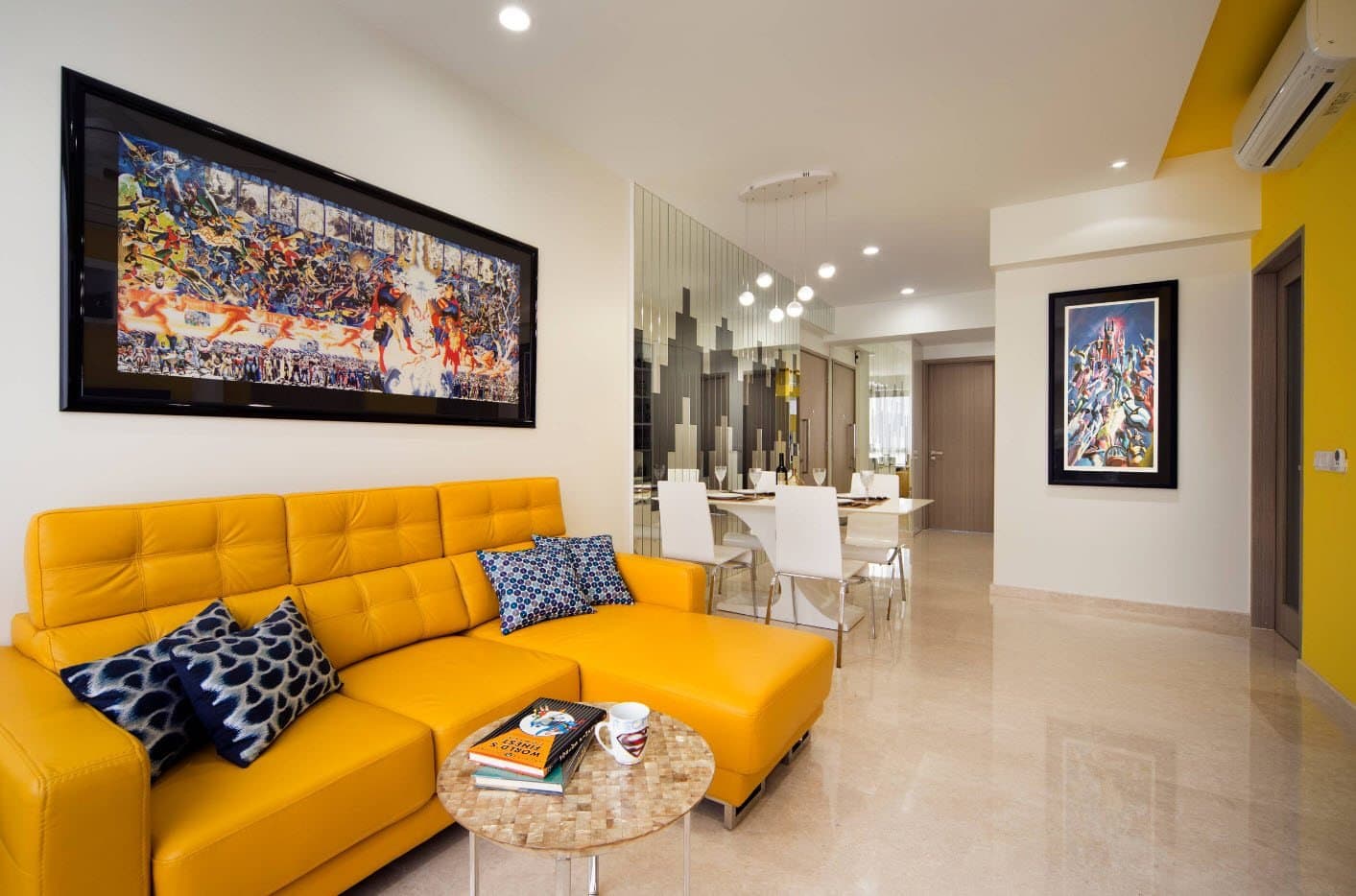 Yellow Living Room, Combined with the Kitchen
Since apartments and houses do not always have enough space, owners resort to various kinds of redesigns and combinations of rooms. One of the most popular and justified solutions is combining the living room and kitchen. When renovating or merging, the question of zoning becomes very relevant. In this case, yellow is just a godsend: bright, stylish, and contrasting, it very clearly sets the necessary boundaries and accents in the interior of the living room combined with the kitchen.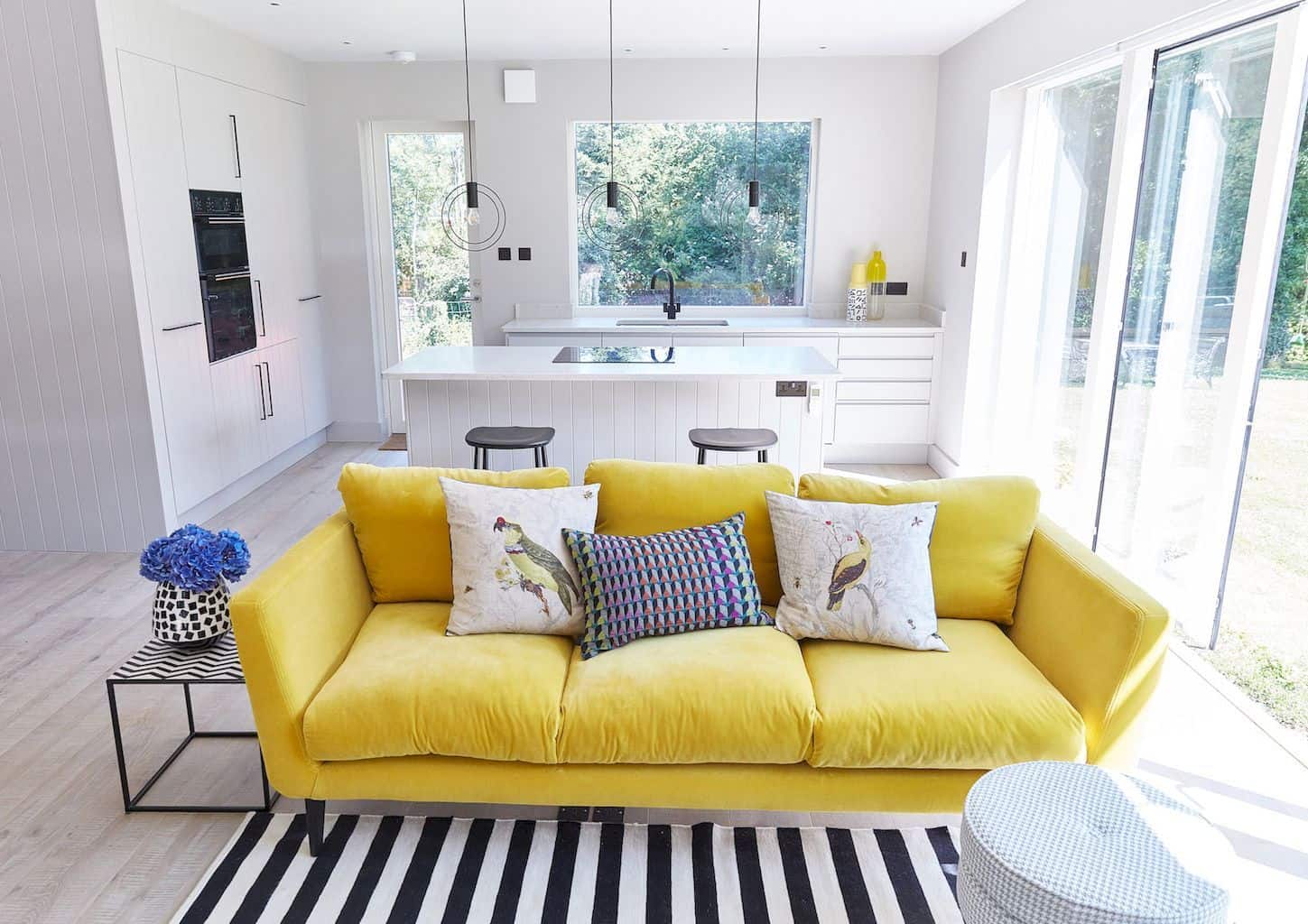 White and Yellow Living Room
Designers recommend using this beautiful combination of colors as follows: if the room is well and sufficiently lit by natural light, and it is located on the sunny side, then use white as the main color and pick up a yellow for the arrangement of accents and individual elements or items of the living room interior. If the room is located on the shady side, then vice versa: yellow as the main color, and white for spectacular interior items.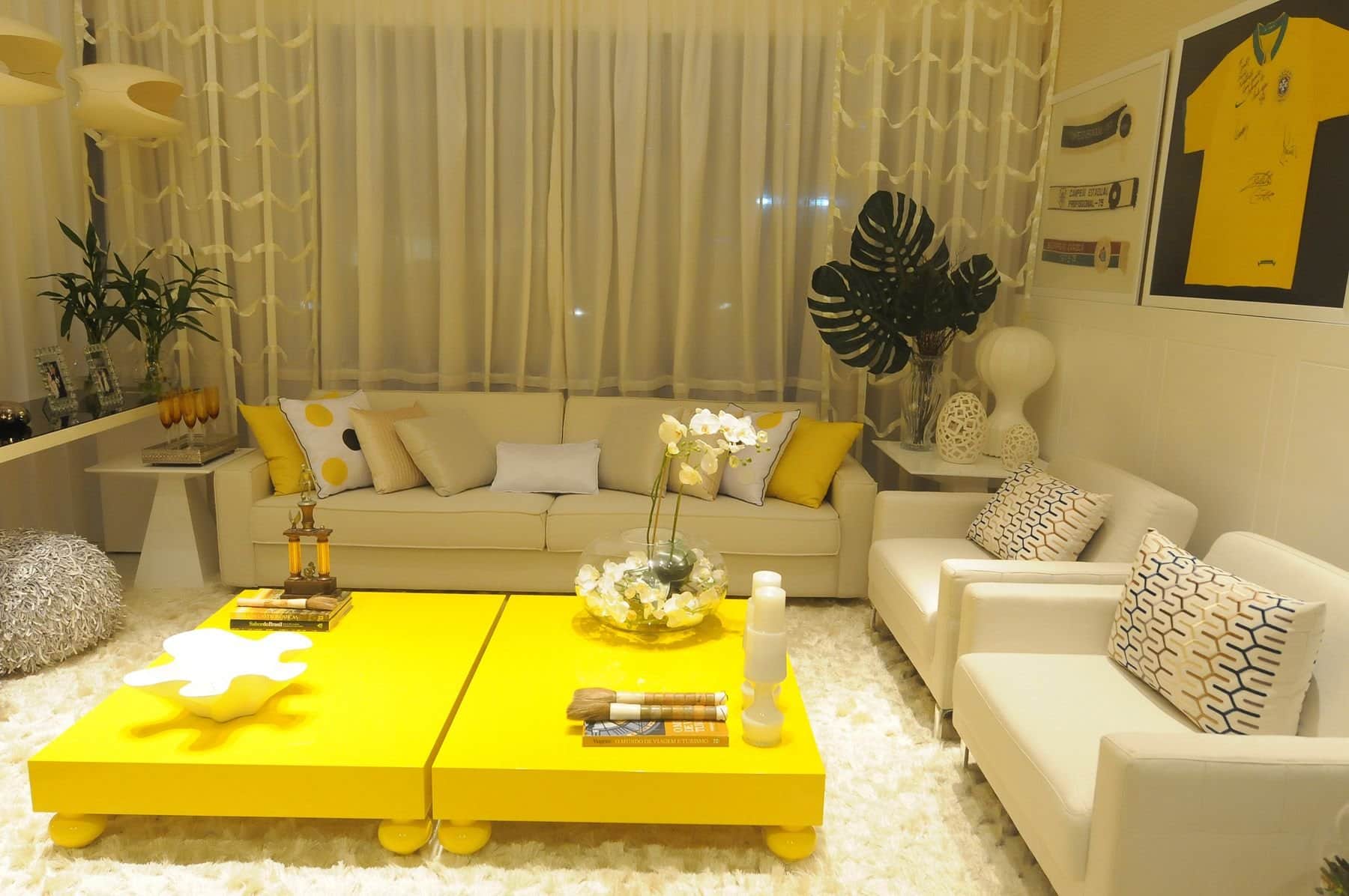 Gray and Yellow Room
The gray and yellow combination in the interior of the living room is a refined, practical, and stylish option. Such a duo of colors is used in many interior styles: classical, Scandinavian, minimalist, loft, modern and eclectic. For a small living room, we use a soft light gray shade as the main one, and yellow is realized in interior items, accessories, and accents. If the living room is large or combined with other rooms, you can experiment with zoning and using different shades of yellow and gray colors and their successful combinations.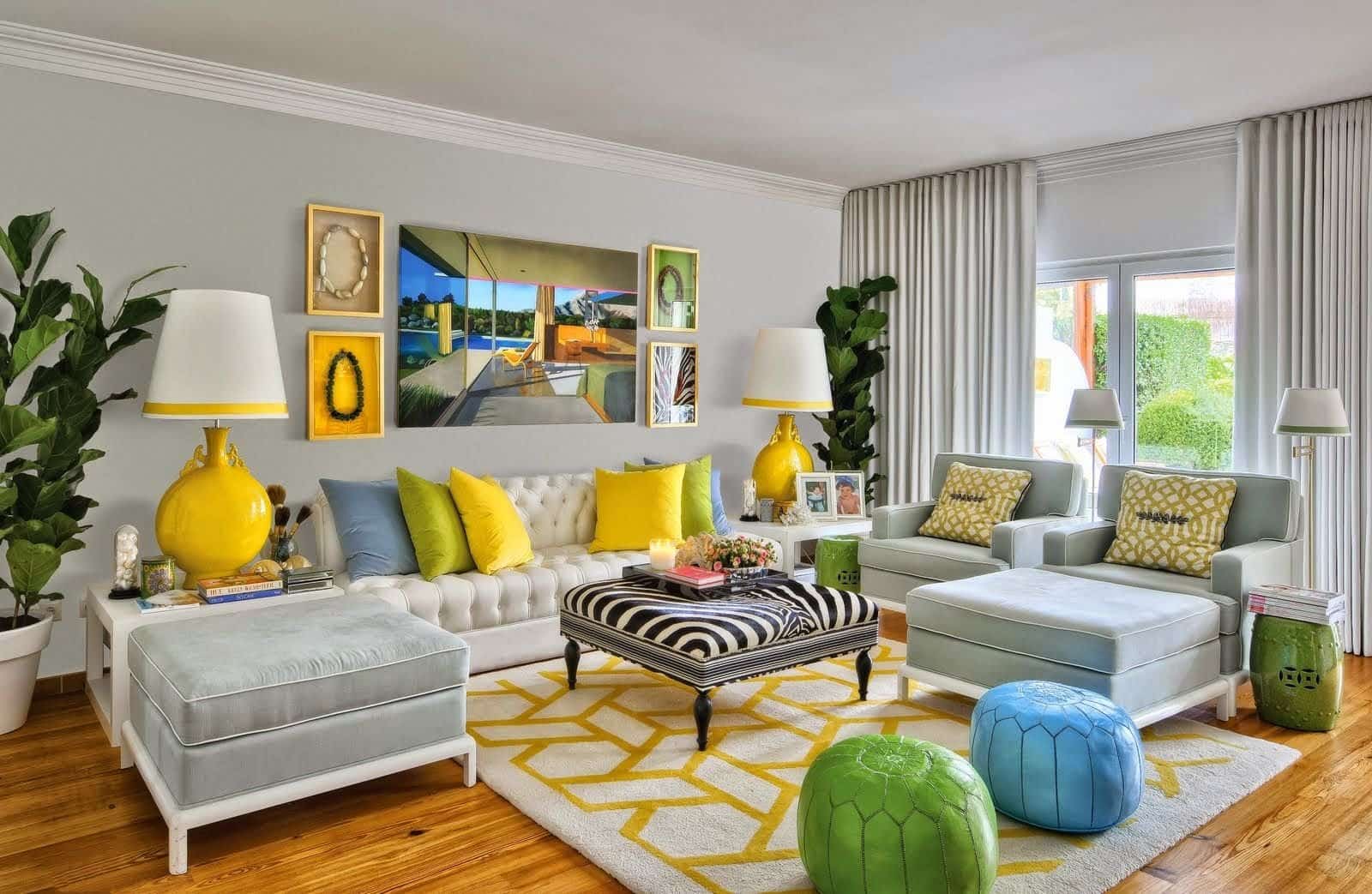 Living Room in Yellow and Green
Incredibly fresh and filled with vitality yellow-green color combination is perfect for living room interior design. The combination of saturated shades of yellow and green has a brilliant and effective look. The combination of more muted tones of the chosen color duo will appear harmonious and elegant. You can combine cold shades with warm ones: cold as the main color for the design of the walls, ceiling, and floor, a warm shade to use in the details and objects of the interior.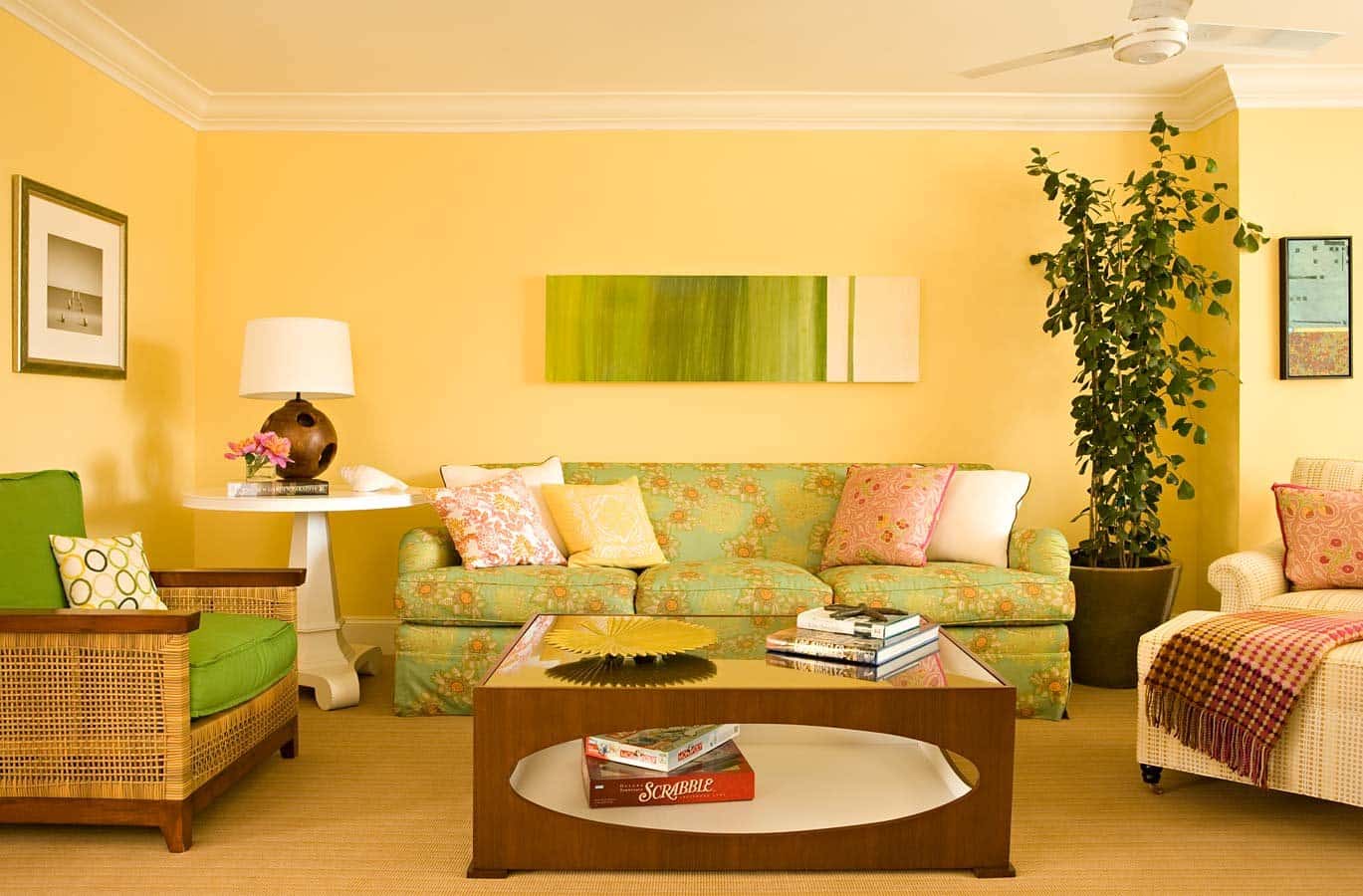 Yellow and Blue Interior
The interior of the living room, made in yellow and blue is a very delicate and refined combination. This option creates a favorable and balanced (thanks to the combination of warm yellow and cool blue) atmosphere in the living room. Living design with a soft blue ceiling and walls in tandem with yellow upholstered furniture also looks great. Also, the interior in which the main color is yellow, and the furniture and furnishings are blue or blue is no less beautiful.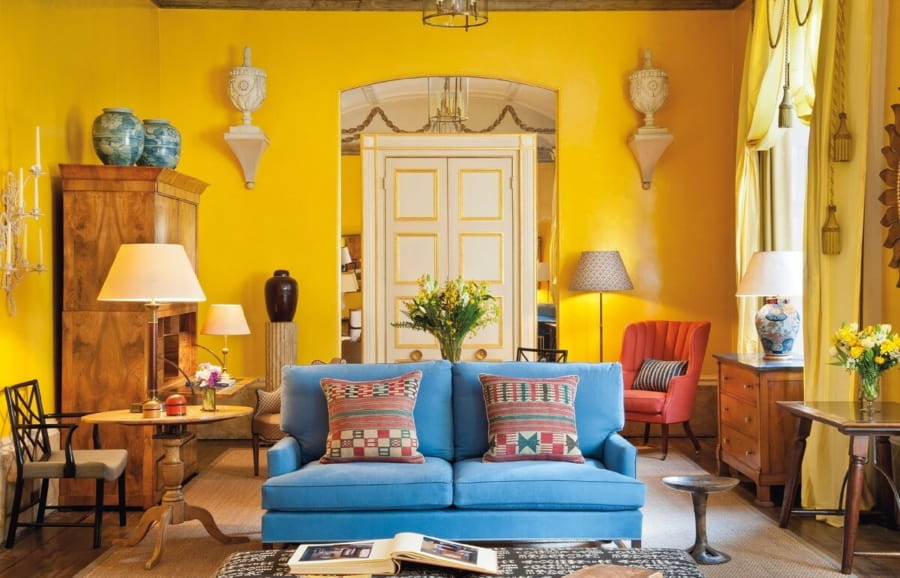 Black and Yellow Living
Yellow is rich in juicy, bright, delicate beautiful shades: gold, lemon, mustard, canary, fiery, and many others. And all these shades are perfectly combined with an absolutely opposite, serious, and rather gloomy black color. Such a sharp contrast and gives this combination a special chic and sophistication. For such a fusion, it is important to properly plan and zone the room with the right choice of color for each zone. Also, designers still recommend the use of white or pastel shades in such a combination to reduce the contrast, which can cause a negative reaction.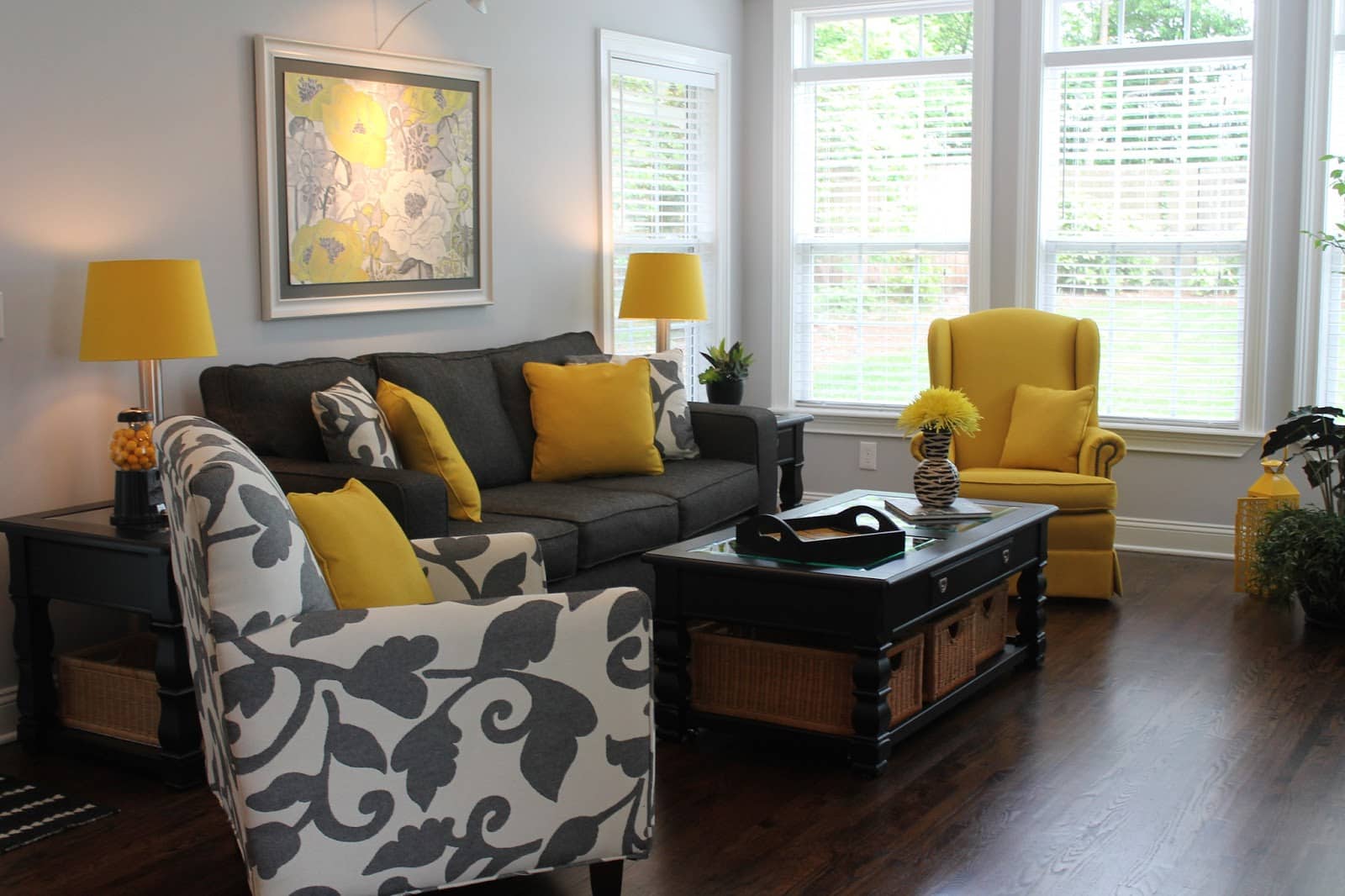 Yellow in all its manifestations and combinations is truly beautiful. Such a warm color creates a special warm and comfortable atmosphere all-around your home. By choosing yellow for the unsurpassed and unique design of your living room, you have made a clear and confident step towards the magical transformation of the home interior into the most beautiful oasis of real positive, inexhaustible optimism, incredible energy, vitality, and sunny mood!