Modern and practical Scandinavian style in interior design surprises by original solutions and pleases the eye with a pleasant combination of colors and shapes. The interior in Scandinavian style universal and individual at the same time: it combines neutral tones of background and practicality with bright details and comfort.
Contents:
Scandinavian Interior Design Style for Houses, Apartments is:
Conciseness and, at the same time, freedom of expression: minimum of furniture and original decor;
Recognizable color scheme: white background, often – white furniture and thus bright color accents (light green, orange, red, yellow, pink; rarely – black, blue, purple);
Reasonableness and naturalness;
Plenty of space, air, and light;
Easiness, no-frills, recognizability, and practicality;
A combination of natural and synthetic materials. This style harmoniously uses wood and plastic, metal and glass (although the basic material is wood);
Basics of style – simplicity, functionality, harmony, comfort.
The Scandinavian house looks cozy, comfortable and at the same time, spacious, bright, and interesting. A special charm to style is given by the original layout and thoughtful placement of furniture and decor. The Scandinavian interior design style is a set of open shelves and fixtures, bright cushions with a minimum of furniture, and concise design background.
The Scandinavian interior design style is ideal for those who appreciate comfort, individual style, and naturalness. Simple and attractive at the same time, this style is perfect for decoration of a country house, apartment, office, shop, salon, or a youth café.
Style Features
Furniture:
Modern Scandinavian style in the interior of the apartment, home, or office involves the use of original furniture made of wood, plastic, metal and glass. It also includes armchairs and chairs of unusual shapes, coffee tables, and ottomans of interesting colors and configurations. A plurality of shelves and mandatory vivid detail, giving the interior a personality and a special charm are also integral detail of style.
Scandinavian style may be more old-fashioned. Wooden furniture (light wood, white or beige) will be appropriate then. Comfortable furniture: a low sofa and comfortable chairs will decorate the house as well. Such furniture can be upholstered with both fabric and monochromatic leather.
Scandinavian-style furniture is interesting, practical, and convenient: split-level tables, chairs with curved or elongated legs, the original armchairs.
The most famous manufacturer of Scandinavian furniture is IKEA. Such brands as BoConcept, Carl Hansen, Son, Hay, Fritz Hansen, Skovby, etc. somewhat less known in the world. but they are famous for its original recognizable pieces of furniture in the Scandinavian style.
Textiles:
Bright cushions, blankets, and small original carpets give a joyful mood to easy and practical Scandinavian style.
The Scandinavian interior is unthinkable without the colorful textile details. The most common colors are red, pink, light green, bright orange, deep red. Black and white striped cushions or warm shades are also appropriate.
Windows tend to remain uncurtained. However, if you live on the first floor, or another building is located next to your house, it is possible to cover the window with light curtains (conventional or Roman).
Trimming and decor:
The most common variant of decorating the walls is dyeing (white one is the most appropriate). Smooth light-colored walls are a perfect background for interesting photographs or colorful paintings. Available more original design: three walls are white and the last one is decorated by photo wallpapers (not necessarily bright, but always with a perceptible pattern).
Wallpaper Scandinavian design is graphic, eye-catching, and unusual. It can be decorated with stripes, large repeating patterns (floral motifs, abstraction), or letters.
The ceiling should also be smooth and light (in the tone of the walls).
The flooring is wooden, light, smooth.
The modern Scandinavian style prefers snow-white shade, and the old-fashioned trend allows the use of beige and cream shades, as well as accepts a combination of bright walls and wooden ceiling, door, and window openings.
Scandinavian style in the interior – this is unusual chandeliers and lamps, originally suspended shelves and pictures (or pictures), a minimum of furniture, and a maximum of individual traits. Scandinavian-style room always looks spacious, bright, unusual, and interesting.
Interior design in the Scandinavian style can demonstrate the character and mood of the premises` owner, yet keeping the functionality and comfort of all the pieces of furniture. This bright and practical style is versatile and unique, simple and thought-out, bright, and vivid.
The History of the Emergence of the Style
The birthplace of this style is the Scandinavian countries: Sweden, Norway, Finland, and Denmark. These are highly developed countries with a harsh climate. The basic concept of the interior style of this region is practicality, naturalness, availability, simplicity, and originality.
Scandinavian designers Alvar Aarne and Arne Jacobsen introduced into the design of their region such traits as comfort and reasonableness.
Scandinavians' orientation to the combination of practicality, simplicity, and individuality makes Scandinavian interiors of apartments, houses, hotels, and offices memorable, easy, joyful, and interesting.
Where is the Scandinavian Style Applicable?
Design in Scandinavian style is practical, bright, and at the same time discreet – will be suitable not only for an apartment or a country house, but also for the office, salon, cafe, or hotels.
Order an office design in the Scandinavian style is worth for companies engaged in photo design, advertising, event organization. This style is perfect for people of creative professions.
Scandinavian style is suitable for the decoration of youth cafés and restaurants. Individuality, brightness, and freedom of this style will appeal to fans of anti-cafe, Art House Cafe, and any other shops aimed at the young dynamic audience.
This style is appropriate in the design of exhibitions of young artists and photographers too;
Order or interior design store in the Scandinavian style you can and should if you sell the original painting, unusual gifts, youth clothing, modern home furnishings (lamps, vases, shelves, dishes, etc.)
Hotel in Scandinavian style is a combination of European comfort, specific northern white beauty, and charm of space and at the same time simple and memorable interior.
Projects in the Scandinavian style also fit for decoration of houses. The interior of the house in the Scandinavian style will appeal to all who appreciate the simplicity, comfort, and individuality combined with contemporary design and bold color combinations in the quiet light background. Country house in the Scandinavian style can be especially cozy with a fireplace, original shelves under the stairs, and an exposed layout. Order design wooden country house or cottage in the Scandinavian style is from the experts: the interior of the house has to be thoughtful and gracious.
Apartment in Scandinavian Style
Kitchen in Scandinavian style – it is comfort and coziness: traditional open shelves and a few notable and hidden light sources; wooden or stone small dining table (often it replaces bar) and comfortable chairs; light background and light furniture.
Living in Scandinavian style – it is a cozy sofa, a low coffee table, floor lamp, chandelier, wall and table lamps, bright cushions, shelves and photos on the walls, a sense of peace and light bright joy.
Bedrooms in Scandinavian design are a kingdom of peace and tranquility: bright colors, plenty of air and space, comfortable furniture, and no catchy, attention-grabbing, or irritating elements.
The Scandinavian hallway is a traditional white background and wooden furniture, a built-in wardrobe, and shoe cupboards, a bright accent in the form of paintings, photographs, or a vase of flowers.
The bathroom is a stylish and modern room: a large mirror, a modern shower cabin, open shelves, and light wood, stone or wooden walls, tiled floor.
To be more specific, we'll speak a word about each room specifically
Scandinavian Living Room
The first thing to do in order to bring the style of the room closer to Scandinavian is to add more sunlight. Most often, this can be done by abandoning large, dense, and dark curtains. A functional interior detail is an exclusively decorative interior detail as well. You can replace them with the now popular roller blinds or classic blinds. But to completely abandon them so that the light can freely enter the room is even better.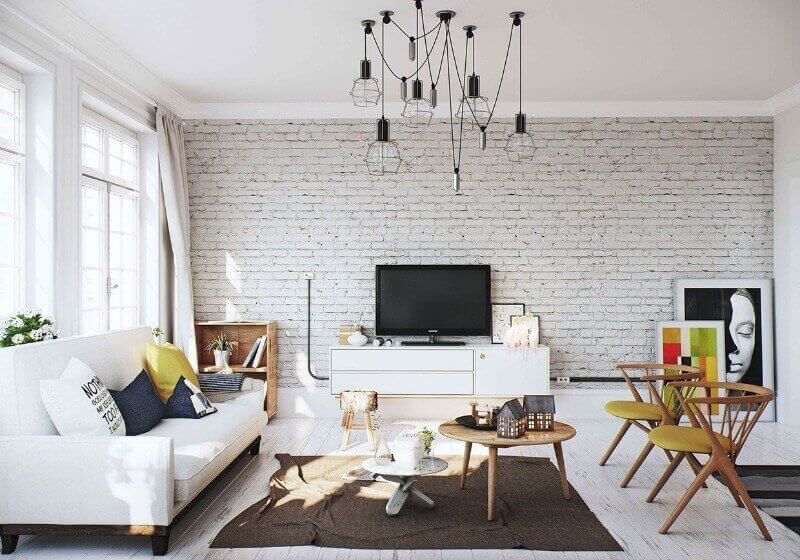 As for the decoration of the walls, ceiling, and floor – it is better to do it in a light shade. Many designers recommend using white wallpaper and a floor that imitates light wood species. To prevent the room from looking too primitive and monotonous, you can add a contrasting black or dark gray color to the furniture. Such an interior is versatile due to its colors. In addition, you can add bright spots in the form of various decorative elements – pillows, blankets, carpets, vases, etc. By changing the accent colors, you will bring a different mood to the living room.
Choose upholstered furniture with fabric upholstery to make the interior look expensive and stylish. However, remember that for a Scandinavian style, expensive does not mean luxurious. It still strives for more simplicity and minimalism. Therefore, exclude all the defiant details of the scenery and try not to clog the space with unnecessary items.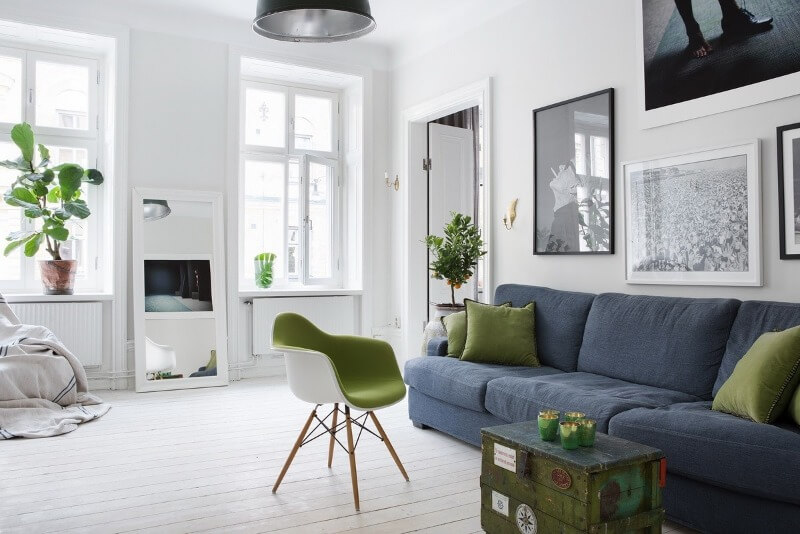 Scandinavian Bedroom
Color Scheme
The Scandinavian style was formed in conditions of long, harsh winters with very little daylight. The weather kept people indoors for months. In addition, most northerners lived in small houses. It was extremely important to feel comfortable and spacious at home so that every object in it reflects as much light as possible. Serene, muted neutrals paired with dazzling whites are definitely the quintessential Scandinavian style. These soothing colors make rooms bright and spacious, even on a dull day. Endless white walls, finishes, cabinets, and countertops seem to recede visually, making rooms much larger than they actually are.
Lighting in the Bedroom Interior
Long gloomy winters have led to the fact that a lot of design in this style depends on the lighting. Natural light is enhanced by any means. The more natural light you can get from the windows, the better. Window sashes are not hidden behind curtains. Mirrors are strategically placed to visually expand the space and reflect any available outside light. The dominant neutral color palette is generally reflective. Electric lamps are also distinguished by simple shapes and lines. Candles are widely used to soften the finish with their shimmery flame.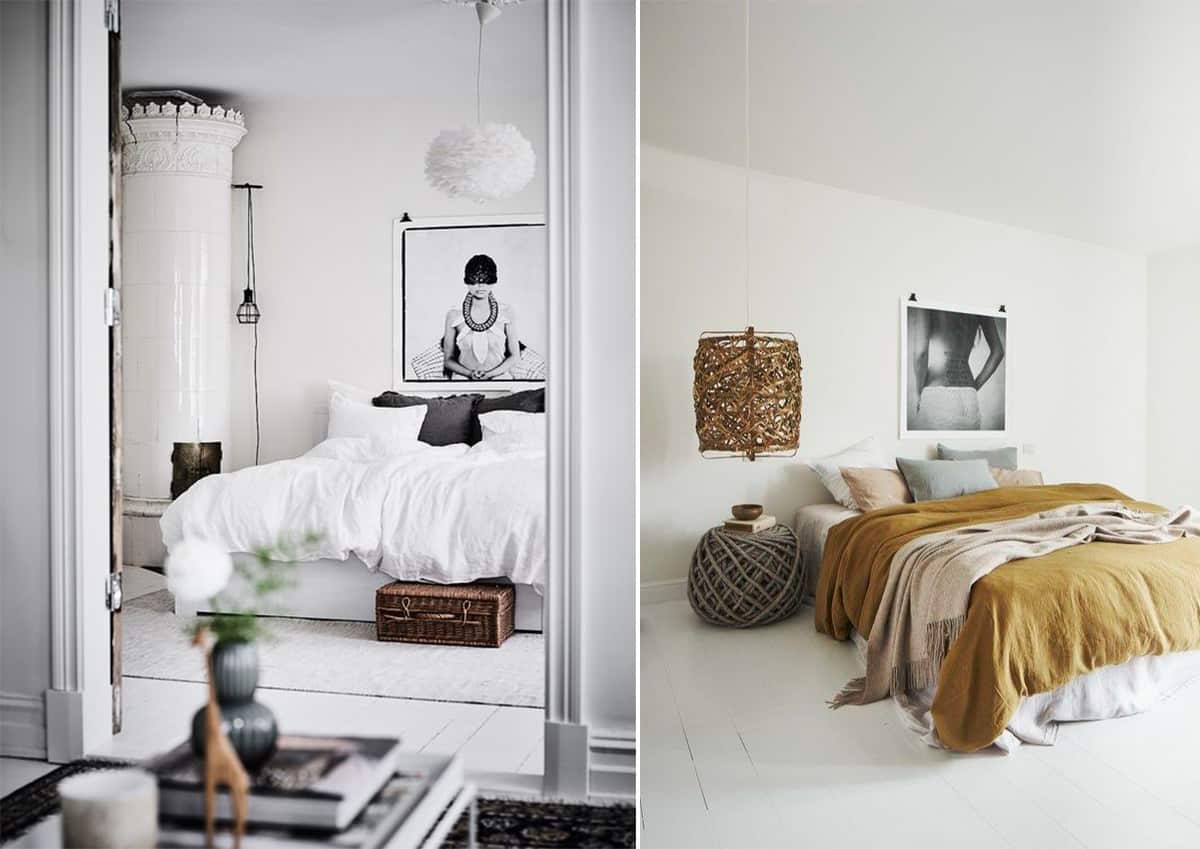 Natural Materials in the Bedroom
Ardent supporters of outdoor living, Scandinavians believe in the triumph of nature, even when they are at home. This is why natural wood is the predominant feature of Scandinavian interior design. Wood is the preferred choice of flooring.
Pine, beech, and ash are definitely favorites. Painting and varnishing usually remain light to maintain an airy feel. Potted plants are also widely used in interiors to create a sense of wildlife inside the home.
Textiles in the Bedroom Decor
Space, made in Scandinavian style, is not visually burdened with a lot of heavy draperies. Textile accessories are used sparingly but with maximum effect – for example, a colorful rug that defines the seating area, a pair of pillows with prints of bold chevrons or stripes and a light bedspread that gives comfort, a knitted blanket thrown on a couch, simple laconic curtains on the windows and possibly some patterned napkins on the dressers. Natural fabrics such as cotton, wool, and linen are preferred over synthetics and blended fabrics.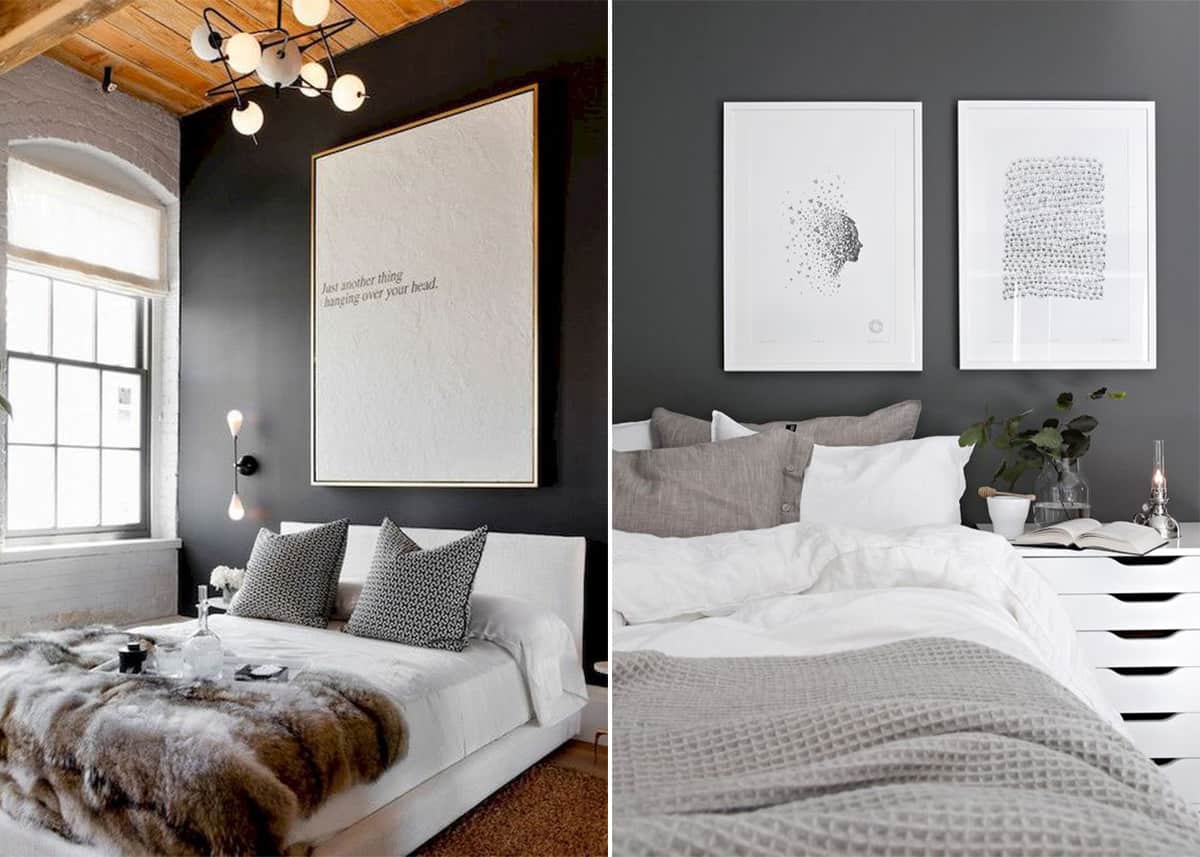 Creative Decor
A funny curtain, instead of the doors of the traditional built-in wardrobe, a chest, instead of a bedside table, a brutal bench with cushions replacing a pouf – such original items and solutions help to add variety to the Scandinavian-style bedroom interior. Even a garden staircase can act as a bookcase, a stand for pots with living plants, and a clothes hanger. There are no adamant taboos in this style – feel free to experiment!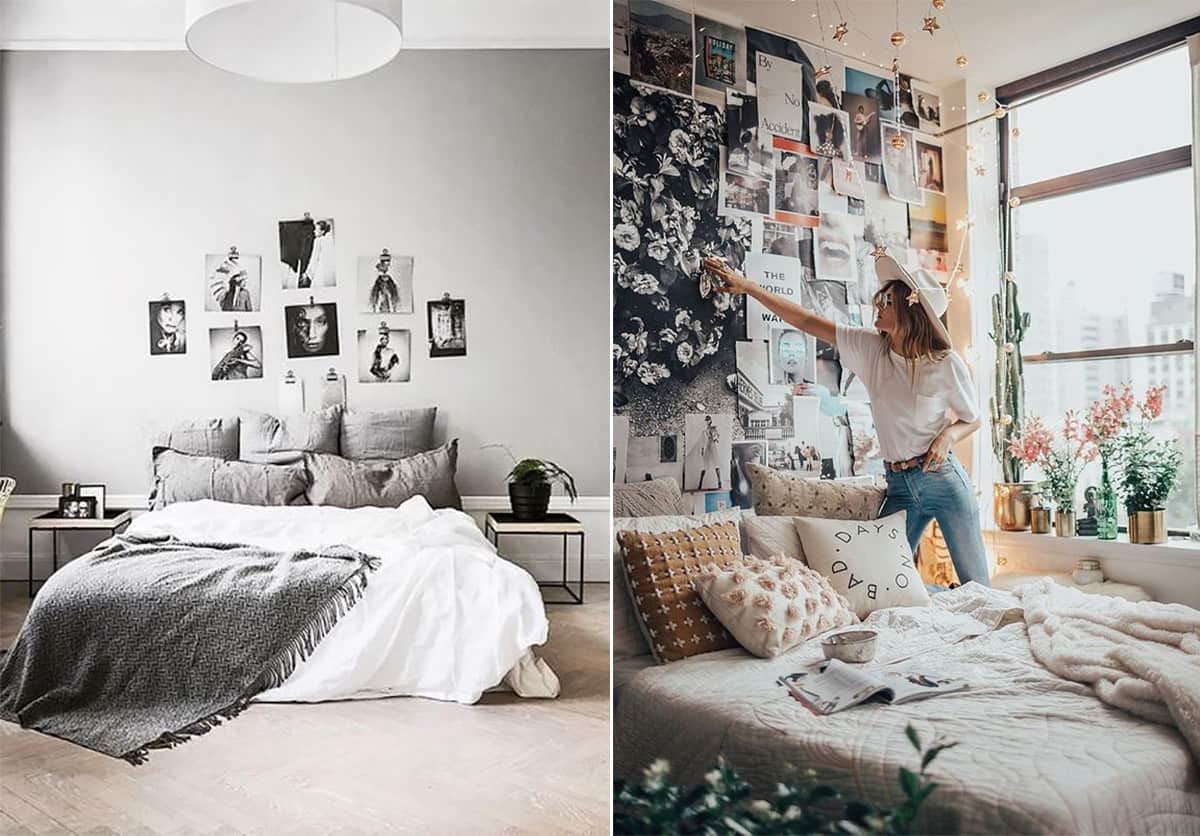 Scandinavian Bathroom
Color Scheme
A Scandinavian-style bathtub, by definition, should be very light and airy. White reigns here! However, dark or metal mixers or pendant lamps will not look alien here – they provide the necessary visual contrast with white fixtures and warm wooden interior elements.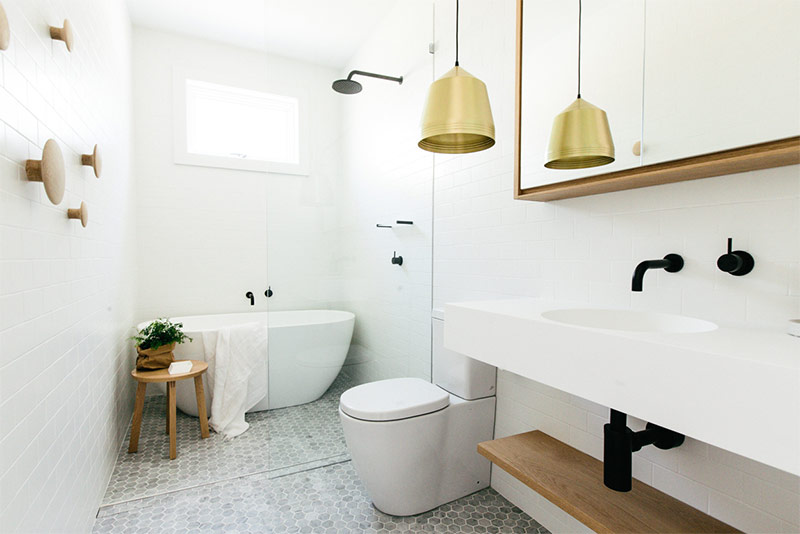 Finishing materials
It is the interesting finishing materials that can make your Scandinavian bathroom unique, individual, unlike any other. A wide range of tile colors and styles make them the most popular flooring and wall covering. Mosaic tiles, as well as natural stone and granite, are often used. Just like decorating bathroom backsplash or countertop in the kitchen, color can liven up a bathroom that might otherwise look a little dull.
Wood
Nothing is more Scandinavian than light-colored wood, so let's take a look at different ways to bring it to your bathroom. Place a wooden cabinet or bedside table here for storing small things, or trim a part of the wall with wood. And it doesn't really matter whether you choose solid wood, veneer, or laminated chipboard. The luxury bathroom pictured here combines a wooden pendant vanity with wood pendant lights.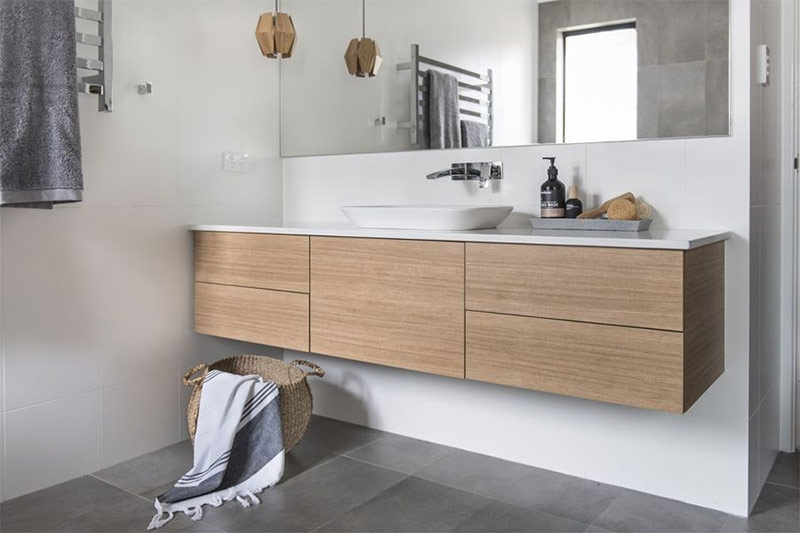 Brickwork
With bricks, you can add a touch of industrial style to a Scandinavian bathroom. This is a great alternative to traditional tiles. The multi-colored bricks here add an element of whimsy and expand the color palette. These warm browns and grays can then be repeated on walls and patterned floor tiles.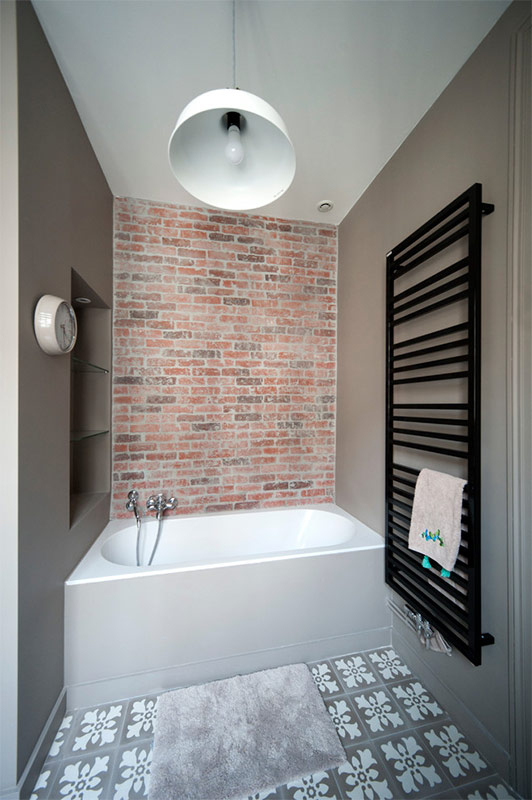 TIP: Remember that bricks used in a "wet area" require special protection against moisture. Only in this way you can maintain its appearance.
Tiles or Wood Panels?
A tricky way to bring warm woody tones to your bathroom is to use woodgrain tiles. It has all the advantages of tiles but looks like wood panels. In the example shown in the photo, a similar wood grain tile was used to cover the floor and walls behind the bathroom.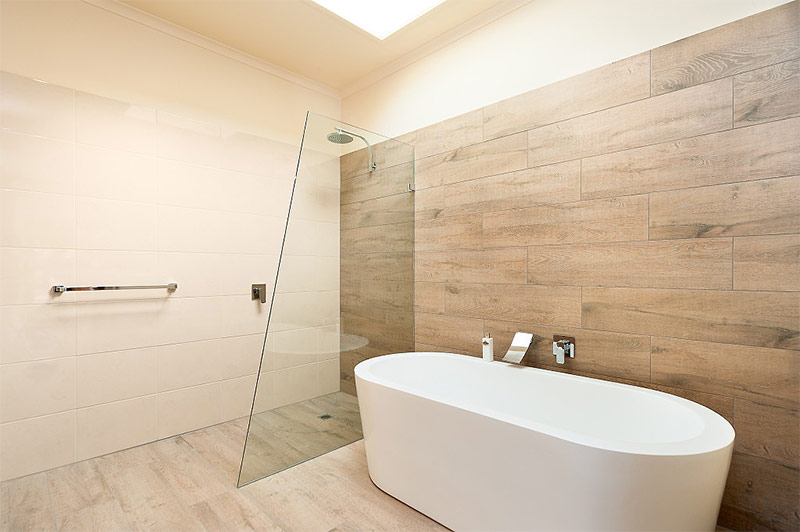 Texture
Today, tile production technologies are incomparable with what was available a couple of decades ago. We also learned how to make texture tiles. The number of variations in the color and shape of the tile is huge, but try to opt for one type, because the Scandinavian style is, first of all, restraint and moderation.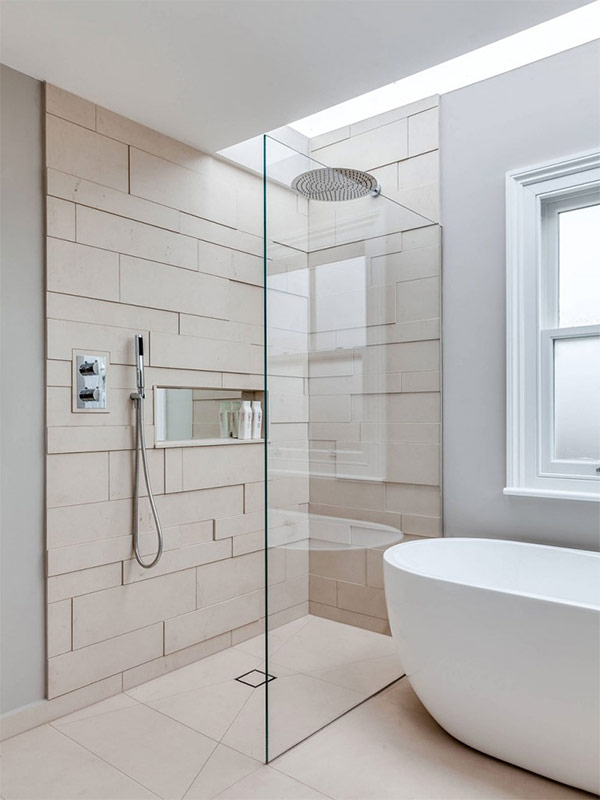 Hexagonal Tiles
Hexagonal tiles are becoming more and more popular in modern Scandinavian bathrooms. The wall decorated with similar hexagons looks very impressive. An even more striking picture is obtained when white hexagonal tiles are used in combination with black contrasting grout, or when smaller tiles on the floor are adjacent to it.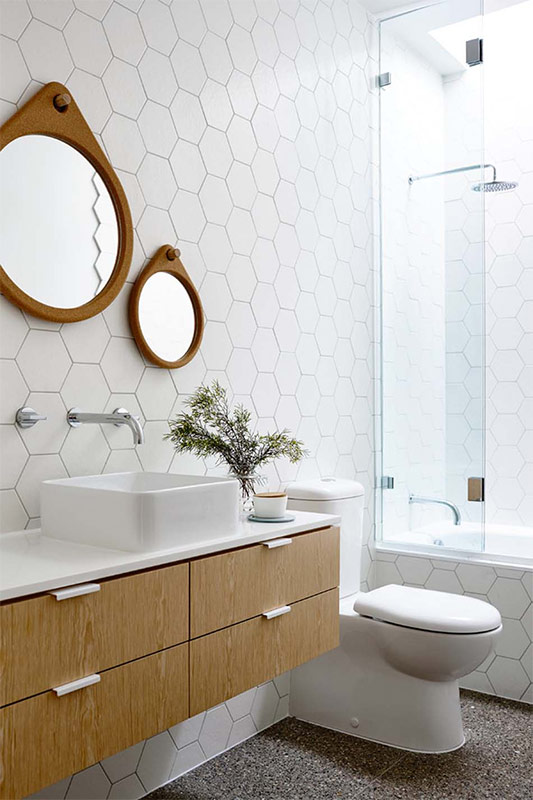 Spa Style Bath
We all love to dive in a bathtub, but what about a dip in a bathtub that is already submerged in itself? If you have a lot of space, place the bath in the center of the room and sink it into the floor. You step down, plunge into the water… and feel like you are in your own spa. To enhance the charm of the Scandinavian style, add a small wood-burning stove and a woodpile, then the large room will be warm and cozy even in winter.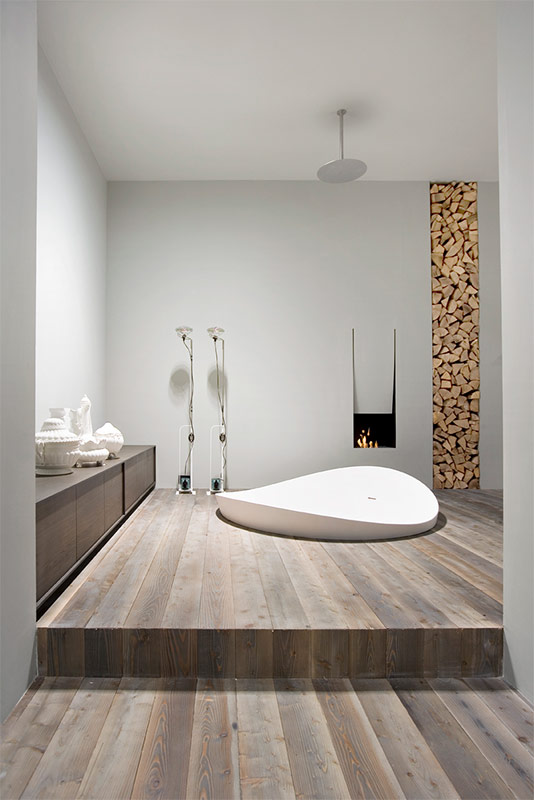 Sauna
Placing your own sauna in the bathroom is by far one of the most difficult ideas presented here. But this is what will allow you to most clearly feel the spirit of Scandinavia, and then you will understand that the game is worth the candle.
TIP: The decision to install a sauna you need to make at the design stage, as this will require special thermal insulation of the room and the supply of the necessary communications for ventilation and heating elements.
Storage Space
Over time, you may notice that all sorts of things (and all of them are very necessary) in your bathroom increase, and you are no longer able to fight the clutter. However, chaos and Scandinavian style are incompatible, so you should think in advance about organizing storage space. A large or double vanity unit is a great option. Hanging cabinets are no less effective.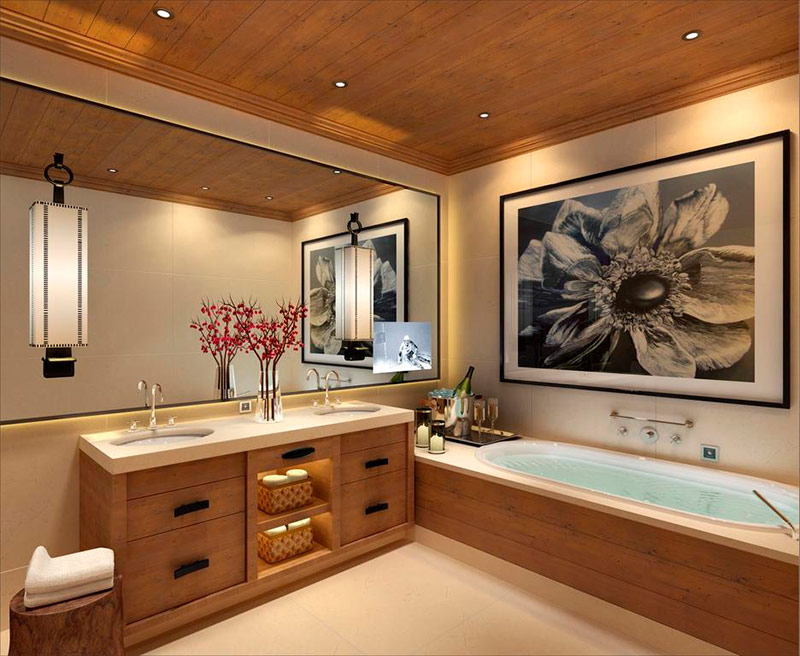 In smaller spaces, it is advisable to use built-in structures that add ample storage space for toiletries while saving precious space. In general, the correct organization is the main requirement for the design of compact bathrooms, so it is good if the cabinets contain a lot of all kinds of drawers and storage trays in the order of various small accessories.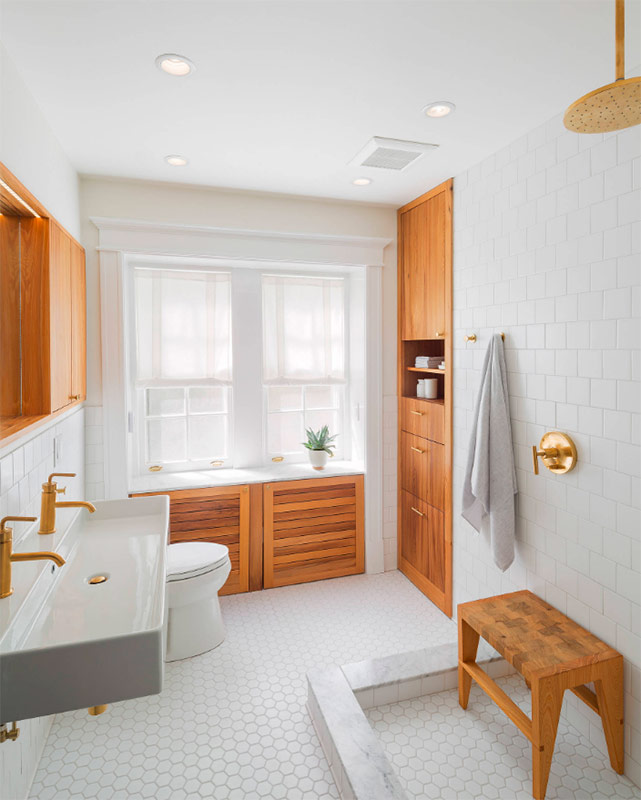 Decor
No room renovation is complete until the final touches are added. This also applies to the bathroom. Carefully consider the choice of lamps, soap dispenser, toothbrush holder, wastebasket – all these seemingly little things should match each other and the style of the room as a whole. Even an ordinary toilet paper holder can accentuate a given style of space, or, on the contrary, negate all your efforts.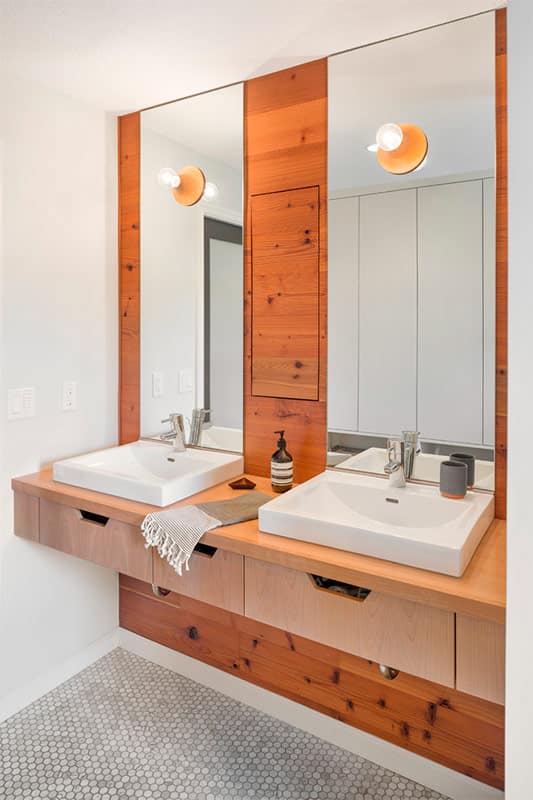 Decor elements should be unique, attracting attention, but at the same time, it is important that they harmoniously complement the overall picture. If you are up to, hang a painting or decorative vase of fresh flowers on a free wall. Those who do not want to do a complete bathroom renovation can transform it by changing the color scheme of the room or at least simply replacing some of the old accessories. Below are the various accessories specific to the Scandinavian style