Are you looking for curtains for your windows and do not know which system to choose? In every apartment, access to natural light is one of the main issues. It is equally important to be able to close the window at any time of the day and bring a pleasant twilight to the interior. Roller blinds are one of the options for practical and attractive curtains, which is perfect for literally every room. We already have an article on how to make roller blinds with your own hands.
Content: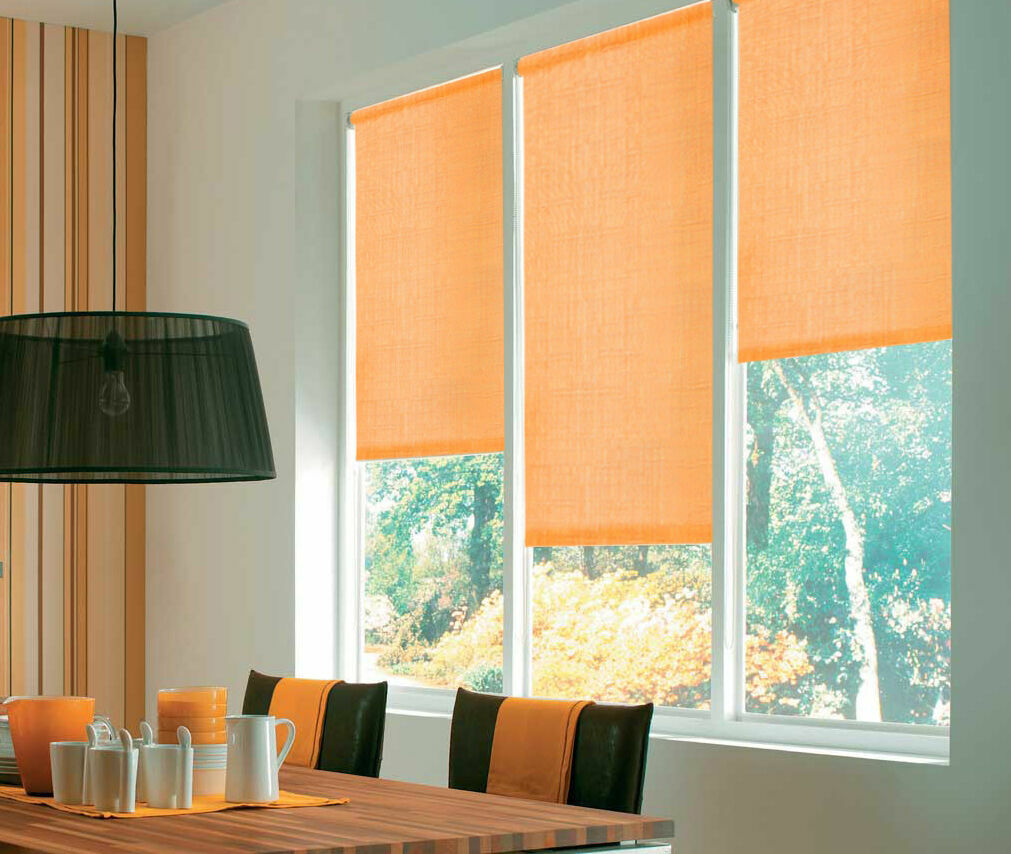 Window Roller Blinds: a Solution for any Interior with Benefits
The number of fabrics available for roller blinds means that everyone will find exactly what he needs. Moreover, such blinds in the guides located on the sides not only look beautiful but also extremely practical. Thanks to lateral support, you can easily adapt them to each window. The special design of the roller blinds guarantees excellent adhesion of the material to the glass surface. Thus, roller blinds protect from the sun, even when the window opens. Thanks to this, you do not need to worry about the fact that the material will be unsightly and will cease to fulfill its function. Choosing this product, you get sun protection regardless of the position of the window, which cannot be said about many other options available on the market.
Roller blinds are the solution that most people choose most often. It is associated with many advantages and capabilities of this product. First of all, roller blinds:
are extremely convenient to use and versatile;
have a huge selection of designs and colors.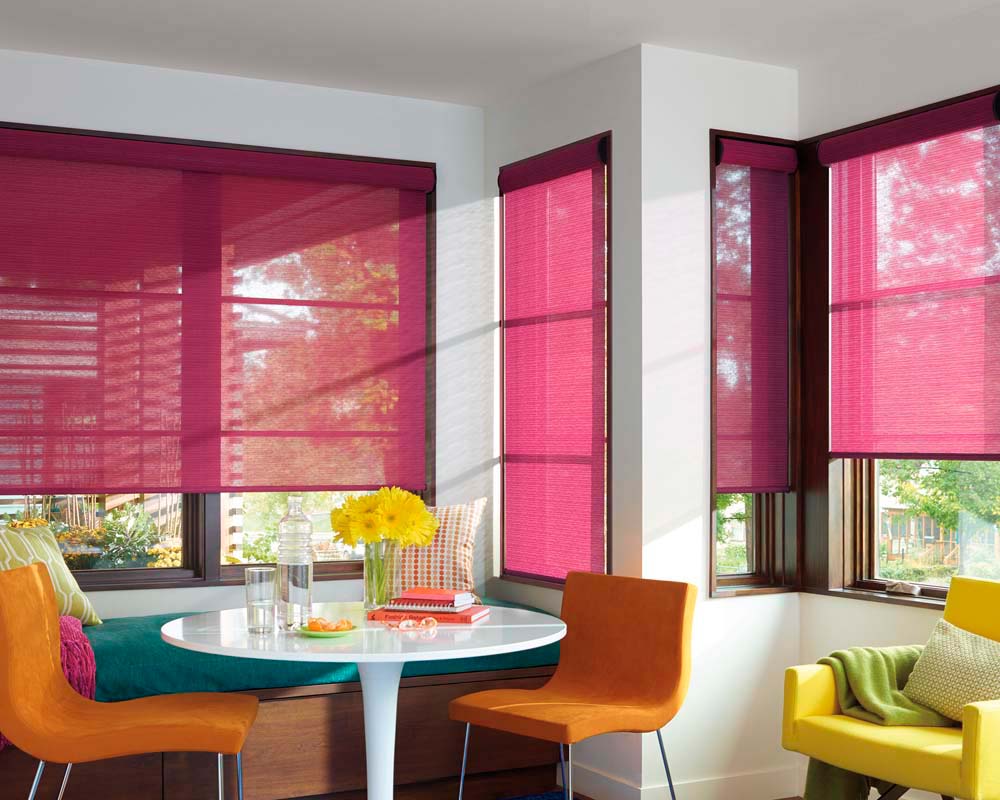 Roller blinds are a great solution that will work in all home interiors. Not only do they effectively protect from the sun and provide optimal internal temperature, but they are also very practical and easy to adjust, so you can quickly darken the window. Many different colors allow you to choose the right model for the location of the room. These products will provide an elegant appearance both in the interior and as an excellent decoration for the exterior of the building.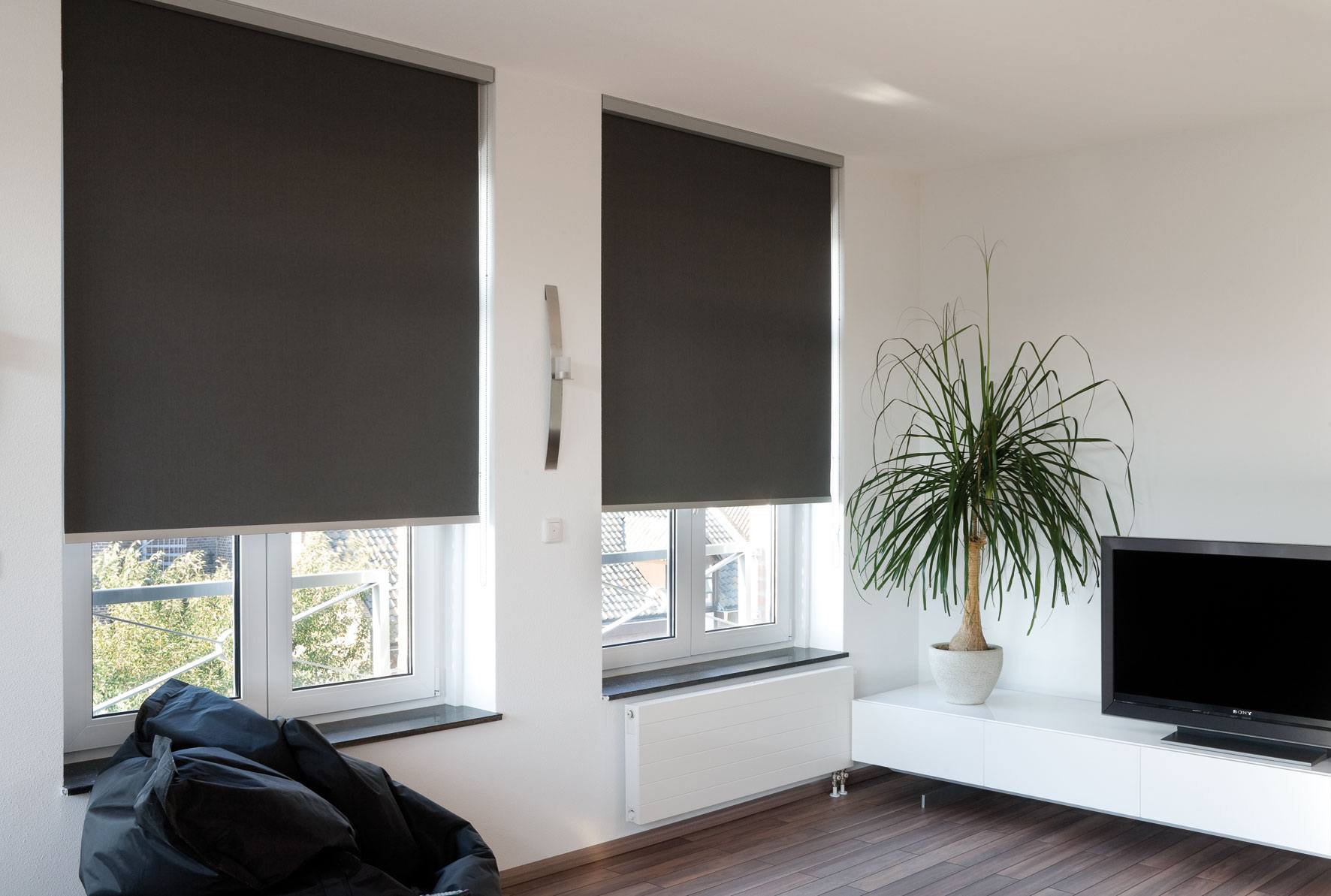 Roller Blinds – Curtains for Demanding Customers
Another argument when choosing a roller blind is its versatility. The internal blinds in the cassette can be ordered by size, so you can be sure that they exactly match the parameters of individual windows. This solution will work even with the most unusual, demanding window details. The wide selection of materials available also gives you tremendous freedom of choice. The offer includes day-night models that provide the best control of incoming light. In addition, you will find rubber products, darkened (ideal for bedrooms), and standard fabrics. Consider the best option for each room by seeing through the photo gallery.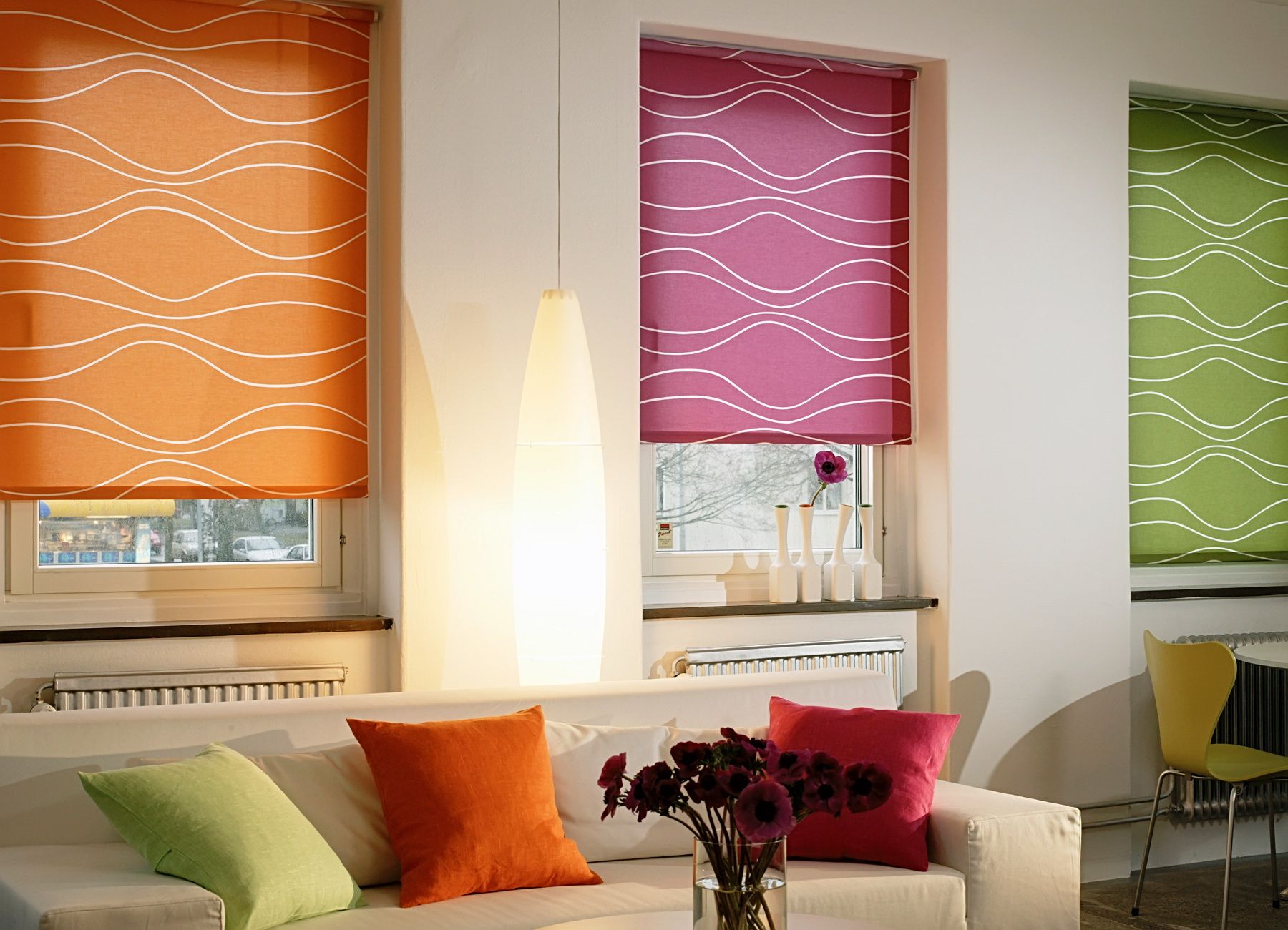 Roller Blinds with Rails – One of the Best Solutions
Roller blinds with rails are one of the best solutions available on the market. They are very popular in accordance with modern standards and user requirements. These models look stylish, and a wide selection of cassettes, their designs, and colors allow you to choose the right model, not only for plastic but also for wooden windows. Roller blinds are easy to clean, they are ideal for people with allergies. Storing the material in the cassette prevents the excessive accumulation of dust, mites, and impurities, which makes them a much more practical option than conventional curtains or drapes.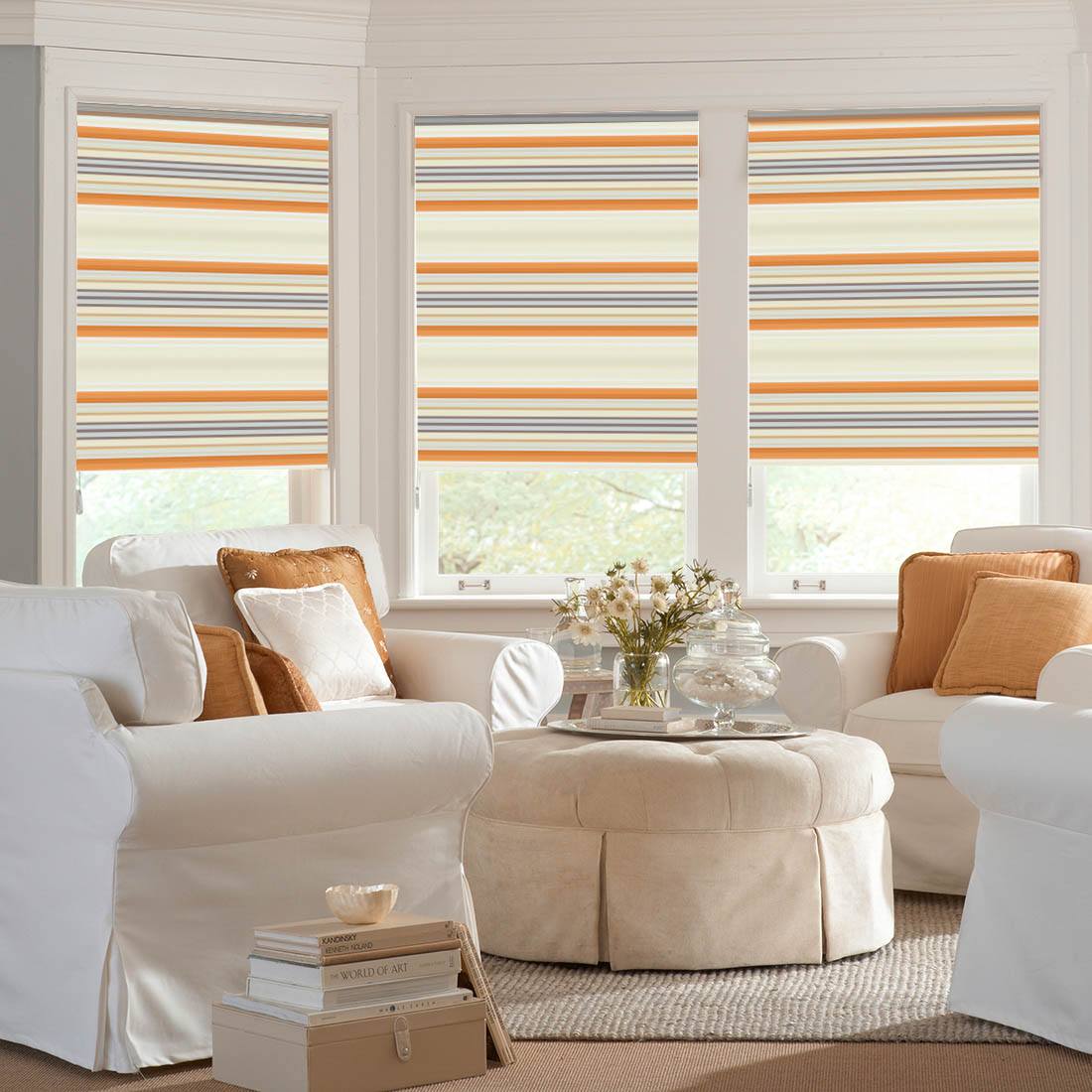 Window Blinds – Modern Design and Incredible Durability
Modern blinds are made from the finest materials, providing excellent protection against excessive sunlight. They perfectly fit into the space of the room, providing maximum comfort. This product is a guarantee of maintaining the correct temperature in the interior of the house and creating the original character of the room. Models are available in many colors and sizes.
Roller Blinds for Plastic Windows: Specification
Roller blinds or window blinds have carefully profiled frames. The flat cassettes (in which the material is placed) and the side guides provide excellent adhesion and protect the fabric from slipping. Thanks to this decision, the window not only acquires an aesthetic appearance, but also the interior of the house is reliably protected from excessive sunlight. Models include different but equally functional curtains of the following types:
lightproof;
day and night;
non-invasive
heat-insulating;
specialized products designed for installation on balcony glass doors.
Easy Installation of an Elegant Curtain
Blinds are characterized by carefully selected high-quality materials and a wide selection of designs and colors. Finely crafted, they provide excellent protection against sunlight and also create a cozy atmosphere. In addition, roller blinds are a guarantee of maintaining the desired temperature in the room. They are very easy to install as all the necessary elements for mounting are included. They do not damage windows and are easy to disassemble. You can purchase products in basic, popular sizes, as well as models that require other, non-standard shapes.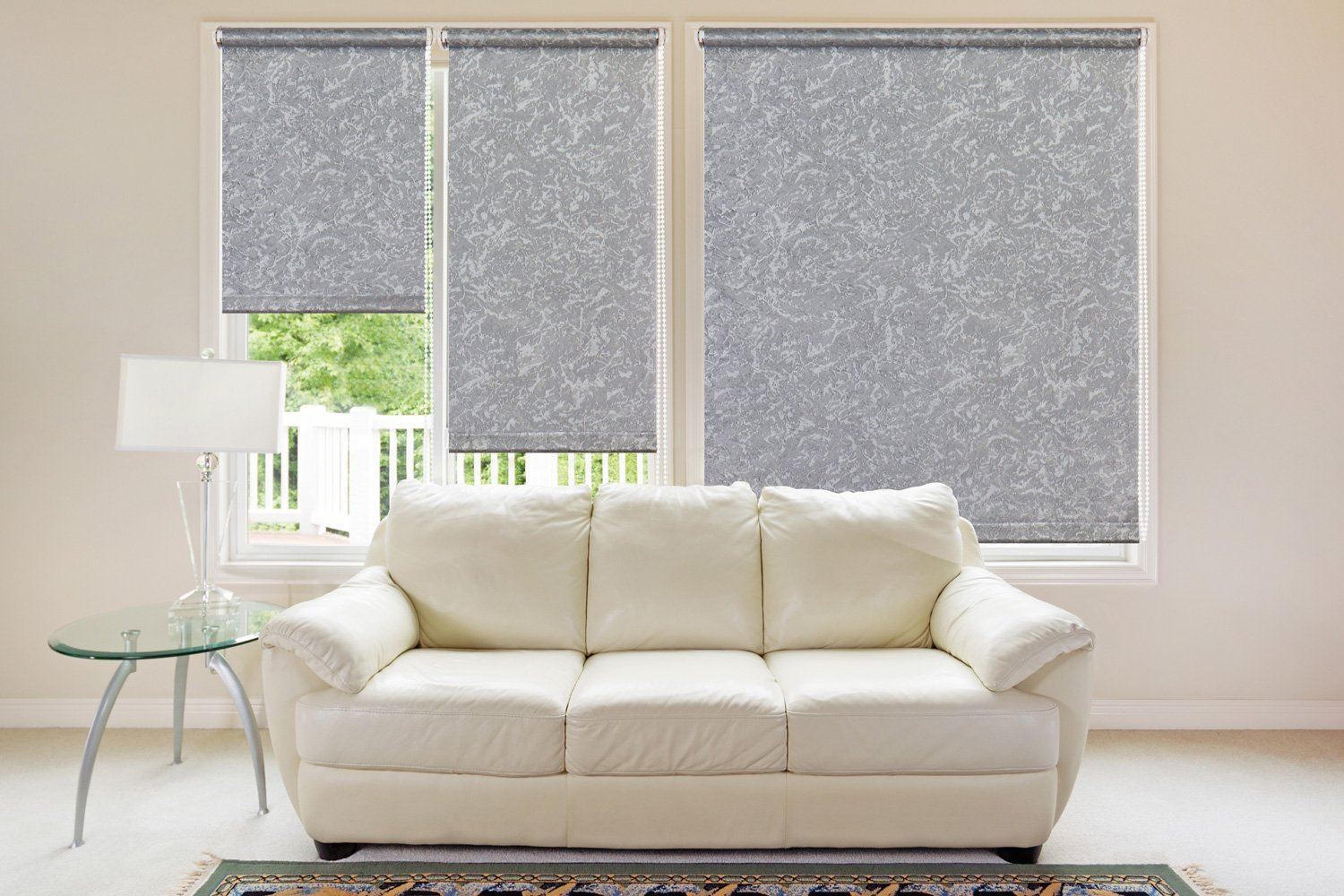 Day & Night Roller Blinds
Day-night roller blinds are characterized by high standards of performance. They are distinguished, first of all, by the freedom of adjustment, which is ensured by a system of alternating folding belts made of darkened and translucent material. This is a very practical solution, thanks to which you can meter the brightness in the room. The flow of sunlight is controlled using a standard fishing line. Raising all the material, leaving alternating strips, or completely closing the window with dark fragments of the canvas is complete freedom of choice, which provides a lot of opportunities for using roller blinds.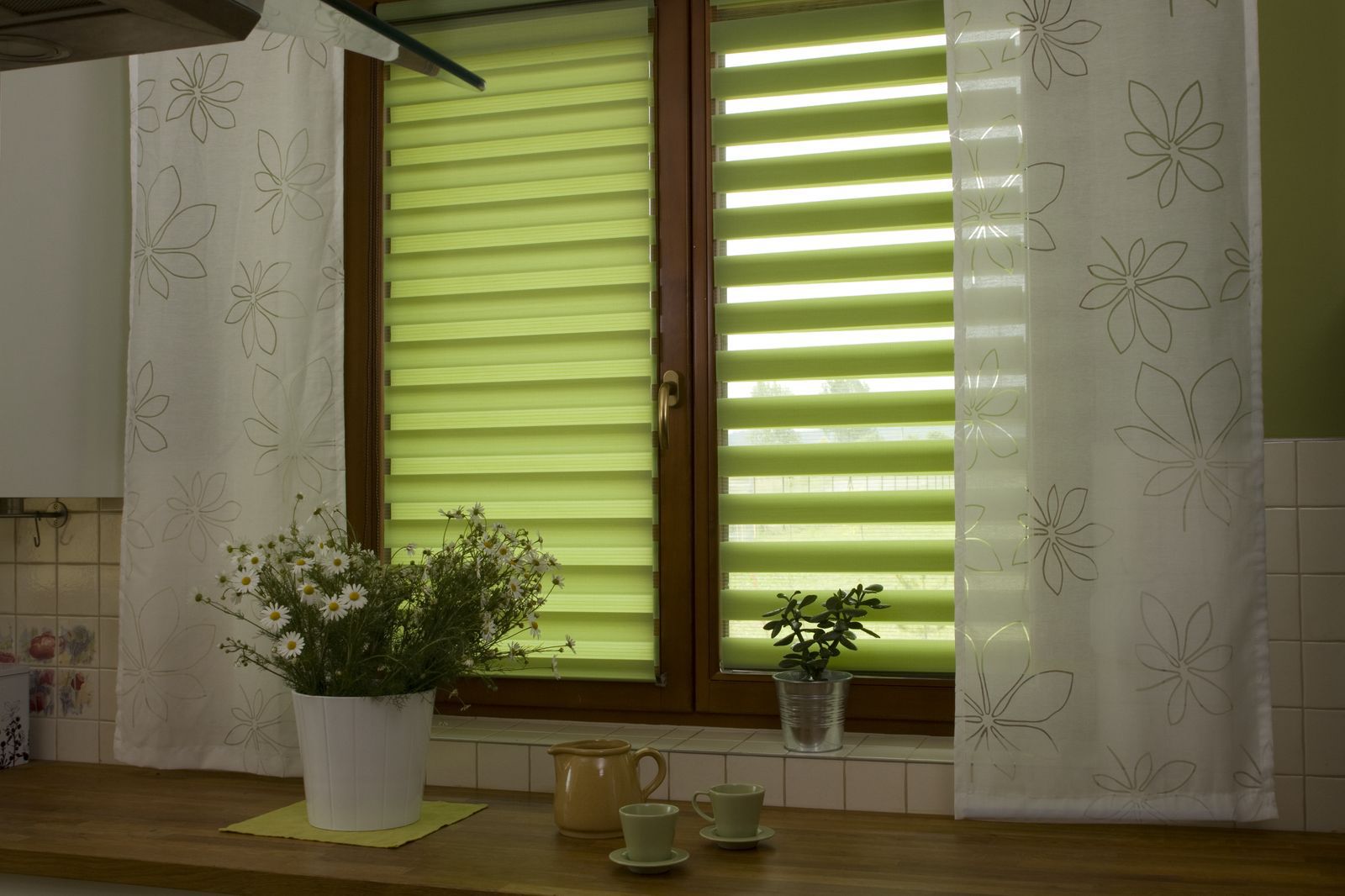 The Advantages of Night & Day Roller Blinds
Day-night roller blinds effectively protect against interior heating and excessive sunlight. They provide an intimate atmosphere and effectively prevent the penetration of sunlight, which can be reflected in computer monitors and other screens. Curtains guarantee high comfort and original aesthetics. Available in many colors, they are ideal for the home office and other spaces. The original design allows the use of day & night roller blinds in the interior of the living room, bedroom, and children's room. These blinds effectively cover the interior of the room from prying eyes, so you can easily install day-night curtains in the bathrooms. The modern appearance itself is the perfect decoration for a window that no longer needs additional decoration in the form of curtains or blinds.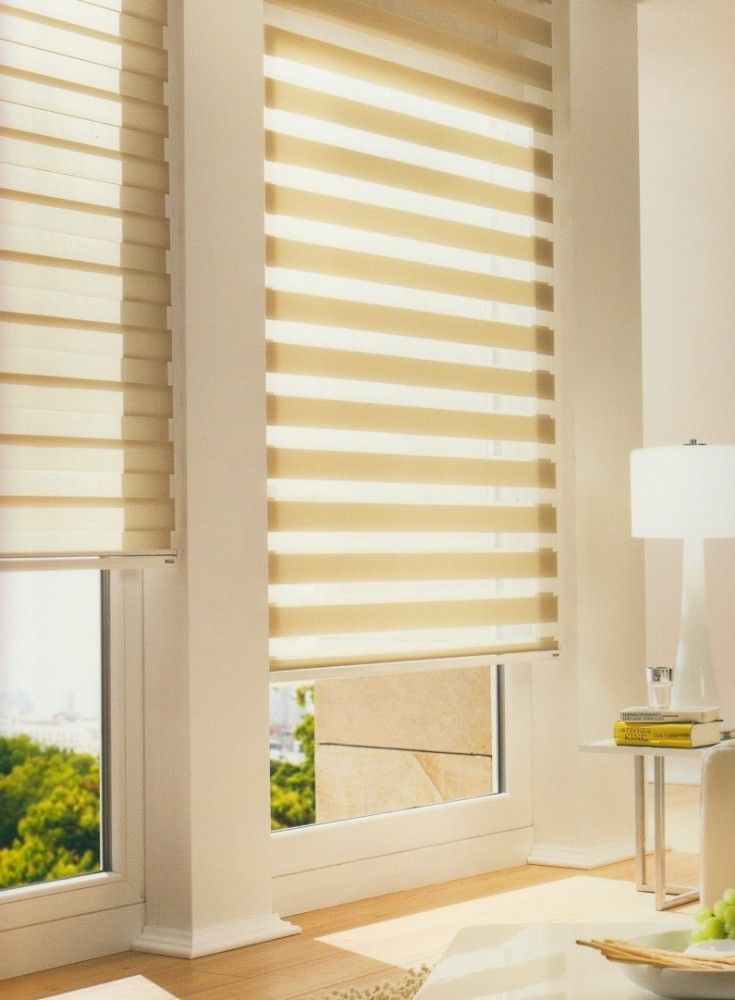 Rolled Day-Night Curtains on Windows without Drilling
Installation is very simple. You will find practical models attached to hooks or hook and loop fastener (Velcro). Just place this fastener at the correct distance from each other on the window frames to enjoy the original aesthetics of the interior. Rolled curtains with alternating stripes, laid out along the entire length of the window, will look very impressive on a sunny day.
Day-night blinds are also available with a cassette. This solution allows you to better fix the material. A flat cassette and additional side guides mean that the striped fabric will not move automatically. The material remains in place all the time. A tilted window or even a strong wind will not cause damage to the canvas. An important feature of the placement of cloth in the cassette is that it practically sticks to the window, protruding for only 30 mm. Thanks to this, roller blinds always look very aesthetically pleasing and provide long-term and trouble-free use.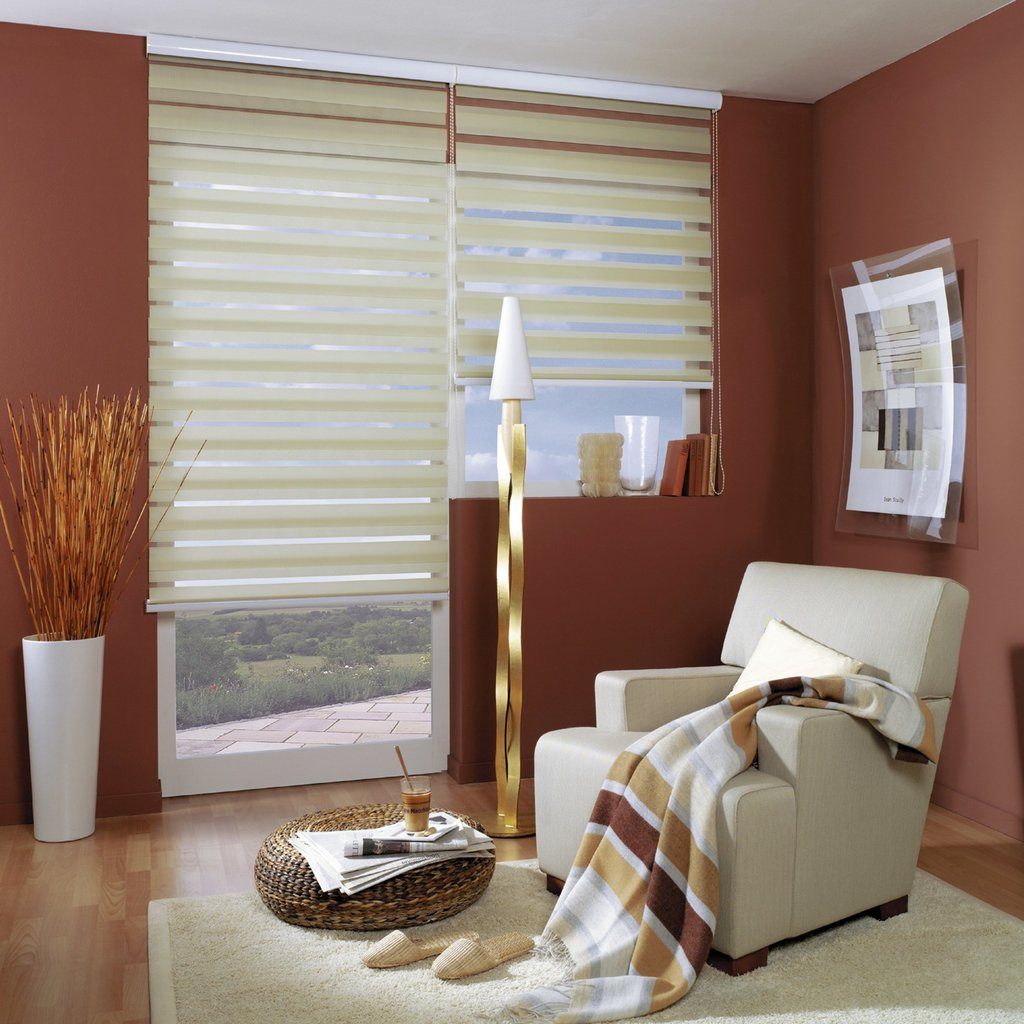 A Variety of Models of Blinds Day and Night
The day-night roller blind system impresses with its unique aesthetics:
It looks extremely elegant in the window frames, providing complete freedom in controlling the brightness of the interior;
provides durability and smooth operation;
Available not only in a wide range of colors but also features a large selection of sizes.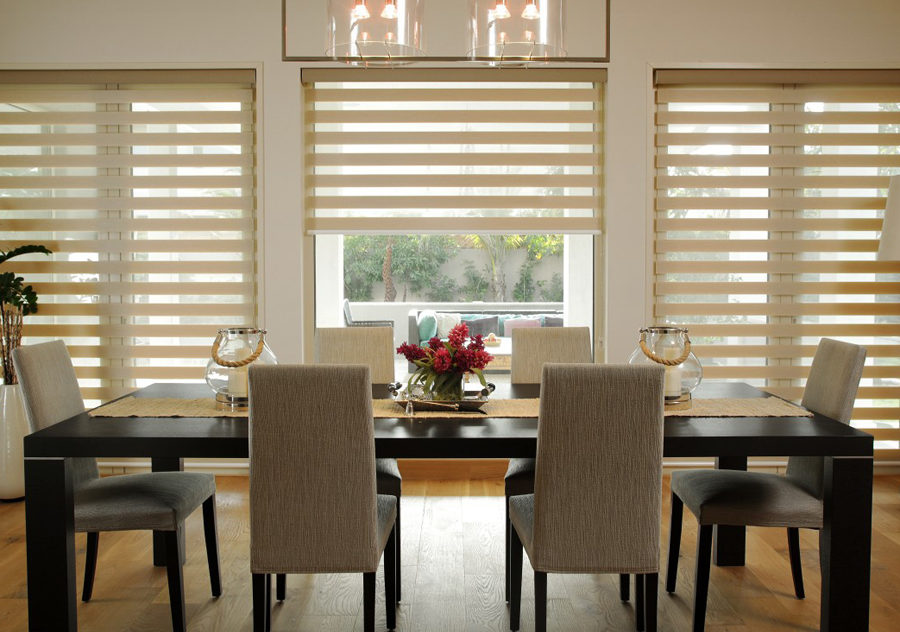 Mini Blinds or Practical Roller Blinds
Among the many different types of curtains for window openings, there are mini-blinds in the form of roller blinds. Many people decide to buy them mainly because of a reasonable price. An additional advantage of these models is a very simple assembly, which means that you do not need any complex tools, thanks to which almost everyone will cope with the installation. Everything is fast and efficient. Modern users also appreciate the extremely rich colors of these products, a large selection of sizes and designs. It is also worth knowing that a significant part of the models fit into standard windows without problems, but you can also order a specially designed version for "atypical" light openings.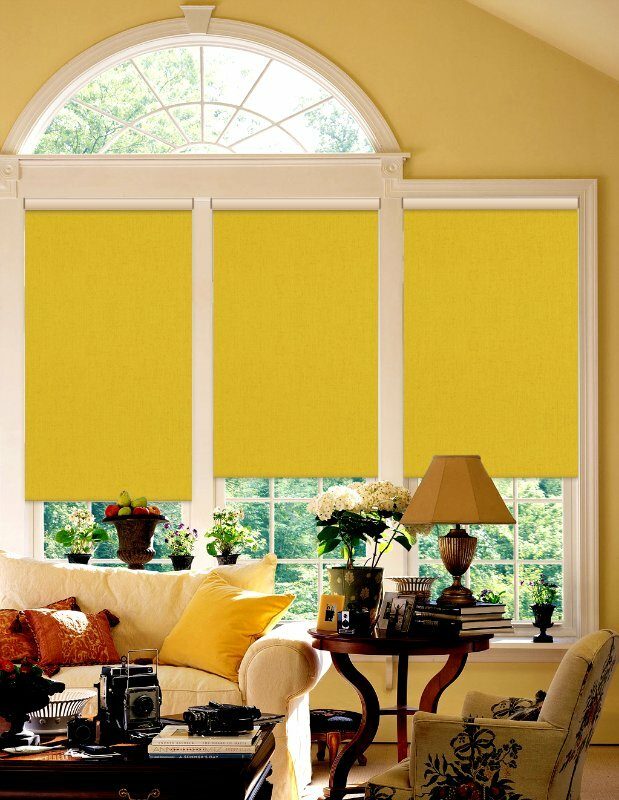 Installation of Mini Curtains
How are the blinds mounted? First of all, it causes no problem! The mechanism is designed in such a way as to provide the maximal invisibility, still guaranteeing a high level of aesthetics for each product. Equally important, the installation does not require any interference with the frame design. These types of products have a handle with the factory holes where the thread should be placed. Its end is inserted directly into the holes in the lower part, and then stretched and tied into a knot. Installation does not require the use of any additional tools, such as glue, which can damage the frame. The entire installation process should take no more than a few minutes.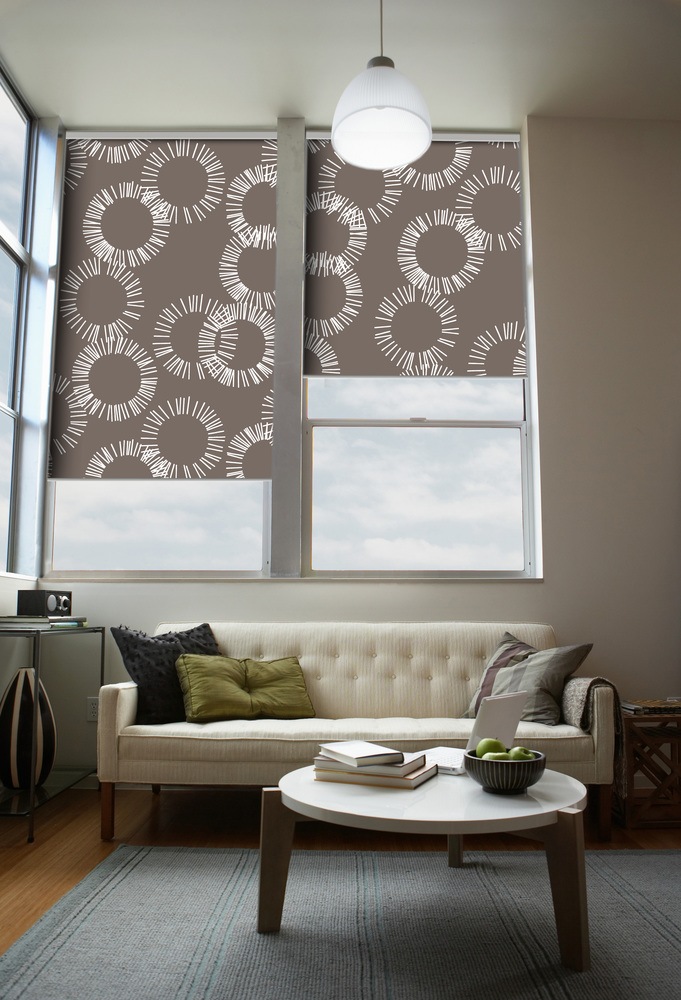 Cassette Roller Blinds: What to Look for Before Buying?
The market offers an extreme diversity for roller blinds. When choosing the best solutions, you should pay attention to a number of factors, presented below.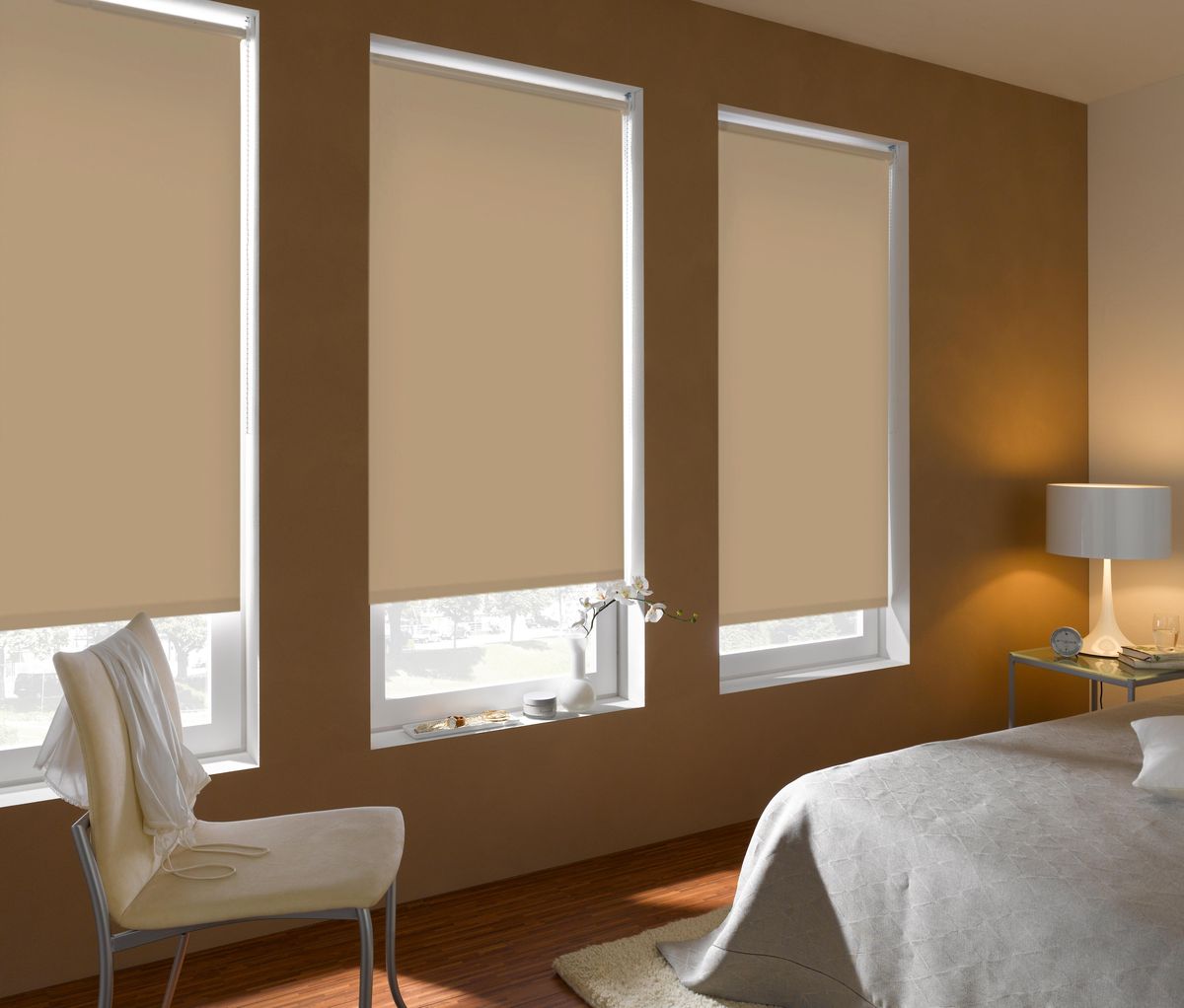 Dimming Level
The market supply of roller blinds in terms of providing darkness is extremely diverse. Therefore, you will not have any difficulties in choosing the best solutions for your needs and preferences. When choosing, however, remember that translucent models, although they let in a lot of light, do not protect against the scorching sun, which can be especially unpleasant in the summer, when the rays are very intense.
Blackout blinds provide better sun protection. However, if you choose them incorrectly, they will make the interior grim, which should definitely be avoided. The degree of darkness depends not only on the color of the fabric (light materials transmit light 30% better than dark ones), but also on its type and thickness. Thicker cotton material better protects from the sun.
Rolled opaque blinds are also available in the market. For their manufacture, a special dimming material is used. Its characteristic feature is that it blocks up to 95% of the light, regardless of the fabric color.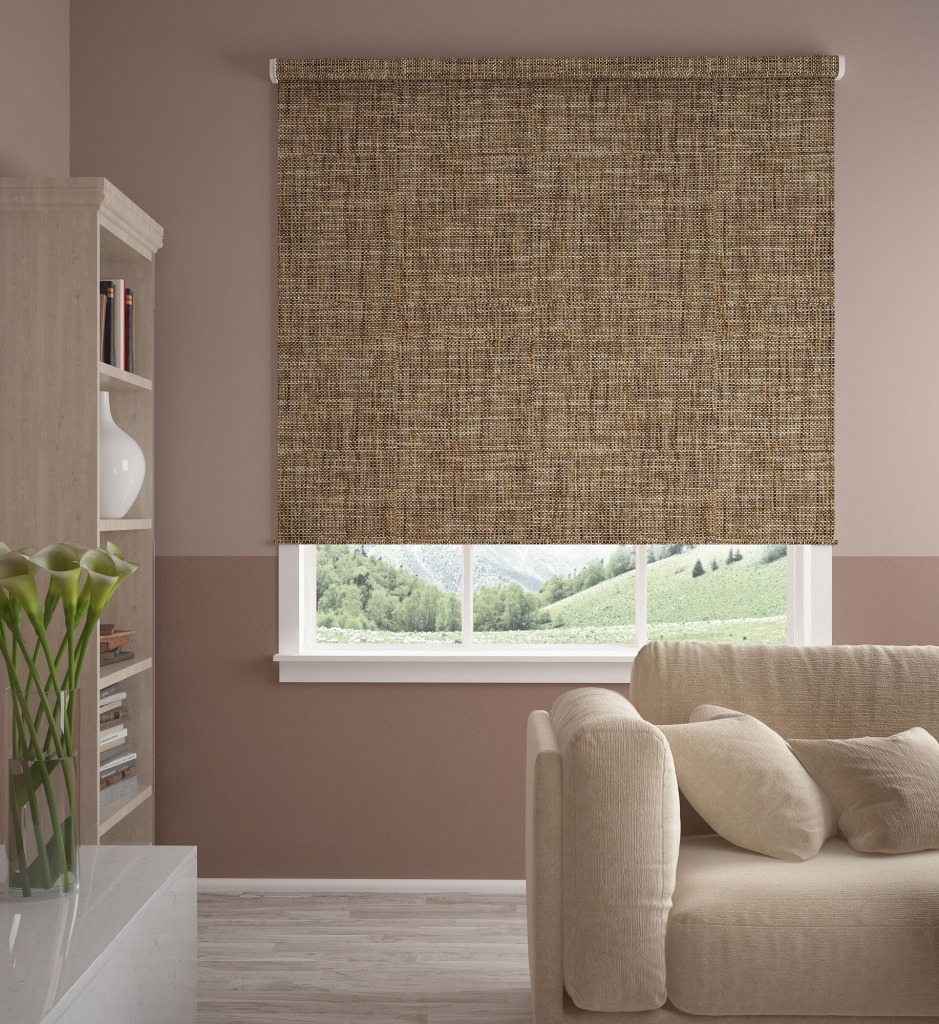 You can also choose Day & night blinds for this purpose. As the name implies, they combine two functions: curtain and dimming, which makes them extremely practical.
Mounting Method
The most popular solution is undoubtedly Velcro blinds. They are suspended in a special strip above the window. This is an extremely practical option that allows you to quickly disassemble/assemble the blinds, depending on your needs. Curtain roller blinds are also available in the market. They work especially well in classically furnished interiors.
The Mechanism of Folding Blinds
Given this aspect, you can choose roller blinds equipped with a mechanism of thread or beads. The first has a simple design, so it works well with light and airy materials. The second one allows you to more accurately position the blinds and provides seamless movement of even thicker and heavier fabrics. It is not surprising that even despite the higher price, this model is willingly chosen.
Roller blinds are also available in the market completely without a lift / lower mechanism. However, this is not a practical solution, because the window would always be closed.
Functionality in Use
Although it might seem that there is nothing complicated in the roller blind, manufacturers have many possibilities in terms of the functionality used. Thanks to them, the model has become more practical and convenient to use. Available options include:
STOP self-locking mechanism that allows you to stop the blinds in any position;
universal chain (cord), which can be installed on both the left and right side of the blinds;
chain tensioner (thread) thanks to which, the chain or thread is not confused;
fabric guide allows you to keep the fabric ajar so that the curtain looks beautiful.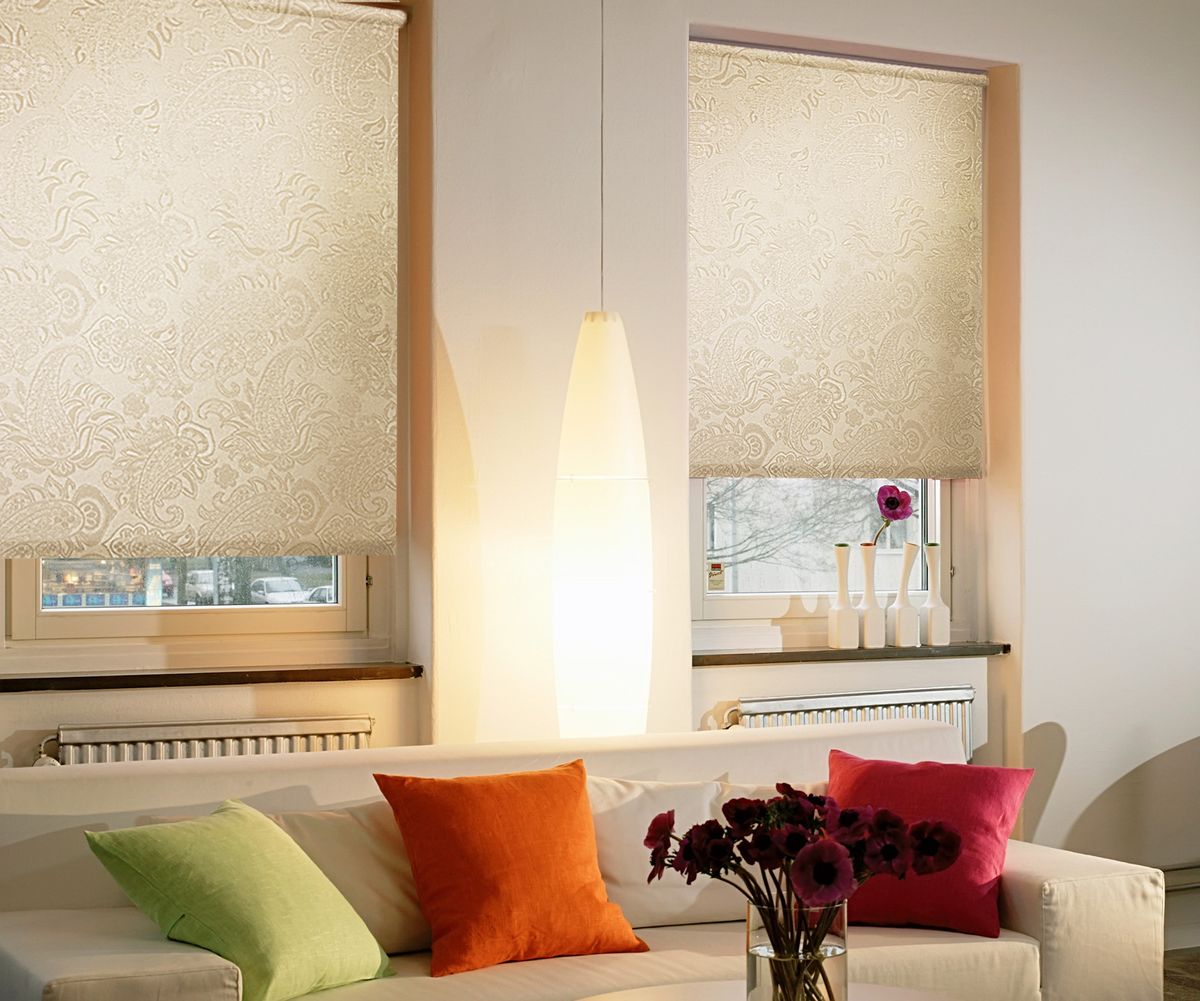 Roller Blinds: Available Sizes
Size is another important issue to consider when choosing roller blinds. As a rule, it is assumed that the blinds should be approximately 3 centimeters longer on each side than the window opening. Then they provide an adequate level of protection against prying eyes and look beautiful, adding elegance to the interior.
However, if you do not want the blinds to cover the entire frame, you can choose smaller options. This is a practical solution that allows you to conveniently open windows when lowering the blinds. In this case, the Roman curtains should be slightly smaller than the window sash, so that everything will be functional and elegant. There are many companies on the market that offer Roman blinds in size. This will allow you to choose a solution that is ideally suited to the size of the window.
What Fabric to Choose for Roller Blinds?
When buying roller blinds, you should pay attention to the type of material from which they are made. You can choose both synthetic and natural fabrics. Cotton and linen work best among the latter. When choosing the optimal fabric, make sure that it is not too stiff and not very heavy, because then the curtains will be located worse. This will negatively affect the appearance of the curtain as well. For such reasons, wool, jacquard, and thick upholstery should be avoided. Below are the most popular types of materials used for the production of roller blinds, as well as their characteristics.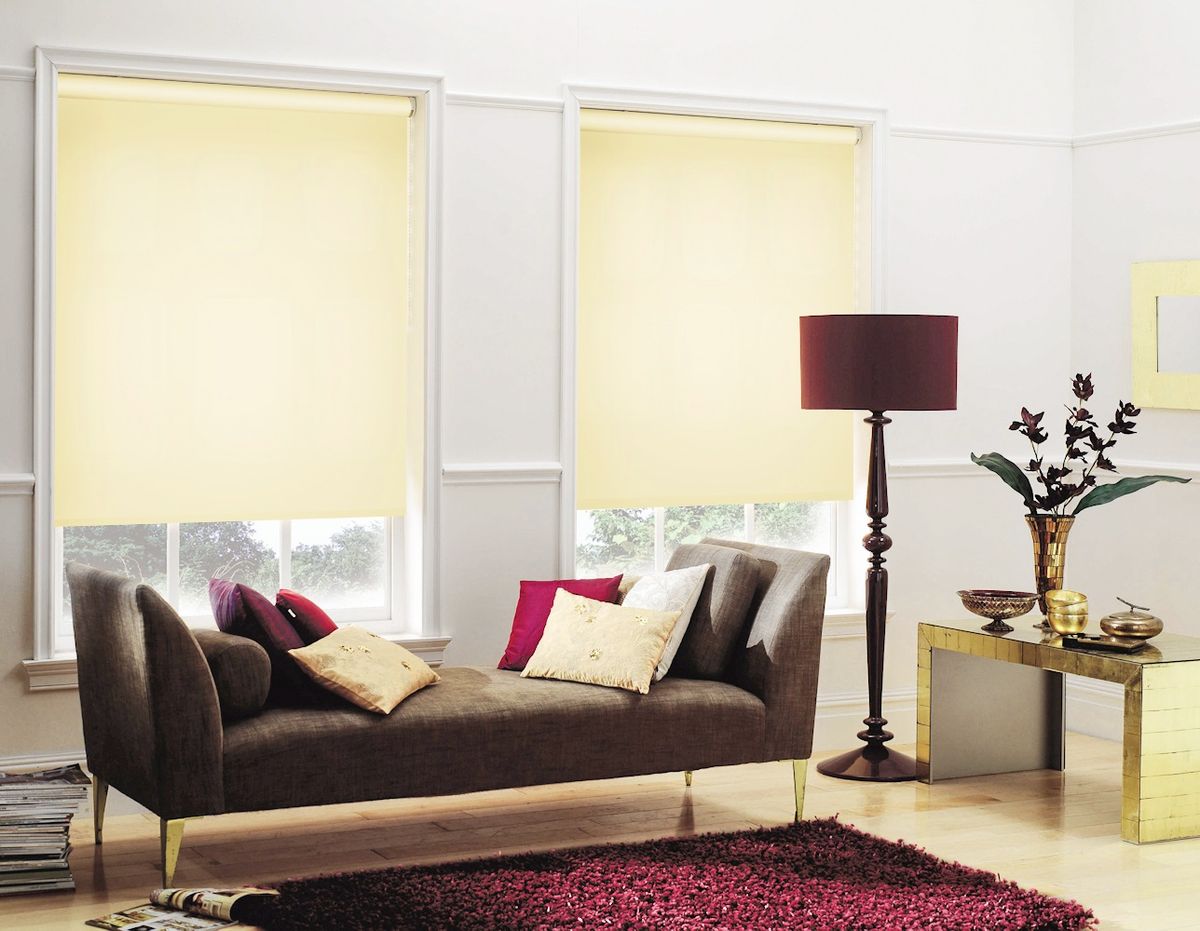 Cotton
Cotton roller blinds have an interesting texture and are pleasant to the touch. However, compared with synthetic materials, they have a low resistance to deformation. Moreover, the fabric can shrink at high temperatures. Cotton is ideal in combination with a rubber coating that protects the curtain from discoloration in the sun. This solution is intended for people who want to completely darken the interior after lowering the blinds.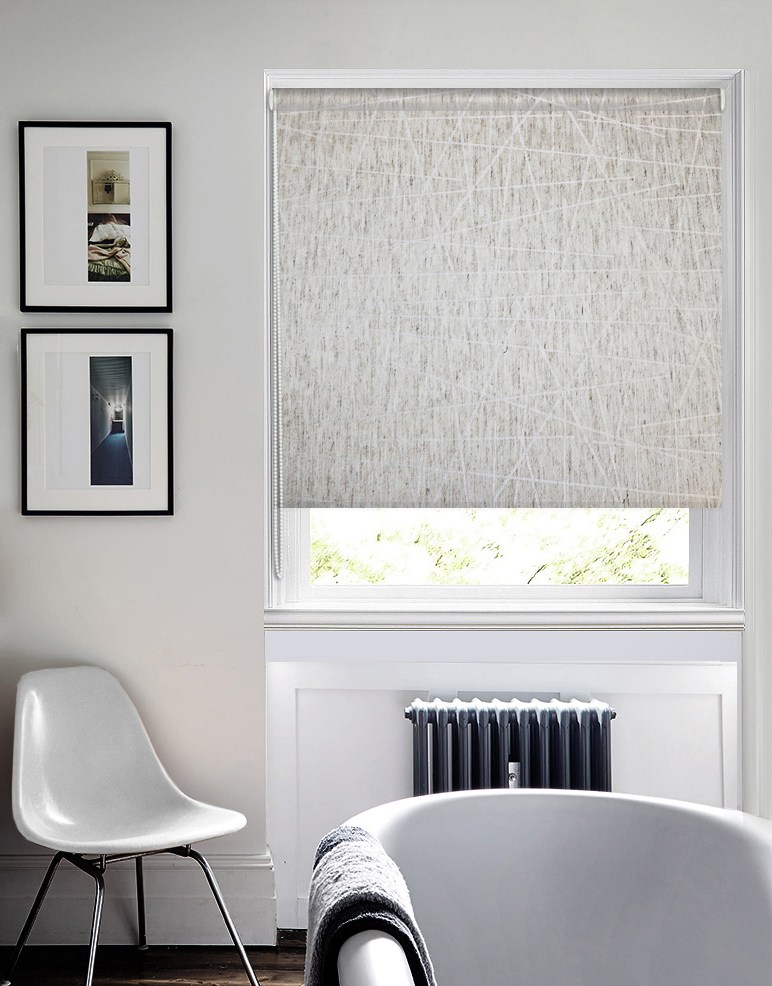 Linen
Linen roller blinds have properties similar to cotton. The material is soft to the touch and looks aesthetically pleasing. Unfortunately, its resistance to deformation is limited.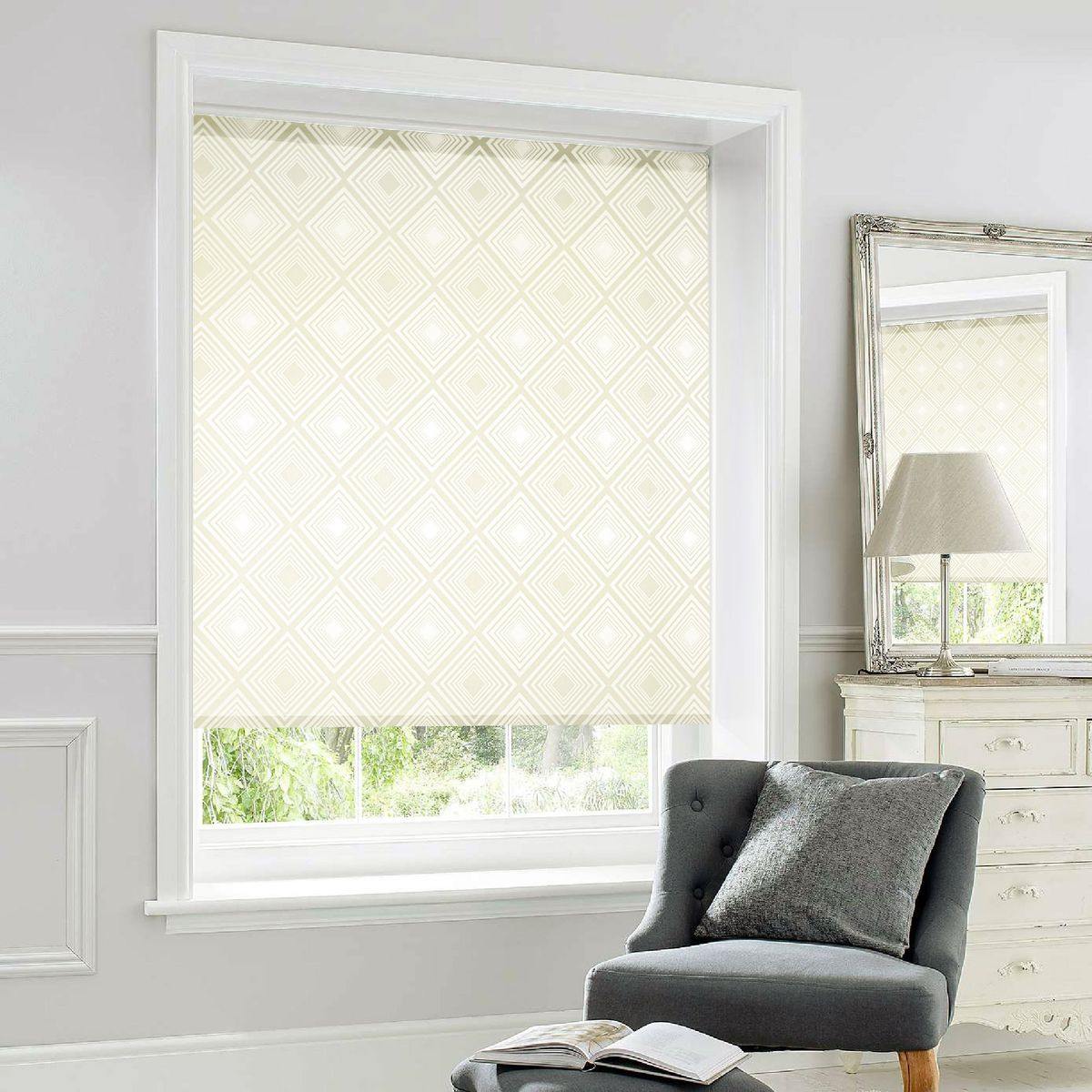 Polyester
This is the most commonly used material for the production of roller blinds. Products made from polyester do not require complex care in order to maintain a flawless appearance. Their advantage is also that they do not fade from sunlight for a long time. The low shrinkage of polyester is also worth emphasizing. Due to this, the blinds retain their shape throughout the entire period of operation.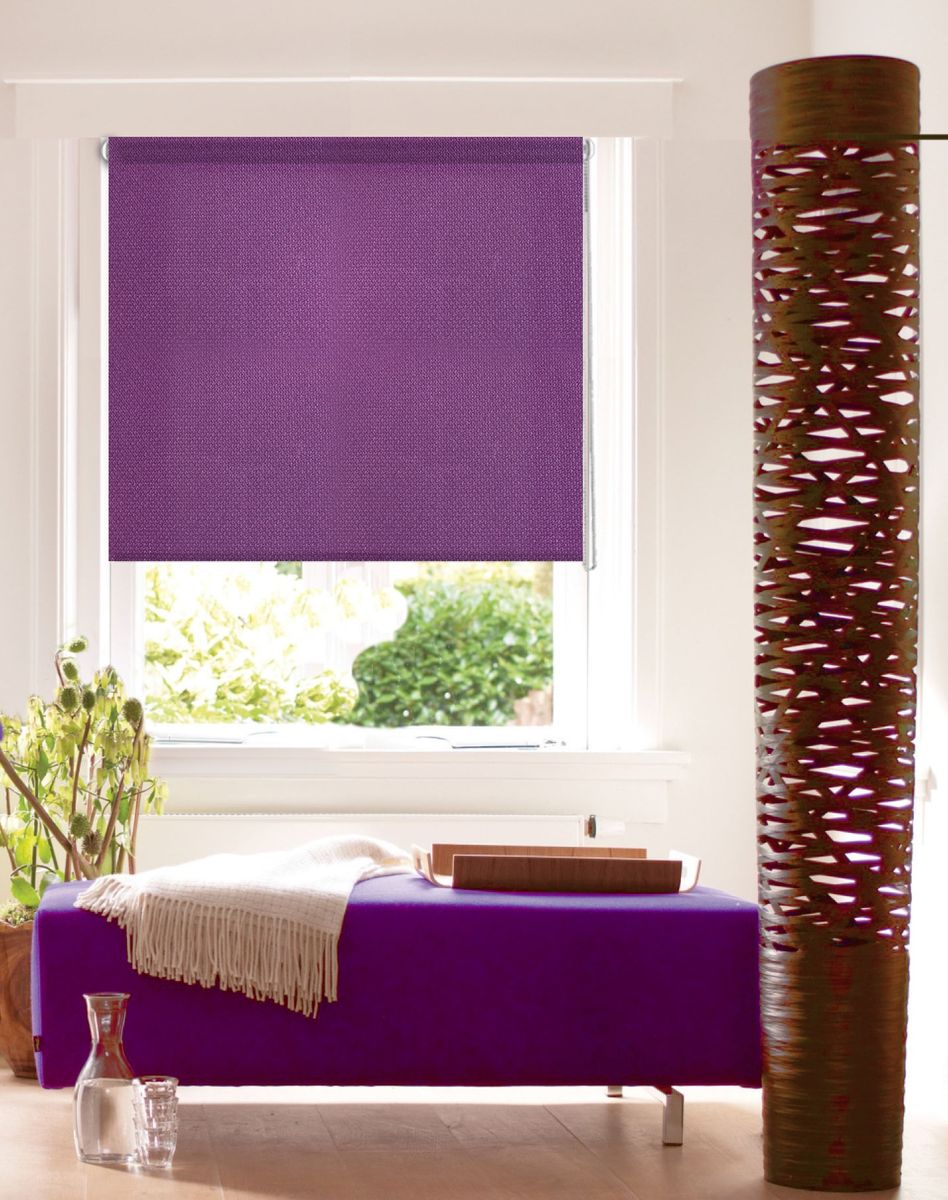 Polyamide
It is very resistant to ultraviolet radiation and repeated washing, which is why it is highly recognized in the market. It is also impossible to deny the aesthetic appearance ща the material. In the market, there are roller blinds made of polyamide, which allow a lot of light to pass through. They are light and airy, so they have a very decorative character. Polyamide curtains are particularly good in executive rooms such as the lounge or dining room.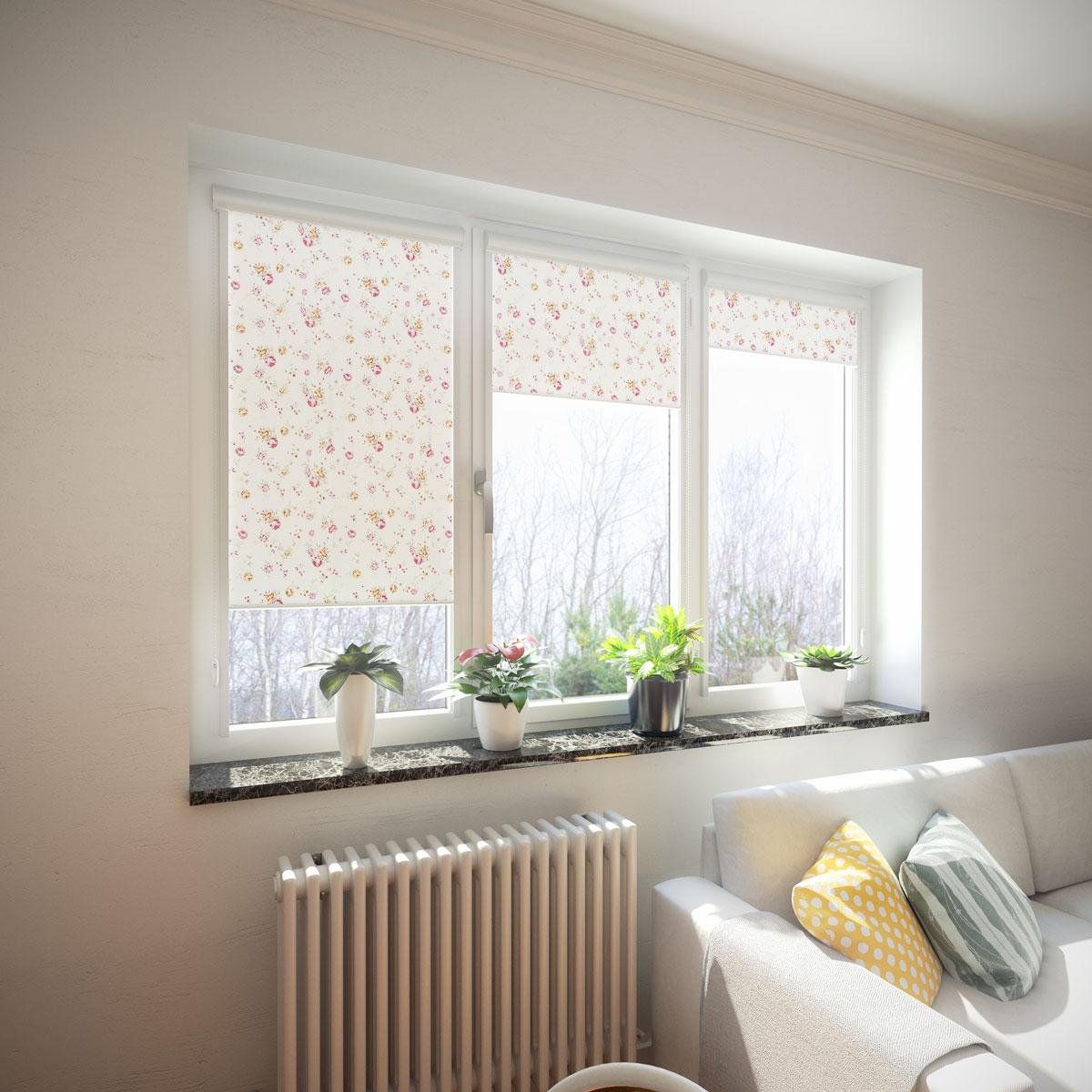 When choosing a roller blind, it is worth remembering that it is rarely made from only one type of material. This is usually a mixture of several fibers, such as polyester, cotton, and viscose. Thanks to the combination of different fabrics, we achieve blinds that are extremely practical and at the same time look beautiful.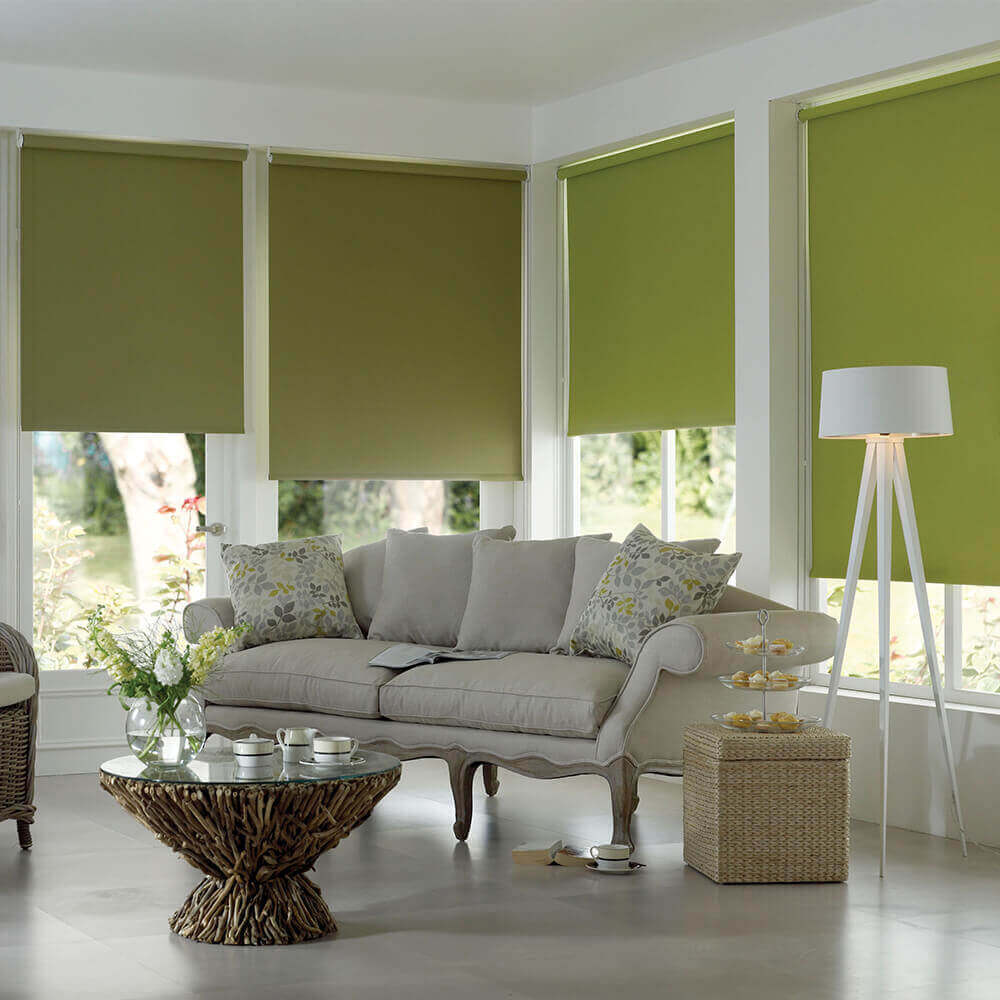 Roller blinds: Trendy Colors in Different Styles of the Room
When choosing roller blinds, the most important thing is their color scheme. It should be chosen according to the dominant colors in the room. Thus, create a harmonious arrangement. Gray Roman blinds are especially popular today because of the dominance in modern interiors, where such a color is often the primary color. Muted colors will also work in rooms decorated in the Scandinavian and industrial style.
Roman curtains with patterns are also interesting. Options with floral motifs fit in a classic, rustic and chic retro interior. Geometric patterns will work wherever minimalism prevails. Fairytale motifs are also available in the market, which is ideal for the baby's bedroom. You can also easily find fabrics with Christmas patterns. With their help, you can easily create a festive atmosphere at home.
The color option you choose also depends on the arrangement effect you want to achieve. Bright roller blinds not only let in more sunlight but also visually increase the available space. Therefore, they are ideal for small interiors. It is also worth considering your own preferences.
Roller Blinds Cleaning: How to Do It?
When buying roller blinds people rarely think about how they will be cleaned. However, sooner or later you will have to face this task. So, it is worthwhile to figure out in advance how to properly clean the blinds so that they can last longer and at the same time look great.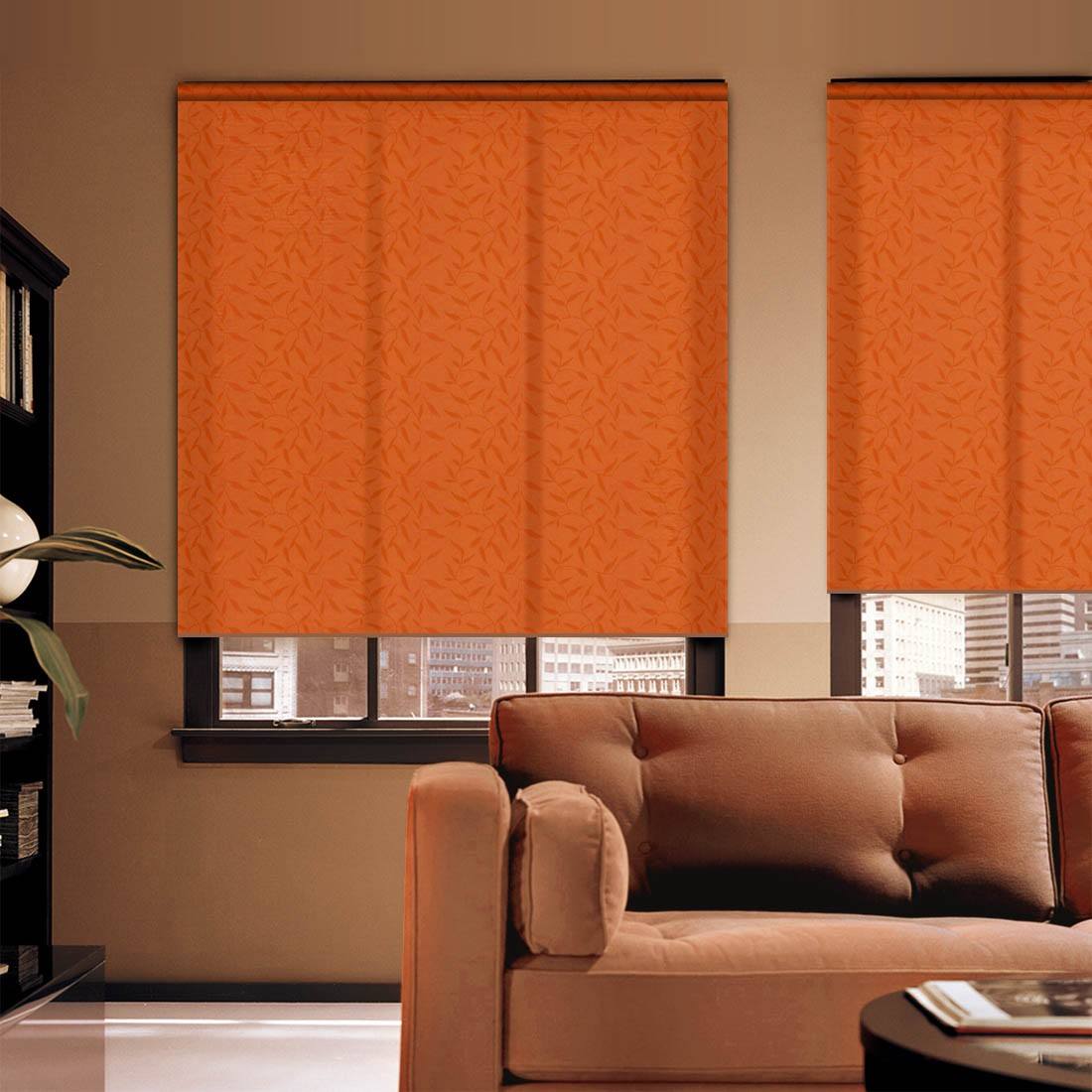 What do You Need to Know about Cleaning Blinds?
Window coverings can be made of various materials, and the way they are cleaned will depend on this. It should be remembered that regular cleaning of both the material from which the window curtains are made and the mechanism affects how the curtain will look throughout the entire period of use, ensuring proper operation. It is also worth reading the manufacturer's instructions for caring for roller blinds before cleaning. However, there are a few universal tips that you should keep in mind when cleaning fabric blinds.
The most important thing in keeping the blinds clean is regularity. Systematic removal of dust will prevent its penetration into the fabric so that the blinds look perfect for a long time. All you have to do is regularly wipe the mechanism or cartridge with a dry or slightly damp cloth, and the cloth itself should be vacuumed at a minimum suction power using a special brush-shaped tip. You can also use an adhesive roller to remove hair from clothing.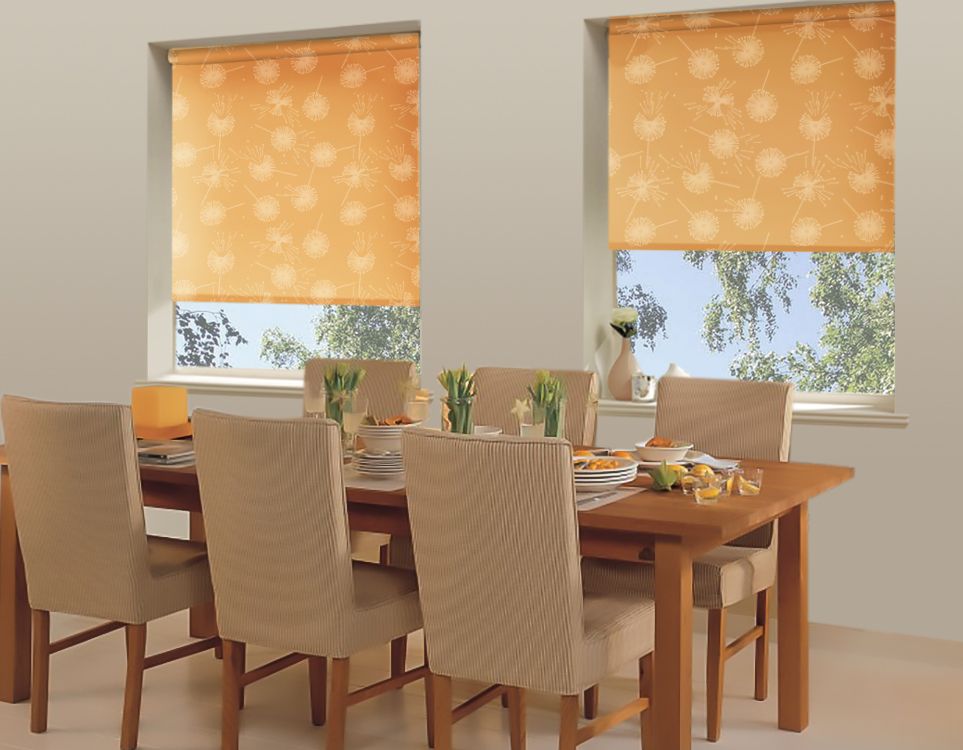 If the blinds are dirtier or stained, use a damp sponge or cloth with a mild detergent. A delicate soap or dishwashing liquid will work here. Remember, however, not to rub the blinds too much, or to use powerful detergents to avoid stains and discoloration on the material. Then use a clean sponge to remove any detergent from the material. After cleaning, it is necessary that the cloth is completely dry. Roller blinds are not machine washable and cannot be ironed. With very small dirt, an eraser can also be used.
Use Microfiber for Cleaning
A microfiber dry or wet cloth is a good choice for cleaning blinds. It is also worth checking the detergent at the unimportant place before cleaning the entire surface to see if it will discolor the fabric. It is most convenient to clean blinds on a sunny day because it is then that you will best see all the spots and dirt.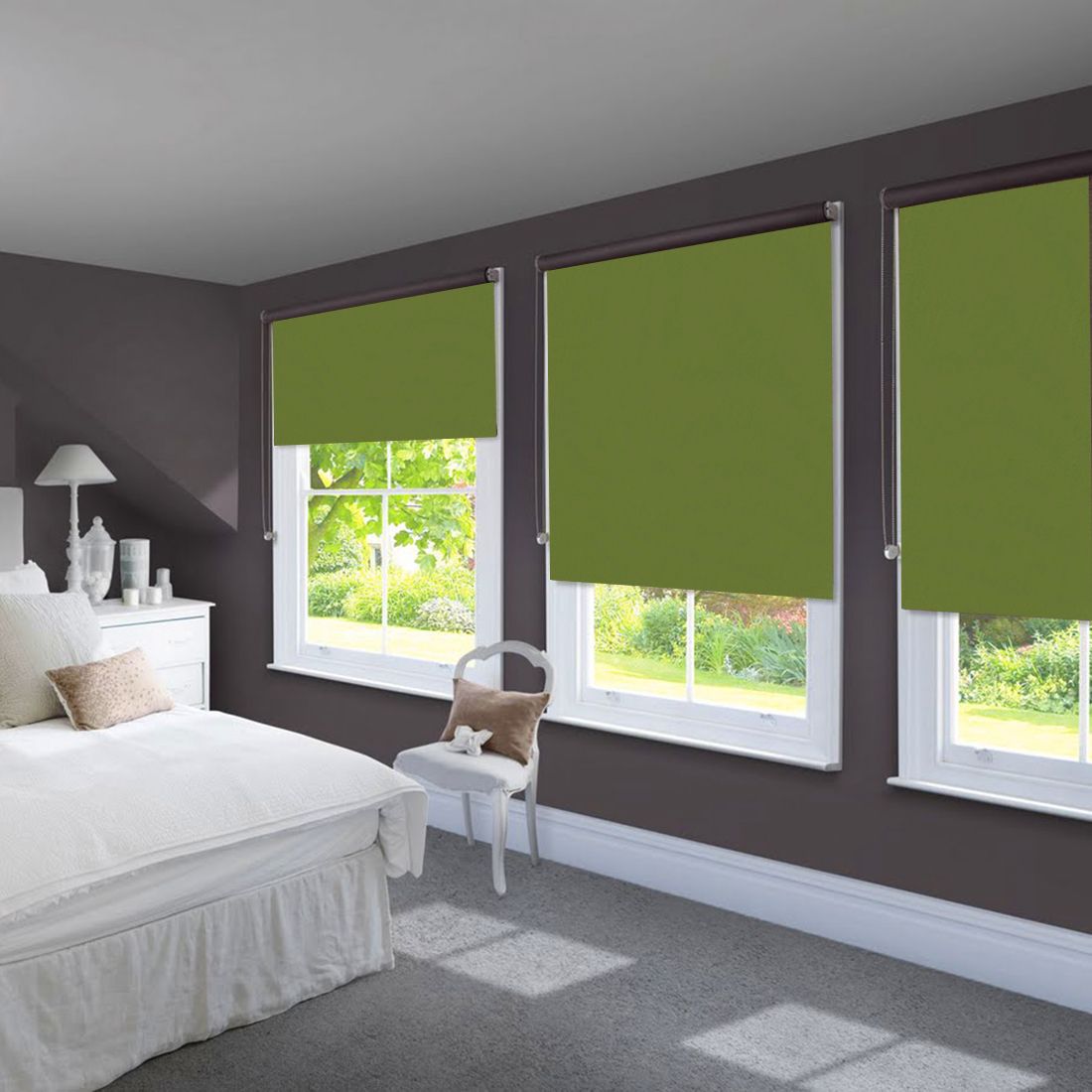 Cleaning the blinds must be very accurate, because most of the fabrics of which this type of window coverings are made are coated with a special coating that protects the material from dirt, fading, moisture, and also helps maintain shape and prevents deformation.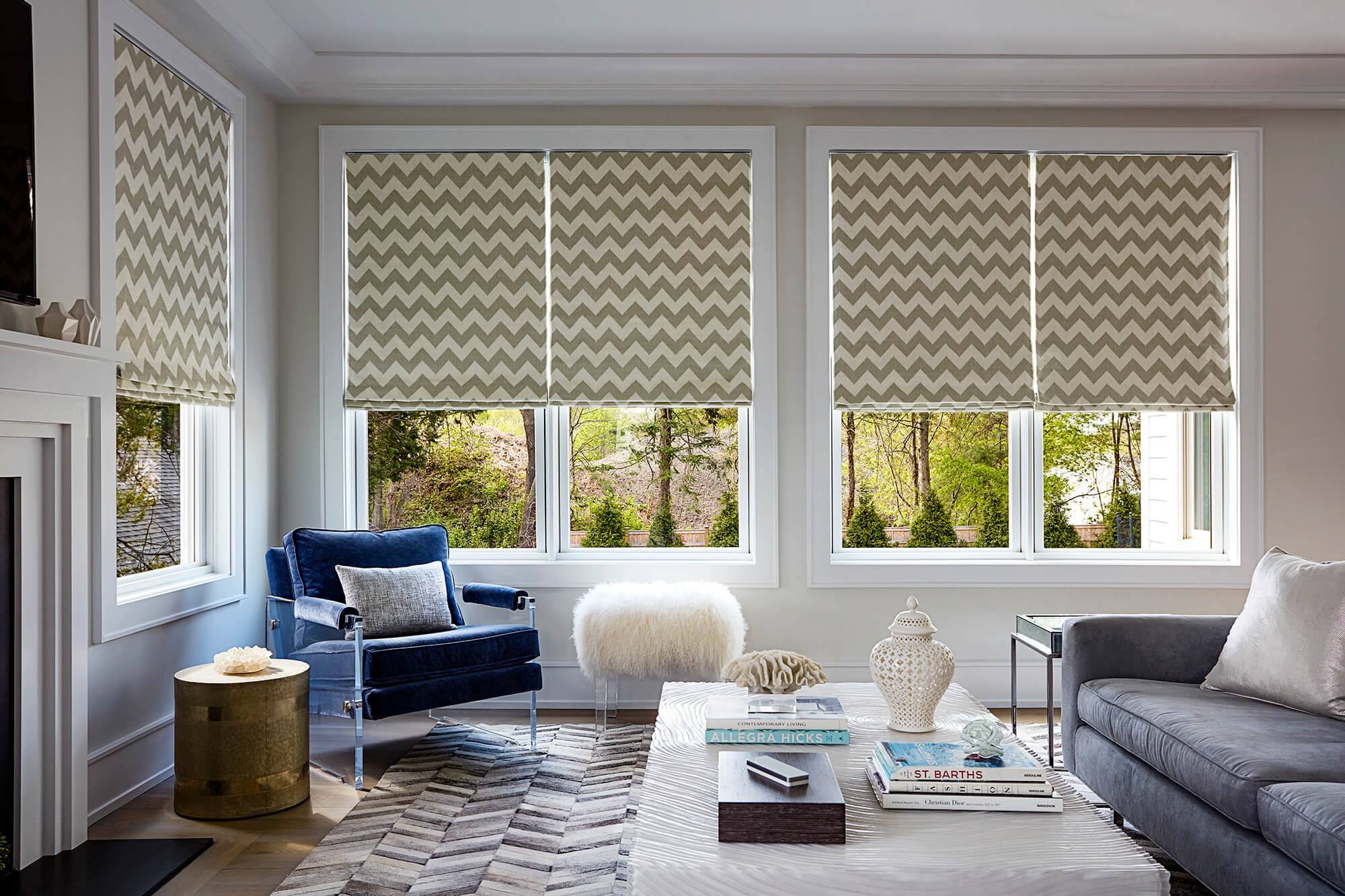 Roller blinds are a beautiful and practical solution for the modern design of windows. Look through the photo gallery, choosing the most suitable blinds option for you.