What is Minimalism?
Concise and simple, minimalism interior design style in the interior of the apartment, home or office brings a harmony of space and light. This is elegant, modern, lightweight and aesthetically perfect style.
Apartment in a minimalist style is filled with air, the feeling of freedom and elegance of simple forms. Minimalistic interior design in the real modern apartment of big cities we can meet rather in Western Europe, which gravitates to economy, inner conciseness and spacious completeness of this style.
Order a design project of your apartment, home or office in a minimalist style means choosing refined simplicity and elegance: in big cities all over the world we can meet people who are not indifferent to the beauty of this laconic style.
Minimalist interior is:
The absence of decorative elements and impractical furniture;
Restrained colors: the basis of style is white and gray / black / brown colors. Accents of natural hues and a palette of finishing materials (metal, treated wood, brick) are allowed;
Strict wall, floor and ceiling finishing: floor and ceiling should be smooth (usually light), the walls can be painted, covered with decorative plaster, less often used plain wallpaper or wall panels (main color is white);
Space, freedom, plenty of ​​light: large windows, several sources of artificial lighting;
Multi-functional furniture;
Built-in appliances;
Walls can be decorated with paintings, perceived as an art object: nothing should detract from their contemplation. Their beauty emphasizes by the simplicity of the frame and competent lighting.
Design in the style of minimalism implies smooth surfaces, geometric shapes, straight clean lines and nothing more: only functional pieces of furniture, single color decoration, only the play of light instead of the fancy decorations.
Minimalist interior is a complexly thought-out simplicity, rigor and ease, elegance without pretentiousness and practicality without congestion. Photos of minimalistic interior look like illustrations of the cutting-edge art magazine, devoted to secrets of creating a truly beautiful spaces.
Style Features
Furniture
Minimalist furniture: a high sofa, chair, bed, this classic shapes and strong design. Color design of furniture corresponds to the decor of the background (wall). The main quality of furniture in this style is simplicity and versatility: transforming sofa and bed, foldout chair, folding table, built-in wardrobes, etc. There are no shelves in the minimalist interior. All things must be kept in a cabinet or in boxes under the sofa / bed.
Prints and designs on upholstery are not acceptable. But it can be on the wall.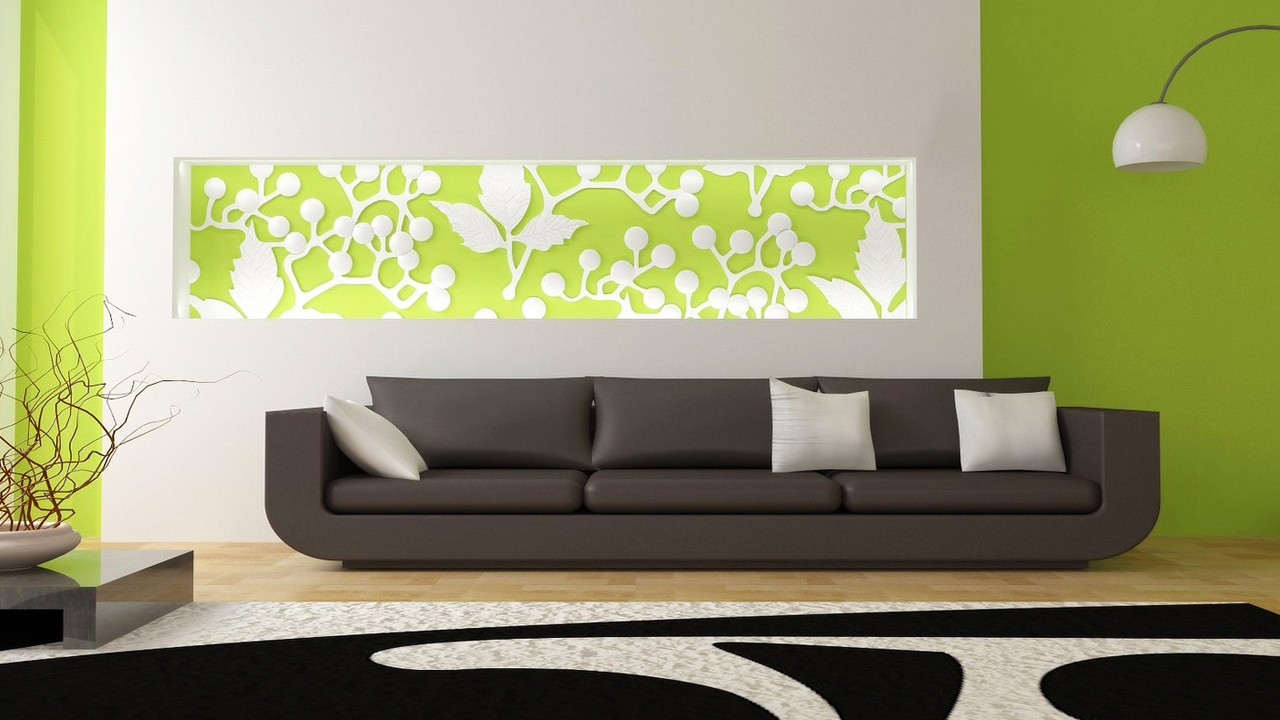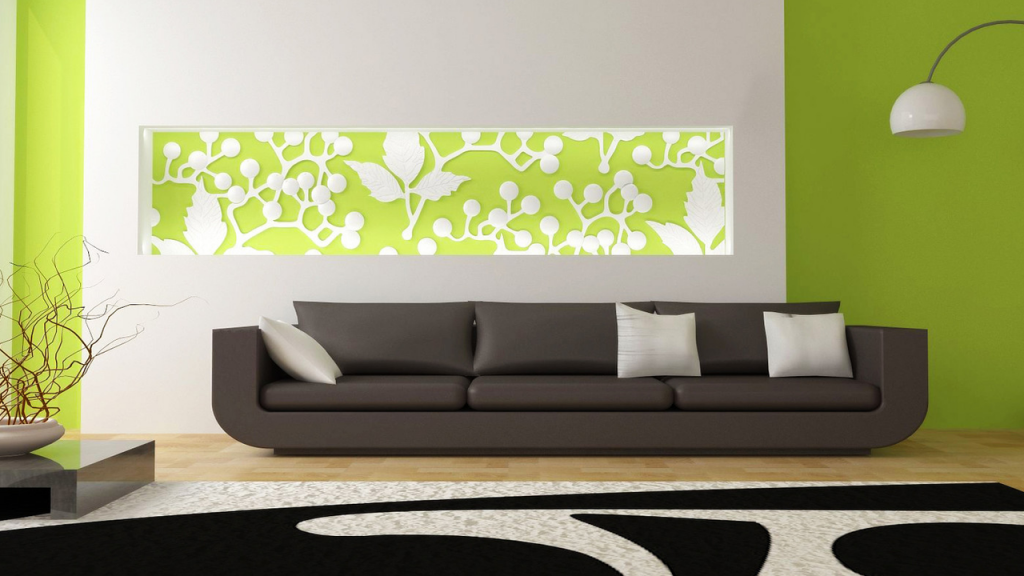 Textile
Curtains in a minimalist style are plain white, less often – rolled (also white or light). Often the windows are left free in order to fill up the room with light as far as possible. It is good to replace bright plastic curtains with blinds.
A carpet can become the decoration of the living room or bedroom in a minimalist style: one or two colors, usually rectangular shape, universal colors (gray, beige, white, black and white, etc.).
Smooth surface dining table does not need tablecloths.
Cushions can be in bright shades of green, orange, brown, but more often they are the same color with the upholstery sofa and chairs (white or gray).
If you need a thoughtful and modern house design – minimalist style is a perfect solution. Minimalism in the interior of the apartment combines strict aesthetics of simplicity and practicality, sophistication with conciseness, progressiveness with a calm atmosphere.
The history of the emergence of style
Minimalism was developed in the second half of XX century., appeared as the reaction designers to abundance of contemporary trends. Fundamentals of minimalism taken from Japanese culture. Interior of traditional Japanese homes – Minka – is not like the decoration of European homes. The basis of the Japanese home are shed and timber supports, latticed walls (shoji), pasted with rice paper and tatami (mat). The only thing that attracts attention is a scroll with a painting or a poem, which is located in the niche; and a flower (or floral arrangement – "ikebana") underneath.
Japanese minimalism in the interior is the space of emptiness, the formation of a special area of ​​contemplation and detachment.
European minimalism is less radical. Simplicity here is coupled with functionality.
Where does Minimalism appropriate?
To order design of the apartment or the house in a minimalist style can brave people who are not afraid to abandon the usual understanding of the comfort, which is oriented to personality itself and the able to see the true beauty of ordinary things.
Minimalist design can be implemented in the penthouse. Emphasized simplicity of this style is perfect for rooms with large windows located at high altitudes, creating a unique atmosphere of freedom, freshness and spaciousness.
Minimalism interior design style in the dwelling rooms:
Minimalist style in the living room involves the use of modern materials to create perfectly smooth light background and an atmosphere of calm and deliberate simplicity. Minimalism in interior of the living room is a simple but high quality and comfortable furniture with rigid armrests, a small coffee table made of glass or plastic, built-in appliances, smart lighting and understated colors. Such living is cozy and beautiful in its own way.
Kitchen in the style of minimalism involves the use of the bar or island layout instead of the classic table. Minimalistic kitchen interior is a rigor and symmetry combined with cleanliness and smooth slick glassy surfaces. This kitchen please neat people.
The bedroom in a minimalist style is designed to sleep: comfortable low bed, no distractions, bright decor elements, restrained colors. In addition to the bed there are closet and a bedside table may be also present.
Room in a minimalist style is an area of ​​freedom, light, lightness and harmony of space.
Why Minimalism?
Complex and simple at the same time interior design,  Minimalism embodies the laconic verge of beauty comprehension: without pathos, frills and luxuries. Minimalism design is a style, elegance and practicality: bright pictures clearly demonstrate the special charm of this style.
Order interior design in minimalist style means to choose quality and sophistication, functionality and simplicity, harmony and freedom.
You need a special, unique interior at home? You should like Minimalism:
Austerity and special beauty;
Light, air, space, symmetry and order;
Rigor of design and high quality finishing materials, furniture and equipment.