Familiar to many people not by hearsay word "dining room" can cause two diametrically opposite associations: the public canteen or special royal room, exceptionally for the blue blood. In fact, today the dining room in the house is not exotic.
It should be noted that far not all house owners can afford to have a whole dining room at home. Often a lounge or kitchen plays the role of the dining area. However, if the layout and the area allow, these rooms can be combined into one. Home dining should not be considered as a relic of the "bourgeoisie", which refers to luxury and wealth. Because, after equipping a small dining room in the house, you will be able to fully enjoy all its advantages. For example, a house dining room is an ideal place for a pleasant having meal together not only with family members but also with friends.
The design of the dining room should be treated with great trepidation and attention because this is where you will spend a very long period of free time. What will be the interior of your dining room, depending on the layout of the house? You should determine whether it takes a separate room or you`ll combine it with a living room or kitchen. The Interior of the "united" dining room must be in harmony with the general atmosphere of the room. However, the dining room should stand out. You can, for example, partition different zones using floor: tile is perfect for the kitchen, but for the dining room can be used parquet or laminate.
By the way, the followers of feng shui equip the dining room only in accordance with the philosophical system. For example, it is imperative that dining should be placed somewhere near the kitchen. At the same time, the presence of a sufficiently large number of furniture is welcome. The main thing is that it should not hamper moves. Regarding the choice of the dining table, it is the best choice to give preference to round tables. The main rule – no sharp corners! As for the location of the table, it is best to put it between the window and the door. Mirrors in the dining room are also welcome – the more, the merrier! The fact that they satisfy two important functions: firstly, expand the space visually, and secondly, cause a feeling of well-being and fertility; visually doubling the amount of food at the table. It is also worth paying attention to the lighting in the dining room – it must be very bright. Hang the life-affirming pictures there with natural motifs, which fill the space with positive energy.
Below you`ll see what we are talking about in 20+ small design ideas for your dining room with pictures and explanations.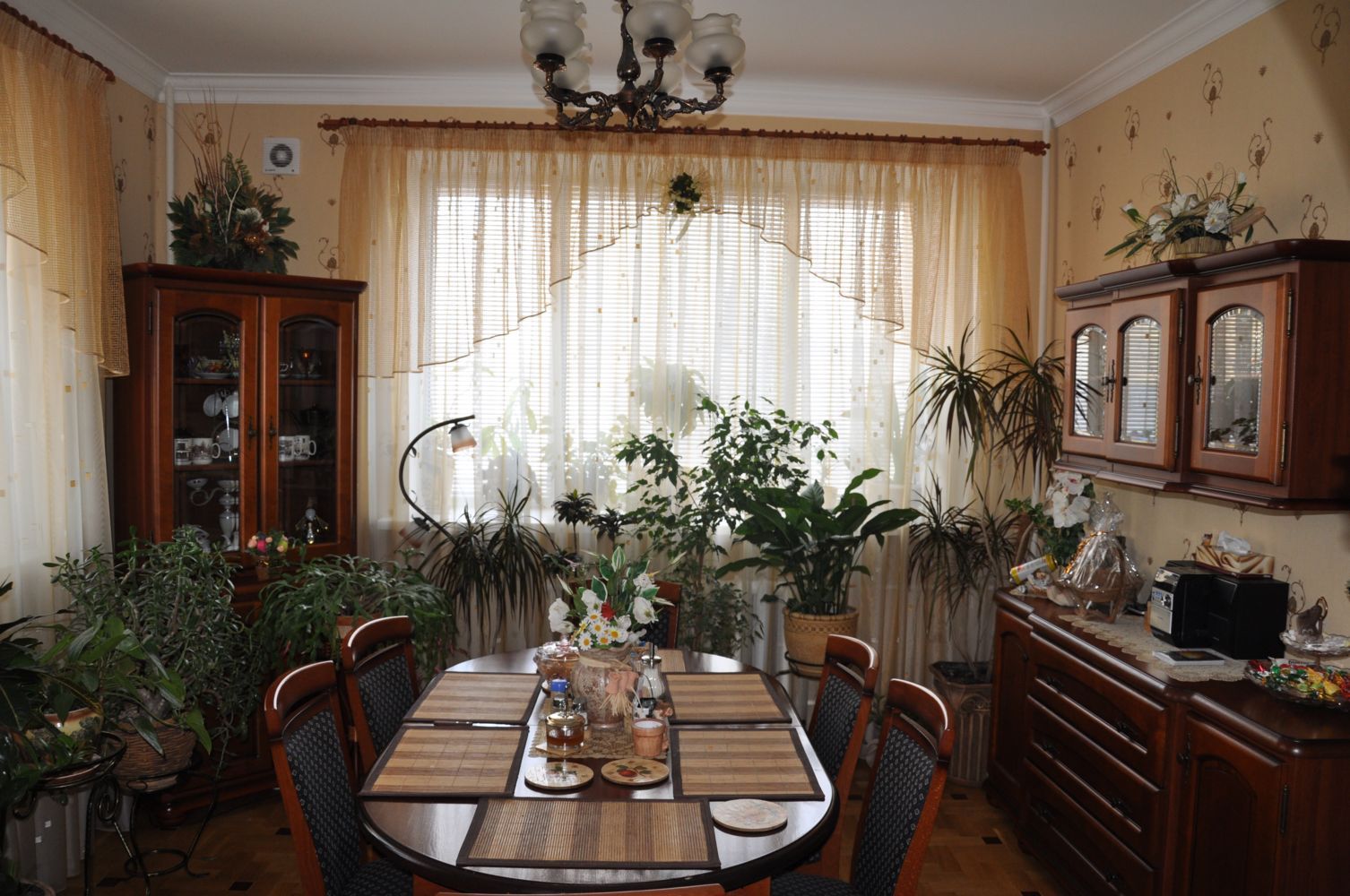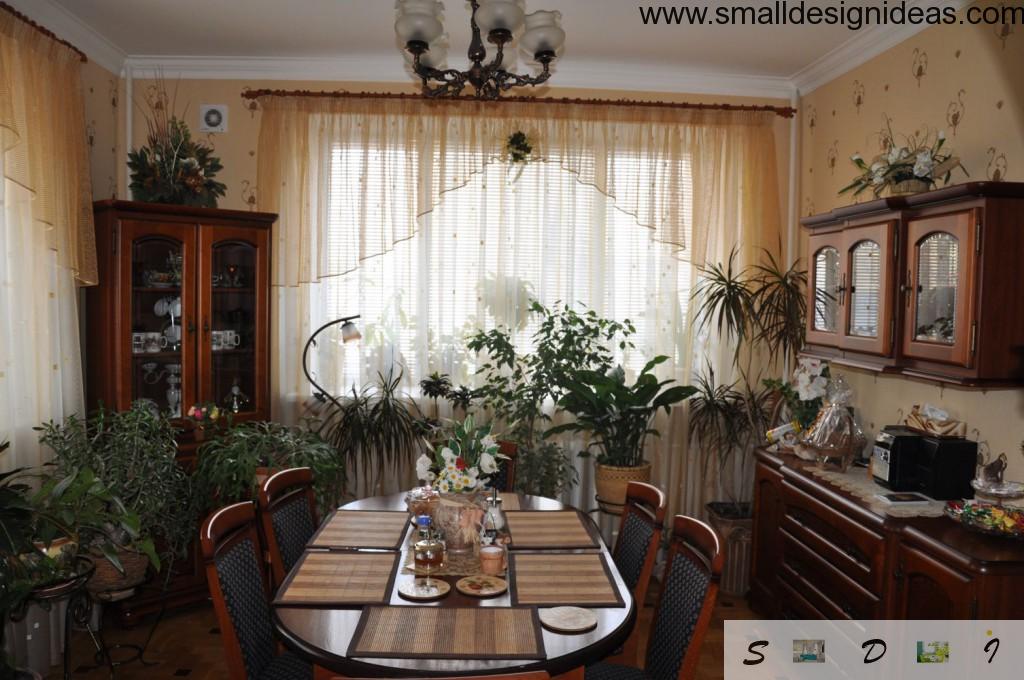 The main emphasis in the interior design of this homey living room was made exactly on the wooden surfaces. The Black and brown combination looks rich and bold.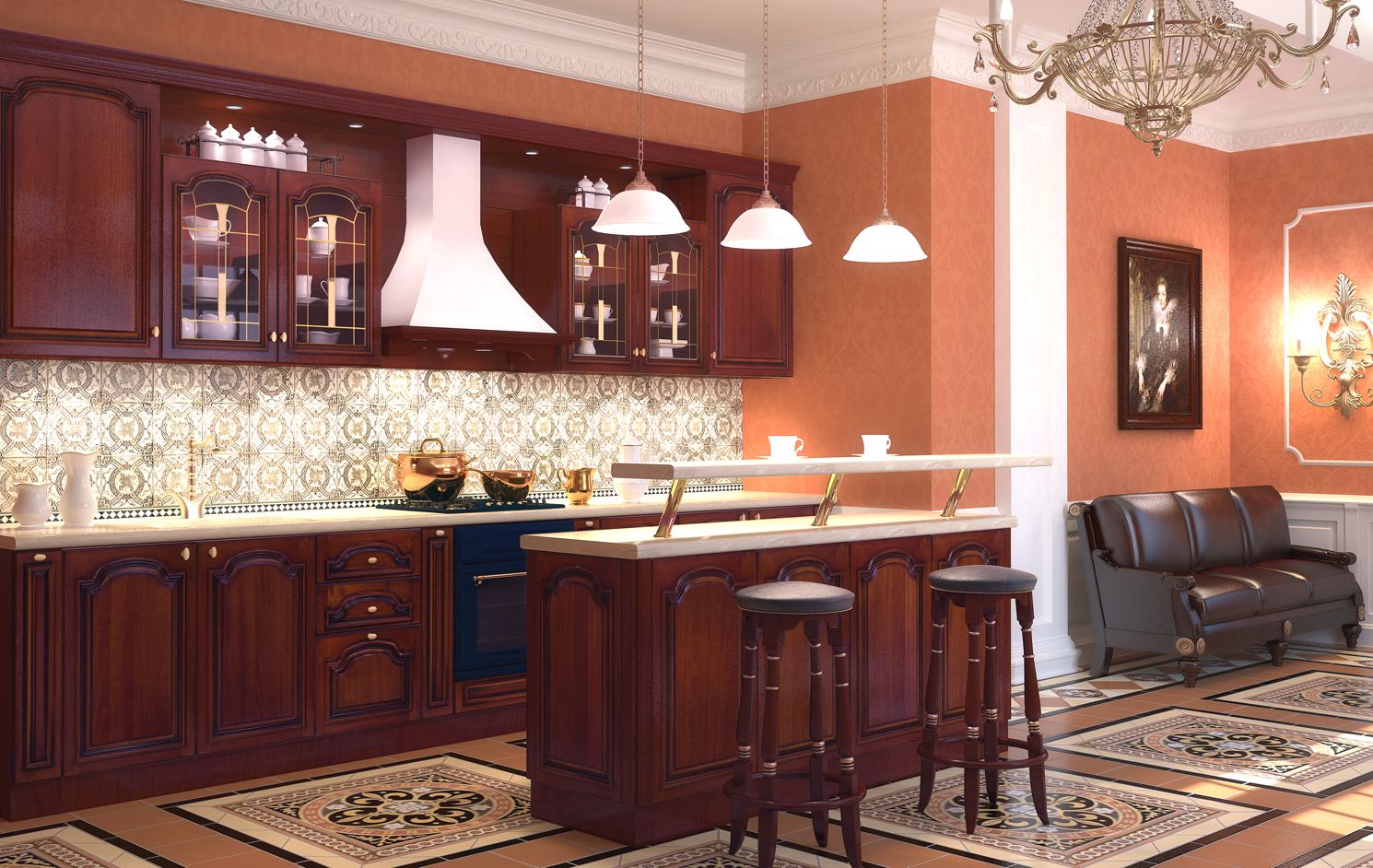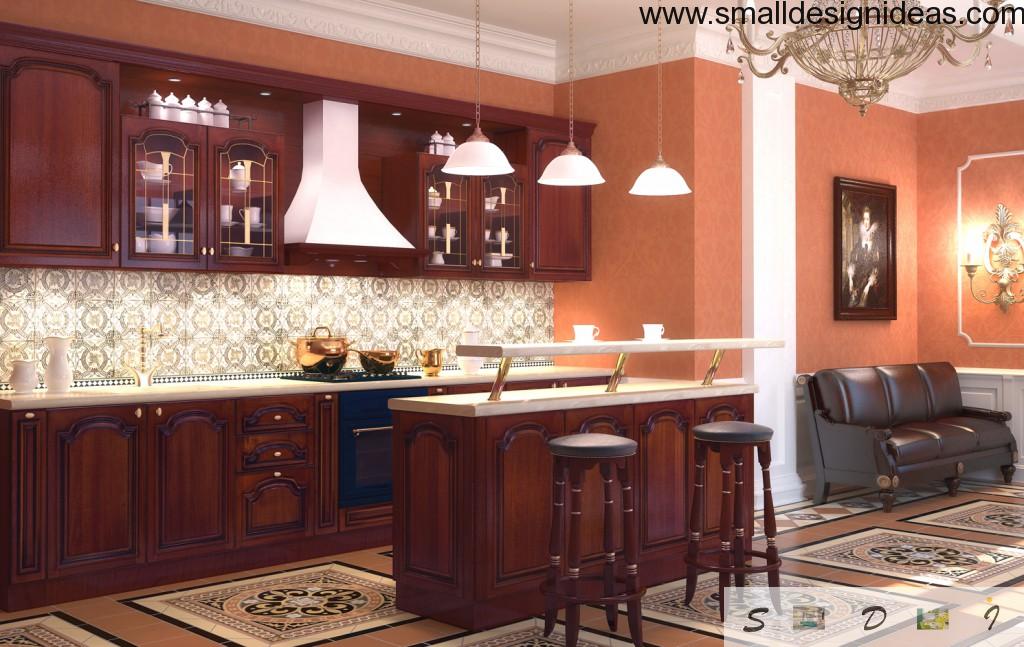 This dining room is combined with the living room. In the dining area, there is not only a table but also a small bar with chairs. It's a vast field where you can unleash your creativity by adding some elements of dining room art. Add curtains, chair covers, tablecloths of the same pattern to create a uniform impression.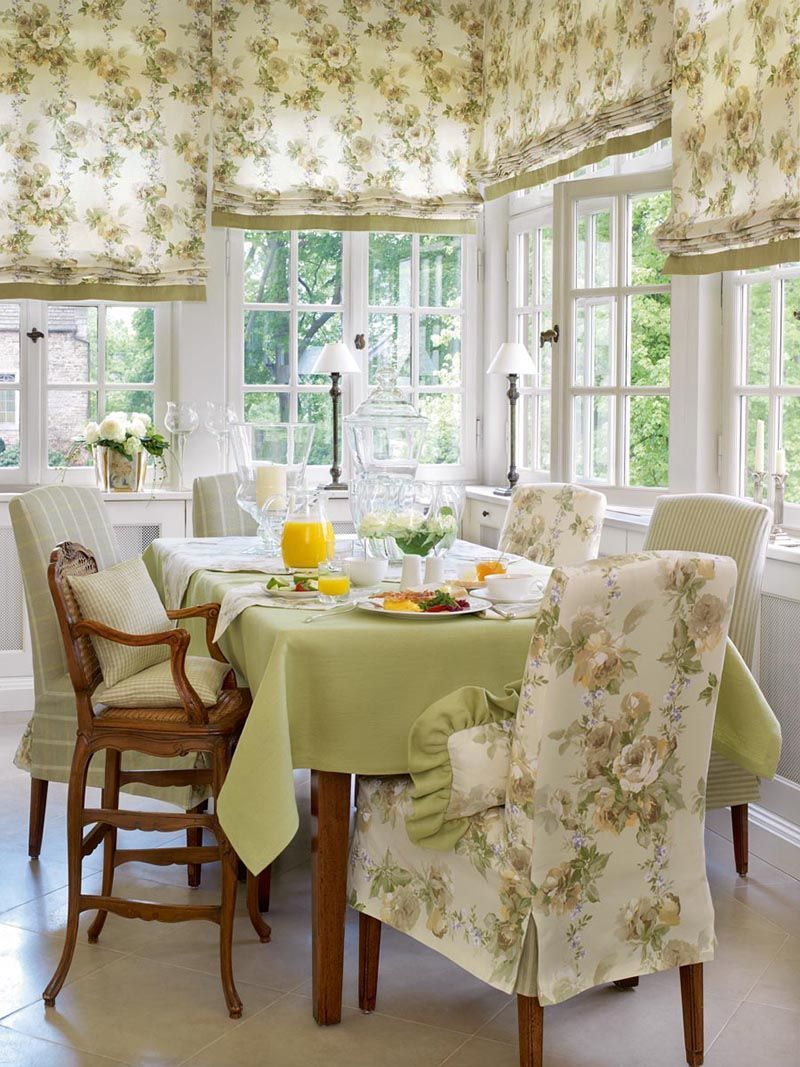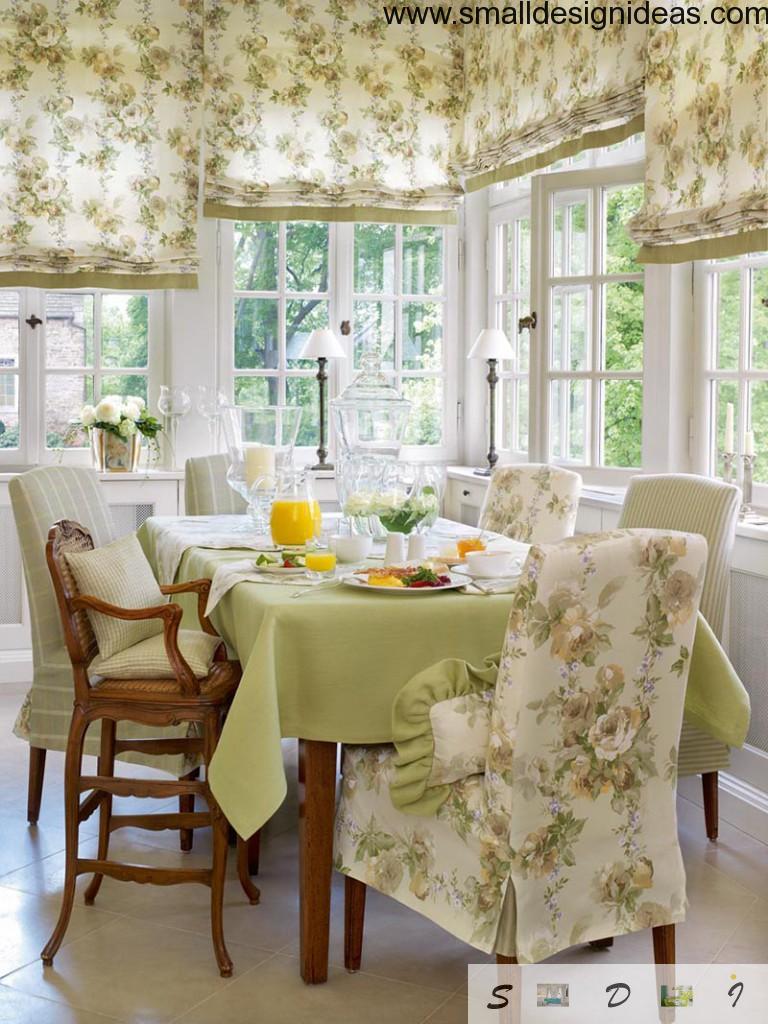 The homey dining room can be placed in the kitchen space, as was shown in the picture. The table occupies a central place, it is decorated with very beautiful tablecloths and chairs decorated for the latest fashion trends.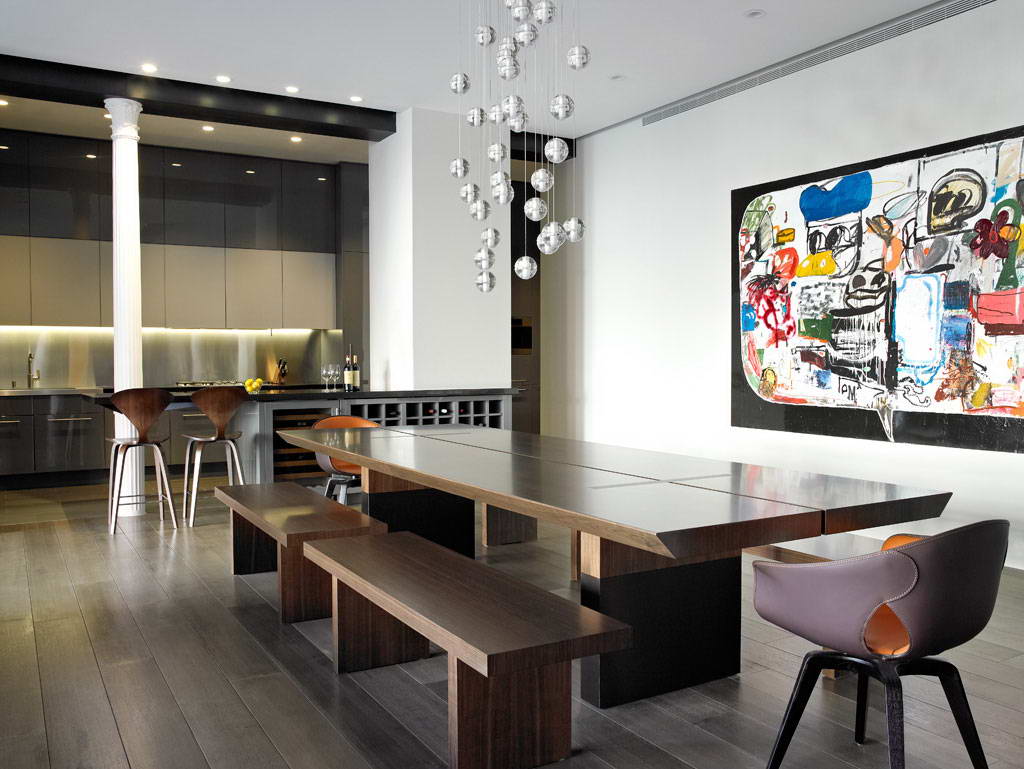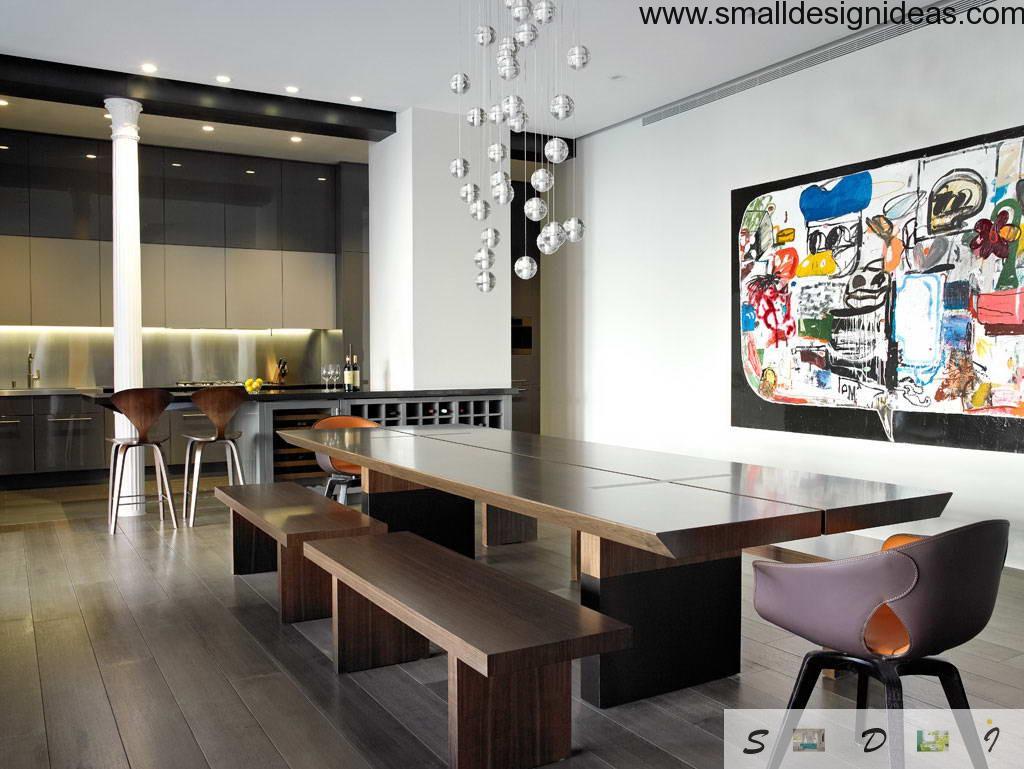 This dining room is sustained in the uniform style – brown parquet and massive wooden table are greatly in tune with each other. There is no tablecloth on the table. It has a special zoned structure for a lot of people at once. Beautiful solid wood dining tables are never a bad choice for a dining room.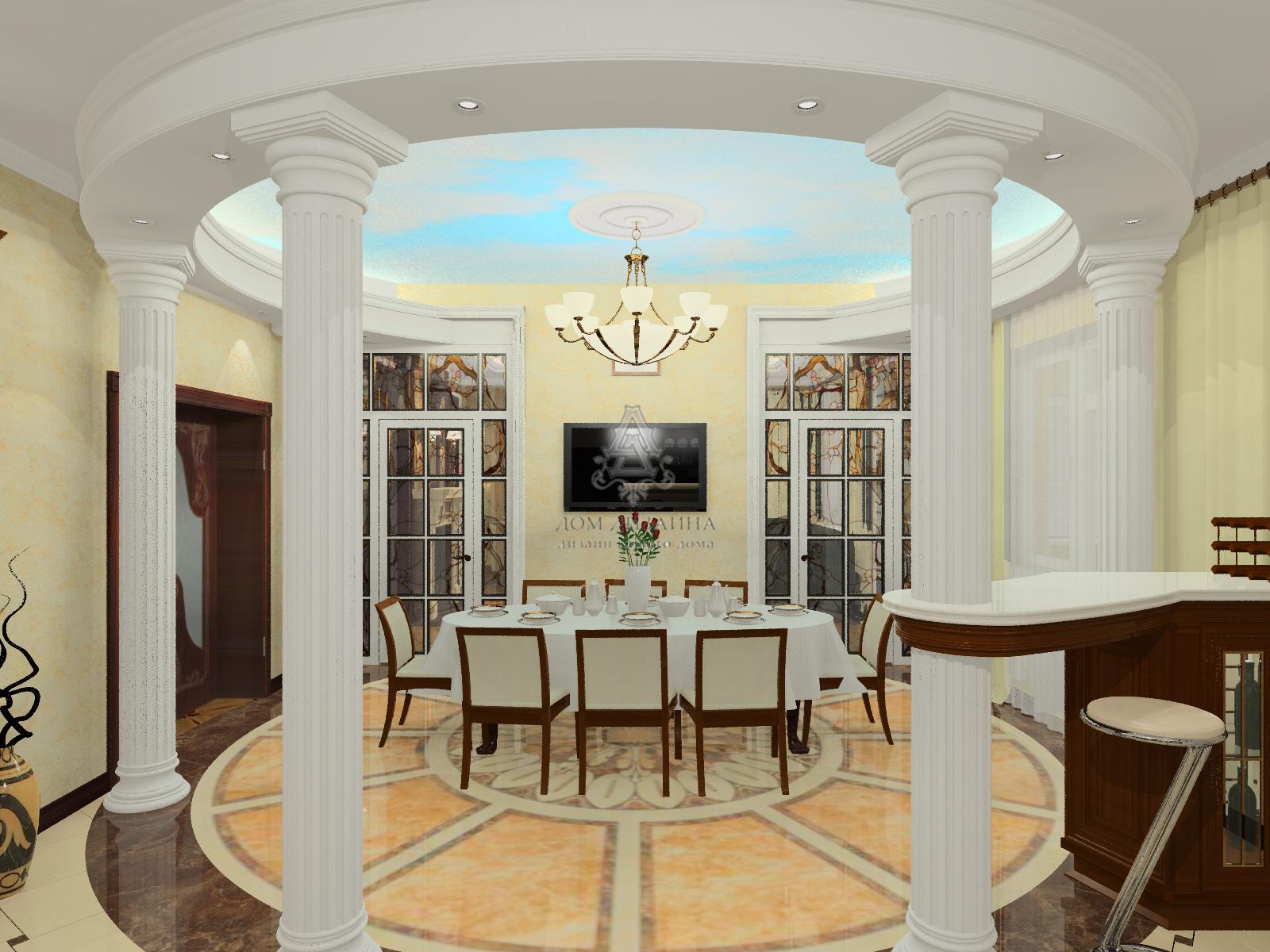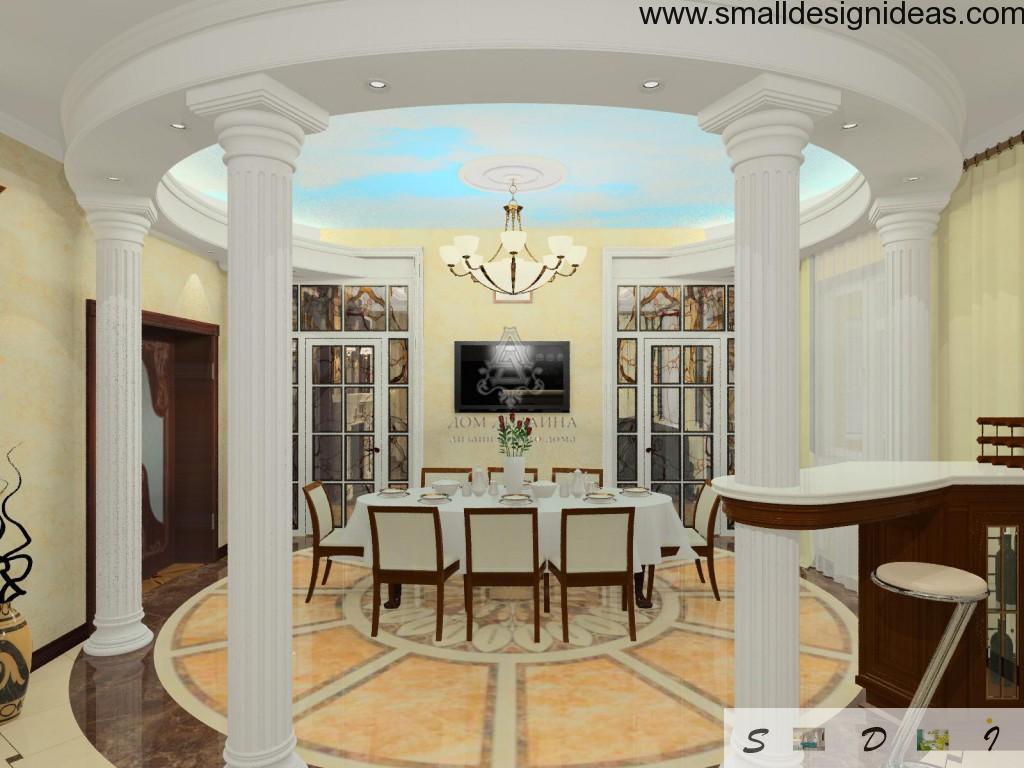 This dining room "divides" space from the living room. The large columns with ornate patterns act as a dividing line.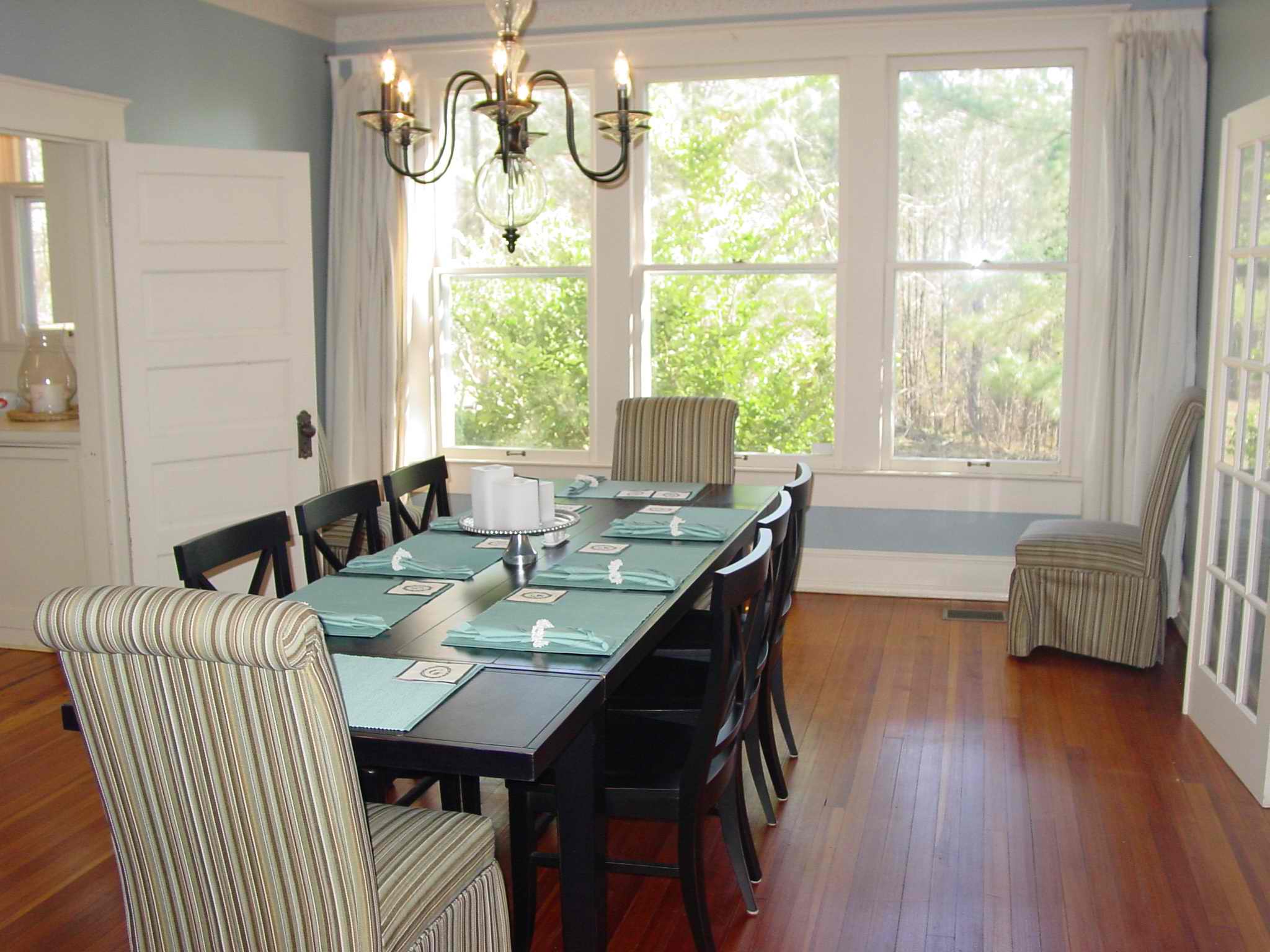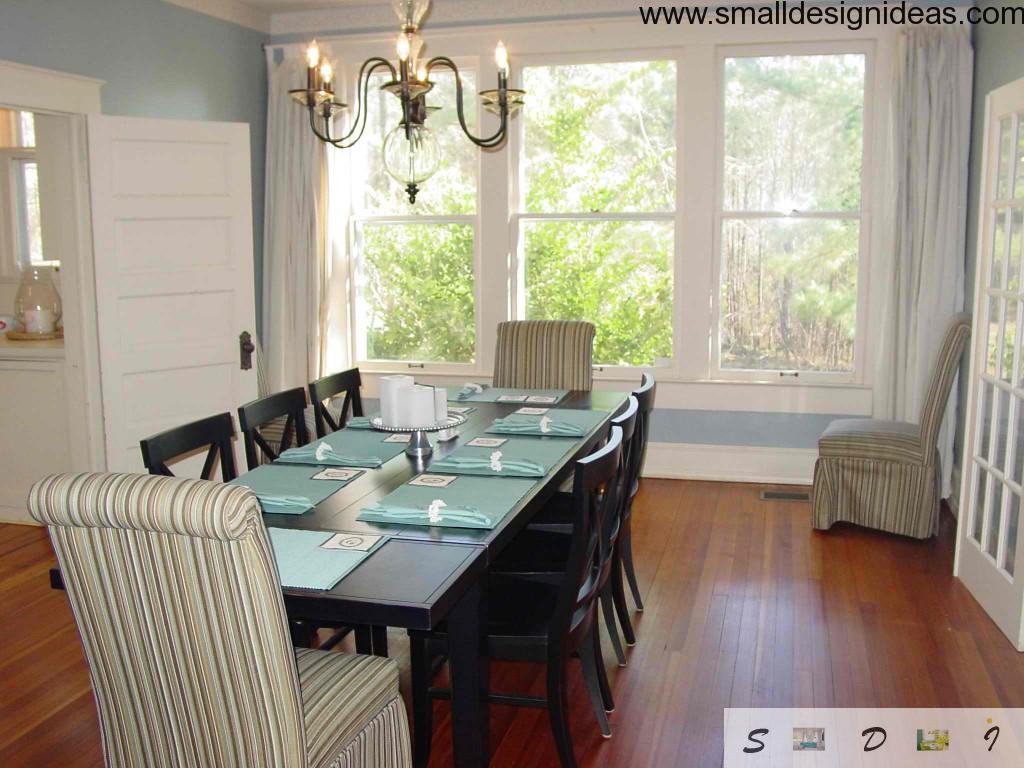 The unusual designed table and original wooden table chairs take central place here.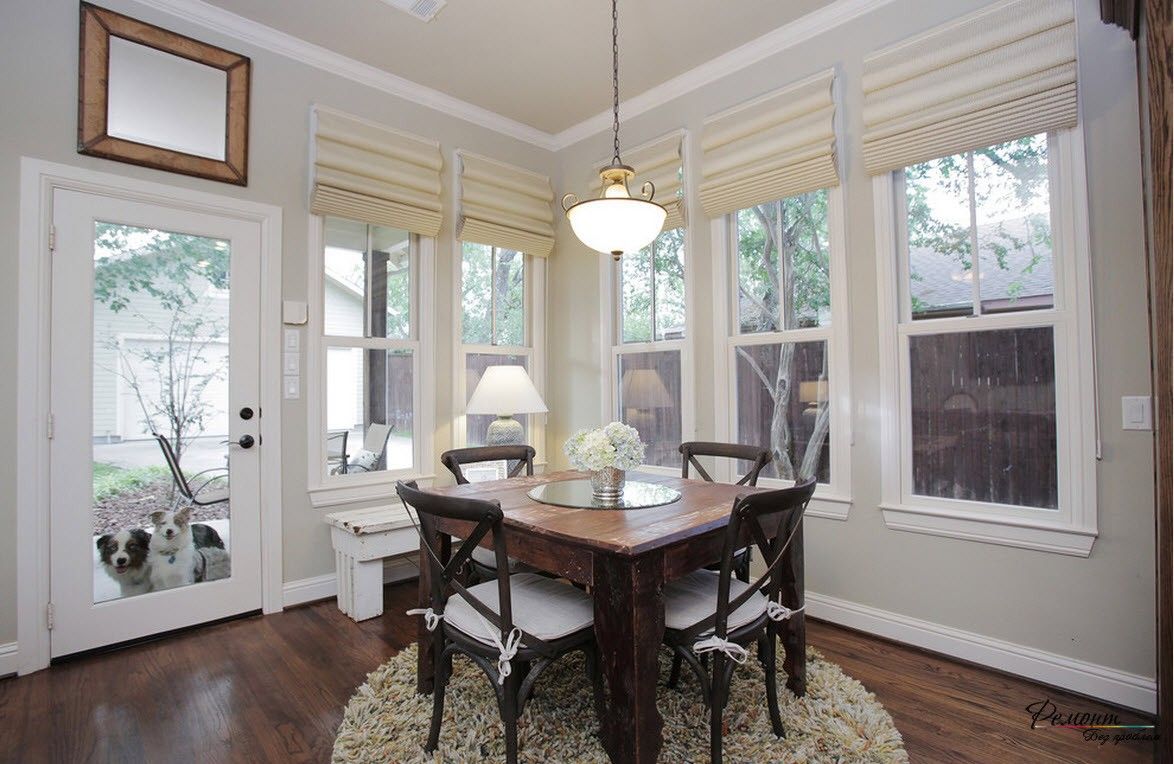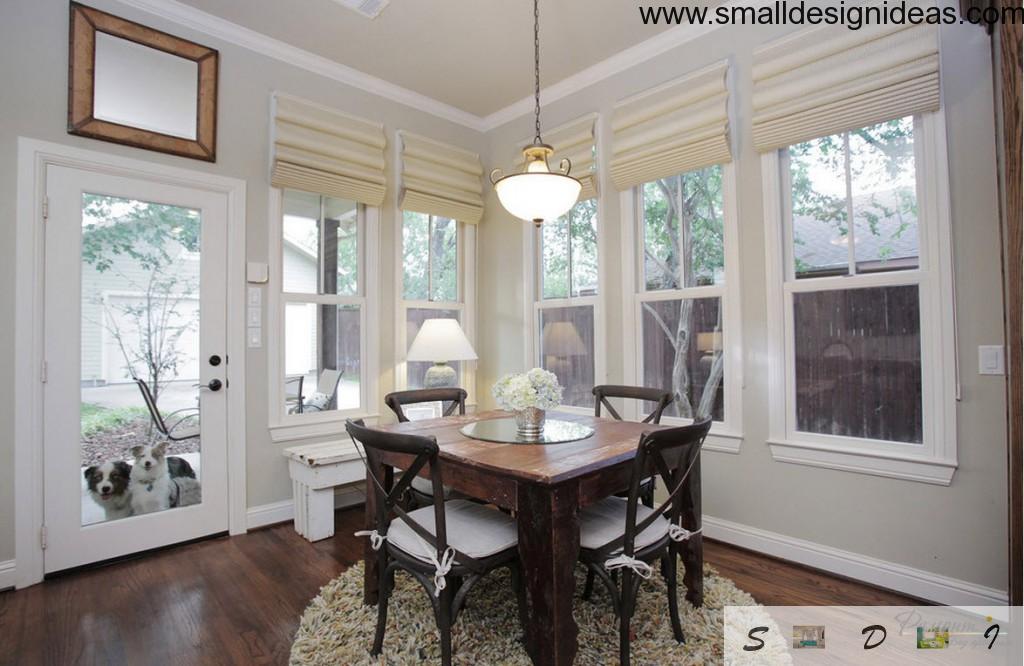 This room looks very bright and spacious – the whole point is that there are large windows in this room. However, a large chandelier is also a good source of light.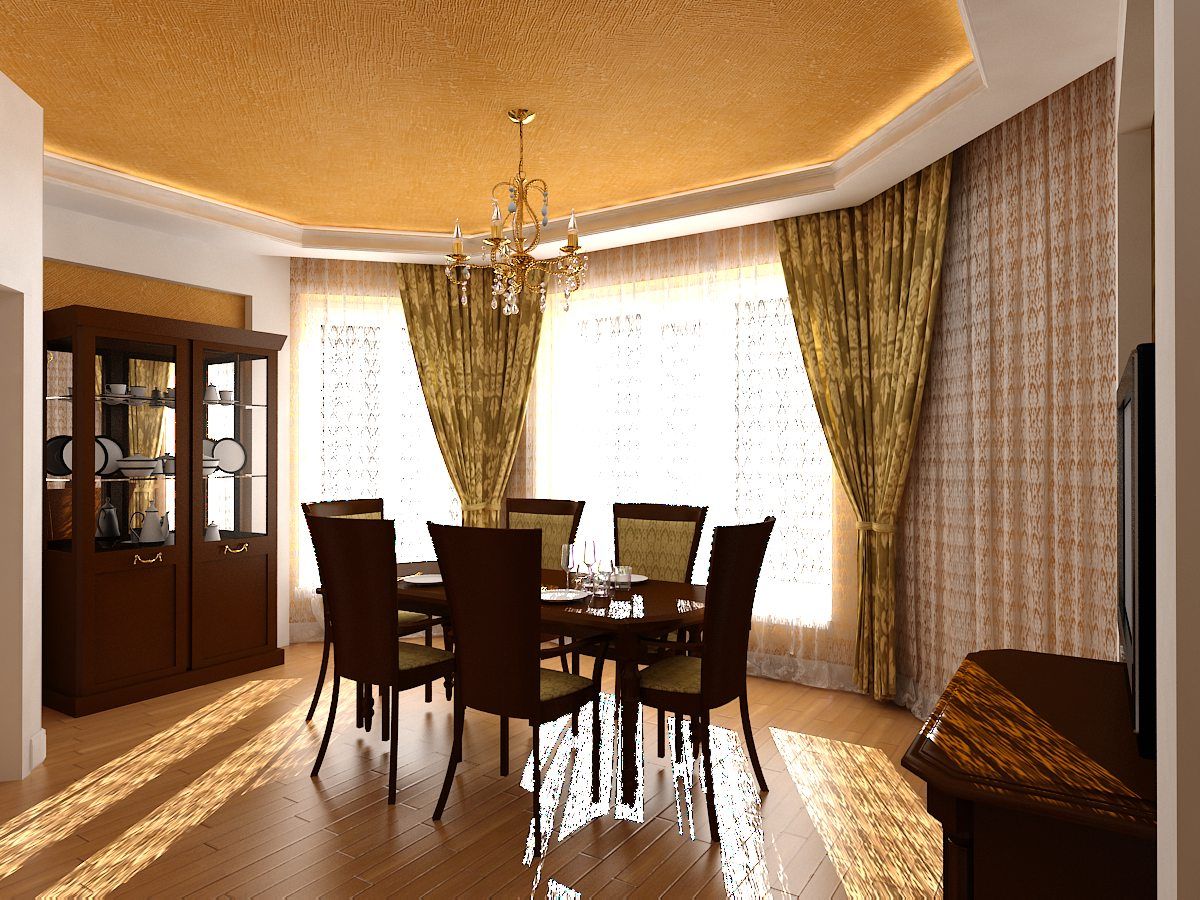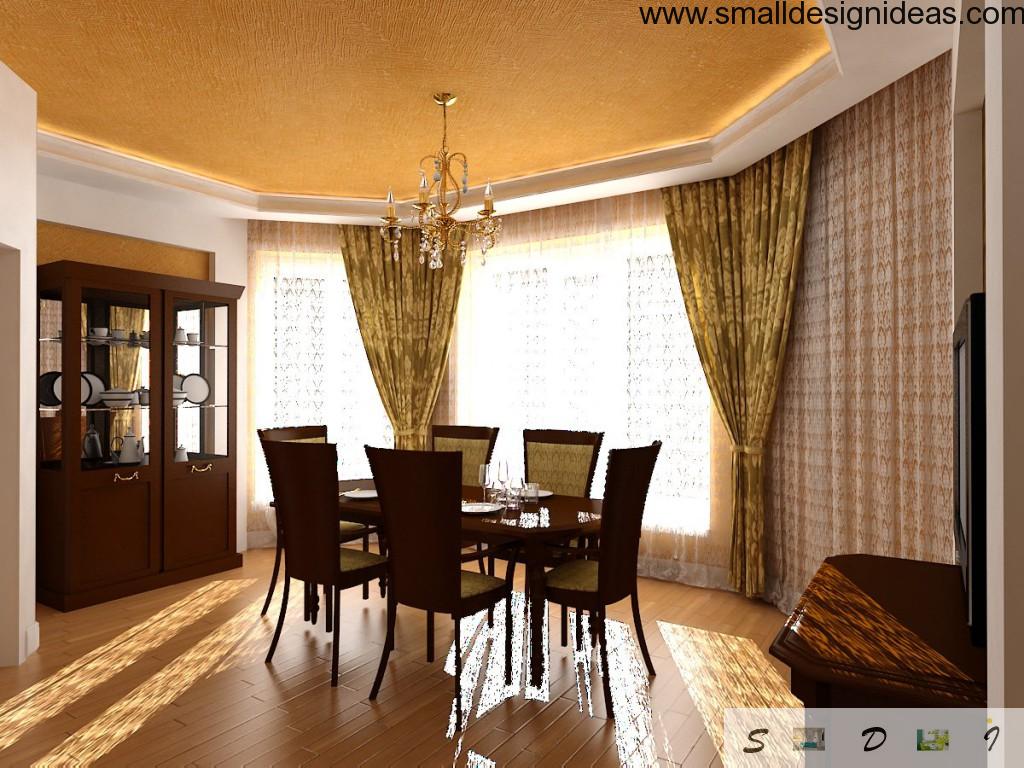 This dining takes the whole room, the design of which is worked wonderfully. It is made in bright colors, but still, there are dark accents.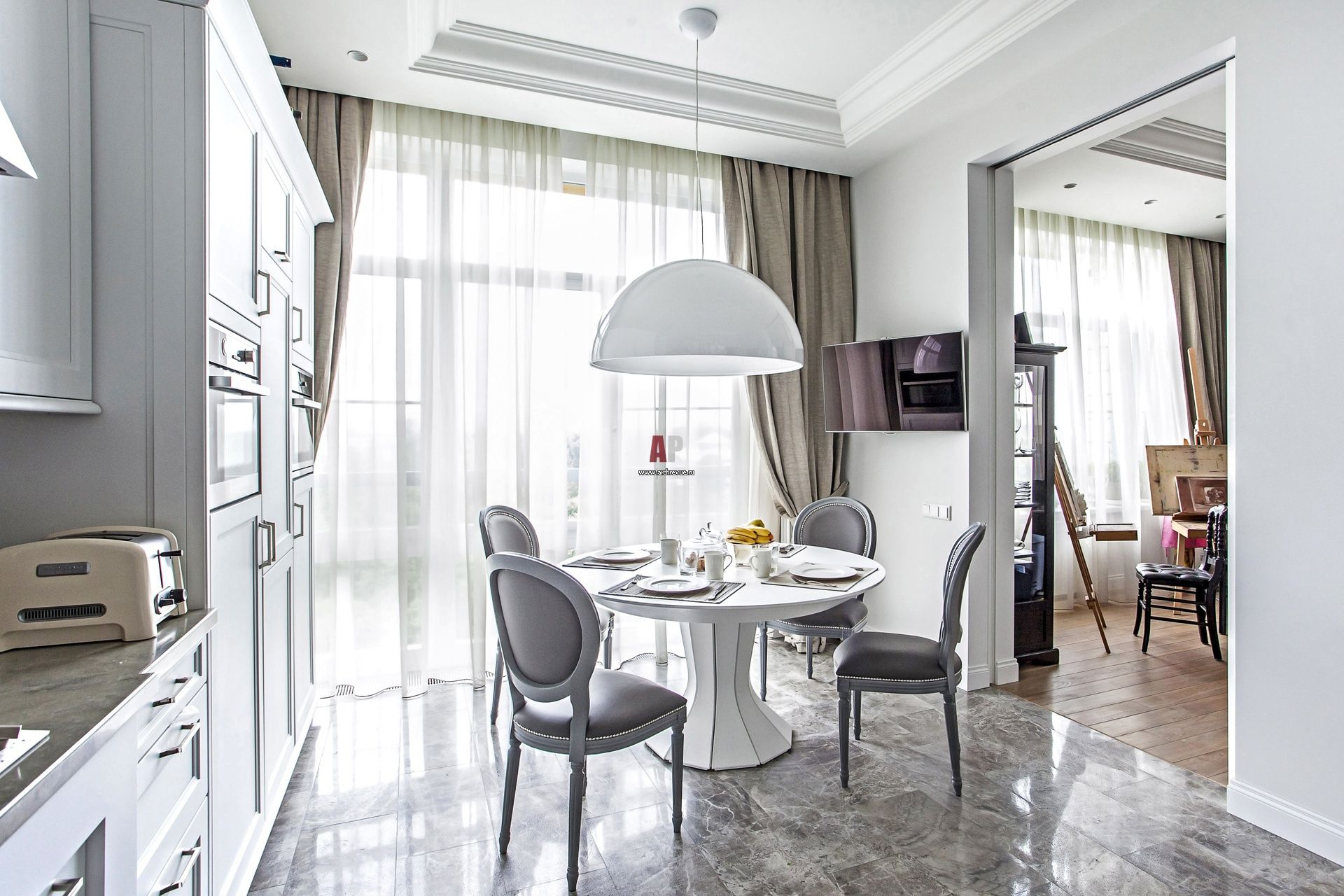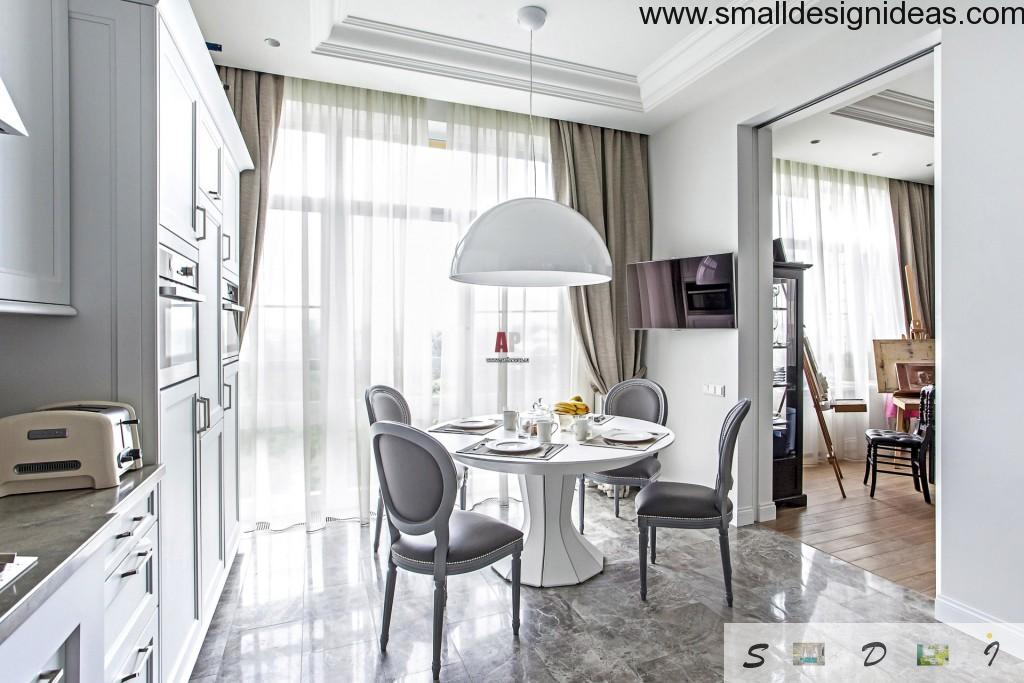 This room is made in the style of minimalism: there is a dining table and decorated chairs here. The dining room occupies the space near the French windows that amplify the inflow of natural light.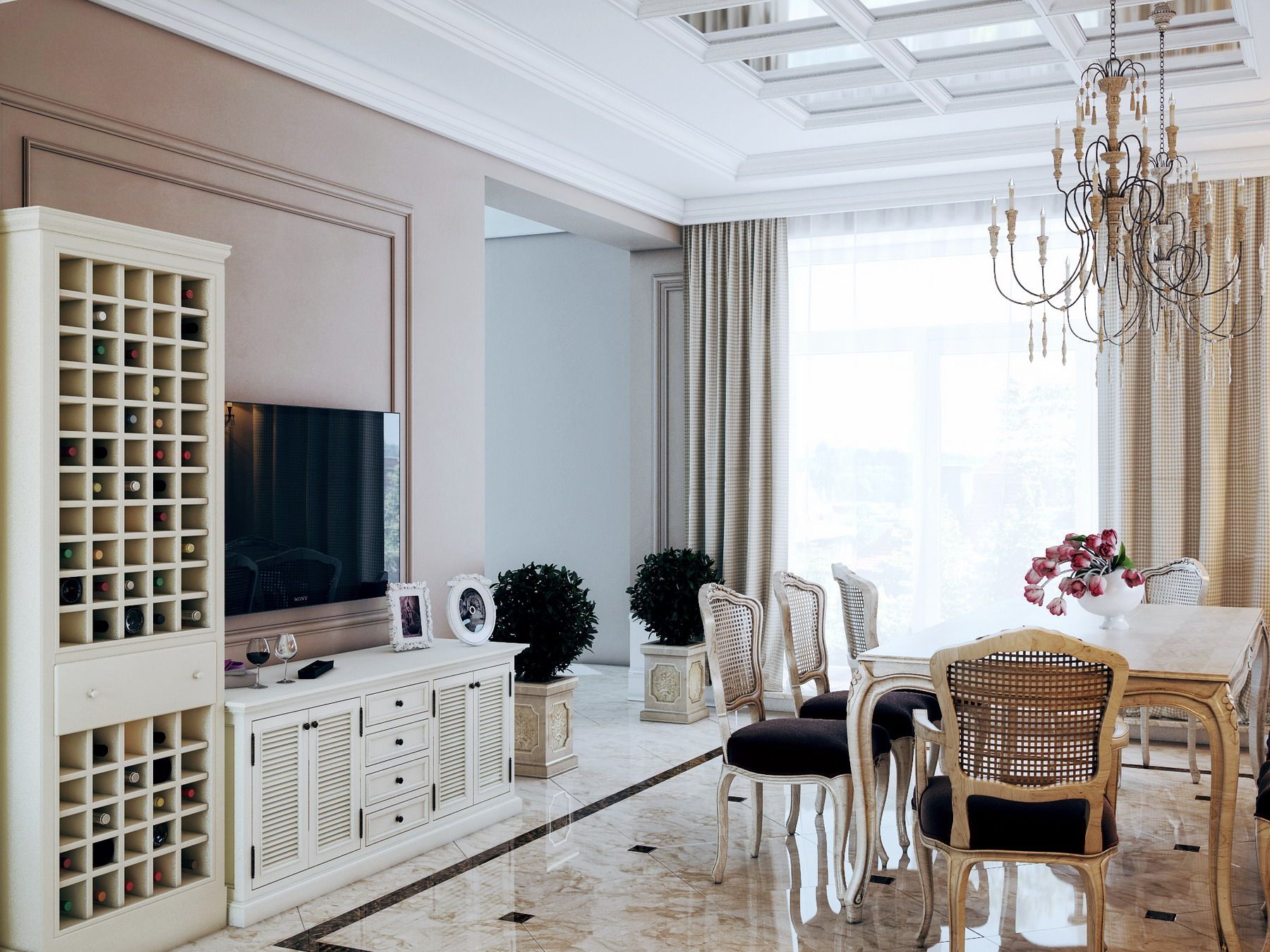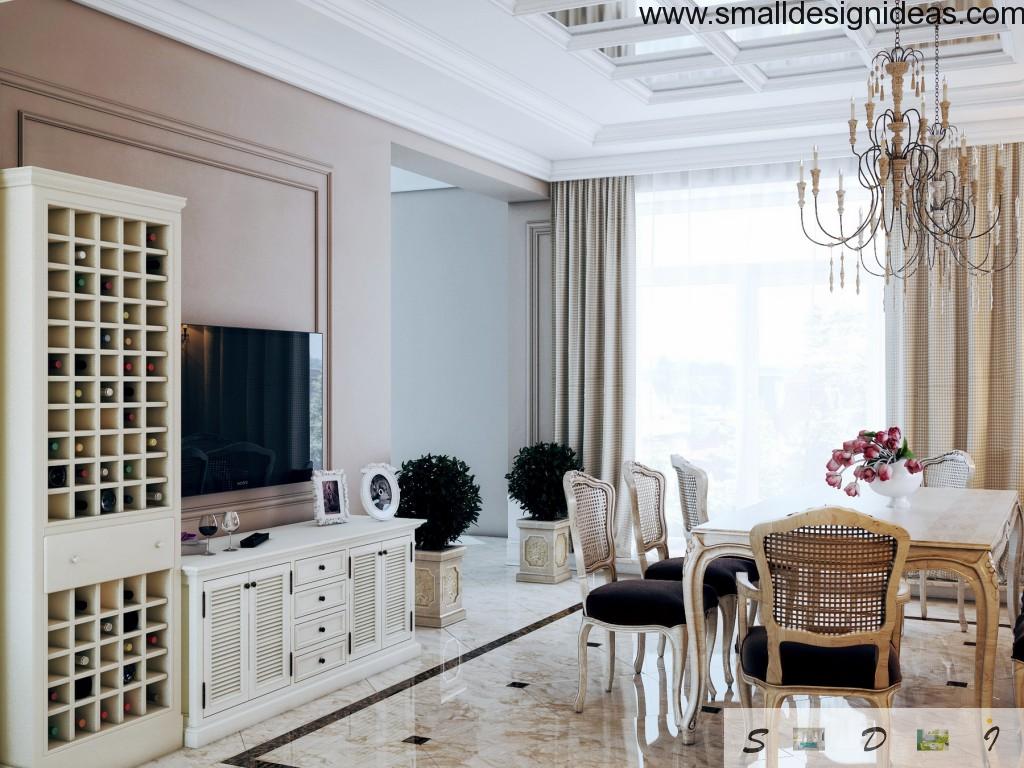 This room does not stand out by design refinements, but, nevertheless, it looks very stylish.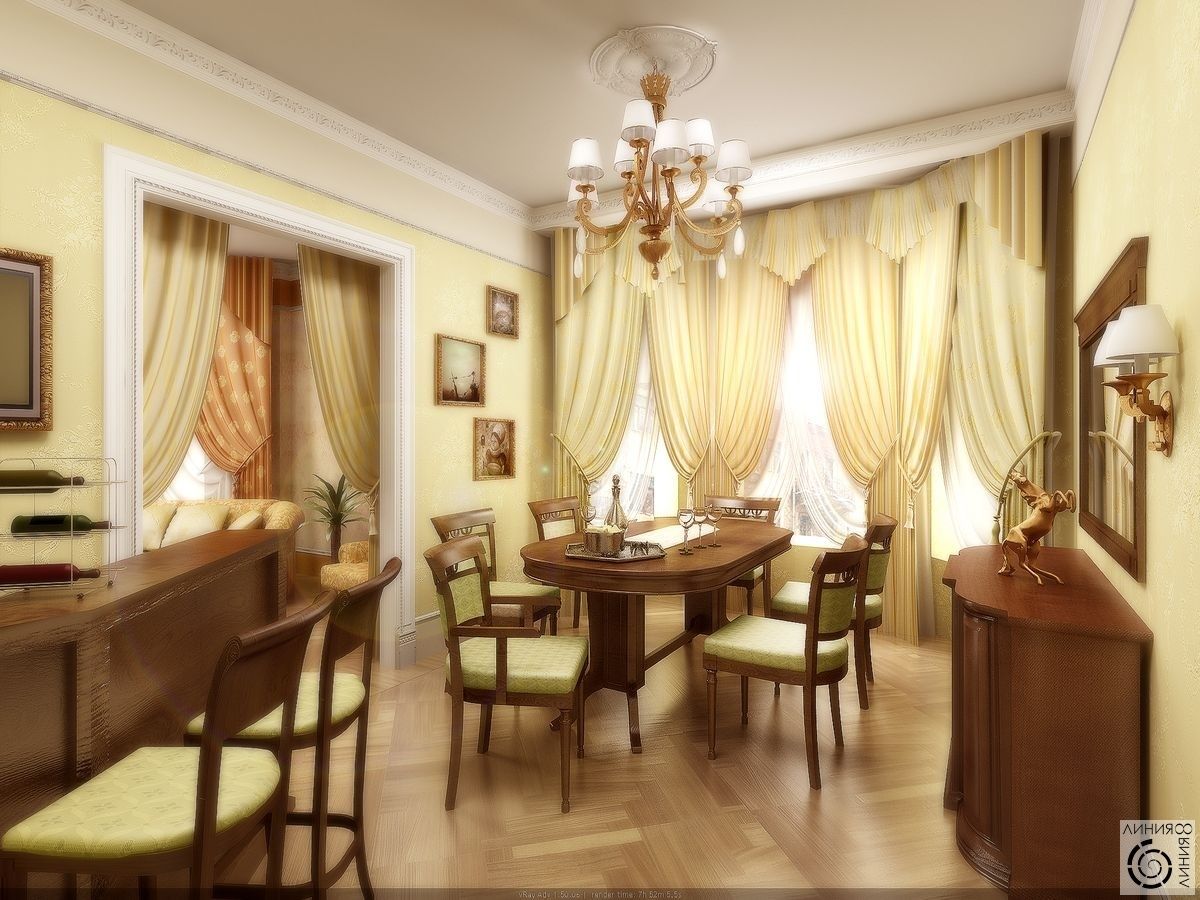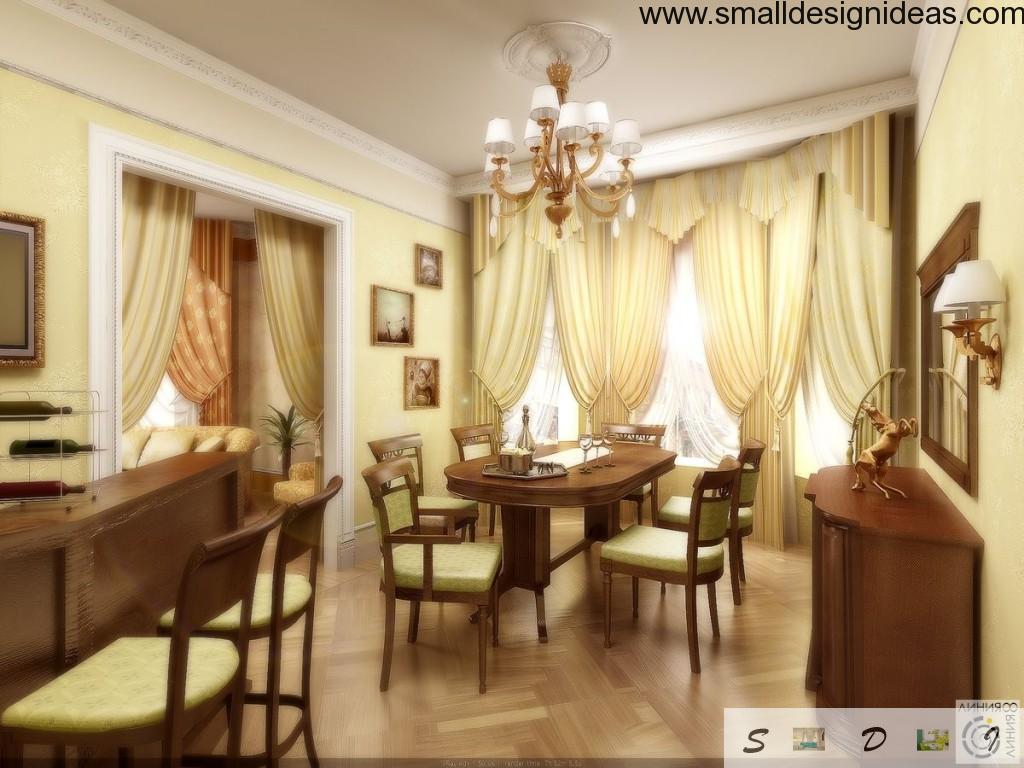 The dining room occupies a separate room. Here is everything you need to have a wonderful holiday meal.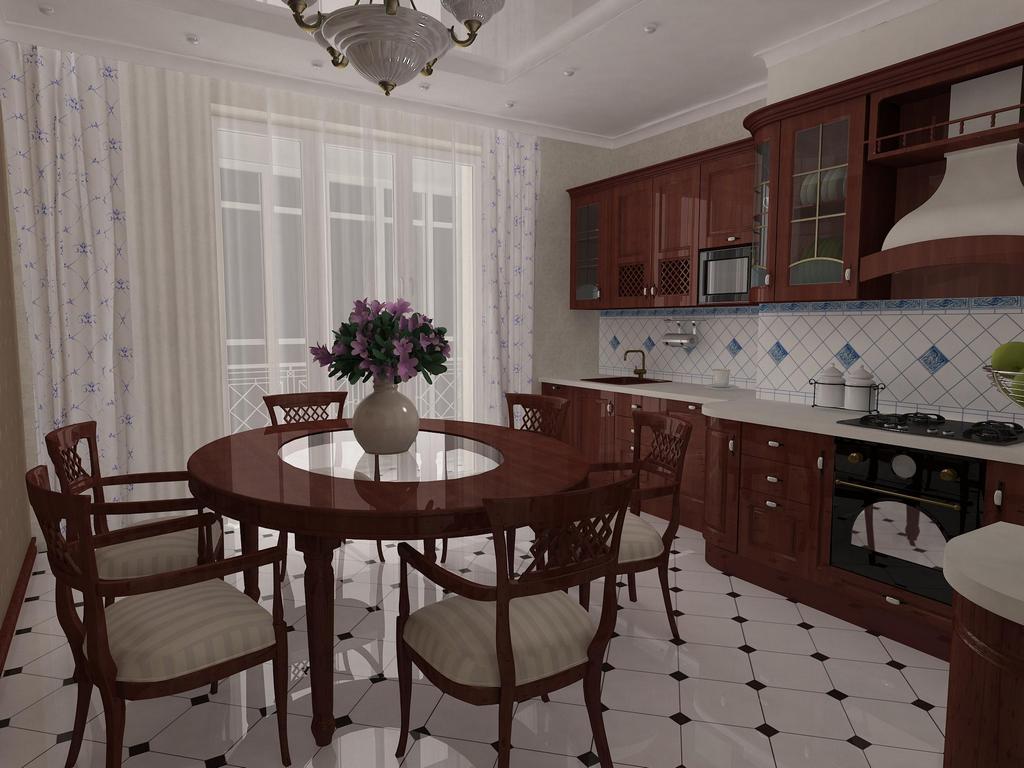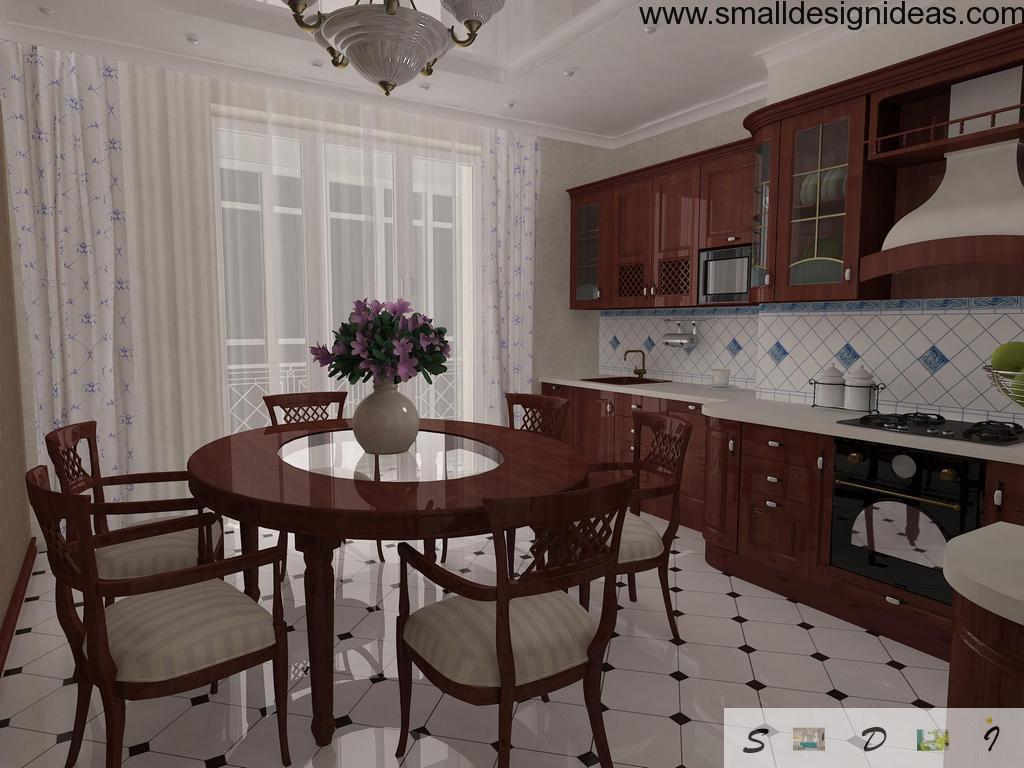 Dining room combined with kitchen is a good way out for those who do not have at their disposal a lot of free space.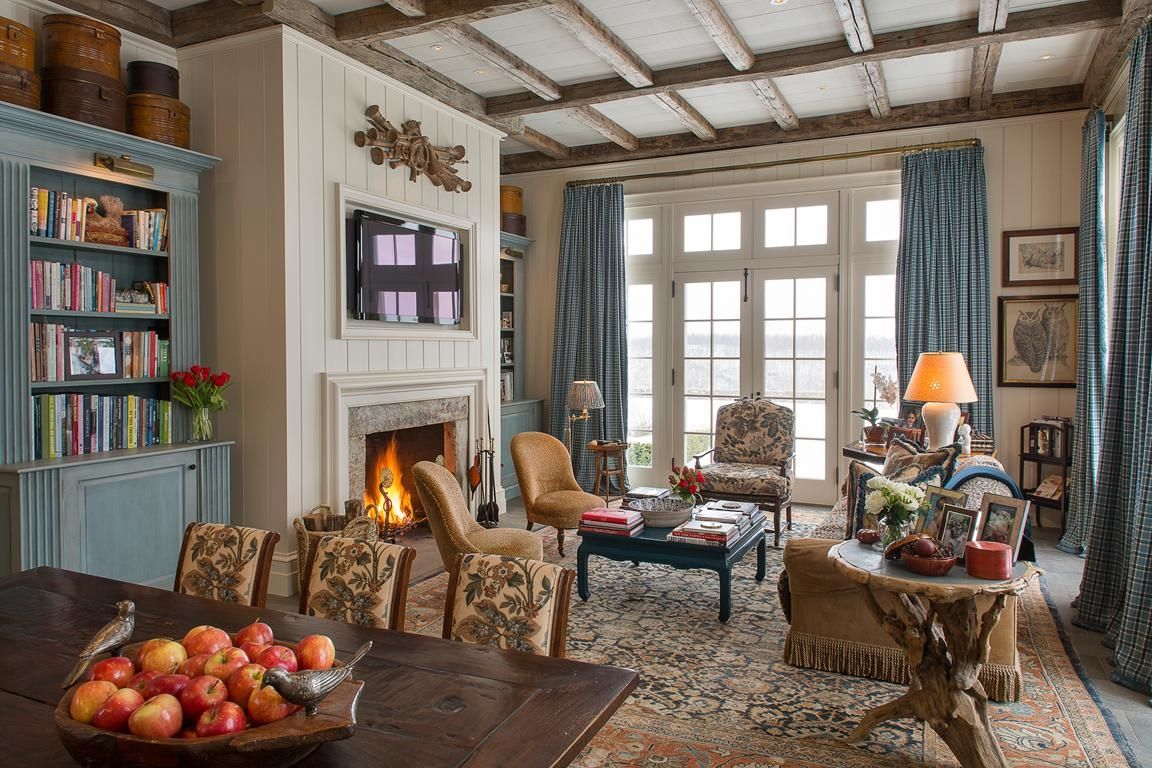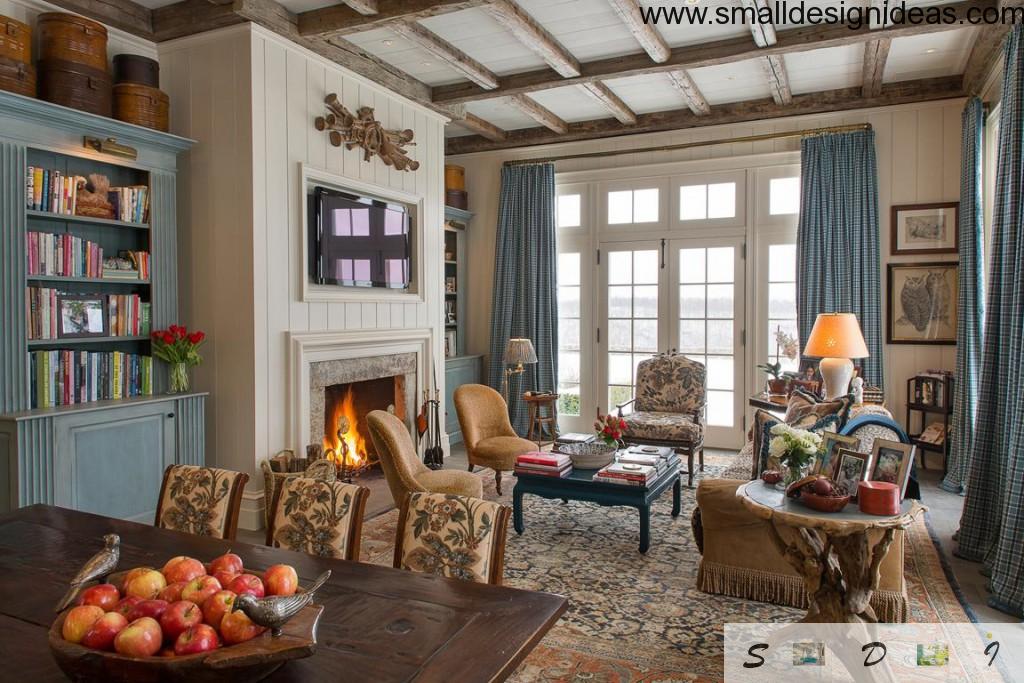 You can not only meet friends or have dinner with the whole family in this dining room but also to spend time alone in a comfortable chair near the fireplace.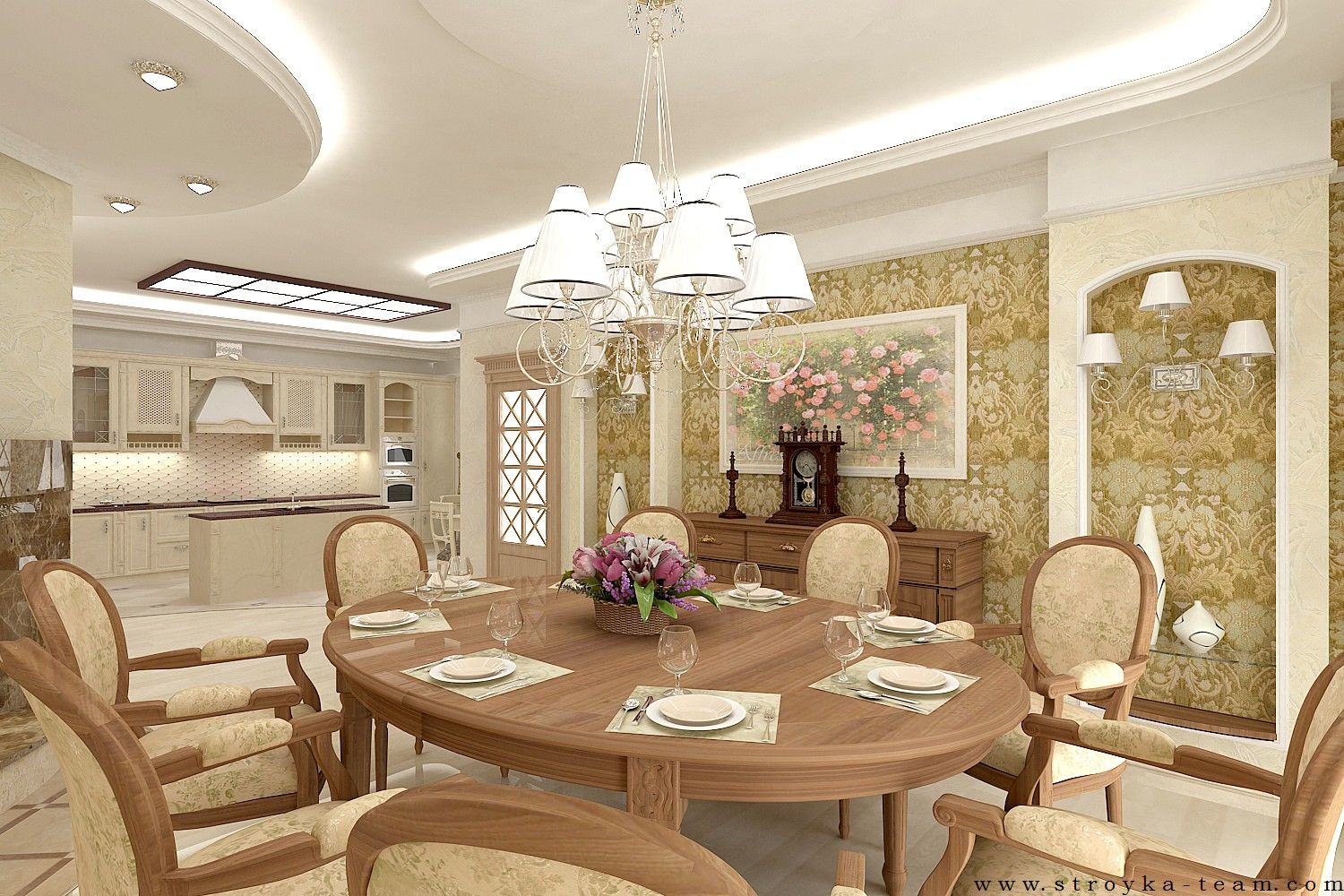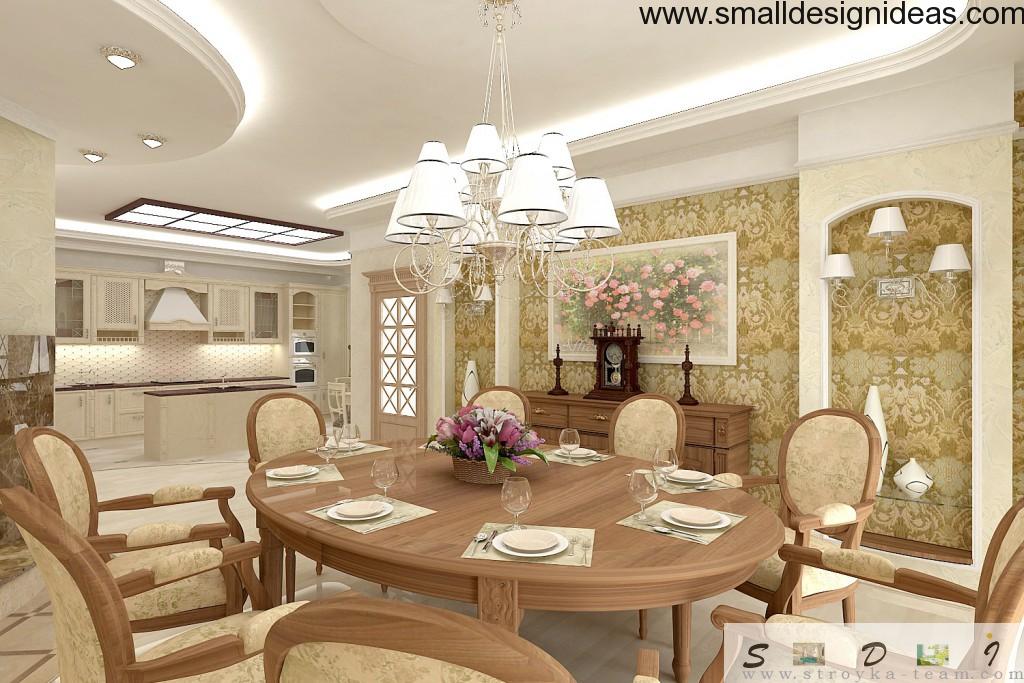 This home dining room looks more like an expensive restaurant. It is tastefully decorated and meets all the rules – bright colors and lots of light bring comfort here.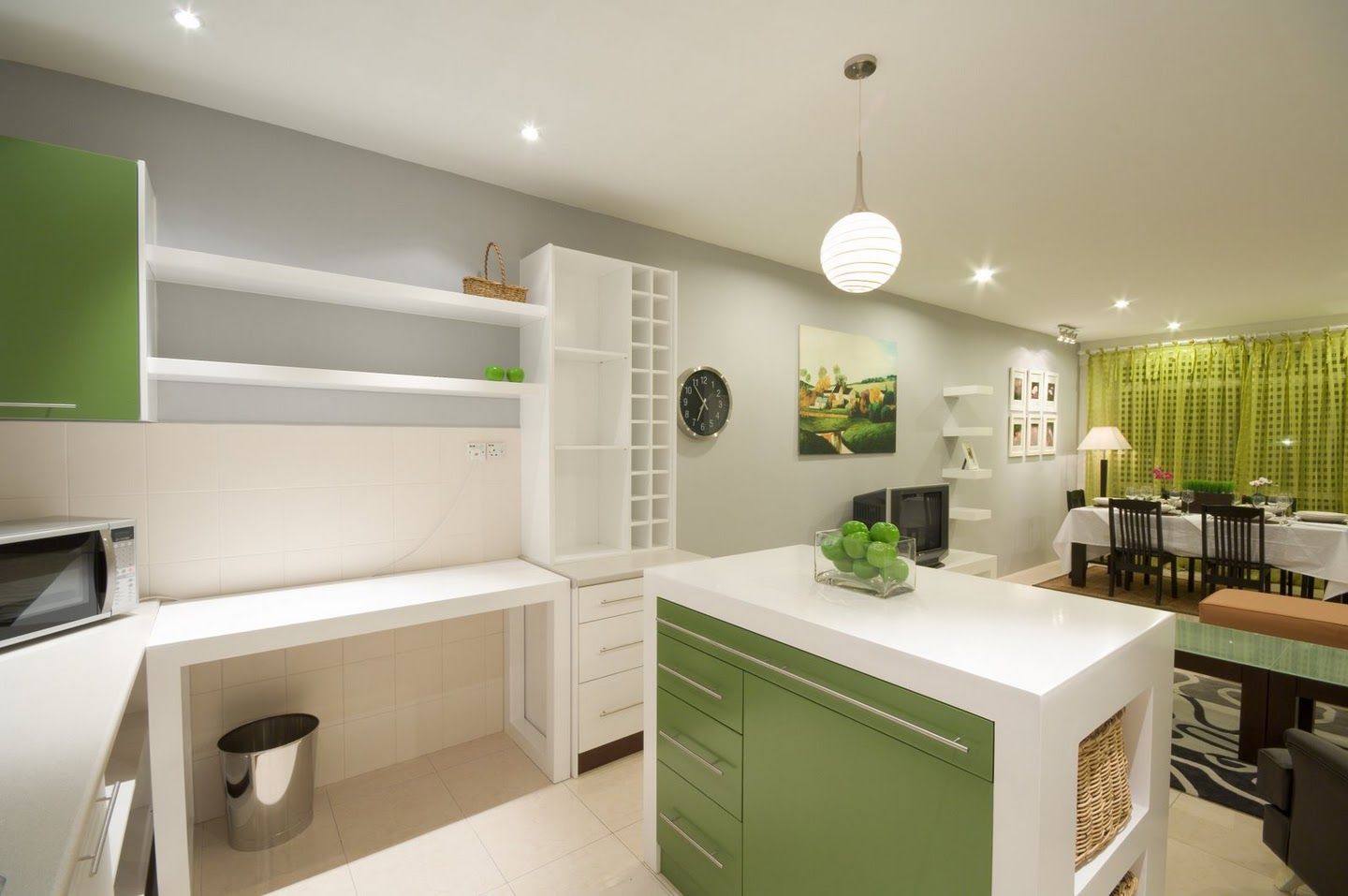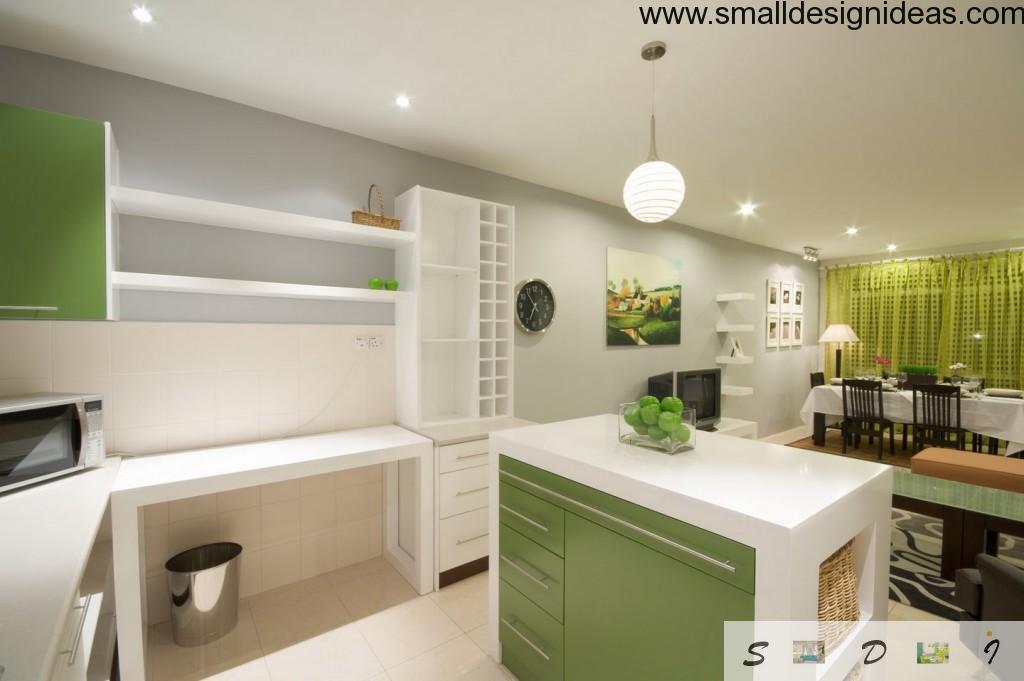 The dining room, which is located next to the kitchen is the most convenient option. But its realization is possible only if it is allowed by the layout of your home.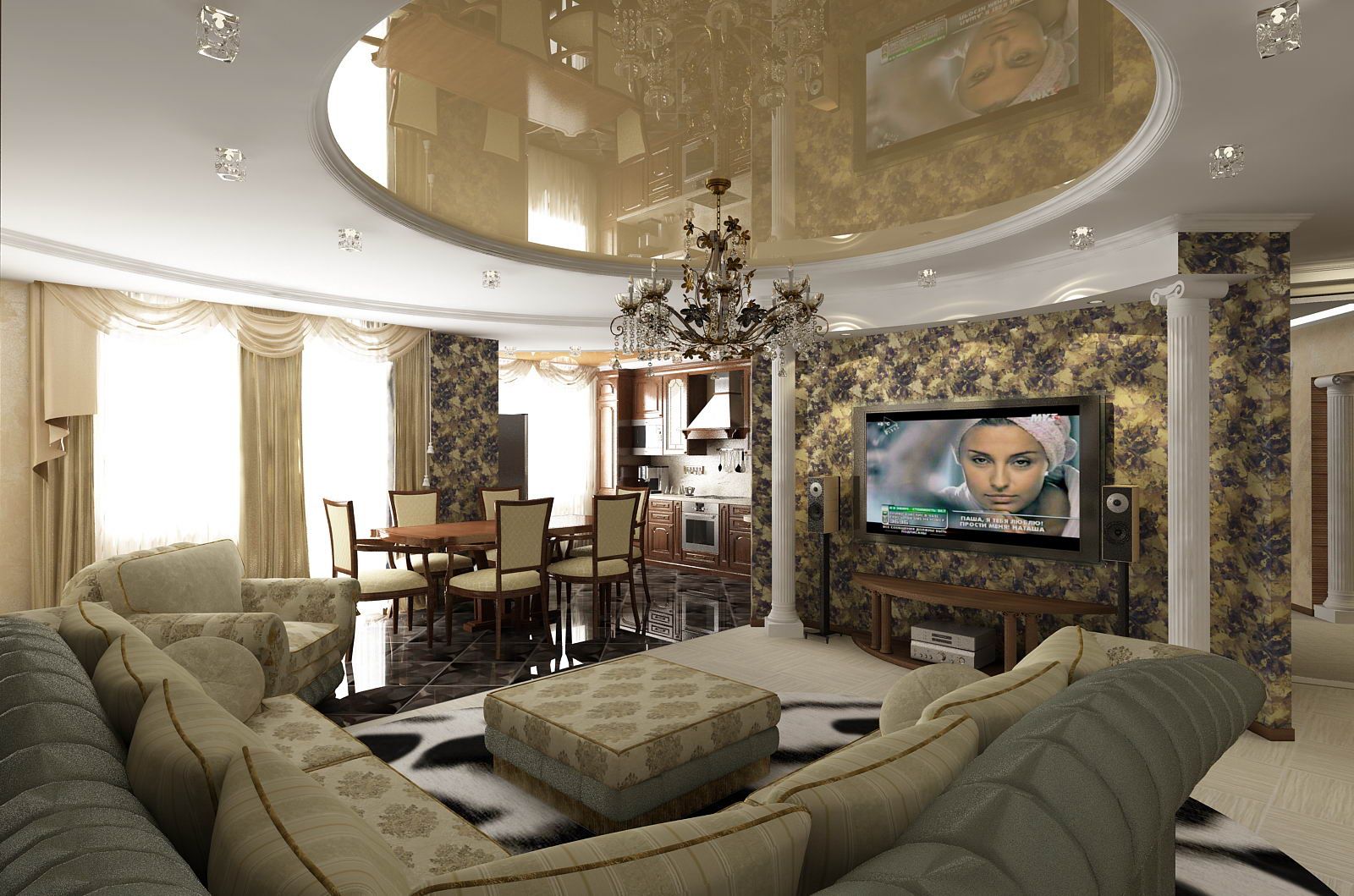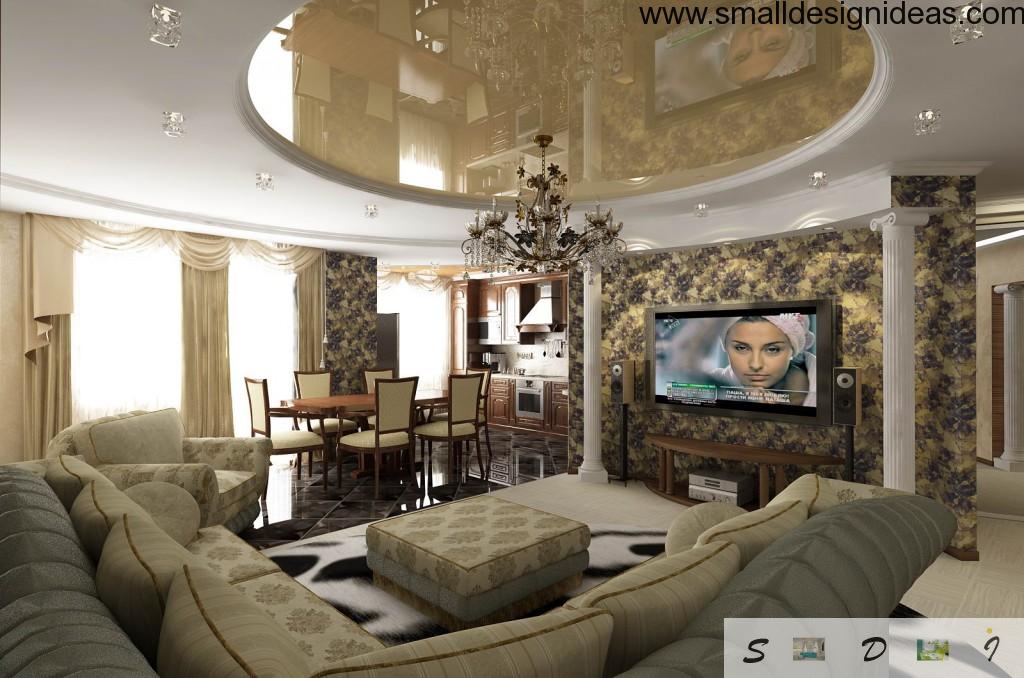 The dining room, kitchen, and living room are combined into one common space, so their design is made in a uniform style.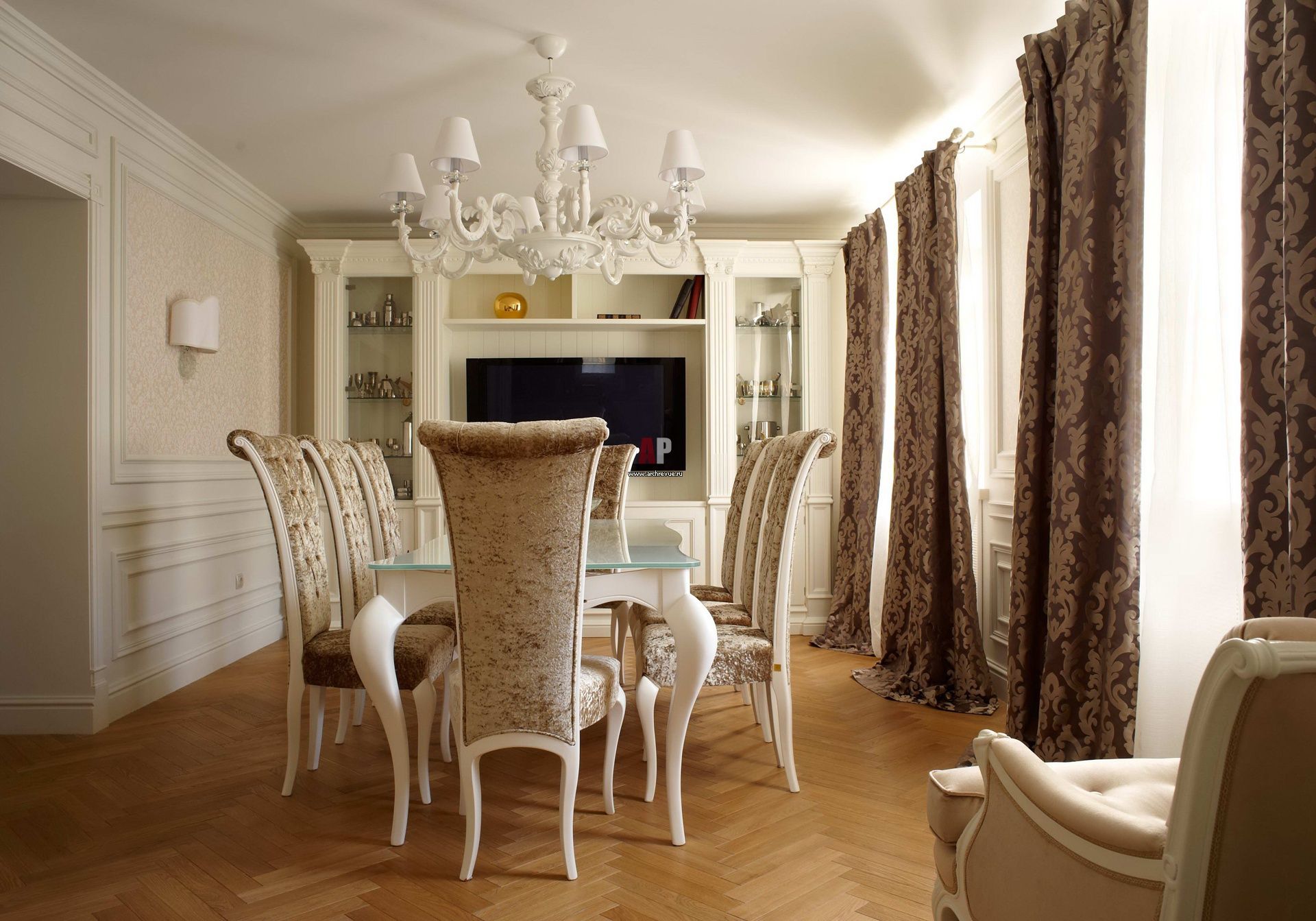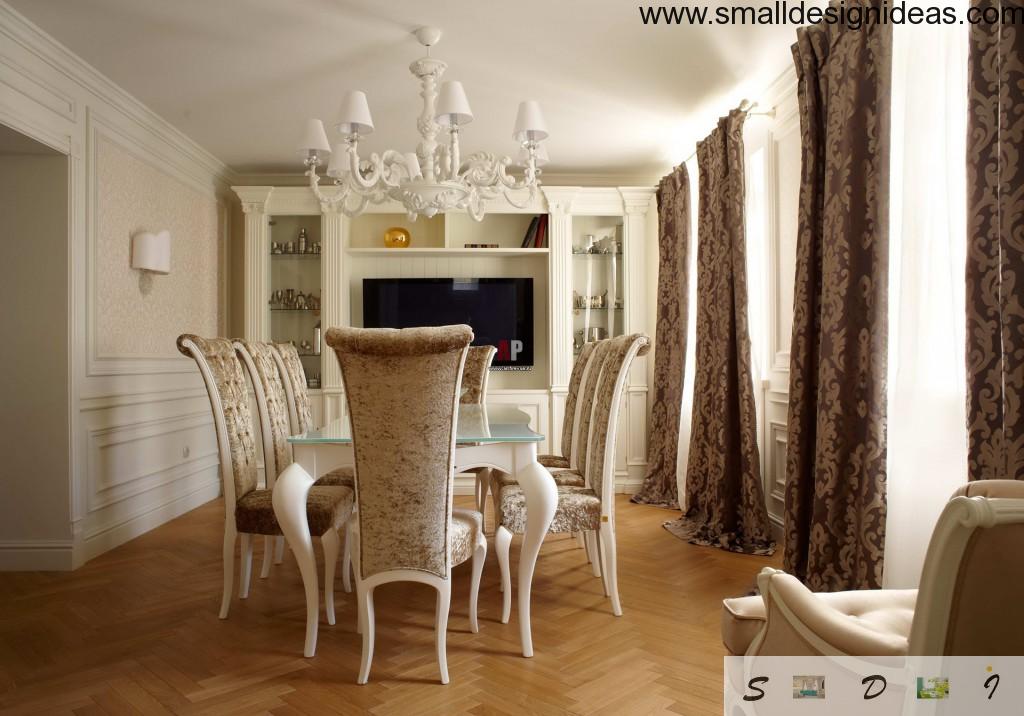 This is the ideal option of what should be the right dining room: pure white, large windows, which allows a huge amount of sunlight; and a table in the middle of the room. Eating in the suchlike a room is a  real pleasure!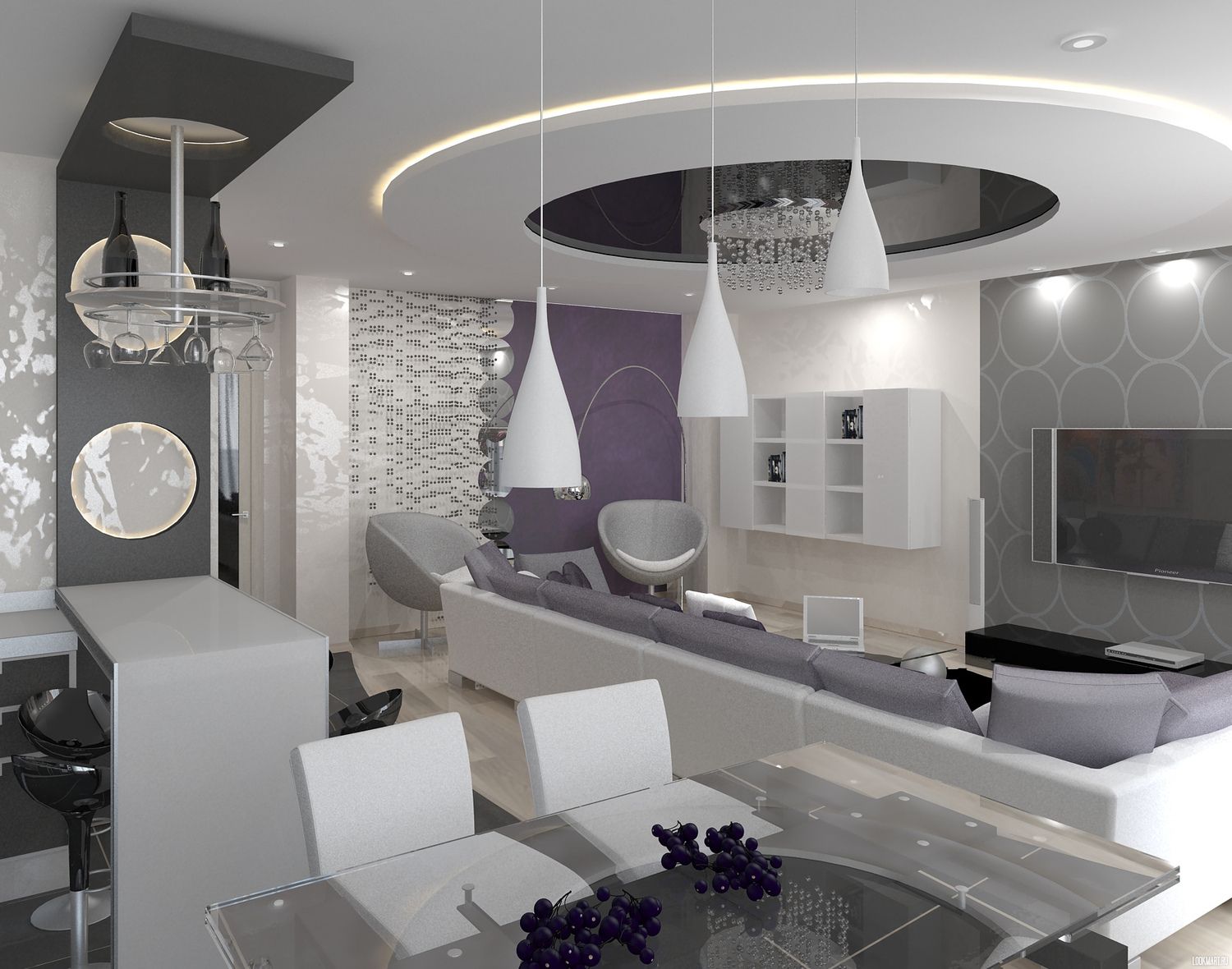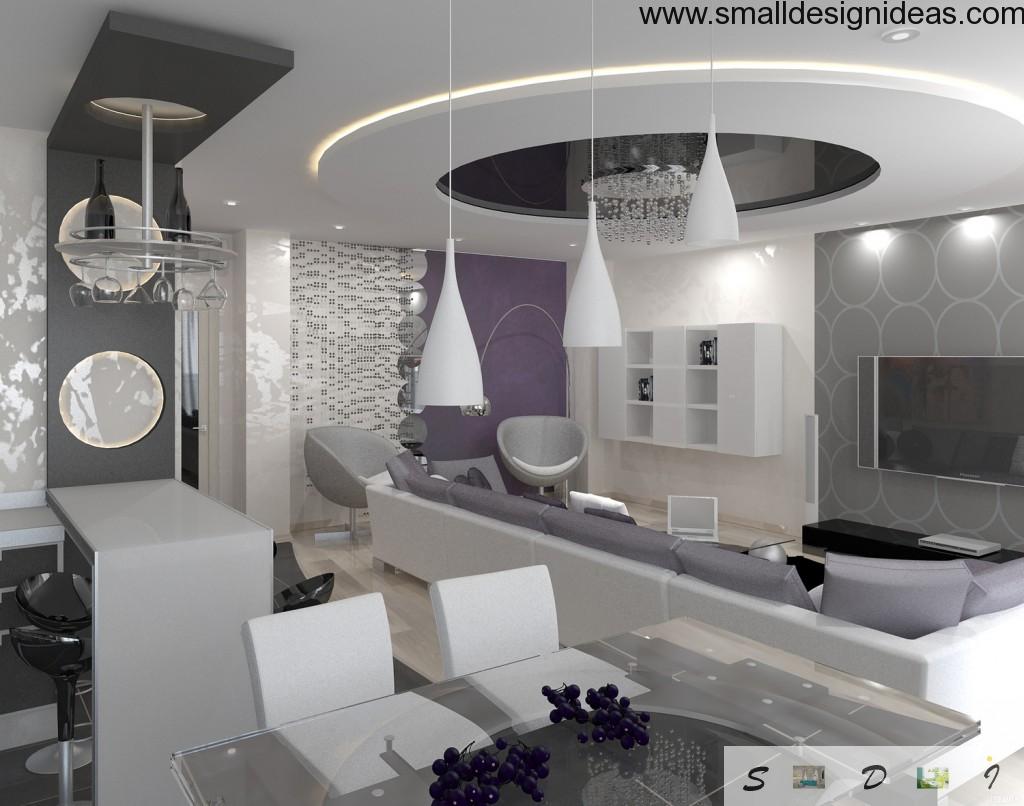 Even if you are the owner of a small house, but want to get the dining room at the same time, you can simply combine the kitchen, living room, and dining room in a perfect high-tech style.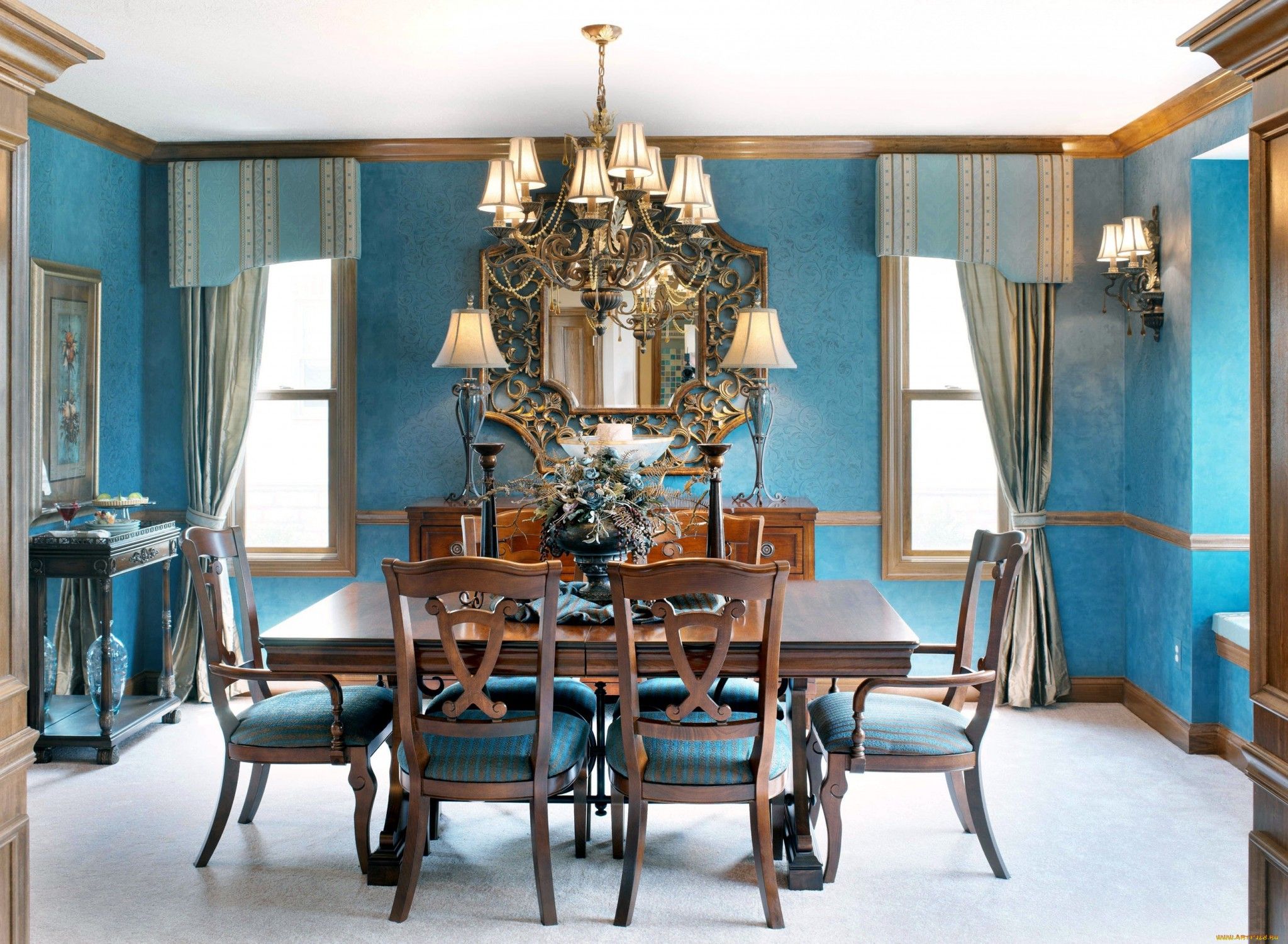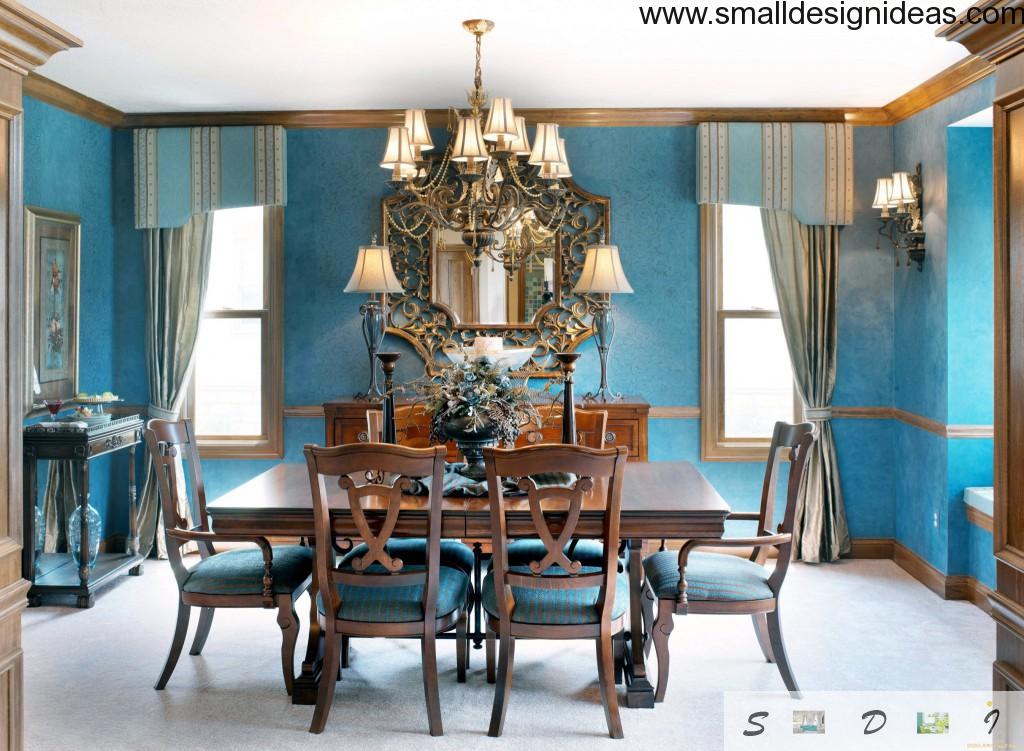 This sky-blue dining room looks great! Here is enough space, but it is equipped with everything you need as well.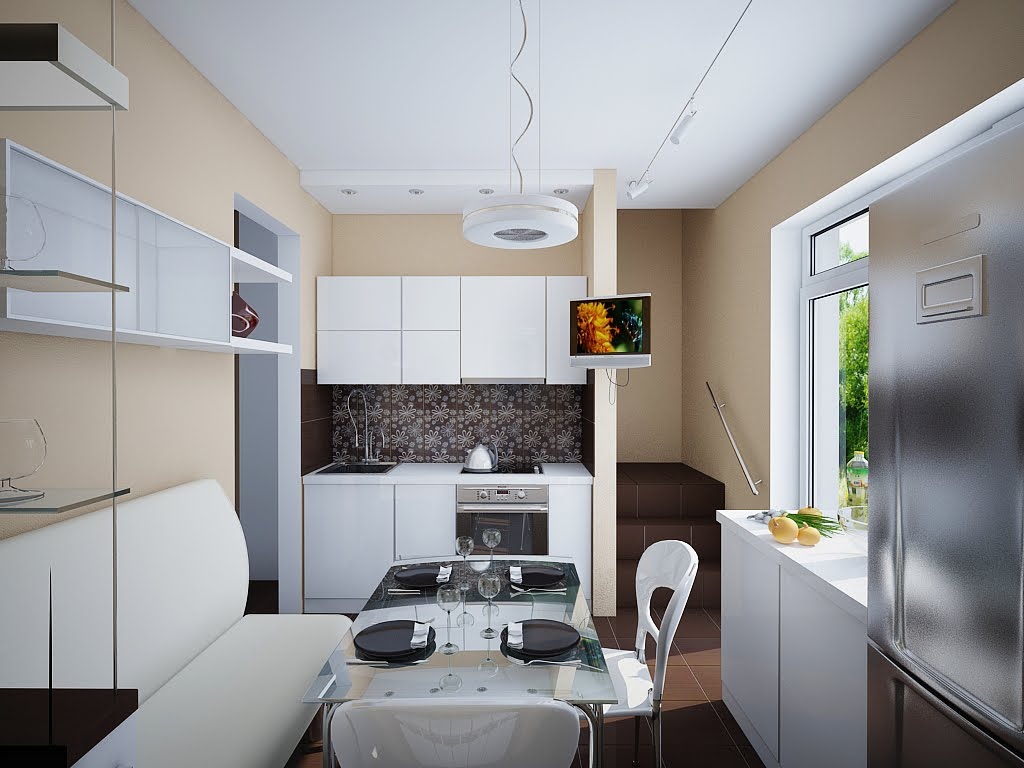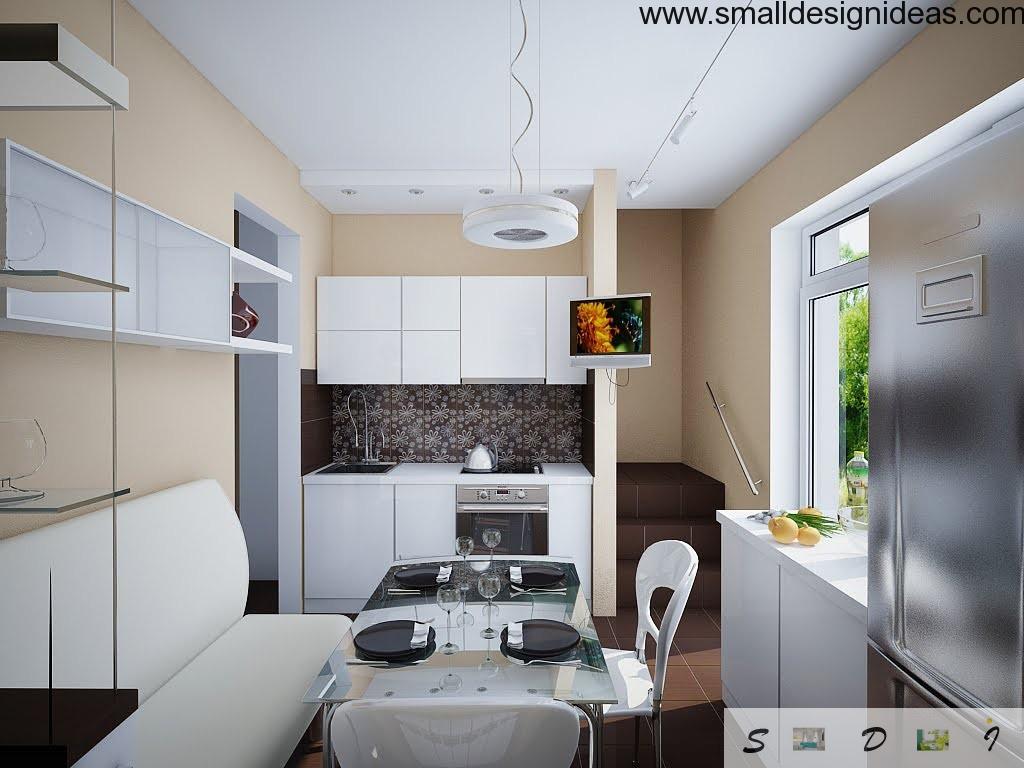 The significant advantage of this dining room is that its basic elements, the table, is located near the window. At dinner, you can enjoy stunning views of the city.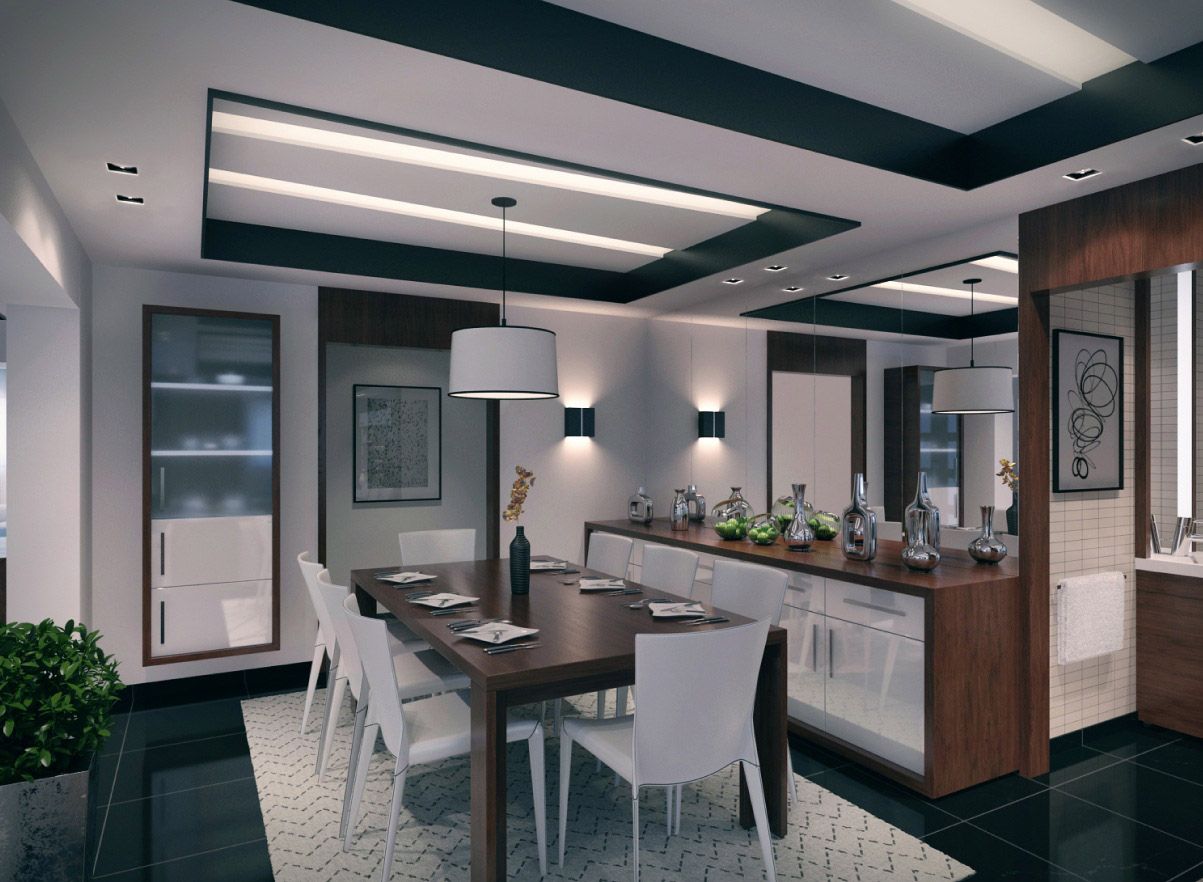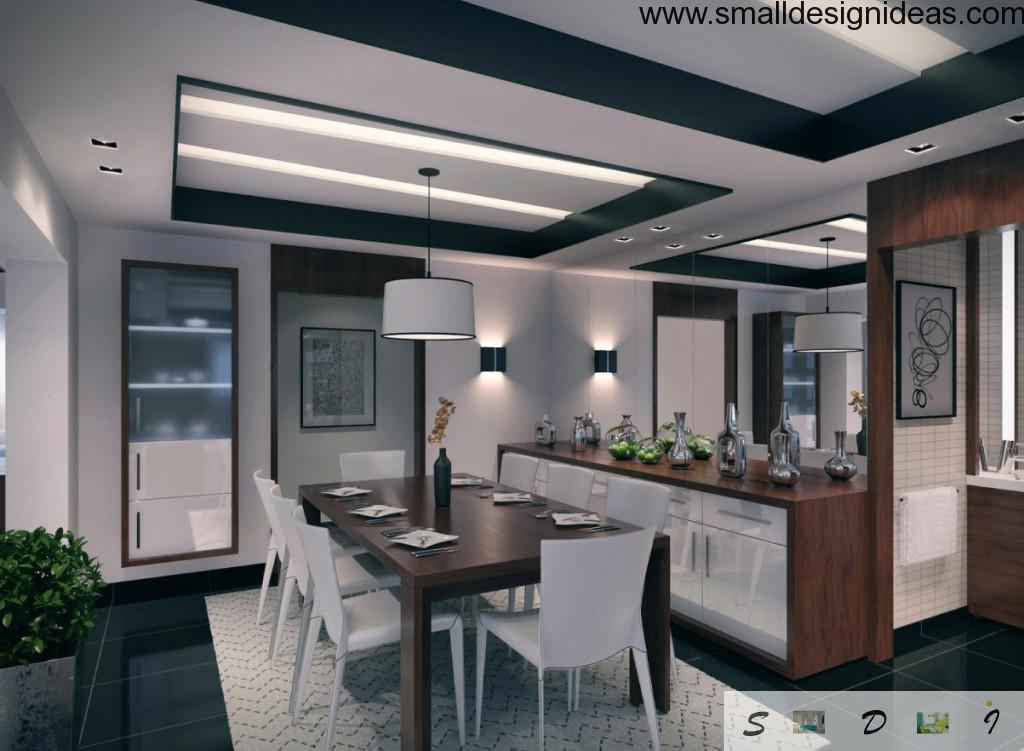 This positive dining room has not only a large dining table but storage lockers too.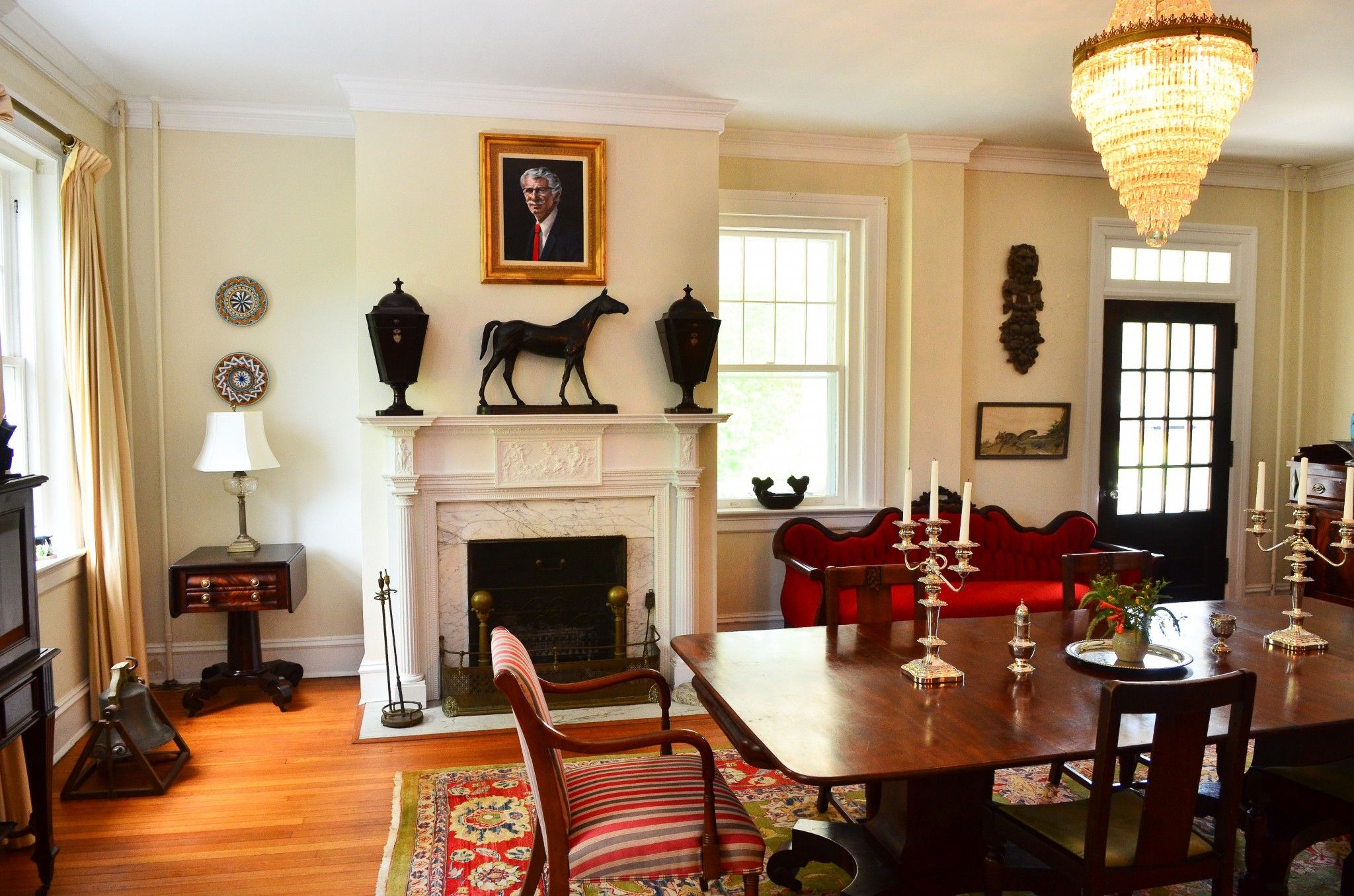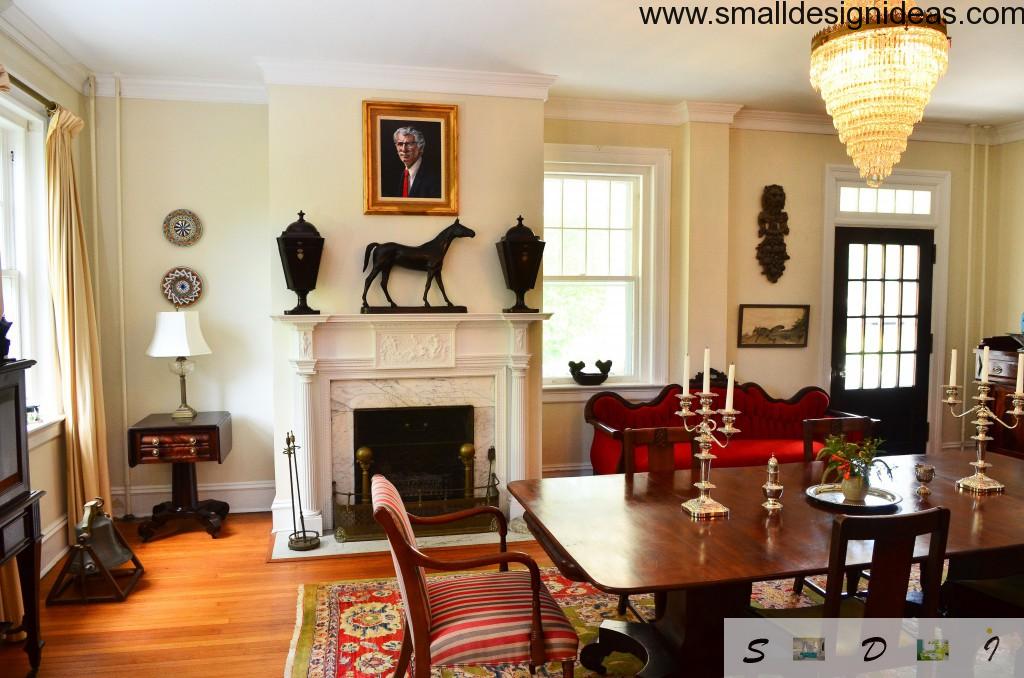 The fireplace in the dining room is a very good move. Still, it is better to enjoy crackling fire having dinner, rather than watching TV.
Dining Room Wall Decor
Let's speak about the most relevant options for wall decor so that your dining room becomes amazing. There can be nothing worse than blank walls. Each hostess tries to brighten up the empty vertical with paintings or photographs, creating coziness and home warmth. Some people like sculptures, while others prefer mirrors, which create an effect of depth and creative charm. We have selected for you the most popular versions that will transform the overall look of the space, breathing into it the atmosphere of life.
Unrivaled Wall Art
The silver and gold trend continues, the dazzling shine of the precious metal will bring a touch of luxury to contemporary interior design. The color combination can be quite soothing, especially if you include artwork in your image.
Abstract painting, especially in such rich colors, looks unique. Shining paint on a snow-white canvas will give vivid impressions and positive emotions.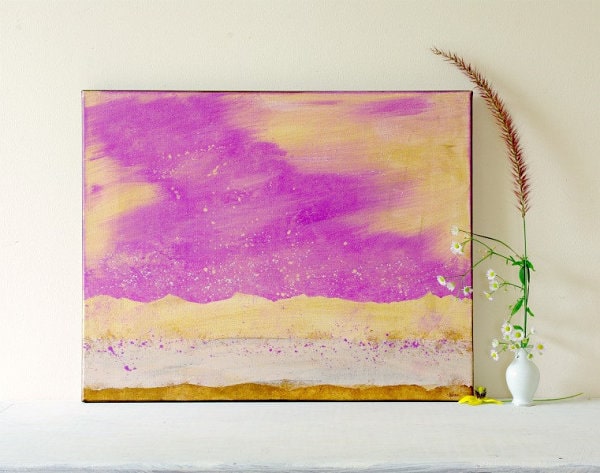 Watercolor painting, Art by Heroux
An elegant sheen presented in warm colors, a visual effect that simulates fluid movement is a masterpiece. The beauty of metal can be mixed with a variety of palettes without affecting a delightful painting.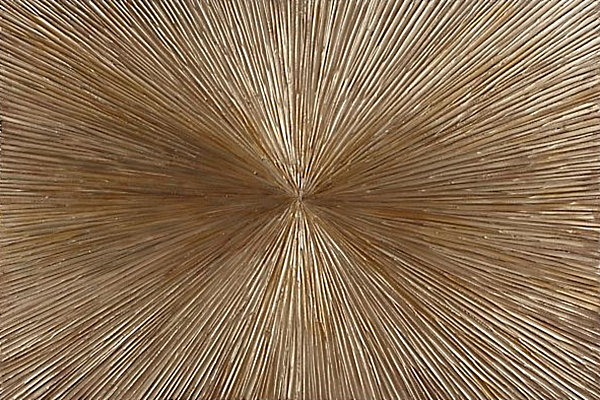 Shiny L. Bodine for Z Gallerie
Feel free to group your collections of pieces with similar motives. Sometimes such kits can be harmoniously combined thus creating a single image.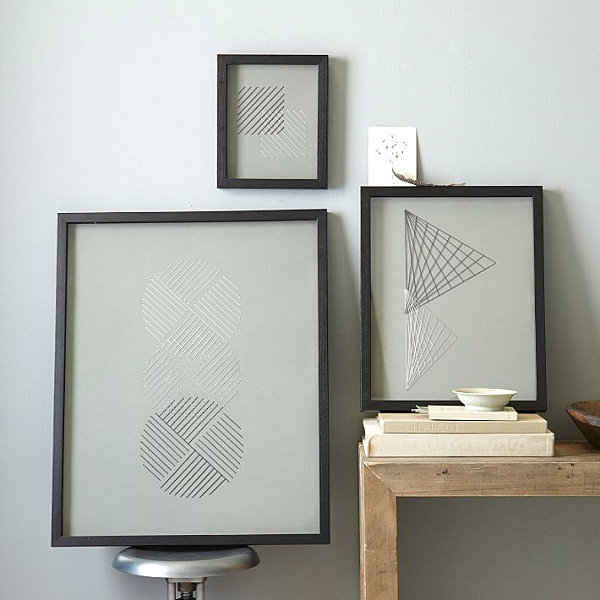 Geometric Combination Geo Stitch Wall Art for West Elm
Reflective Surfaces
Wall decor with paintings is considered a great solution, but sometimes they overload the atmosphere. Mirrors in the interior of the dining room will also look no less impressive, but it is more preferable to use creative solutions. Bring variety and sparkle to your designs that will fill the room with a bold look.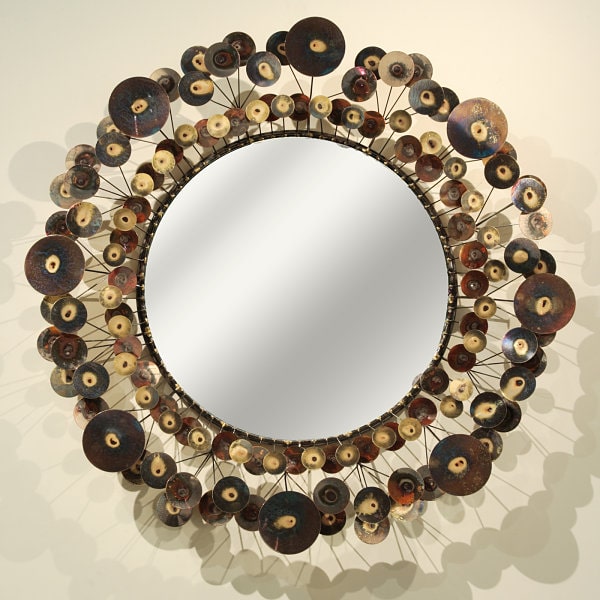 Raindrops by Jonathan Adler
Interpretations of different shapes and original frames will also be appropriate. Just look at how beautiful the intricate configurations look against a neutral background. Brass or aluminum frames are preferred.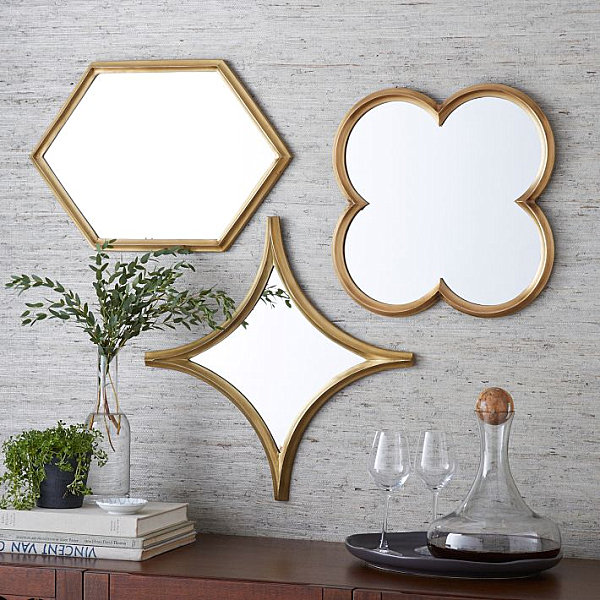 Monte Mirrors for West Elm
The following example has dual properties: it is a wall shelf and an elegant dressing table with beveled edges. Thanks to its design, it creates endless images of elements falling on its surface.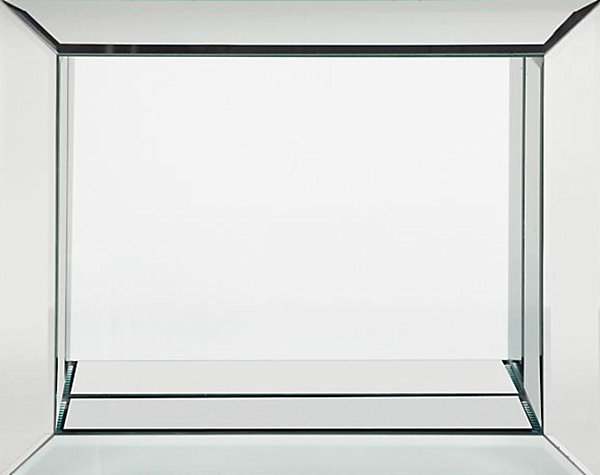 Stylish Strand Wall Shelf for Z Gallerie
Original Sculptures
An art figure is another way to decorate space. Below is a unique papier-mâché decor in the form of a fake deer. Handcrafted from recycled materials by Haitian craftsmen, they show dramatic lines and blend beautifully into the setting. Fill your dining room with art objects.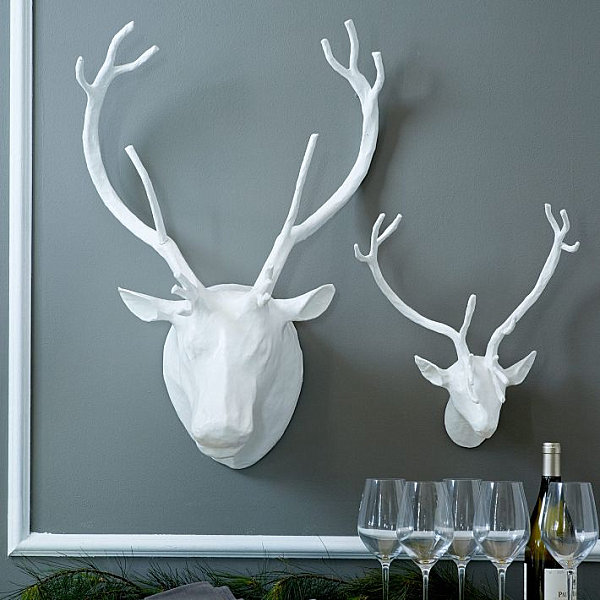 Sculptures from West Elm
Nothing beats the chic shine of metal that mimics precious looks. For example, luxurious gold looks great in its original shape. Brass thorns will add zest to an exquisite interior.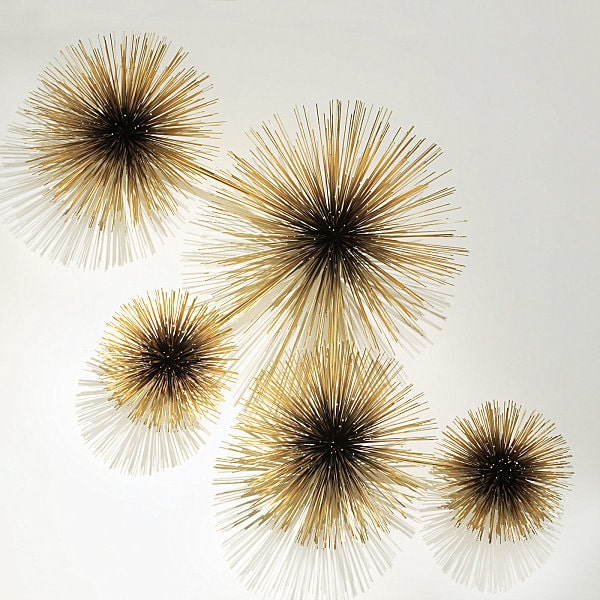 C. Jeré Urchin by Jonathan Adler
Designs made in the style of the Middle Ages are no less popular in this environment. Unusual shapes and intricate images attract attention and interest.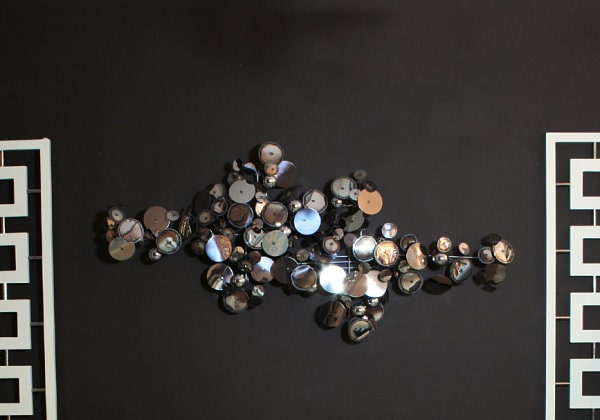 Raindrops Sculpture, Jonathan Adler with C. Jeré studio
Irresistible imagery will provide a unique atmosphere in the dining room. The next example also has a gold and silver tint and consists of metal plates with curved edges.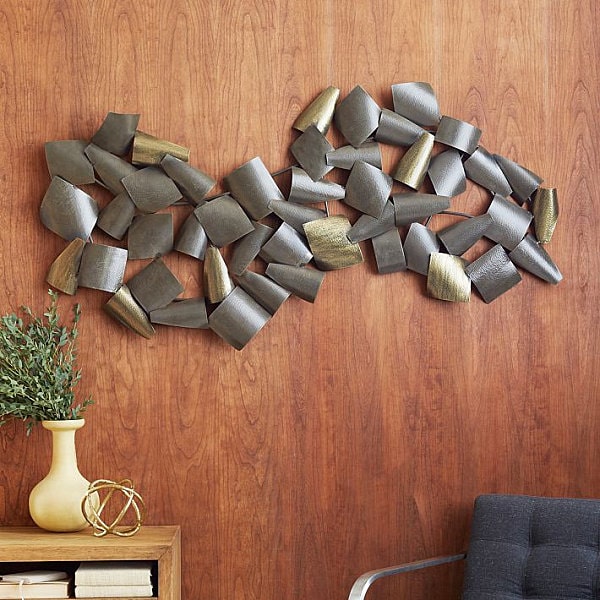 Contemporary art from West Elm
A variety of shapes will allow you to create a unique combination. By combining golden needles, you can get a cute set.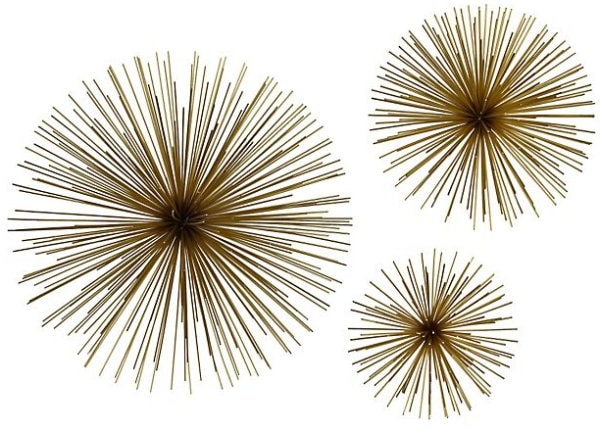 Scoppio by Z Gallerie
Brass looks no less brilliant, and if you create such amazing shapes, and they create a kind of art installation, you will get a unique work. Original geometric shapes made of copper wire are a stylish decoration of the dining room wall.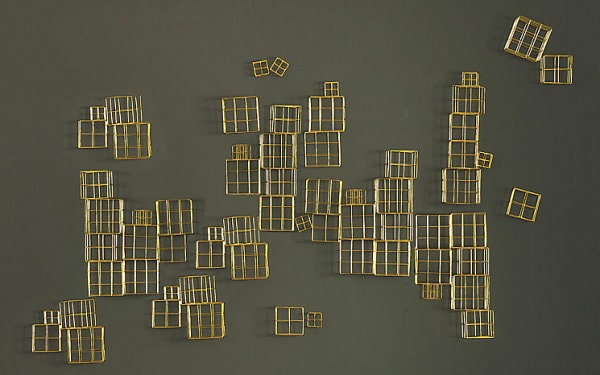 3-Piece Brass Wire Cube Set for CB2