What the first thing comes to your mind when someone says the word "luxury"? For most people, it is something expensive. Also, luxury means something comfortable and enjoyable. However, some people associate it with unnecessary things.  Do you know what it's for you? We've found the most impressive luxury dining room sets. We will describe them below.
Contents:

Classic Luxury Dining Room Sets
Have you ever visited a castle? If you haven't been yet, you should do it. Any castle will impress with its powerful energy. Of course, classic luxury dining room sets can bring this strong inspiring energy into any apartment. Such furniture always has some of these features: carved legs of chairs and tables, embroidery, golden decorations, and high quality of materials. Also, the creation of it is very labor-intensive work.

Oak is the most solid and noble material with unique shades. However, oak furniture is heavy and quite expensive. Of course, it's resistant and durable. Undeniably, pendant light with candelabra-base sockets and lengths of crystal beads looks gorgeous in a classic interior. Golden-red upholstery works perfectly with varnished furniture.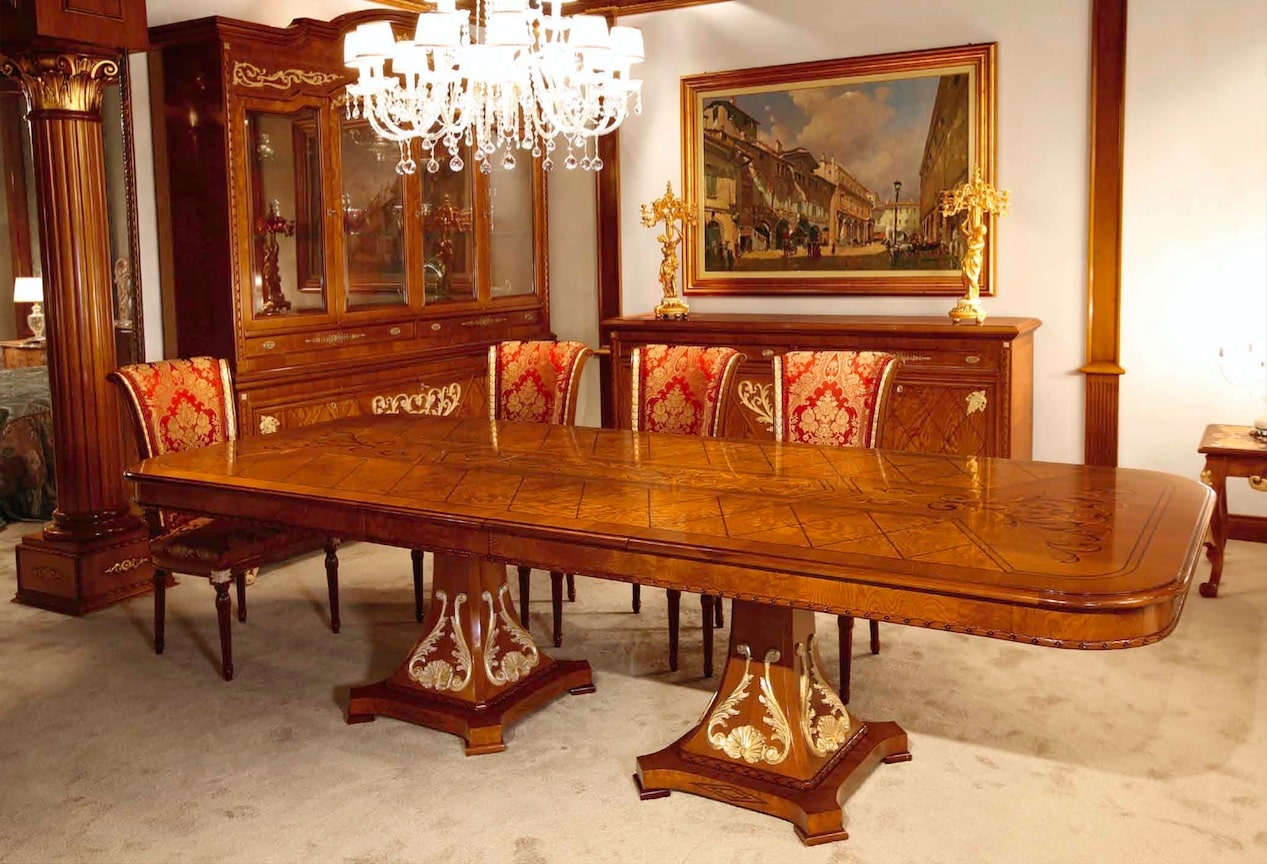 This stunning dining room set brings a relaxing atmosphere.  In addition, crystal chandelier fills a space with sparkles. Brown curtains absolutely match to the cabinet and the mirror frame.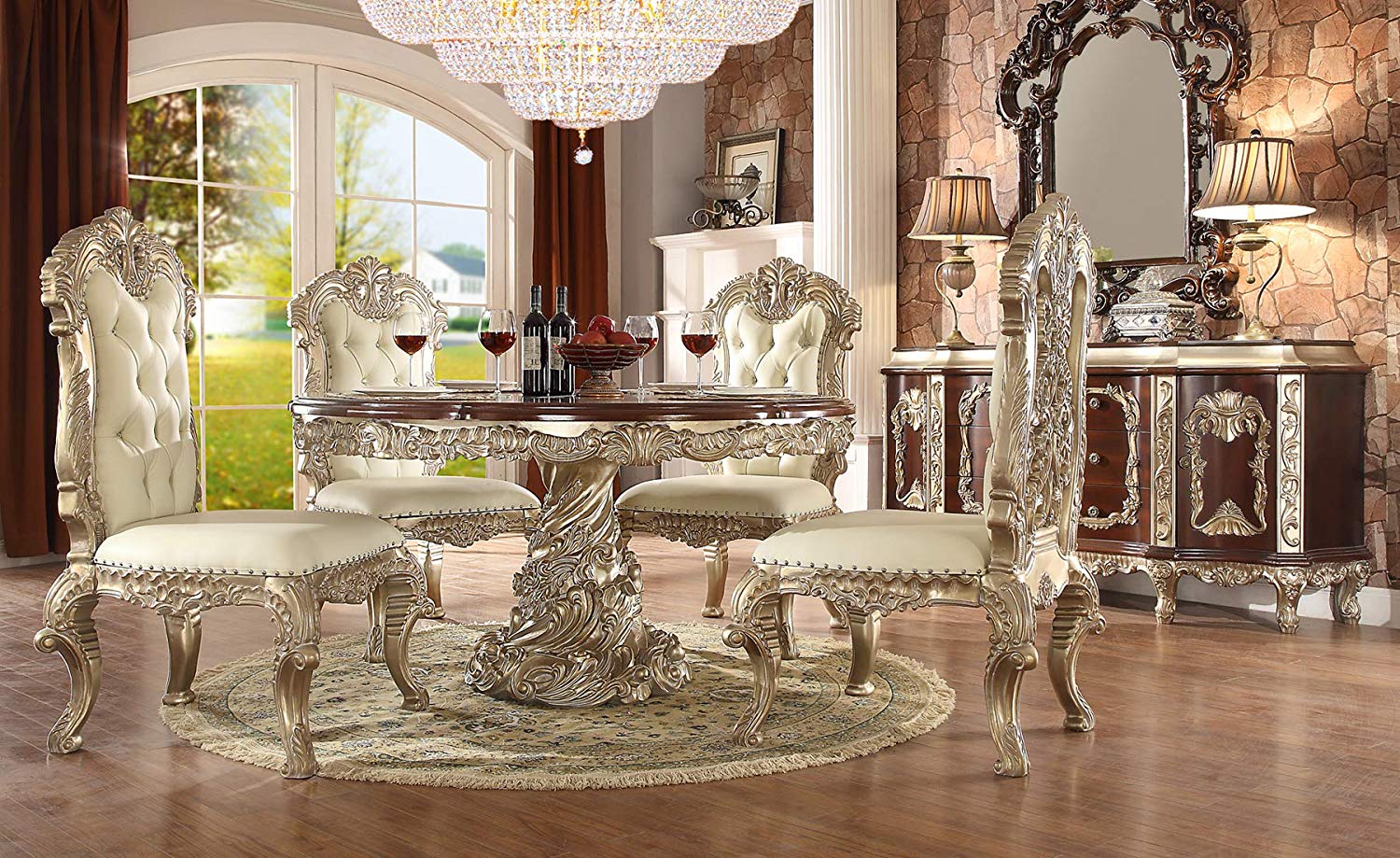 The gray color is ideal as a backdrop for any interior. This color emphasizes the beauty of white with golden shades carved furniture. Marble columns make the interior even more luxurious.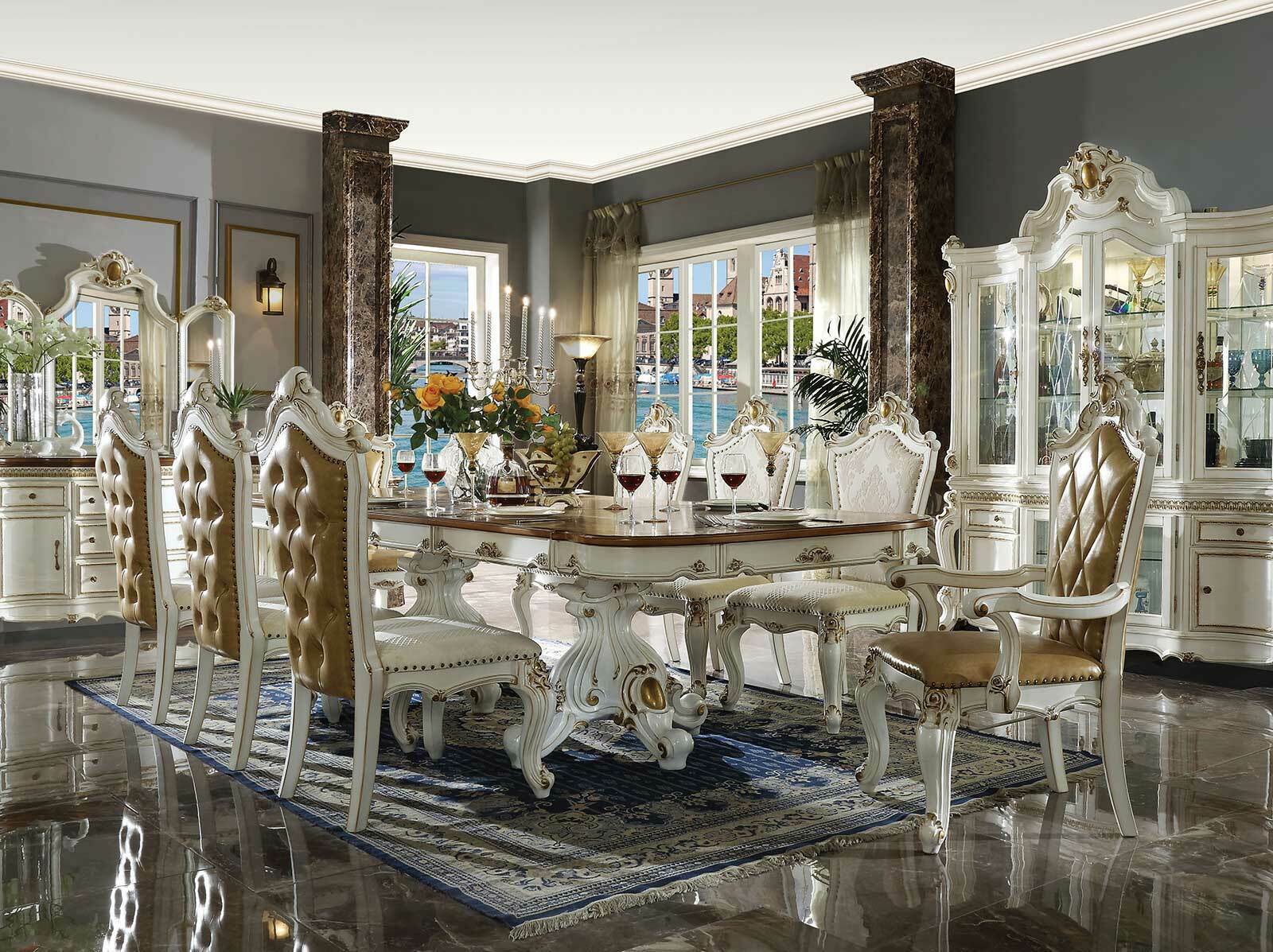 This magnificent dining room set is made of walnut. It's decorated with natural amber. Of course, such a work of art is worthy of the royal place. It's hard to imagine how much time was spent creating elements from amber.

Is luxury things always sophisticated? As for me, luxury is a simple comfortable thing. Such an interior fills you with positive energy and don't grab it back. Expensive furniture needs servants to keep it in good condition.

Nothing can be so beautiful and luxurious as the colors of nature. Beyond all doubts, these handcrafted tables prove this. In particular, epoxy resin of different colors makes them look fantastic.

A Marble Table in a Dining Room Sets
The marble looks delightful as an element of a table. Also, natural material does not emit toxic substances. It is not an allergen. Marble worktops keep their pleasant coolness even on hot days. You should remember, if you forget to wipe the drops of red wine, fat or coffee from an unpolished marble surface, it may change color. Also, the marble surface is not resistant to acids. Therefore vinegar or lemon can harm it, any droplets and slices are enough. To return it to its former beauty, you can order sanding and polishing marble surfaces.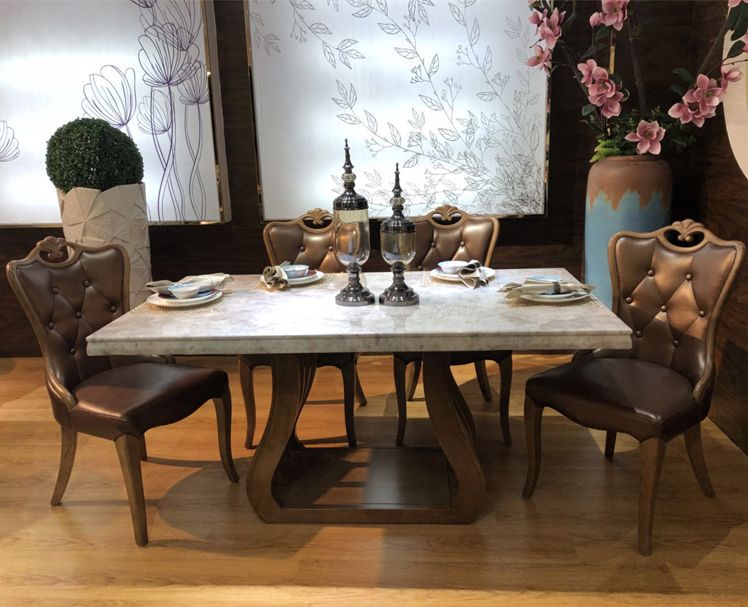 Carved wooden chairs with leather upholstery give an aristocratic look to the apartment. While chairs in steel frames combined with a marble table create a more modern look.

Modern bronze pendant light enhances the stunning atmosphere of the room. Beige leather chairs enliven a gray marble design.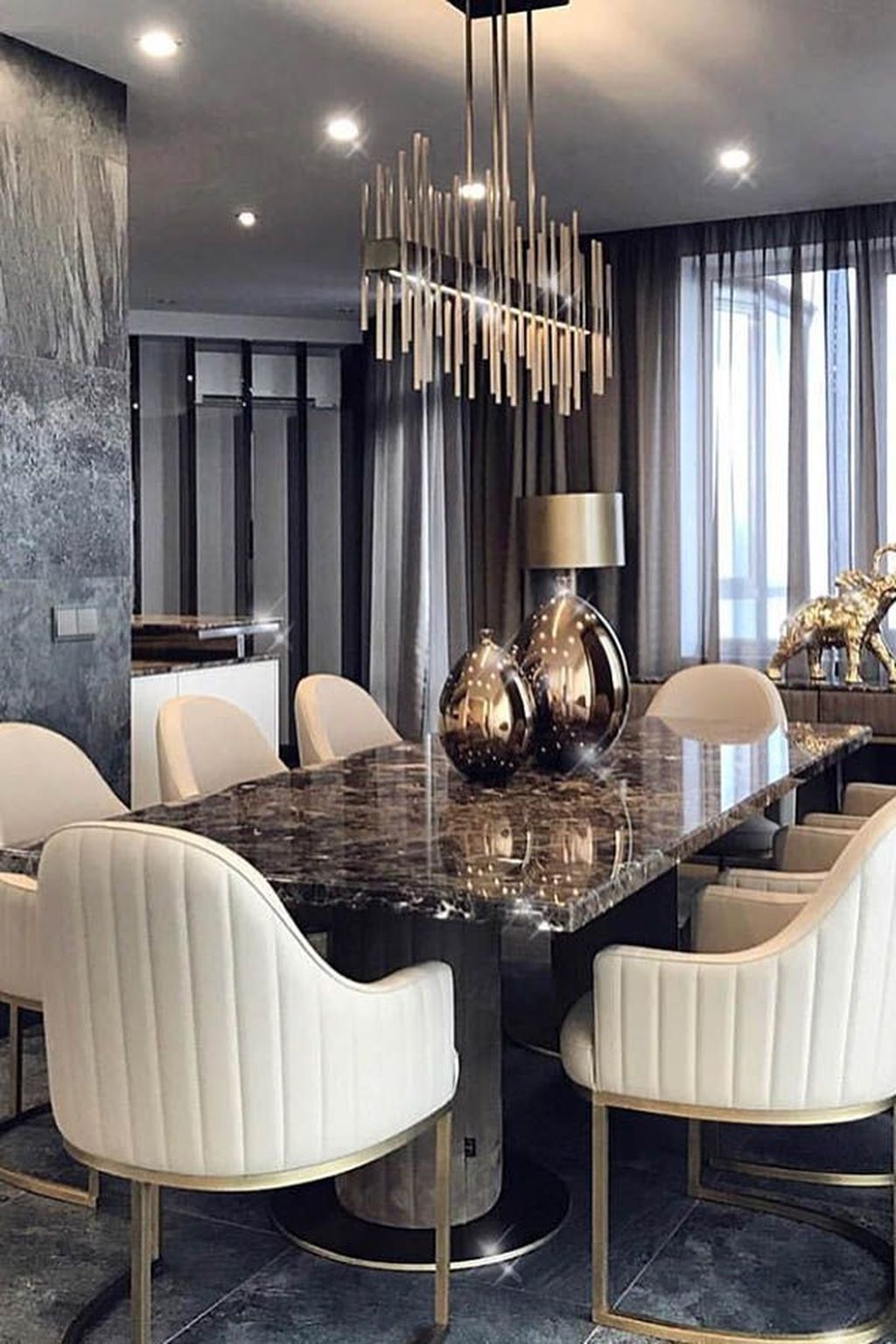 Modern Furniture
Here are some examples of modern luxury furniture. It looks simpler and lighter than classic. It goes without saying, life becomes more complicated and people want a simpler home interior. Of course, such dining room sets are made of high-quality materials.

If you choose a round or oval table, you create a more friendly and calm atmosphere during your mealtime. White grayish pink upholstered chairs match great with gray marble and the same color rug. Houseplant makes this interior cozier. You can make space brighter using a combination of saturated colors, for instance, to add black and orange chairs.

Metallic bronze tile as a focal wall plays a golden black dining room set up. At the same time, a black and white rug accentuates its golden elements. The furniture of neutral colors always looks awesome. You just can change some vibrant details like flowers or curtains and you will have almost a new design.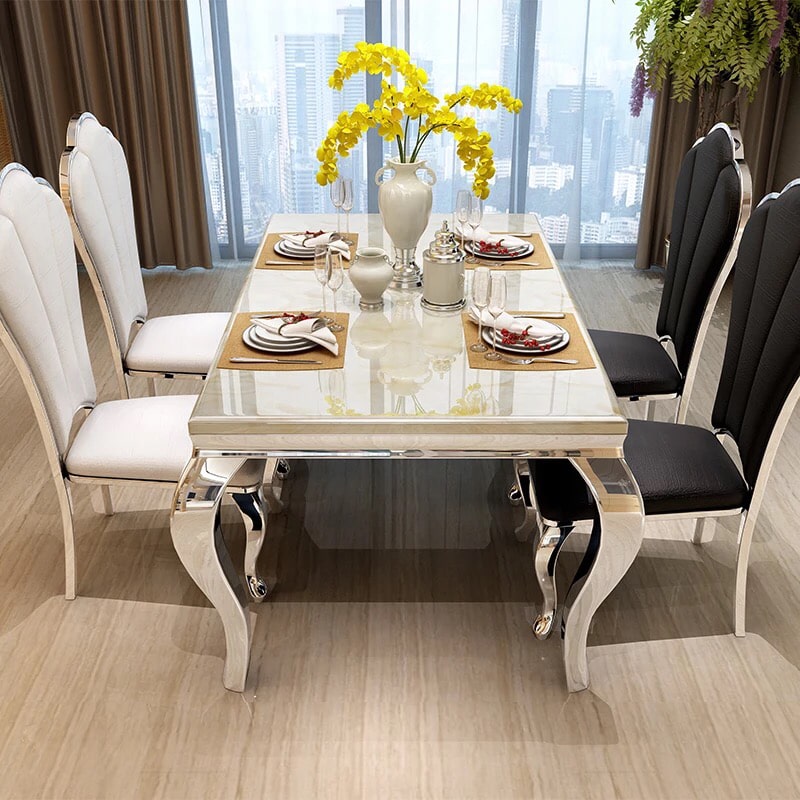 The apartment design in neutral colors is strict yet delightful. This impressive white dining room set is sophisticated and glamorous. Moreover, a spherical pendant light softens the interior.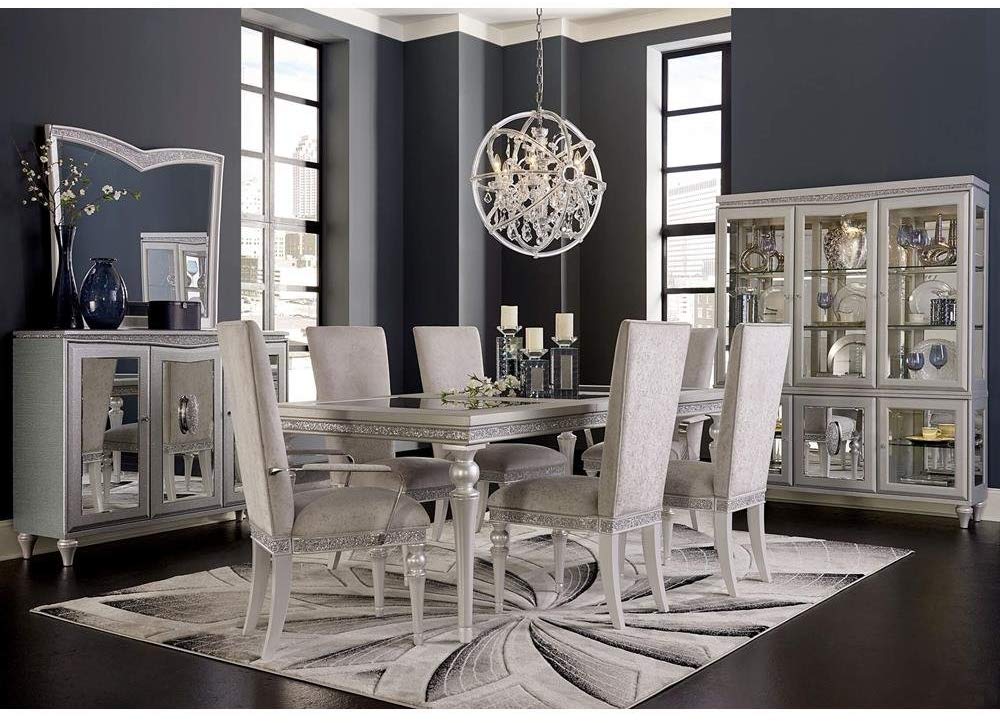 The price of described luxury dining room sets is from 1,500$ to 29,999$. Which one do you think is the most expensive?