A chandelier is an indispensable lighting fixture in every home. It also often serves as an excellent accessory that not only complements the interior but is often its main decorative element.
Contents: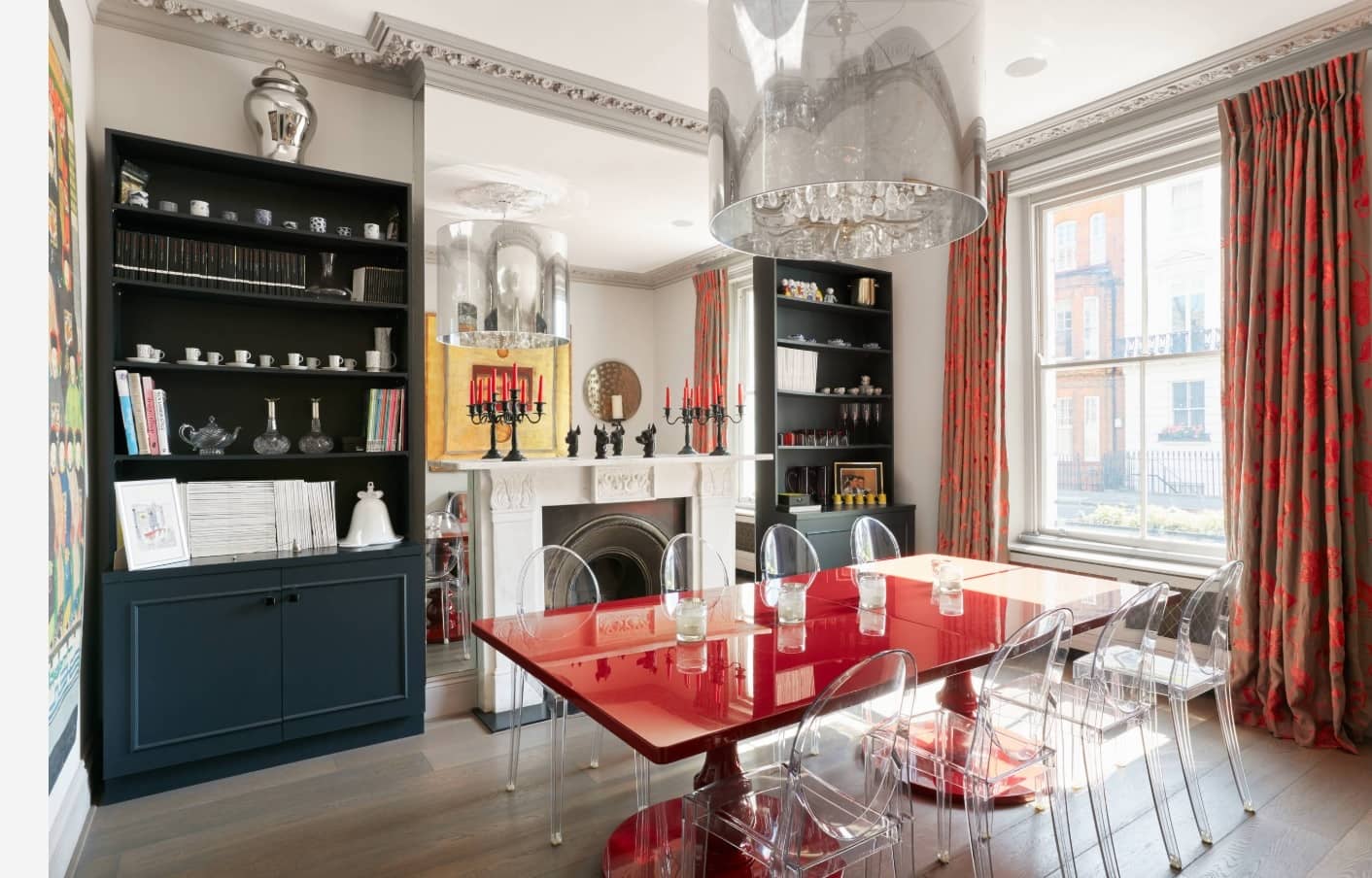 In some cases, the chandelier can dictate the design conditions for the entire interior.
So, where did the chandelier fashion come to us from and how did they appear?
A Brief History of Chandeliers
It is believed that the word "chandelier" came to us from French and means "candlestick". This lighting device was invented around the 16th century when the active extraction of natural crystals began and gradually gained wide popularity.
Large crystal chandeliers suspended from the ceiling began to decorate palaces and temples more and more often. The premises achieved a completely new light since such lamps scattered much more light than candles due to crystal structure.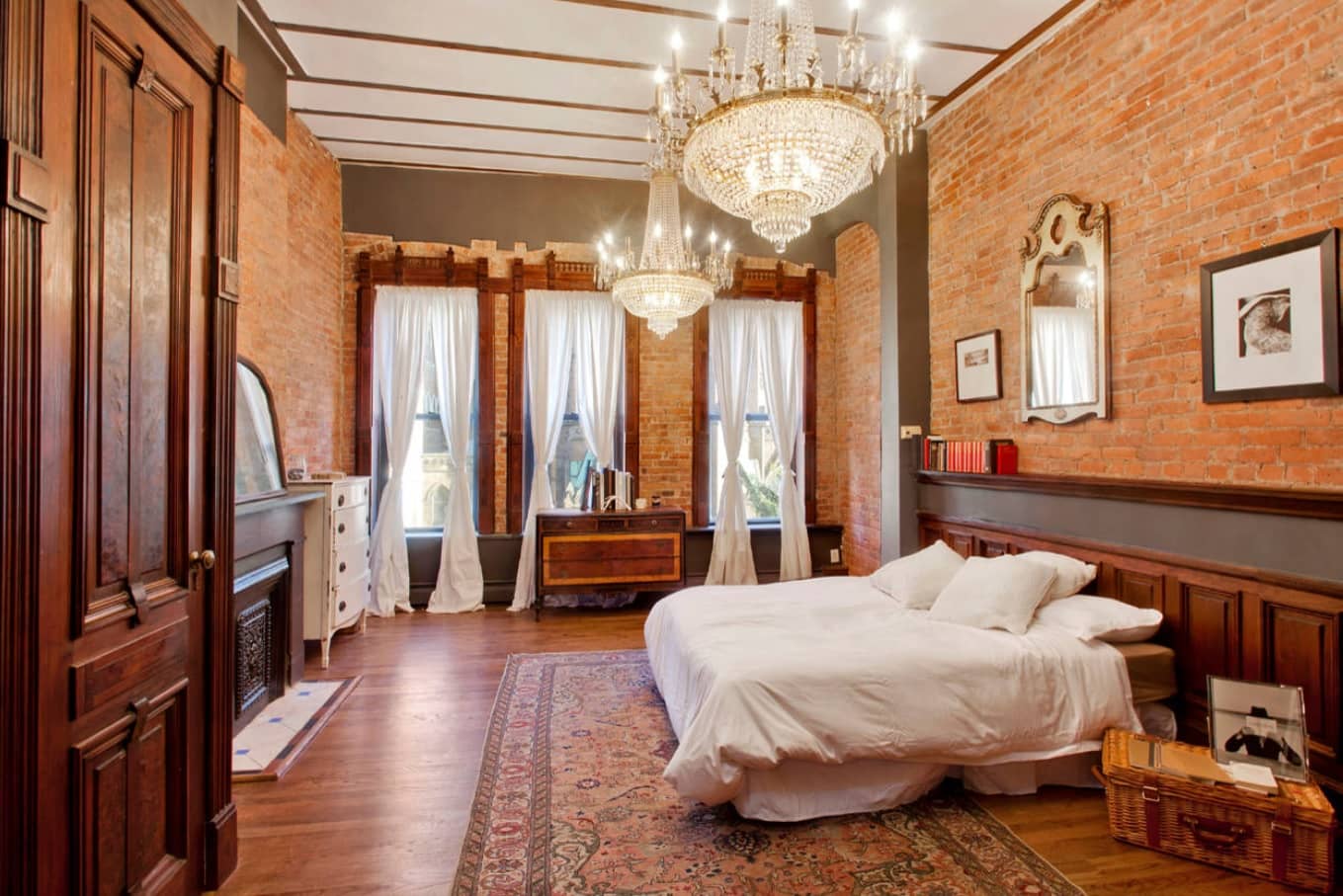 In addition, the presence of crystal decor in the interior emphasized the status of a person, because in those days the crustal decoration was considered a luxury that only the upper layers of society could afford.
The name for these designs appeared later, in the 17th century. At first, the word "luster" meant only crystal lamps; "chandelier" was the name of candlesticks but soon all the other suspended-from-ceiling lighting devices began to be called so.
Since the discovery of electricity, the structure and the materials used to make chandeliers have changed a lot. Today, the market is represented by just a huge number of lighting devices. Including chandeliers in different styles and for every taste, but, nevertheless, crystal ones, as it was those times, are the most expensive and luxurious ones.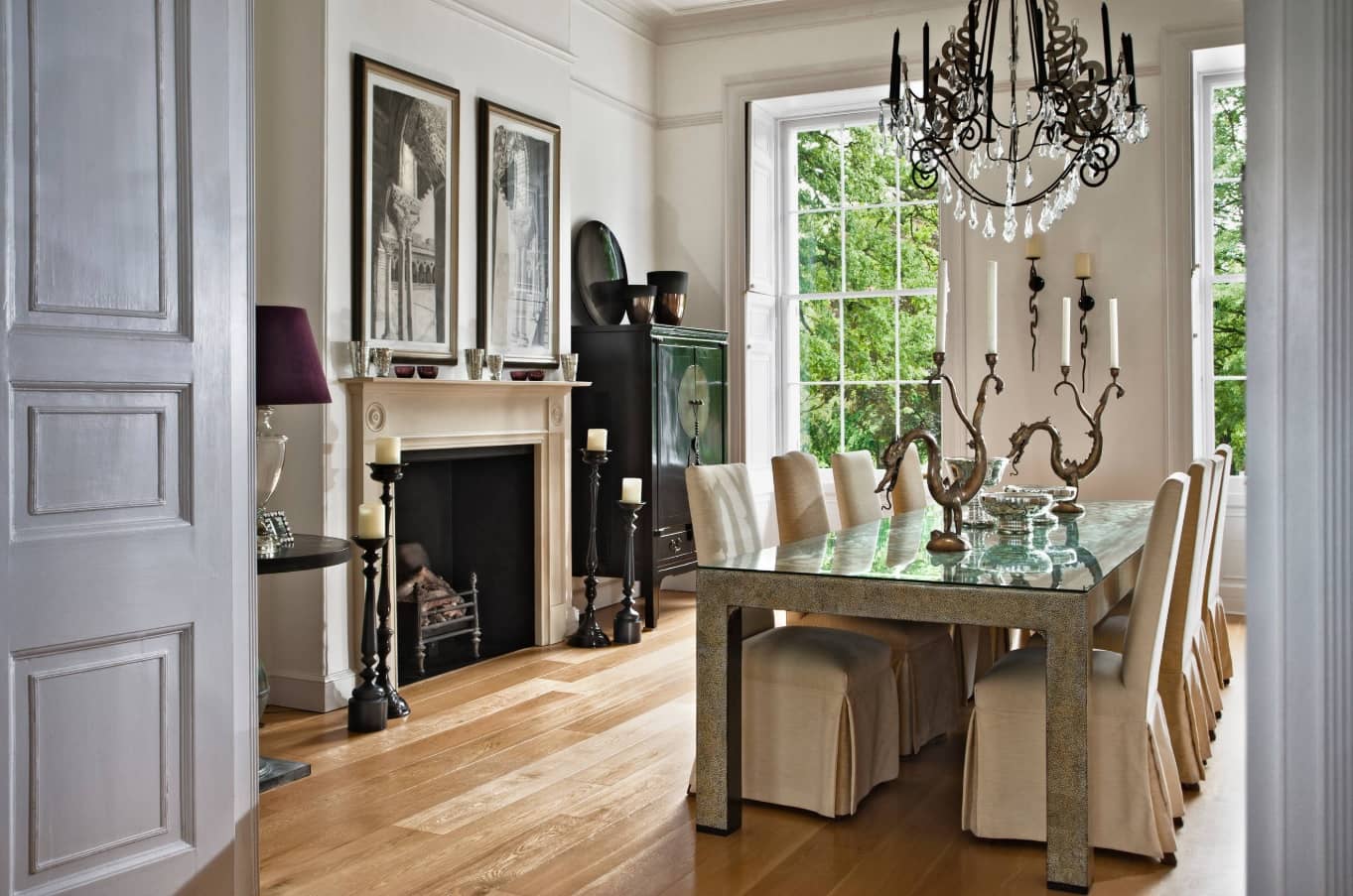 Choosing the right chandelier today is a hard task. The main reason is that among such an abundance of forms and styles it is very easy to get lost. In order to make it easier for you to decide, let's take a closer look at the types of chandeliers and their features.
Pendant Chandeliers
Pendant chandeliers can have one or several lampshades and are used for general lighting. They are attached to the ceiling with a cord, string, or chain.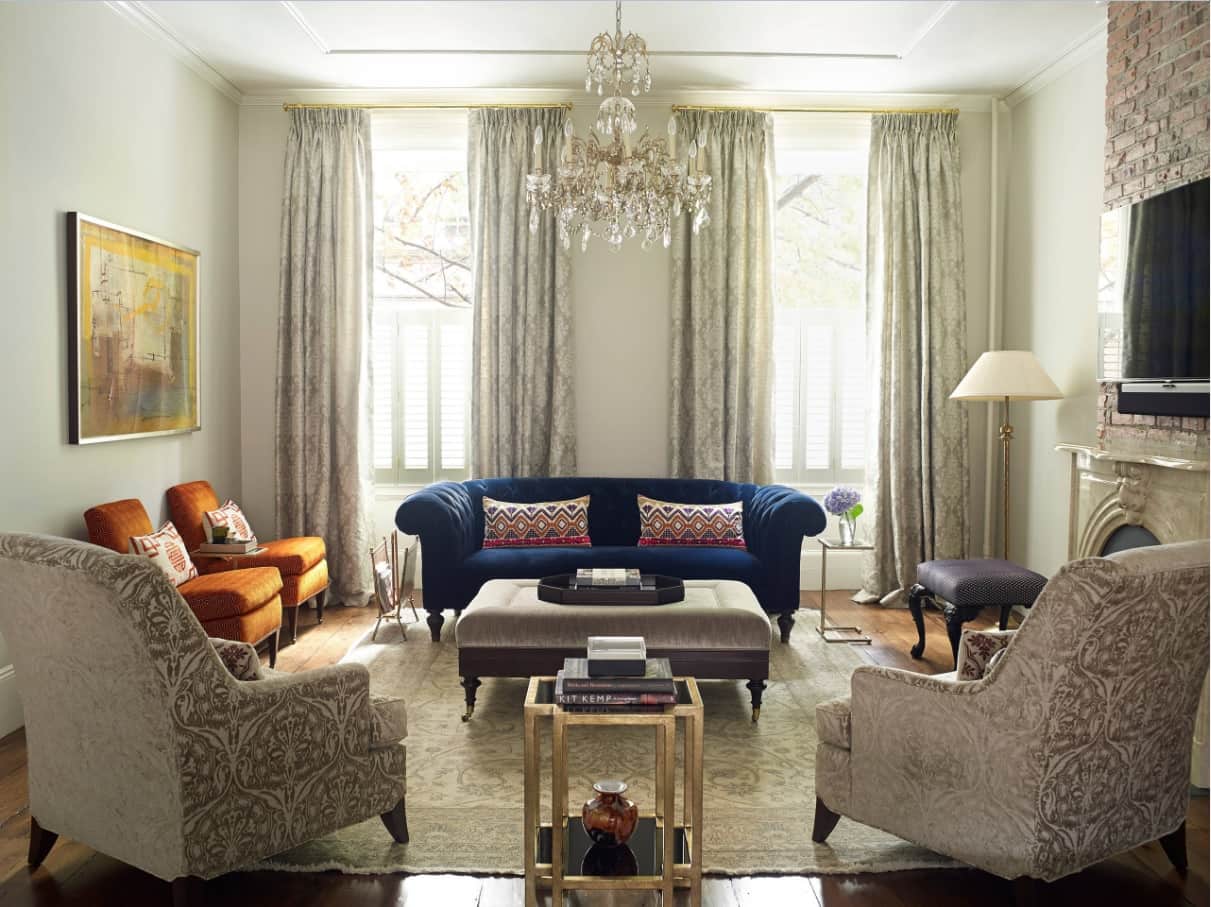 Most of the models have shades made of glass. But recently modern styled chandeliers can often have plastic and even fabric lampshades with bright colors of the most inconceivable shapes.
Crystal chandeliers are also not inferior to modern ones in popularity. They still fill the classic interiors with luxury and emphasize the status of the owners of the house.
In general, suspension chandeliers are used quite widely, because they have a variety of shapes and are great for any type of room. The only thing to note is that this type of chandelier is quite bulky and takes up a lot of space, so they look best in spacious rooms with high ceilings.
Ceiling Chandeliers
Ceiling chandeliers fit small rooms most successfully. They differ from the previous type in compactness, since, as a rule, they have one or several small shades of round, square, rectangular, or other shape and are mounted directly under the ceiling.
Such a chandelier does not give as much light as a pendant one, so it is most often used to illuminate a bathroom, hallway, loggia, corridor, or pantry where it does not take up much space.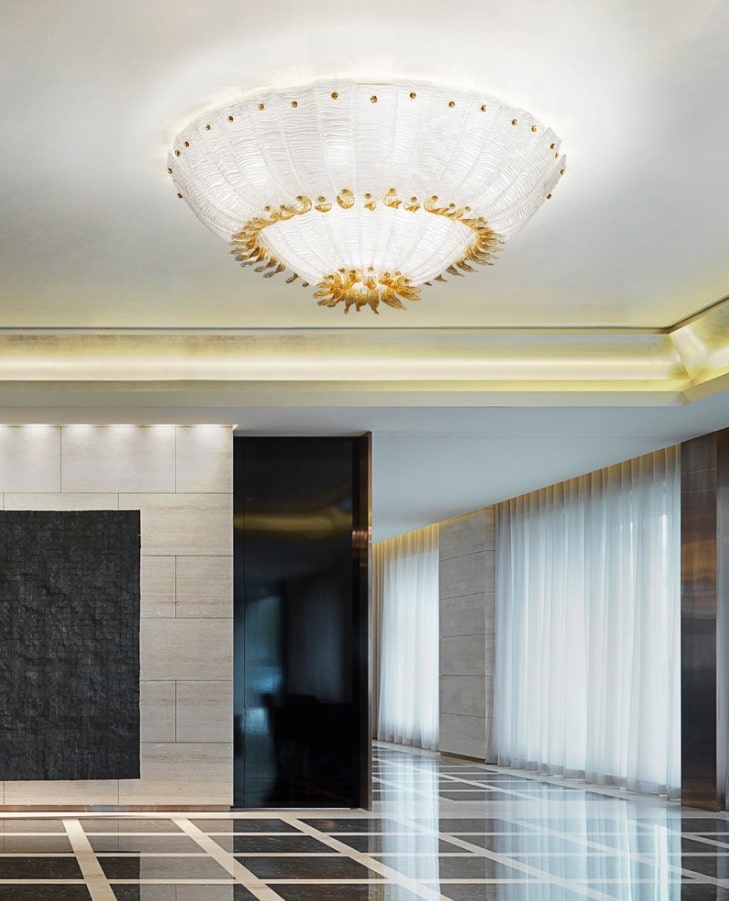 The only con of ceiling chandeliers is that to replace the light bulb you have to climb to the very ceiling and remove the lampshade.
Ceiling chandeliers fit perfectly into the interior decorated in a modern or minimalist style, as well as in the style of pop art or contemporary.
Recently, colored shades have also been very popular, but when acquiring such a model, do not forget that color greatly affects our mood and well-being.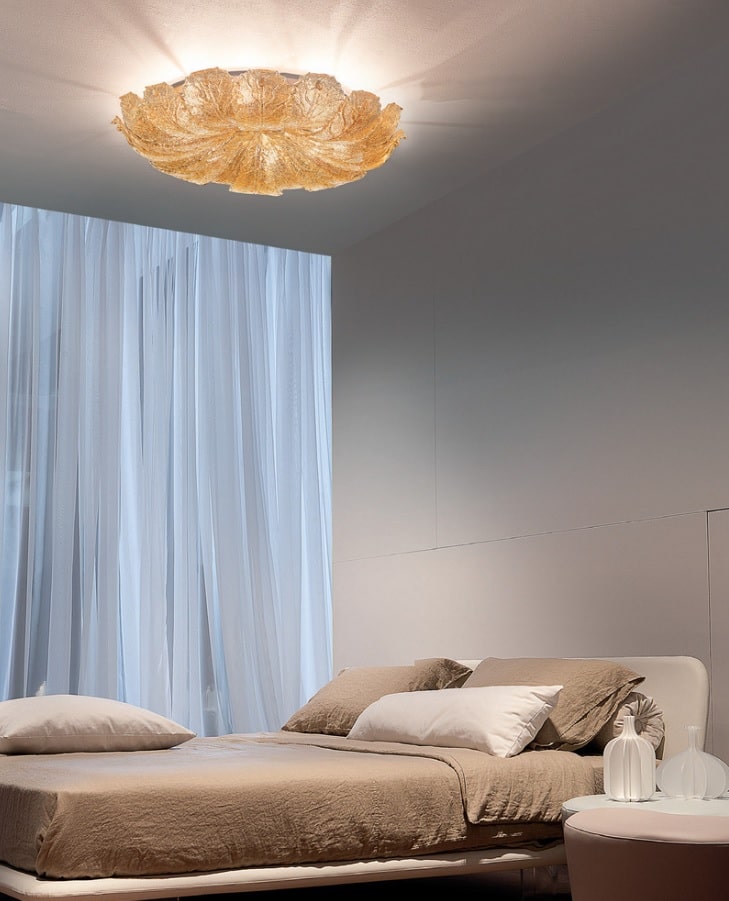 In addition to the principles of ceiling mounting, chandeliers can also be divided into different types according to their appearance and design. In order to choose the right chandelier in a certain interior, you need to understand their classification by style.
Chandeliers in a Classic Style
The classic style of chandeliers always emphasizes the impeccable taste of the owners and their status. Classic chandeliers are often considered the indicator of luxury and wealth. The materials for classic chandeliers are usually expensive. It can be:
copper;
silver;
gold;
valuable wooden species;
crystal;
natural stones.
Such chandeliers most often decorate neoclassical interiors as well and are often their main decorative element. They create a very pleasant soft light that fills the room with a relaxed atmosphere.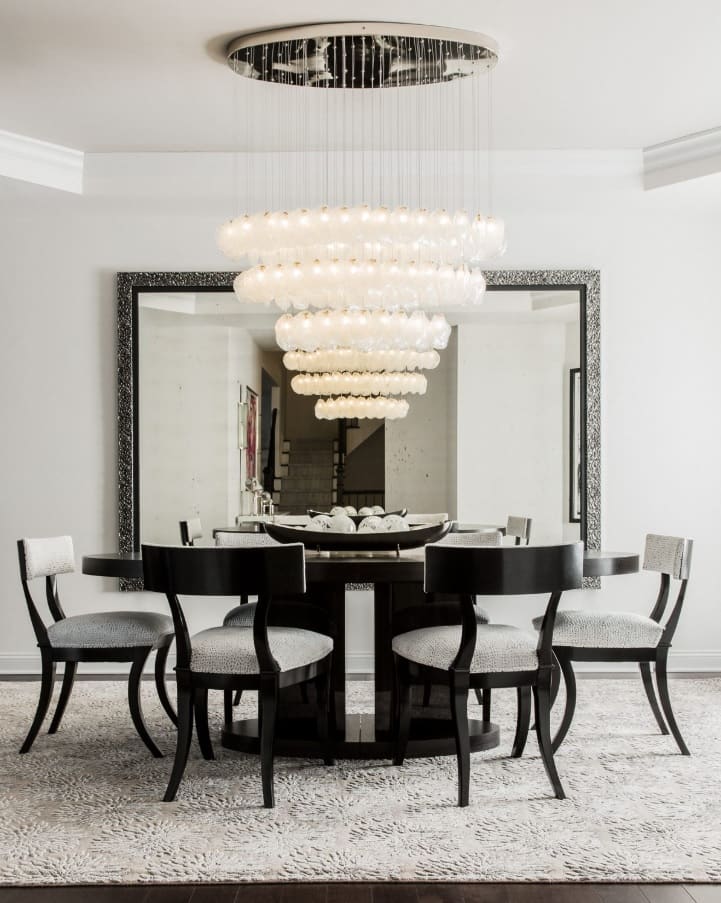 Art Nouveau and Art Deco Chandeliers
Art Nouveau chandeliers are distinguished by curved lines and abstract shapes. Technological progress allows us to constantly experiment with materials, and this is what has become the source of ideas for this style.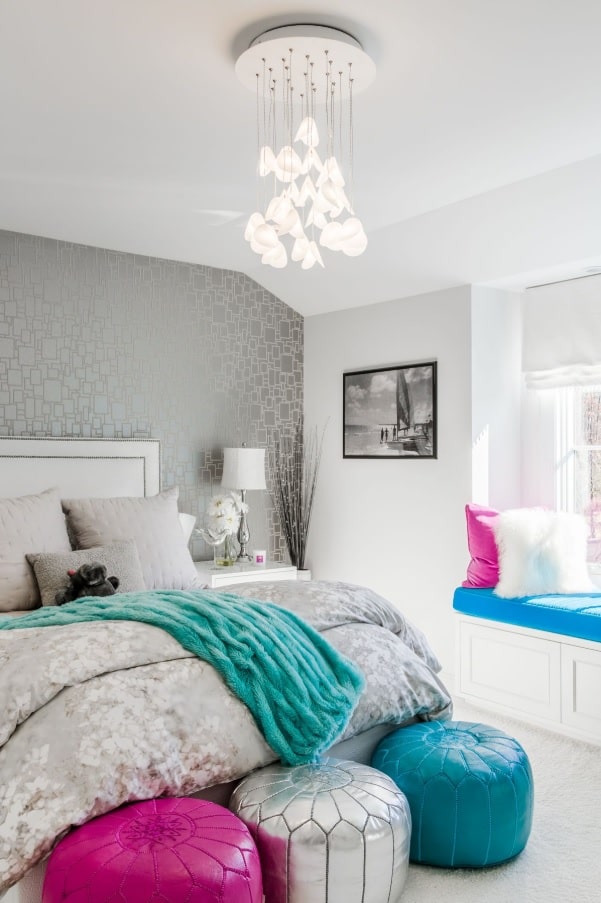 Art Nouveau-style chandeliers are a bit strange and unusual, but this makes them so attractive and special. Despite certain pretentiousness and inconceivable forms, such lamps will definitely become a highlight of any interior. And graceful paintings on lampshades in the form of geometric patterns, flowers, or symbols will complement the overall picture.
Art Deco, in turn, combines elements of Art Nouveau and Neoclassicism. Its features are expensive materials and functionality.
For chandeliers in the Art Deco style, the form and design itself are most important than other decorating elements such as painting. These lamps look impressive and most often decorate rooms in the style of neoclassicism, fusion, and, of course, their native Art Deco style.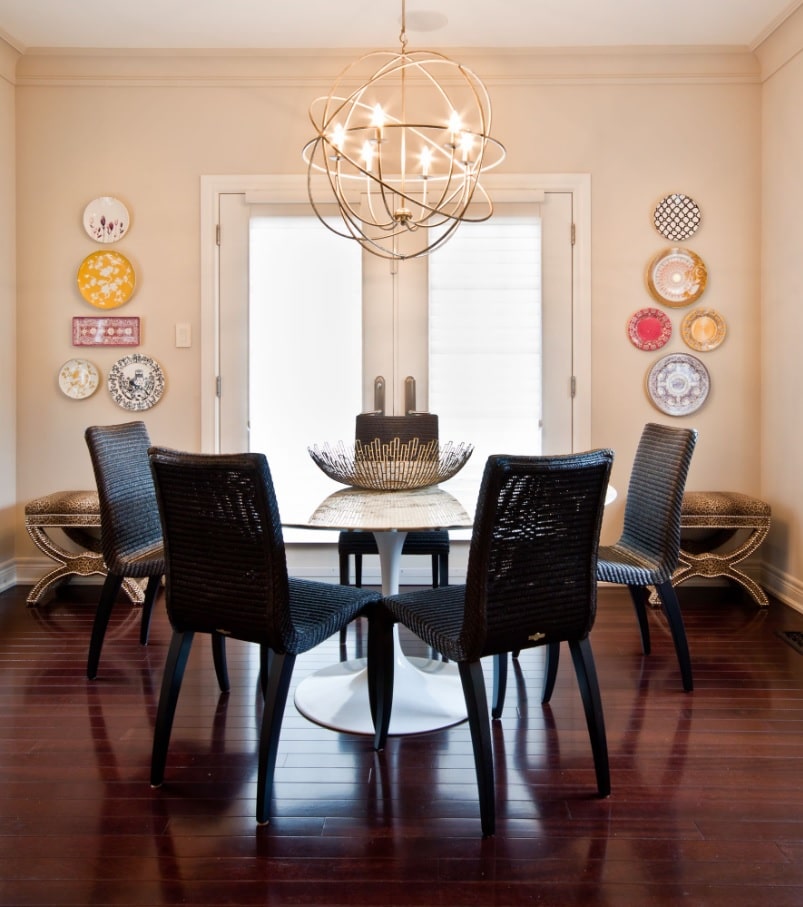 Curved lines, unusual shapes, and a luxurious look will always create a festive atmosphere in the house.
High-tech and Minimalism Chandeliers
Minimalism and high-tech chandeliers can be described as the most pragmatic and functional. For their manufacture, as a rule, metal, plastic, and glass are used.
They differ from other species in their maximum simplicity and conciseness in form. Another feature of this style is the open elements of the ceiling mounts, wiring, as well as the absence of any decor.
High-tech lamps should be as functional as possible and give a lot of light, so you can often find models with open shades among them.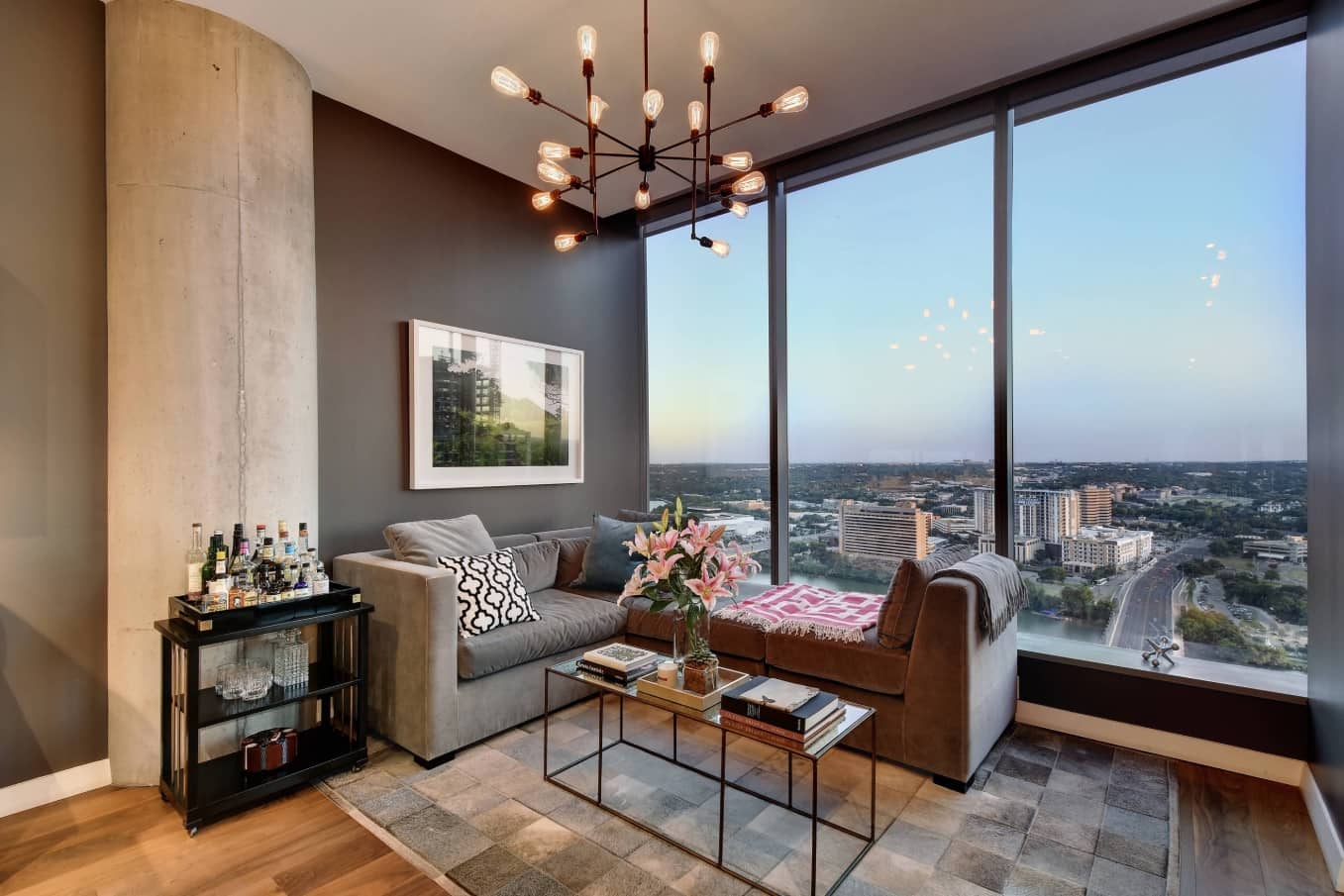 Lamps of this type will perfectly fit into any modern interior and emphasize the desire of the owners to keep up with the times.
Baroque Chandeliers
Baroque style is characterized by all kinds of curls and monograms. It dates back to those times when candles were actively used for lighting, which is why massive baroque chandeliers fill the room with the special atmosphere of royal palaces.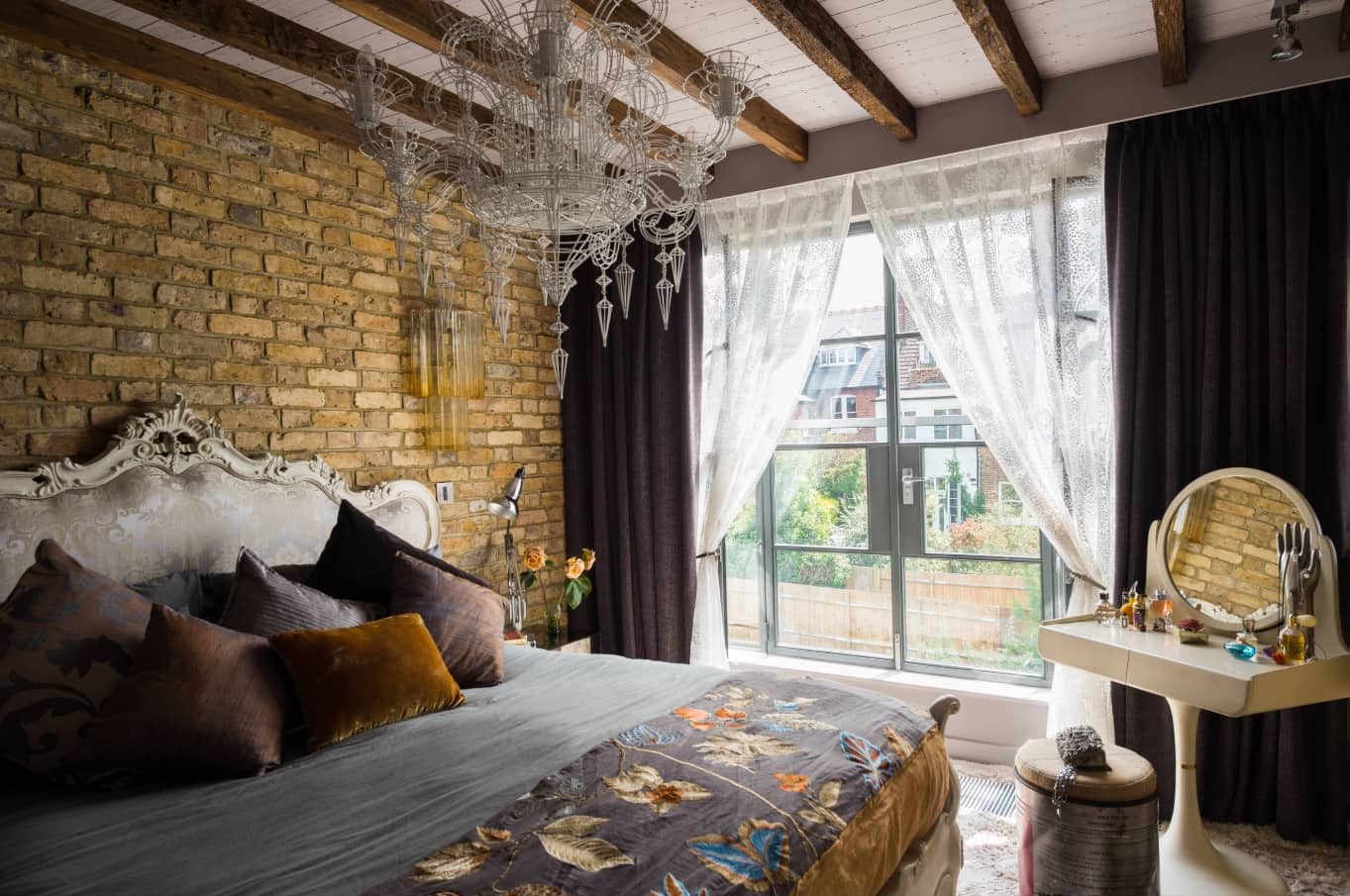 As a rule, such chandeliers are distinguished by a huge number of gilded details and decorate luxurious interiors in the Baroque and Rococo style.
Tiffany-style Chandeliers and Floral Lamps
Tiffany is more likely not a style but a technique. It is named after the designer and art nouveau artist Louis Comfort Tiffany. It was he who invented the method of combining various pieces of glass into one whole picture.
Chandeliers made in the style of Tiffany will certainly become a real highlight of your interior because their unique design will not leave anyone indifferent.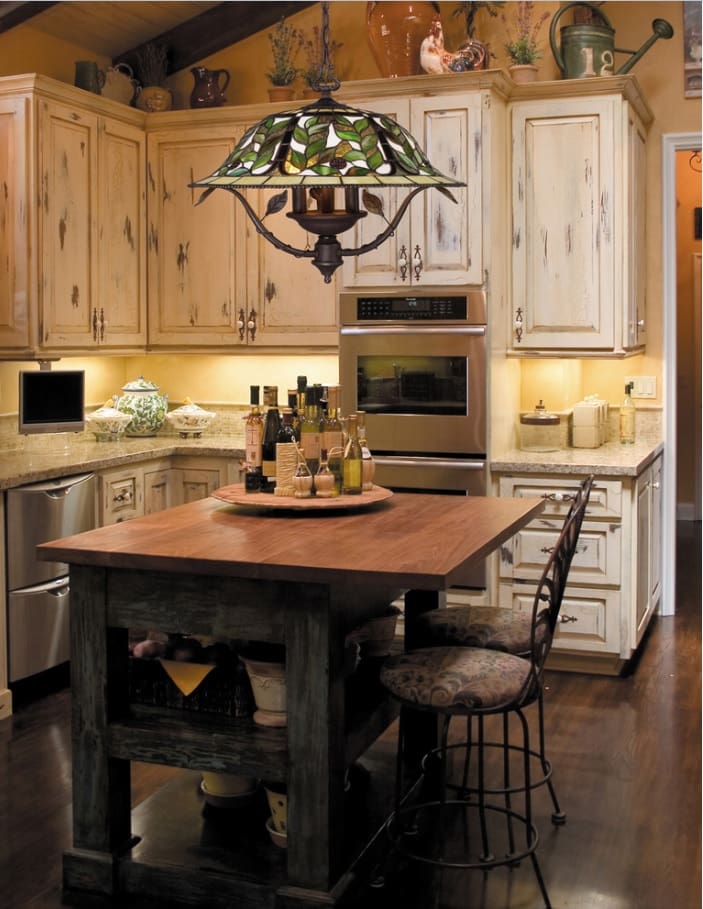 Chandeliers in floristic style, in turn, have gained particular popularity in the CIS countries (former USSR). They are elegant and sophisticated, as each element of the design is carefully thought out.
Lampshades are usually made of glass and have the shape of buds. They are complemented by smoothly curved armatures resembling stems.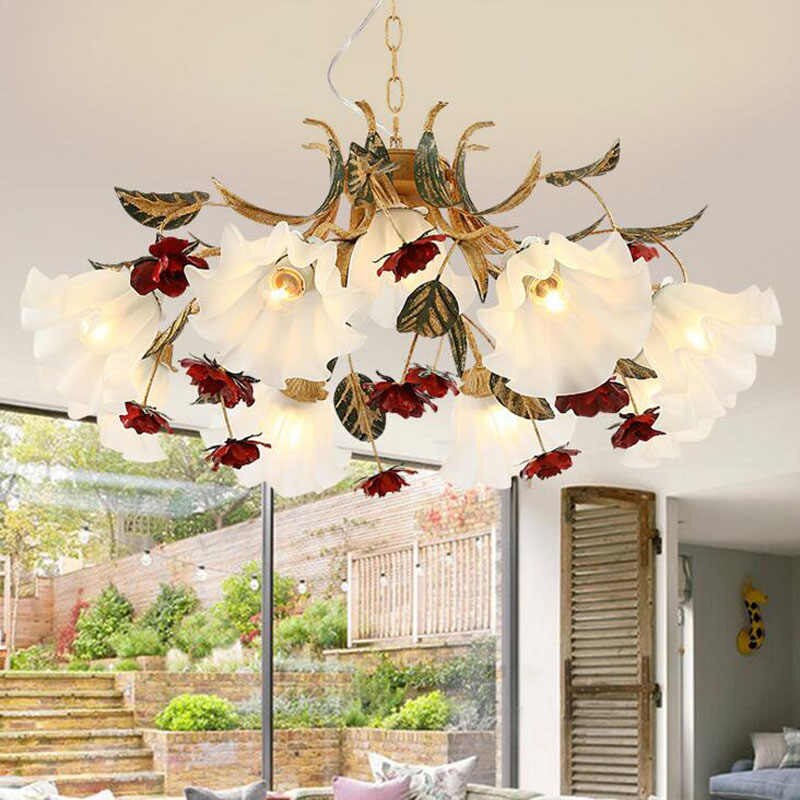 Such chandeliers are suitable for the interior in the style of shabby chic, fusion, Provence, and also fit perfectly into a room decorated in French or Japanese style.
Roundup
In general, the choice of chandeliers is very large and before making a final decision you need to think carefully and understand what exactly you would like to see in this or that interior.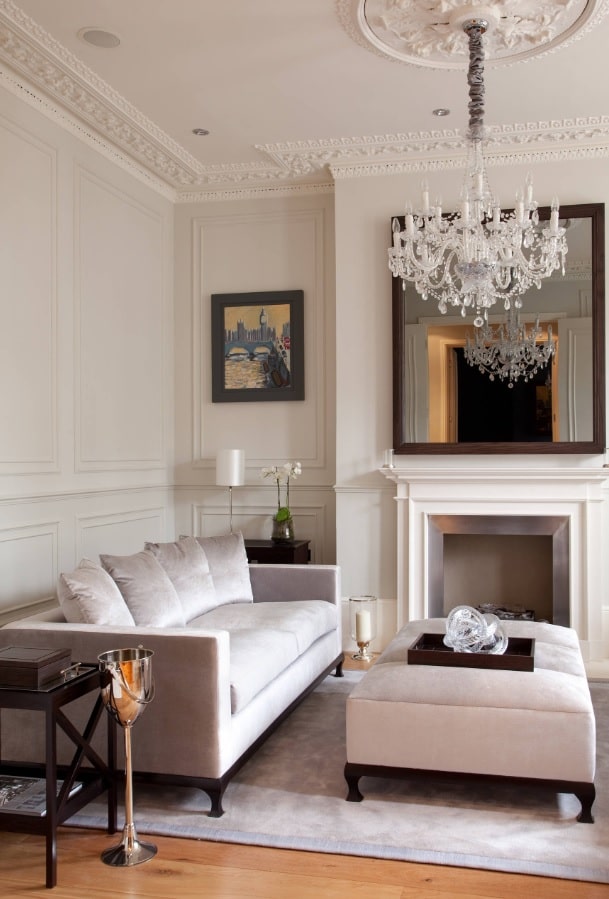 Also, do not forget to pay attention to the light that the chandelier emits and the color of the shades, because the lighting significantly affects the atmosphere in the room and your mood.