Provence style in interior design or "French Country", as it also called, is a unique opportunity to plunge into the atmosphere of ease and comfort, feel the lightness of the environment, fill your life with harmony and peace. Provence design is very popular today, and its chosen by people, who are tired of ostentatious luxury, who want to bring to the interior romantic atmosphere of rural life, and, finally, by dainty souls.
It may seem that Provence interior design style for city apartments is something alien, but that is not the case: it is able to bring light, heat, pleasant natural shades, and inspiring silence, which are lacking in the rooms of big cities.
A Bit of History of the Style Origin
"French Country" was named after the region in the southeast of France, where he began his story. The small French bourgeoisie in the 17th century was able to equip their homes in the province. In an effort to get away from the bustle of the city and the strict classics, inspired by the freshness of country life and picturesque surrounding landscapes, people began to make their homes simply, but with characteristic French elegance. The natural ease, naturalness, old-world charm – all this is reflected in the atmosphere of the interior.
The popularity of Provence interior design style began to grow quickly, especially among bohemians: artists, and writers, and by the 19th century, it became widespread throughout Europe. Nowadays, the interior of an apartment or house in Provence style attracts the attention of many people with its comfort, special energy, and atmosphere, situating to tranquility and relaxation.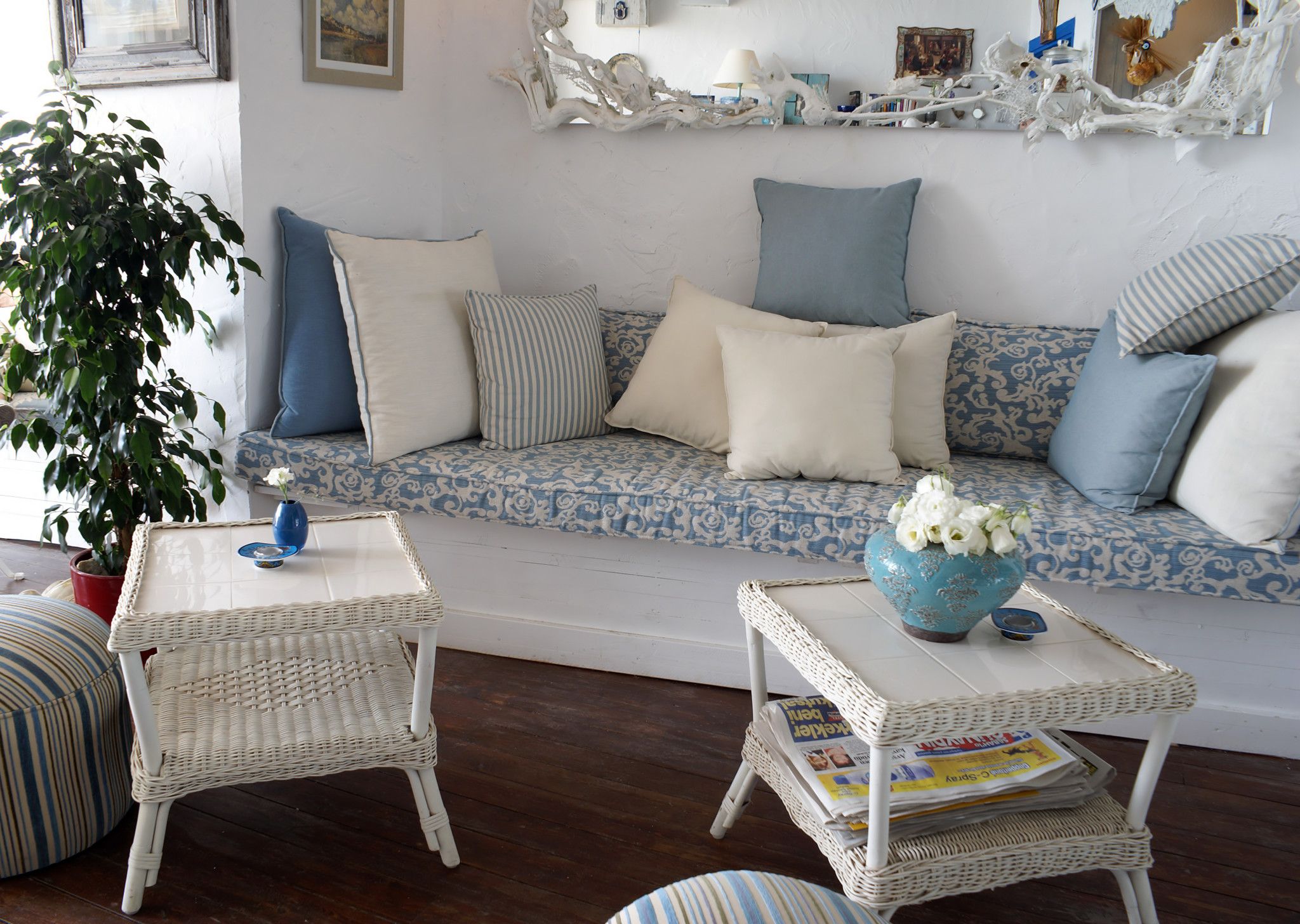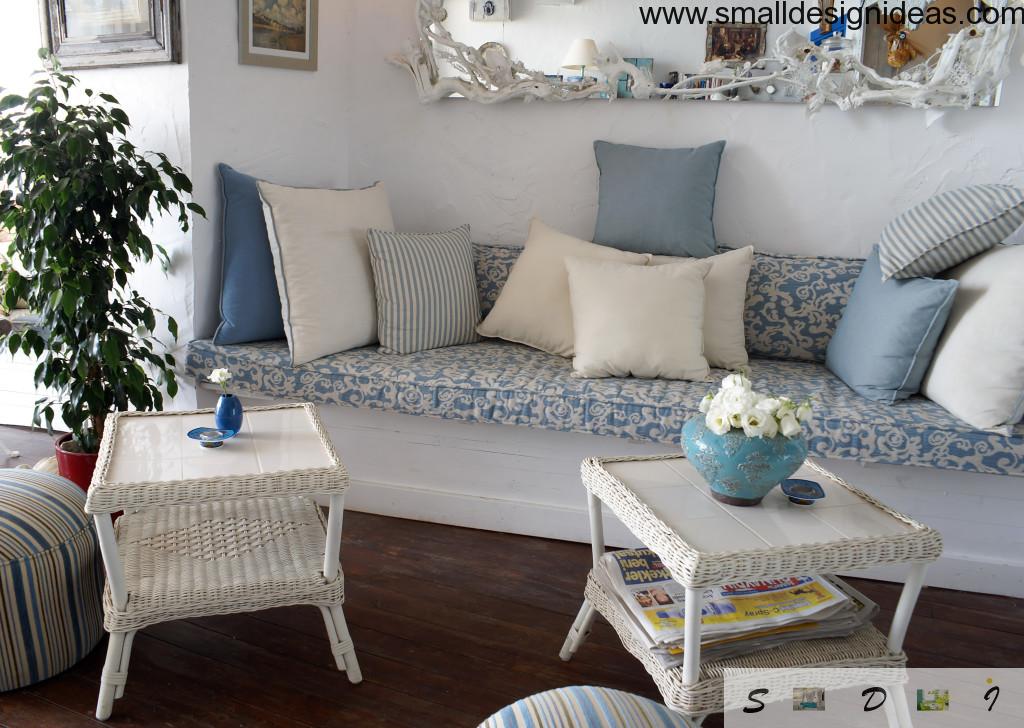 Provence interior design style
Provence style for interiors has several features, which differs it from other styles. Let`s overview them in the examples of different rooms in the apartment or in the house.
Provence Kitchen
The kitchen in the style of Provence is an incarnation of home comfort and warmth: practical wooden facades of kitchen units, light curtains with a floral motif, pots, and jars for spices. If the kitchen utensils and containers in the Provence style kitchen are better to be placed on open shelves, still the modern kitchen appliances are better used in built-in and maximally "disguised" form.
Most often the interior of the kitchen in the style of Provence uses bright, somewhat "muted colors": shades of beige, mustard, olive colors will set the mood. Shades of blue, lavender, or turquoise, traditional white or cream colors are often used for kitchen furniture. Dark furniture can be also used and in the kitchen. Such as chocolate brown or hazel one, but it is rather an exception. It is important to consider if you decide to order a kitchen using the Provence style.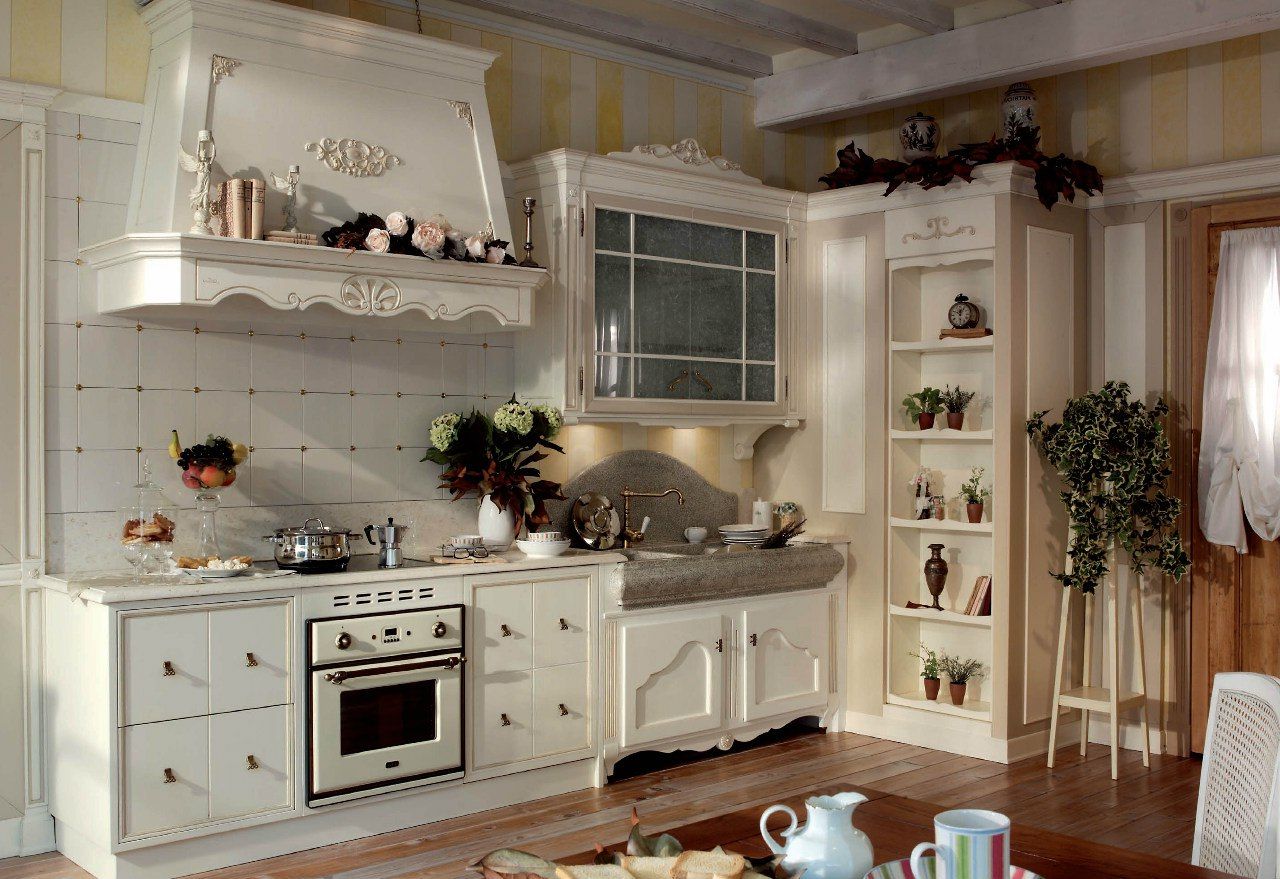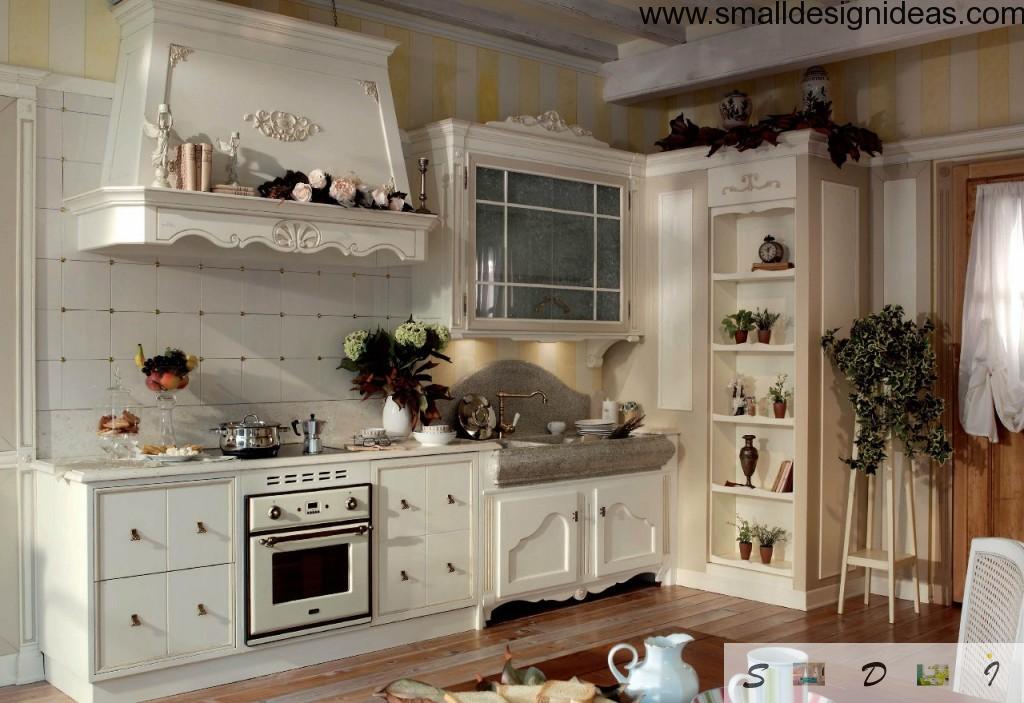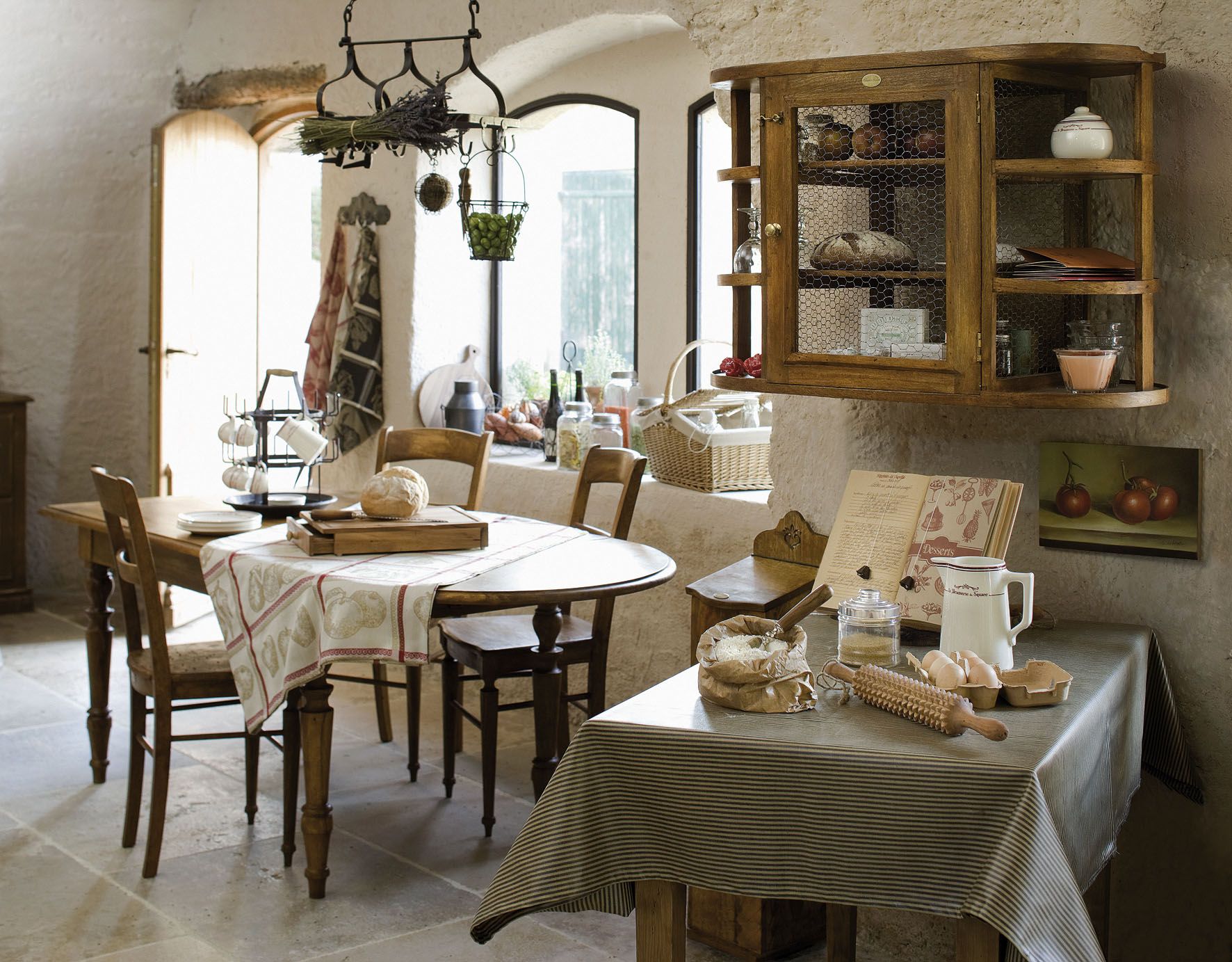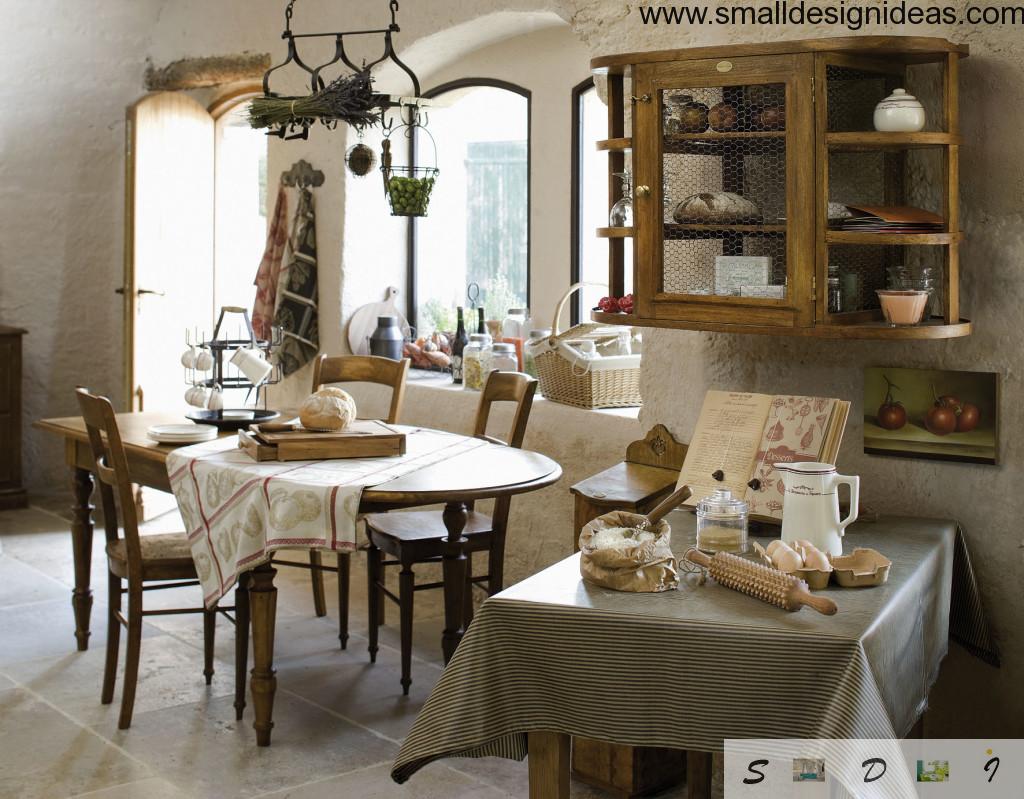 The bedroom in the style of Provence
Provence designed Bedroom – it is bright and pastel colors both for the furniture and decoration materials, and textiles. Fabrics in Provence style is very important and is picking up with special attention: it must be only natural materials. Satin, linen, coarse cotton, and calico abundantly used in the design of Provence bedrooms. As a rule, curtains, bedspreads, pillows decorated with floral patterns, less frequently used strip, and the tartan. Curtains are draped with ribbons or decorated with ruches.
Despite the fact that the style of Provence is "rustic", some sensuality, sophistication, and elegance are inherent to it. Wooden bed headboard can be decorated with carvings. Solid wood furniture can be "easier" with air canopy. Also, you can put a forged bed into the bedroom.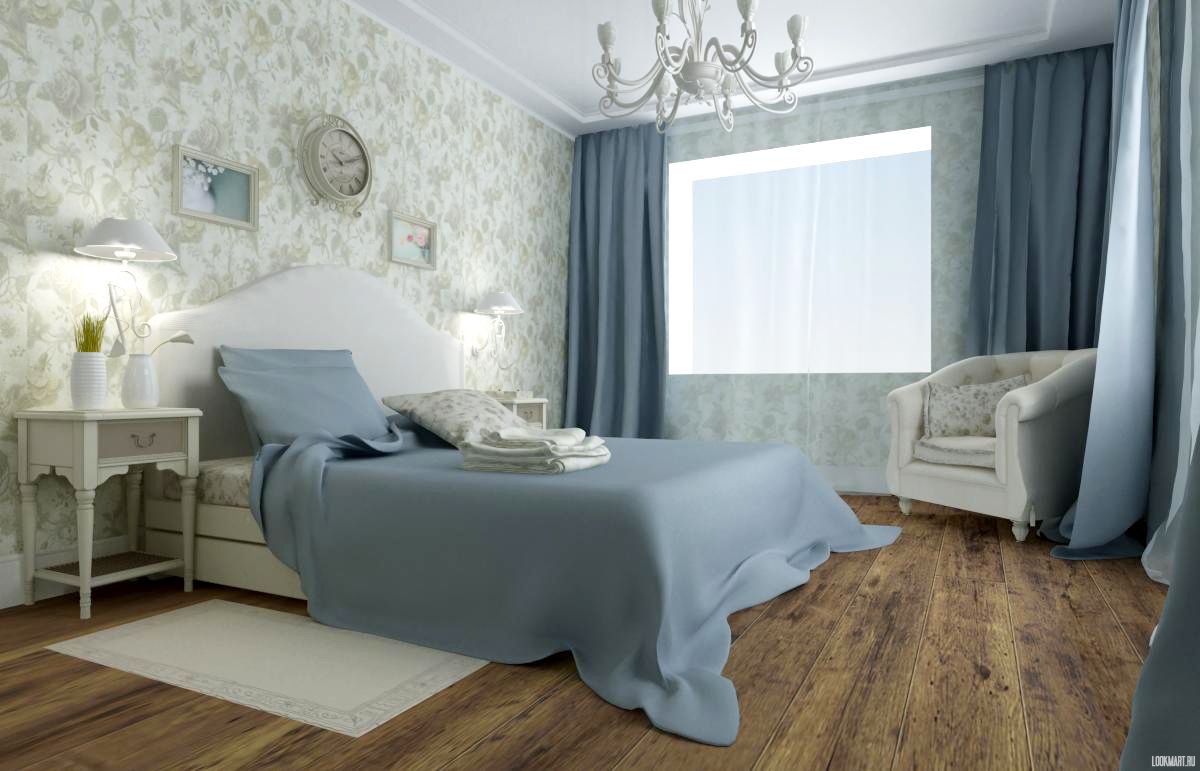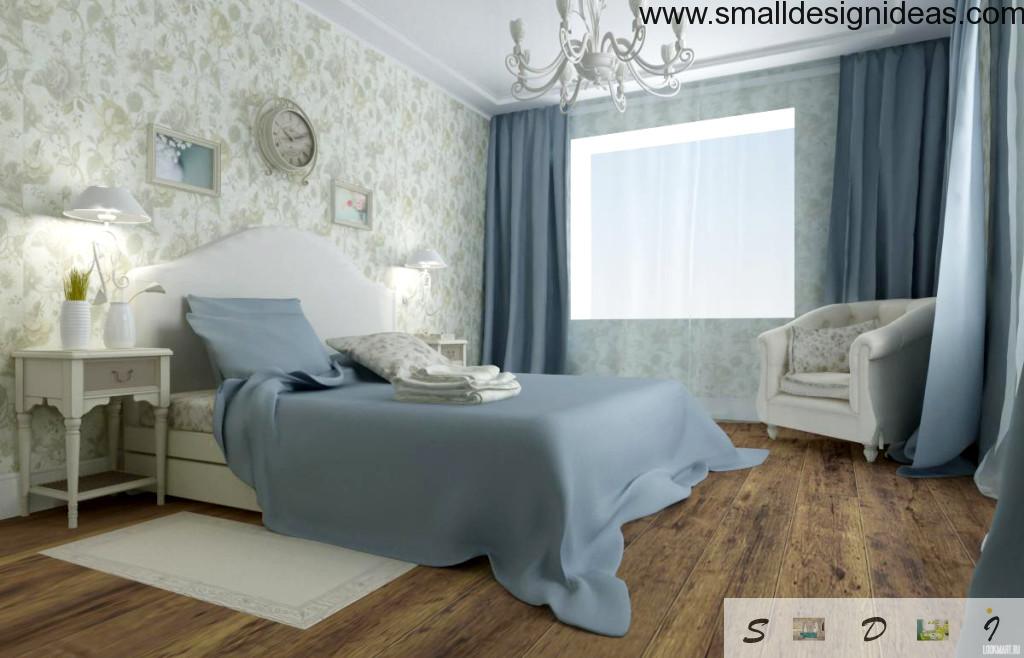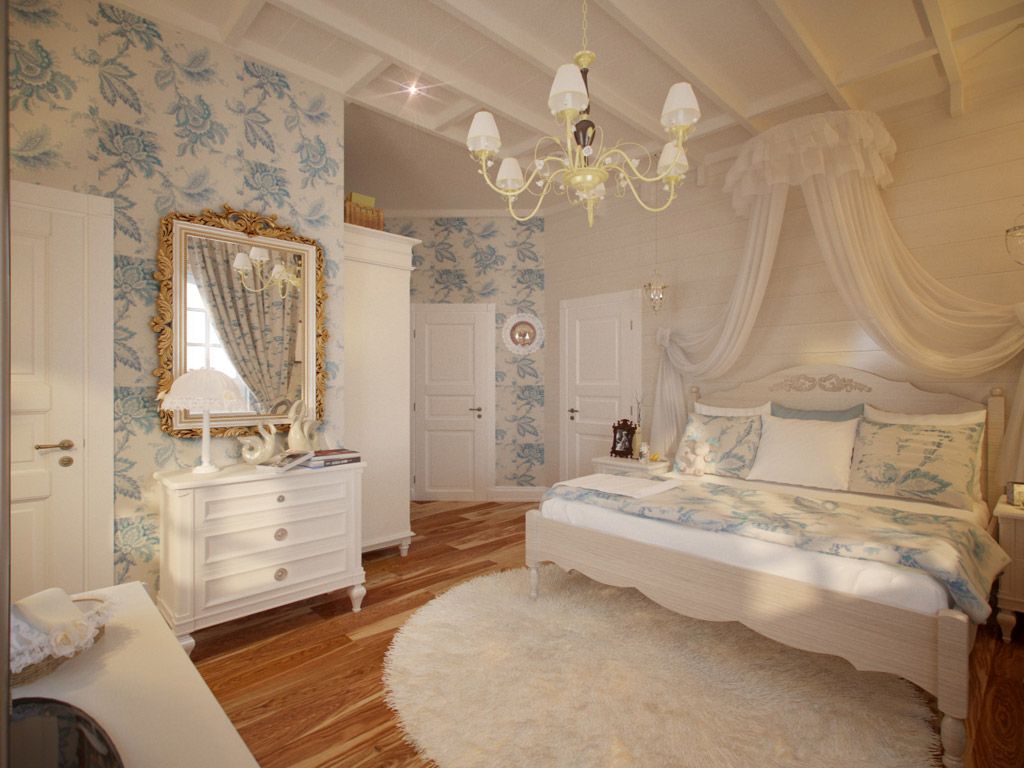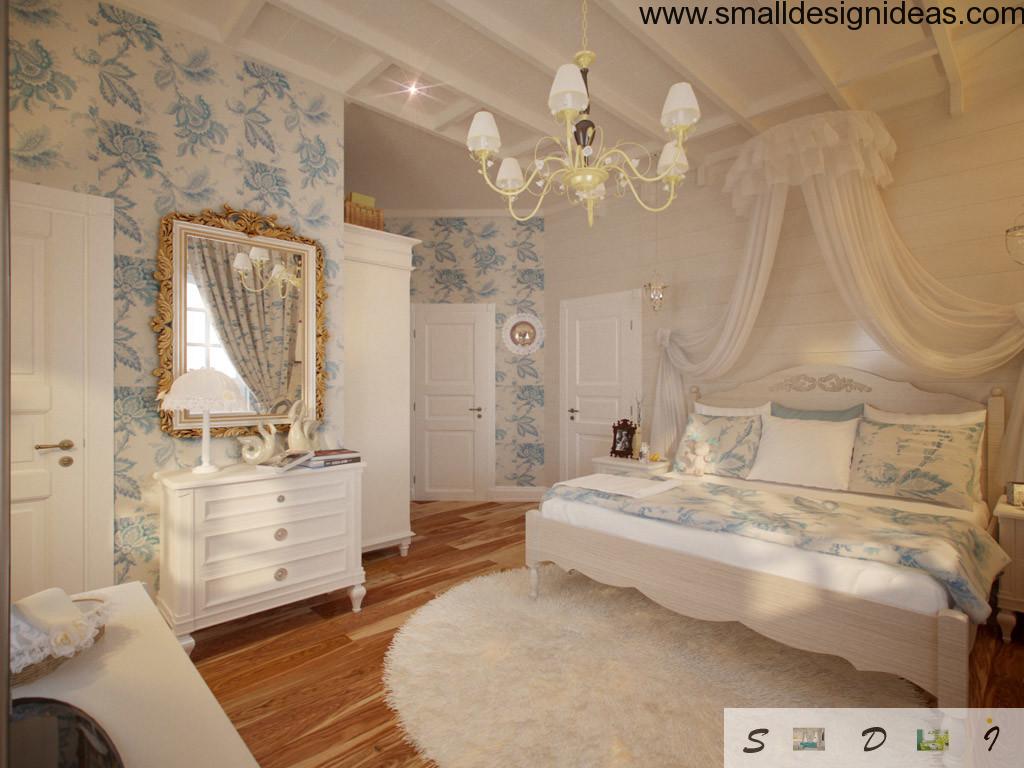 Living in the style of Provence
The living room in Provence style has to successfully combine the charm of rural life and exquisite decorative art. Thus, the living room will look empty, cold, and unfinished without wall decoration. Alternatively, you can order a wall-painting: professionally selected country or floral motifs at the background of rough plastered light walls would perfectly accentuate your home decor.
Living room furniture, as a rule, is wooden with curved legs, upholstered in fabric with floral patterns. Forged objects are also present in the living room: it can be forged chandeliers in the style of Provence, flower pots, candlesticks.
Bright ceilings with typical for this style beamed ceilings imparting special expressiveness to the living room interior. Painting on canvas, depicting rural life (spacious meadows and flowers), decorative ceramics (figurines, plates, and bowls) give the living room a cozy look.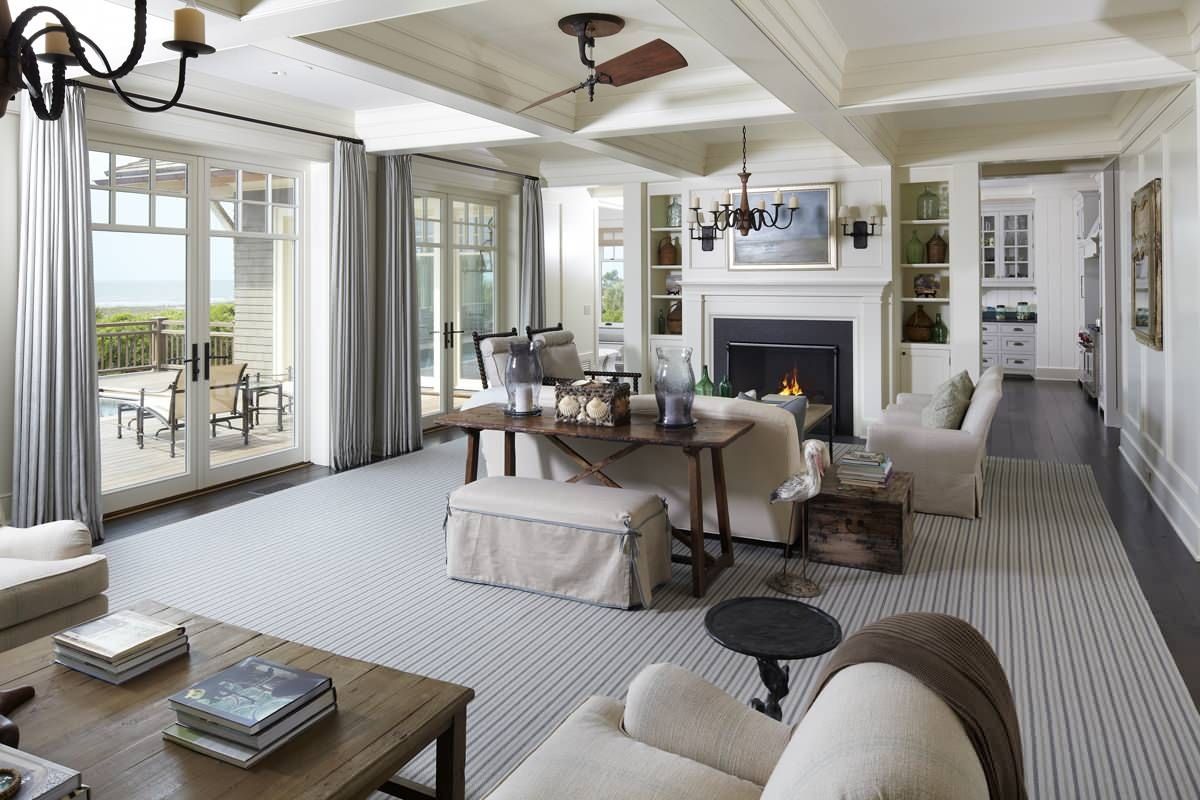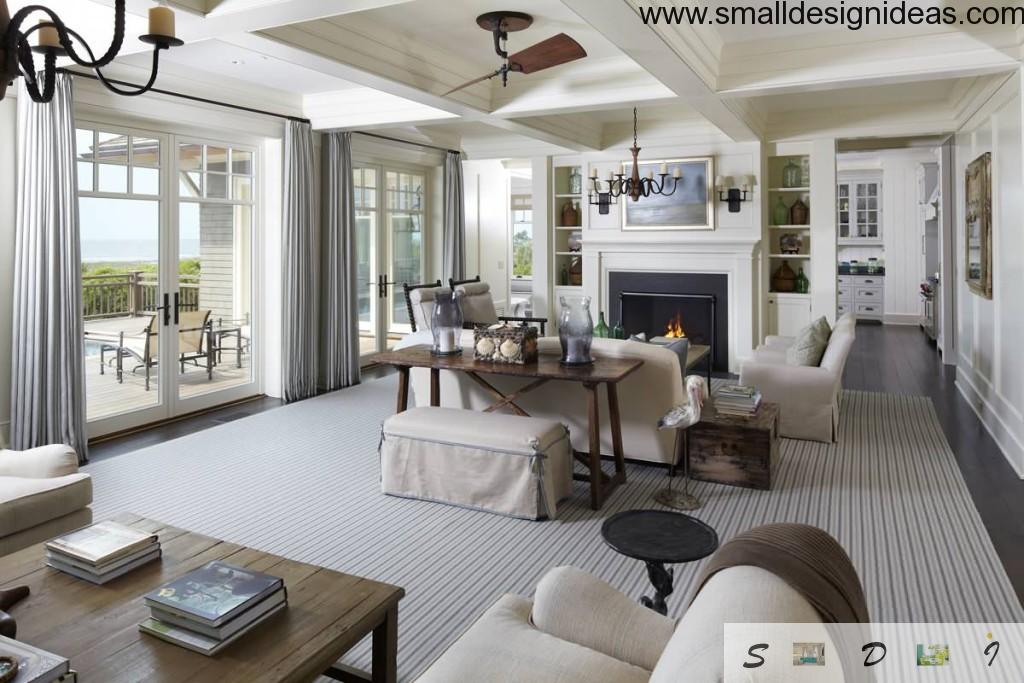 Children`s room in the style of Provence
Room design in the style of Provence is the personification of family values, love, and warmth of the hearth. To order Provence style design for children`s room means to pick a harmonious color scheme and proper lighting for the interior, which is important for the creation of a psychologically comfortable and relaxing ambiance for a child.
The furniture in the nursery are often decorated with "decoupage Provence": a little child will definitely love images of flowers and animals. Comfortable wicker baskets and boxes for storing jewelry, wooden chests for other things – Provence interior will be a favorite for adolescent girls.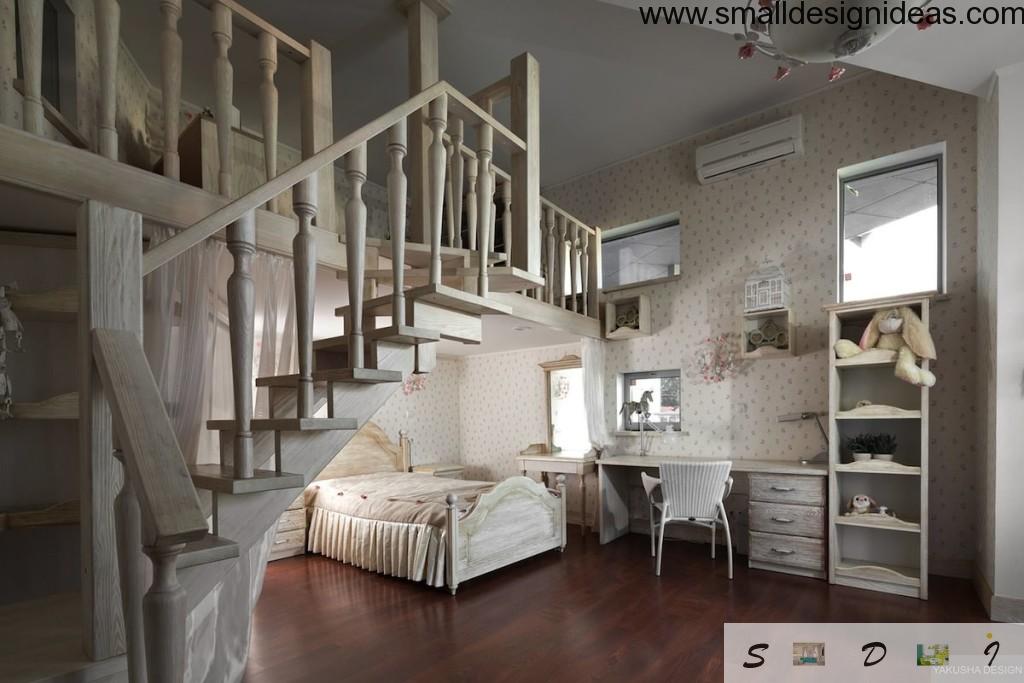 Furniture in the Style of Provence
Provence Furniture plays a very important role in the atmosphere of the interior of an apartment or house. Where it is not only functional but also a decorative role. Furniture in this style should produce the impression that it`s in use for more than a dozen years. This can be a really old piece of furniture, but now in the process of furniture production, manufacturers use a special technique of "artificial aging" – greening. In addition, they produce furniture with imitation scrapes, chips, traces of woodboring beetle nowadays.
As for color, the furniture is usually painted in bright colors. Wicker furniture, bulky chests, and benches nicely fit into the interior of the house in Provence style. Furniture in this style can be either simple and thorough or sophisticated, decorated with exquisite carvings.
Provence design style is not compatible with minimalism: the furniture and accessories in the interior should be enough, of course, in accordance with the overall design concept.
The Walls, Floor, and Ceiling in the Style of Provence
Provence design of the apartment involves careful choice of finishing materials for decoration of the ceiling, floor, and walls. Traditionally the ceiling is plastered in this style, but it can be painted in white. If wooden beams are present, they may be left unpainted to create the color contrast to the bright ceiling. Also, you can decorate the ceiling painted in light colors with discreet floral ornaments.
As a floor covering, usually use made old board or its imitation, also use a tile imitating a stone. There are often used bright colors for the bathroom, kitchen or hallway tiles.
The walls of the house or apartment can be plastered or painted with light paint. Sometimes in the style of Provence interiors there are present fragments of brick or masonry. Confined floor, walls and ceiling colors, the absence of sharp contrasts give the interior a special softness and sophistication.
The Provence Decor and Accessories
Designed in the style of Provence is unthinkable without fresh flowers and indoor plants: rose, lavender, alfalfa would decorate any room, add bright colors to the interior. The French love of flowers is reflected in many household items, textiles, and colors of the interior: embroidery in the form of plant ornaments, pretentious forging, resembling winding stems of plants, even dishes decorated with images of plants.
Provence decor attracts attention for its exquisite and refined accessories: ceramic souvenirs, photo frames (aside from ceramics painted wooden frame are perfect too), vases, and candlesticks. A special "country" atmosphere will be easier to create with pottery, flower pots, and crafts.
Provence interior design is an amazing and unique combination of rough plastered walls, wood furniture, bright color palette, and abundant decor. It`s a real corner of France in the apartment interior or house.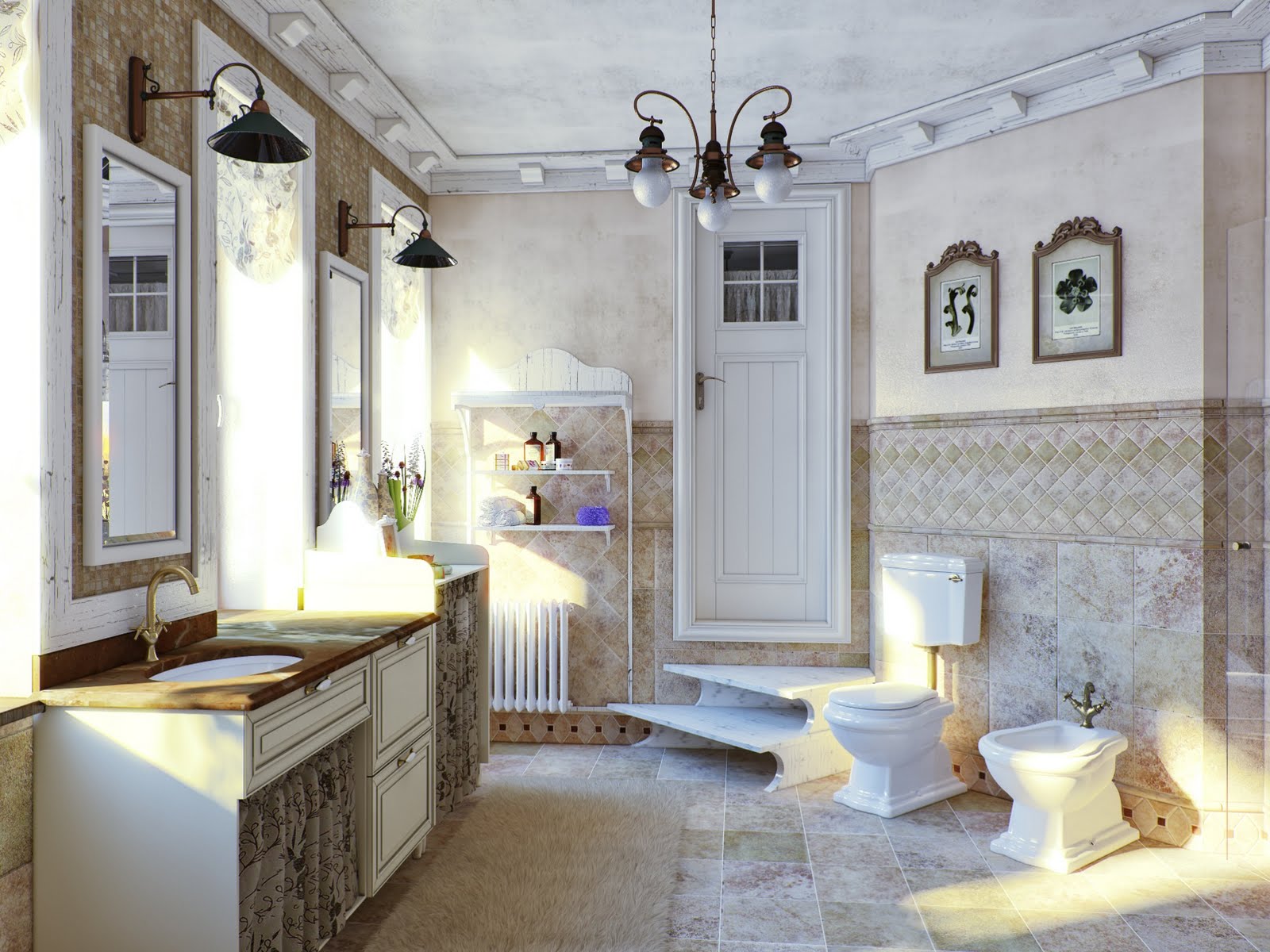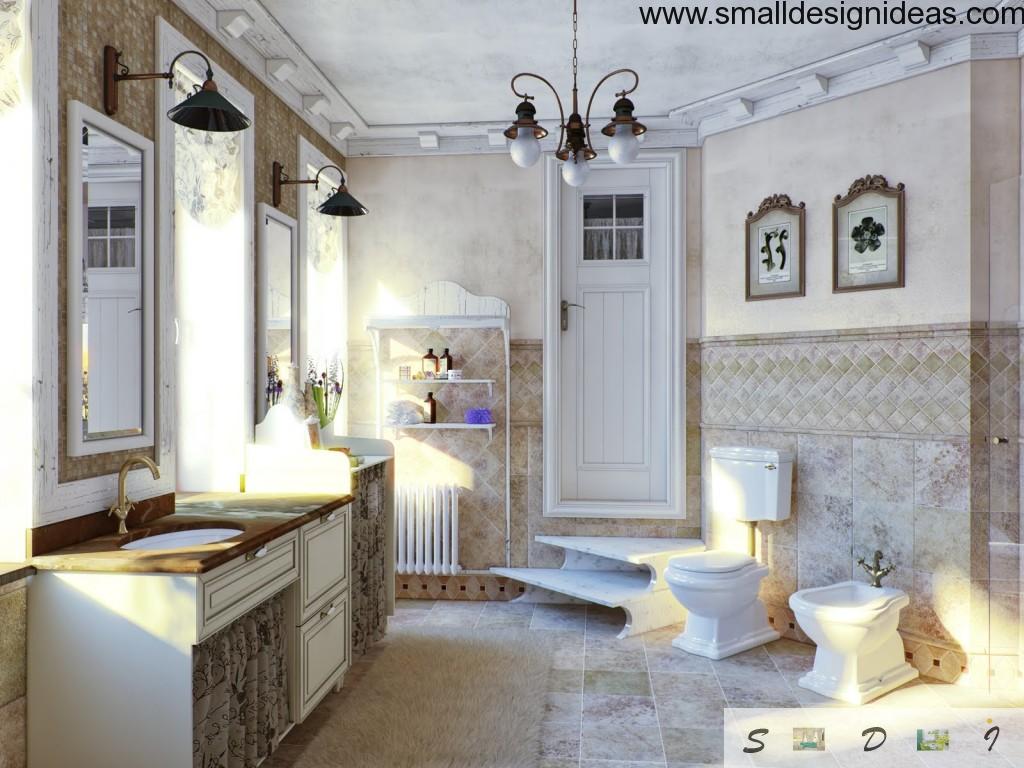 The popularity of Provence Style Today
Today Provence style is very popular as a decoration for private homes and apartments, as well as for non-residential premises. This is due not only to the fact that the style of Provence allows forgetting that there is already XXI century outside the window, but also because many people have this style associated with the sun, sea, beautiful nature, and romance. This style is a brilliant classic interior idea for almost any interior if you want to transfer a bit of an old noble European culture into your apartment.