Mid-century modern has become a major interior trend in 2016. This elegant recognizable style was formed in the 1950s at the junction of the Bauhaus, constructivism, American, and other trends based on the principles of simplicity and functionality. Post-war design is also called a dandy style as it masterly combines eccentricity and a sense of proportion. Ideally, interiors in the style of mid-century imply spacious areas, an open floor plan, and large-scale glazing, uniting the living space with the exterior. But if you approach the matter expertly, even in a small-sized apartment you can create an intelligent, cheerful interior in the refined aesthetics of retro-chic.
Contents: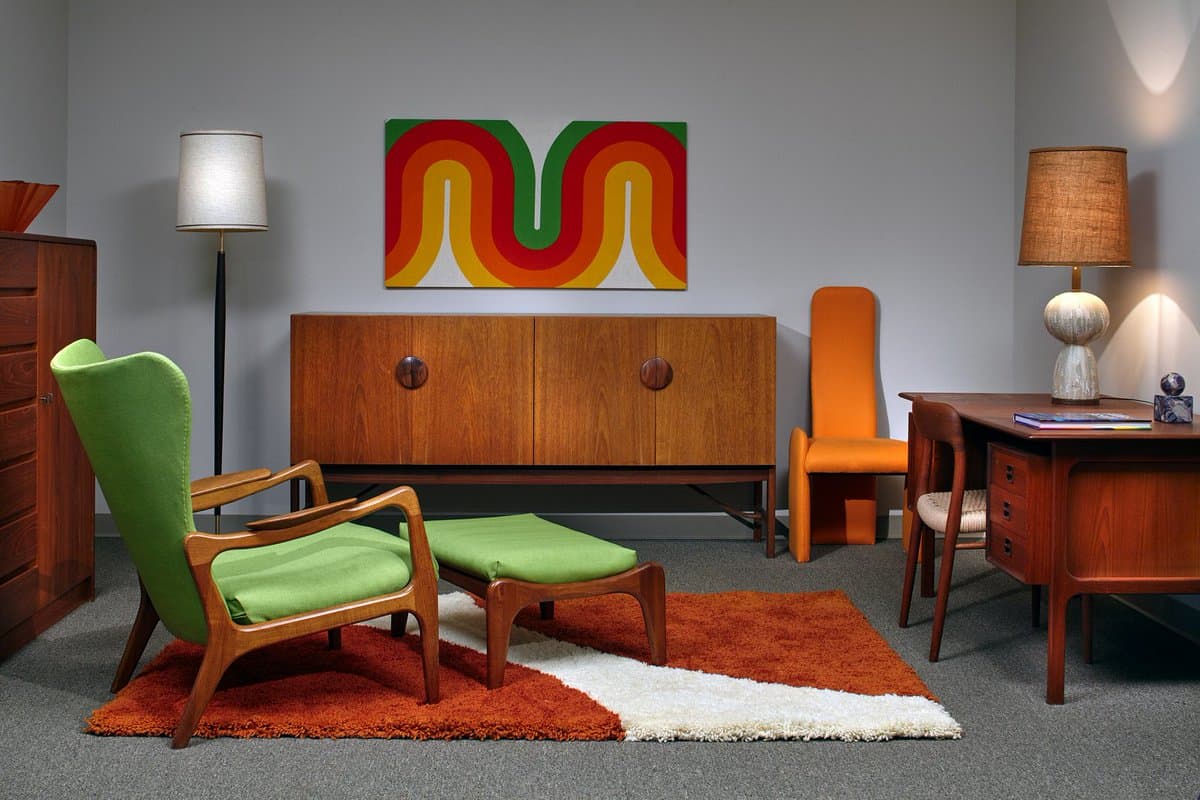 Brief History of Mid-Century Style
Cozy, but a little bit old-fashioned style mid-century, combining modern Art nouveau dynamics and simple constructive solutions, typical for the '50-the '60s of the 20th century, unexpectedly found itself at the top of the popularity in the middle of the last decade of the current century.
Along with fashionable solutions of Scandi and loft, it is not going down from the pages of European glossy magazines.
In the 50s, Cubism and Constructivism were at the peak of popularity. Therefore, people usually select simple design upholstered and cabinet furniture of unpretentious forms for mid-century style interiors.
Owners of typical small studios and apartments should take into account the fact that this design direction requires maximum space and freedom.
Therefore sofas and armchairs are better to choose vintage or of "Soviet-era" (on straight and fairly high legs) as they can visually expand space and maintain lightness.
Mid-century: the Main Features of the Style
Mid-century is a fashionable eclecticism that emerged at the junction of cozy constructivism of the 50s and modern trends to increase the functionality of things and expand space.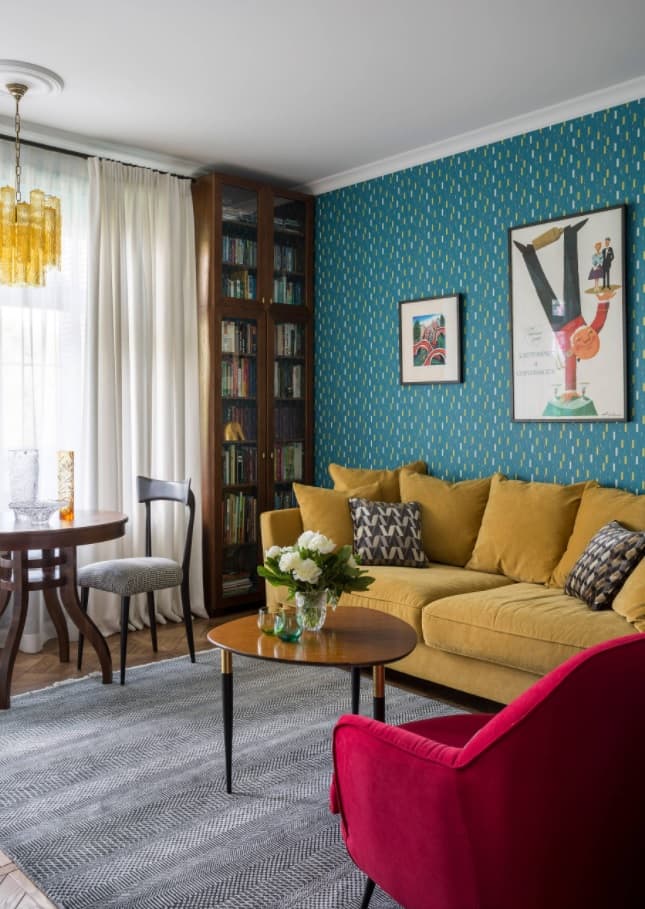 Like other eclectic styles, mid-century is characterized by freedom of design thought:
There are no restrictions in the color palette – you can safely experiment with olive and orange, classic beige and rich purple;
Minimum of decorativeness – each element of the interior has a maximum functional load;
The vintage furniture is in the spirit of the 50s-60s, necessarily made of solid wood;
A maximum of light and space as mid-century style is characterized by panoramic glazing and openness of the interiors, the use of a minimum of decorative details;
The simplicity of outlines.
So, if we talk about the basic principles of the mid-century style, it is worth highlighting three. Firstly, this is simplicity: an open space that is not overloaded with unnecessary details and pieces of furniture. Secondly, the abundance of graphics, which can be traced literally everywhere: prints of decorative elements, art objects, geometric shapes in furniture, and so on. And finally, the third rule of mid-century: many objects are directly inspired by nature and natural forms, which can look very alluring and incredibly stylish.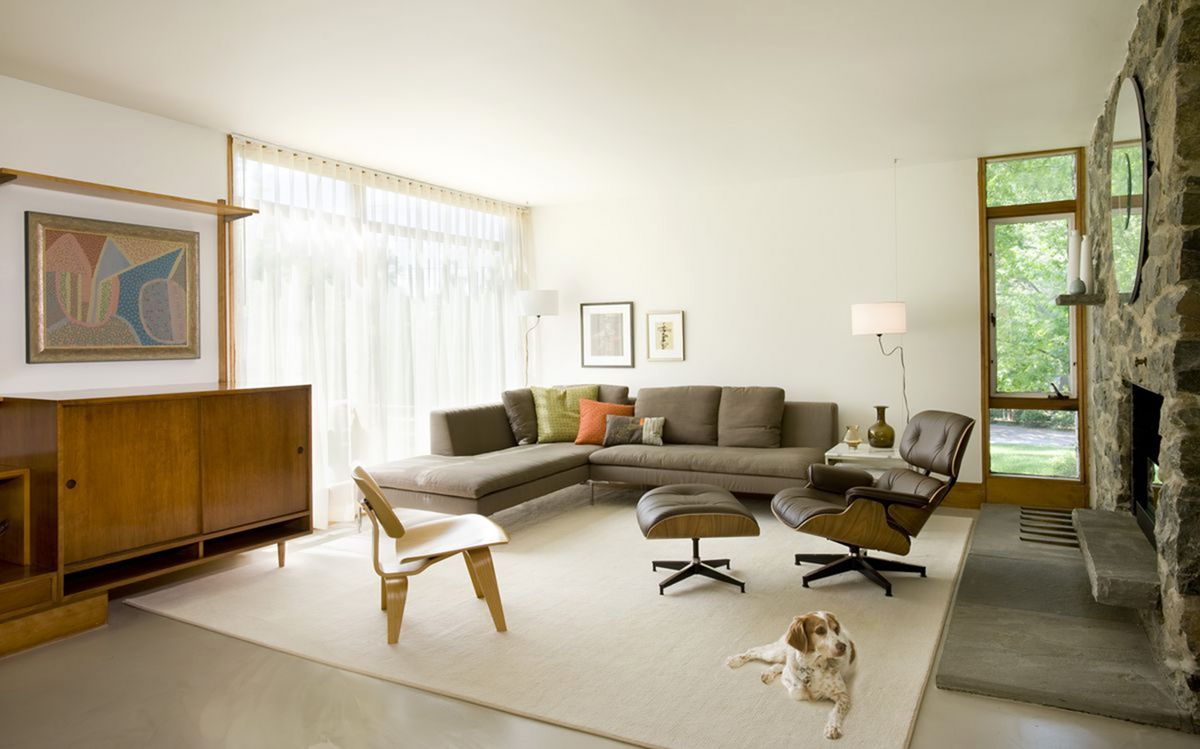 Open Floor Plan and Minimalism
Designers of the mid-20th century were inspired by the minimalism of Scandinavian and Brazilian interiors: less visual clutter, more air, and open space. The style is characterized by open floor plans in which one zone flows seamlessly into another. Ideally, this feeling should be supported by large windows – from floor to ceiling, so that the interior goes beyond the house, without clear boundaries.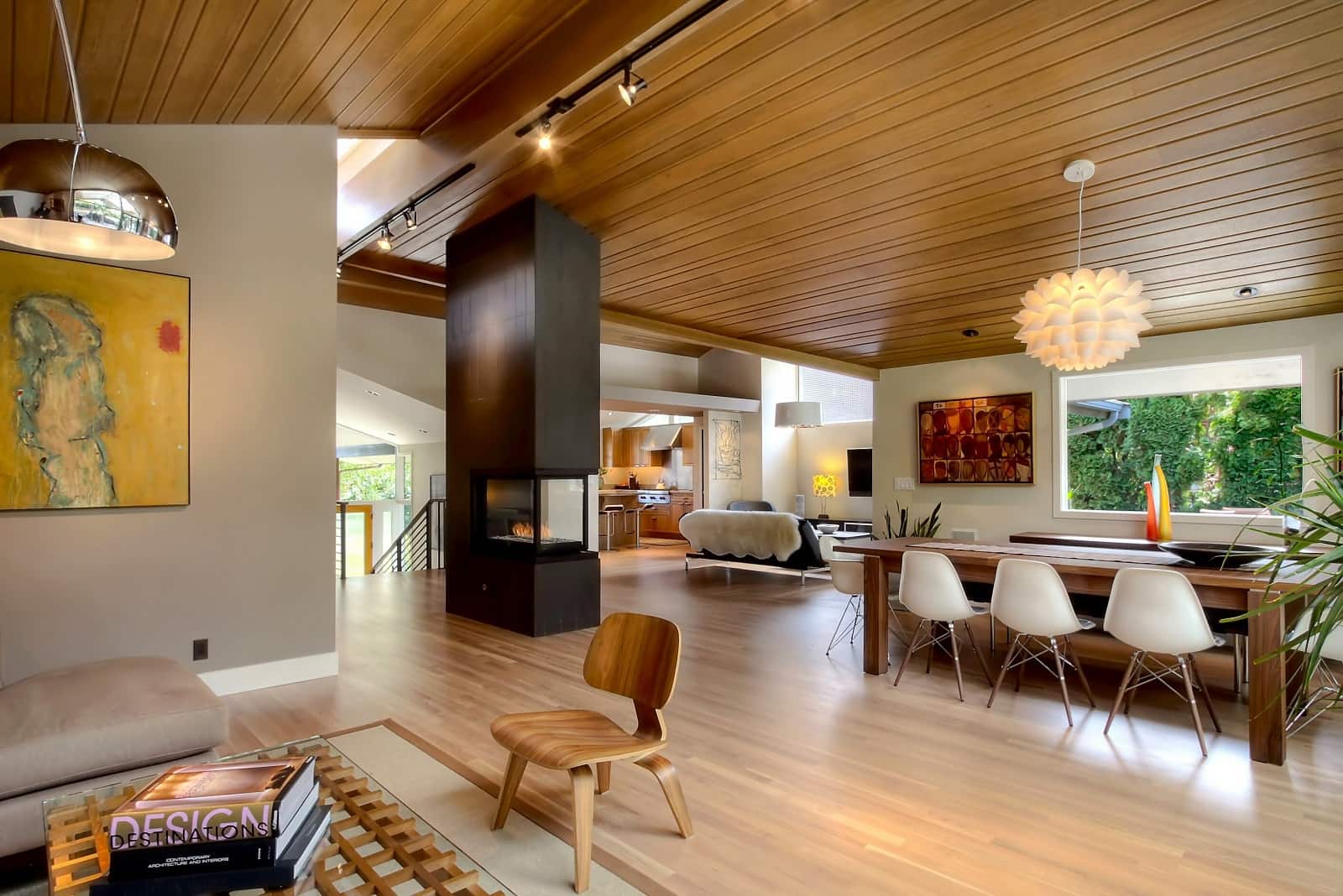 Minimalism in mid-century modern calls for having less furniture and decor, but it is important that each piece be special and worthy of attention.
Amazing Patterns
In the middle of the last century, people stopped being afraid to experiment with prints: many bold solutions and combinations appeared. Especially popular were patterns of geometric figures and abstraction, but also patterns of unexpected and bizarre objects, such as bespoke lamps or small figurines, were not uncommon. Colored wallpaper with a geometric print, of course, is not necessary to be all around the walls in the room, but it will suit perfectly for one accent wall. Patterns can also be on fabric, and even as abstract posters on the walls.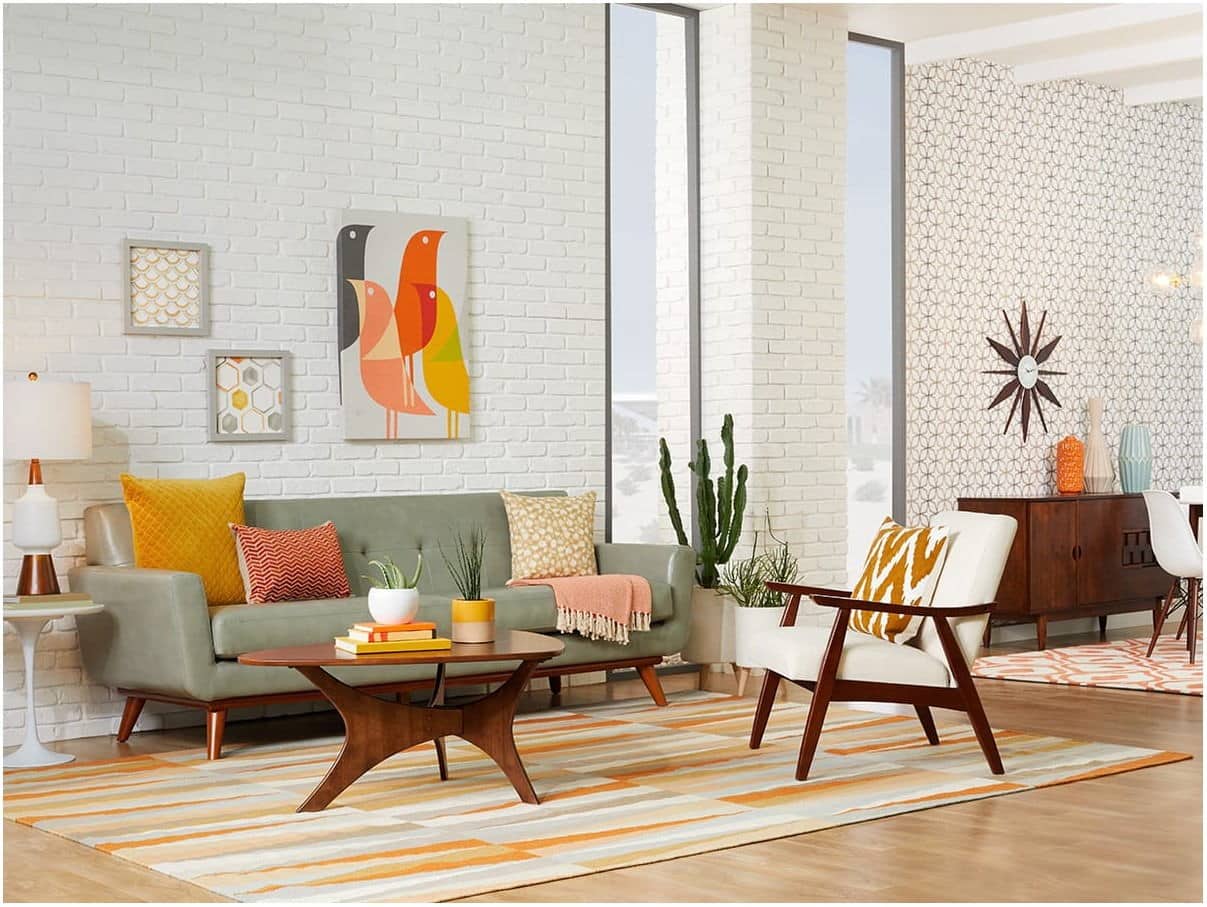 Unusual Lighting Fixtures
In the mid-century modern style, the lighting fixtures had not only a functional role but also a decorative one. Sources of light became more numerous: instead of one chandelier in the center of the ceiling, the division into light zones with floor lamps and table lamps appeared. The fixtures themselves were striking. Many of them, like furniture, are now classified as classics.
Furniture
An abundance of light and function are typical for many modern styles – Scandinavian and loft, chalet, and contemporary.
But it is furniture that makes mid-century recognizable: simple structures, straight lines, solid upholstery, or vegetable prints are the mandatory attributes of this style.
Chairs, armchairs, sofas, and couches in the style of mid-century should be soft, have streamlined forms, with velour or leather upholstery, usually on legs made of wood or bent metal.
Do we need to remind that in those days the furniture was made exclusively from solid wood?
By choosing cheap options of MDF, you risk completely destroying the concept of style.
Designers often use furniture from "Belfan": for example, stylish "Stu" armchairs for the interior in modest colors and magically attractive "Loit" for the interior in a bright palette.
The fronts of cabinets, dressers, trundles, and floor units were made of different types of wood with a natural finish, and doors were painted in bright colors. In the '50s and '60s, designers created a number of masterpieces that have not lost their relevance over time, and have gained cult status. To this list, we can include Eames Lounge chair by American Eames husband and wife tandem, curved plastic Panton chair by Werner Panton, Tulip series by Eero Saarinen, Swan armchair by Arne Jacobsen, and many others.
Textiles
In the post-war era, people didn't really bother with decorating their homes. At most, a few old pictures on the wall that were inherited from grandmother, and numerous cushions and blankets, guaranteeing a feeling of comfort and tranquility.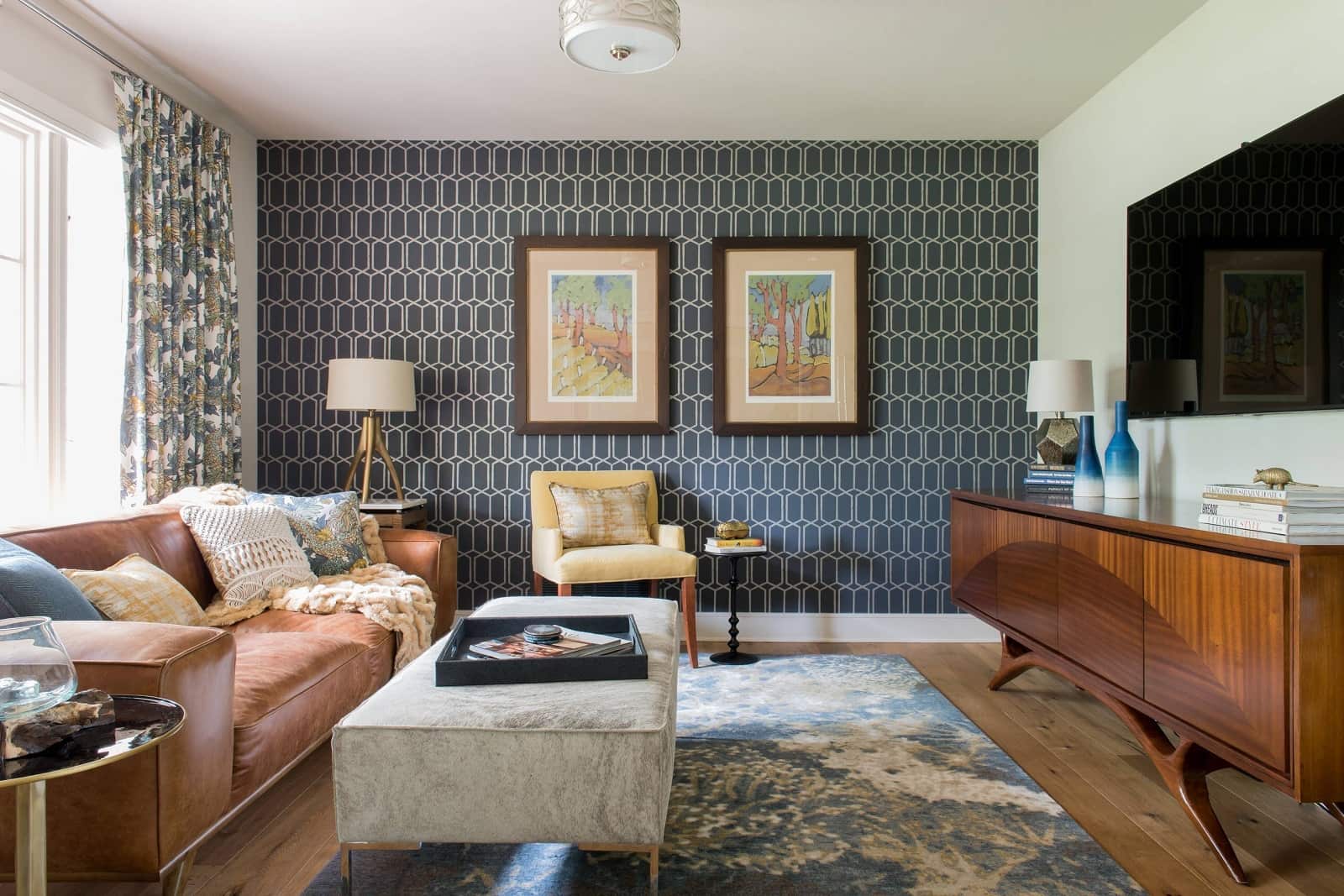 All this is reflected in the modern mid-century, which does not accept a lot of small things.
Bright or modest, whichever option you choose for yourself, you already know what steps you should take to bring the atmosphere of coziness into your home.
Color Palette
The color scheme is very important in any style, and if we're talking about mid-century, then the importance of color can't be overestimated at all.
The palette of post-war modern consists of rich natural shades, such as terracotta, tangerine, mustard, avocado, brown, and marsh. Plum, cherry, deep blue-green shades of teal also look advantageous.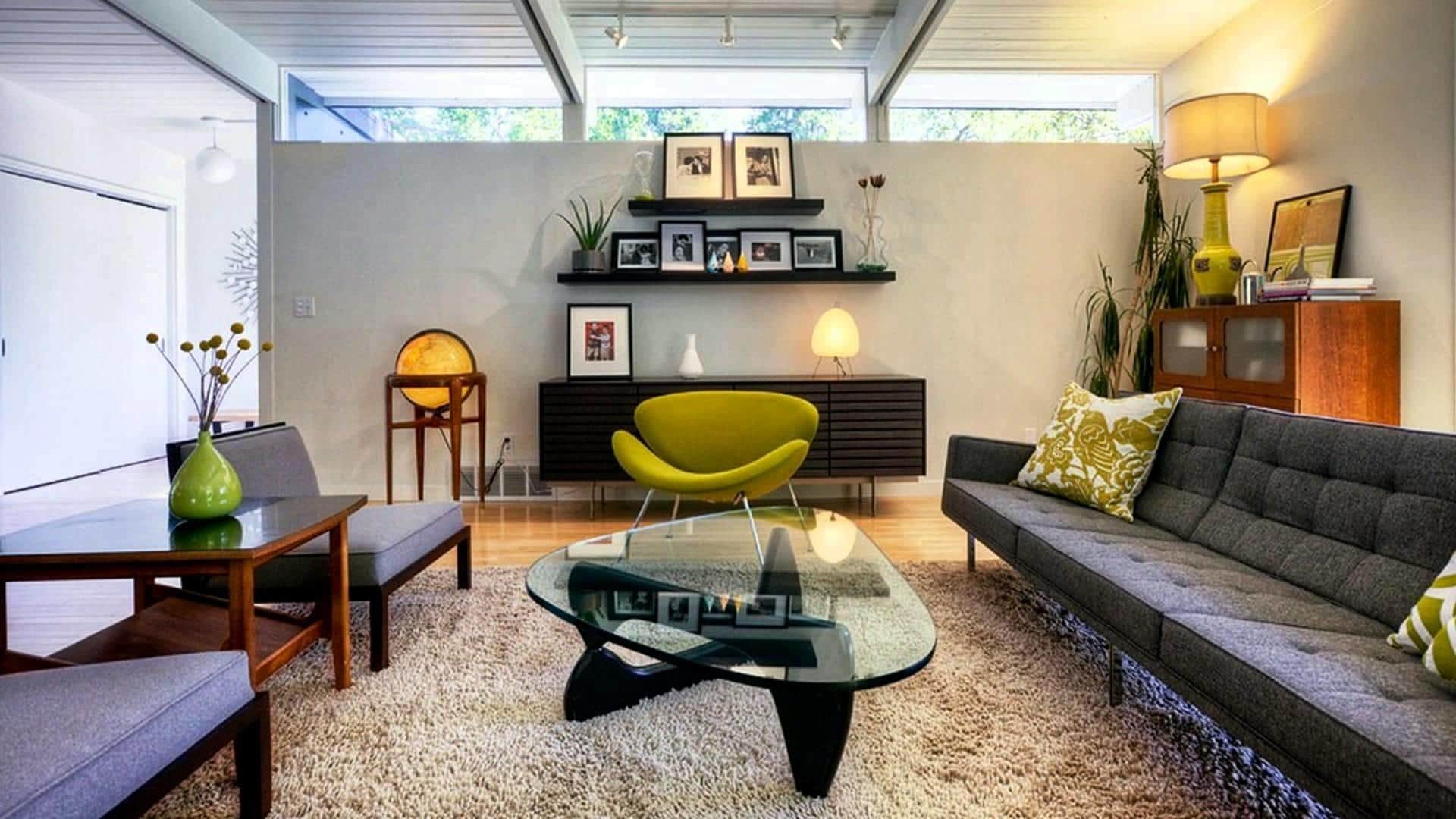 As a rule, a neutral shade is taken as the basis, often white, and a real spectacle of color is played on its background. Bright colors can be combined with each other in the most bizarre way, but at the same time, the style gravitates to the deep, heavy tones. Of the neutral range, white, beige, milky, walnut, and taupe shades are characteristic of the mid-century style. Of the bright ones, it is worth paying attention to yellow, red, orange and their variations. But even more interesting look pastel colors: grayish blue, muted mint, or light pink.
Decorations and Design Ideas
Build an outdoor bar in the living room. An aristocratic installation of beautiful bottles, vintage glasses, and flowers makes you feel like a character from early Bond and Mad Men.
Find authentic items from the mid-20th century.
Futuristic light fixtures that look like art objects, round sunburst-rimmed mirrors, spherical vases and candlesticks made of colored glass, bright pop-art style posters will make the space complete.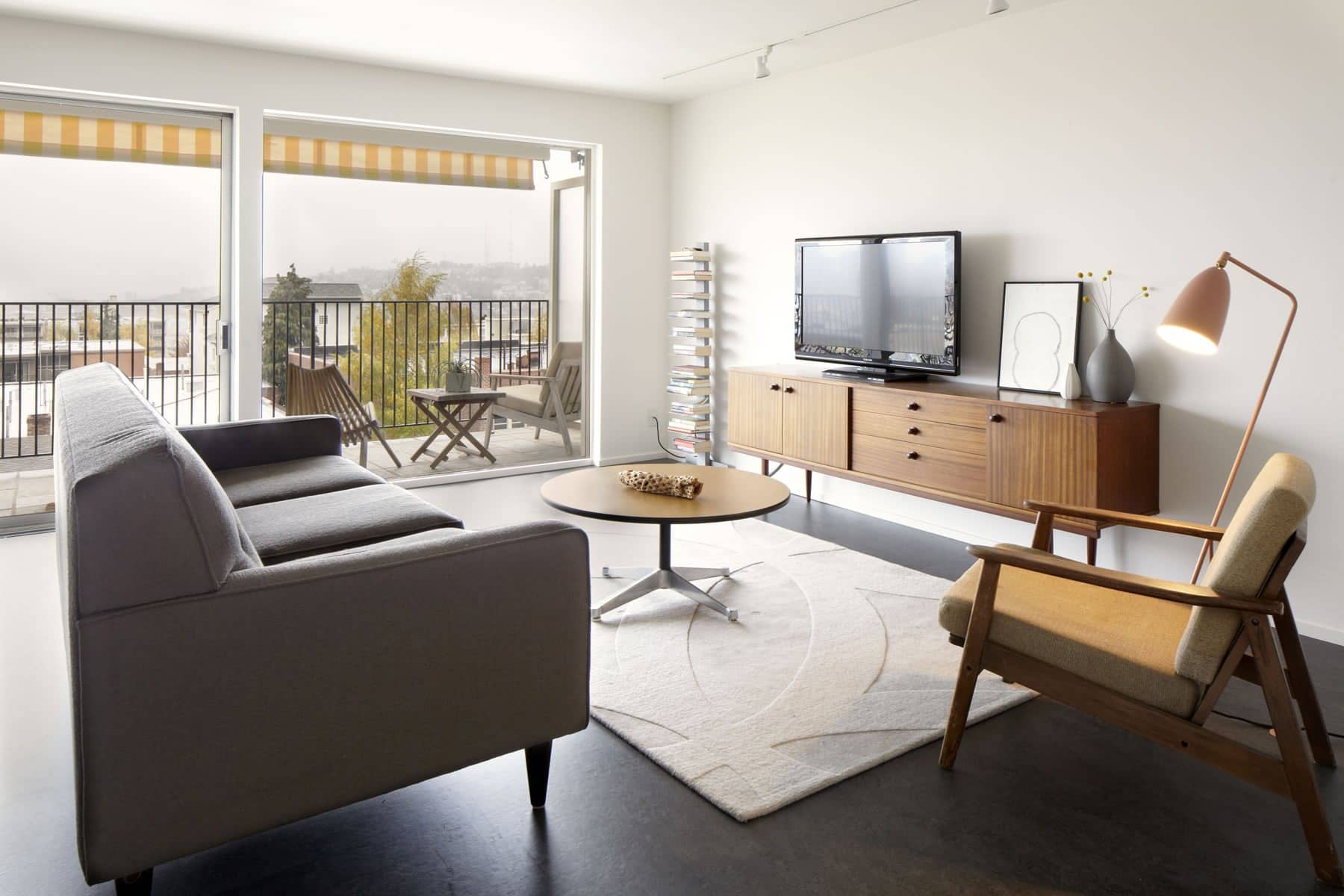 Show the rich inner world. In a mid-century interior, record collections, an extensive library, and musical instruments arranged in plain sight look appropriate.
This relaxed, distinctive, expressive style turns home furnishings into a fascinating journey through time and is becoming increasingly popular.
Mid-century Style in the Real-life Interior
When you conceive a renovation, one of the most difficult, but at the same time interesting stages is always the choice of the style direction of the future interior. It is great when you are predetermined with this, but it also happens that you like a lot of different things, but it does not fit in a complete picture.
In such situations, designers are advised to take a closer look at some literally win-win options, and one of them is the style of mid-century, which is also known as the style of the mid-twentieth century, or mid-century modern. Whatever it is called, this style is incredibly good and great for any room, it gives a true elegance and gloss.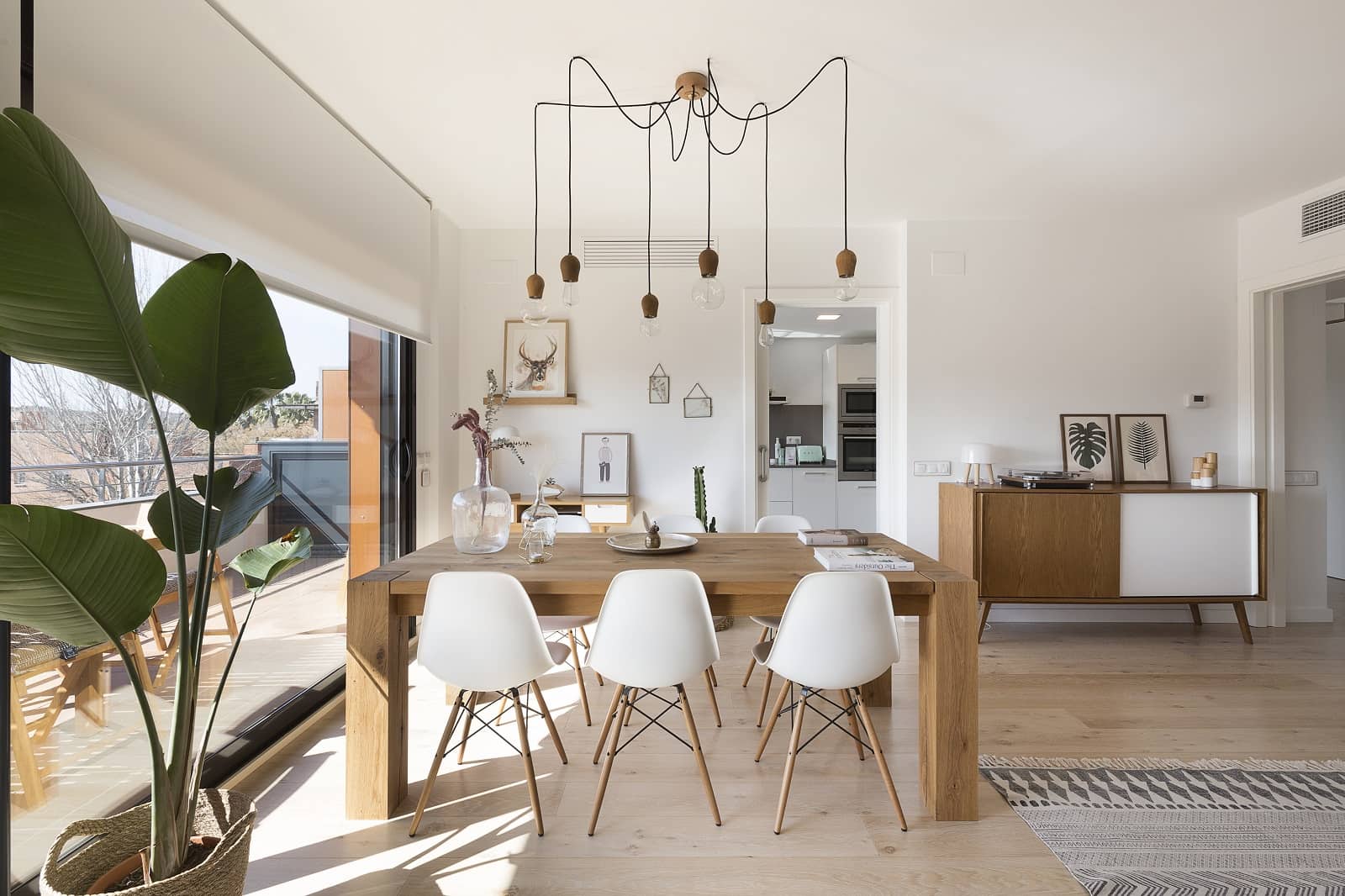 An important element of any interior in the style of mid-century is the wood, always natural and finely processed. Wood is used in a very large volume, so the panels can decorate the entire wall and even the ceiling, not to mention the more familiar flooring.
What You Need to Create a Mid-century Interior in Your Home
This should be a bright, spacious room, with open openings or light sliding partitions instead of doors.
It is better to leave the windows open, but Roman blinds or thin single-layer translucent curtains are also acceptable.
Create a neutral background. As the main color, any natural shade would do from white to light gray or sandy. One wall may be covered by wallpaper with abstract geometric patterns, and the other wall finished with wood or stone.
Add large bright accents, which will bring a creative mood into the interior. This could be a bright chair, cushions, lamps, abstract panels.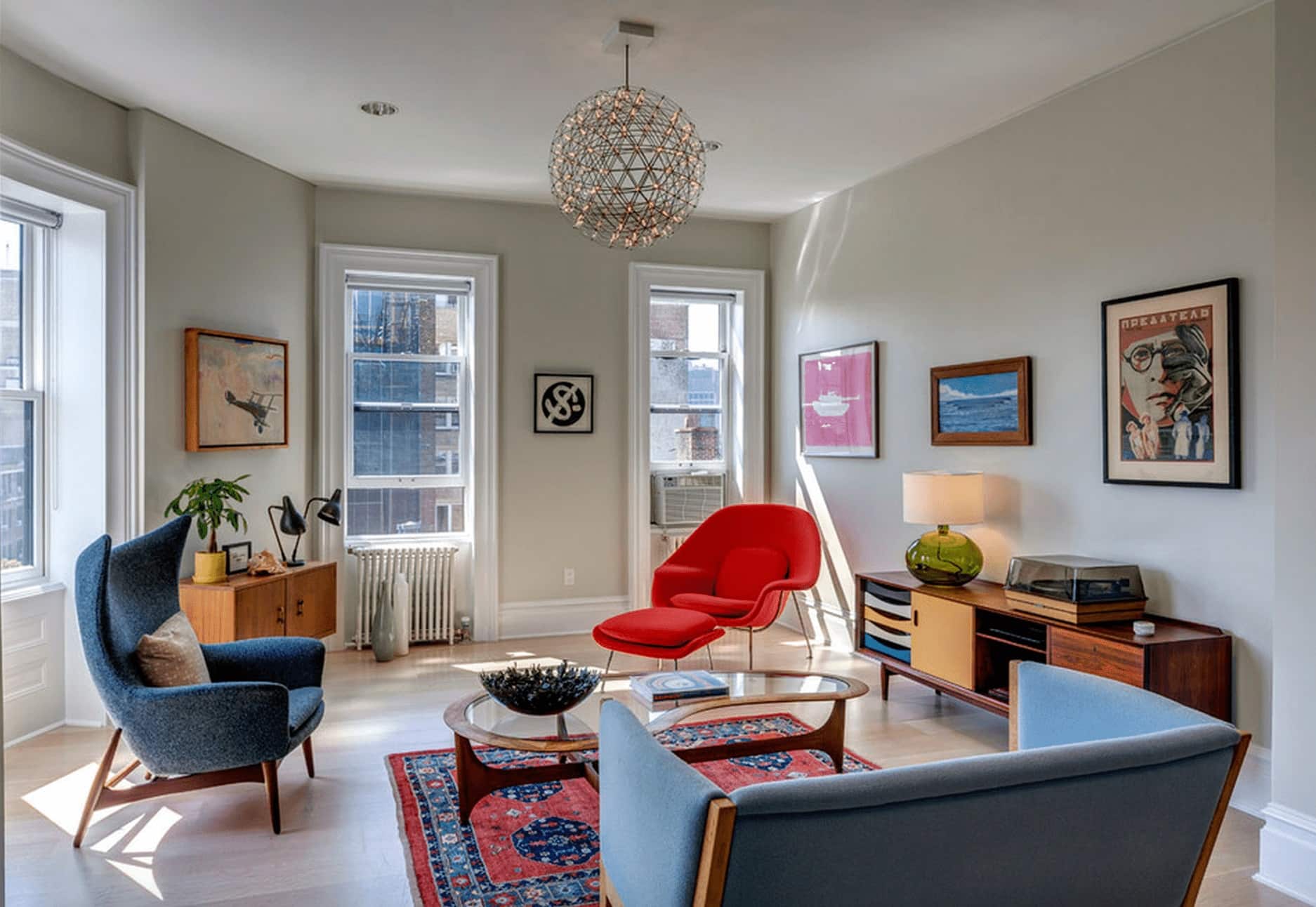 If we talk about what should be avoided when creating such an interior, then first of all we should mention the unnecessary elements. The forms of furniture are precisely verified, and the fittings are perfectly chosen, so there is no place for unnecessary or random decorations. The desire for simplicity is seen in everything. Mid-century differs from the more familiar to us styles precisely because of its conciseness. It should also be noted that this style does not accept fashionable innovations; it is more about the classics and well-established norms than experiments and trendy details.