Originally, the "chalet" meant the shepherd's hut. If you try to formulate in a few words what is the style of a chalet in the interior is, you'll probably get:
The complete absence of modern artificial materials in the design;
The predominance of natural stone and wood;
Rough (untreated) wooden furniture, the presence of a fireplace.
Content: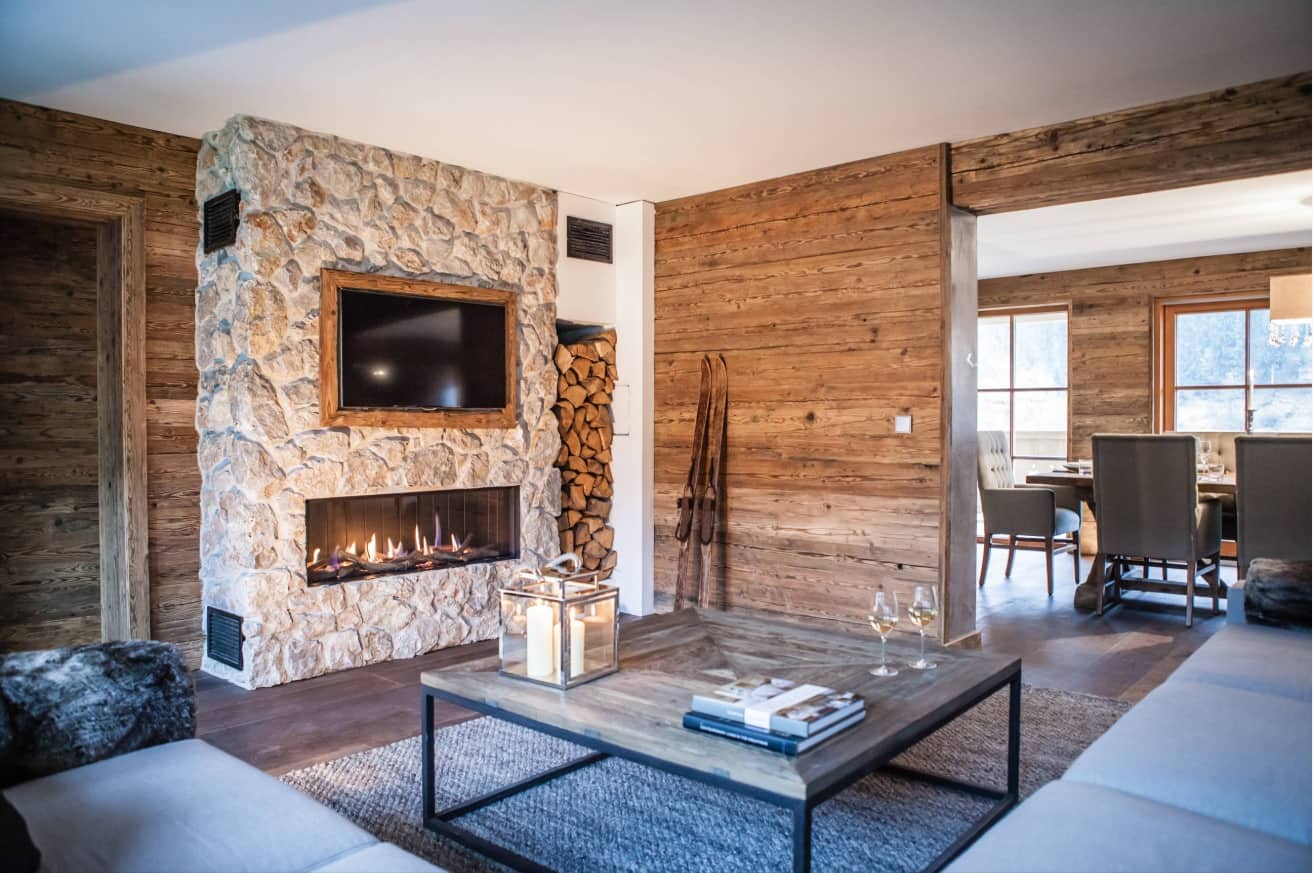 Chalet Style Interior Features
This style is practically not used in its pure form, but designers are very willing to use its elements. The chalet style interior should create the impression of an old house in which several generations of a single large family lived. It is great for a country house or summer cottage where the whole family is going to rest. This is a small island of comfort, home heat – your personal house, where you will devote more time to the family than the daily bustle.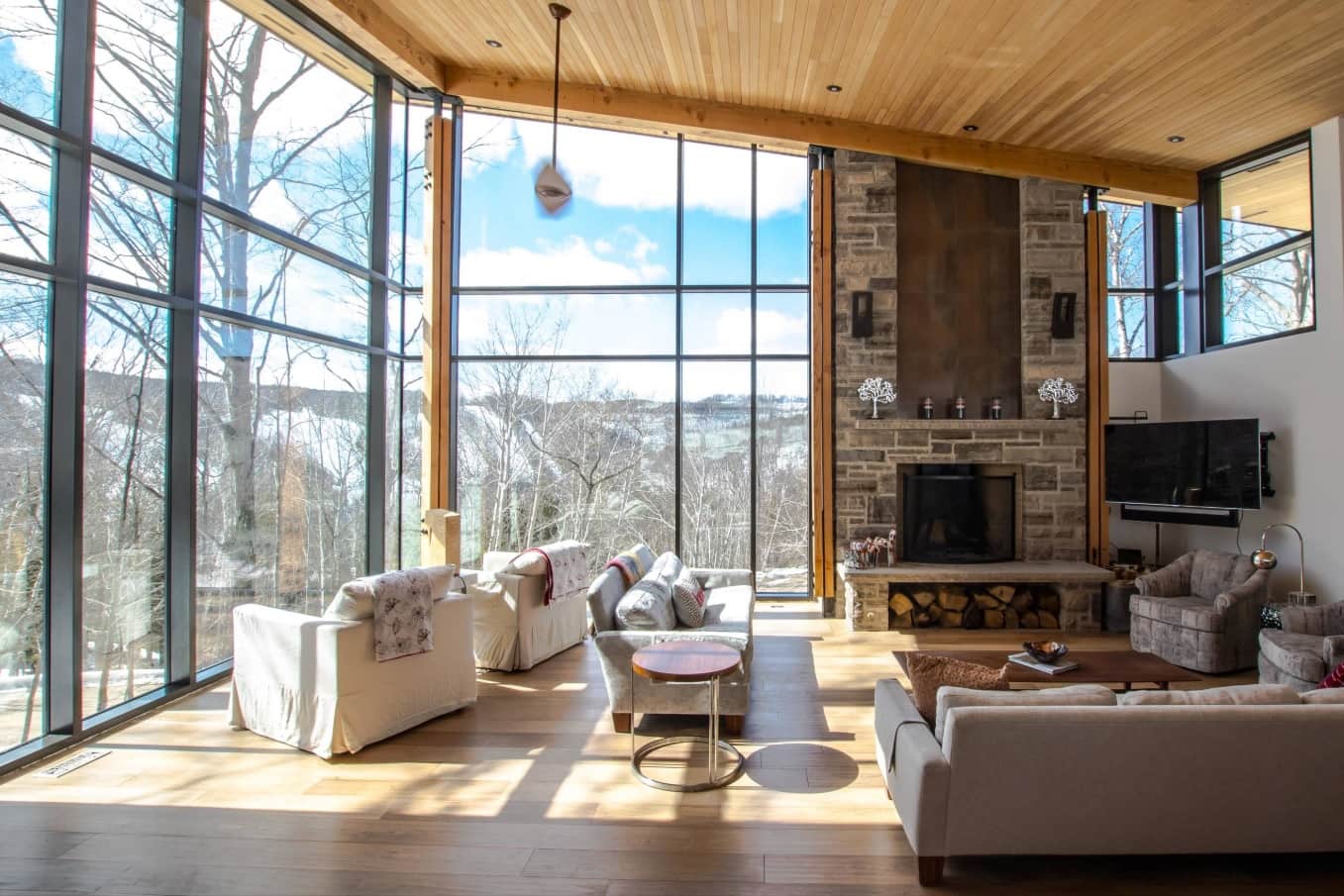 Chalet Style Materials
All interior decoration of a cottage or apartment is carried out using only environmentally friendly natural materials. This is the main rule. Floors and ceilings are made of natural wood. It is not painted, but only coated with varnish or special oils. Ceiling beams are the main attribute in the design of the ceiling.
The best interior design projects from are examples of how simple and ordinary rooms can be transformed into comfortable, stylish and original rooms – bedrooms, kitchens, bathrooms, living rooms and hallways. We have prepared comfortable solutions of successful interior which can ignite your imagination.
The walls are usually plastered, and the rougher the plaster, the better. Also, the walls can be lined with bricks.
And although it is not much like the walls of a shepherd's hut made of coarse wooden linen, the modern chalet has not lost its originality despite undergoing some interpretations.
The facades of the house in Chalet style are divided into two parts. The first floor is formed through the use of natural stone, the lack of which in the highlands, where the Chalet came from, was never experienced.
Finishing with a stone allowed not only to strengthen and warm the house well, but also to secure it from rodent encroachment.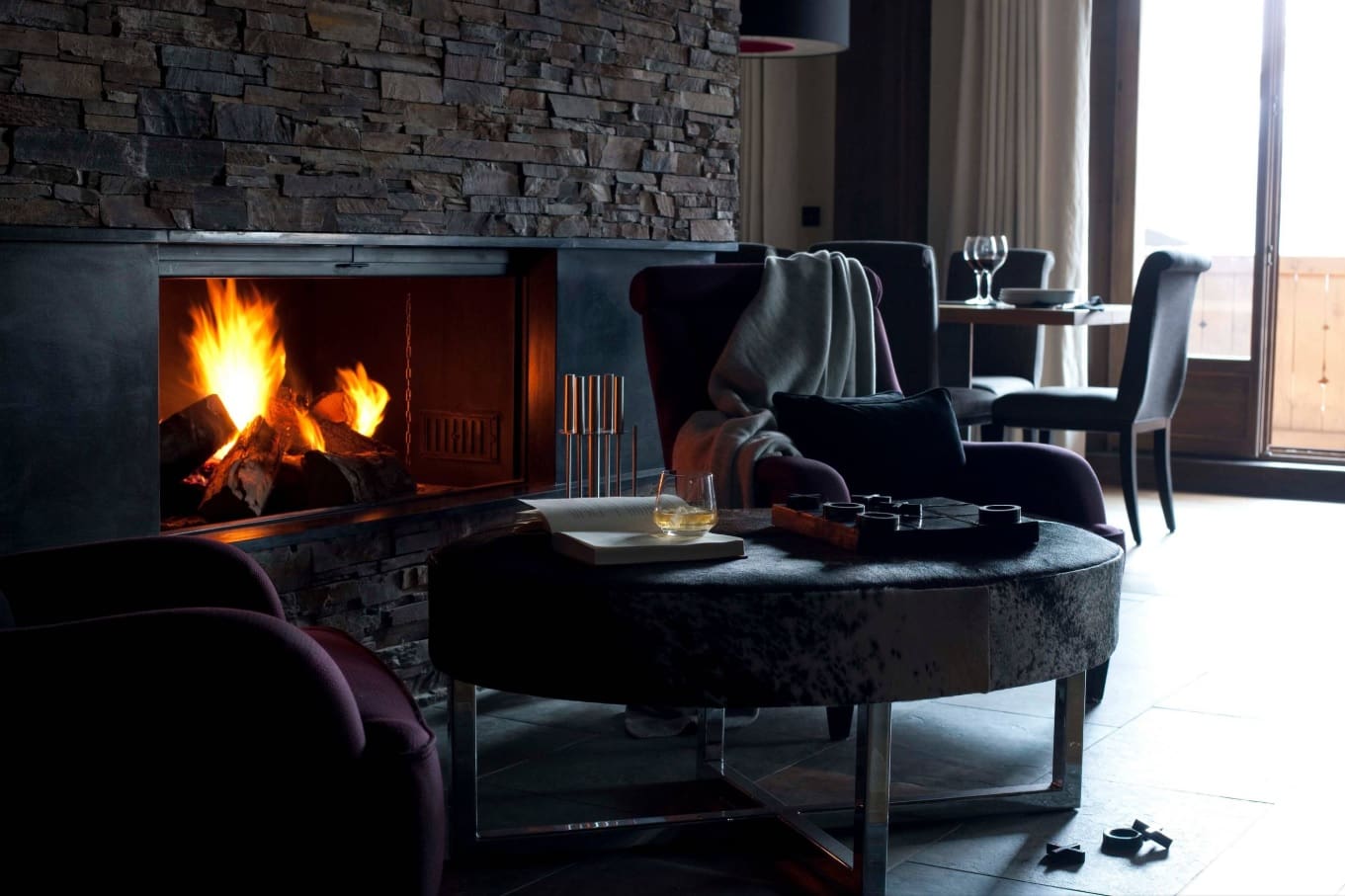 The second floor was faced with wood. Thus, an ideal balance was maintained, ensuring the safety and long life of the building.
At the same time, an amazing combination of cold stone and "cozy" wood, built on contrast, gave the house a special charm.
Modern chalet-style facades allow the use of bricks, and even beige-colored facades. Instead of massive wooden frames and glass windows, innovative glass panes are installed. Their color profile fully matches the shade of natural wood.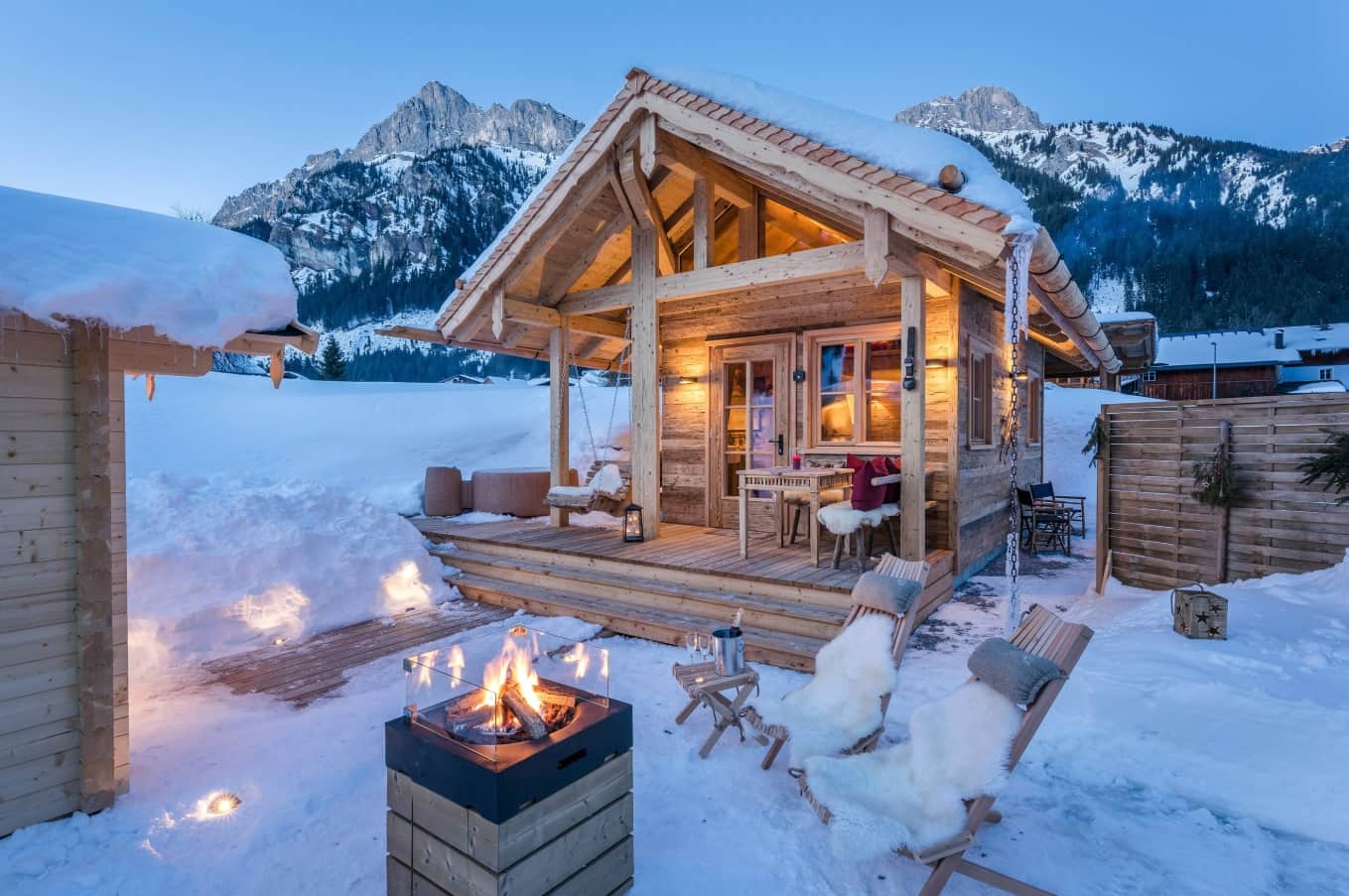 Colors in the Style of Chalet
Chalet style is natural in everything: from finishing materials, flooring and furniture to the color design of the room.
The use of pastel natural shades is determined by the history of the origin of this stylistic trend. Poor shepherds built and decorated their houses with the help of scrap materials: wood, stones, pelts, coarse gray cloth, obtained from the processing of sheep wool.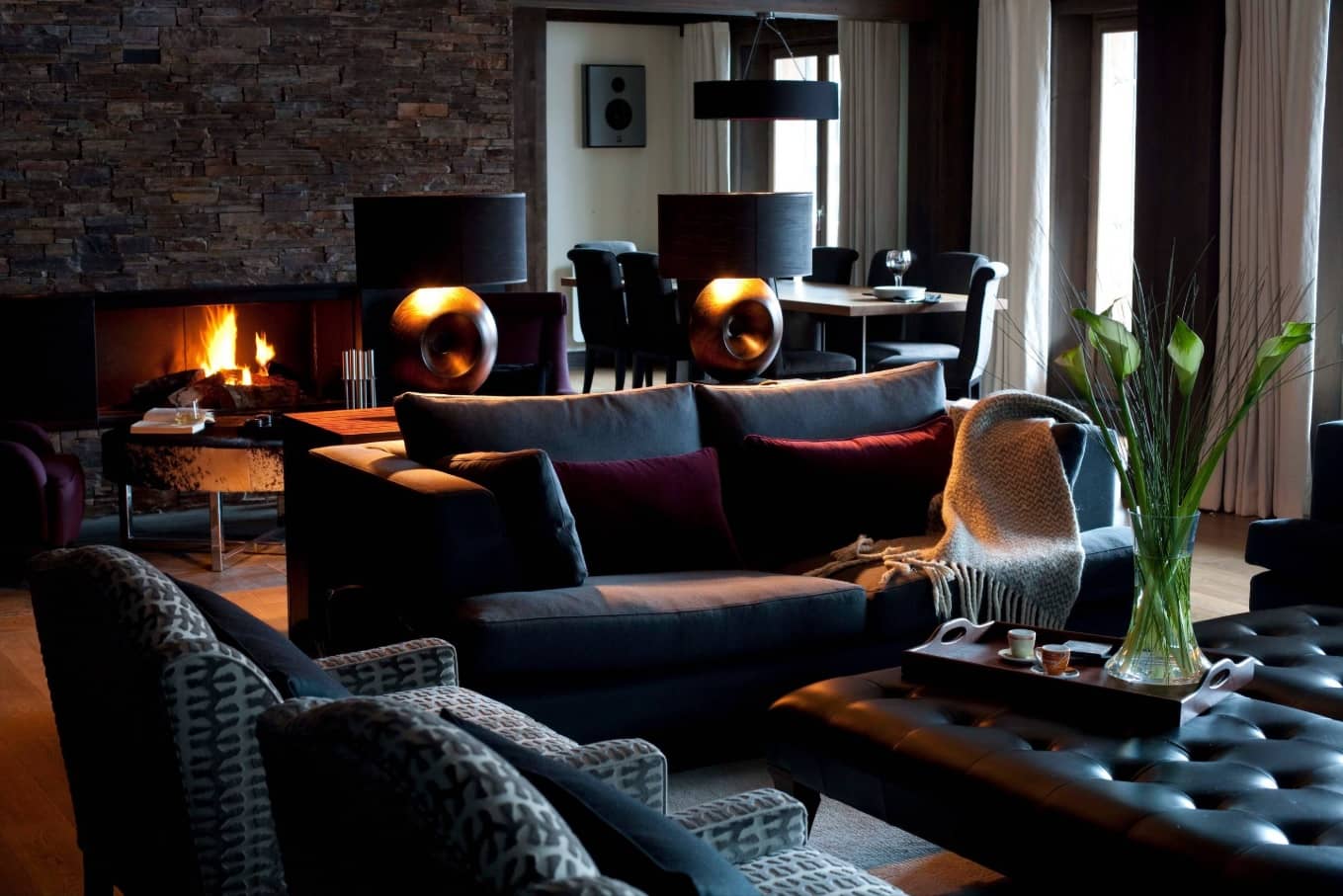 In such housing there was no place for bright, eye-sharp paints. Only calm natural shades:
were constant companions of the Chalet.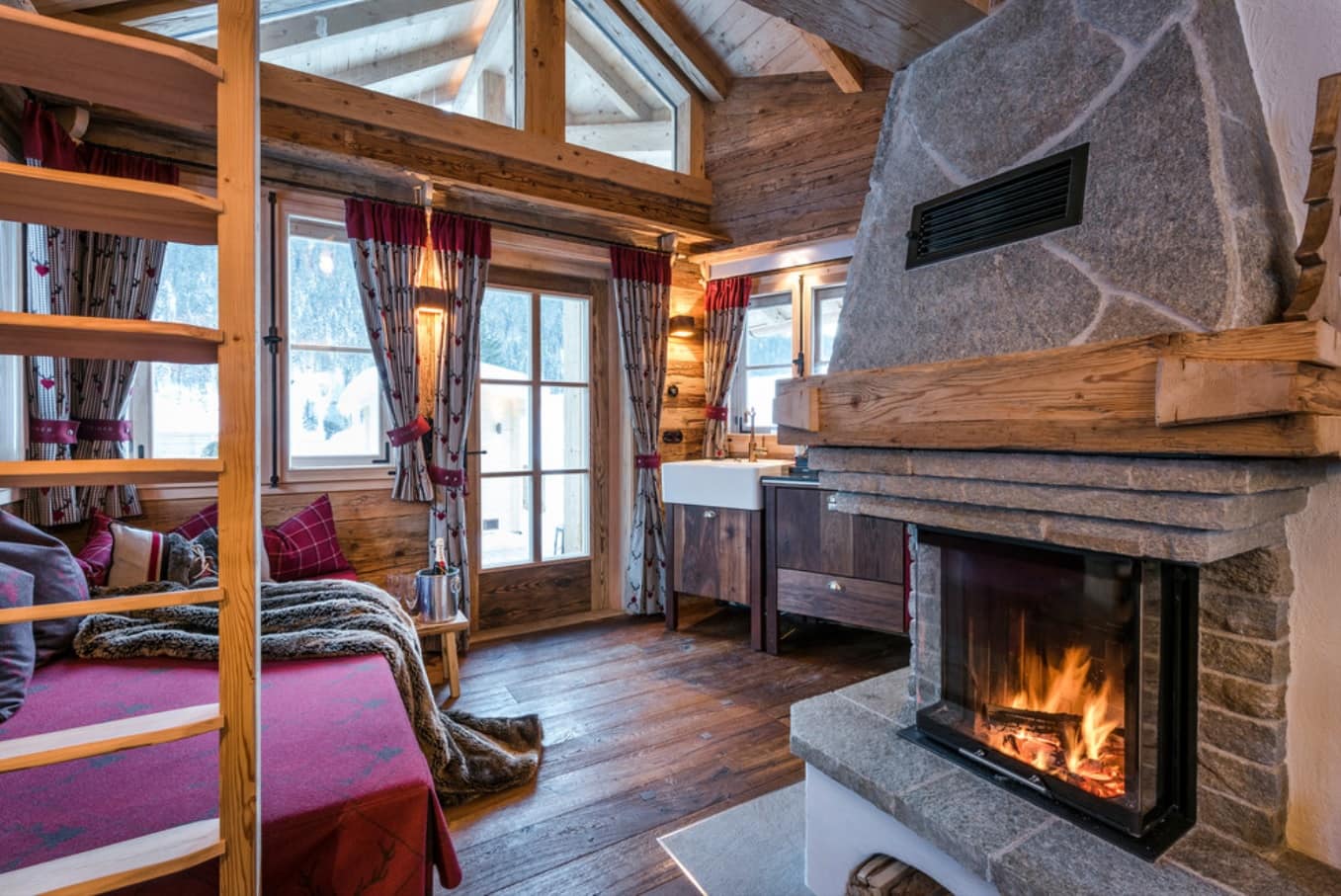 Nothing has changed in our time. Chalet style, as many decades ago, remains as restrained and strict. It is important to adhere to the tradition of using natural color combinations, playing with the individuality of the premises due to interesting contrasts.
The warm color of the wood perfectly complements the light natural rug of sheep wool, and the windows can be decorated with coarse curtains in the color of homespun cloth.
The resulting combination will create a unique atmosphere of comfort and tranquility in the house, allowing you to put yourself together.
If we talk about the color scheme inherent in the interior in the style of a chalet, so this is the predominance of calm and warm pastel shades, beige, terracotta, sand, all shades of wood. Furniture upholstery, textiles should be of natural, often unpainted, fabrics only. Bright blotches and rich colors are not relevant here.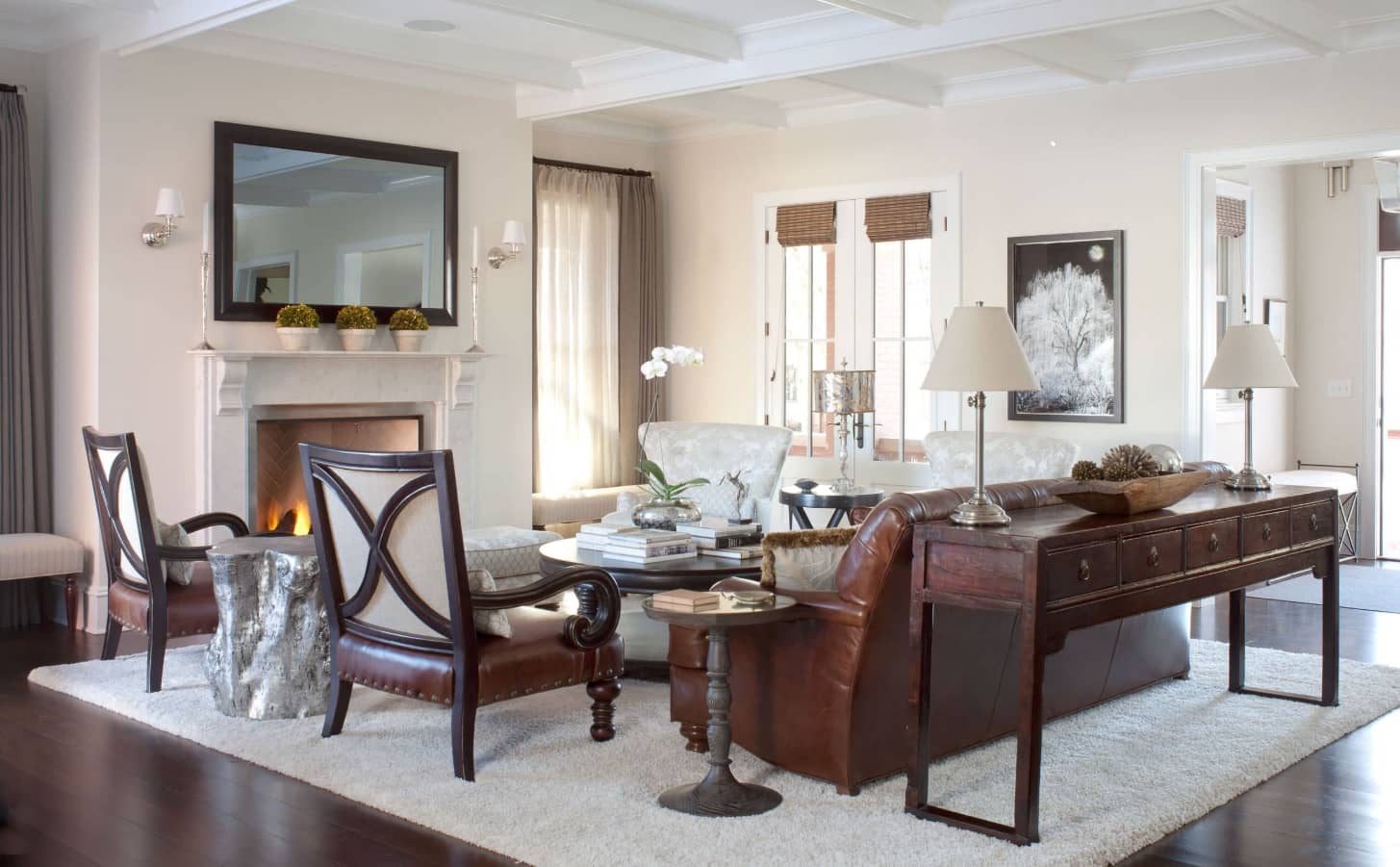 Chalet Style Home Accessories
Forged products such as furniture, chandeliers, fireplaces or stairs are in high demand.
When choosing furniture there are no strict rules, but we advise you not to use modern furniture – it is not quite suitable here. It should be simple, maybe a little rough, and wooden. Therefore, there is an option to make some pieces of bespoke furniture. Leather or wicker furniture of natural colors is also in demand.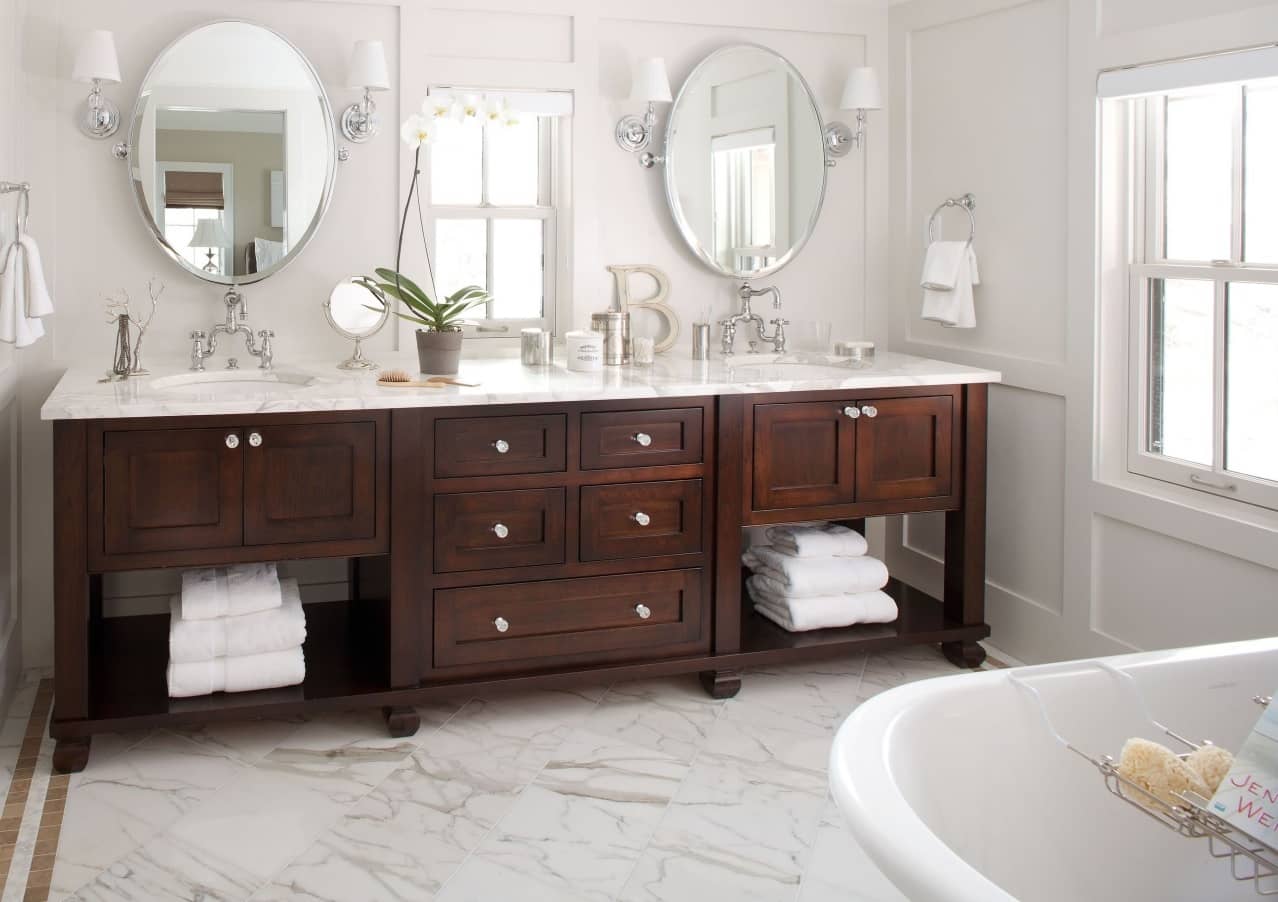 The style does not imply exquisite and delicate accessories. It can be large natural carpets, animal pelts or massive forged candlesticks, as well as handicrafts are used in the decor.
The stone is also the main finishing material for chalet interior. It is used for floors and walls. As a rule, the floor near the fireplace is made of stone, as well as in the kitchen or bathroom. You should not use it in the living room or bedroom: this will make the room somewhat "cold".
The main goal of the chalet is the interior that creates an atmosphere of peace and tranquility. There is no place for annoying colors of walls, uncomfortable furniture etc. Such interior style will be appropriate for the design of the house.
Chalet Style Lighting Features
The house in the style of Chalet is illuminated with a soft, diffused light. It does not matter in which design the lamps are made. Of course, it is better to avoid frankly surrealistic and kitschy forms, but, in general, if you want to fill the interior with cute items with lampshades, romantic drawings and prints, restrained colors, so why not? Features of lighting imply maximum proximity to the natural light, and therefore it is important that the rays to be directed towards the ceiling, quietly scattering along it.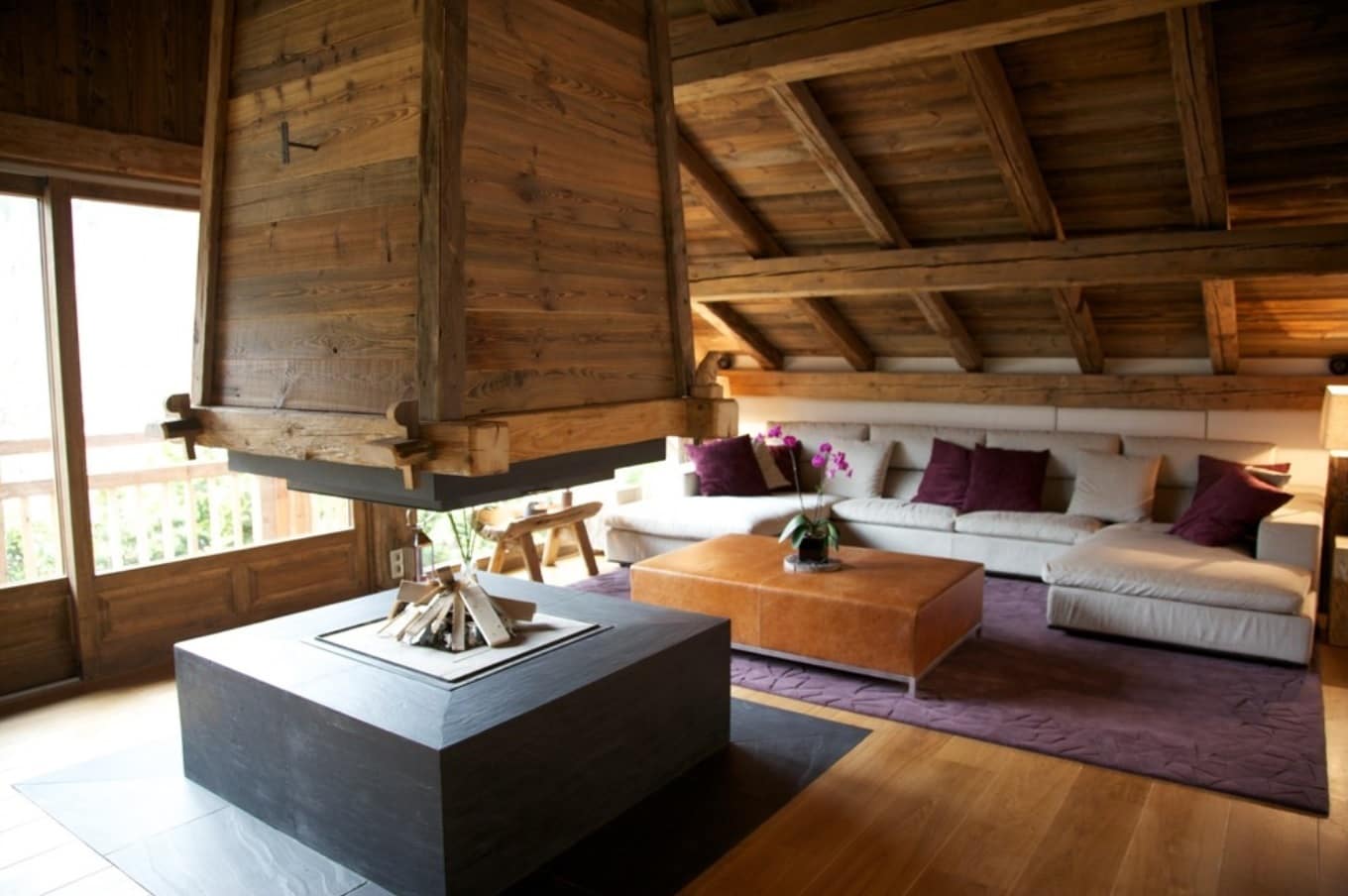 The design of each lamp (in bathroom, bedroom, living room, hall or hallway) has stylized features that form a single ensemble with a common concept. Chandeliers in the style of a chalet, as a rule, are forged, characterized by the brevity of the frame. The design necessarily includes the plafonds imitating candle stands. The central light is complemented by local ones. Wall lamps, small night lamps, cozy floor lamps with natural textile fabric which muffles the saturation of the backlight play that role.
Country house is the best place to relax. But what if there is a desire to create not just a comfortable, but also a stylish area? The project or visualization of the interior design of the house will help to predict the visual result in advance and choose the most optimal design options for rooms for the whole family.
Where is the Chalet Style Appropriate?
The interior of the house in the Chalet style is the ideal option for spacious country houses and cottages.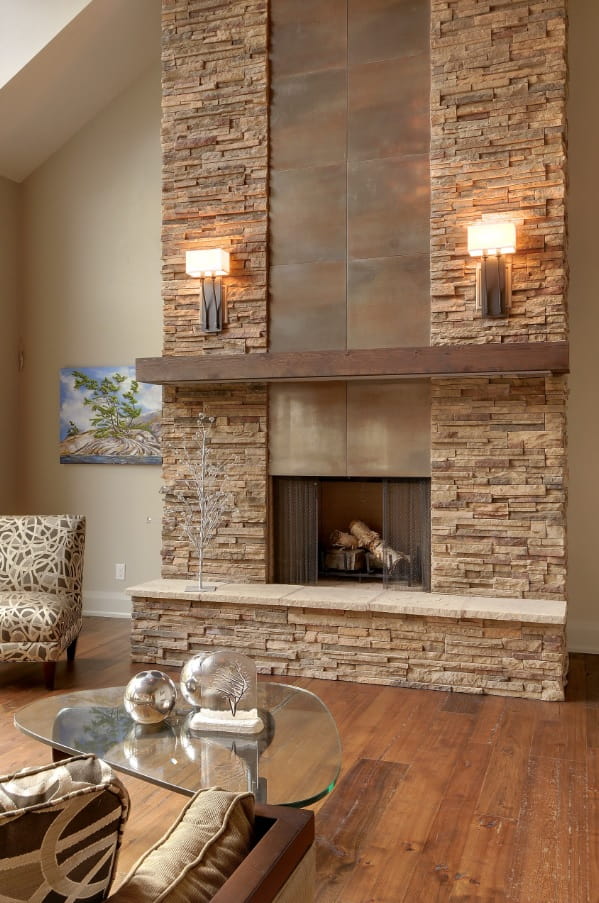 It can also be recommended for decoration of hotels and recreation centers, where people come to take a break from the bustle of the city, to enjoy communication with nature.
Chalet is perfect as an interior solution for restaurants and hunting lodges.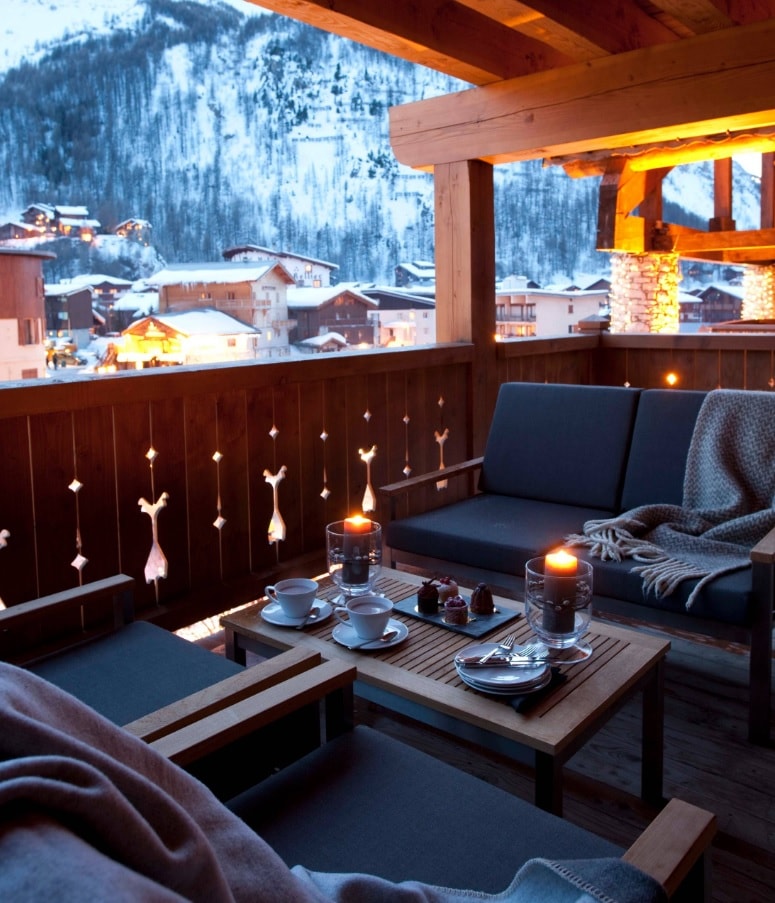 It is advantageous to use this style even in a small apartment, but in this case you will have to abandon some of its techniques.
In conditions of limited space, designers usually make one of the rooms in the style of the Chalet. It can be kitchen, bathroom, bedroom or office.
Design, unlike any other, having unusual embodiments and variations, is created exactly as you imagine it. Professional designers can develop an exclusive design of an apartment or house and embody it in your living space.
This is a unique style which is suitable for diverse purpose, functionality and floor space. It will be a great solution for those who love simplicity and comfort, and also prefer naturalness and natural elegance combined with slight pathos.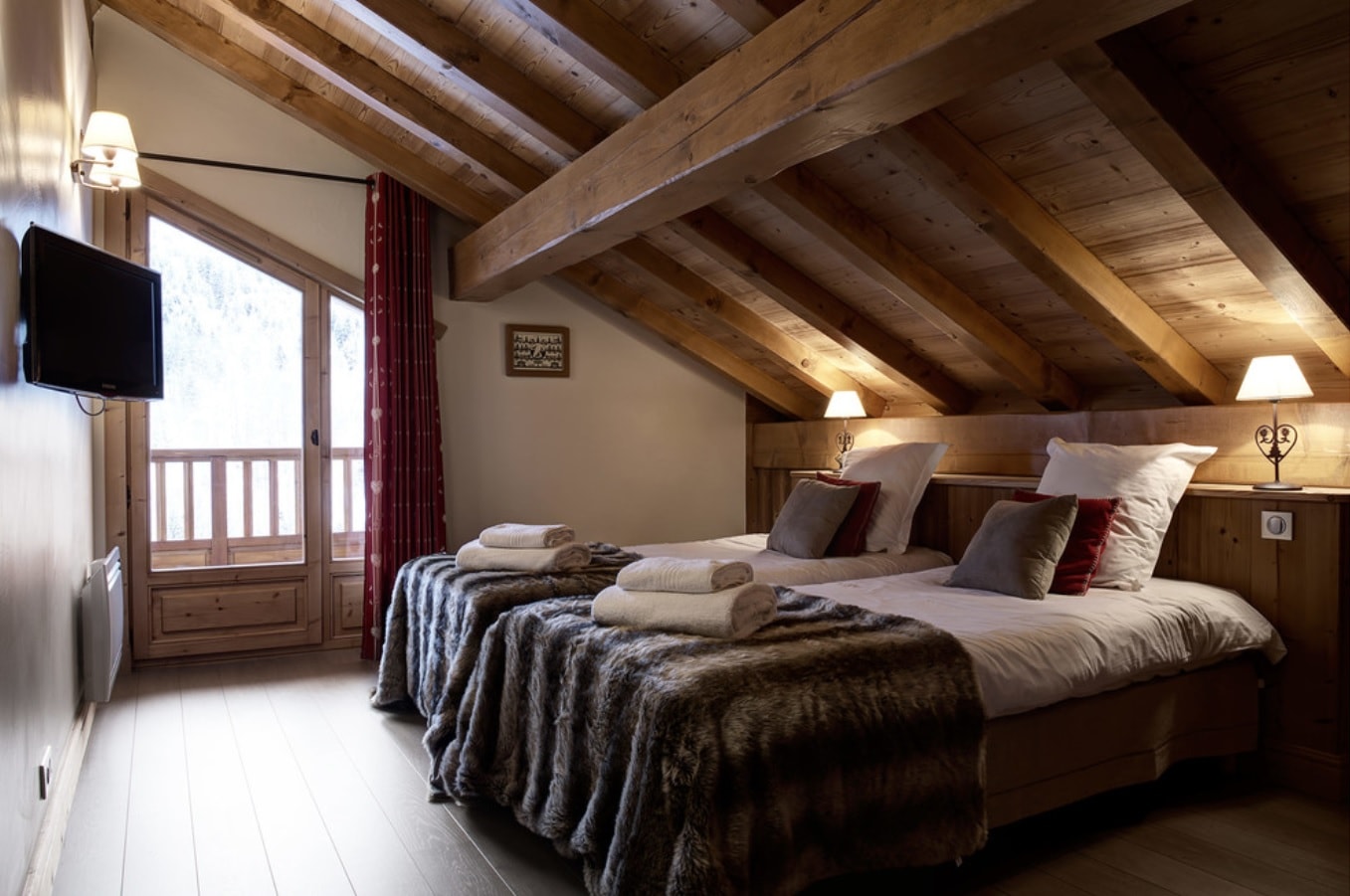 If you feel that the style described above suits you best, but your experience and knowledge do not allow you to take up interior design yourself, contact the professionals.
Chalet Style Kitchen
The chalet style kitchen combines both airiness and elegance. The color palette in this room is characterized by muted tones. Even the finish should not attract the attention with its brightness and saturation. It is best to choose beautiful natural shades that will harmoniously blend with wood and stone: brown, honey, gray. An interesting solution is the use of coatings with a matte surface.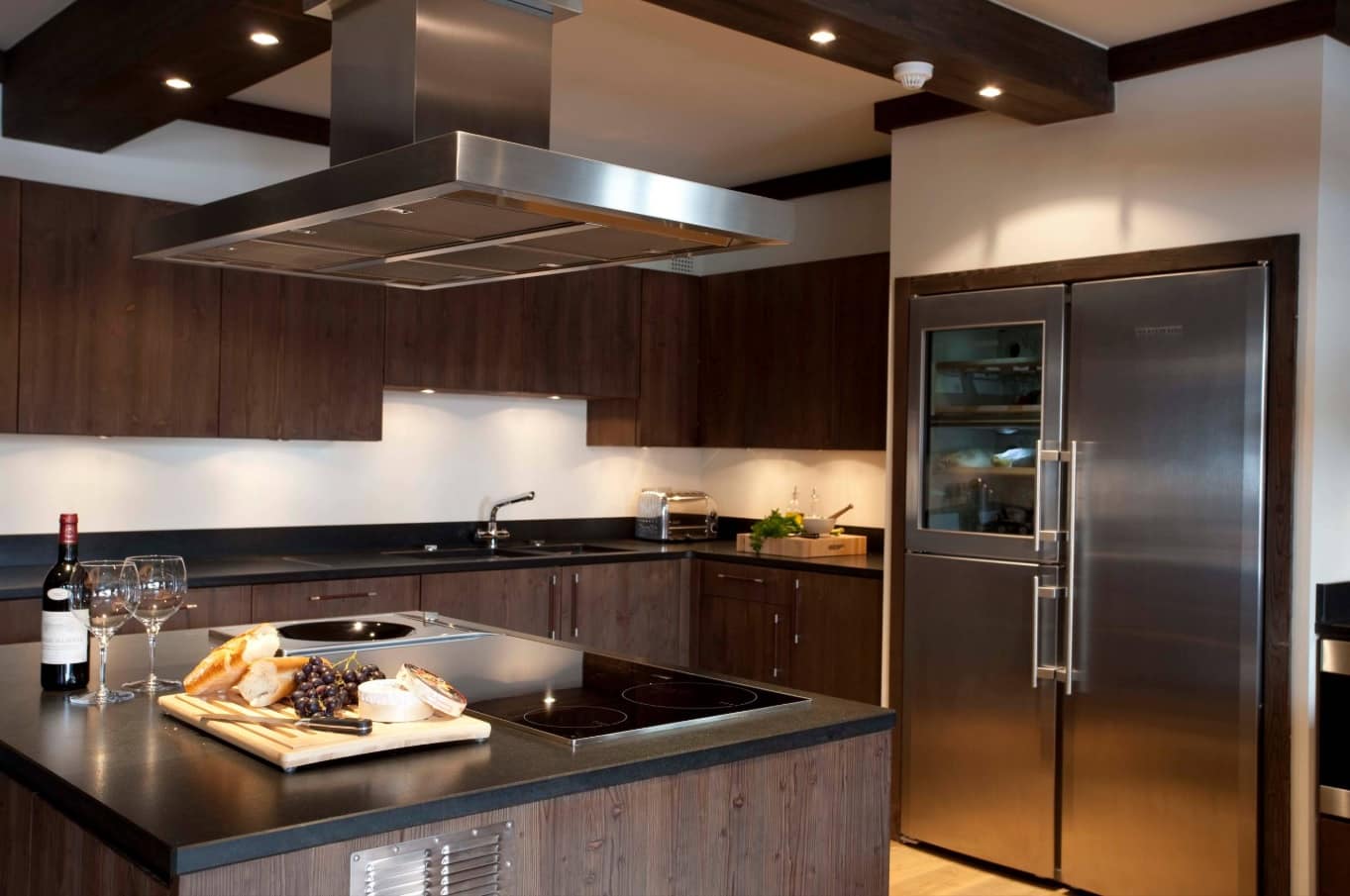 When designing a chalet in a studio or in a house, designers recommend hanging a large number of shelves and arrange ceramic or porcelain dishes on them, install hooks for pots and pans. This solution can successfully replace the kitchen set. Natural stone is ideal for countertops, but its imitation is also allowed. Installation of built-in furnishings and household devices will help support the concept of maximum convenience and functionality. A good idea is to place an interesting accent decor: a fur pelts, picture, a warm blanket.
Chalet Style Bedroom
The chalet-style bedroom surely includes a spacious and massive bed, a roomy chest of drawers or a wardrobe, and compact bedside tables. But this seemingly typical description of a room can and even needs to be diluted with original elements. The floor is covered with a soft carpet, which occupies only part of the space and imitates an animal skin. Instead of a chair, you can put a padded stool with fleecy upholstery. Cotton or linen curtains are a mandatory component: it is not worth taking too dark. Light shades of brown or beige form a nice set with a veil and wool pillows for the bed.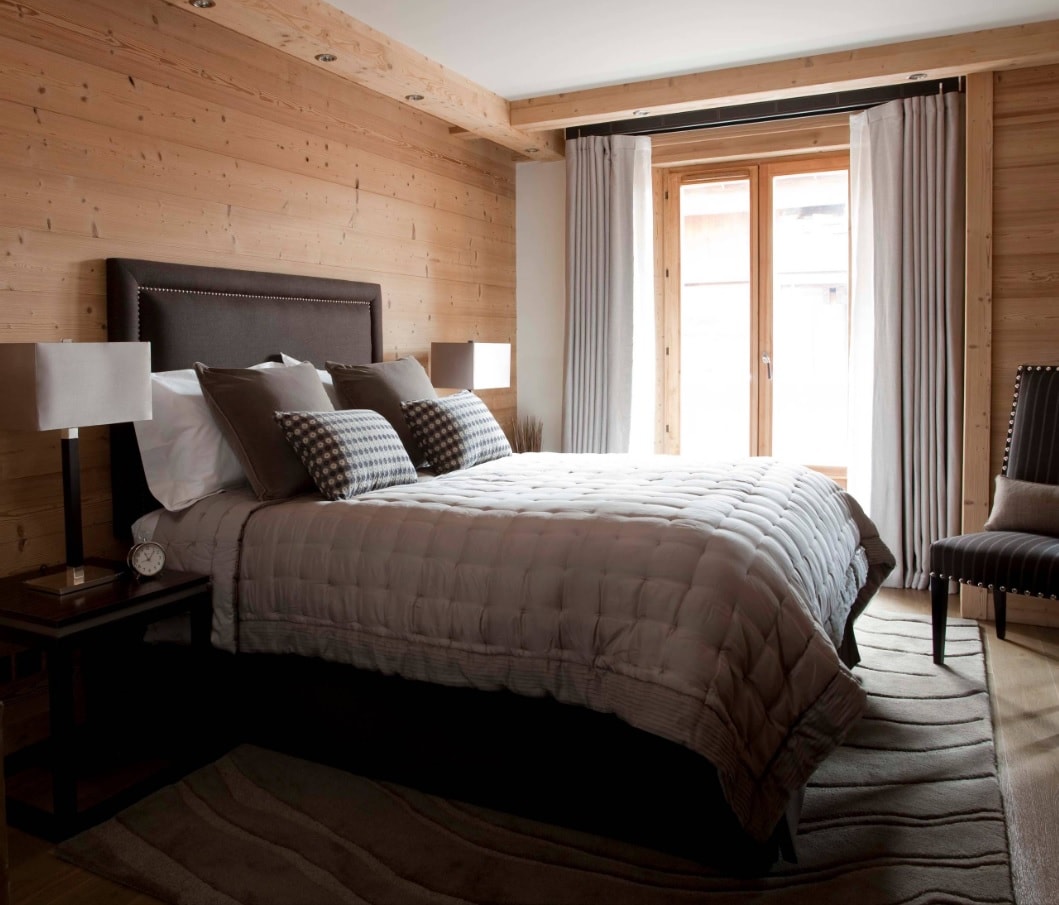 Chalet-style design for a quiet and comfortable space is impossible to imagine without cozy homey things – photo frames, candles, a decorative fireplace, and bookshelves. The color scheme of the bedroom is designed to create a mysterious and intimate atmosphere. To do this, choose pastel and soft tones without aggressive contrasts: chocolate, gray, menthol.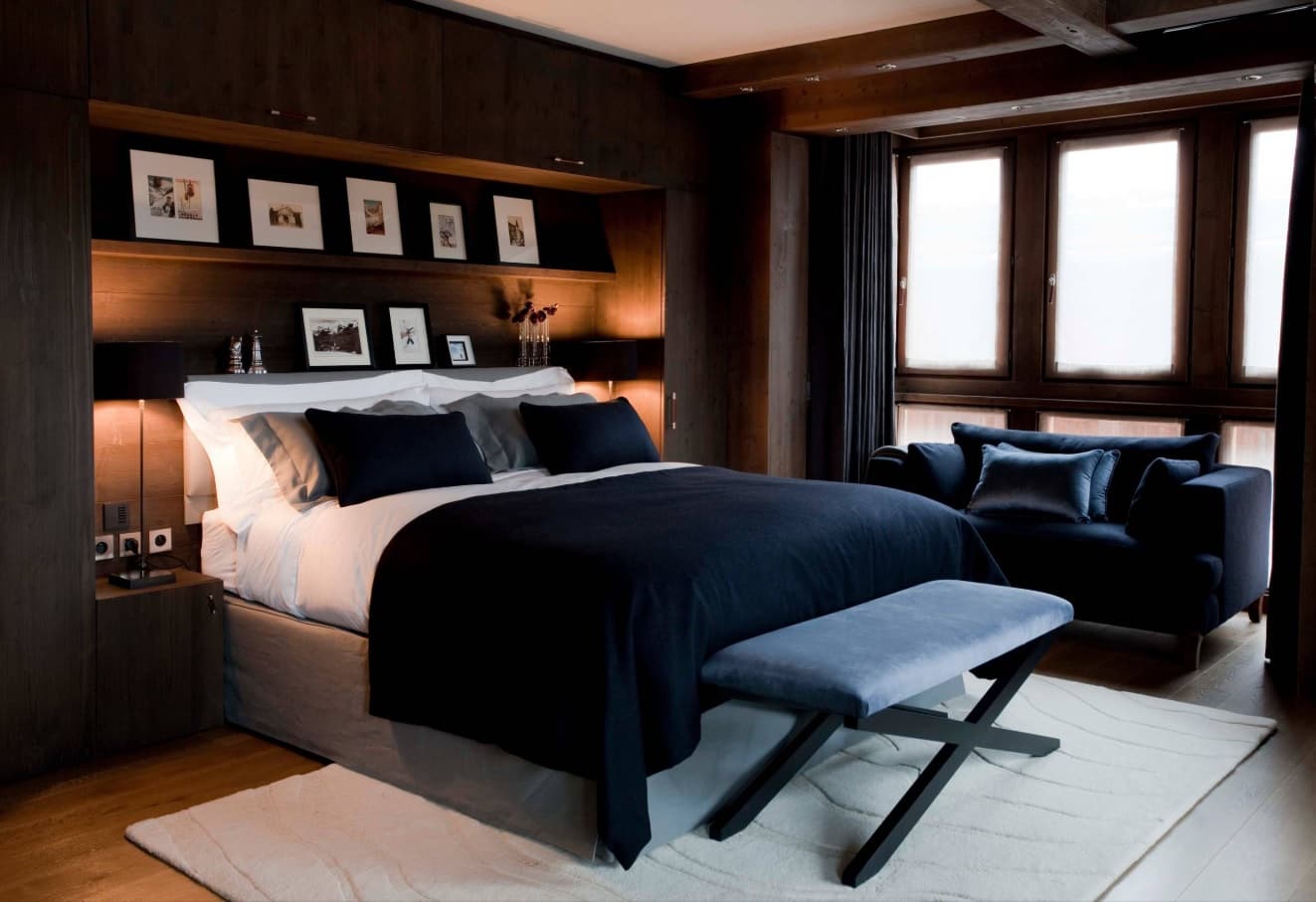 What Can`t be Used for Interior Design in the Style of Chalet
Given that the characteristics of the chalet imply the presence of natural materials only, any modern variations are unacceptable: this can lead to a violation of the concept. It is also unacceptable to use factory furniture items that are not original and are made from cheap wood. Any urban motifs are prohibited. They are able to drown out this charming touch of rustic authenticity, which is the most important for Chalet style. The minimalistic environment is not desirable to be violated with the dominance of useless products, even those that serve as decorations. It is important that each element has its place and purpose.
Thus, when creating a design, it is better to exclude:
too many colors in the finish;
substandard materials, as well as synthetic and metallic ones;
classical architectural components: plasterboard arches, partitions, stucco on the ceiling;
decorating an apartment with low ceilings;
the presence of modern technology in sight;
plastic windows.