A house is a place where you create your own atmosphere of comfort and relaxation. Each individual style of design and the colors used to create it serves to reflect the tastes of all those living in the house, their character, and even their goals. Among the latest and most popular trends in choosing a color, one of the first lines is beige color interior decoration ideas: proper combinations and applying in different rooms.
Contents: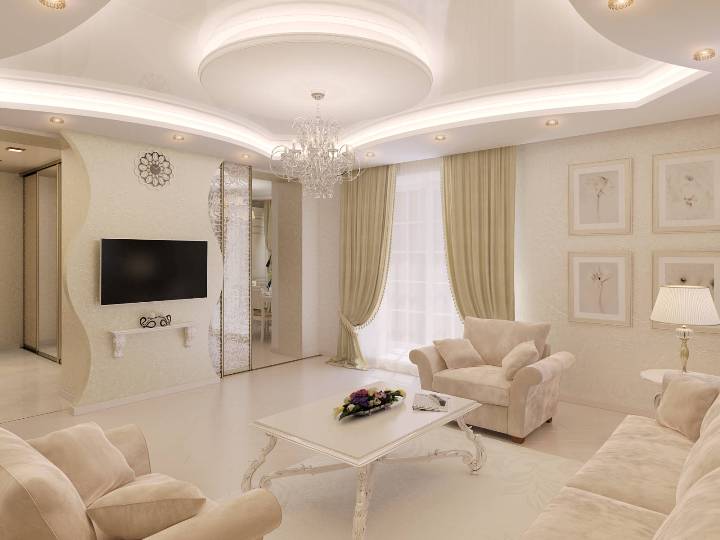 Interior in Beige Tones and the Reason for Its Popularity
The reason for the popularity of this color, its numerous shades and halftones are very simple. The shades of beige are considered universal. Therefore, they can be used in any interior of any style. At the same time, it copes well with both the main role in the design, when several shades of the same color are used and with a minor one, when the interior has small accents of light beige, almost milky, to a pleasant cappuccino or chocolate.
On the other hand, it is this color and its shades that are considered a classic, which from year to year introduce novelty and a fresh look into the design of interiors. Some designers are mistakenly afraid to use it, believing that it can act solely as a background, but those who dare to introduce interesting combinations will be rewarded in full.
The Combination of Beige in the Interior: the Basic Rules of Design
When decorating interior in beige tones, the following rules should be adhered to:
Use beige as a background for walls, ceiling, and floor in combination with bright decor and furniture elements.
The room should be with bright walls, dark floors, and light furniture.
Combine lighter beige tones with darker ones. The difference between them will be small, but additional design in the form of gold-colored pillows, moldings, decorated with dark wood or baguettes will make it more obvious. It is enough to bring a few bright pillows, change the curtains or blankets for furniture to refresh such an interior. If only shades of light beige scale dominate in the interior it is important to balance them, since there is a very fine line between really spectacular design with luxury elements and full, unremarkable grayness.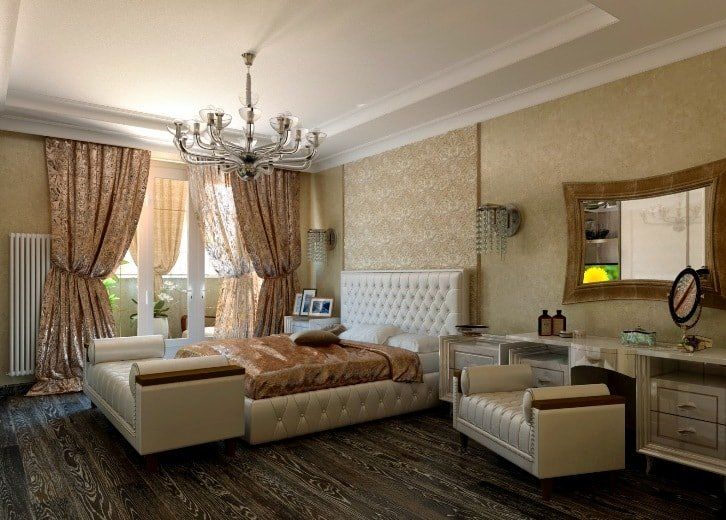 Shades of Beige Color
Below are only a few shades and colors that can be attributed to the beige group:
sand;
cream;
ivory;
cappuccino;
biscuit;
opal;
wheat;
caramel.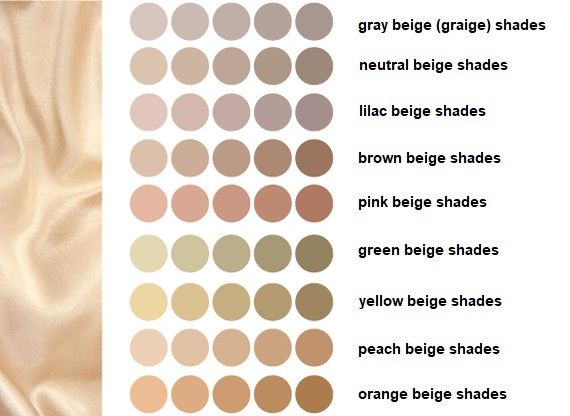 What Colors are Combinable with Beige in the Interior
Since beige refers to natural colors, in the first place, it will best look in combination with other colors found in nature. Among the most popular color combinations are beige with gray, brown, blue, turquoise, green. For fans of extravagance in the interior, it is better to pay attention to such colors as orange, fuchsia, bright pink, and red.
Gray Beige Color
The combination of gray and beige colors in the interior is suitable for people with a calm disposition, who, above all, are eager for family comfort and home rest.
To get rid of the monotony, you can add a bit of green. This combination has a beneficial effect on the nervous system by soothing it.
Correct distribution of colors will help visually change the perception of the room. Light gray and light beige expand the room, while a darker gray makes it visually smaller. Correctly placed accents of gray and beige help especially in cases with non-standard dimensions of the room, for example, when it is necessary to make the wide room narrower. These colors make it of more correct, square shape. The most vivid representative of this combination is the Scandinavian style in design.
Beige and Brown Interior
Interior in beige-brown tones is ideal for the living room or kitchen. Also, do not abandon this duo when designing a bedroom. Many doctors and psychologists recommend using this combination for furniture items and decorative elements for people suffering from insomnia and those who are in constant tension at work.
The interior in chocolate-beige tones looks noble, especially if there is a lot of light in the room (no matter natural or artificial). Impregnations of chocolate color according to the rules should be small in such an interior but at the most prominent places. For example, it is most suited most for the design of doors, baguette paintings, pillows, or blankets for a sofa in the living room.
It is important to pay attention to the correct combination of these colors. Do not get too involved with chocolate shades. If you overdo it, then the general atmosphere will not be for rest, but on the contrary, will cause a person to feel a sense of heaviness and oppression. It is advisable to consult with a professional designer before proceeding to finishing work indoors or choosing furniture.
The Combination of Blue and Beige in the Interior
And let's speak another word about the classic combination of colors. The combination of beige and blue in the interior can also be considered classic. Beige here can act as a background, and blue as a bright addition, attracting the gaze to itself. But before the final choice, you should carefully study their features, advantages, and disadvantages. Among them, the following pros and cons can be distinguished:
Benefits
A universal option for a nursery, bedroom, or living room.
Increases space.
Ideal for small rooms with insufficient lighting. In order to keep the comfort in a room with such a finish, it is recommended to choose cold halftones of blue and warm beige. Then the room will become visually larger than it really is.
Refreshes the room.
Disadvantages
Causes an unconscious feeling of cold. The blue color gives freshness, but at the same time, it is undesirable to decorate bedrooms in blue spectrum. In this case, the person will intuitively but constantly feel cold. The only exception is the bedroom where it is hot enough in the summer.
Very slight spots or contaminated areas will be noticeable. An effective solution will be the use of wallpaper with drawings, various textures, embossing. An example is a blue wallpaper with beige ornaments.
Interior in Beige and Turquoise Tones
Such a connection is very dangerous and you need to think about every detail in advance. Most often beige and turquoise in the interior combine in such proportions – 80% beige and 20% turquoise. Mostly it is light wallpaper, partly light furniture. The decorative elements are dominated by turquoise carpets or beige carpets with a turquoise pattern, vases of marine color, cushions, photo frames. The presence in the room of a turquoise chair or a small sofa is also acceptable.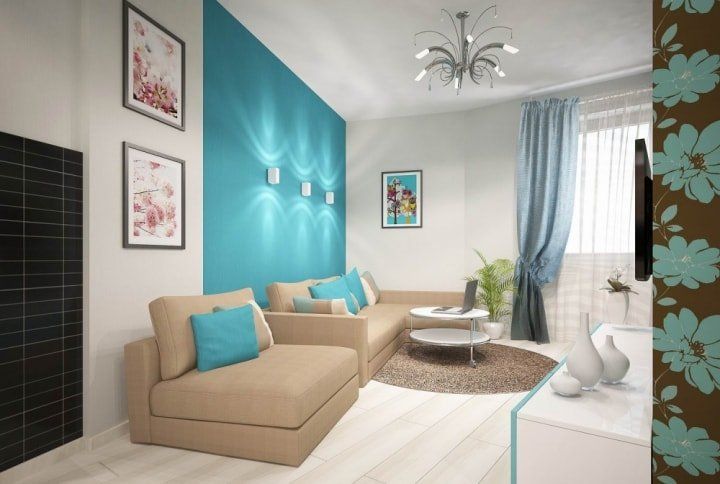 Kitchens where the furniture is light beige and the splashback is warm turquoise will look very unusual and stylish at the same time. The opposite option will be turquoise furniture and beige wallpapers, countertops.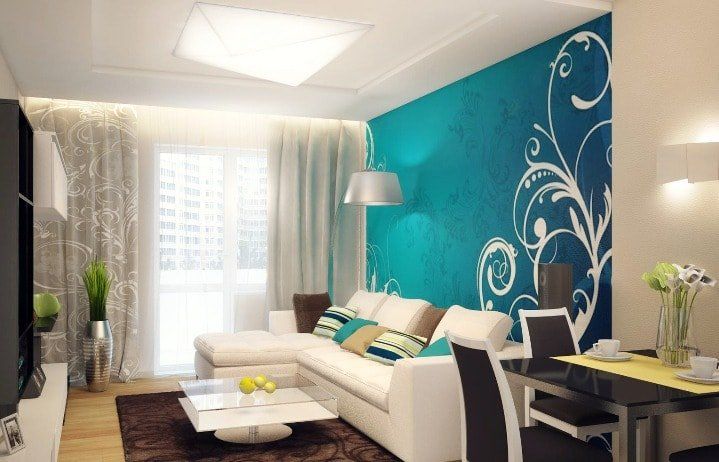 For the most daring people, who appreciate originality in the interior, the use of dark brown or orange colors as additional one is acceptable as well.
Beige and Purple in the Interior
Purple color is used quite often for decoration of the room. Its effect on a person is very controversial, because, on the one hand, it has the ability to calm a person, and on the other hand, on the contrary, excites him or her for productive work. It is preferred by intellectual workers and art workers since it is known that it contributes to the development of imagination and intuition. If you want the shades of purple not to irritate the eye, they should be combined with beige.
There are two variants of such combinations:
Uniform distribution of beige and violet. Wallpaper or other decorative finishing of walls with light beige tones with violet furniture, such as dining table chairs, tabletop, and kitchen set or with dark eggplant curtains. The other side of this distribution is purple walls with an abundance of beige decor, light furniture, where bright blotches of turquoise, green, or lemon tint are acceptable.
Accents on purple details. These include lampshades, shelves, photo frames, print on the carpet, vases, individual nightstands or tables of high-tech
Beige and Green Interior
This type of decoration is very natural. The person feels as comfortable as possible here. Using different shades of green (from bright grass color to emerald) in combination with beige, you can decorate the room even in the oriental style by using the combinations of these two colors only. Furniture plays a major role here. Designers recommend adding furniture with dark brown inserts in this interior.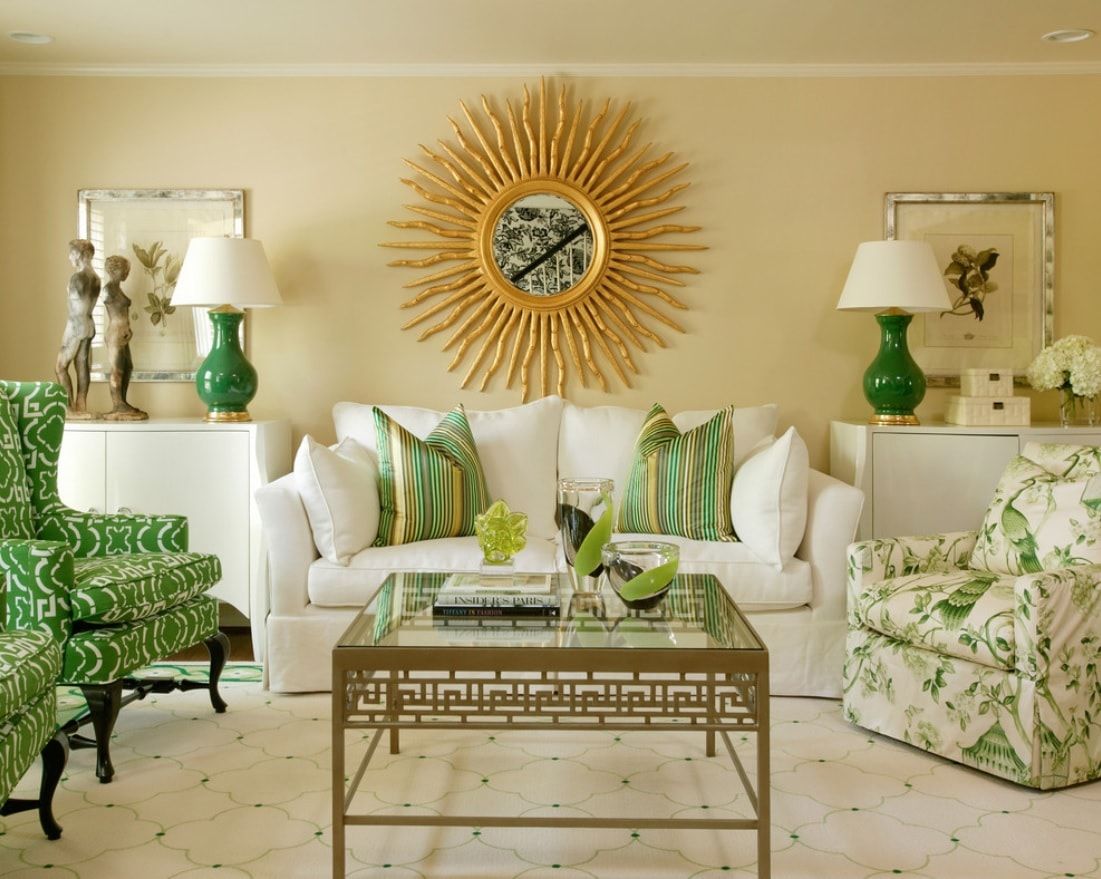 The combination of beige and green in the interior is very laconic and harmonious. That is why it is chosen for decorating a kitchen, bedroom, or children's room. Design any room in this style can even an amateur in the design. It is almost impossible to spoil it.
The Combination of White and Beige in the Interior
Balance in such a combination plays a huge role. To the interior does not seem monotonous or boring, one should adhere to the following rules:
using no more than 3 shades of beige. If you increase the number of shades, the overall picture can be smeared, lost in these elements;
in addition to the classic combination of two colors, add 1 to 3 bright elements;
add textures – metal (metal products or decorative elements of gold, platinum, bronze, or copper colors will be perfectly combined with beige and white) and wood.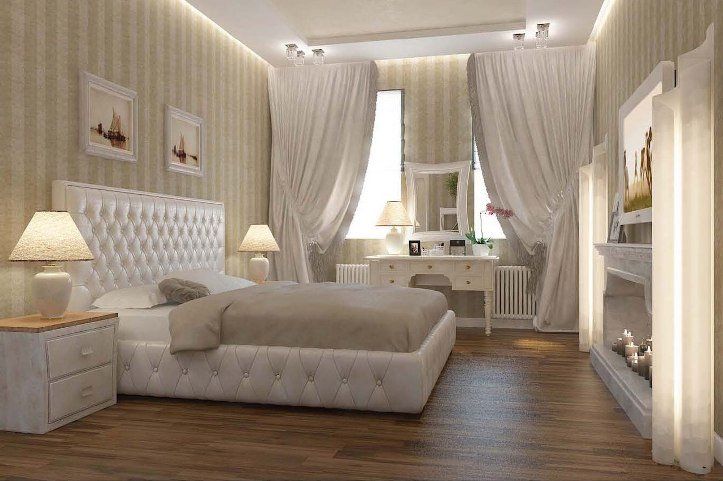 Pink-Beige Color in the Interior
Beige and pink, when connecting in the same interior, look very sensual and gentle. Quite often, such an interior is called "girly" for its femininity and elegance. With the help of such a combination, designers often decorate children's rooms or living rooms. The style of art deco can not be imagined without this combination.
Interior of the Living Room in Beige Tones
The living room in beige tones is preferred by couples with children. It has several advantages:
Light shades contribute to relaxation and tranquility, they create their own special atmosphere of comfort;
an opportunity for the development of creativity, imaginative thinking, and gay fantasy (children will appreciate it);
the universality of design.
Selected tones for the living room can be constantly diluted with other decor elements or by additional painting the walls. Each new combination and every new element of decor, whether it is pillows, carpets (ornamental or monochrome), or furniture will revitalize the overall design and change style depending on the mood of the house's owners or their changing tastes.
Bedroom Interior in Beige Tones
The beige color in the interior of the bedroom is a symbol of comfort, relaxation, and a touch of luxury. In such a bedroom, a person will be able to fully relax from a hard-working or emotional day. What is important to pay attention to when designing a bedroom?
Combination of halftones and shades.
Combination of textures. The room can be a win-win design through the use of textures, for example, bamboo wallpaper or a light wooden floor. The total scale remains the same, but the textures bring their own diversity to it. If you add woolen things or things from the fur, you will create a mild atmosphere of relaxation.
Interior of Beige Kitchen
Natural materials of light colors, among which the priority is given to beige tones, are always used for Rustic style, Provence, classics. In this case, such a kitchen will never seem boring and monotonous. It will look stylish, relevant, and not subject to changes, that is, it will never go out of fashion.
Beige color is good for the interior primarily with its versatility. This makes a person able to constantly experiment, update the environment in the house. Whichever color is selected in a pair with beige, they will always create the perfect tandem for any room. When choosing additional colors, accents are made only on the effects that the host wants to get, whether he or she wants to make it cozy for family pastime or a youth free space for fun.