Modern, sleek, and chic at the same time high-tech (or high technology) style at home or office interior stands out with a thoughtful attitude towards the allocation of furniture and household appliances, the use of artificial materials, and minimal decor.
The interior design of a modern house or apartment in high-tech style is a solution for dynamic people, who are motivated, ambitious, focused on the rhythm of the city, and not tired from life.
Apartment in high-tech style – this is a timeless design, luxurious beauty of shiny smooth surfaces, modern appliances, and a special dynamic elegance of the interior.
High-tech Interior Style Overview:
Metal, glass, and plastic;
Open space, cleanliness, and a minimum of decoration;
Ergonomics and functionality;
A large number of modern home and digital technology;
Single-colored decoration of the walls, floor, ceiling, and furniture;
Restrained colors: black, white, gray;
Applicable color accents are red, orange, green, blue (eg, chairs in the living room or part of the facade of kitchen units);
Clean lines, strict geometric shapes (square and rectangle mostly);
Absence of rounded surfaces and flowing lines.
Room in the high-tech style devoid of a comfort compared to the room decorated in the "Country" style, as the aura of relaxation which is characteristic of Tropic and Marine styles, because design in high-tech style embodies freedom, relevance, progress, and movement.
Style Features
Furniture
Furniture in high-tech style – it's an office chair and chairs, plastic facades of kitchen units, built-in appliances, sofa of strict form, coffee and dining tables of plastic or glass. Chairs can only remind the office, but they require leather or synthetic leather upholstery and metal fittings and the base.
Furniture in this style is modern appliances, built-in wardrobes, a minimum of open shelves, and strict symmetry.
Hh-tech means an abundance of mirror surfaces (cabinets, kitchen, table) and a minimum of decoration. Cushion or painting within a strict framework can be the bright spot (monophonic only).
Textile
Textile items aren`t widely used in the interior in high-tech style either:
Curtains in high-tech style are usually replaced with metal shutters. However, it is possible a combination of blinds with long white curtains mounted on a hidden ceiling cornice. Curtains with the pattern are unacceptable. Use only light fabric without pelmet, clips, and holders.
Fabric upholstery is usually replaced by leather. Cushions can be of cloth. Fabric upholstery of sofas and chairs are also admissible, but the interior has to be monochromatic and smooth.
The kitchen in high-tech style it's a kitchen without a colorful tablecloth and towels and potholders. This kitchen is a territory glassy, smooth, flat surfaces, multifunctional appliances, and stylish lighting.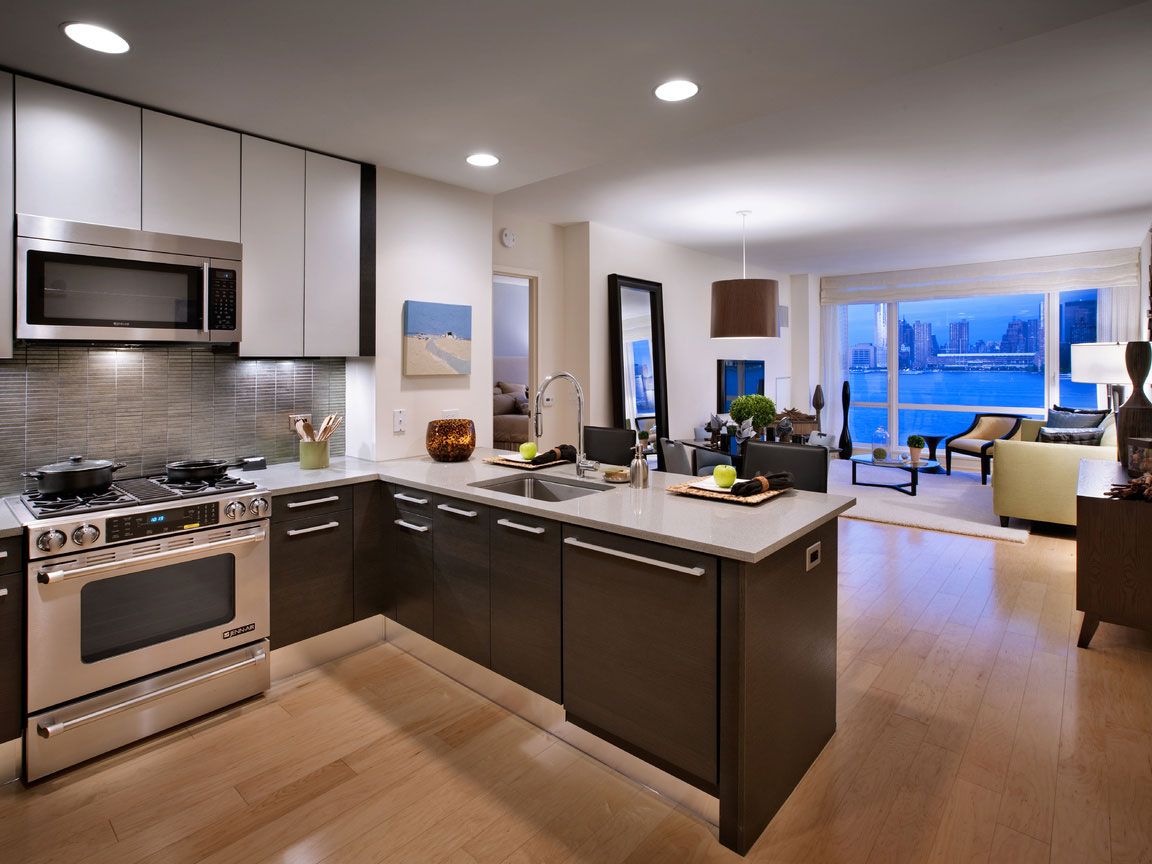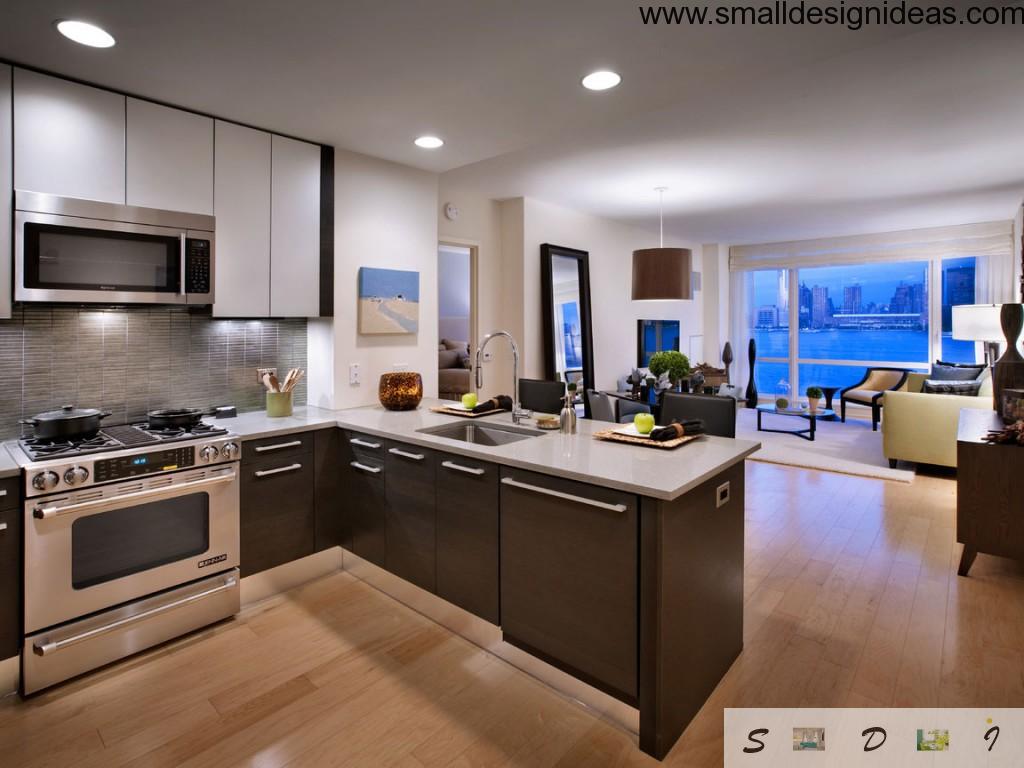 Order apartment design in high-tech style means to choose progress dynamics and comfort instead of the artsy sophistication of classic or warm comfort of ethnic and rustic styles. High-tech interior design is chosen by self-confident, modern people who appreciate progress, comfort, and style.
The history of the emergence of style
The style of high-tech appeared in the middle of the XX century. Its name comes from the abbreviation of the phrase «high technology», as everybody knows. In the sphere of interior design, this style came from architecture, where it was born in the times of late modernism, combining pragmatism, pop art, and ideas of science fiction of the 60s.
The founders of high-tech architecture are British men Norman Foster, Nicholas Grimshaw, Richard Rogers, Italian Renzo Piano, and the group of "Archigram" architects.
Buildings in high-tech style – it's expensive, modern, and comfortable.
The interior is decorated in the style of High-tech also features the use of expensive and practical artificial materials, aesthetically sophisticated simplicity and functionality.
Where appropriate high-tech?
If you like the modern interior design – high-tech is your style:
The particularly appropriate high-tech style is in the interior design of the office: rigor, conciseness, business spirit, and modern office supplies – all this sets a working mood. You can order office design in high-tech style for the advertising firm, and for the business center or bank office, or pharmacy.
The high-tech interior of electronics or mobile store organically emphasizes the relevance of the assortment range and its progressive direction. Metal, glass, and plastic are excellent backgrounds for modern gadgets.
The high-tech interior of the trading floor is equally appropriate for the departments of home and digital technology, for shopping centers, focused on the sale of CDs with movies and games, for modern clothing and accessories shops.
The interior design of the shop in high-tech style visually increase space with the help of sleek metal, glass, and plastic surfaces. It is a modern lighting and clean lines. This is a space, light, and no pretentious interior parts, distracting attention away from the product.
The design of the exhibition stand in high-tech style – it is the most popular solution, which is selected for ease of installation and demonstration of technical progress, sealed in a metal, plastic, and glass clean lines and symmetrical forms.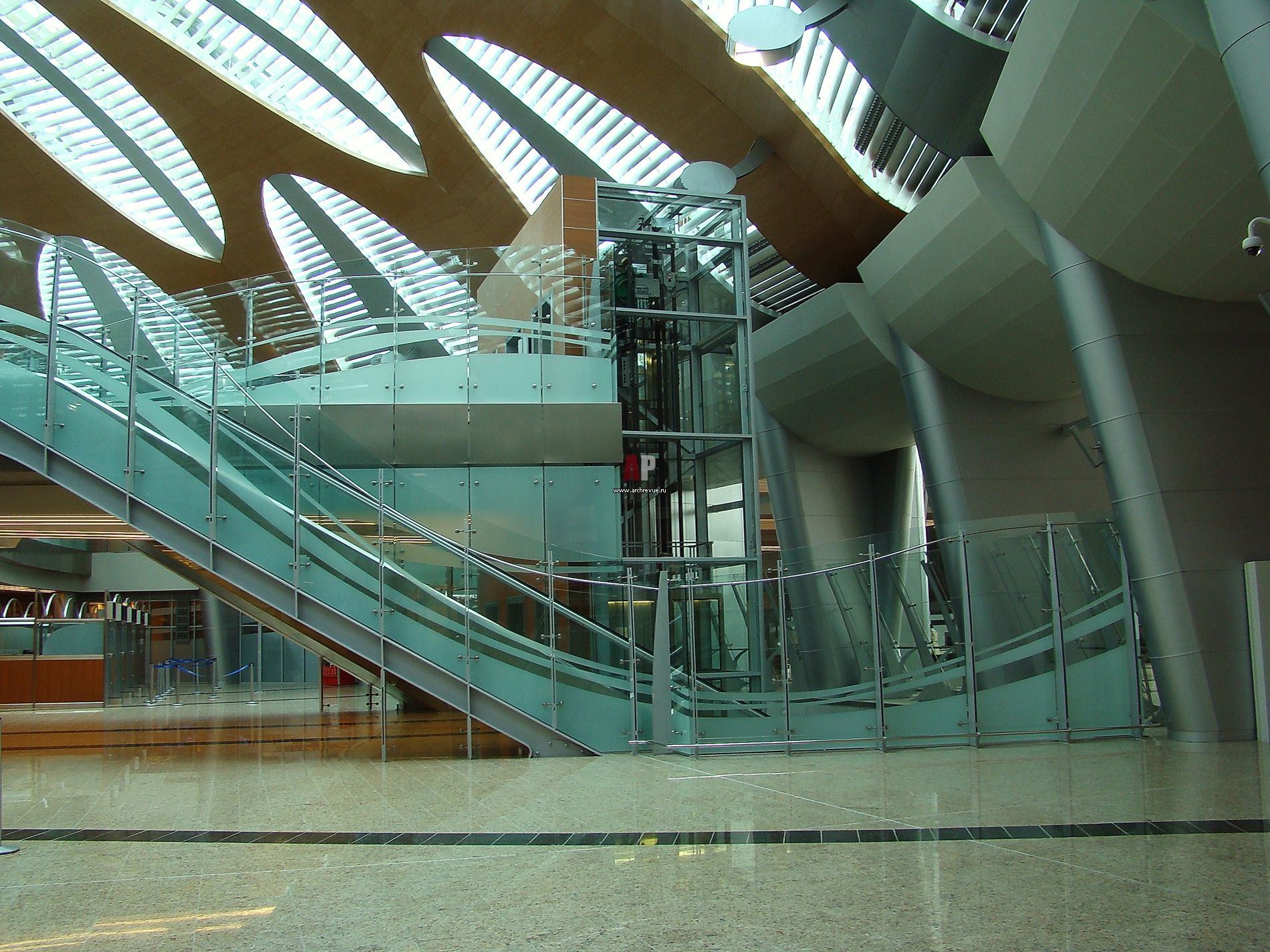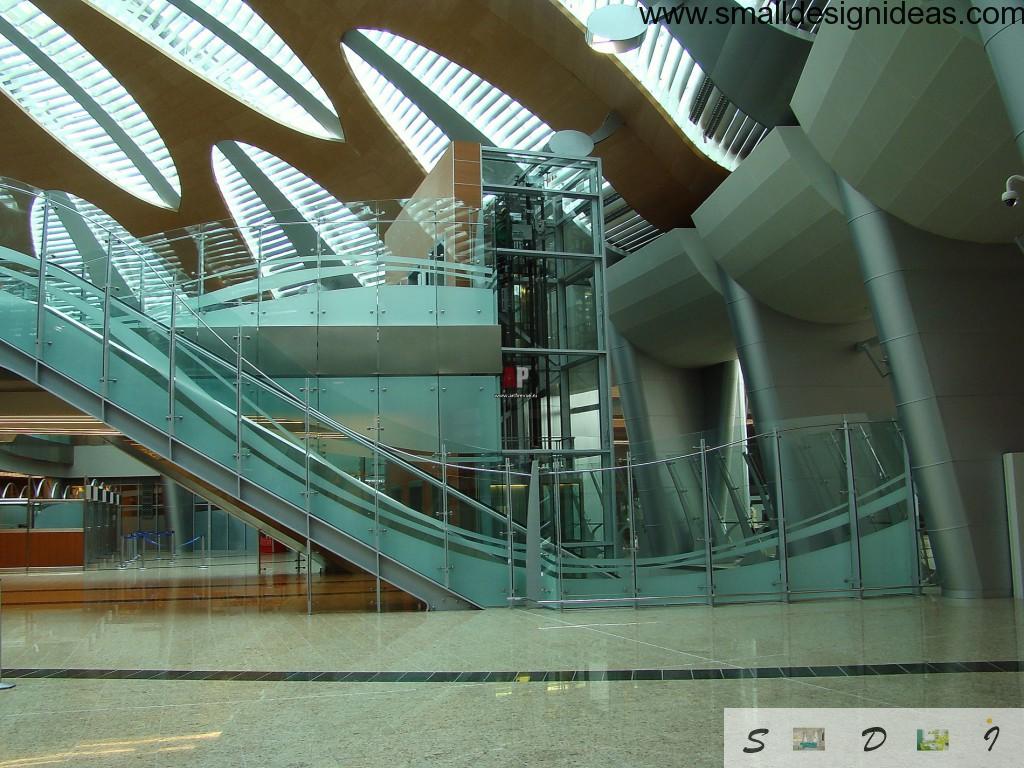 Order Interior Design in High-tech Style Can be for the Dwelling.
High-tech design (see at the pics) is bright and strict at the same time, looks great in the interior of apartments and private homes.
High-tech in the living room is a combination of comfort and brevity. Living in a high-tech style is ideal for those who appreciate the convenience without excess and beauty without the pretentiousness. Special chic of high-tech is a harmony of symmetry, straight lines, and austere forms, restrained color gamma and minimalist aesthetics.
The kitchen of High-tech has a special design: black (rarely white) color, monochrome design, built-in appliances, spotlights combined with a metallic luster, only the functional parts of the interior. Kitchen Design (High-tech style) is cleanliness, order, and accuracy: on the sleek surface of kitchen fronts slightest speck will be noticeable, so this style is not for lazy people. If you decide whether to order a design project of the kitchen in the style of High-tech, interior photos of this style will help you to choose the correct answer.
The bedroom in hi-tech style is designed to sleep only. Nothing distracts from the rest and nothing disposes you to spend more time here than you need. Often bedroom windows are closed with roll black-out (not reflect light) blinds or Venetian blinds.
Owners of modern housing must order design of penthouse in high-tech style: this style reflects the spirit of the movement, progress and continuous technical development era.
Why High-tech?
This style combines the practicality of the Functionalism style and the Techno style with great aesthetics of the Minimalism style. This combination of understated beauty of the space, freedom and spaciousness, and comfort in the interior, which gives modern appliances.
High-tech – it's a stylish, modern, beautiful, and comfortable style for your apartment.
Modern interior design – it is a high-tech style:
Actual finishes;
Bold design solutions;
Stylish lighting;
Harmony in strict geometric forms.