Respectable, elegant, and refined English style in the interior design of apartment, country house, office, or salon is often chosen by those who appreciate quality, discreet luxury, and the ageless charm of classics. Modern interior in English style looks as refined and aristocratic, as it was two or three centuries ago.
Contents:
English Interior Design Style is:
Natural wood as the primary material for trimming;
All shades of brown (from light beige to dark brown tones) in the design of premises. Such shades as wine, purple, crimson, dark green, carmine, a shade of rust, olive, etc are also appropriate. English style is the choice of noble shades (sea green and burgundy, sapphire and dark green), this style does not accept the flashy, acid tones or a bright game of contrasts;
Interior design in the English style is old-fashioned and noble. It is difficult to imagine without the various furniture: chairs and sofas, desks and tables, cabinets and shelves, chests of drawers and cabinets;
Symmetry and mostly smooth lines;
Geometric pattern, floral ornament on textiles, furniture decoration carved elements;
House in the English style is necessarily a house with a fireplace.
An English-style room filled with expensive, high-quality furniture, antique accessories, and artwork. This style embodies luxury and elegance, refined taste, and elegance.
English style in the interior (photos below) is perfect for the decoration of offices, townhouses, and elite clubs. This is a style of wealth, exquisite taste, and respectability.
Style Features
Furniture
Furniture in the English style is grand and expensive, diverse, and recognizable:
Comfortable and respectable looks classic English chair with "ears": the wide seat, low armrests, and high backrest with going over projections into armrests (called "ears" or "wings").
Chippendale chairs (the famous English cabinetmaker-master of the XVIII century.) look a bit pretentious and elegant: the bent legs (often – in the form of a lion's paw), curved armrests, carved openwork backs. Expensive wood types are often used for their manufacturing. Chairs can be completely wooden (with a stuffed seat), soft, that`s mean wrapped in the fabric or leather. Each of these armchairs is a real work of art.
The chairs in the English style (wide, high-back) are also made of wood and decorated with carvings (back, legs).
A low wide sofa should be comfortable and soft. Low carved legs, soft curved armrests, wide cushions – such a sofa, voluminous and stylish, will give the room a real English chic.
English-style interior implies the allocation of bookcases, shelving, and shelves, laden with tomes bound in leather.
Coffee tables would organically fit into the interior. They can be round, square, and triangular, made of wood. You can put a lamp, an ashtray, or a vase of flowers on them.
The fireplace is an integral part of the interior in the English style.
Textile
English style in the interior of the apartment, office, or home is an embodiment of an abundance of rich fabrics, beautiful to look at and pleasant to the touch.
Curtains should be long, heavy, of dark warm colors, plain or in broad stripes. They can be combined with white light lace curtains and decorative ornamenting cords with tassels and fringe.
Bedspreads, blankets, and pillows on the chairs, beds, and sofas will give comfort to the interior.
Luxurious oriental rug brown-red shades can also decorate the living room.
Fabric lampshades and pelmets with fringe, embroidered napkins, tapestries on the walls would be appropriate either.
Upholstery can be self-colored, striped, or with bright oriental patterns (the most common origins – India or China). The use of a floral pattern is acceptable, such a design will look more comfortable than leather or dark fabrics.
English style allows the use of only natural fabrics: brocade, velvet, silk, satin.
Decor and Trim
The lounge, office, or apartment in the English style looks luxurious and respectable thanks to the abundance of natural wood. Qualitative simulation of this material is permissible, but only for the stylized interiors.
The walls of the room, decorated in the English style, should be furnished with wood paneling and paintings in massive frames or tapestries. Decoration wallpaper is suitable: English style wallpaper has to be expensive, desirably fabric. A classic option for wall trimming is when the lower part is decorated with wood paneling, the middle with wallpaper, and the top of the walls are decorated with wooden cornice.
English classic style is a wooden floor and a wooden coffered ceiling.
Design in the English style implies the presence of a large number of furniture and accessories: candlesticks and porcelain, carved gilded frames of the superfine work for the paintings and mirrors, wall or floor-standing mechanical watches, busts of thinkers and scientists, and a reminder of the colonial greatness of England – Chinese vases and African shells, figurines and jewelry boxes.
The house in the English style is filled with soft diffused light: massive chandeliers, cozy floor lamps, table lamps, and sconces in the form of lanterns.
The History of the Emergence of Style
English style was influenced by two epochs of history "Albion":
The era of George V: crisp lines, the symmetry of forms, ancient motifs, geometric prints, bright colors, spacious rooms.
The era of Queen Victoria: rich colors, an abundance of furniture and decoration, wealth, and glamour. This is an era of active colonization, so – a large number of Indian, African, South American, and Asian motifs in interiors (carpets and figurines, boxes and vases, dishes and fabrics). Dark brown antique globes, telescopes, hourglass, and forged candlesticks will organically complement the interior.
Where the English Style is Appropriate?
English style design ideal for office, dwelling rooms, country club, cottage, or office.
Study or office in the English interior design style is a great choice for a high-ranking leader in the field of banking, law, and finance, for politicians and public figures.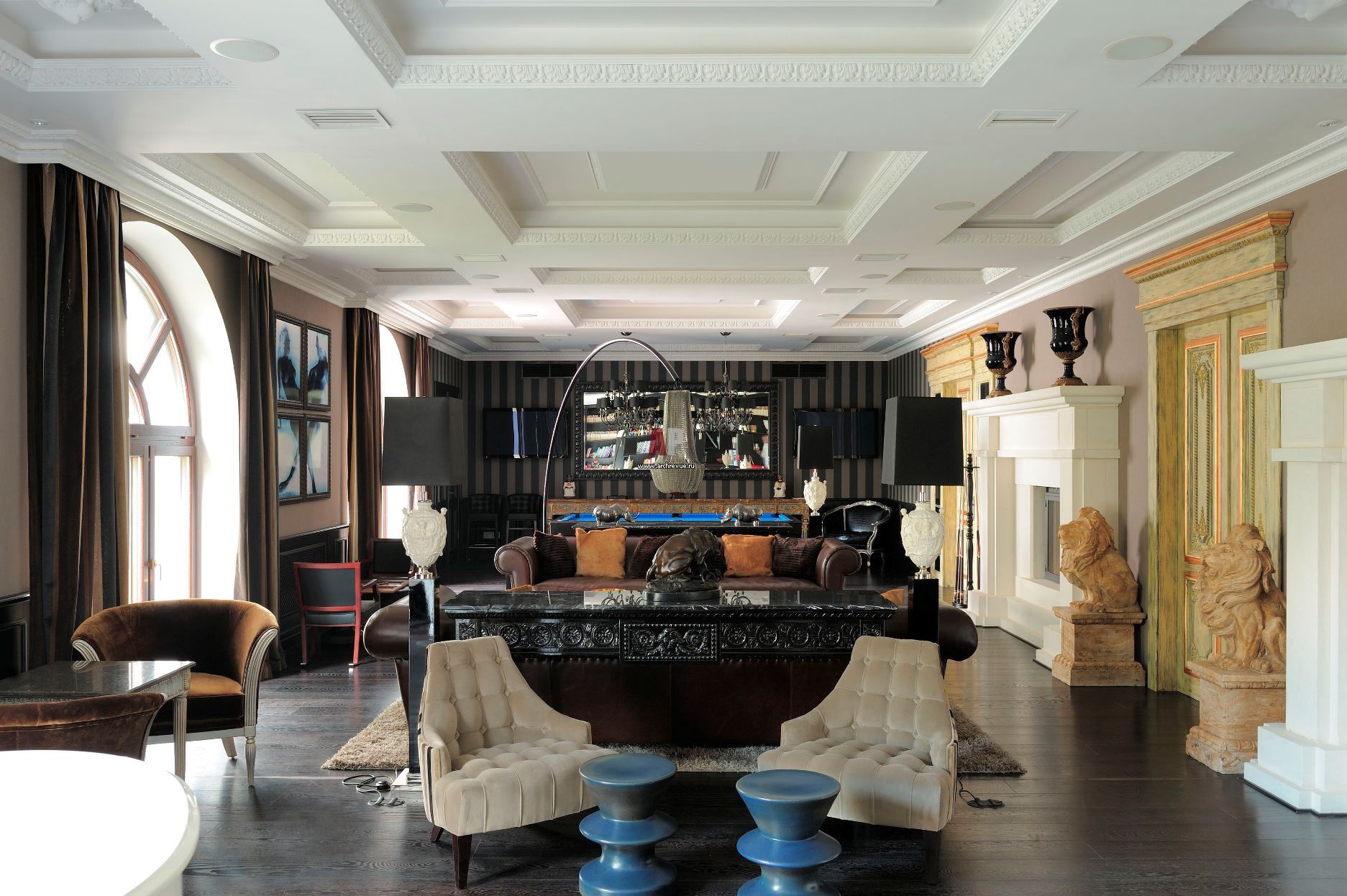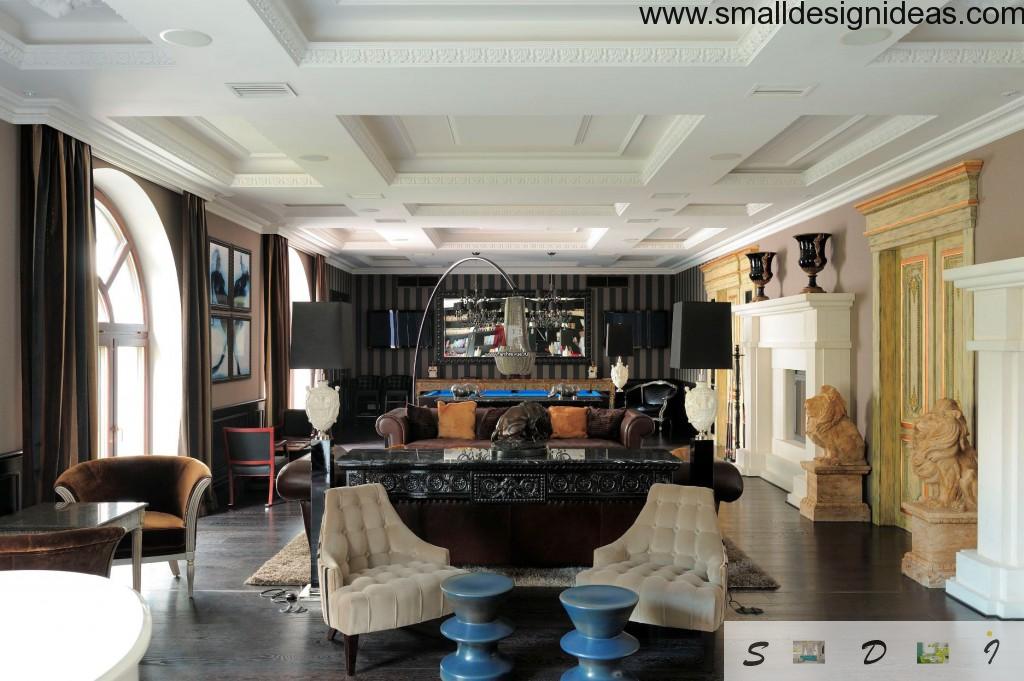 To order the design of the apartment in English style can those people who prefer elegance, old-fashioned chic, and truly quality.
The kitchen in the English style is a spacious room filled with beautiful pieces of furniture and decorative elements: a massive dining table, chairs with carved backs, spacious closets, porcelain and ceramic vases, live plants, luxury curtains, and tablecloth.
Living room in the English style – it is a cozy fireplace, a sofa, and a spacious seat with blankets and pillows, a coffee table, and numerous bookshelves. The English style of living is underlined by landscapes or family portraits in elaborated gilt frames.
A bedroom in the English style is not conceivable without a large four-poster bed, heavy drapes, and massive wardrobes.
Why English Style?
English style in the interior of your home, office, salon, or apartment is tradition and quality, refinement and elegance, respectability, and impeccable taste.
Projects of houses in the English style are characterized by a combination of discreet rigor and elegant luxury, thought-out design, and a cozy atmosphere of old-fashioned housing.
English style can be brave, strict and majestic, or feminine, romantic, and sentimental.
"Masculine" English Style is:
Dark colors;
Reliability, quality, and refinement;
Demonstration of high social status and the seeking of genuine beauty of natural materials and antiques.
"Feminine" English Style – is: