Exotic ethnic interiors are always original, original because they are timeless. However, there is also a need to keep a sense of proportion. Therefore, if you are not quite ready to create an unusual African interior design style that is unusually bright, then only some of its elements can be used in the interior as an option, that is present in such styles as let`s say, Colonial or Art Deco. But if you are quite ready for the difficult experiment, so welcome to sultry Africa!
Contents:
African Interior Design Style Features
You should be ruled by common features that are caused by climatic, natural conditions, as well as the used materials as a basis when decorating the dwelling according to the African style. Typically, designers are taking a mixture of interior components of African peoples` homes in different localities as a design core. Thus, there are typically divided into two pan-African ethnic styles of Egyptian and Moroccan.
Before the creation of African style in the interior, it is necessary to determine the goal: either the task is to introduce a number of African colorful shades in the interior or it will be the most complete repetition of the main features of African homes. When a course is chosen, you can proceed to the implementation of your ideas.
Main Features of African Style
In a nutshell, such features are originality, coloring, dynamic, energy, expression, and contrast. On the one hand, there is the minimalism and simplicity of forms and on the other, we have primitive brutality in the decor and in its texture. With all of this, there is the contrast and brightness of colors in accessories and textiles. Typically, the interior reflects the picture of the world, so it uses natural materials and natural shades. The abundance of decorative African art, which is very primitive, is also welcome.
Since reminders of the scorching sun, the sands of the desert and the jungle can be traced in the interior of this style so the colors should be respectively determined by such shades like sand, brown, terracotta, orange, yellow, brick and even swampy green. It should be noted that the prevailing colors are yellow and brown (tree bark, charred wood, saffron, honey, baked milk, cinnamon, amber, and so on). In general, the colors in the interior should be not just warm but hot as the air of Africa itself. You can also meet a mix of black with fiery red shade as a reminder of the fire, as well as the color of skins of animals living in Africa. Cautious introduction of blue shades is allowed but only in small quantities and as an accent. In other words, it must be remembered that all the used tones should be natural.
Decorative Wall Finish
There are many options. For example, you can use wallpaper with a pattern that simulates the skin of reptiles or the color of wild animals. You can combine the wallpaper using plain plaster-like one with textured one, simulating exotic leather. And you can just paint the walls in warm or even white color. To add some brightness, you can make a curb that has African ornament or it may simply be of paper or painted in different colors. By the way, the walls can be decorated with painted silhouettes of animals. Also, as an option, you can add nobility to the walls through a grid of thin cracks, imitating African soil which is cracked by the drought. You can do this by using two paint colors. One of them would be accentual and the other would be dominant. You will also need a Craquelure special lacquer and proficiency in cracuele technique and skills which are performed on the plaster and paint. In addition, the use of plaster is another option walls. Even better, plaster artificially "wear". Sometimes part of the walls are lined with African fabric patterns and, if it's a bathroom or kitchen, the wall mosaic or tiles with imitation reptile skin texture would be perfect.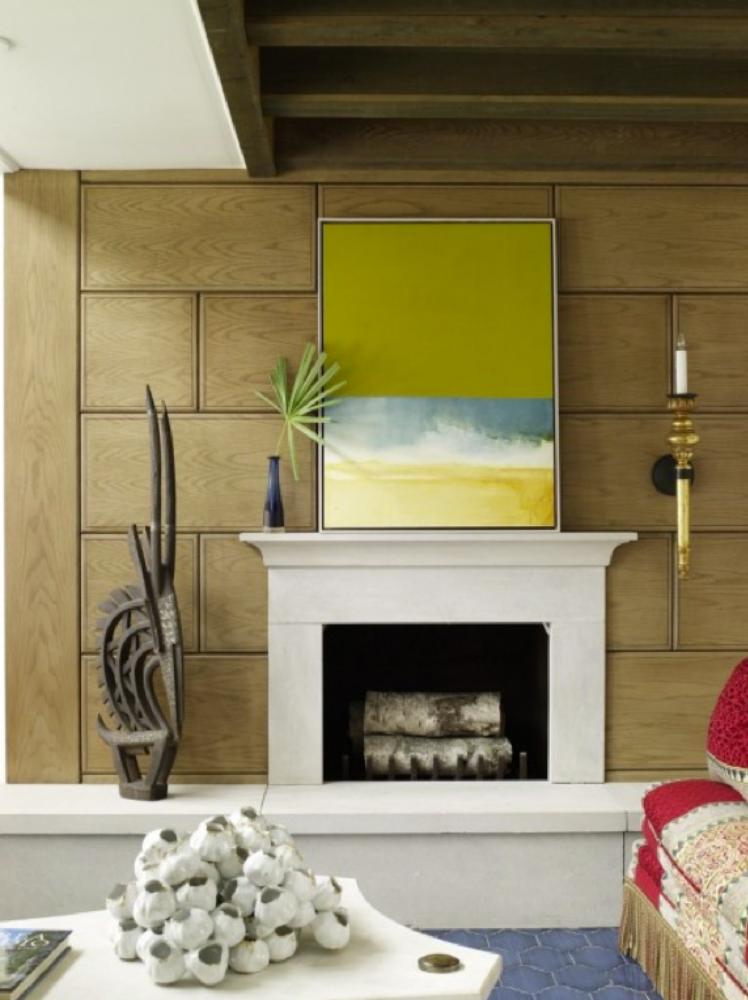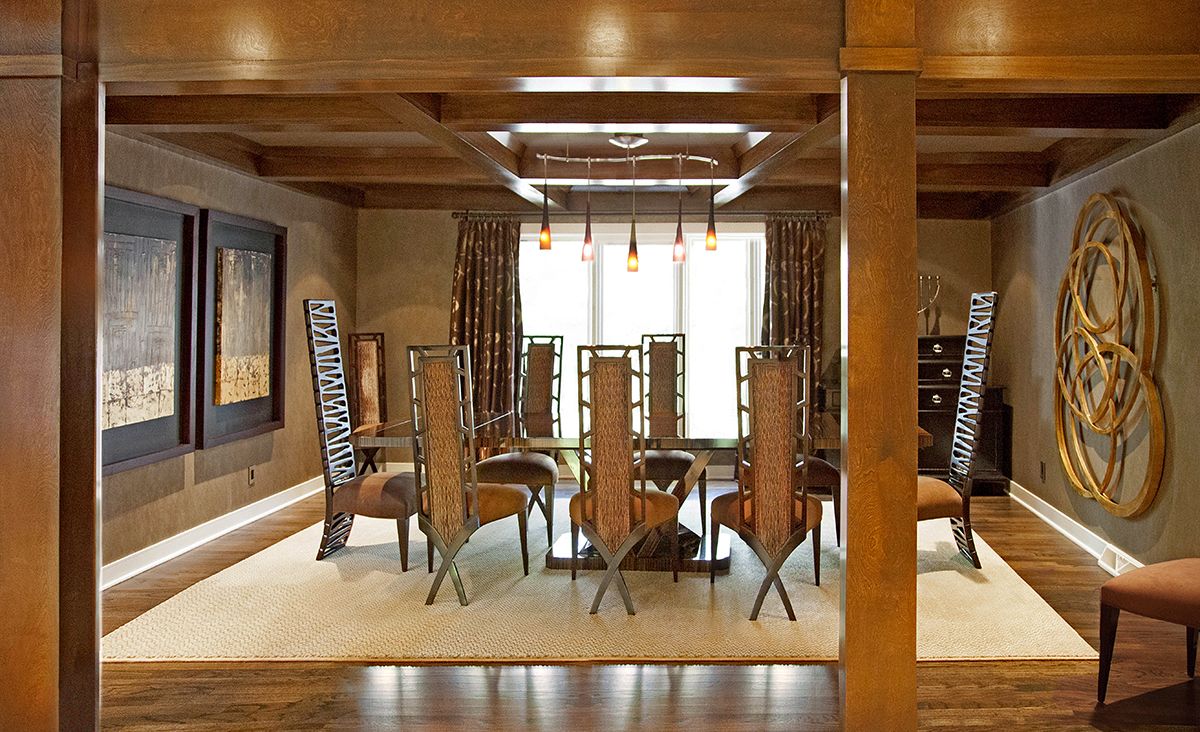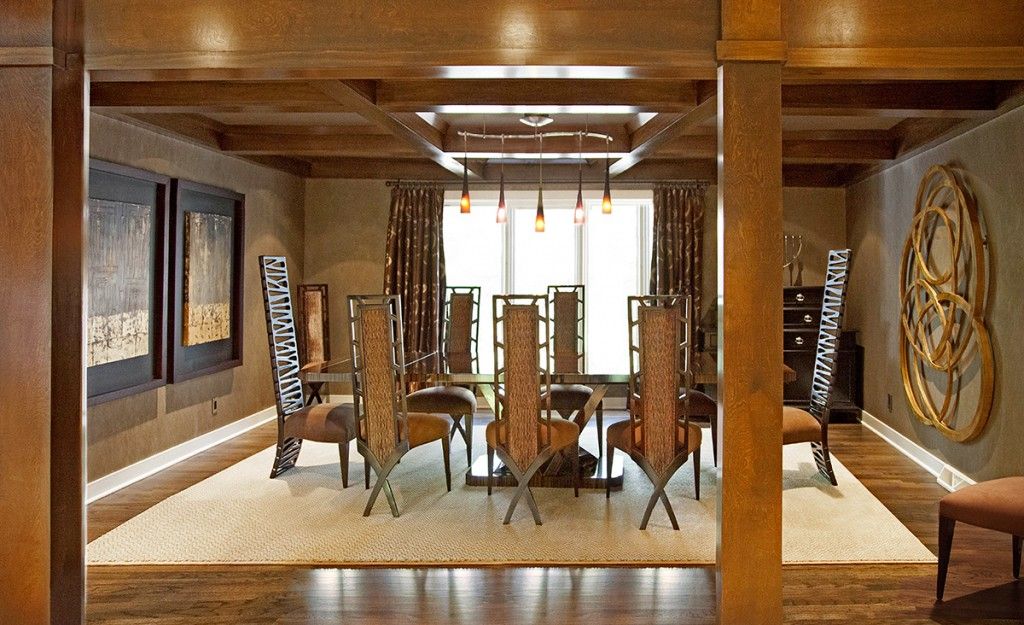 Decorative Floor Finish
To make floors of stone will be the best solution. Large stoneware tiles appear as an ideal material for this purpose. Especially because such the cold floor only increases the level of comfort in Africa. However, we are not in Africa, and we have to provide the "warm floor" system.
Matt flooring (especially parquet in "deck laying") will serve as an alternative. Carpet-mat, which will remind you of African huts always having a mat to sleep for poor people, would be pertinent. In addition, there is bamboo flooring, usually in the form of large-format plates or laminates, which also represents an interesting solution for floor finishes. You should lay the handmade carpet made of bright thread on the floor.
Decorative Finishing of the Ceiling
Regarding the ceiling, we can recommend you to paint it in a warm or white. By the way, the fabric right under the ceiling is perfect draping. And if you want to do something more original then fasten beams of dark wood at the ceiling and lay a reed or bamboo stalks on them. By the way, bamboo plates are not just for flooring, but for the ceiling. They are fixed directly to the basic ceiling or on a crate of suspended one, and everything contributes to the creation of an extraordinary sense of presence in real African hut.
African Interior Furnishing
As for the furniture, it also must be remembered that the natural materials or otherwise their very high-quality imitation are the main criterion. If we talk about Africa, the basic materials are such as cane, rosewood, bamboo, sandal, rattan, clay, as well as leather, reptile leather, savanna animals` skins, palm bark, etc. The made of wood furniture resembles with simplicity, roughness, and heaviness. Also, it has a geometric shape. Furniture can be supplemented with paintings or carvings. Wrought-iron furniture as well as the wicker one with soft mattresses and pillows, carelessly hanging blankets is appropriate in the interior. Furniture upholstered with dark brown leather, as well as furniture made of bamboo looks great here.
Massive timber trunks and hanging racks with rude shelves, hanging on a simple rope directly under the ceiling are widely used as the decor.
Textiles and Accessories African style
Textiles should be of saturated colors, eye-catching with its brightness and variegation of ornamental zigzag and diamond-shaped figures on such items as the upholstery of chairs, stools, curtains, bedspreads, and pillows. You can even make the panels of mottled textiles. This ornament is available on the tableware, carpets, and floor lamps. It is allowed to use the skins instead of the carpet.
You can apply a lot of things ss accessories, such as bamboo curtains, clay figurines, ivory figurines, amulets, wicker lampshades, wooden blinds, hunting trophies, African masks as well as live plants, such as ferns or palm laurel.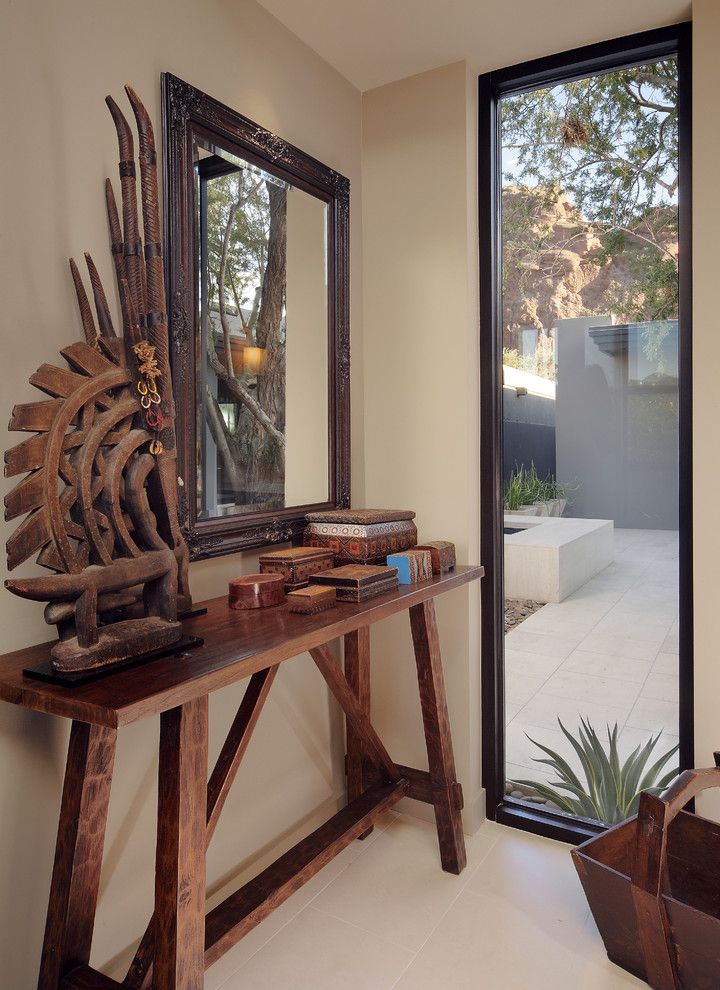 Mirror and photo frames made of bamboo or cork looks great in the African interior.
However, you should not arrange the ethnic museum at your home. The sense of proportion is still required.