Choosing an interior style for kitchen, every woman is guided by her own ideas about how should "a culinary kingdom" look like.  Kitchen in the style of Hi-tech, certainly looks modern and trendy, but still cozy and homely country style for not the first dozen years is one of the most popular in the market of design services. It sets people for a relaxation and rest, gathering the whole family at the dinner table. It is characterized by simplicity and practicality.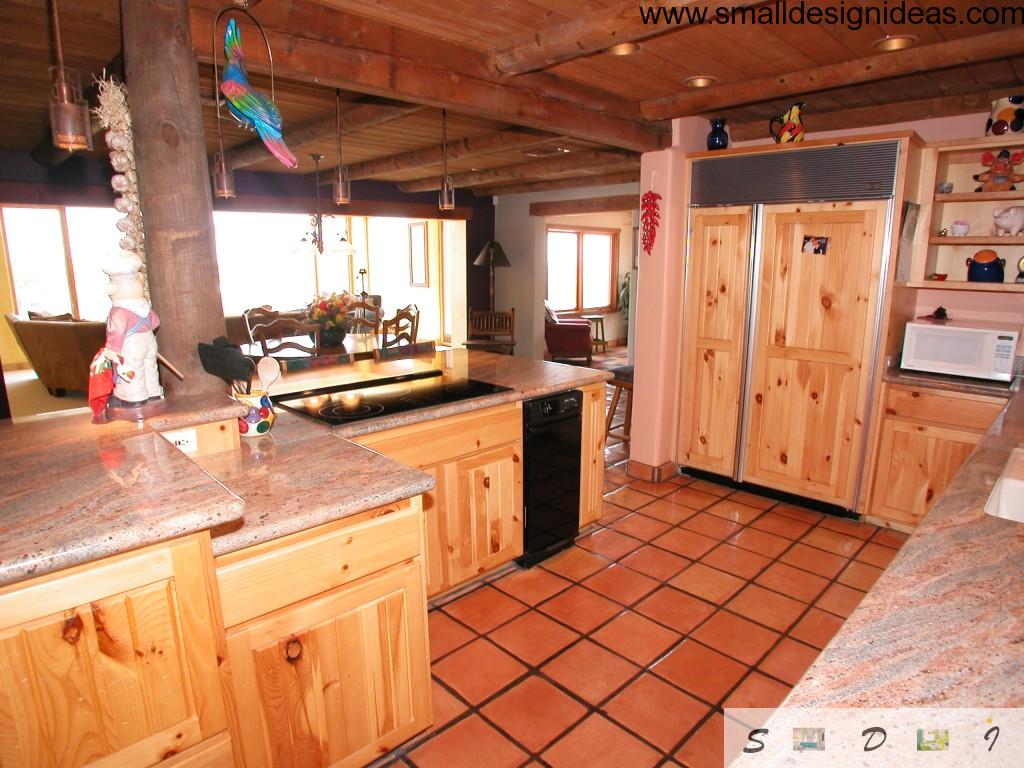 Remodeling in country style will not require significant financial expenditures, but it certainly will create an atmosphere of warmth, love and comfort, which will make you want to return here again and again. It not only has a low cost but also affordable, so you can make DIY remodeling in the kitchen with the use of this style, completely changing the look of the room. And we`ll help you with some useful advice before the start.
Country kitchen design style
First of all, it's the aroma of pine needles coming from the natural wood used in the decoration that creates an aura of tranquility and warmth. That is, natural materials are one of the main traits of this style. If you are planning to save more, none the worse would fit quality imitations of wood. It is used for finishing the floor, as well as decorative details on other surfaces.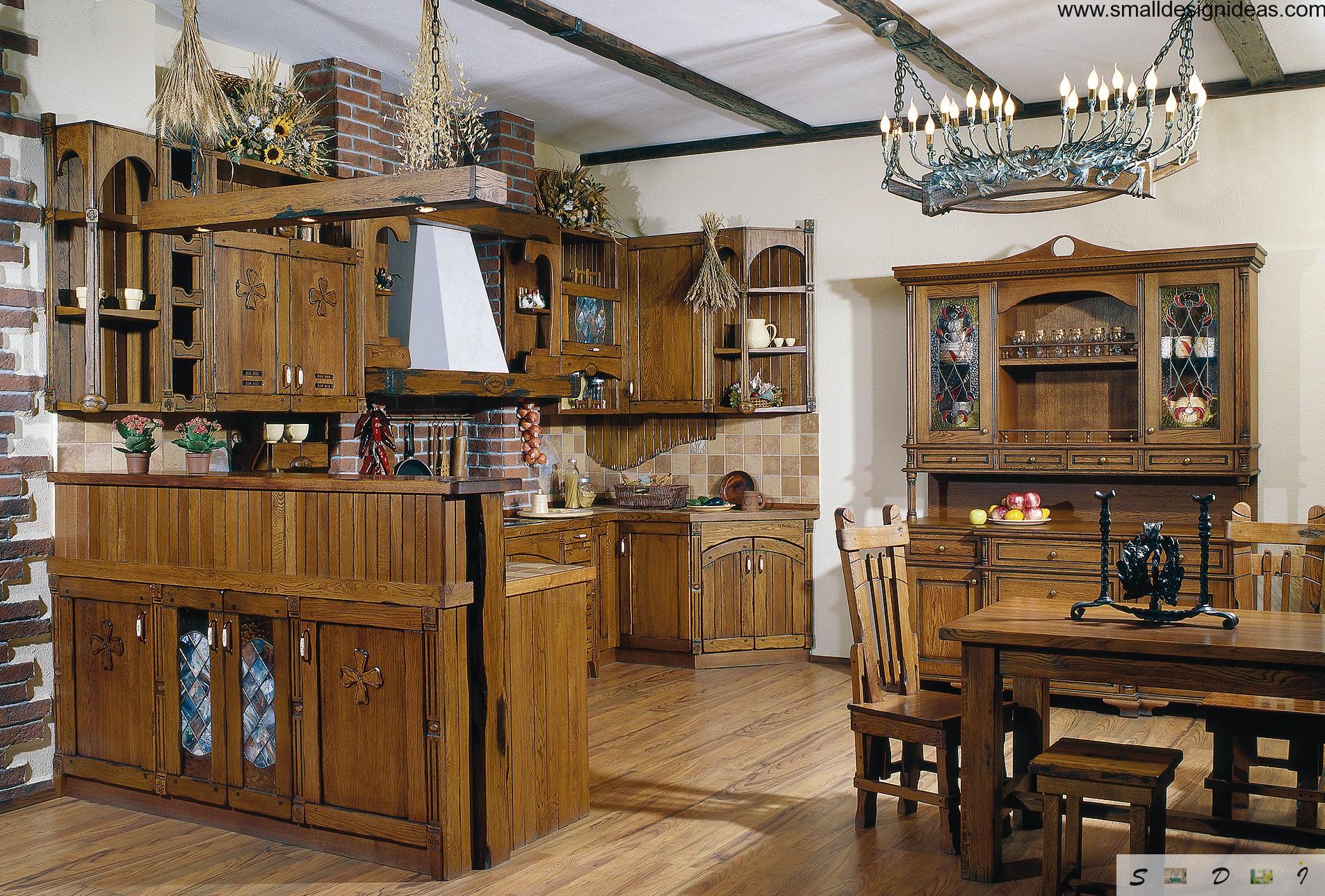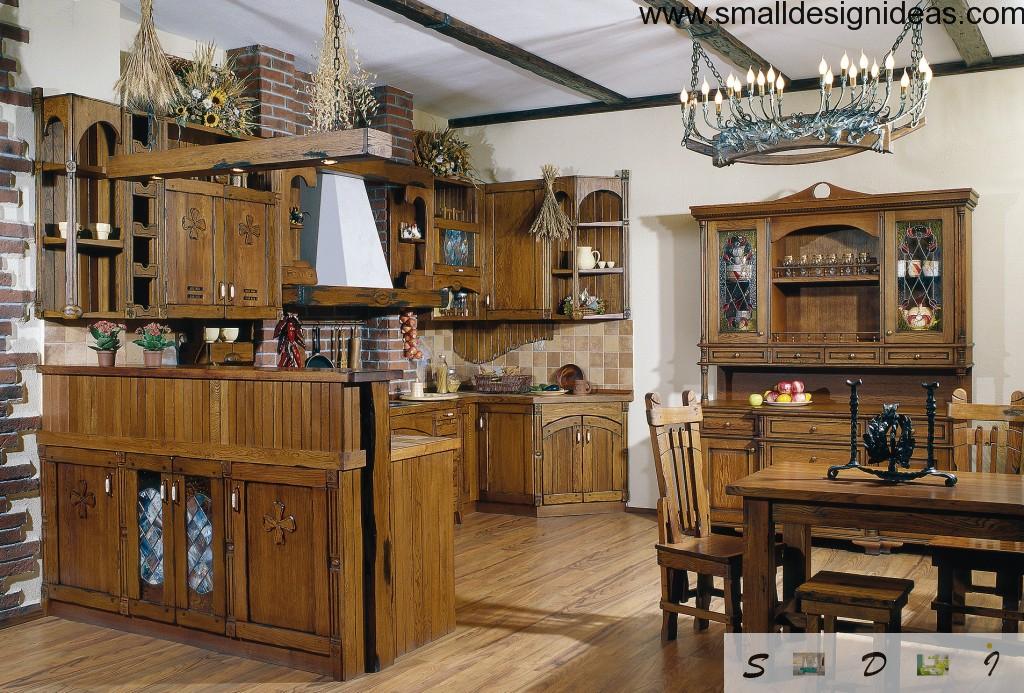 Another feature is rough treatment of wood or its imitation. Kitchen in the country style may abound with woven elements from the vine, accents of red brick masonry, natural fabrics (eg, linen, or rough burlap) or textured plaster for the walls are also often used for decoration. Ceramic parts with hand-painted decorations will give the room a rather unusual appearance either. Country interior can be made in strict English style, so it can`t be realized without natural stone masonry.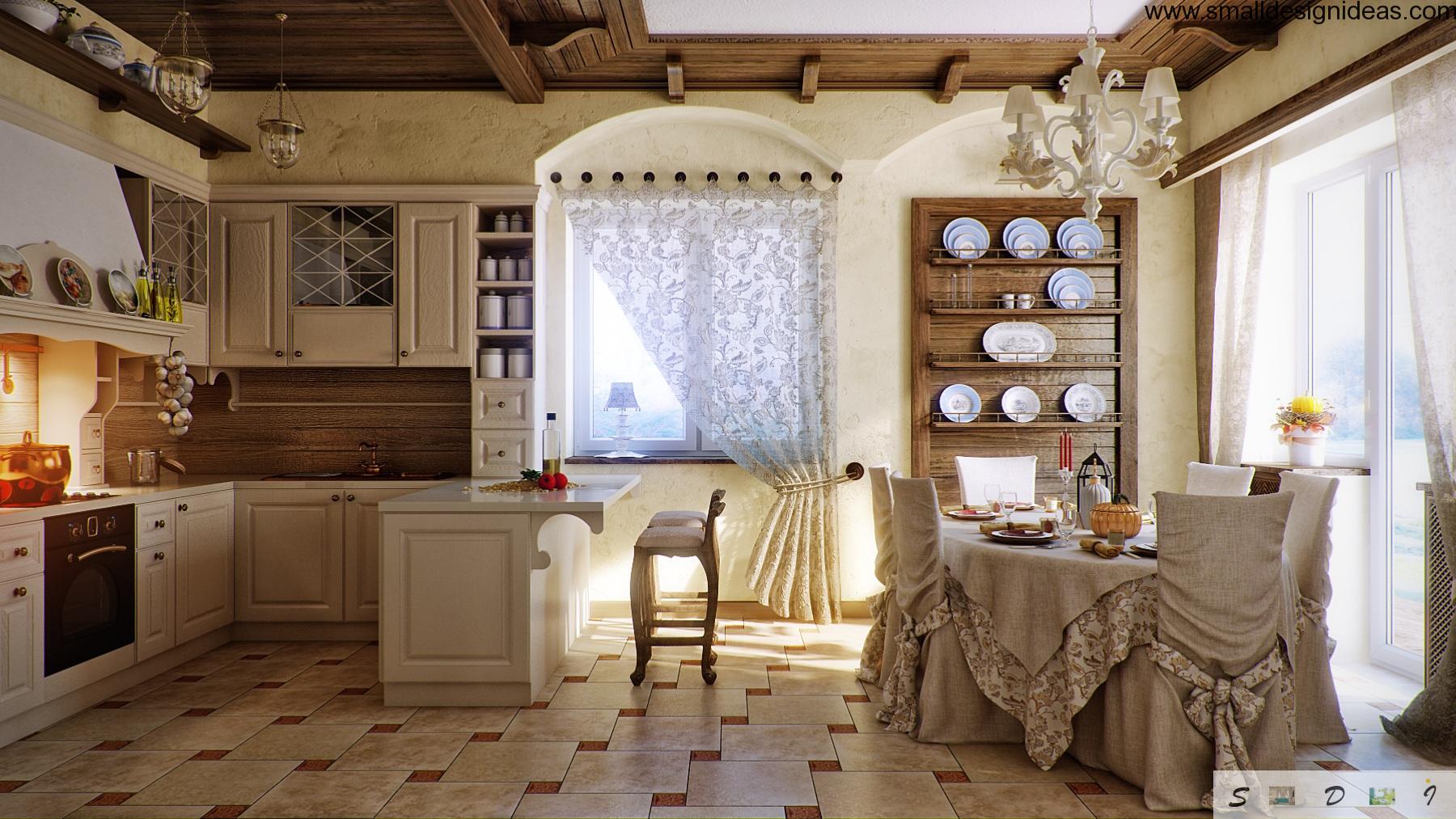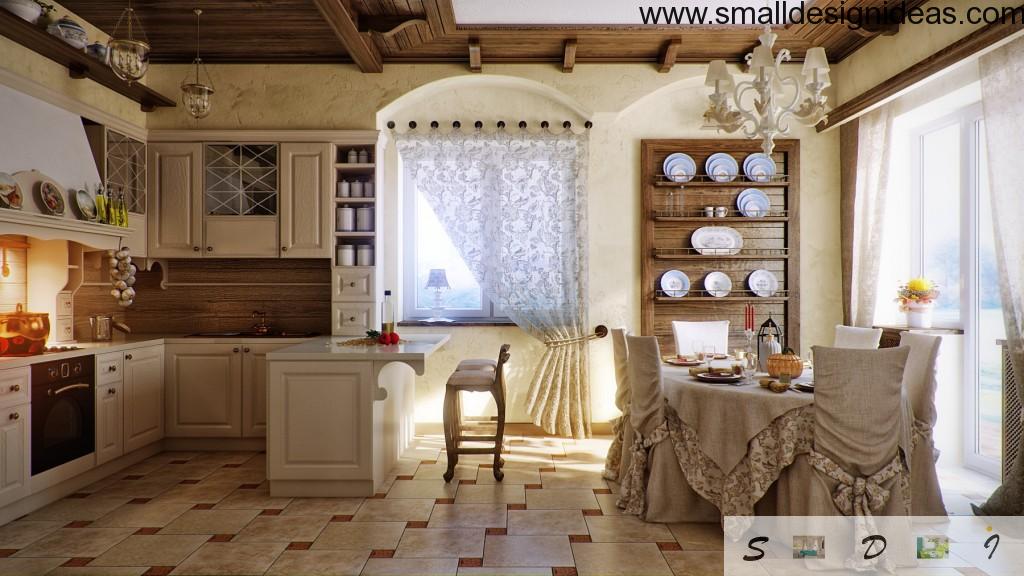 It is limited to a standard set of decorative elements. But there are still a lot of options, it all depends on the preferences of the owners. Country style can differ greatly depending on the state and national characteristics. Let`s overview the most popular and interesting kitchen interiors in country style.

Country kitchen design in English style

For the English kitchen interiors several options are typical:
Wall cladding made of stone;
furniture for the room is chosen in light or dark colors depending on the color of the wall masonry;
Beams of wood are used for finishing the ceiling;
elements of the forging and metal inserts which are used as an addition to furniture or directly as the decoration;
Preferably a warm and scattered lighting;
"Antique" made lamps;
Items, made with people`s own hands, are present in the interior decor. But if you are not disposed to handicraft, you can easily buy fashionable things on estate sales and fairs;
Textiles are always natural, but the rough dressing;
"tartan" and burlap are widely used in the decoration.
Note: If you do not have the ability to reconstruct the kitchen "from start to end", we suggest to be a little tricky. Wooden beams aren`t cheap, so the ceiling can be made of gypsum board, imitating that very same beams. It can budget and beautiful option. You can create the illusion that your kitchen is in the real English castle by using of modern materials.
If you are not a fan of rough burlap and other textiles, so the satin would be an excellent option. Use it for upholstery, but in combination with the light colored curtains and drapes of the same material. In this case, the interior would be unusual and stylish.
Italian kitchen style
We associate Italy with salt spray and the sun, which, of course, is reflected in the interior of this Mediterranean country. Italian country/rustic style is simple and functional. It is characterized by a lot of light, lush green plants and colors. What are the features of the Italian country style?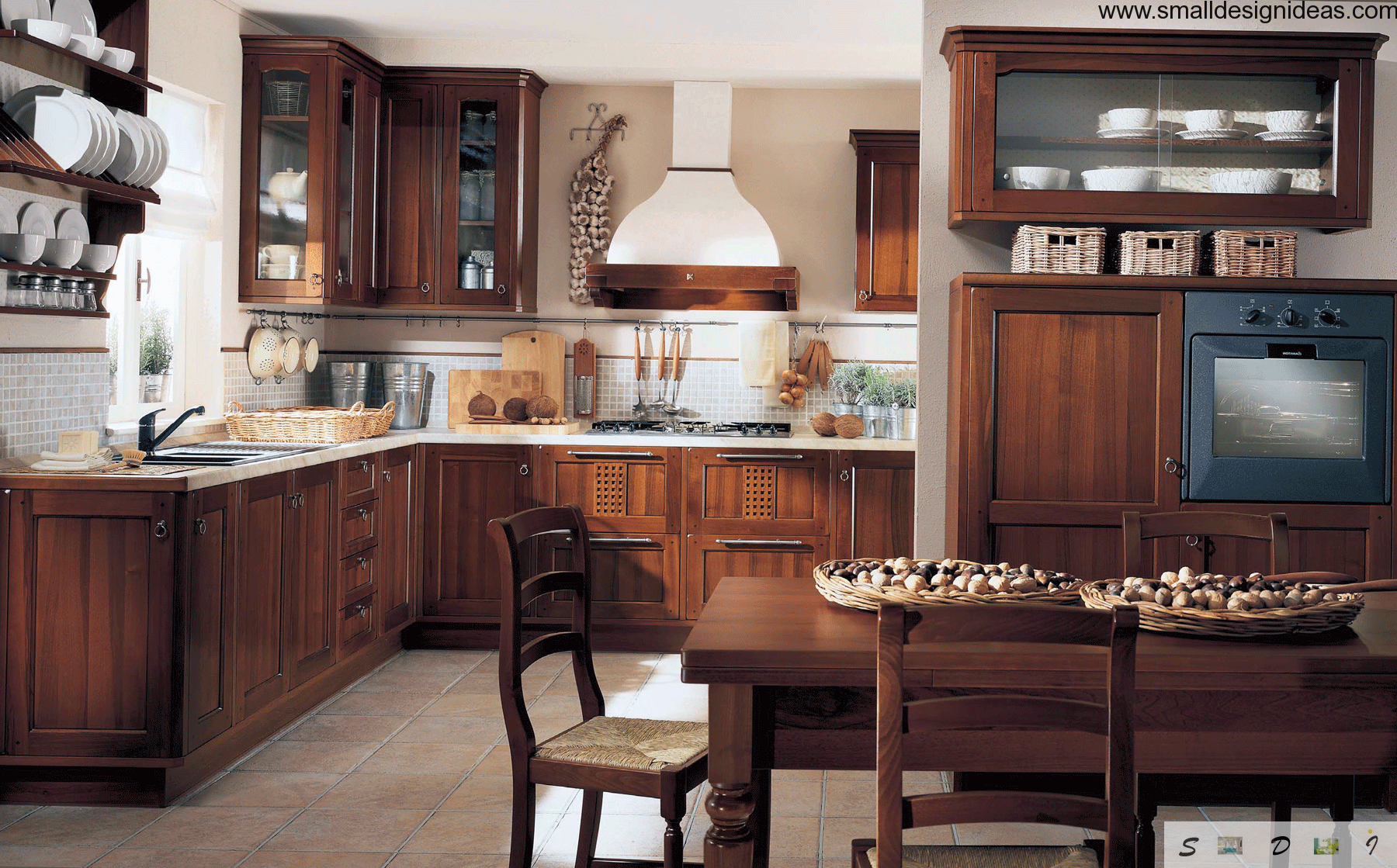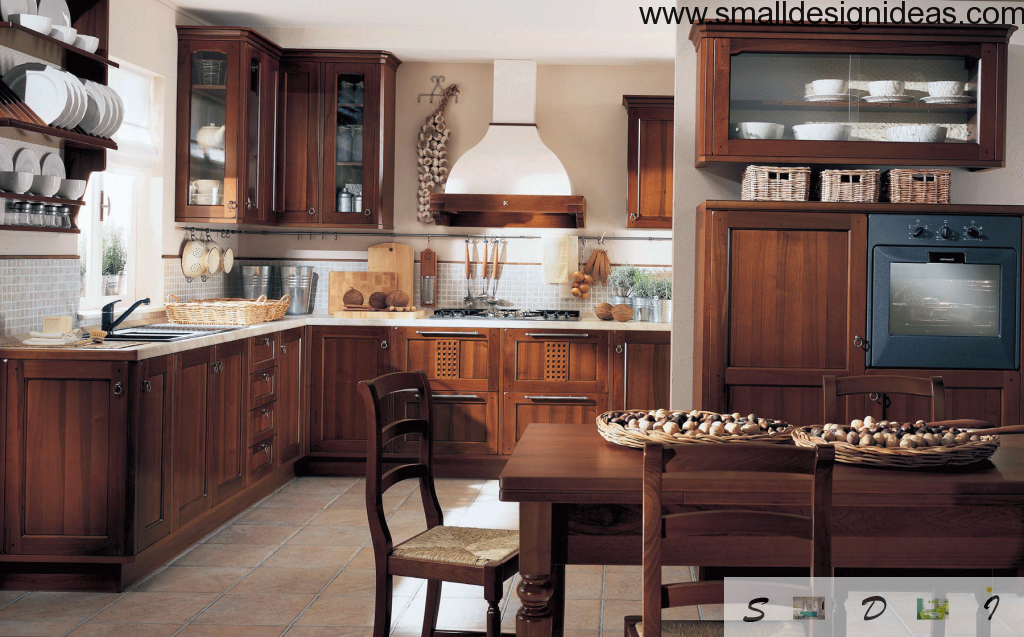 Decorate the room in a light pastel shades;
Finishing is characterized by bright and contrasting accents;
Furniture is better to choose in light colors;
Panels for finishing with imitation of natural wood are used;
The ceiling arches are made of wood;
Marine-themed murals that give the kitchen extra space are used;
You can pick up a number of amphorae and beautiful seashells as accessories;
Dense greenery will look good, so climbing plant on the shelf would create an atmosphere;
Note: The kitchen is characterized by evaporating during cooking, so choosing the fresco, ask that the material is appropriate to exploitation in such conditions, and also have moisture-proof properties. This is very important because you have to periodically do the cleaning and dust removal using a damp cloth should not cause difficulties.
Before taking over the design of the country kitchen, you must consider all the details and elements of the interior, down to the furniture. Surface finishing must integrate harmoniously with the appearance of the apartment.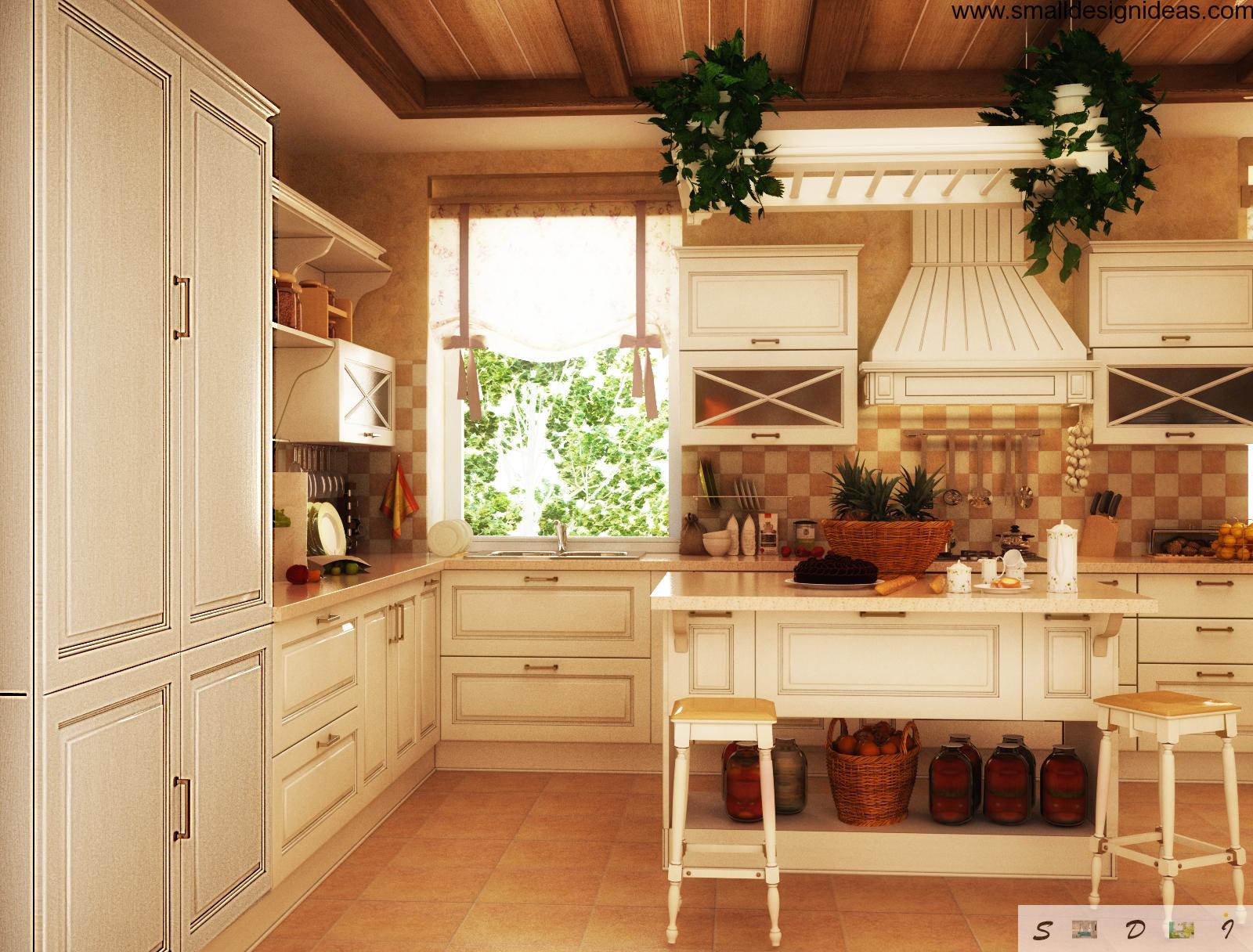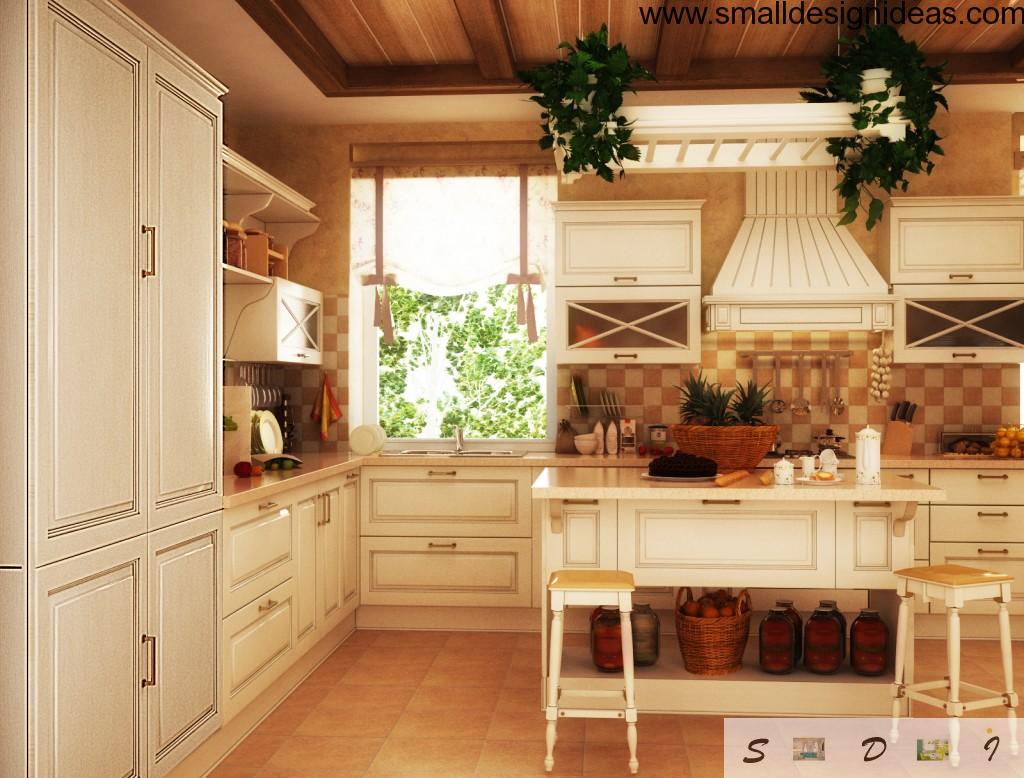 Kitchen in Russian style
Russian rustic style is not by hearsay familiar to every Russian citizen, a great variety of interior options there are on the Internet. The atmosphere and the details of such native grandmother's kitchen many remember from childhood, so can give plenty of tips and advice in this case too.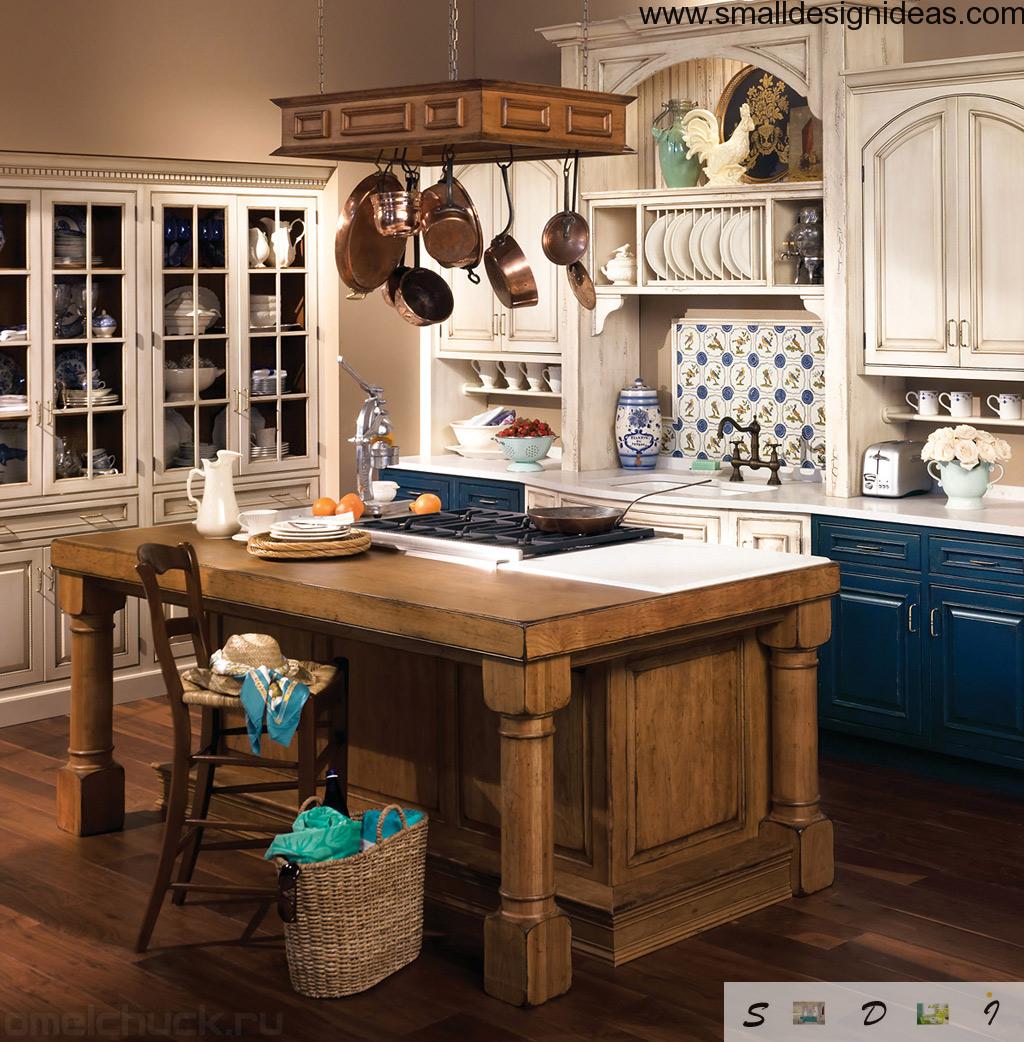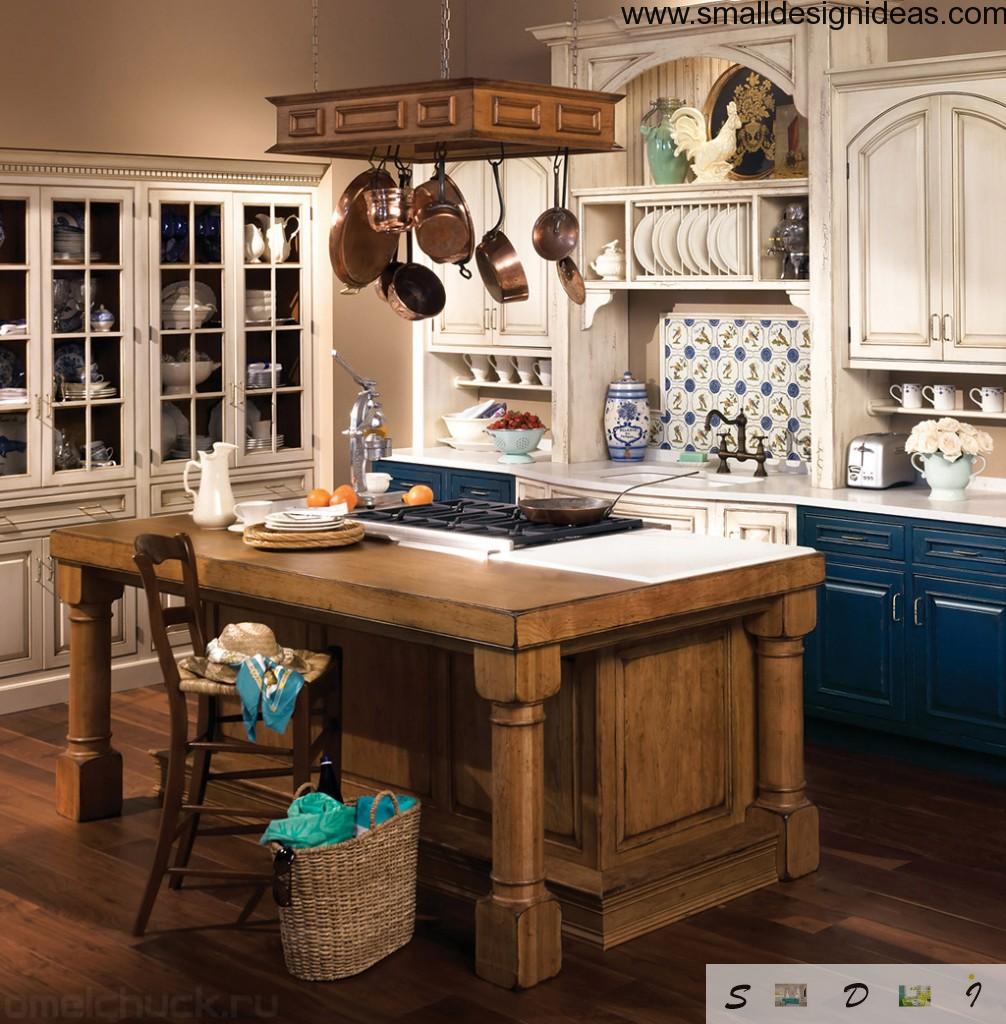 To create the Russian country interior you should use wood, wallpaper in combination with textured plaster, warm shades of brown, light yellow or orange combined with classic white. To give liveliness to your interior would help stuff. For example, a samovar, a bright pot holders or wicker figure of house spirit ("Domovoi" in Russian, alike to Brownies or Hobgoblins) in a suitable location on the wall.
Choosing the setting for country kitchen interior in the style of Russian country, keep in mind that light colors give the space the visual volume. If you're a fan of dark furniture, it should be noted that it greatly narrows the space, so it is beneficial only if there is space excess in the kitchen.
In conclusion
All of the designs in English, Italian and Russian styles is only the point of reference that will allow you to switch your own imagination, make your kitchen beautiful, cozy and comfortable as possible.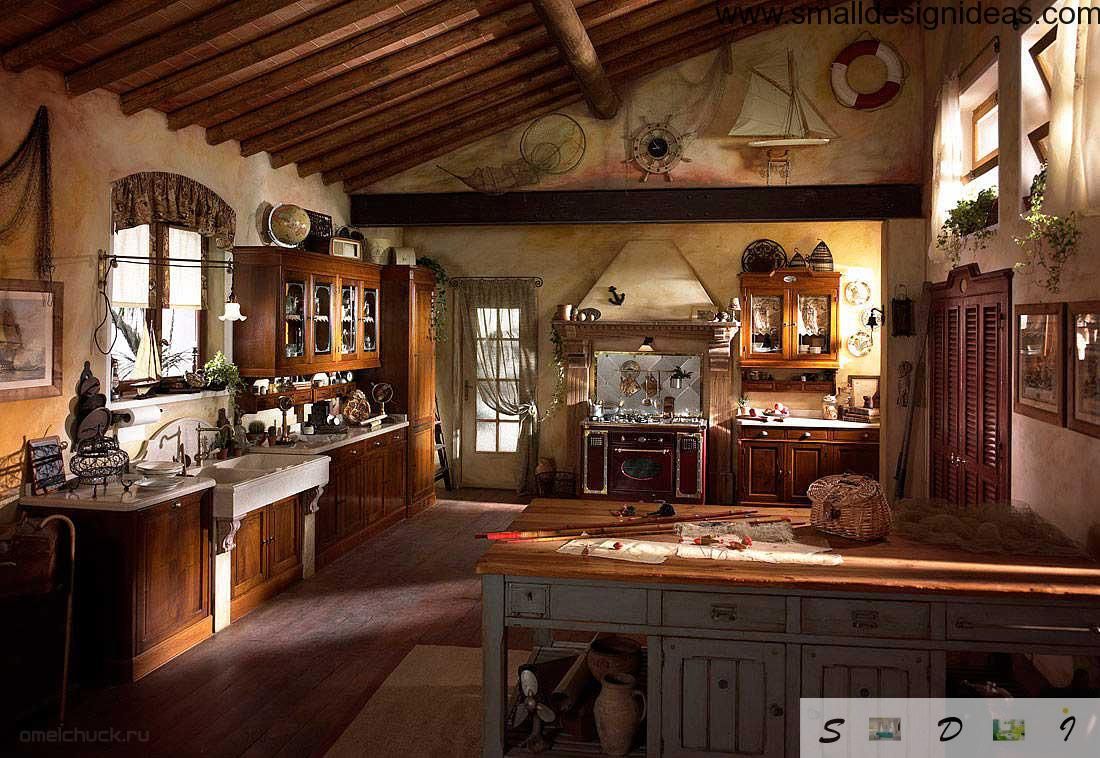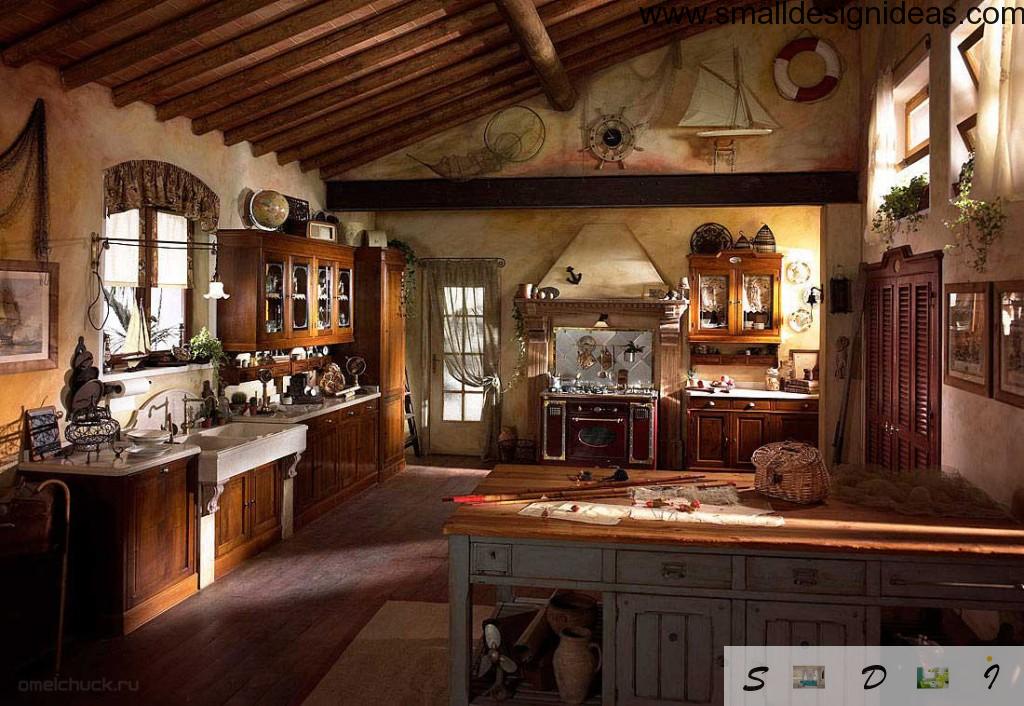 This style itself provides unlimited opportunities for self-expression and realization of your dreams with about the kitchen. Country style is the most popular style for finishing the country kitchen design, it even can be considered a classic. But the main advantage is its accessibility. The kitchen of your dreams will cost quite inexpensive, some stuff absolutely free, if you`ll sculpt it with your hands.