The elegant, flirty, luxurious, and playful Rococo style is ideal for exquisite bedrooms, chamber salons, cozy living rooms. The rococo style in the interior design of houses, apartments, or salon reflects the desire of premises' owners to emphasize the high status and excellent taste, expressed in love for detail, in a carefully thought-out combination of furniture and interior design, the ability to combine the dynamic forms with cool lines. There are lovers of this style all around the globe.
Contents:
Rococo architecture, as well as interior style, is a mixture of sentimentality and provocation, elegance and chic, ease, and detail in the interior design.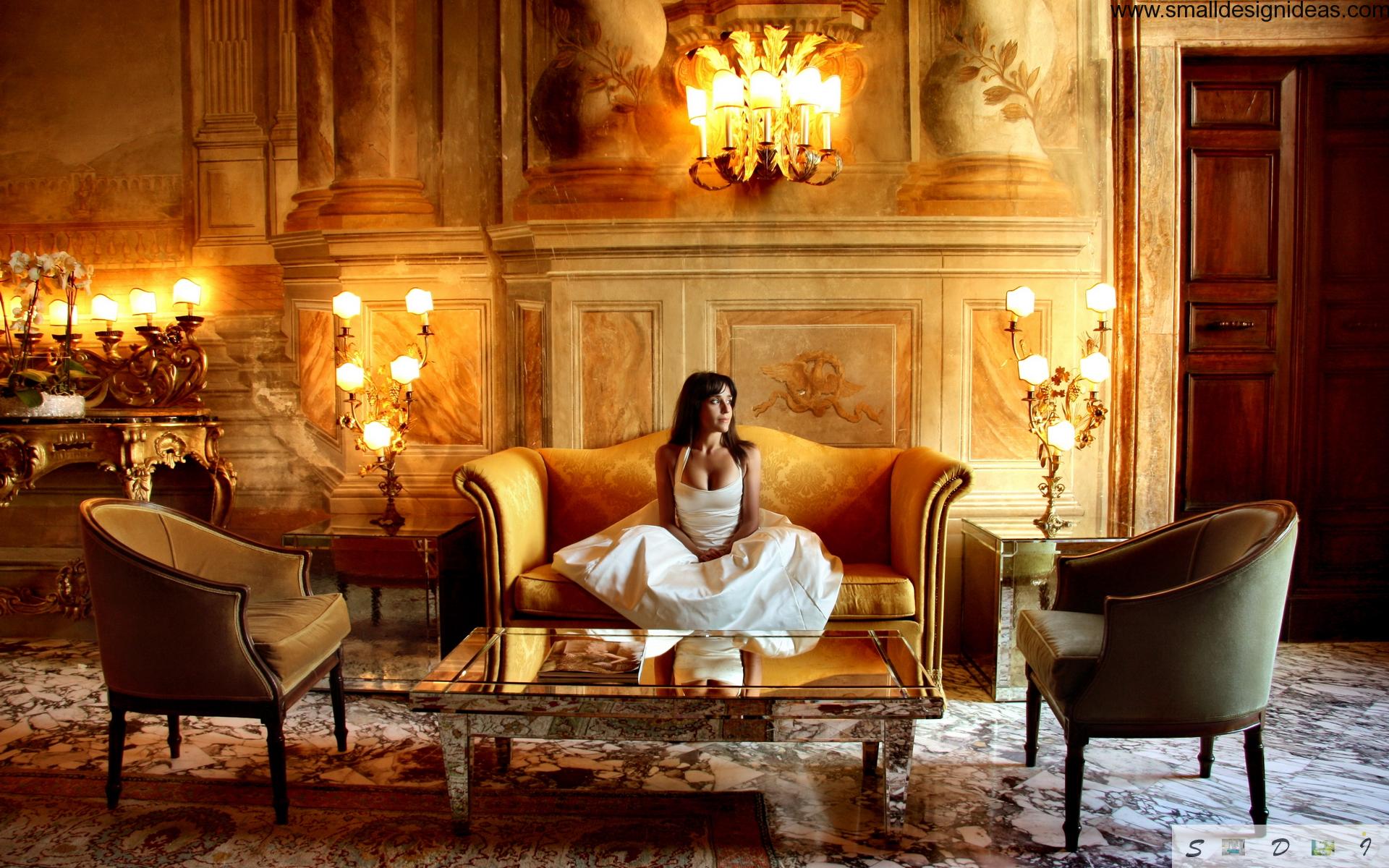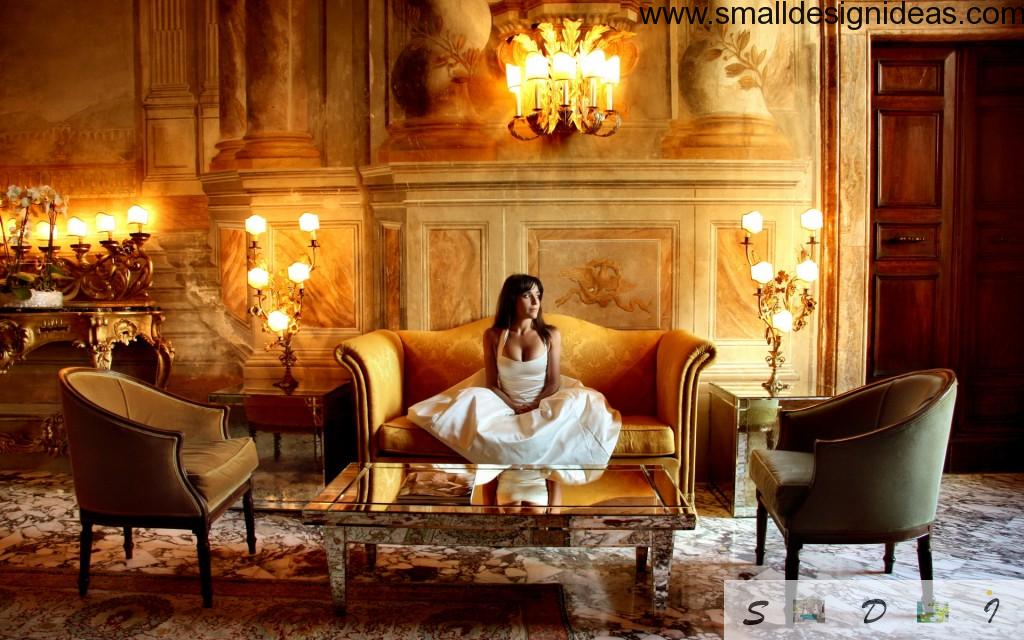 The characteristic features of the style Rococo:
Gentle colors, combined with the glance of gold: light pink, cream, light blue, light shades of purple, green, yellow, peach, pearl, cream colors, etc .;
Luxury materials: natural wood, elegant fabrics (brocade, silk, satin, velvet), glass and crystal, forged metal elements (bronze, brass, copper, etc.), natural and artificial gilding;
Elegant, comfortable rooms;
The abundance of decorative elements, mirrors and paintings in massive gilt frames, figurines and boxes, antique clock and wrought candelabra;
The presence of elements of Chinese style, due to the fashion trends with their oriental luxury and boudoir mystery: screens, curtains, fans, tapestries with oriental landscapes, and charming Chinese women in chic attire;
Rococo tends to mythological and erotic subjects: images and figures of nymphs, cupids, Dryads, ancient gods and goddesses adorning the interior in this style;
The basics of style are asymmetry, smooth lines, rounded forms, decorative loading.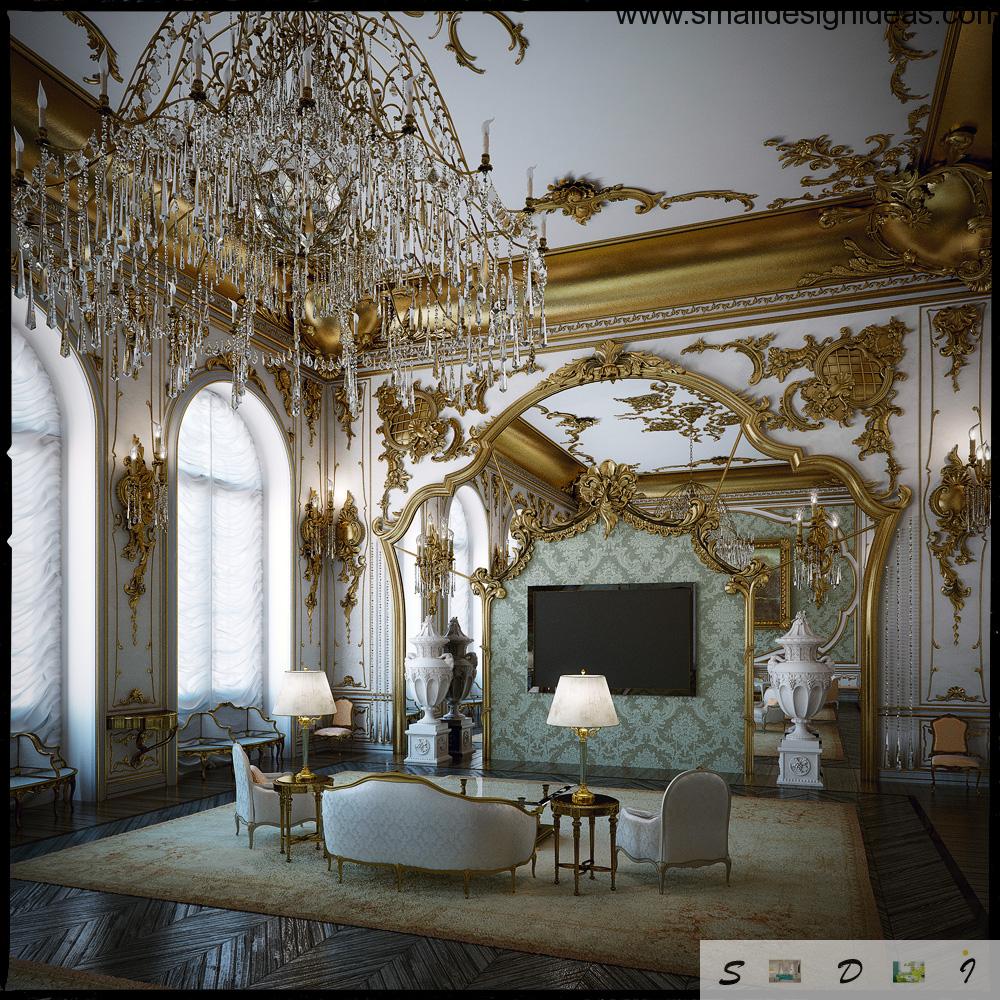 This style embodies the spirit of the boudoir – intimate, feminine, luxurious, and comfortable. The rococo style in the interior of the house is the charm of exquisite chic, the flair of secrets: secret rooms, hidden drawers of cupboards and cabinets, boxes with a secret, an escritoire with invisible partitions. Design in the Rococo style is both romantic and mysterious, bold, and provocative. It creates an atmosphere of ease, mystery, and intrigue.
Rococo Interior Design Style Features
Furniture
The furniture in the Rococo style is comfortable and luxurious: soft chairs, armchairs, sofa, couch; elegant benches and desks, dressing tables and bedside tables; luxurious spacious closets; decorative tables; luxurious bed with a carved headboard;
Carved, rounded legs of chairs, sofas, tables, and chairs are topical;
Richly decorated with stucco carvings, embroidery furniture;
The сenter for the living room in this style should be a massive fireplace with shelves;
The basis of style is rounded shapes, so nothing should be rectangular: backrest and seat of chairs, dining table, cabinets, and tables – everything needs to be rounded.
Textile
Rococo is the style of refined, elegant fabrics, adorned with embroidery;
For window decorations will fit heavy drapes of saturated colors, combined with light long white curtains;
Patterned carpet in oriental style will look organically on the floor;
Walls, chipped with expensive fabrics and golden pattern on it, have authentic look;
Upholstered furniture should look comfortable and expensive.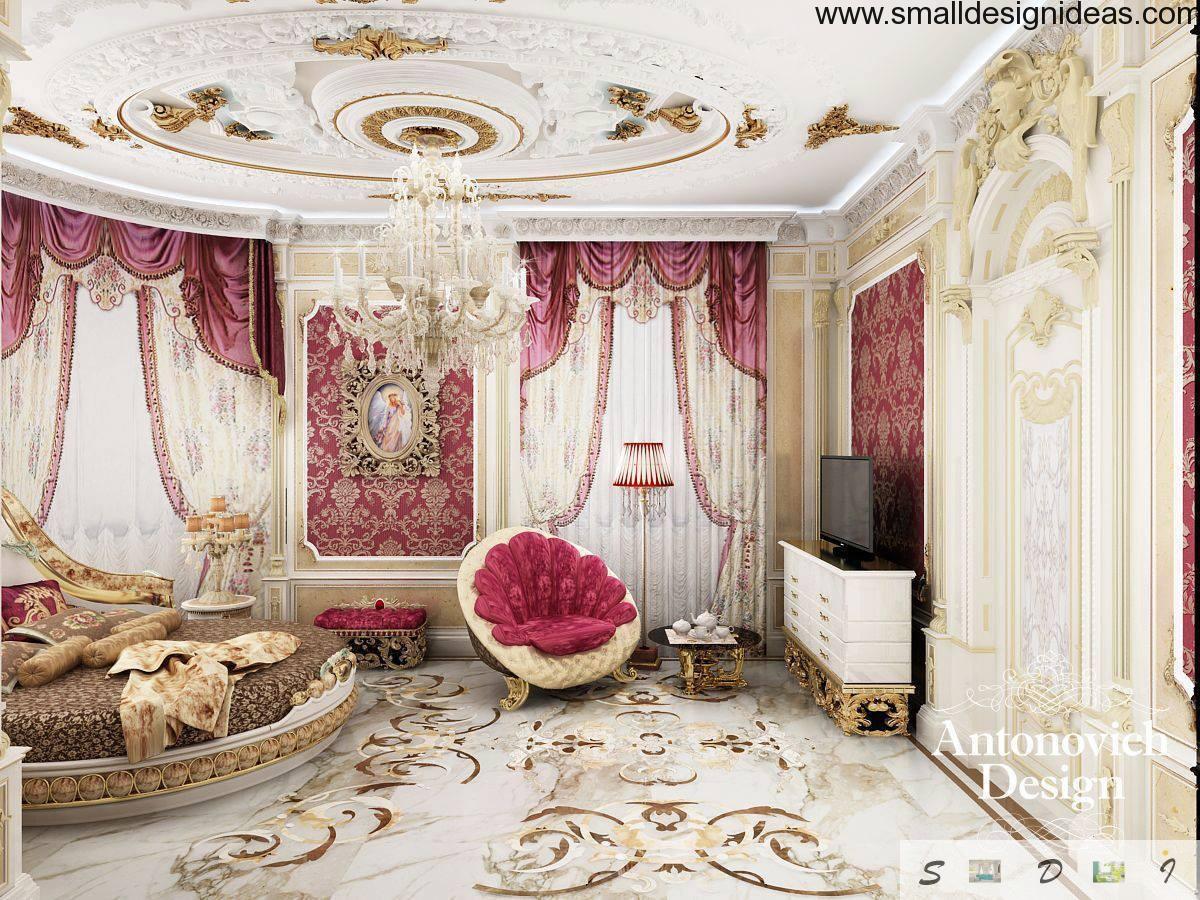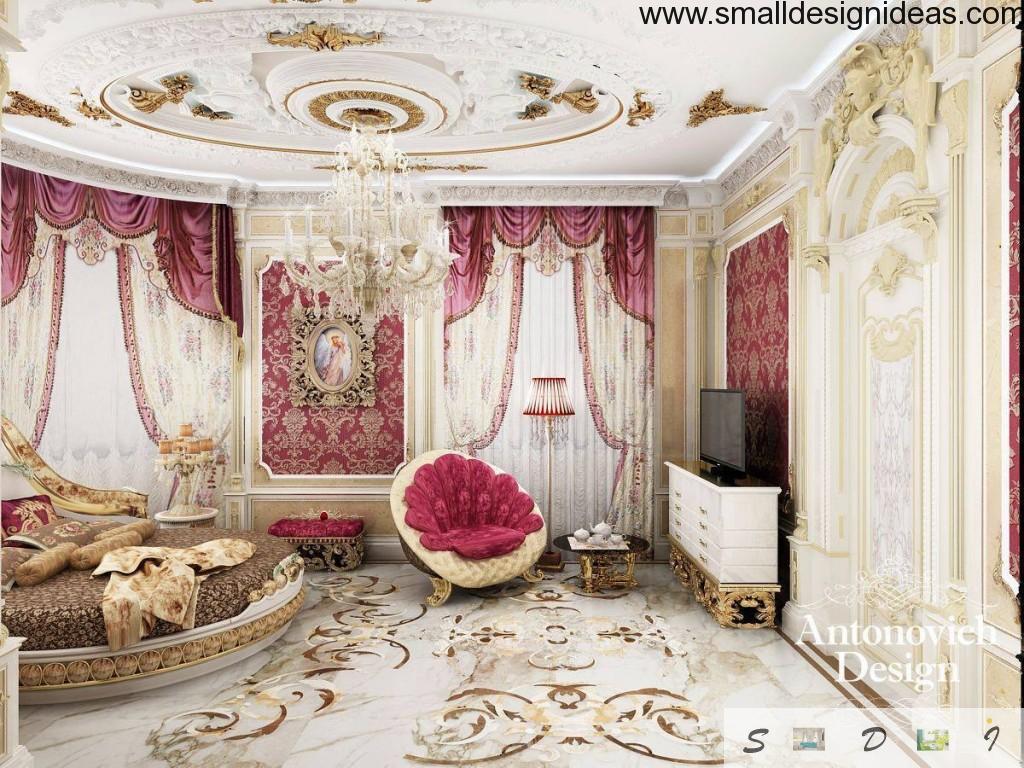 Decor and trimming
Walls can be both upholstered with cloth and decorate wallpaper or wall panels. The main motive – reliefs and carvings. Moldings in the form of scrolls, shells, cupids are appropriate.
Rococo welcomes rounding so the transition from the walls to the ceiling should also be smooth, rounded. Combining the walls and ceiling can be reached with the help of the general pattern, thread or frescoes.
Floor can be both wooden and stone (marble or appropriate quality imitation).
Convey the atmosphere of rococo help properly chosen parts: crystal chandelier imitating candelabra with many candles, elegant vases, boxes, frames, mirrors, screens, porcelain and wood, gold watches and decorative pillows with embroidery. Rococo embroidery is pastoral or mythological scenes, rural landscapes and scenes of boudoir life in Europe XVII – XVIII centuries.
Rococo appreciates such areas of decor as sculpture, painting, embroidery, jewelry, carvings.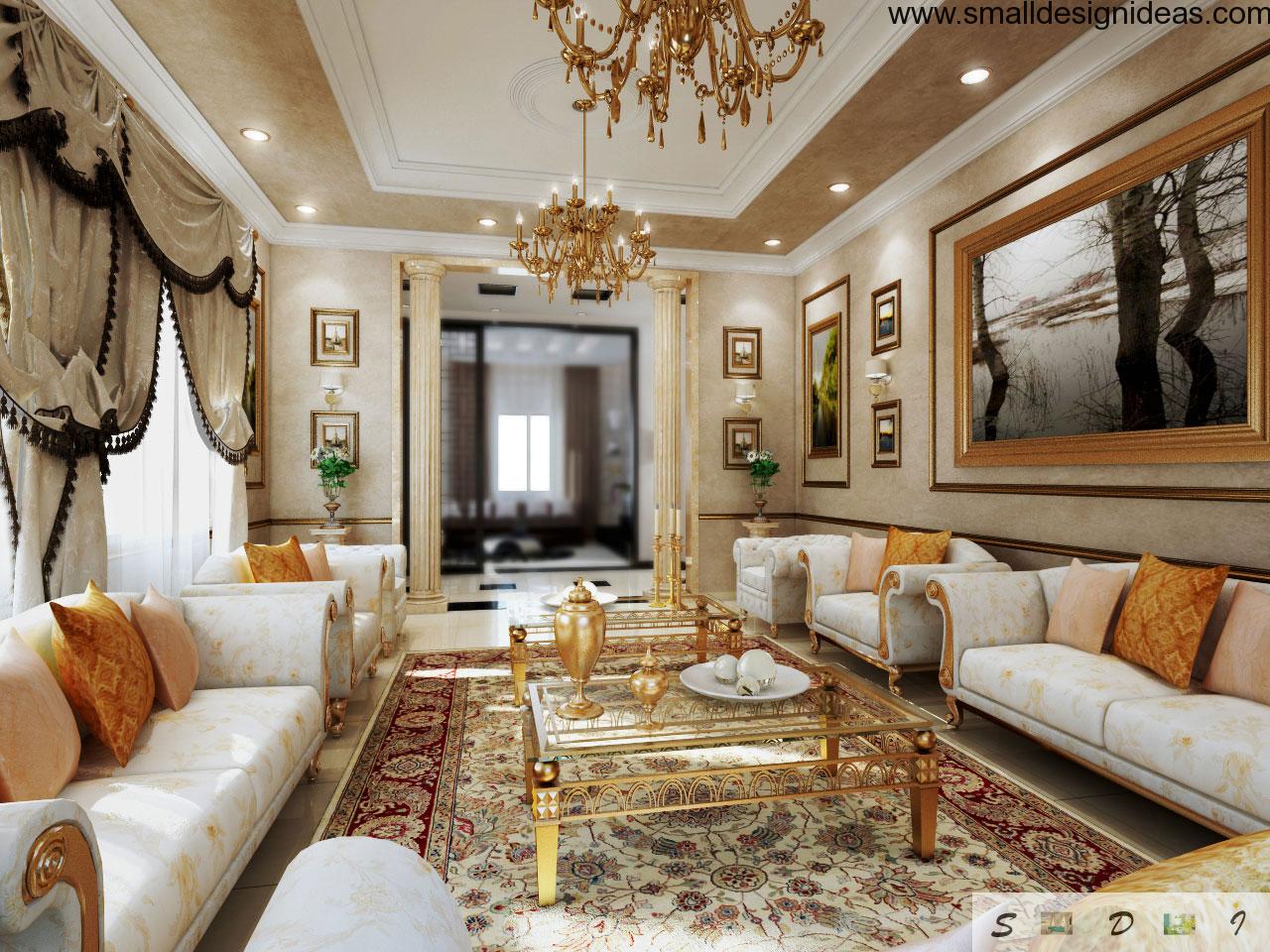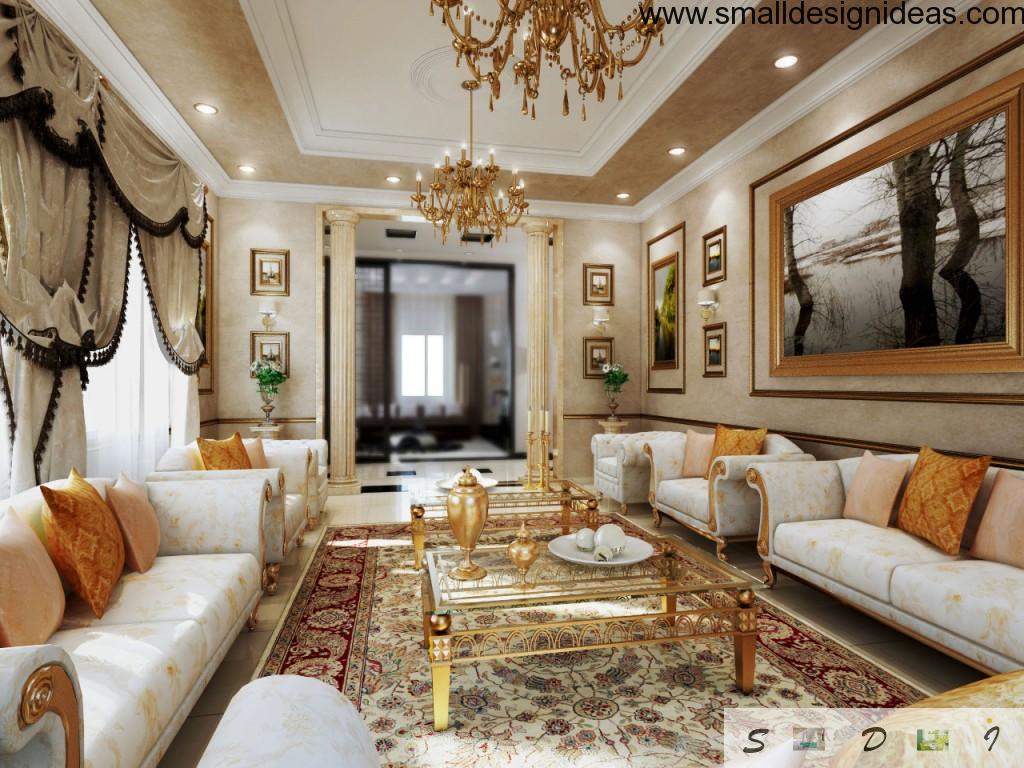 History of Style
Rococo interior originated in France in the early XVIII century. It was originally called "the style of Louis XV». The period of his reigning coincides with the heyday of the French Rococo. This style became the epitome of the aristocratic circles` attraction to delight, desire to plunge into the elite world of carefree carnival, and the mysterious atmosphere of boudoir life. Rococo is the style of luxury illusion, detachment from reality, the desire for the pleasures of life.
Rococo is a feminine style. It was created and transformed by the female favorites of the king, and therefore this style embodies love, intrigue, and excitement of the holiday. Luxurious, but fleeting, beautiful but temporary.
Interior design in the style of Rococo embodies sensuality and sophistication, mystery and elegance, comfort, and beauty.
This style has a lot in common with its predecessor, the Baroque style. What is the difference between Baroque and Rococo? Baroque is solemn pageantry and Rococo is graceful coquetry and playful finesse. Baroque is embodied in monumental grandeur, Rococo – in a refined intimacy. Baroque is contrast, bright colors, symmetry, and scale, Rococo is pastel shades, grace, boudoir atmosphere.
Where does the Rococo Style Appropriate?
Rococo is for connoisseurs of luxury and comfort, refined chic and refined elaboration of the smallest detail.
The rococo style in the interior of the apartment is beauty and comfort, intimacy, and elegance. Every room in the style of Rococo has to be elegant and mysterious, individual, and elegant.
Rococo bedroom implies a massive bed with a carved headboard, the elegant canopy of silk or satin bedspread, tiny nightstand, and an elegant dressing table with a large mirror in a heavy frame;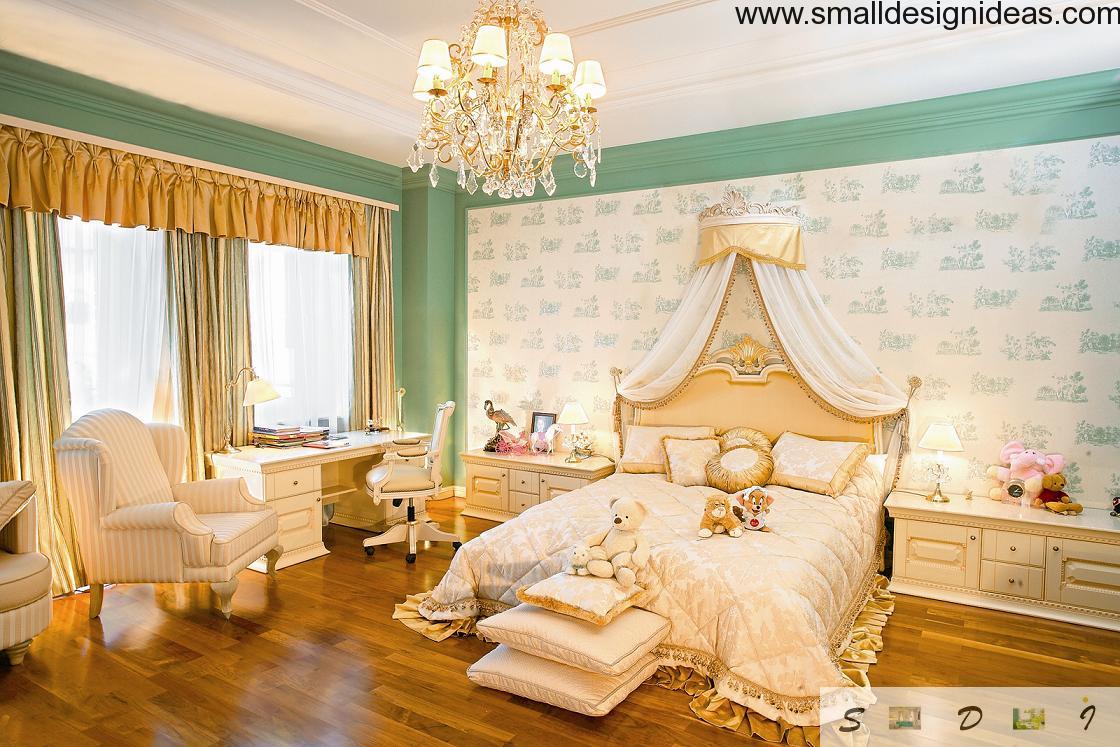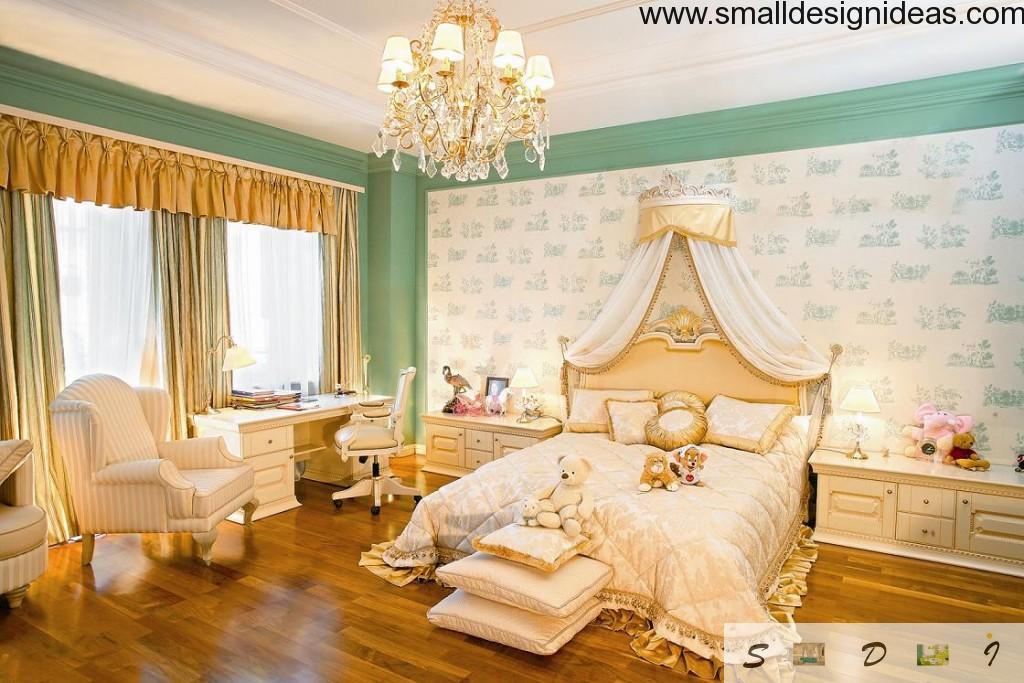 Rococo style living room means comfortable, luxurious furniture, heavy curtains, fanciful chandelier, paintings with thematic images, a fireplace, shelf, which is crowded with porcelain figurines, vases, jewelry boxes, etc.;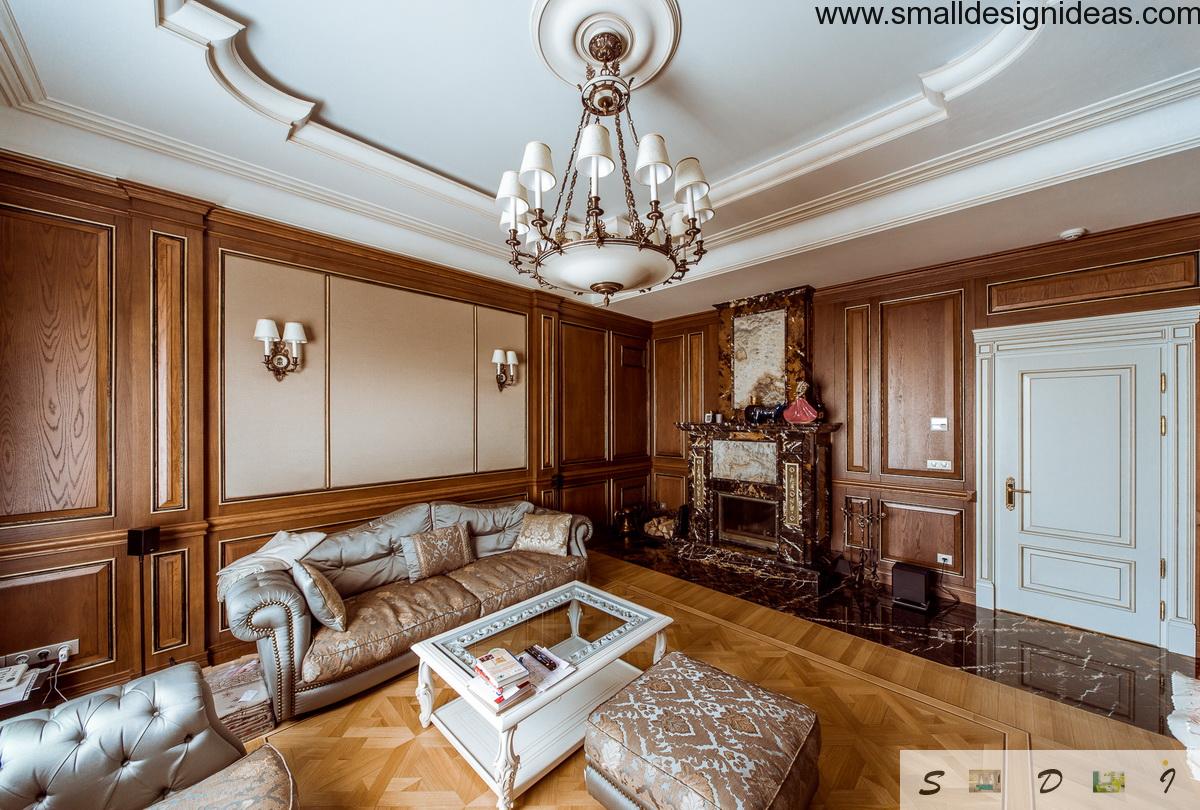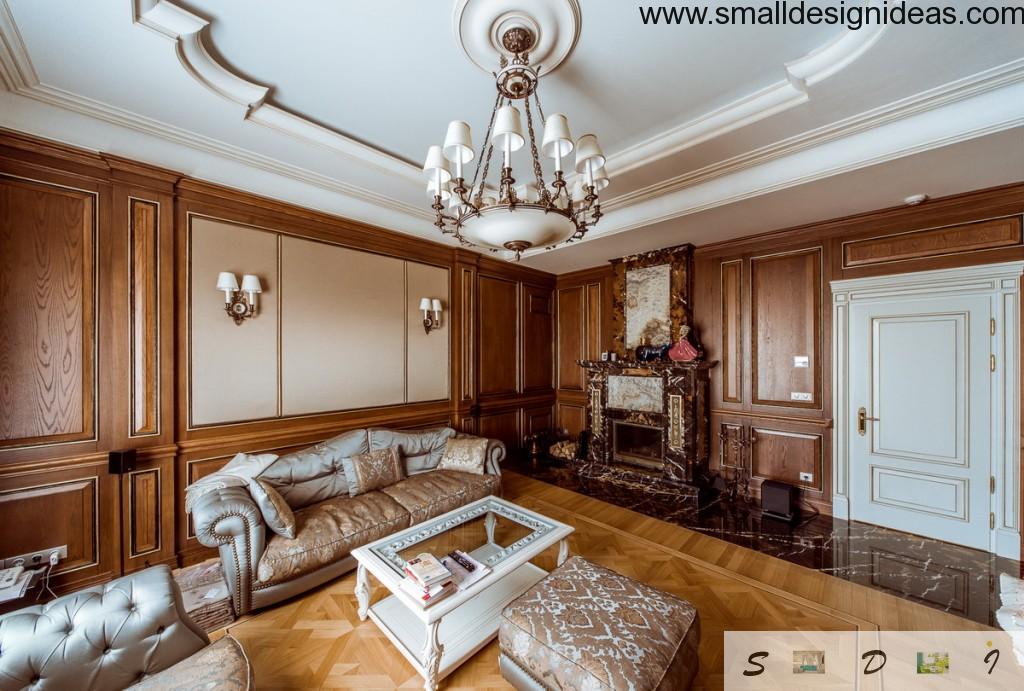 The rococo kitchen should be the territory of the bright furniture with carved facades. White and gold color, less often – golden beige colors are ruling here. Round dining table and elegant chairs, a large chandelier with crystal pendants, china, and glassware behind the transparent doors of the kitchen cabinet.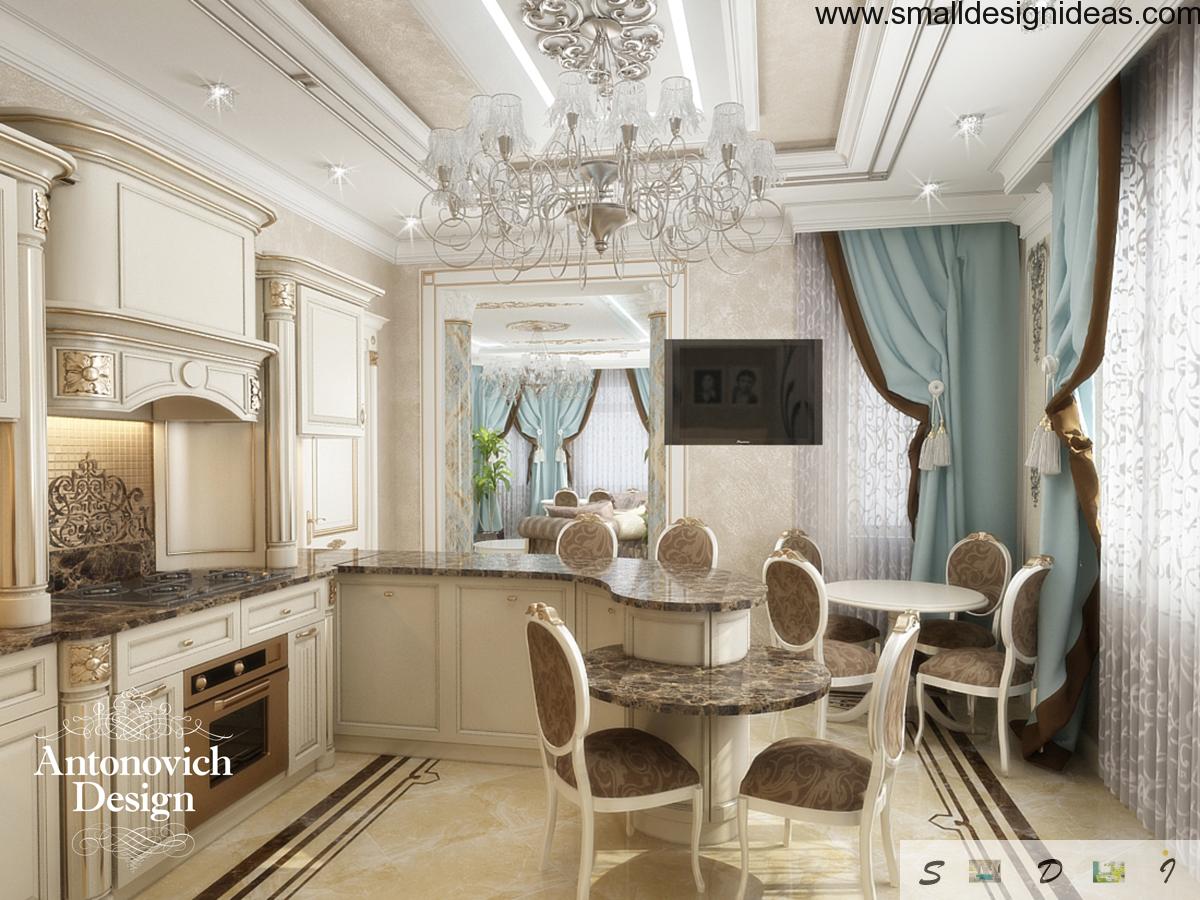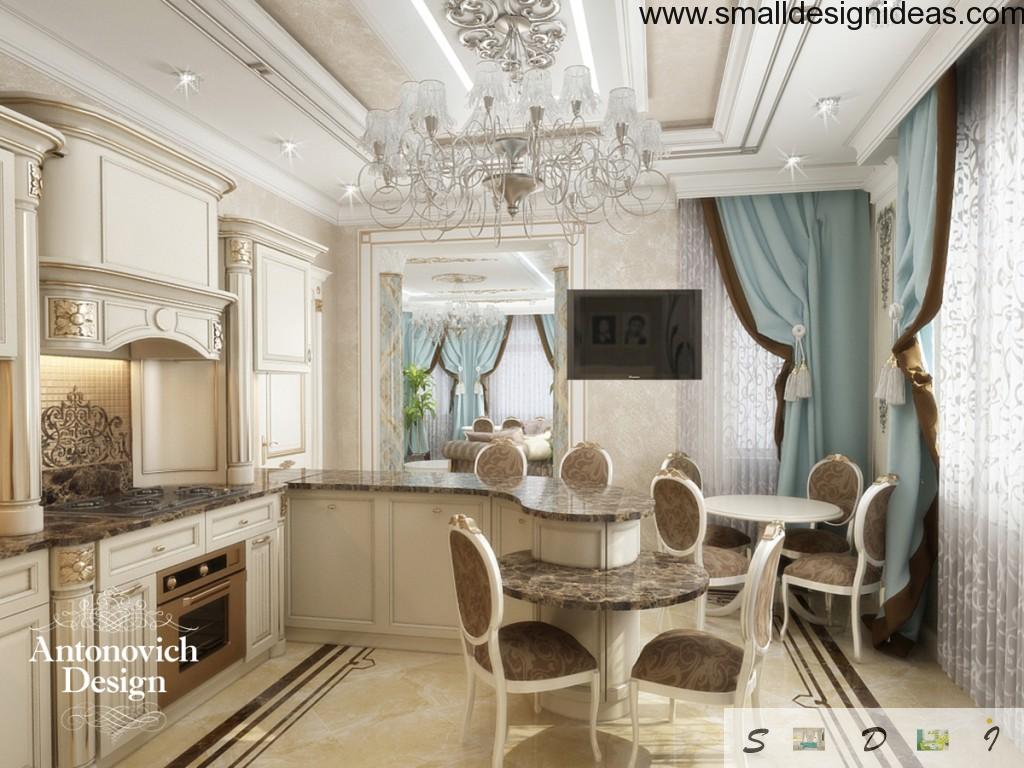 The rococo apartment is a luxurious and cozy place. However, if you do not want your home to become a warehouse of pretentious mismatched furniture and interior details, you will need to rely on the design of the Rococo styled apartment on professionals.
This style is perfect for small luxury hotels. The rococo style in the interior of the office is appropriate for art and wedding organizations. Order interior design Rococo – so give your customers a festive mood and atmosphere of joy and beauty.
Why Rococo?
Rococo is not just a style of interior, it's a lifestyle. The era of European aristocrats, eager for pleasure and enjoyment, will appeal to those who like life and knows how to enjoy it.
The rococo interior is the beauty and mystery, luxury and elegance, finesse, and pretentiousness. Soft colors and rounded shapes elegance, the comfort of furniture designed to have fun and pleasing view of the integrity of the well-thought-out environment – all this makes the Rococo style so attractive.