As time passes, many different design styles and social-cultural manifestations had been considered as "modern". In our contemporary technocratic era, we have an absolutely new notion of this term and, in this article, we will try to collect the most prominent distinctive qualities of Modern interior design style. Description, distinction from other styles is the main subject of this post. And this is not an easy task. First of all, because people often relate something that they can't discern to modern style. However, any design style is not just a bunch of chaotic elements, it is a concept that has basic principles that differ it principally from other styles. And we are going to explore some of the most notable constituent parts of the subject.
Contents: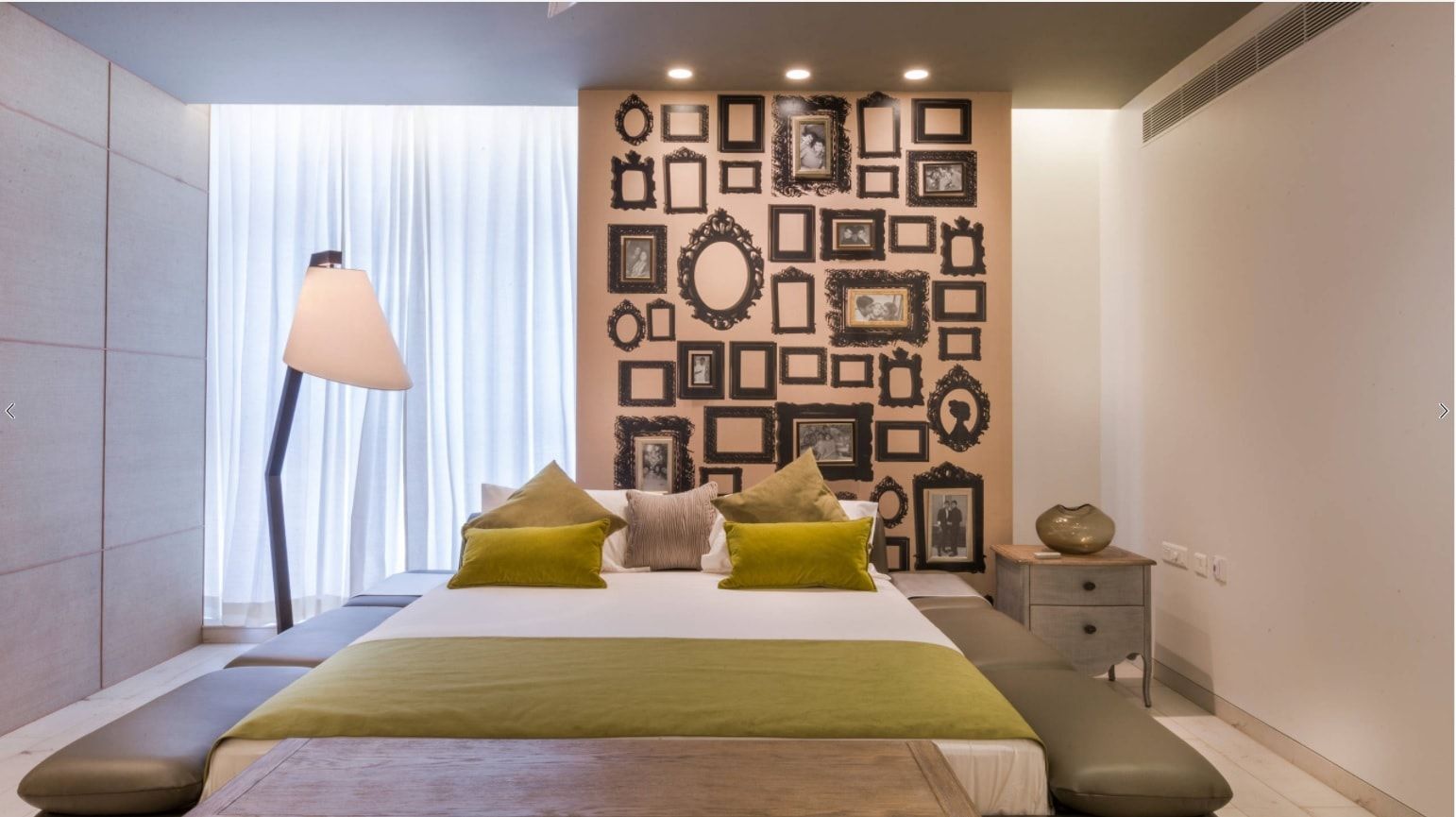 Traits of Interior Modern Design Style and Relations with Others
No style has appeared from nowhere. Especially, having so rich history, such a comparatively new and fresh style as Modern, of course, has a lot of predecessors. Among the most notable and those which spread the biggest influence, we can admit Minimalism, Contemporary and Scandinavian styles. In its turn, Modern style has the basis for allotment a bunch of ultramodern styles such as Hi-tech, Futurism, etc. We will try to speak about the most notable distinctions between all these styles from the Modern further.
The Modern style comes as a decisive rejection from the pomposity and scale of medieval and Classic styles. The gloominess of Gothic, heavy carvings of Victorian style, and pretentious colorful chic of Renaissance is completely refused by modern style.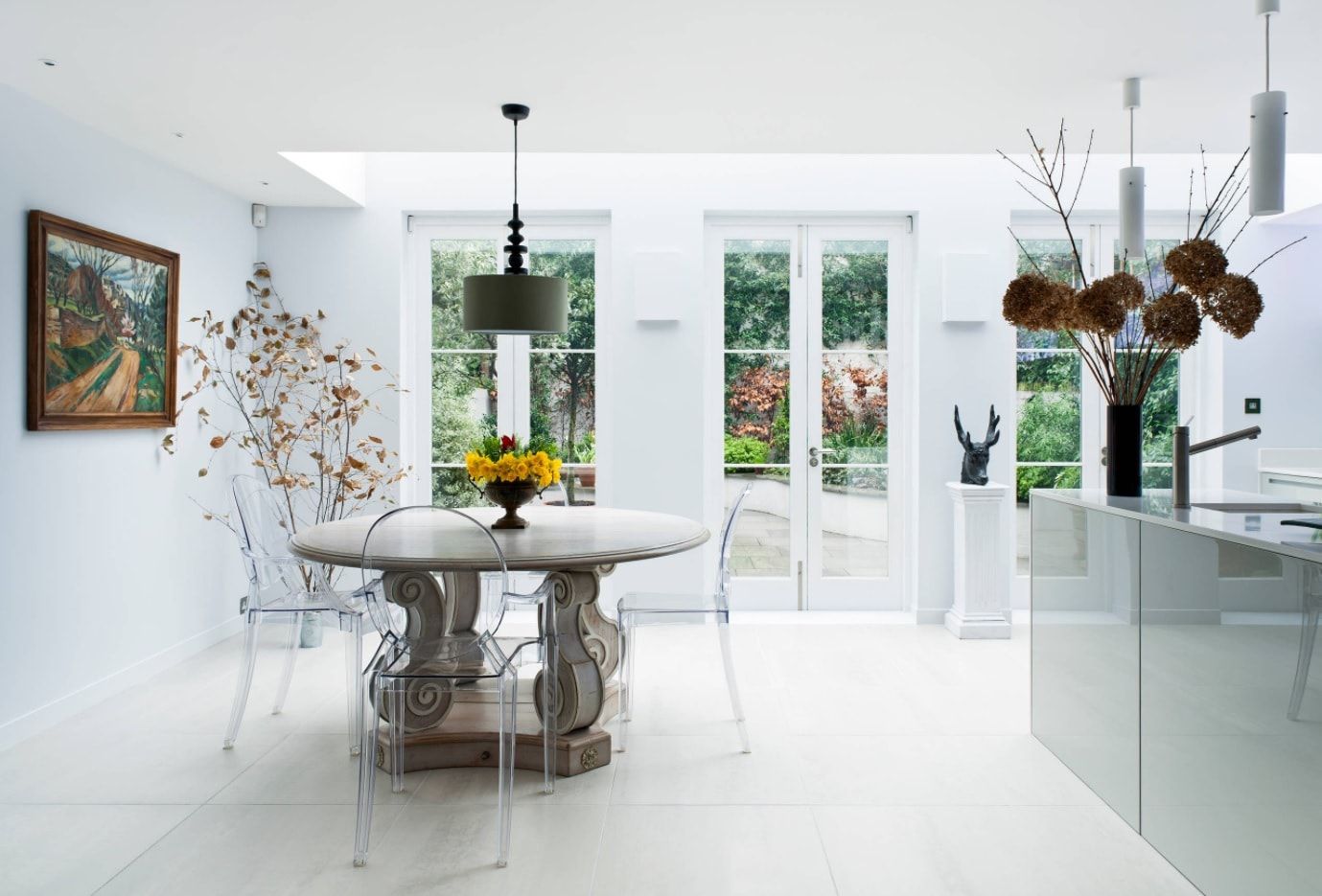 We have a lot of reasons to take a shift in our architecture and interior design for the sake of space-saving and minimalistic solutions. First of all, society has drawn away from monarchism. Castles with their pomposity and spaciousness has ceased to be the example of living. We are in the era of mass culture and, respectively, mass design concepts that can be useful for everybody.
Design Themes
If we speak about the main concept of the Modern style as a philosophy in the design, we can admit strict adherence to clean straight simple lines and forms. This provides the applicability of the style for rooms of literally any space and height. Also, such an approach minimizes the clutter and makes organizing of working and relaxing space easier. In addition, this is what makes Modern similar to minimalism. And this can be considered as the distinction from Contemporary, which tends to curves, rounded forms, and sweeping lines. However, unlike Minimalism, Modern stylistic can fill large space with content as it is not devoid of decorative elements and bright colors.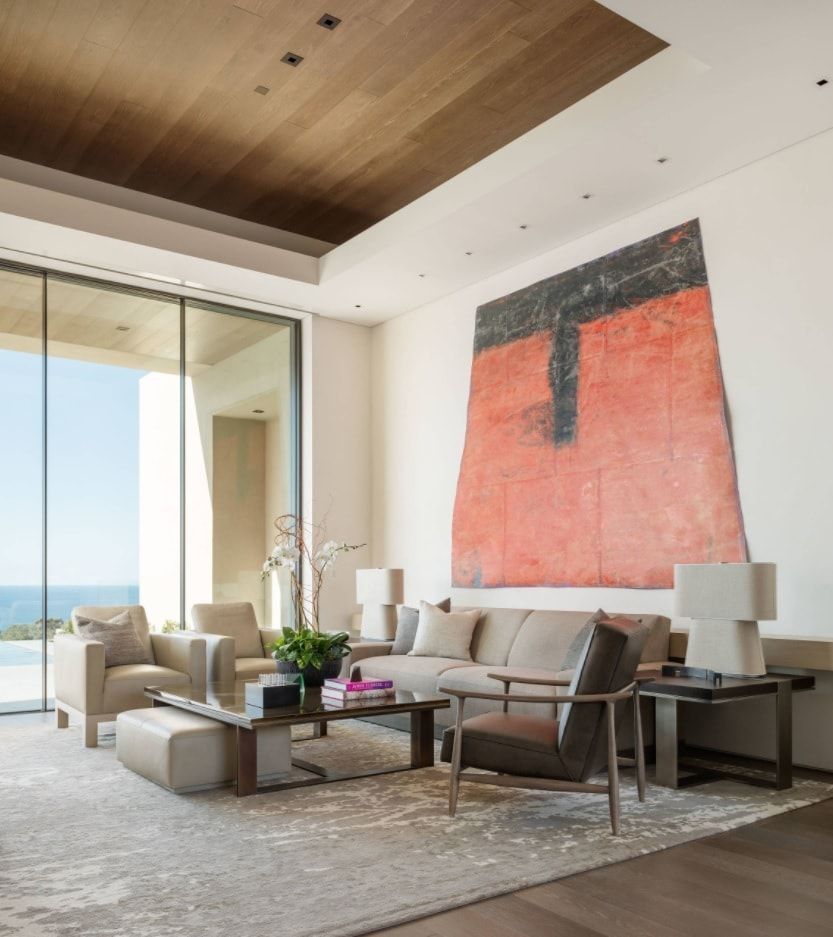 The modern interior design is the reflection of modern technologies. Look at the car industry, which forms and lines are predominant today? Any room designed in modern style can organically accept any modern appliance (vacuum cleaner, TV-panel audio system) and only benefit from this.
If we speak about the furnishings, the most prominent and valuable influence to Modern was made by Art Deco style. But we mean more "today's" variant of Art Deco – without excessive forms and too curvy Classic incarnations. And this is what relates Modern and Art Nouveau, as the latter is the straight ancestor of Art Deco.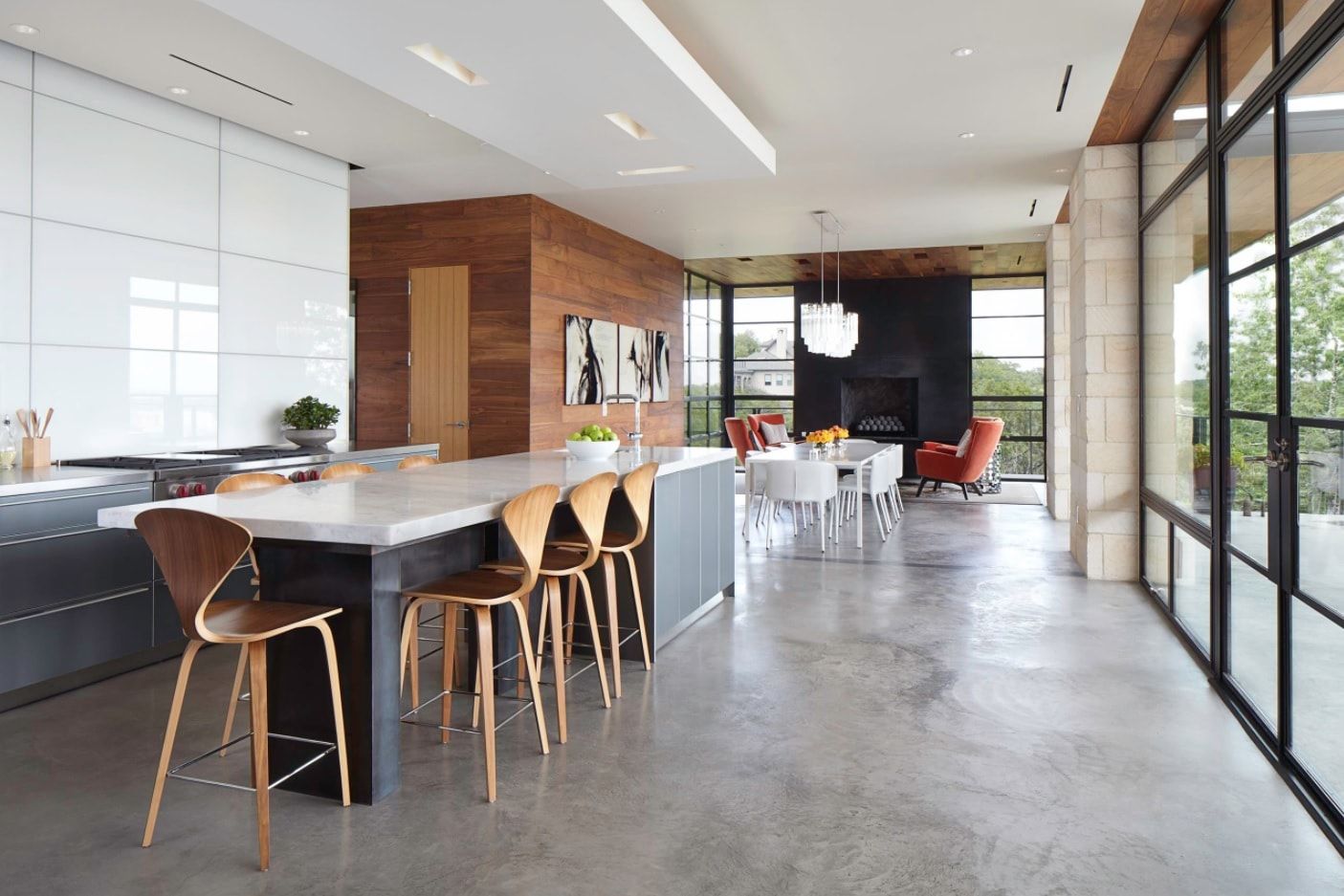 The open floor plan is another inherent feature of the Modern style. Lack of walls, a small number of nooks and recesses in walls; lack of extra moldings, fretwork, or stucco at the doors, windows are also attributes of modern design. For other furnishing elements, they can be grouped in the next traits:
Built-in modular furniture (bookcases and kitchen sets, shelvings, and pantry);
Oversized tiles for floors and sometimes for walls either;
A lot of artificial light. Zoning with light is of the main features of modern rooms.
Used Materials
A full kaleidoscope of possible finishing and trimming materials can't be even comprehended. Modern style comprises almost every known to humankind materials. These can be all kinds of plastics, glass, wood, paint, wallpaper, concrete elements, PVC-constructions, all kinds of stone and metals. The point lays in conformity with the philosophy of the style which prohibits raw treated materials and "scruffy" forms. Nevertheless, modern style has its own "favorites". We can attribute here:
Glass (especially for coffee tables and partitions);
White glossy plastic;
Chrome, steel, and polished aluminum;
Matte paint;
Colors
We've mentioned above that Modern is not "afraid" of bold colors. Thus we can state that the color gamma of the style is also wide as the range of materials. Anyway, we should also remember that bright and even garish colors (primary ones basically) are applicable for accents, to create zoning effect or focal points. In addition, bright colors are recommended to dilute the overall atmosphere and break up the monotony.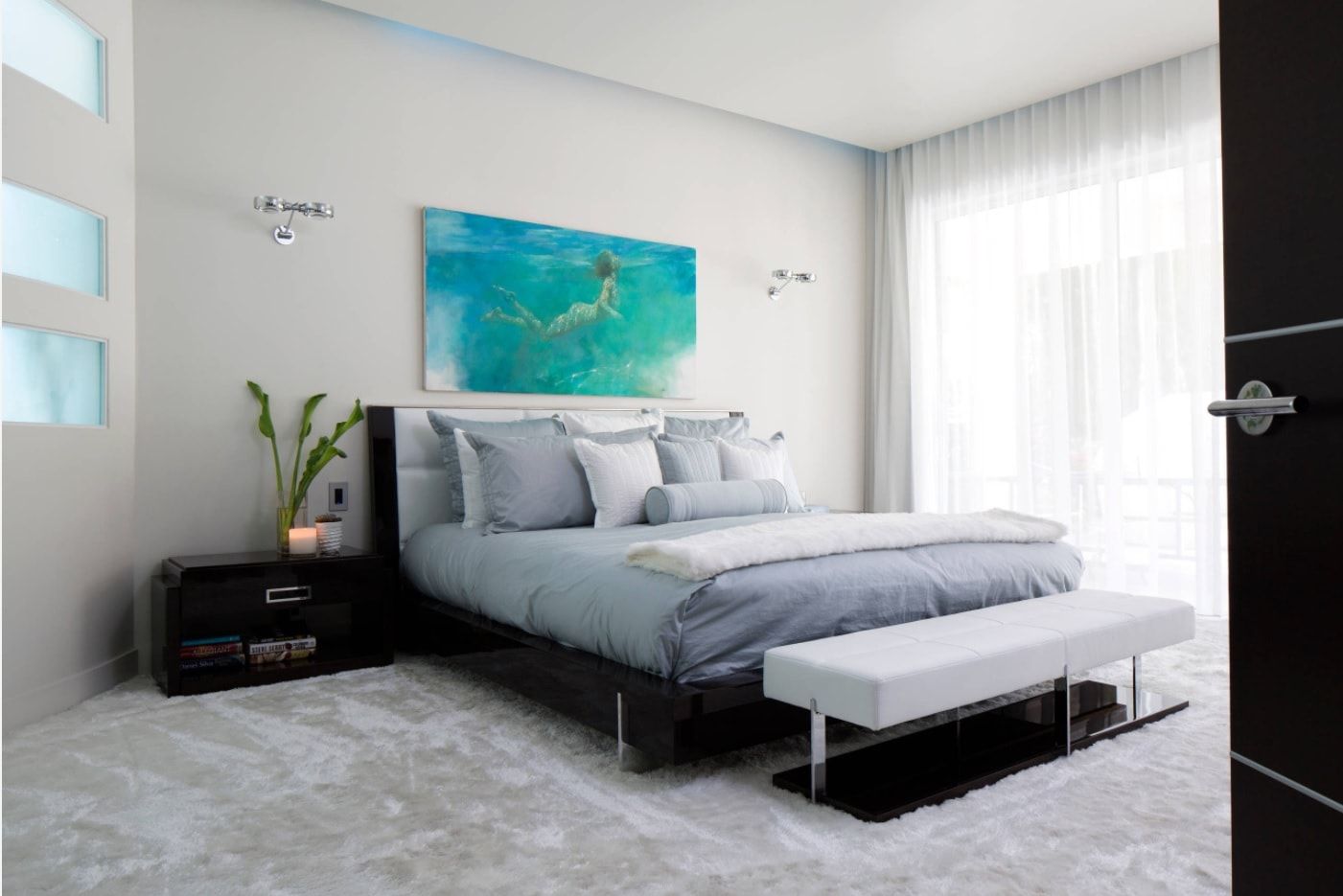 Manifestations of Modern Style
This style has a lot of incarnations and realizations. We can combine different types of furnishing with the austere ambiance of the room and still achieve a nice balanced modern interior.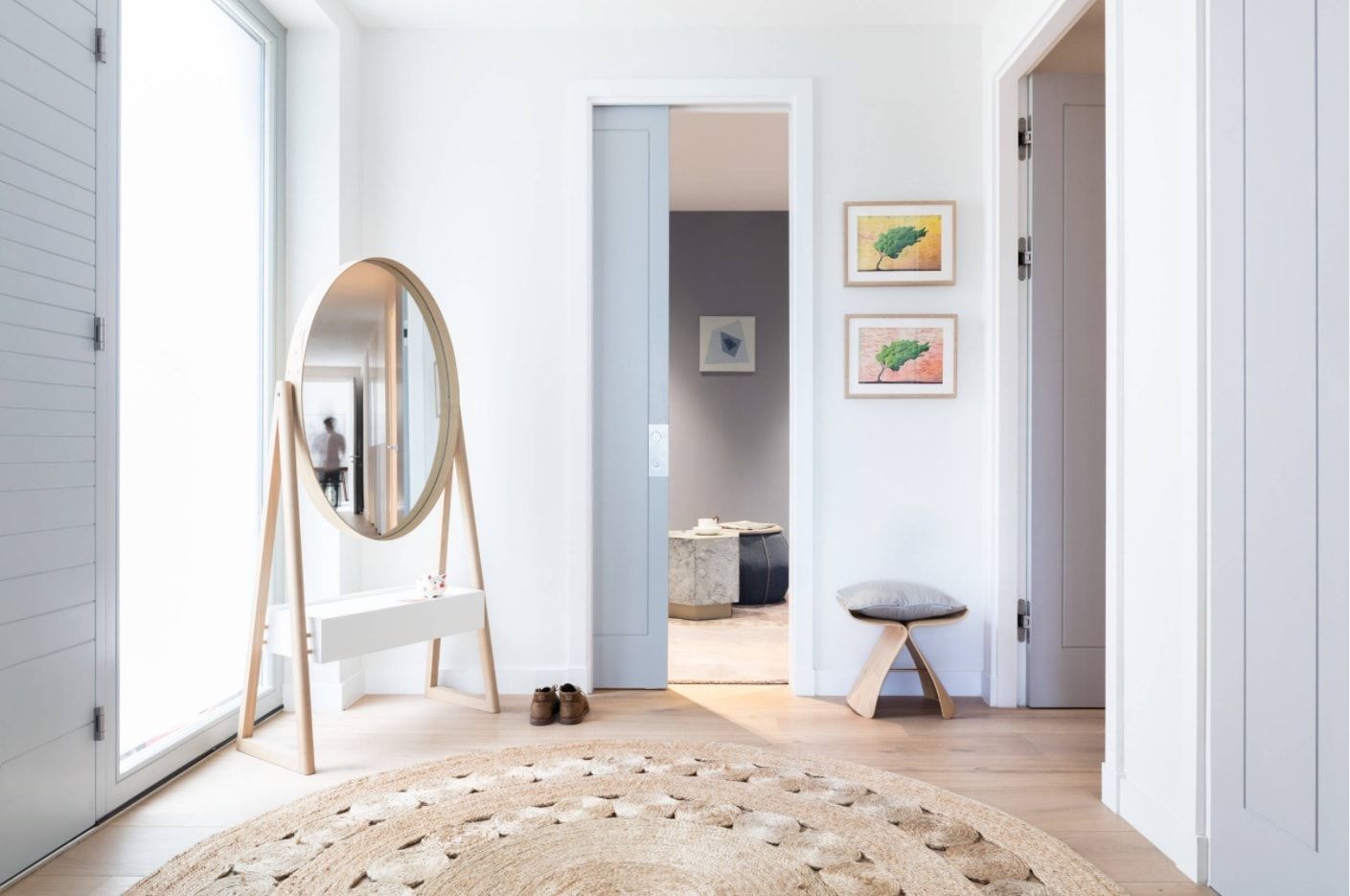 the style firstly appeared as a protest against the conformity of the social dogmas, the protest against religion with the central idea of omnipotent God. In the core of Modernism, there is an idea of the "person-first" concept. That's why the interior should be comfortable and cozy. It should be a real helper for its owner.
Modern Kitchen
All the rooms in the interior should be subjected to the main color scheme and concepts that would spread all over the place. Strict lines of the kitchen set, the scheme of lighting, used finishing materials should continue the philosophy of the other premises. However, the kitchen is the room which can comprise a big number of modern technologies. Start from appliances and finish with modern mechanisms of the cabinets' doors.
Modern Living Room
Modular wall furniture emphasizes its strict and clear lines can complement the austere upholstered furniture in the central part of the modern living room. Such living may seem darker than average. Thus pay attention to natural lighting. Use showcasing of your personal things and decorative elements in a comparatively large room. Otherwise, betake decorations very sparingly.
Modern Bedroom
Crisp lines and predictable color schemes become advantages of the modern bedroom. The minimalism of the interior, however, filled up with modern appliances and curtains promotes relaxation.
Eventually, we forgot about modern bathroom solutions. But the overall exploration of the style gives us the opportunity to imagine the functional attractive space.