A beautiful, seasoned neoclassical interior design style was created for those who treat their home with respect, and with the understanding that the classic interior is timeless but can look quite modern and stylish.
Contents: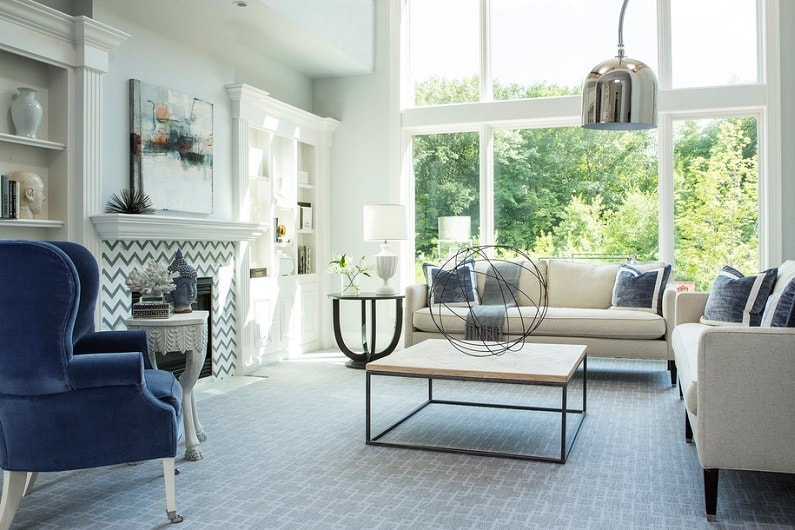 Frankly speaking, Neoclassicism is a special style, and it is suitable for people with already formed looks, tastes, and a certain status. In order to afford to design a house in the lines of this stylistic direction, it is necessary to have not only a considerable budget but to lead an appropriate lifestyle.
Nevertheless, it is possible to use some, especially noteworthy signs of Neoclassicism in modern apartments, if the following nuances are close to you:
Accuracy and sense of proportion. Neoclassicism does not tolerate excesses either in furniture, or flowers, or decoration.
Design in restrained, natural colors. The style involves the use of clear, natural combinations, without catchy, flashy shades.
The presence of some purely classic features in the interior. Stucco molding, mirrors, classic patterns are indispensable attributes of Neoclassicism.
So, let's start a detailed examination of the characteristic features of neoclassic style in the design of modern interiors of houses and apartments.
Space and Respectability
First of all, it is worth paying attention to the fact that creating a neoclassical atmosphere is best in spacious rooms. High ceilings and large windows are also welcome, as they can accurately emphasize and enhance the effect of sheer luxury and elegant respectability of the neoclassical interior.
Clean Lines and Proportions
Despite the fact that the style originates in classical models, it, on the whole, shows more restraint in character and successfully adapts to modern trends and needs.
For example, when planning rooms in a neoclassical style, the laws of the symmetrical arrangement of furniture and decoration are used. But in turn, wall panels and moldings here sound more muffled, modern.
The whole atmosphere is built symmetrically, and emphasized by elegant, visually light objects, and textures of natural materials.
Classic Finish
Often, the walls in the room are decorated with panels or moldings of simple geometric shapes, painted or wallpapered with a neutral floral pattern. Floors should be faced with parquet or parquet board, as this is the best and most acceptable solution for the neoclassical style.
The ceilings are left even and white, complementing with neat stucco molding in the form of cornices or rosettes for overhead lighting. If there is a fireplace in the room, its portal should be designed as restrained in the context of style, but this zone can be distinguished with the help of a large mirror in a simple or carved wooden frame.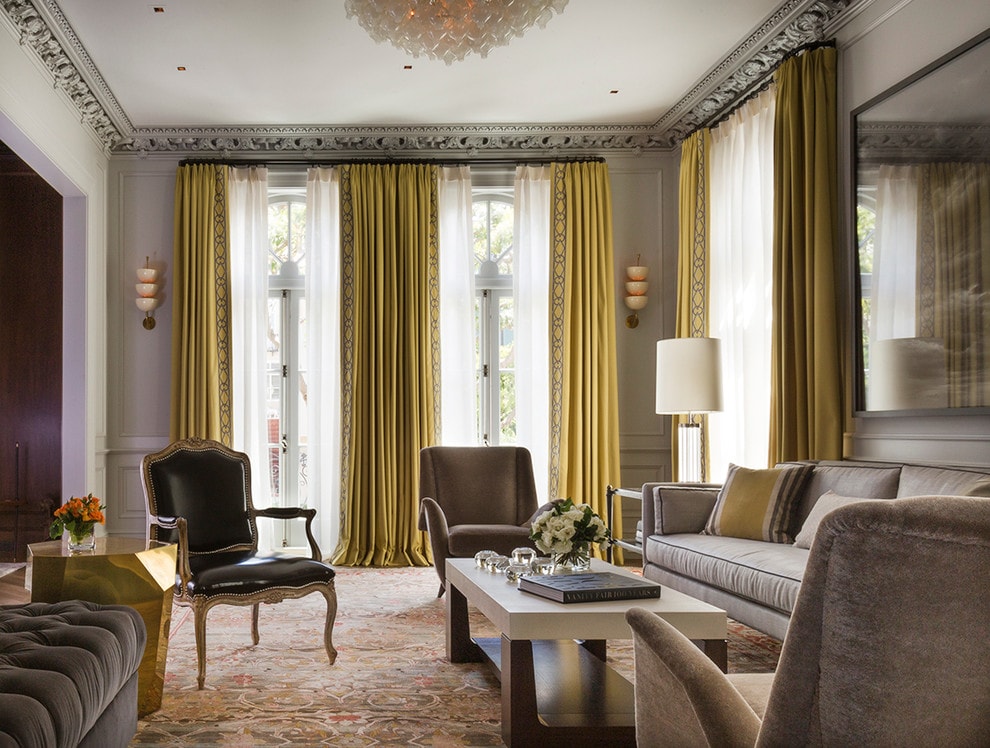 Window and doorways should not be left without attention. They can be decorated with light stucco elements, for example, pilasters.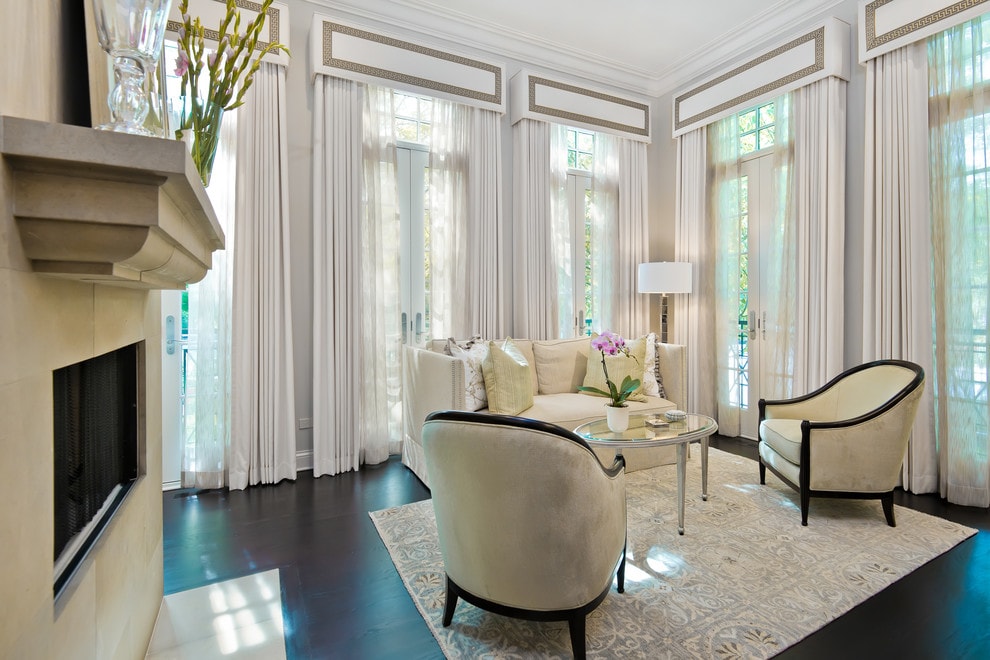 Elegant Furniture
Neoclassicism welcomes the placement in the interior of furniture made in traditional features: using natural (light or red) wood and expensive fabrics. In addition, each piece of furniture should be on legs or elegant supports – balusters. But there is no place for heavy massive objects in the neoclassical interior.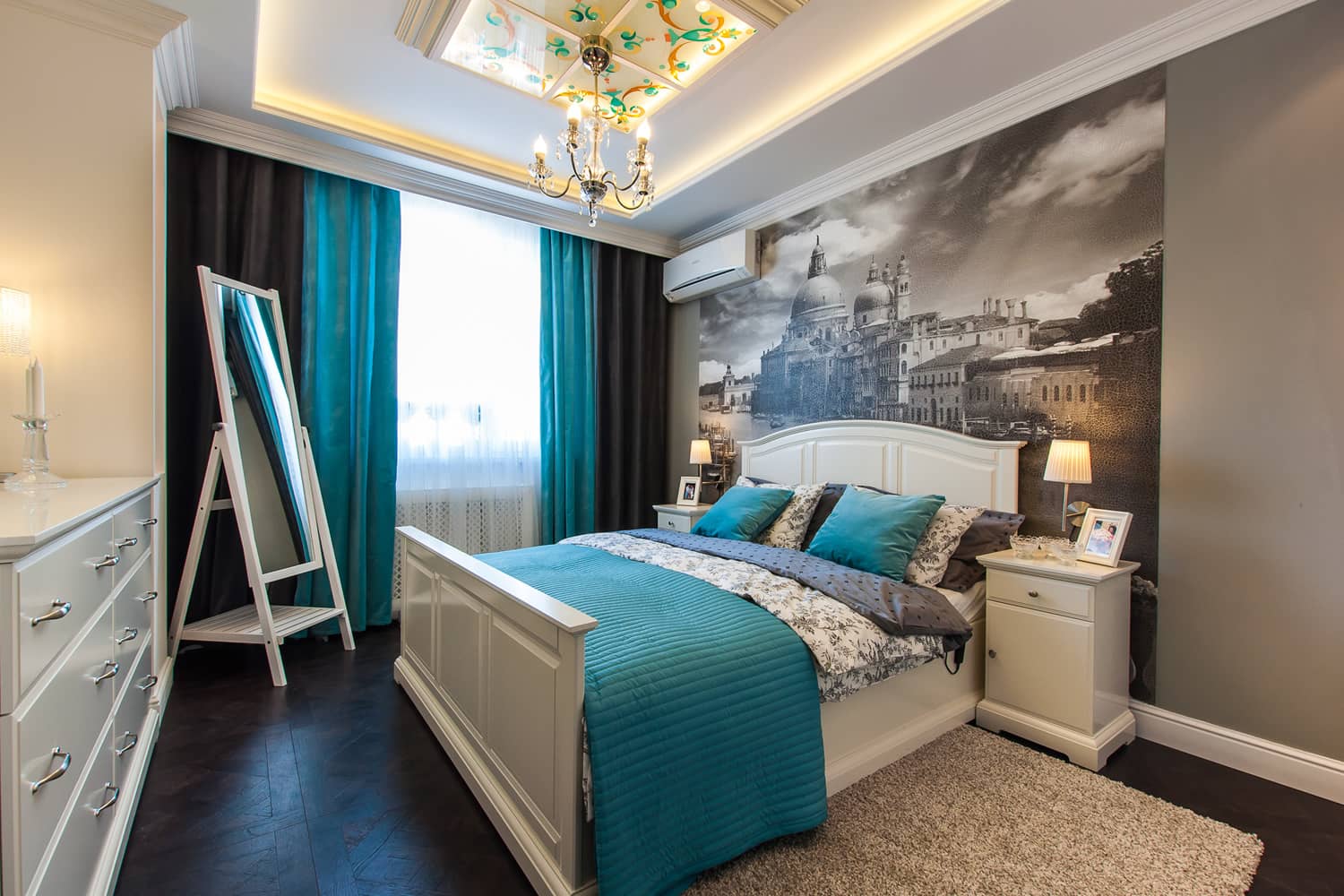 Only the most necessary furniture should be placed in the neoclassical interior so that the atmosphere remains balanced and visually light. For example, in the living room, you can put a sofa and a couple of chairs (an ottoman or couch), a coffee table, a console, a bookcase, and a chest of drawers (secretary or sideboard). In the bedroom, complete the bed with tables, a bench seat at the leg board, a chest of drawers, or a built-in wardrobe. If desired, you can install an armchair and a dressing table.
Neoclassical interiors are characterized by the use of modern natural fabrics in upholstery. So, instead of the classic jacquard or tapestry, you can use dense cotton, velvet, mixed fabrics. In addition, often this style attracts mirror elements to the design of furniture and interior decoration, as reflective surfaces help to make the room more solemn and bright.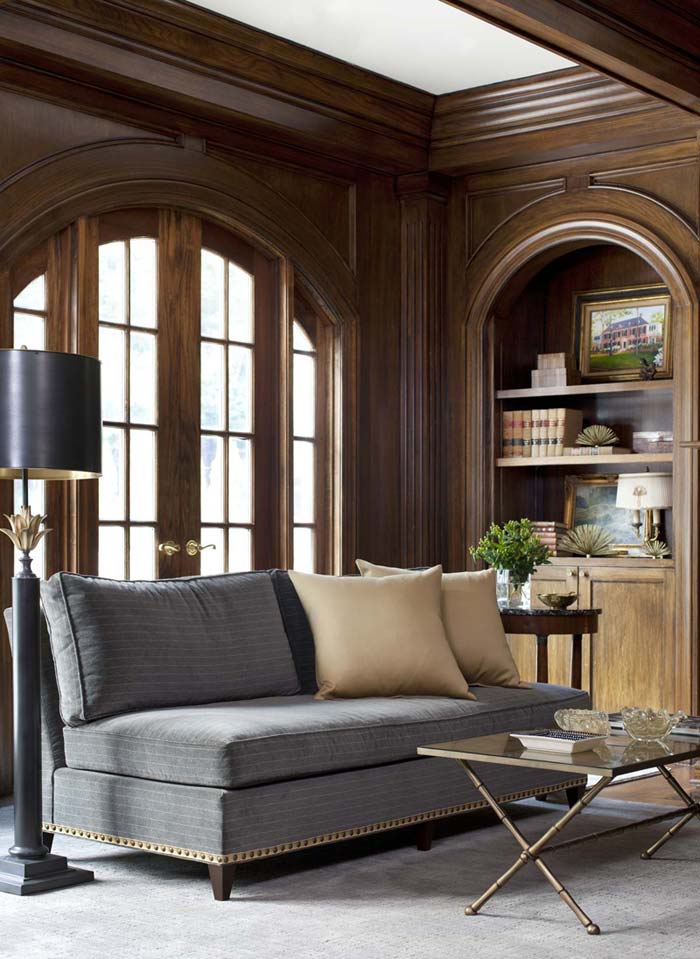 Natural Calm Palette
A neoclassical-style setting will look expensive and soundly because it uses completely natural shades of nature, such as gray, beige and cream, white, golden and silver, wooden, blue, chocolate. You will not be mistaken in choosing these tones, because they are perfectly combined with each other in any ratio.
Restrained Décor
The decorative filling of the neoclassical interior is always in tune with the main decor and necessarily complements it advantageously. As a result, space looks aesthetic, stylish and original.
The interior in the neoclassical style should be bright and cozy, which means that it is necessary to use different sources of light here: chandeliers, floor lamps, table lamps, and sconces.
Pictures should not cover the walls completely; it is better to hang one large canvas than a scattering of small, obscure images.
Use mirrors in the decoration of furniture, hang one between the window openings or install the floor.
Lambrequins are appropriate in the design of the curtains. But they should be quite simple, rectangular or rounded, as a decoration of dense functional curtains to the floor.
If you considering laying a carpet in the room, you will want to choose a small product (for example, 2×2.5 m) with a classic blurry pattern, or vice versa, with a clear geometric ornament that will make the room modern.