A versatile piece of furniture, an ottoman as part of modern interior design is loved by many and has become an integral part of living rooms around the world. In our country, this practical and visually attractive element of the interior is loved by many consumers as well. Ottoman came to us from the warm Turkey, where it was originally invented for use in the palace of Sultan. Soft sofa without a back used mainly as a footrest. You can stretch your legs in this comfortable and soft base and give them a rest. Modern ottomans models have a more modest size and often covered with upholstery but not of expensive brocade or silk fabrics with gold threads as it was originally. Ottoman today is practical and versatile – you can sit on it, used as a pouf, or put a tray with kitchenware and it becomes a coffee table.
Content: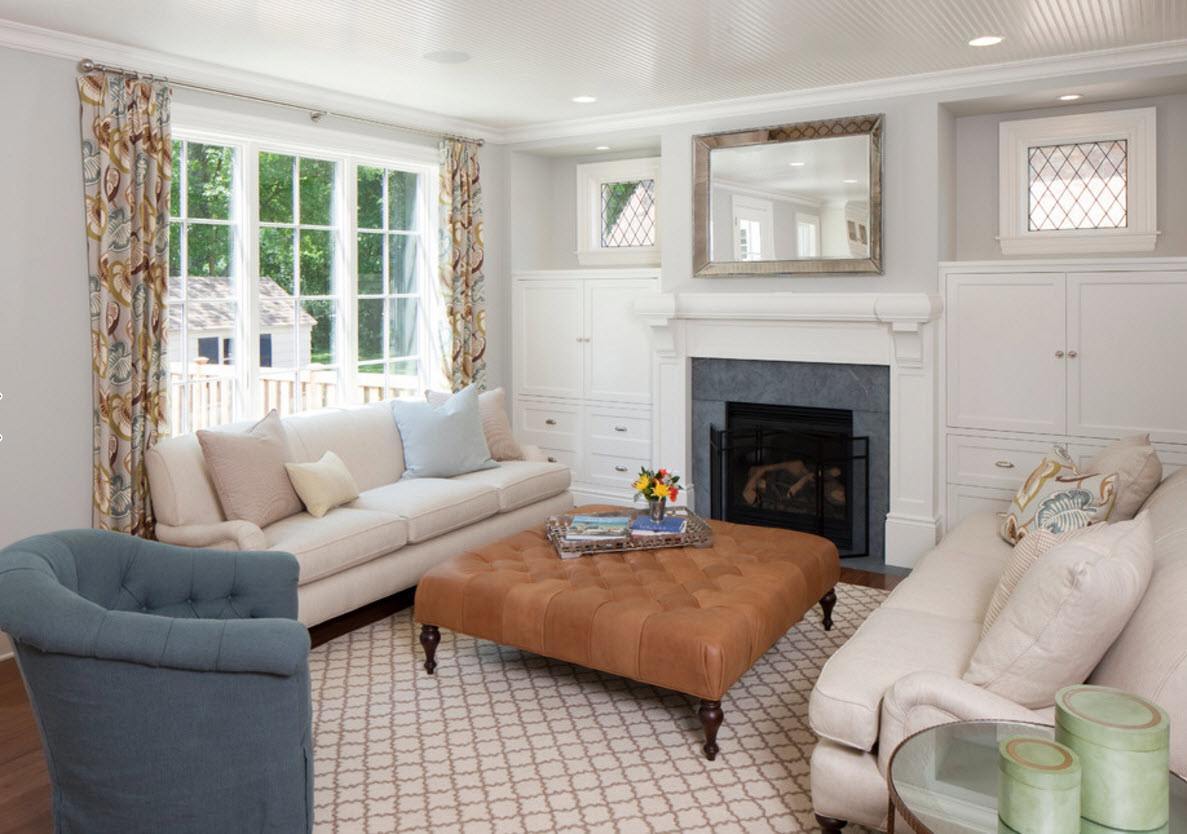 There are various forms of modern ottomans. For instance, they can be round, oval, square, and rectangular, asymmetrical, and pretentious. This universal subject's upholstery also differs from variety – leather (artificial and natural), velour and velvet, linen, and even short trimmed fur. Many variants of color and texture solutions used for the manufacture of ottomans allow you to find the sought-for option to even the most demanding customer.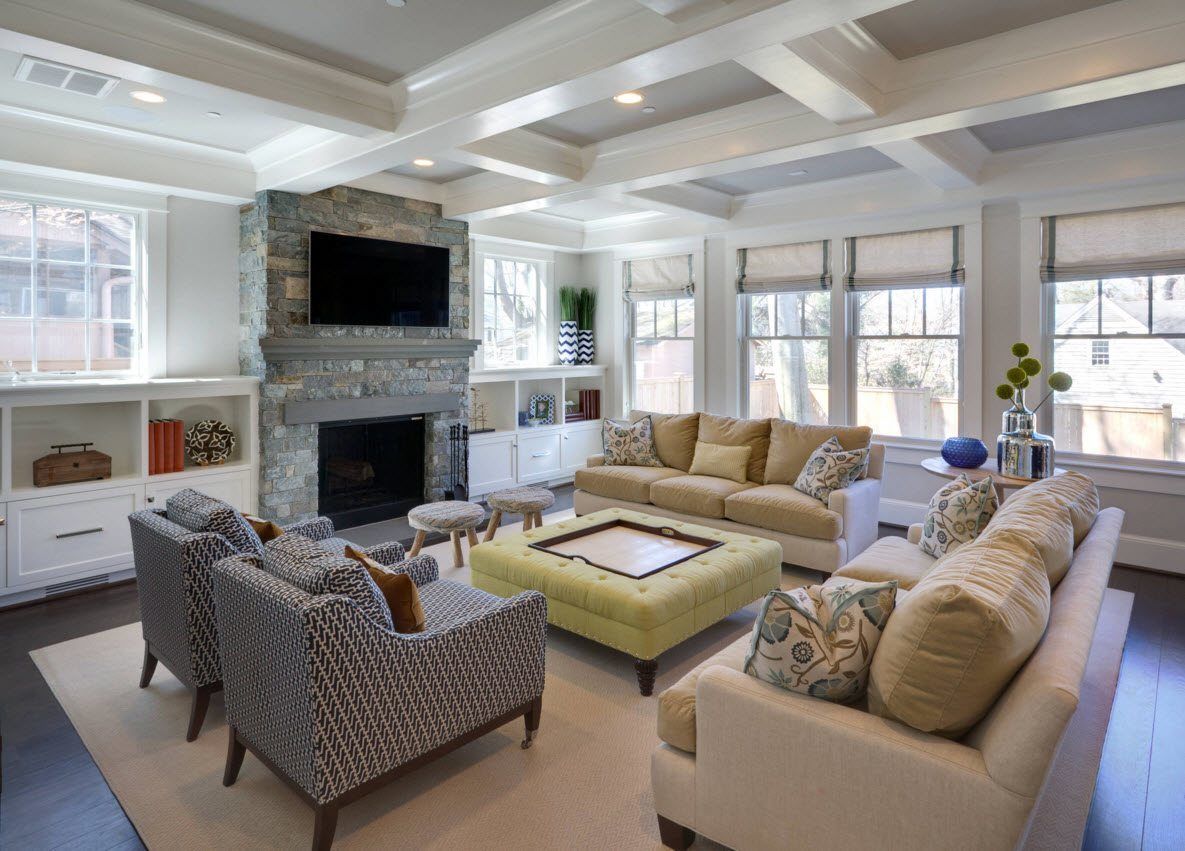 Selecting the Shape and Design of the Ottoman
First of all, you need to determine whether you want your ottoman to become the focal point of the living room, drawing eyes to its unusual design and bright trim. If your goal is creating a colorful accent, a kind of island in the interior of the living room, then go ahead and purchase the large size ottoman with a square tray.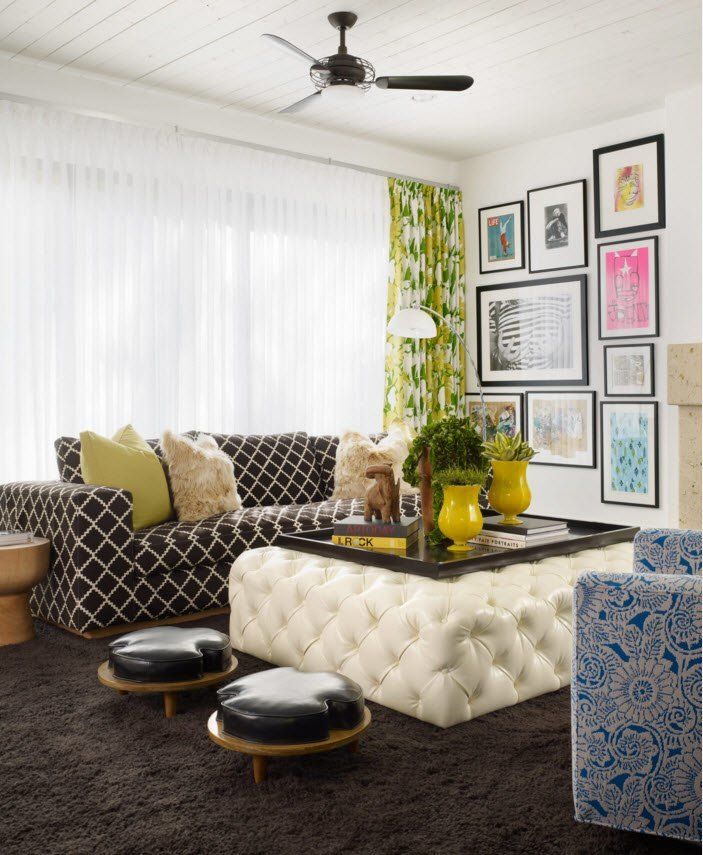 Considering the most typical small-sized apartments and permanent lack of storage systems, many manufacturers began to produce ottomans with lifting lids. You can sit on the soft surface of this multi-functional piece of furniture, use it as a coffee table, or put household items inside.  All of us have things that are not used often, but we need to store them somewhere. Of course, you can use a large storege ottoman for these purposes.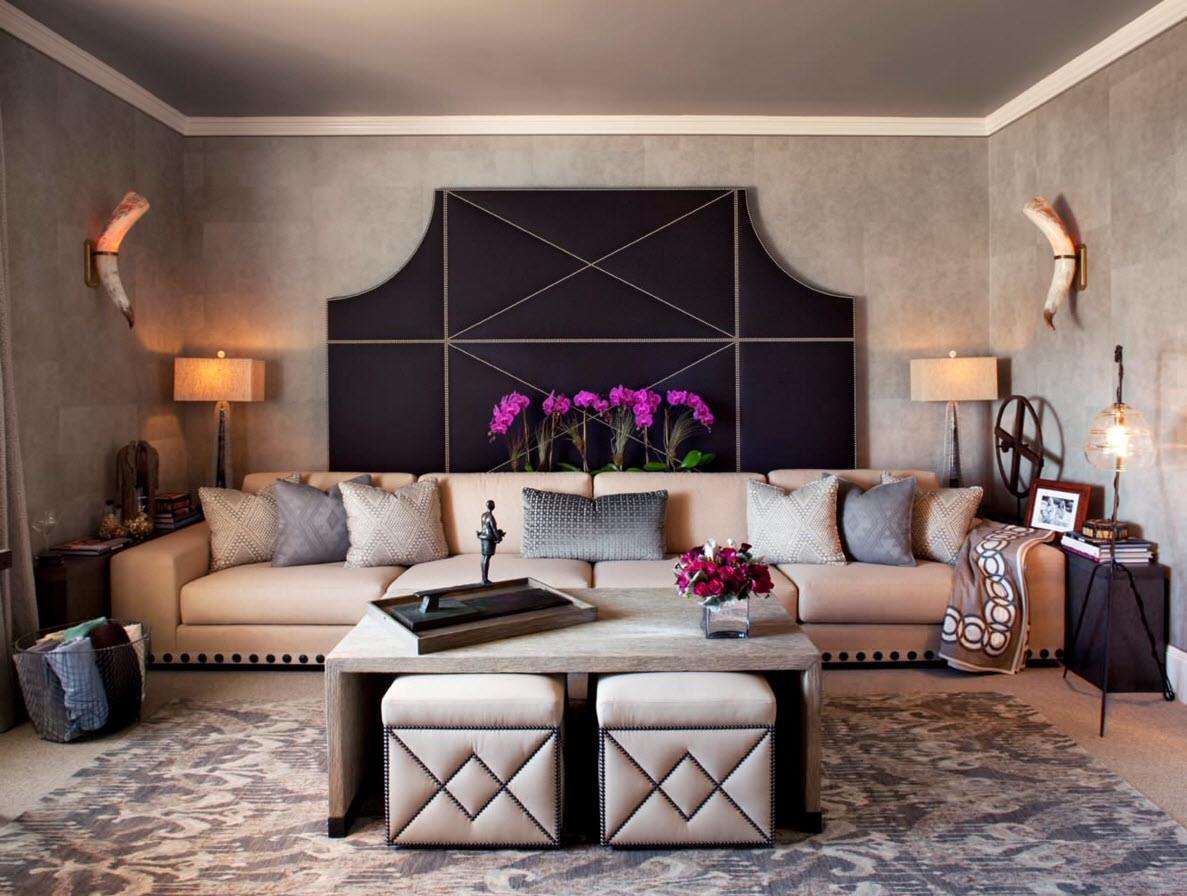 One of the most popular options of ottoman design is a quadrangle. The square or rectangle in the center of the room looks great, and, being set over the wall, saves valuable space premises.
Simple and concise form in monochromatic upholstery variant will harmoniously fit into any interior style from traditional to contemporary. Perhaps such a design element won't become a focus, but it certainly will fit harmoniously into the overall picture.
No less popular are the round poufs. It can have a design with soft upholstery over the entire surface, and only the table with the fabric on the tabletop. Surely, there are lots of large, spacious round ottoman for sitting or as a footstool, a graceful model of modest size for sale nawdays. You can find a variant to any interior design style of a living room or bedroom.
Round pouf-stand can be used both in the living room and in the bedroom, in the boudoir area or workplace. Rounded models will be relevant in the wardrobe and even in the bathrooms – wherever is a need to sit or stretch out your legs, put a tray, or put the book down.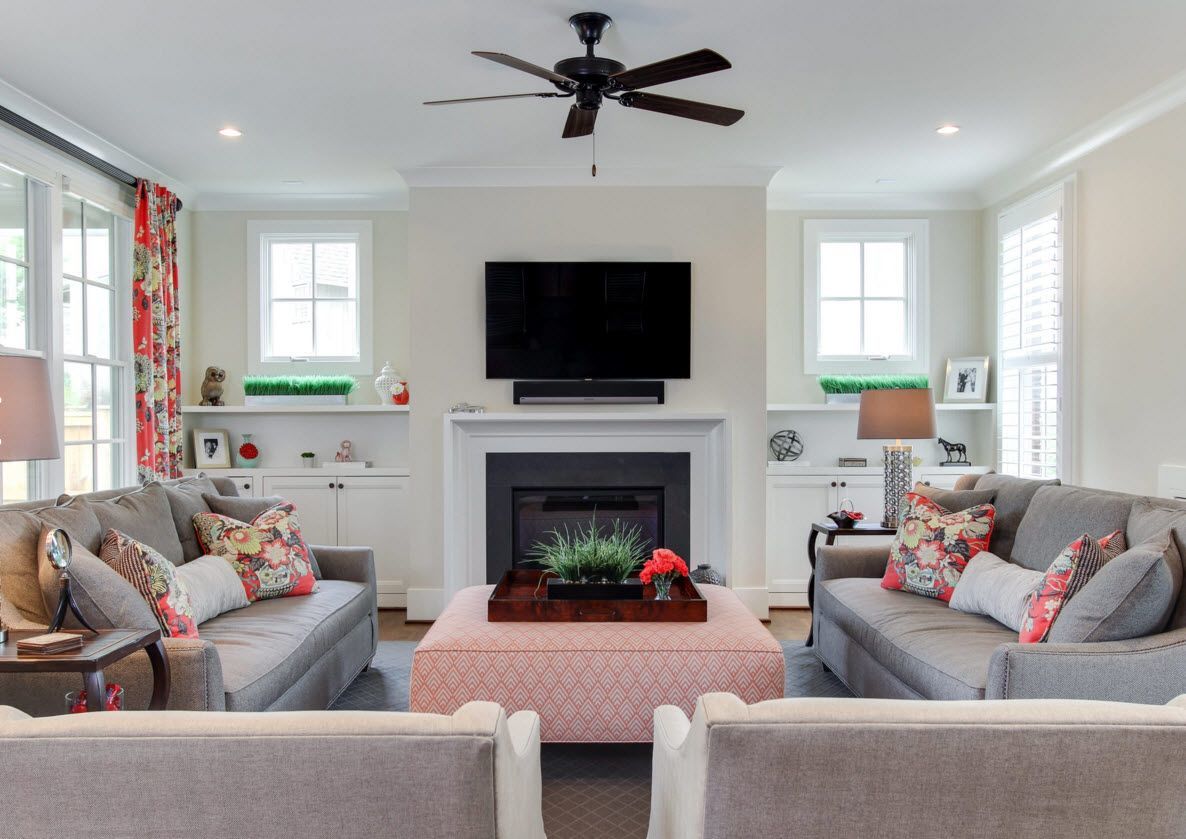 Some models of ottomans are equipped with castors. During family gatherings, you can use puff as a stand for table games, for example. And if you need to free up space in the center of the living room – push the ottoman against the wall and it will turn into a place for sitting.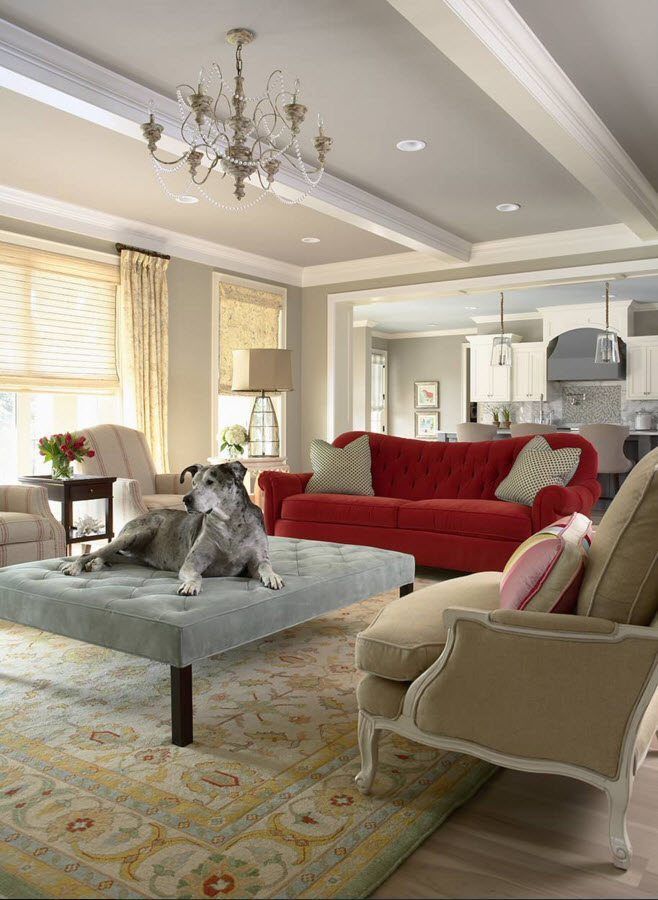 One of the variants leather ottomans is an upholstered coffee table. If your living room is a party place or you hold a narrow circle of guests here, this piece of furniture will provide all the additional seats. In other cases, you can use this model as a coffee table.
A more sophisticated version of the upholstered table is designed with a platform at the base. The convenience of this model is that it can be used as a stand, seating, and storage of magazines, books, or even tea utensils.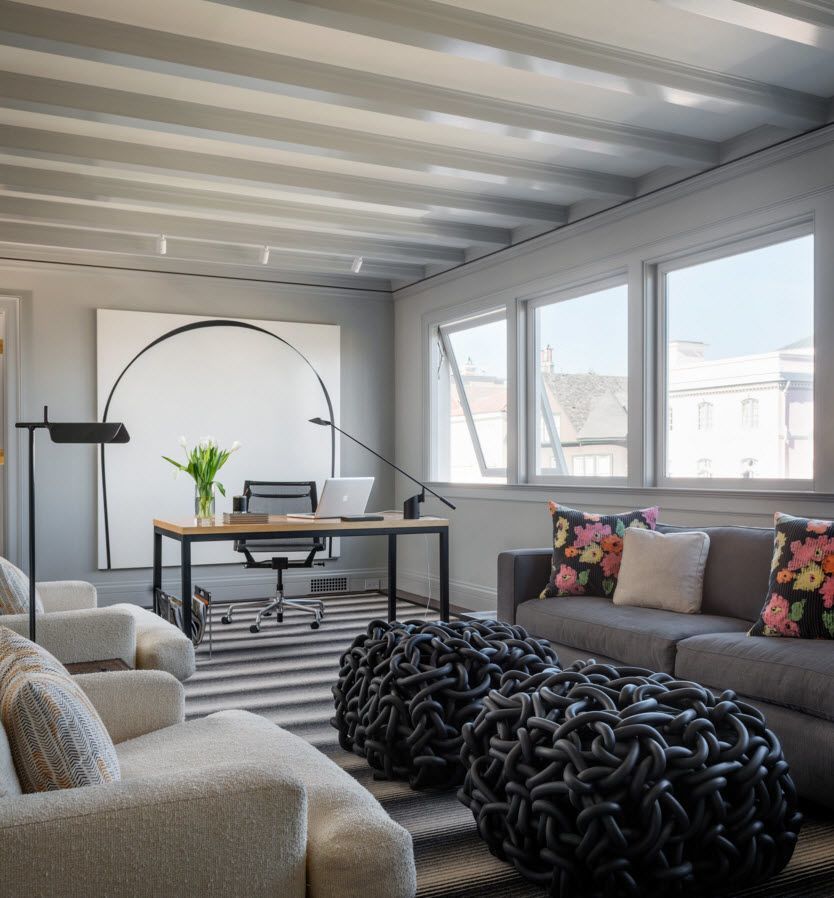 In modern design, projects are increasingly found the so-called frameless poufs model. The name speaks for itself – such furniture does not have the carcass. The shape is maintained only at the expense of the original performance, the weave of the base material upholstering a bag with Styrofoam balls or other practical material. In addition to its primary function, frameless furniture carries out the task of decorating, embellishing the interior, and picking up its degree of originality.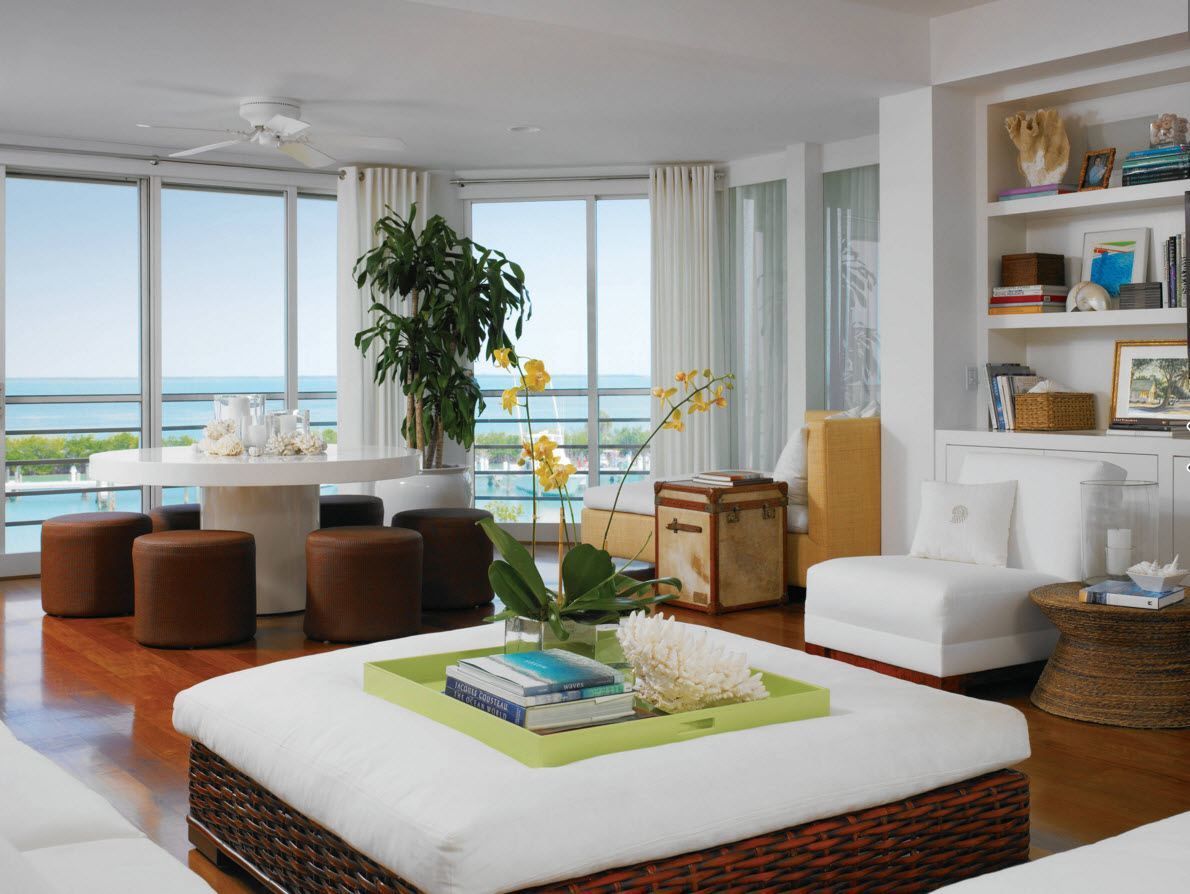 Ottoman with a base of natural or artificial rattan will not only be a beautiful takeaway option for recreation space on the outdoor terrace, but also will decorate the interior in a nautical style, with so-called "beach house" decorating motifs, in the style of Provence, or Shabby Chic (with whitewashed surfaces).
Ottoman as Part of Modern Interior Design. Choosing the Color
The choice of color for the execution of the cocktail ottoman, which will be located in the center of the recreation area, will depend on whether you want to make this piece of furniture a focus accent or to be merged with a total color palette of the room in general and soft furnishing in particular. If you can't decide on the color of the stand-pouf – choose a light, neutral color and you`ll not go wrong. Perhaps this island does not attract the attention of all those present but is likely to appeal to everyone.
White color is one of the most popular choices for furniture upholstery. It is difficult to imagine a different tone, which would be able to give a more chic image, elegance, and luxury to the living room. The white color gives the interior a clean and fresh look makes even the massive furniture weightless. For those who worry about the complexity of the maintenance of soft white furnishings, it may be advisable to use a model with leather upholstery, for it is much easier to care for.
Gray color has long been firmly entrenched in modern design projects. The most neutral color can become the noblest one either. The main thing is to choose the right shade. Silver or "wet asphalt" color, light ash, or almost white – any of the options can fit harmoniously to the modern interior.
If the soft furnishing of your living room is executed in dark colors, for the ottoman is better to opt for a light solution. The same applies to the upholstery colors. If the sofas and chairs have monochromatic upholstery, you can use a colorful cloth pouf-stand. If ottomans shade is significantly different from the rest of the colors of upholstered furniture and even color temperature, it would be harmonious to repeat this tone in the design of cushions.
Ottoman with a pattern or ornament will look originally. Such design will have a particularly impressive look in combination with covers for decorative cushions sewn from the same cloth.
When choosing the color of the ottoman, you can be guided not only by the trim of other items of upholstered furniture but also by the textile design of window openings. Curtains or blinds of the same color fabric with a center island living room will give a complete image, harmony, and elegance.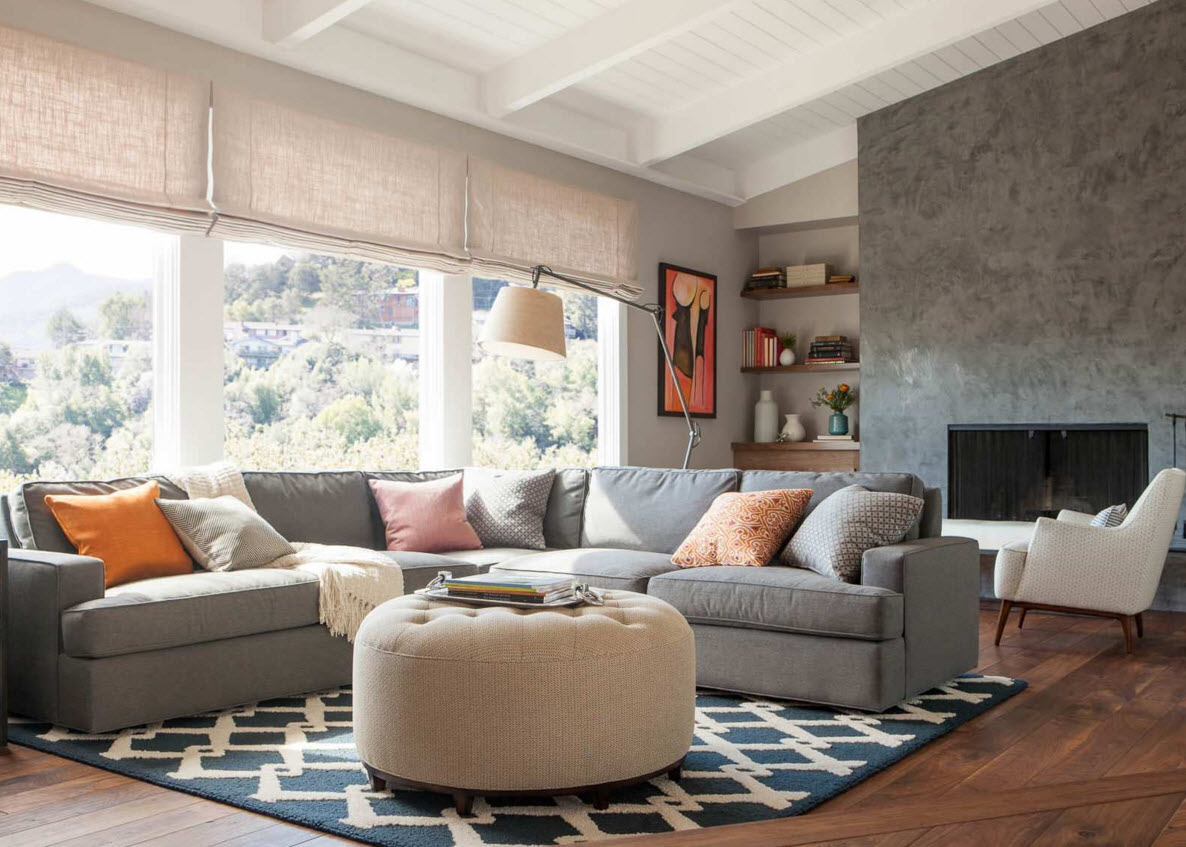 Ottoman of bright, colorful hue instantly becomes the center of view attraction. Standing, as a rule, in the center of the recreation area, and thus in the middle of the room, this piece of furniture becomes an island around which is built the rest of the upholstered furniture.
Natural colors always fit perfectly into the interior. Designers often recommend using different shades of beige for modern livings. This choice will help to create a pleasant and comfortable interior, where the atmosphere is comfortable for everyone.
Upholstery for the Soft Island. An Important Aspect of the Design
Leather upholstery is very practical. Even if you accidentally spill a drink or drop a piece of food on the leather surface – you can easily remove the stain using conventional wet wipes. If you buy an ottoman upholstered in faux leather, you can save the family budget. Natural material, of course, will last longer, but its cost is also much higher.
Luxurious looks upholstery velvet upholstery and ottoman were no exception. The colorful tone together with corduroy execution makes this piece of furniture not just an island of interior living room, but also a center of attraction for all views.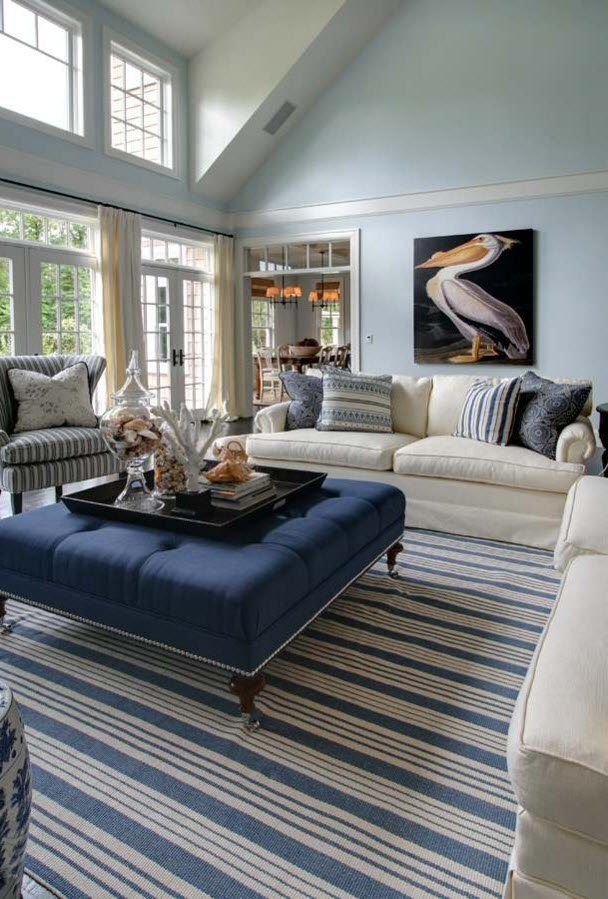 Natural fabric for ottomans upholstery is great for sitting because this material is able to "breathe". Not to mention the fact that naturalness always looks expensive, attractive, and stylish.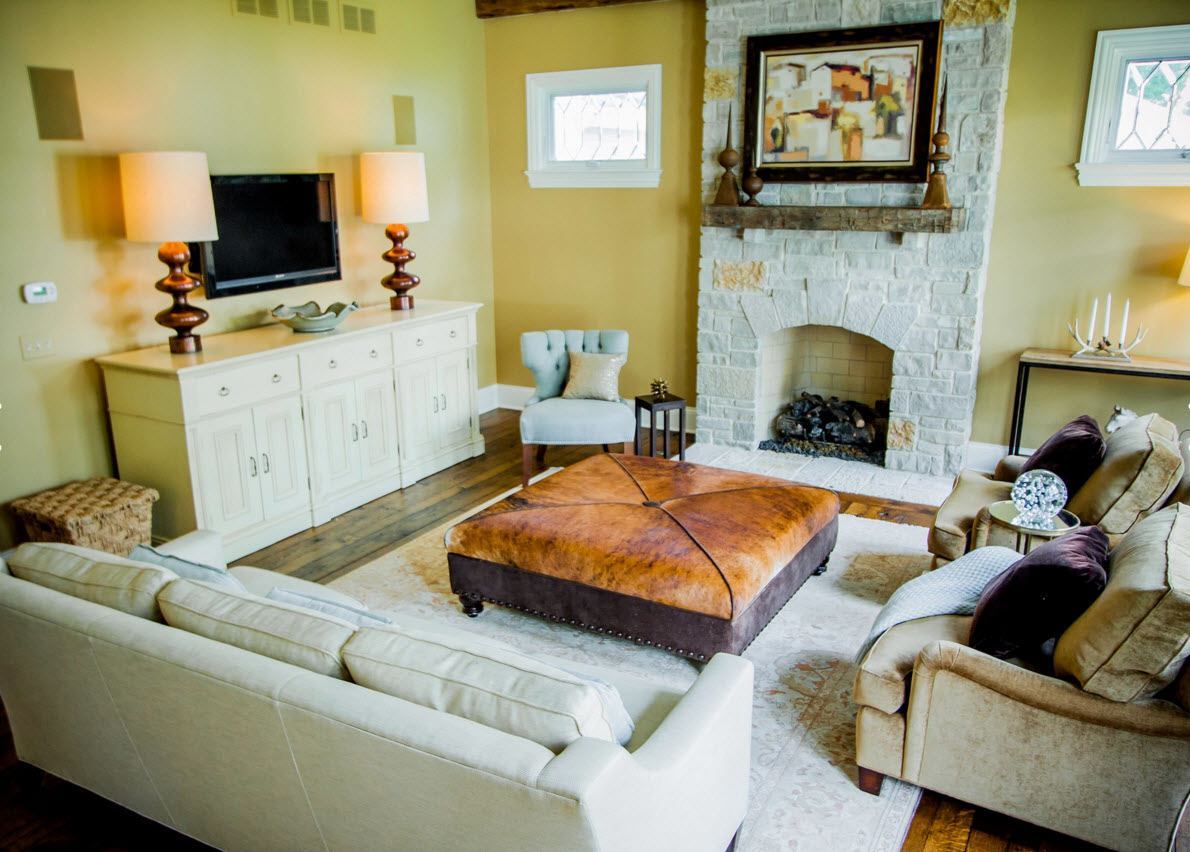 Upholstery made of short sheared fur or textiles simulating the skin of an animal, such as a cow, will look great in the interior of a country style. It is better to use such colorful upholstery only in the central element of the living room furniture – on the soft island.