The dining room is a specific area in the house and many people pay special attention to its filling. Those, who have a dining room in their house or quite a large apartment, are trying to furnish it with the latest technology and design. There is a real bunch of creative methods and tips to make the dining room as inviting and comfortable as possible. Wherein, abide by the overall home styling.  Designers resort to color and form diversity to make the most out of the dining: even black walls and contrasting black dining room set are combing into play. We will review some more effective tips and see how we can use modern leather dining chairs to complement the interior.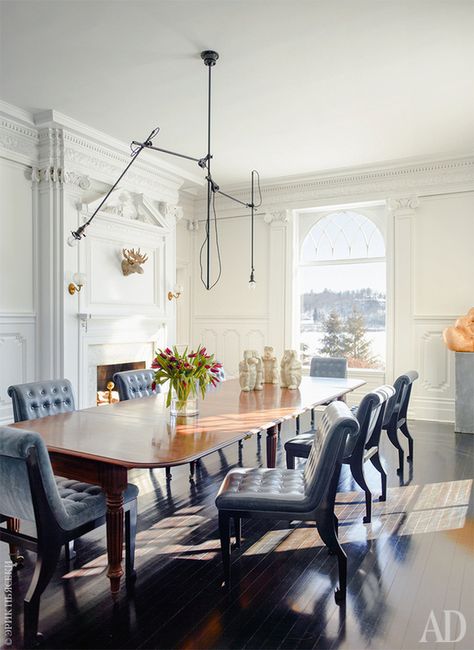 Steel Frame Chairs
Often we associate modern style with chrome steel construction combined with plastic, glossy imitations of expensive noble materials like marble or hardwood, right? So, why don't we use this trick in the dining room? The most simple and interchangeable way to do it is by adding chairs on a steel frame.
The Scandinavian style of the furniture with quite a strong yet plain structure can't do anything wrong to the interior. Of course, we have way more options. Who said that the shiny chromed frame is the one and only for the expressive dining room? Look at how the author's designed scissor-framed chairs with sophisticated backrests can organically blend with the chic contemporary dining room. Moreover, these modern leather dining chairs with brown tops become the zest of the design.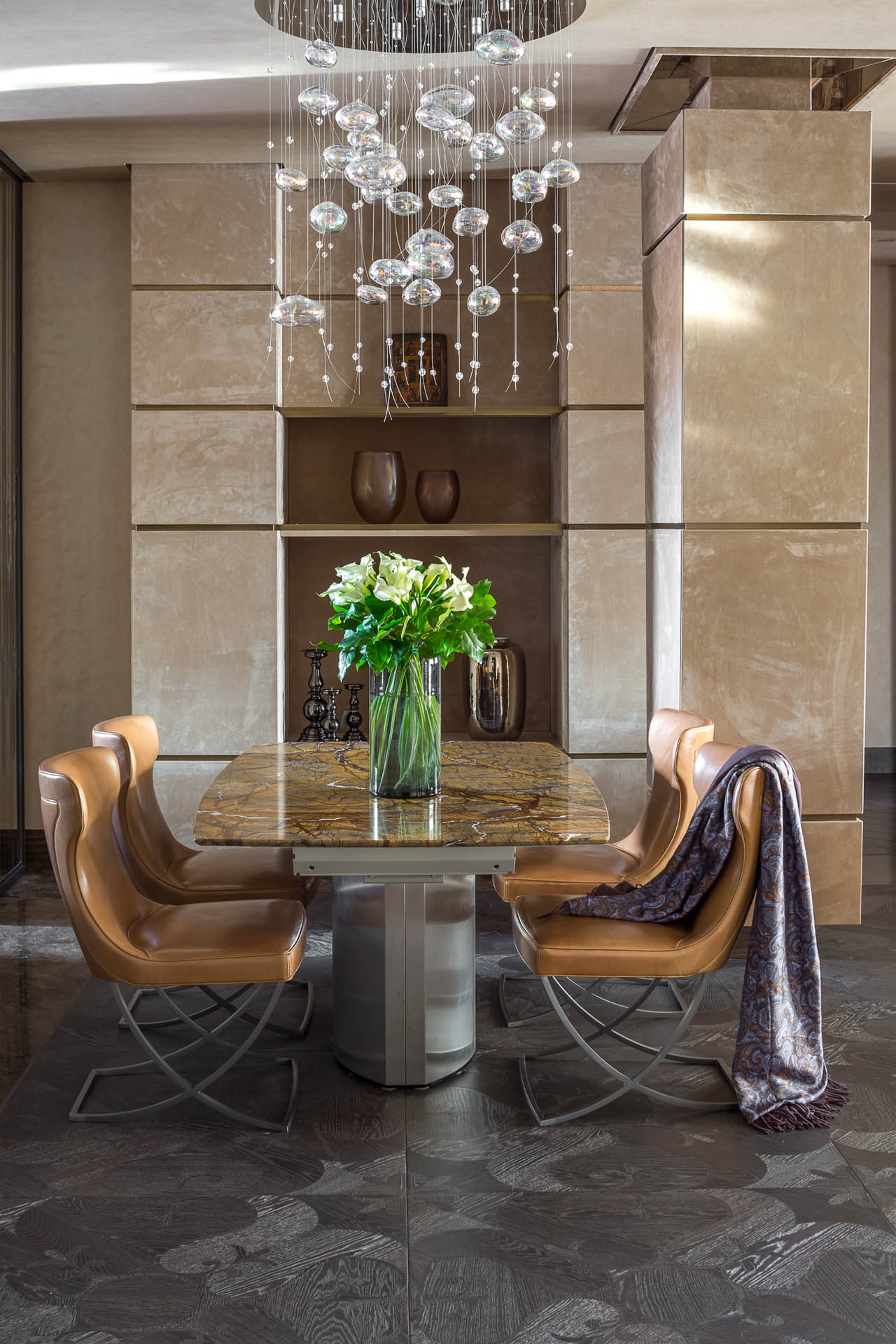 Modern Leather Dining Chairs Made of Wood
However, the steel frame of the chairs is not a must. Even for modern ones. Wood is universal material and probably will never go out of fashion. We have a few examples of how we can use wooden chairs within the framework of the dining room. An exquisite alloy of the Mod chair with leather Eames chair variation with matte tan topping is a great compliment to any dining table.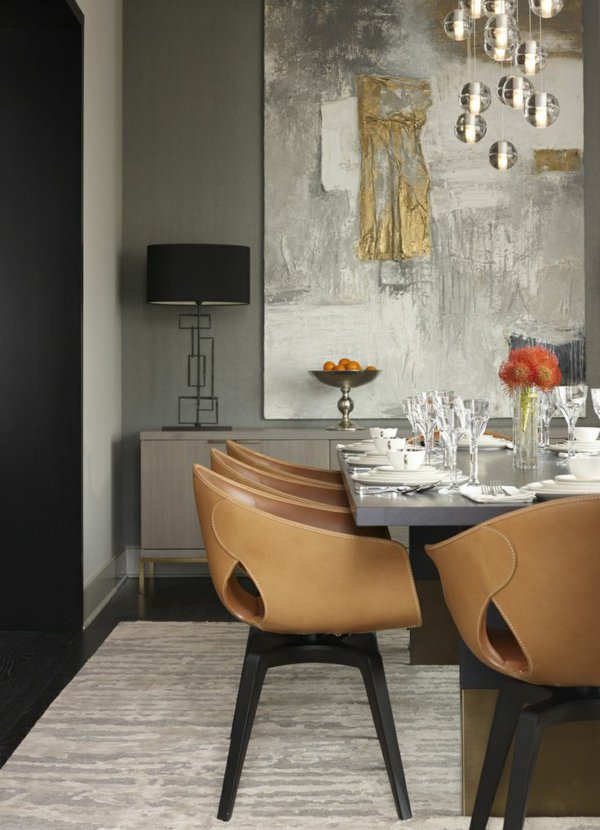 The chair group can fit any style and formation of the interior. Whether it is restrained casual or contemporary style, extravagant classic such as retro or vintage, or the modern ode to minimalism in Scandinavian style and alike.
Classic Dining Room Interior with Modern Leather Chairs
Of course, this combination is greatly possible. In particular, by taking into account the paragraph above. Just look at how tasty and stylishly the blend of cocoa beige with mild golden can appear. The deep volume of dining and living room in one is bind with a common palette and cozy furnishing. This is like another reminiscence that Classic is all about comfort.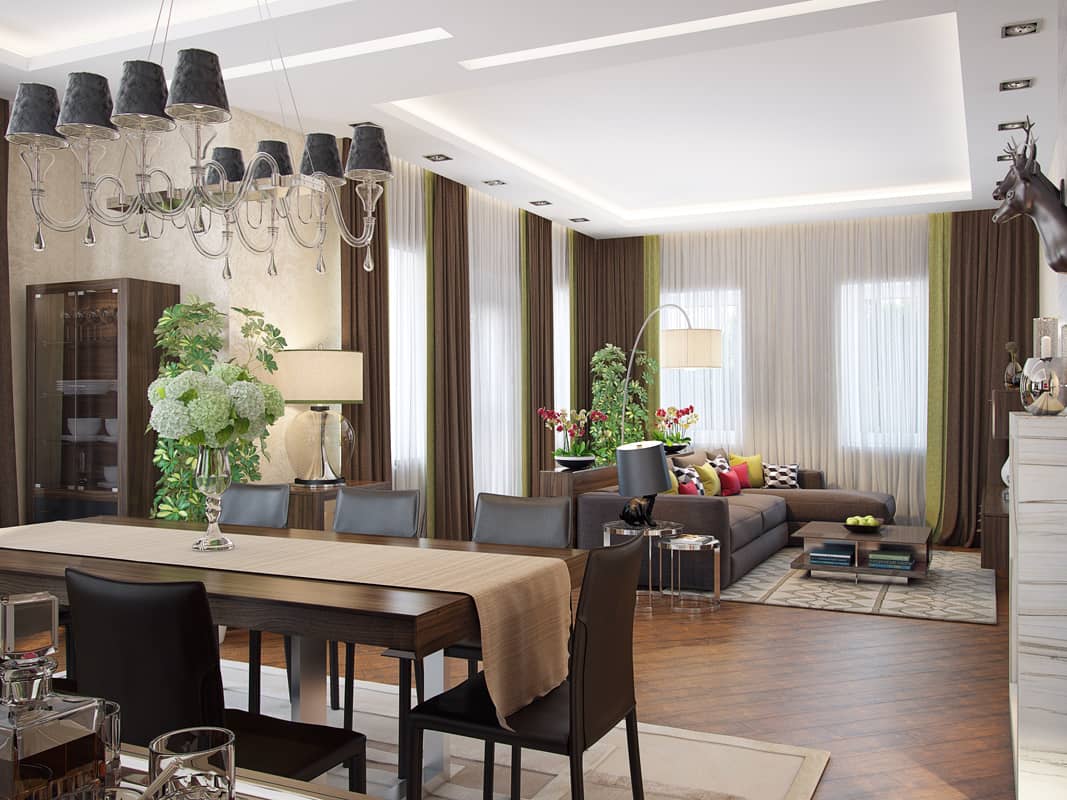 So, choosing leather chairs to your dining room is a very pleasant process. It is very hard to go the wrong way here. However, modern leather chairs are not the panacea for all the cases. We have overviewed some of the most often scenes of their usage and design. Of course, it is impossible to overview all the cases within this small article. Especially because of the eternally evolving style variations around. The main idea is not to be afraid to experiment and try for bold decisions not being scared to "spoil" the interior with "wrong" choice.