Wealth and restraint – these two criteria are fundamental for creating the interior of apartment in English design style. It is surprising, but in spite its venerable age  and apartments. Rather the contrary, interior arranged according to this style allows to achieve harmony between pretentiousness and rigor. But how do you plan your interior in English style and what should you pay attention to?
Interior trim
For a start it is worth remembering – interior in classic English style is imbued with a certain rigor and, therefore, you should rule out the presence of any curves and bends. Parquet will serve best as a floor covering or laminate with a large pattern or a pattern similar to laying parquet as alternative. As for the walls, it is possible to use almost any material from wallpaper to paint. But while choosing the material you should avoid bright colors and eye-catching large pattern. Material must stand out with monotony, and if you still want some variety, you can choose wallpaper with stripes or with fine vertical floral ornaments.
Furniture
England is the country known for its thoroughness and high requirements for every household item, and furniture is no exception. As a rule, English-style interior filled with good-quality furniture from wood types (stained oak, mahogany). But, unfortunately, for the majority of ordinary citizens furniture of such expensive materials is simply unaffordable, so they are turning their attention to cheaper, but no less aesthetically attractive models made, for example, from MDF (medium-density fibreboard). Regardless of what material is furniture from, if you want to recreate the interior of the English style, it must meet certain design requirements.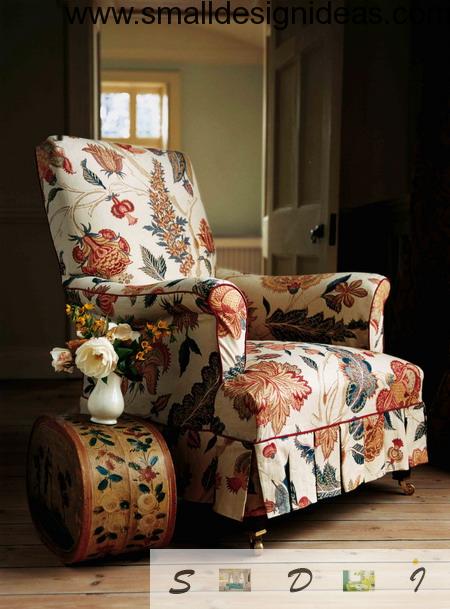 Choosing furniture for such interior, the first thing you should pay attention is its legs. Despite the straightforwardness of this style, legs of furniture should have a few curved shape that would resemble an inverted comma. Such furniture looks very elegant and fills the room with a bit of the charm.
With regard to upholstery, it is worth making a special emphasis on texture and color. Since one of the main criteria of the interior`s English style is luxury, hence it is undesirable to save money on the upholstery. Your goal will be upholstered furniture, covered with velvet, damask and leather.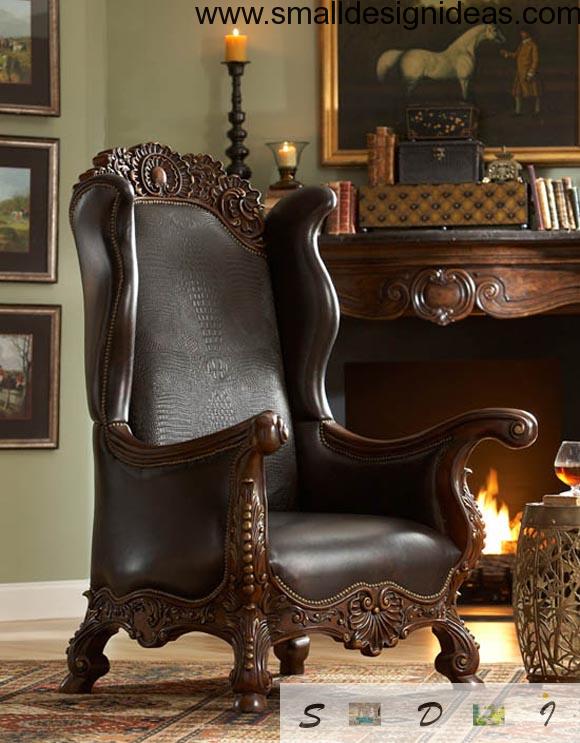 The colors of upholstered furniture is not necessarily must be as rigorous as the general design. Pretty bright colors with a very catchy and large pictures are welcome here.
Accessories and accents of the apartment in English design style
It is impossible to imagine an English-style interior without such significant detail as a fireplace. Fireplace is the center of the interior and it is from this starting point begins its formation. Fireplace itself may be made of any convenient or desired by the owner material, but it is necessary to approach to its decoration most seriously. Its facade should be marble or decorated with beautiful wood carvings. Also, the big mirror in the expensive frame will look appropriate above the fireplace itself.
The room can be decorated with rich ornamented carpets and tapestries. This is especially applies to living rooms and bedrooms. In addition to the tapestries walls can be decorated with paintings in the rich frames with the gilding and carving. Gilding may be present in other decor elements as well, such as a chandelier, floor lamp, figurines and vases.