If happiness had the form and weight, it would become the main export product of the Danish kingdom. Because, despite the gloomy climate, tough tax policy and the highest food prices in the EU, Denmark leads the "happiness ratings" from year to year. This is evidenced by both UN reports, Gallup polls, and other equally authoritative case studies. Maybe, you ask, there is a certain elixir, an analog of the "drops of the Danish king", which makes all citizens of the kingdom unperturbed and cheerful? Of course, there is no special elixir. But there is a hygge – a special way of being, arranging a house and organizing space.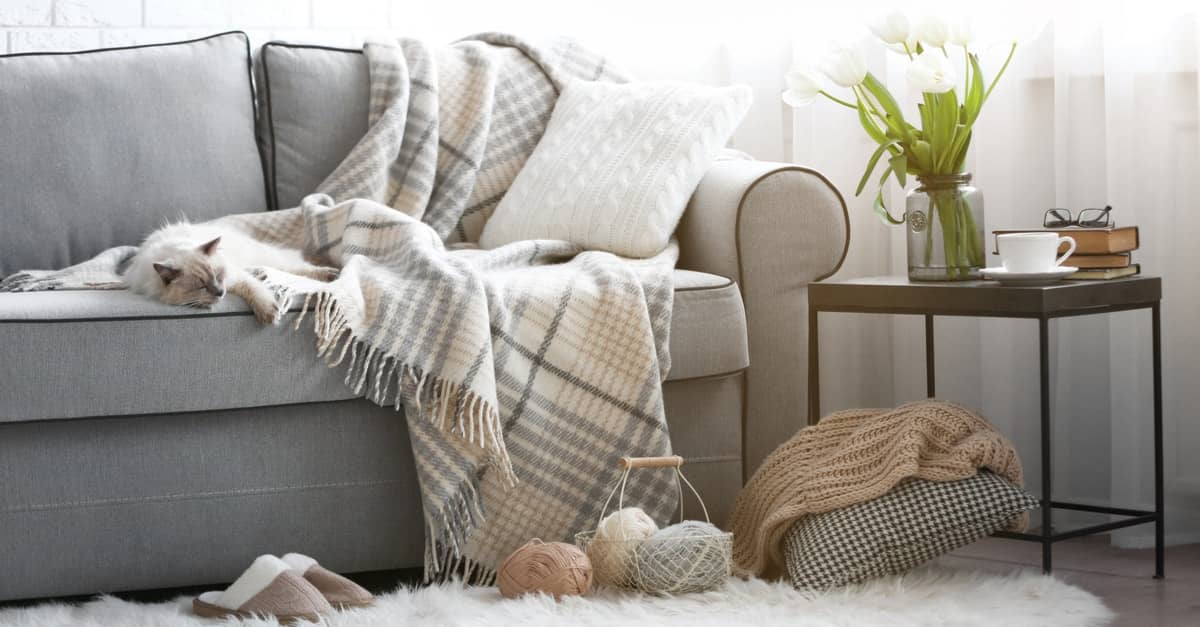 Content:


Hygge: the Meaning of the Concept
In every language, there is a word that is literally impossible to translate. In Danish, this is "Hygge" – a term that came into use in the middle of the century before last.
Linguists have at least two opinions: some believe that "hygge" comes from a medieval word meaning "hugs," others associate it with a Scandinavian noun, meaning "mood". Be that as it may, but in 2016 the Oxford Dictionary Publishing House included the hygge among the nominees for the word of the year title. But behind them – not an object or even a phenomenon, but a rich complex of sensations and emotions …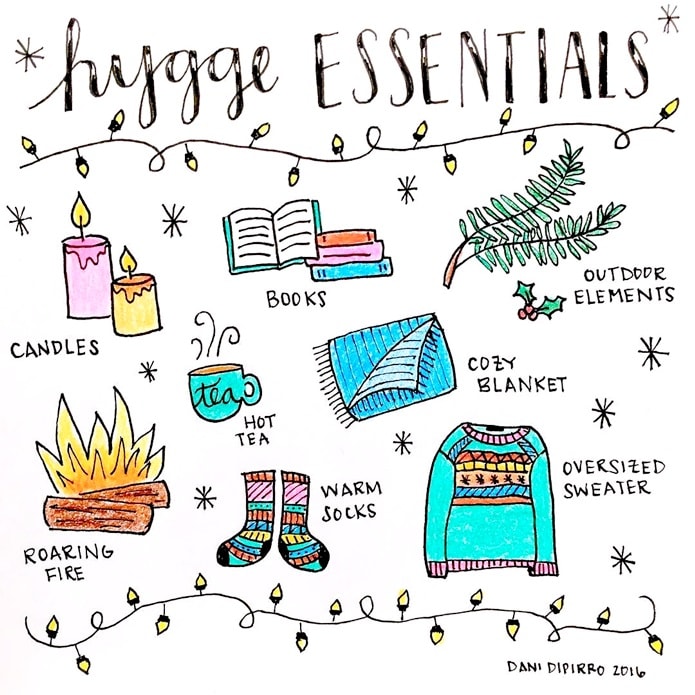 Philosophy of Style
Today, "hygge" is translated as "comfort that makes you happy." Interestingly, similar concepts exist in other Scandinavian countries – in Sweden, Norway, as well as in Holland. All of them mean comfort, safety, and welfare to one degree or another. And from this, it follows that the basis of the hygge, if we are talking about design, is the common for the region, – calm, modest and solid Scandinavian style.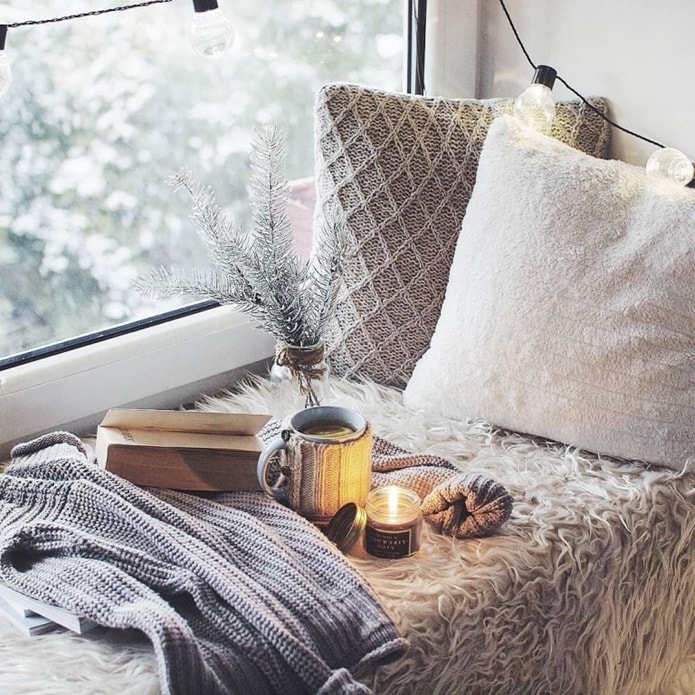 Simplicity and restraint are the main links of the hygge philosophy. About this, for example, writes one of the most famous "hygge" Mike Viking, a researcher in the field of well-being and quality of life. He claims: the hygge is a very chamber, domestic way of life in which elaborate luxury and glamor are absolutely inappropriate. But here you can easily find the features of minimalism, Scandinavian country, chalet, and retro.
Hygge-Style Interior: Furnishings
Danish houses where hygge are valued don't have much furniture. Reasonable consumption, recycling (reuse of materials) – that's what you can "borrow" from the Danes. At the same time, their frugality, the ability to be content with a small number of things has nothing to do with greed, and even more so with poverty. Rather, it is a consequence of respect for one's own and other people's work, for nature.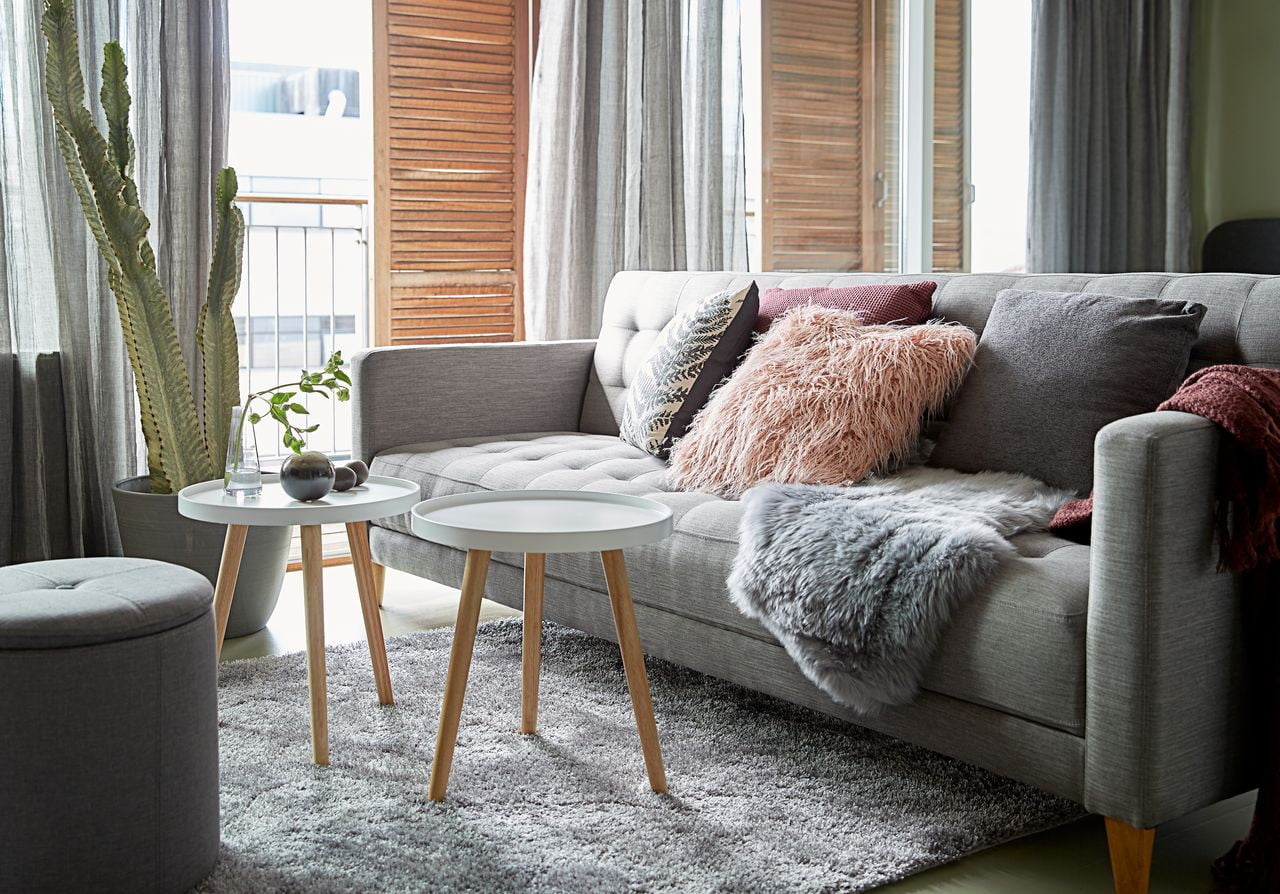 Furniture in a Danish house can be expressly concise, functional and budget, for example, from the nearest Ikea. It should be added that today many design studios offer the so-called hygge furniture: simple in shapes, but very elastic, enveloping the body armchairs and sofas, small tea tables, shelves for candlesticks.
But the hygge has another hypostasis. The Danish house can be filled with antique objects in the style of King Christian X. These are tables with sliding tabletops, sofas with smoothly curved backs and armrests, and chairs with curly legs.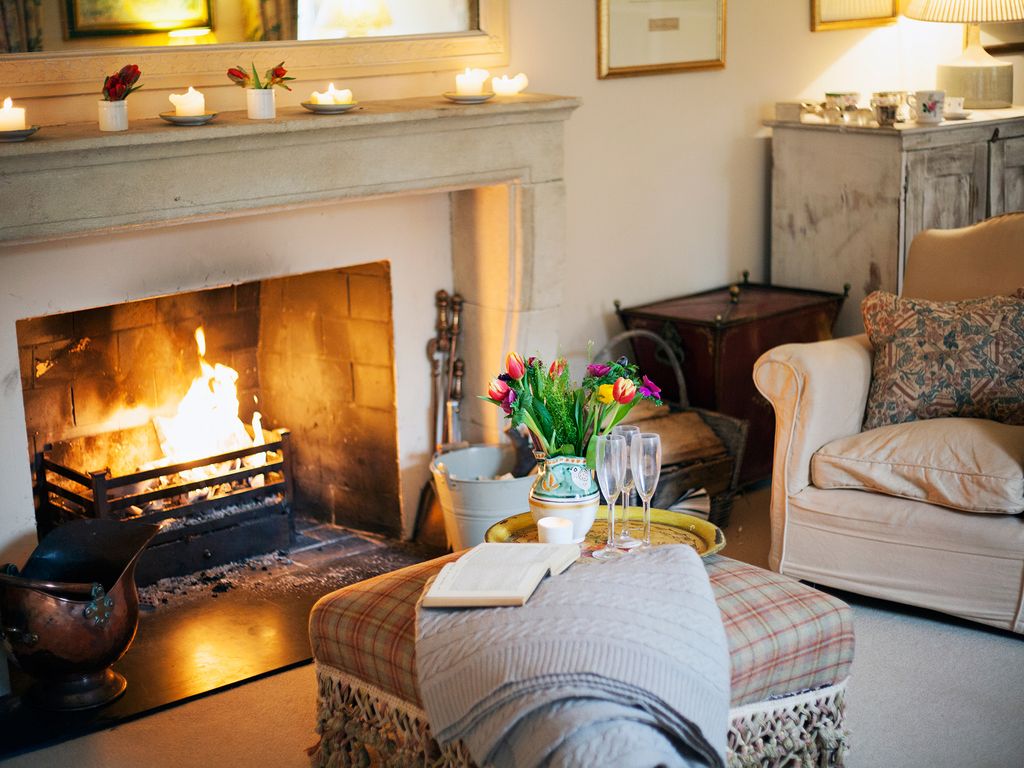 I must say, the atmosphere of the hygge, as a rule, always contains a bit of retro. This may be the one and only thing: an aunt's mirror leaning against the wall, a sewing machine, converted into a dressing table, or an old valise in the form of a bedside table.
Materials
The Danish house is dominated by light wood (poplar, ash, maple, birch, pear) and natural textiles.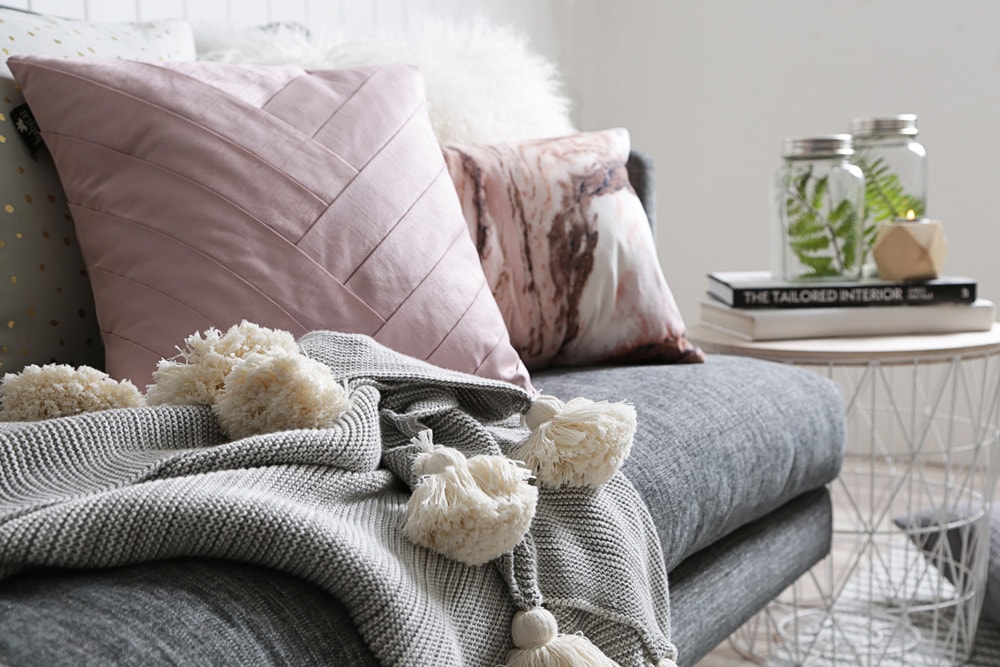 There is also a place for bricks, natural stone, and ceramics. The warm color and rough texture of the brickwork gives a feeling of reliability and security, which, along with wood, fits perfectly into the style concept.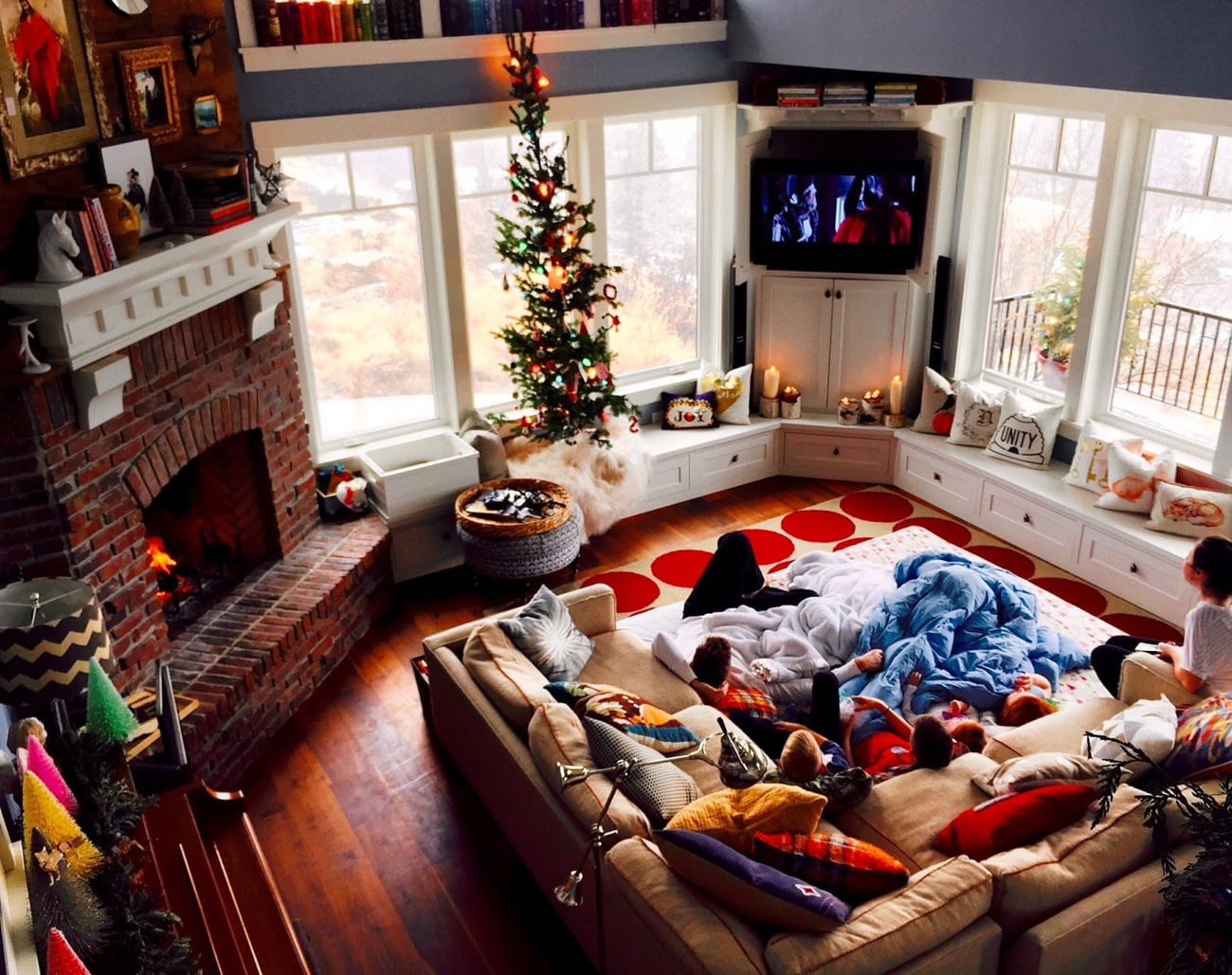 Ceramics are used in the bathroom and in the kitchen. Scandinavian stoves and fireplaces are trimmed with stone. And I must say that the fireplace is the main element of the northern living room.
According to statistics, a third of Danish homes are equipped with fireplaces, while in Britain only 3.5% of homeowners have them.
Why are Danes so devoted to open hearths?
Fire and Light
The lack of sunlight forced the northern people to deify fire in all its forms and manifestations. Is it any wonder that a carefully thought-out lighting scenario is the main condition for a real Danish hygge?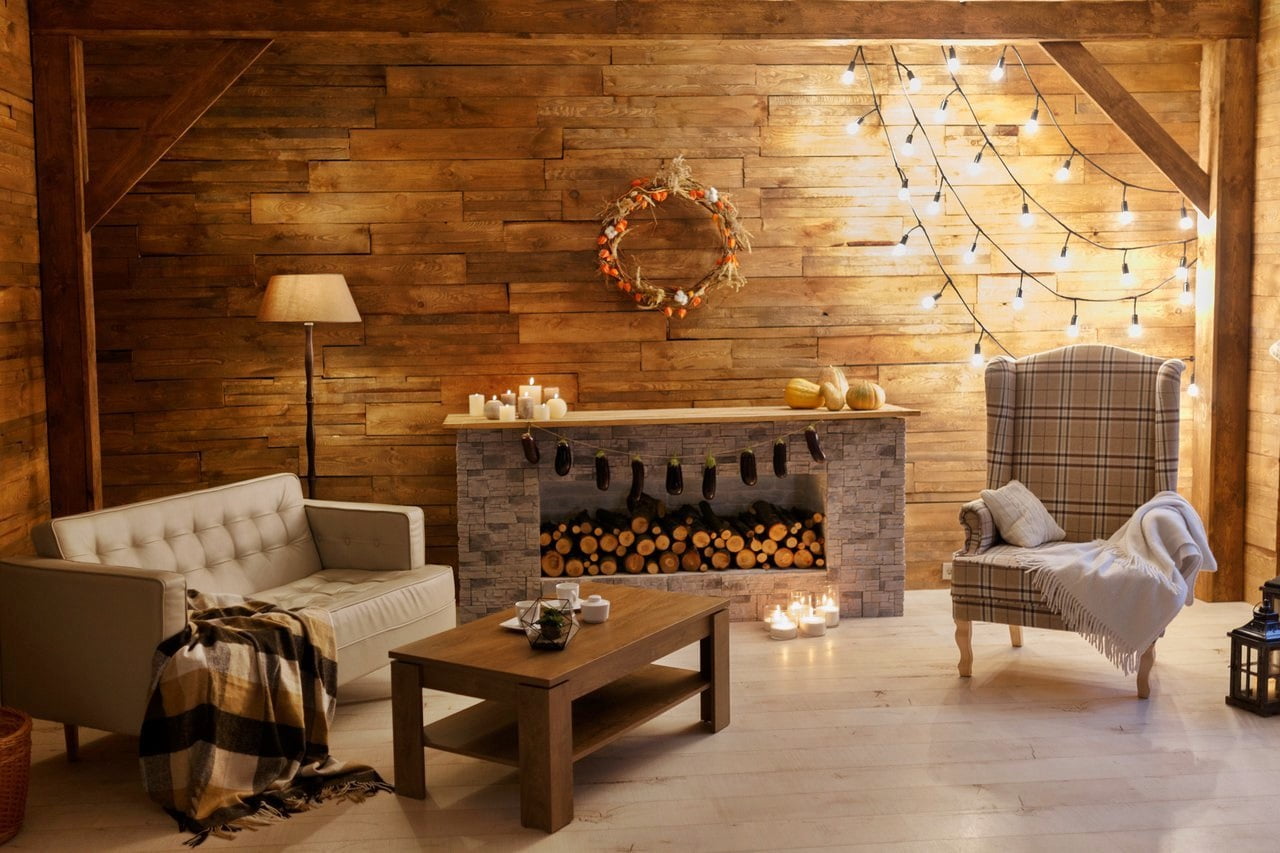 There is not a couple, but a whole party of lamps in such an environment – lateral, local ones, with a muffled radiance, etc. Leading positions are taken by floor lamps and lamps under charming, vintage lampshades that scatter soft, dreamy light. Moreover, often the openings and windows of Danish houses are framed with garlands like those that we use only during the winter holidays. More lights – more hygge, the Danes say.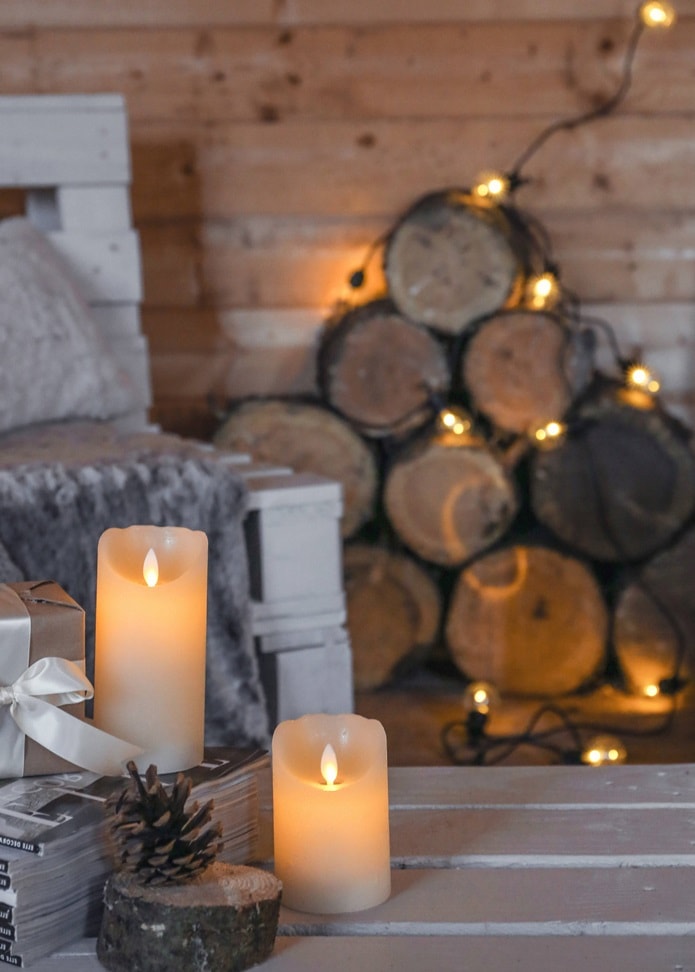 A special mission is given to candlelight: it is believed that the average Dane burns at least 6 kg of wax throughout the year.
In the evenings, the inhabitants of Copenhagen light candles in the living rooms and bedrooms. They have dinner, drink their spicy pastry, and take a bath all by candlelight.
The Danish language has even a special idiom translated as "living lights", which denotes the tradition of nightly lighting of candles. And on holidays, citizens of Queen Margrethe II put burning candles on window sills, creating a common, cohesive hygge vibe.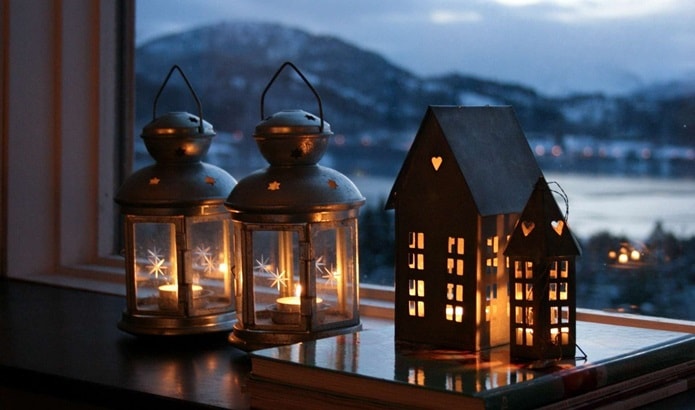 Textiles
Here is another "pillar" on which hygge interior is based. All atmospheric photos with socks, rugs, cups in knitted cases that wander around magazines and social networks illustrate nothing more than Danish rules of life.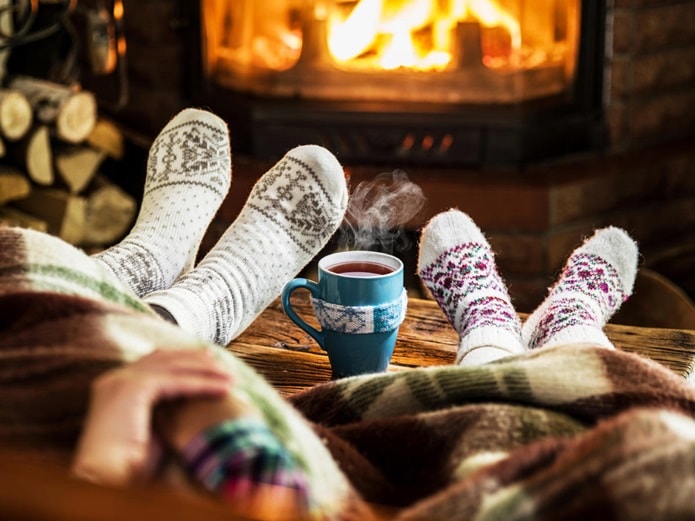 At the same time, the main requirements for textiles are naturalness, pleasant to the touch texture and not too bright colors. The Dane can do without curtains on the window, but a fluffy carpet, woolen checkered rugs, "nests" of pillows and cushions in his house are required.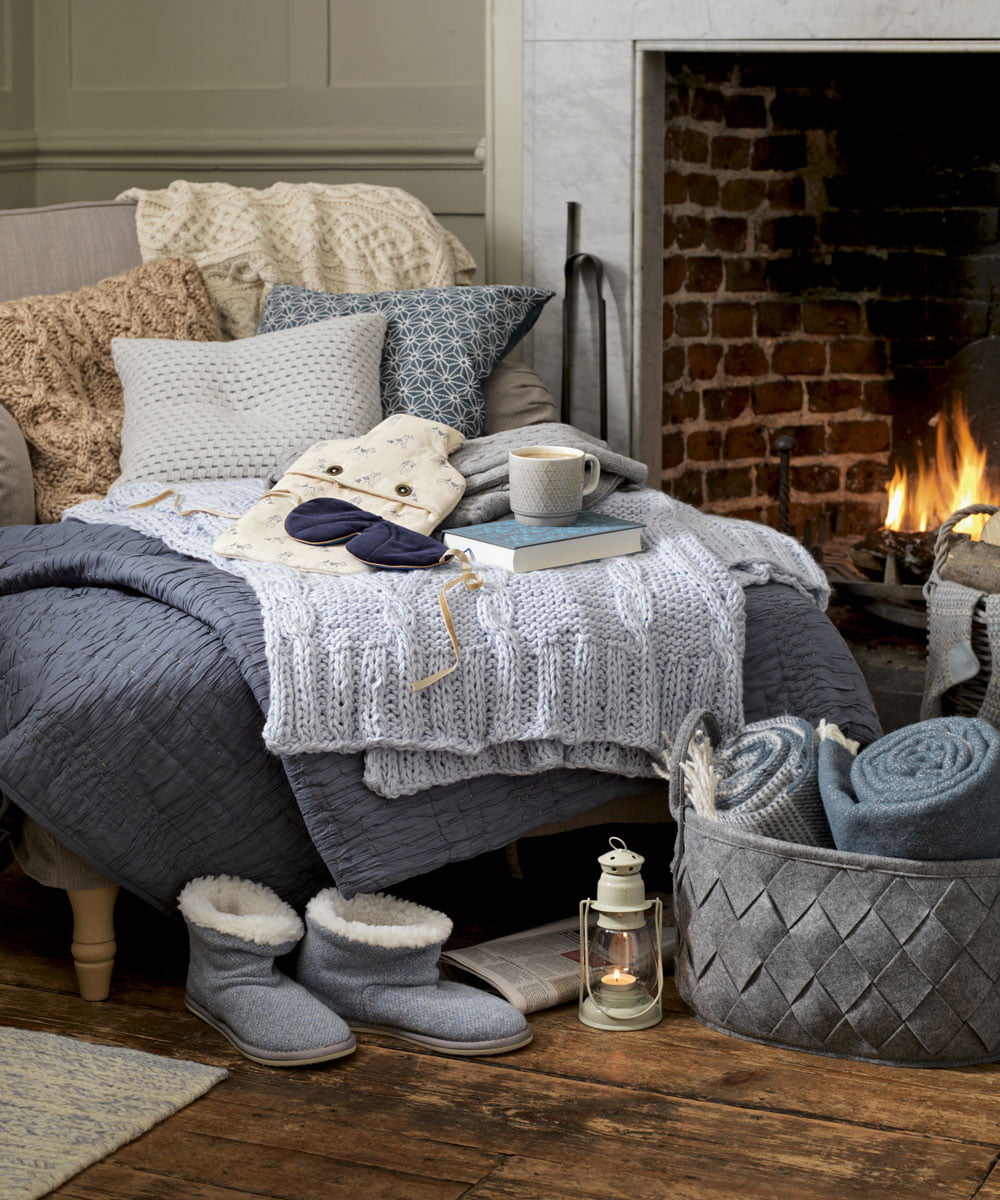 In the living room, by the fireplace, a sheep's or goat's pelt (or its imitation) is laid onto the floor, the kitchen table is covered with linen, tablecloths with hemstitch, and cover chairs and armchairs with wraps.
Living Room Hygge Ideas
If a real fireplace is a pipe dream, you can get by with its imitation, and also with a niche in which you can install multi-colored candles with the scent of citrus and pine.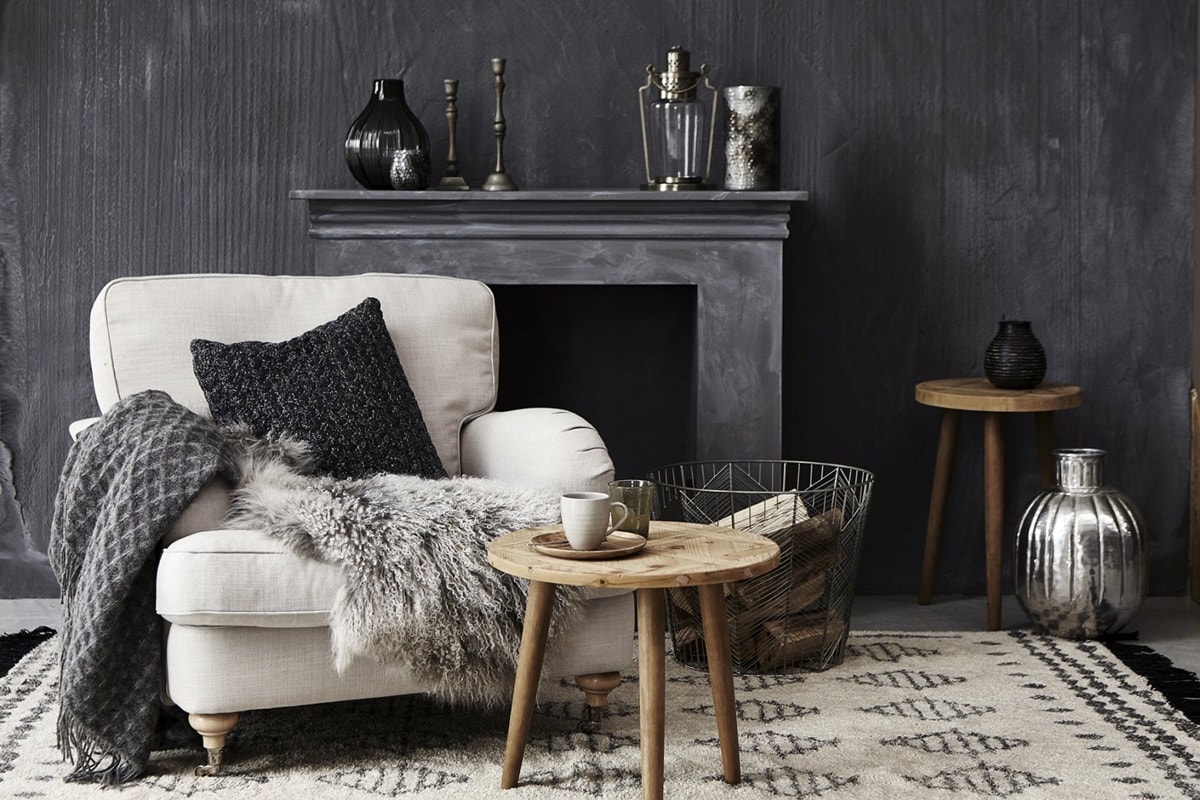 Remember that hospitality is one of the components of the Danish lifestyle. Therefore, when planning space and arranging furniture in it, keep in mind not only households but also guests who will come to you.
If the area allows, arrange a few tables, for dishes and board games, because various lottos and monopolies are a favorite pastime of citizens of a happy country.
Hygge in the Bedroom Interior
Looking through newspapers while lying in bed and drinking Danish "weekend" coffee is an enviable custom of happy people. To indulge in this occupation with maximum pleasure, it is desirable to have an extensive bed, soft, fluffy underwear, and the same pajamas.
Use, in addition to plain sheets and blankets, patchwork and coarse knitted bedspreads, decorate the bedroom wall with a bookshelf and the peaceful landscape made by a good craftsman.
Hygge in the Bathroom
Scented candles in glasses, jars of colored salt, fragrant bath bombs and natural cosmetics in vine baskets will allow you to achieve a hygge effect without resorting to other, more expensive means. Generally, hygge bribes with that it does not require major renovation and significant investments.
But if you want and if possible, of course, you can create a very sophisticated interior.
Kitchen and Utensils
In the Danes' house, the kitchen is a treasured, even magical place where hygge is "baked" and "cooked". Best-selling authors promoting the Danish art of happiness are advising to start home improvement with cooking classes. It's really important to learn how to bake Danish pecan buns, cinnamon pretzels, and coconut muffins. The Danes rightly believe that tasty, but at the same time simple, home-made food, and fragrant pastries especially, makes a person happier, more peaceful, and friendly.
Therefore, first of all, there should be a good, multi-functional oven, a shelf with a collection of recipes (preferably family, made by the hand of a grandmother or great-grandmother) in the kitchen… And, of course, there should be a solid, convenient table for unhurried meals.
The dishes from the point of view of hygge are a continuation of the dish, that is, an attribute that adds attractiveness to food. Usually, these are ceramic bowls, jugs, and teapots, complemented by knitted heating pads, holders. Cups in pretty "sweaters" and "vests" are very Danish. However, as these are cast-iron, portioned pans, old tin mugs, and wooden trays.
Accessories and Details
Their nomenclature is quite wide, so it is important to remember the measure so that instead of a hygge you do not get a cluttered closet. However, there are things the ideal Danish interior cannot be realized without.
Let's try to list them:
old photographs, portraits of ancestors;
living plants – geraniums, violets, hyacinths in clay pots on window sills;
favorite books, very often decrepit, in shabby bindings;
a bicycle in the corridor or in the hallway, because most of the inhabitants of this happy country prefer cycling to cars and subway;
hand-made things: wicker rug, macrame, natural handmade soap in the bathroom.
The Danes decorate the house with love, guided not by trends, but by their heart, memory and sense of harmony. For some, hygge is an old toy stored since childhood, for another, – a reed basket from the village, and for the third, – a lively, funny and loyal pet.
In all cases, the goal is to create a cozy, energetically saturated atmosphere without pathos and flickering details.
Colors in the Danish Interior
Hygge has no specific rules and taboos regarding this or another color. Although the Scandinavian direction in interior design gravitates towards the light, neutral tones: white, ashen, sand, sky blue. Comfort is important for hygge, so if you like more saturated, warm colors, then, of course, you should not refuse them. For example, cherry, emerald green, terracotta, turquoise, violet tones can be added to the general indifferent palette with the help of bedspreads, rugs, poufs, and pillows.
Interior Design in Hygge Style – Photo Collection