A chalet-style kitchen is considered a regionally designed interior that closely resembles a rustic design. Natural materials used in the arrangement, as well as characteristic ornaments, determine success. It is hard to imagine a perfectly simulated Chalet home away from the mountain climate. Nevertheless, today there is no problem with arranging a stylized interior in an apartment, even as complex as a chalet kitchen interior, with the inclusion of several elements of highlanders.
Content: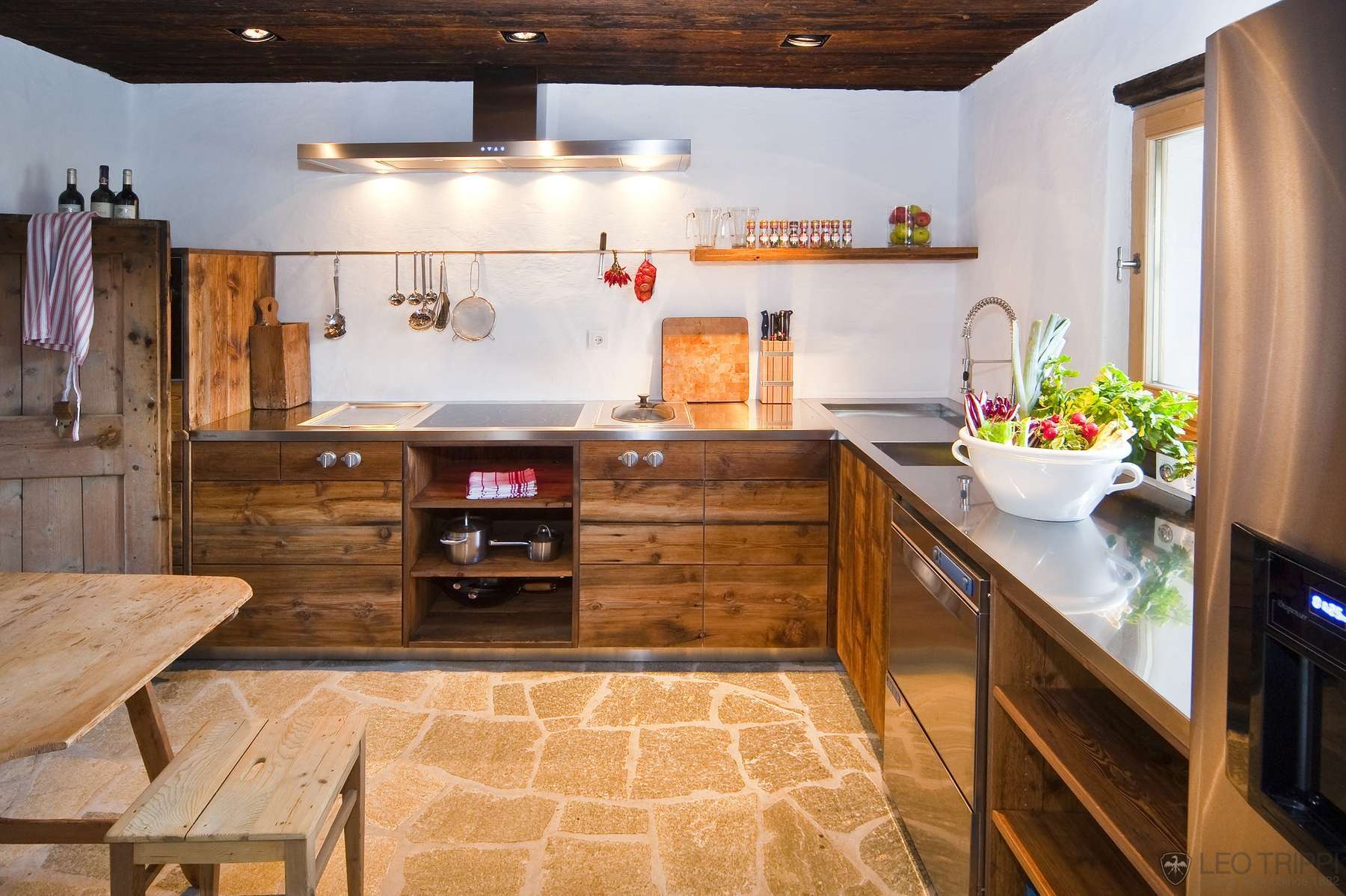 The Origin of the Chalet Style
Chalet style was born in the picturesque mountains, Tatra, Carpathians or Alps. Who wants to remember the charm of highland landscapes, take a look at the wonderful watercolors of artists. The mountains are actually phenomenal, powerful, unbridled. The magical aura of wild nature is addictive, so hiking enthusiasts are increasingly willing to bring traditional design elements to their homes. Compositions directly from the huts are the most beautiful in the kitchen. Wooden design, folk patterns, and natural materials blend perfectly. The style of the chalet is soothing. Kitchen a la hunter's house can be arranged in any housing, both in separate buildings and in multi-storey buildings.
Almost every one of us has been to the mountains at least once in life. Of course, the climate prevailing in the alpine guesthouse is unforgettable. These are truly charming interiors that have their own character. Perhaps the idea of bringing a little bit of this atmosphere into your own home has come to you? A good solution is to design a kitchen in the style of a chalet!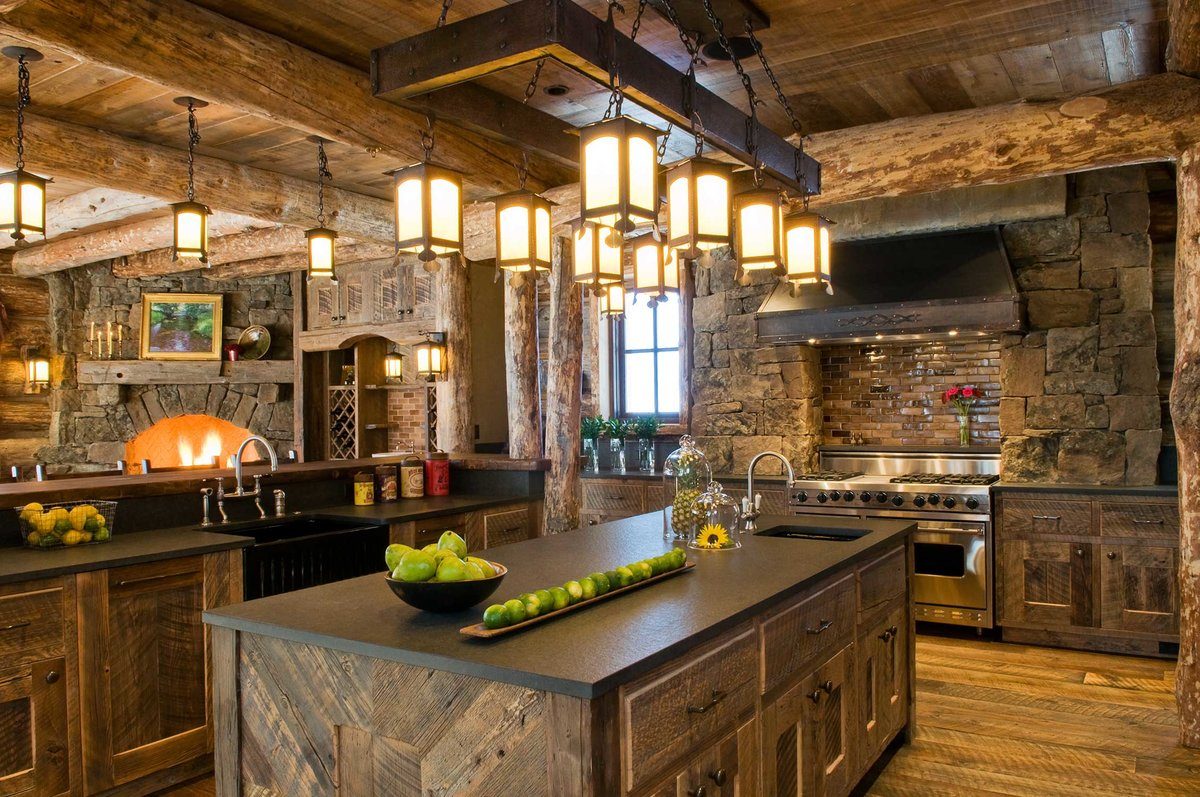 Chalet Style in the Interior of the Kitchen: Choosing Colors
Chalet style is a celebration of nature, so you should choose earthy colors. There should be a lot of wood, so all shades of brown and beige are preferred. A combination of white, gray, and black will look good, but only in shades of wooden tones. Chalet-style kitchens should give warmth and coziness. It is ideal to relax. It is especially nice to be near the fireplace, wrapped in a fur blanket in the cold season.
Chalet-style Kitchen: Furniture and Accessories
Chalet compositions are primarily furniture made of solid wood. The raw materials most often used by carpenters are oak, spruce or elm. Such a kitchen accepts both original and exquisite furniture, stylized custom home furnishings. Proponents of this design should take care of a high, mountain buffet, decorated with delicate motifs and a concave design. A heavy rough table accompanied by chairs with slightly outward legs would also be welcome. The chalet-style kitchen should be full of regional additions. It is worth taking care of wooden spoons, sheep pelts, and embroidered textiles. The climate is complemented by dried herbs and braids of garlic.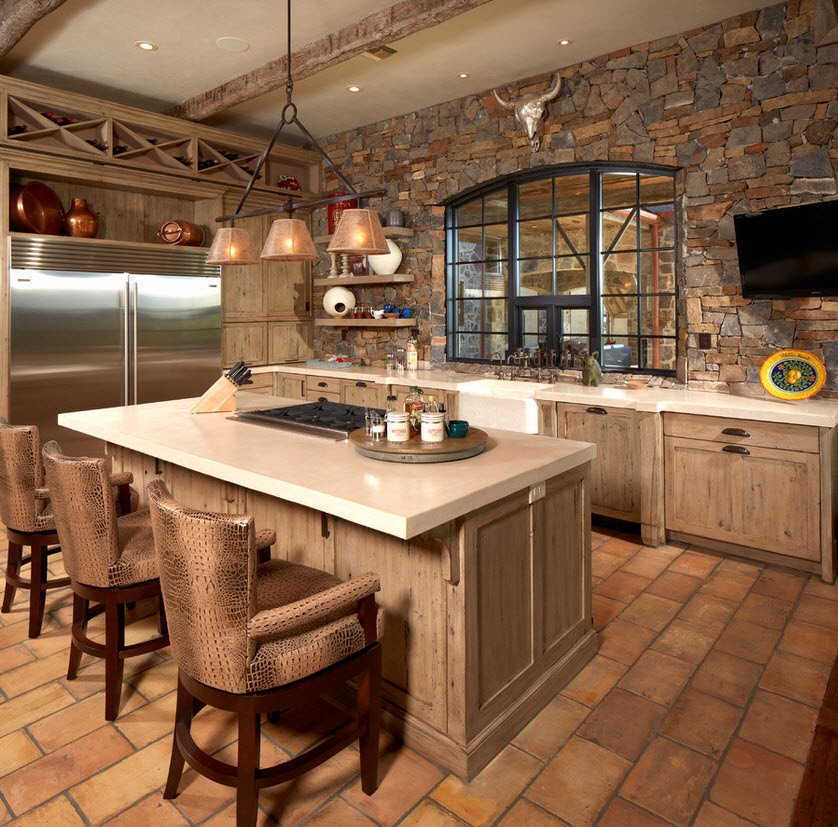 The furniture characteristic to the region, such as stools, drawers, and benches always lined with sheep's leather will also help to create the atmosphere of the chalet. Local artists and artisans will help create beautiful kitchen sets that take into account the personal needs of the customer, especially of non-standard sizes.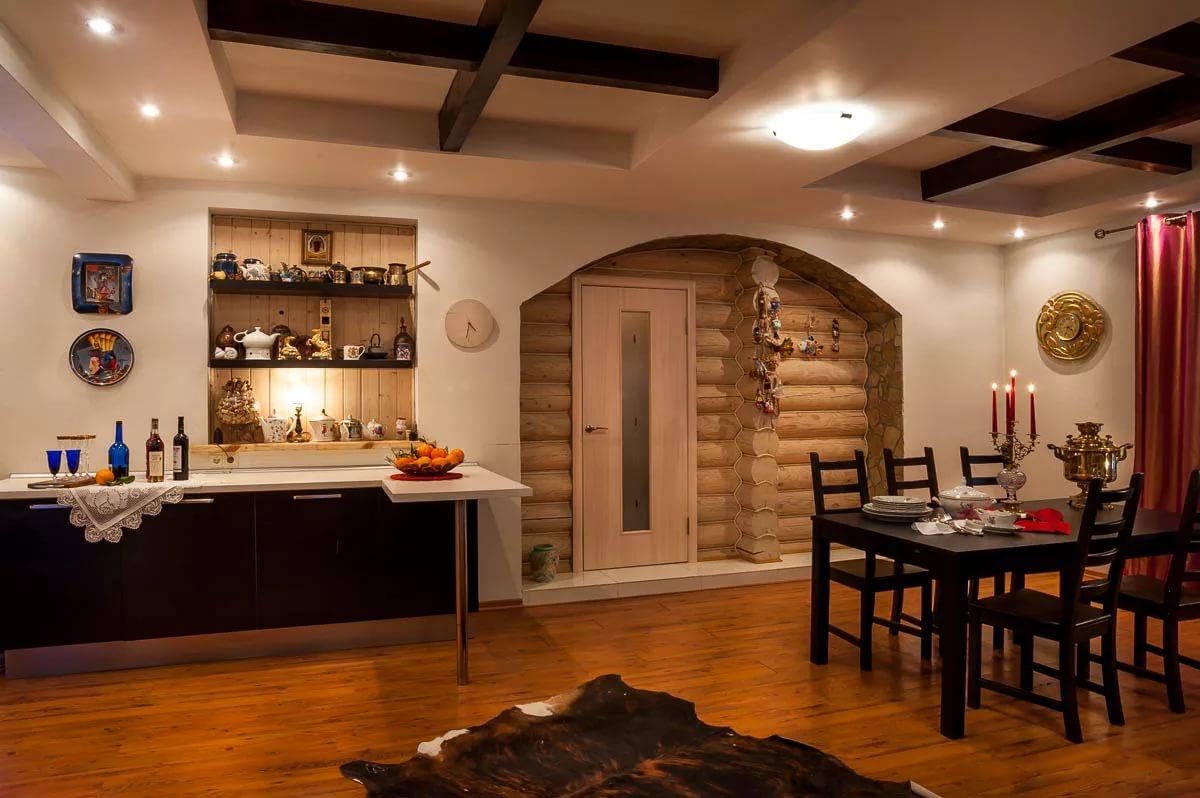 Chalet Style Kitchen: Traditional Patterns
The chalet-style kitchen loves decoration. There are several typical patterns that are quintessential of the design. A highlander styled kitchen cannot do without carved patterns. The distinctive heart-shaped decor can proudly show off on a tablecloth, on pillows, curtains or furniture. Other mandatory motifs include mountain thistle and ubiquitous carvings. Drawings can be found not only on small accessories but also on solid wooden shutters or the backs of chairs.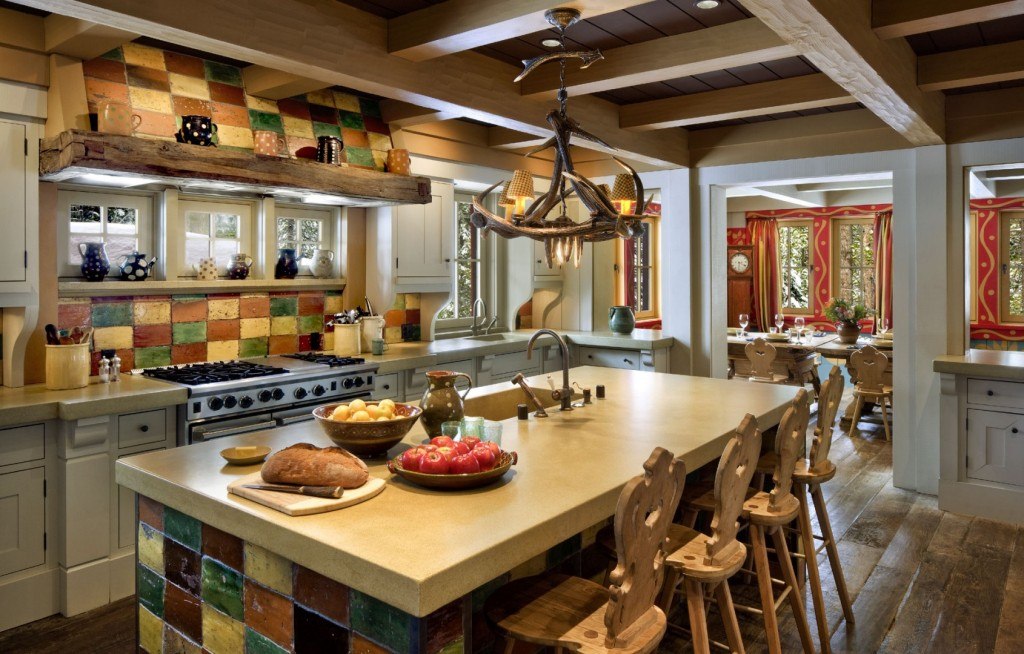 If you have such an opportunity, then you should consider installing a stove that will add a unique charm to the kitchen. In addition to the previously mentioned elements, a specific pattern repeated in the interiors of the highlands refers to crops, especially wheat and oats, as well as stuffed animals and deer horns.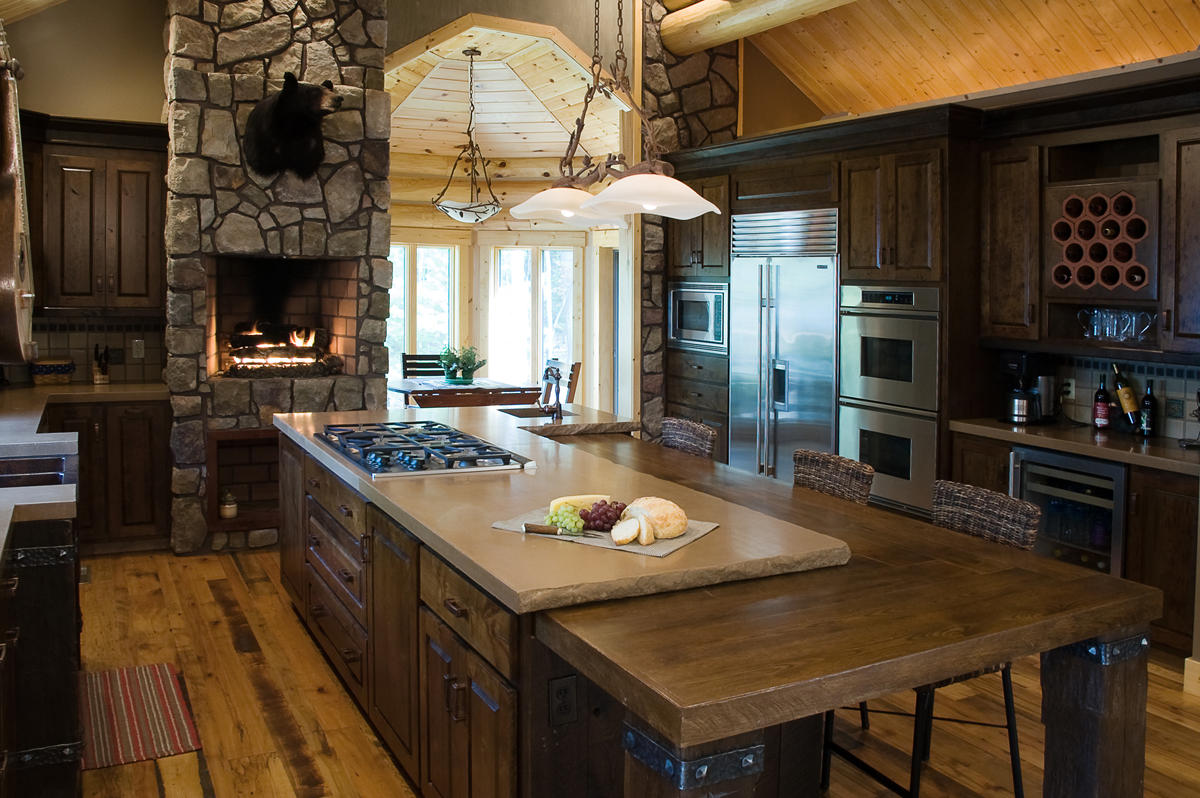 DIY Kitchen-living Room in a Chalet Style – Budget Decoration of a Luxurious Interior
There are several basic elements of the chalet-style that will look amazing in the kitchen-living room, creating a beautiful and attractive, but at the same time functional room in which cooking will be a real pleasure.
The style of the chalet is a kind of rural direction, so the naturalness, made in a simple, rather awkward way prevails in furniture. Simplicity is the main advantage. You can choose raw wood cabinets, but it will be an expensive solution. Of course, there are ways to avoid too much cost, for example, abandoning raw wood for a composite material that looks the same as natural hardwood materials, but much cheaper. In this case, composite kitchen countertops will become an affordable solution. Today, you can pick up constructions from KDP, which likely surprise most of the people with their appearance. They combine high quality with attractive design.
Thanks to the wooden imitating material, the kitchen-living room will look very good. Pay attention to the additions. In the chalet style, everything should look natural: wooden spoons, containers for spices and so on. They can be decorated with floral motifs. Furniture made from hardwood or composite is versatile. You can supplement the room only with accessories that are not expensive, and, of course, do not require the conversion of the entire kitchen. It is worth paying attention to its functionality and versatility when choosing furniture. Composite designs would be a good solution.
One of the easiest ways to present the accents of the chalet in your kitchen is to use equipment that is already in place. Then, regardless of whether it is a stove or an oven, visually aged appliances will ideally fit into the accepted, but rather demanding arrangement.
A chalet-style kitchen can be an interesting element that complements the entire layout of an apartment or house. However, it should be remembered that such an interior will not always be in harmony with the design of other rooms, so it is better to recreate the style of the chalet throughout the house.