The combination of black and white is an immortal trend in interior design. Nevertheless, wallpaper on a black and white background requires the right combination of colors in the apartment, taking into account the style used. Learn how to take advantage of black and white wallpaper in home decor thanks to the tips and photos in this article.
Contents: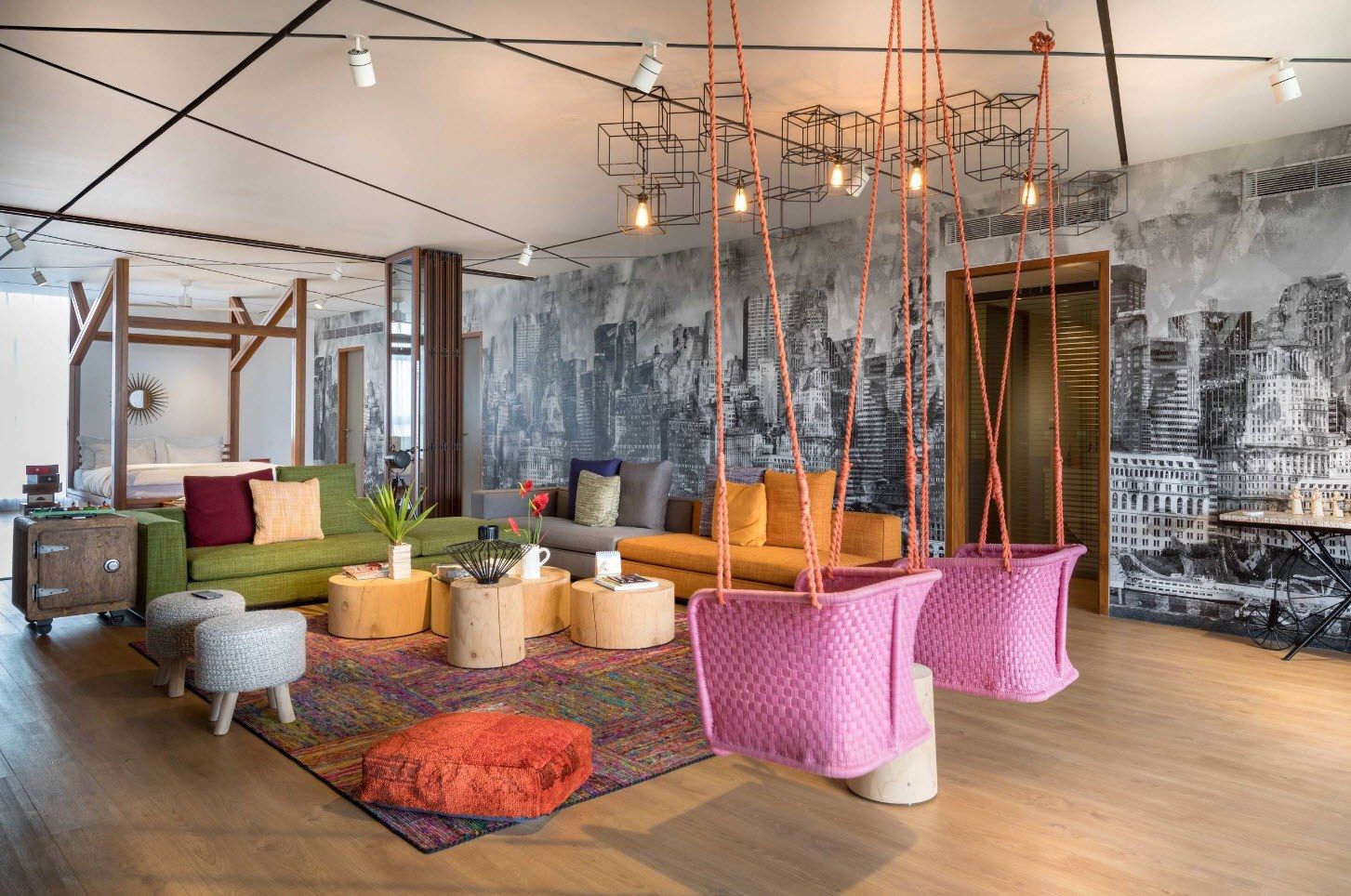 Black and White Wallpaper: Ageless Classics in Any Interior as the Main Decoration
Black-and-white wallpaper on the wall is an excellent solution for people who appreciate simple, versatile, and timeless designs with an elegant note. Black and white wallpaper stripes, with an interesting pattern or floral motifs, are invariably fashionable to decorate the walls. This finish fits into any interior and every style. Contrasting classics can decorate the walls in each room of the house: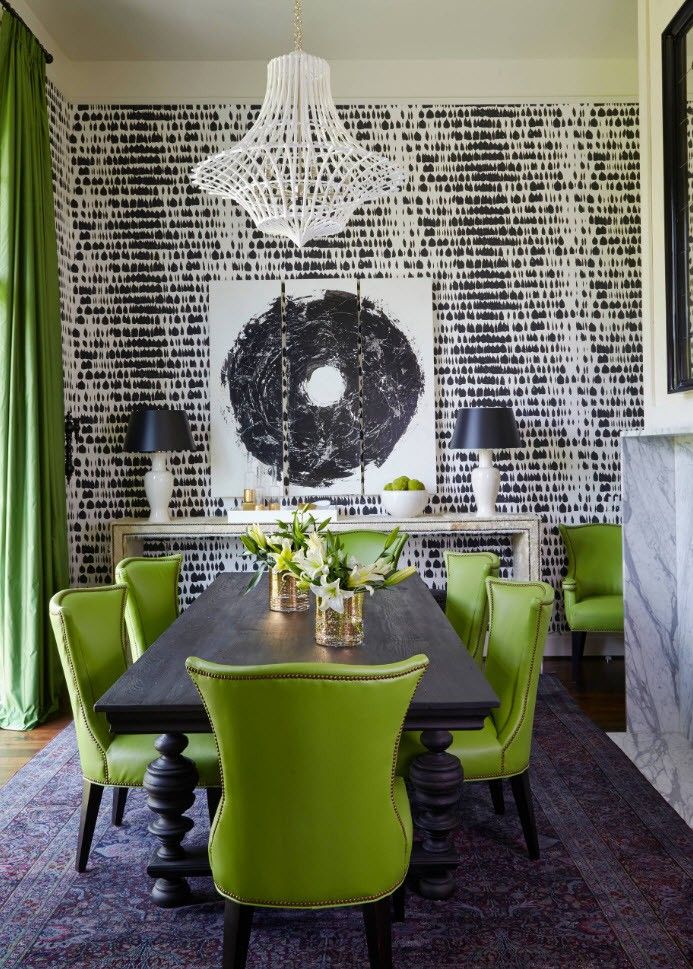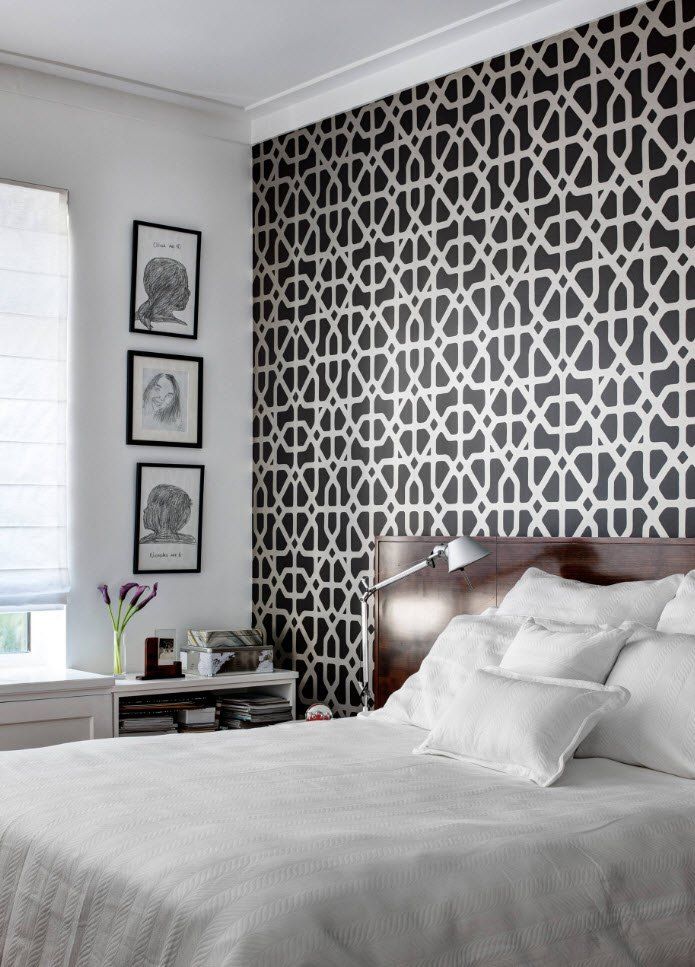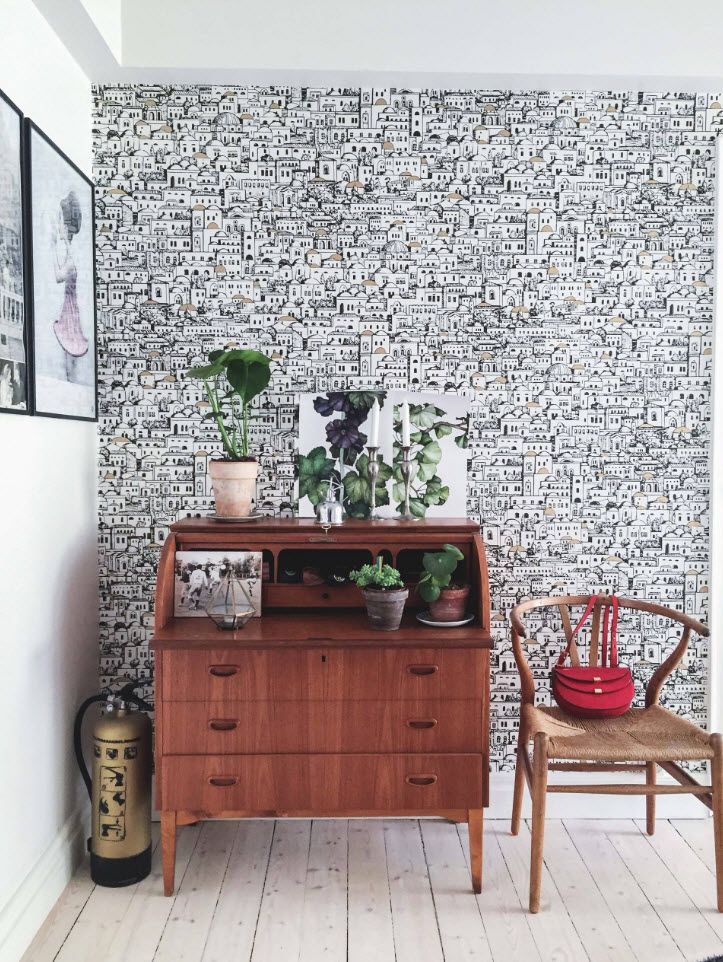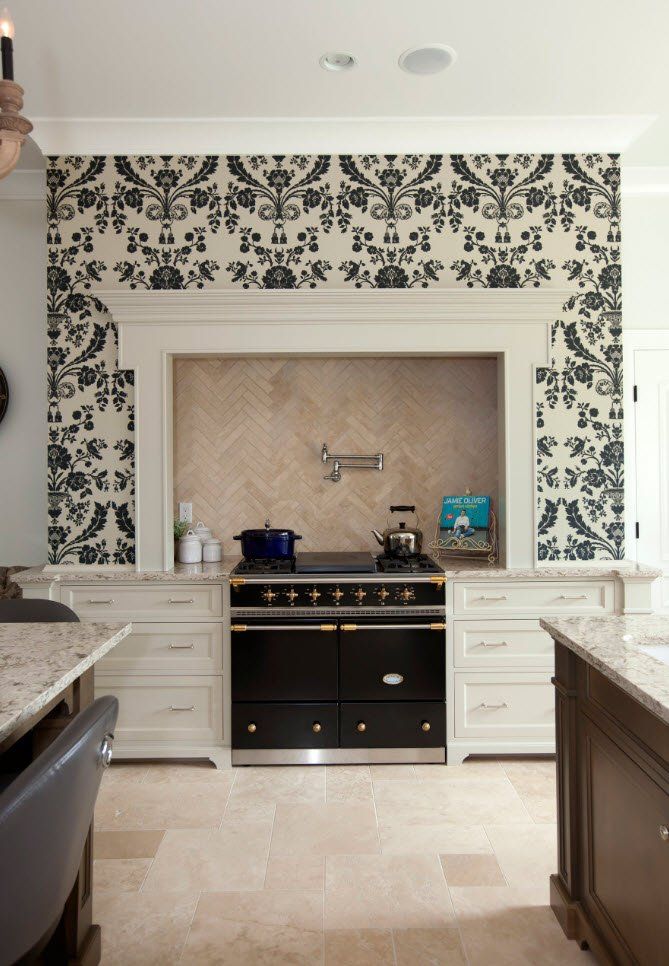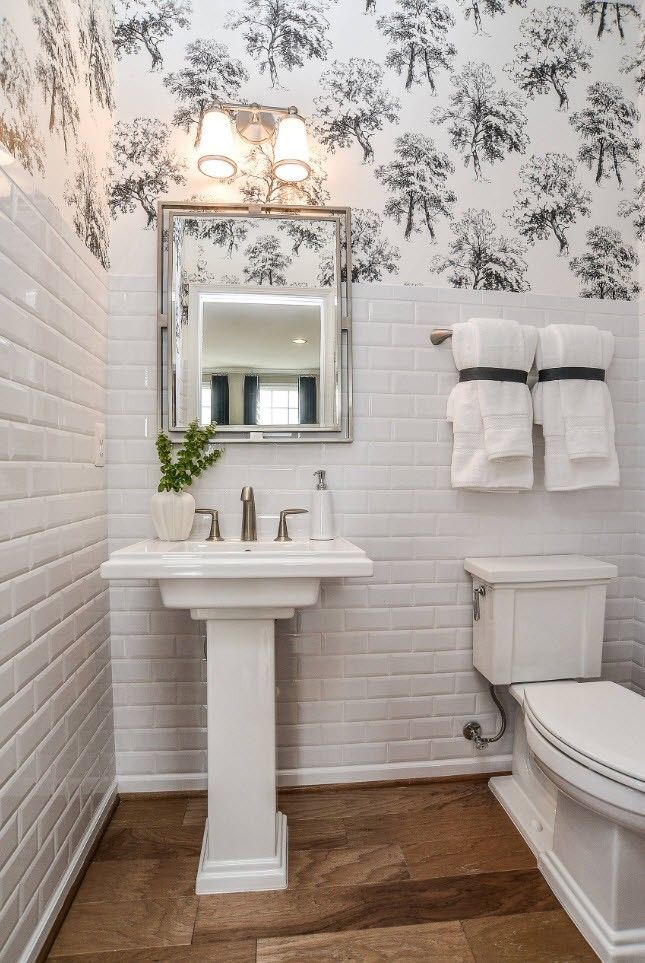 Available wallpaper patterns give unlimited possibilities in decorating walls. Do you think of white wallpaper, delicately decorated with black accents? Or, perhaps, more inclined towards black with clear white accents? Regardless of which option you choose, it will be an excellent solution. White and black are a duet that gives many opportunities for decorating a living room. This is one of the few trends that are skillfully used in almost any style of interior design. Moreover, the wallpaper in black and white design is stylish, fashionable, and at the same time ageless. It will create a unique space arrangement.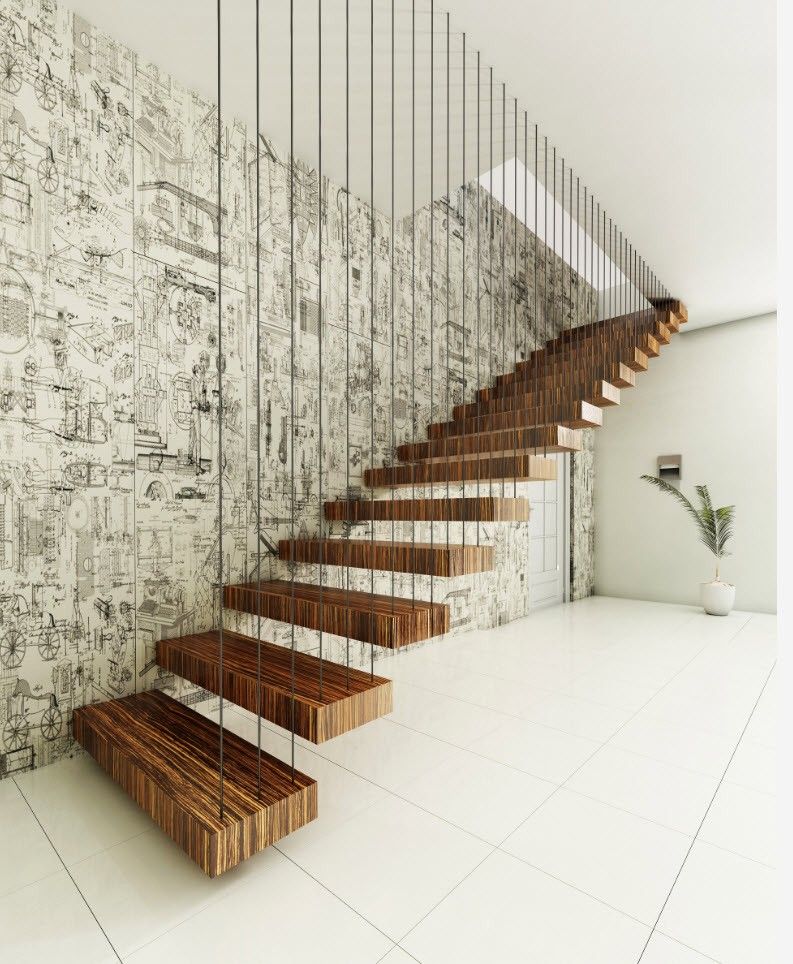 White Wallpaper with Black Patterns in the Interior: with What to Combine
Black and white wallpaper with large and clear patterns give an interesting decorative effect inside the room. With this decoration, you can trim only one wall or a selected plot in the apartment. It is worth combining contrasting wallpaper with delicate accessories and colors because black and white sheets are the main decoration of the interior and walls. The interior with a repeating print will also be an interesting motif for wallpaper.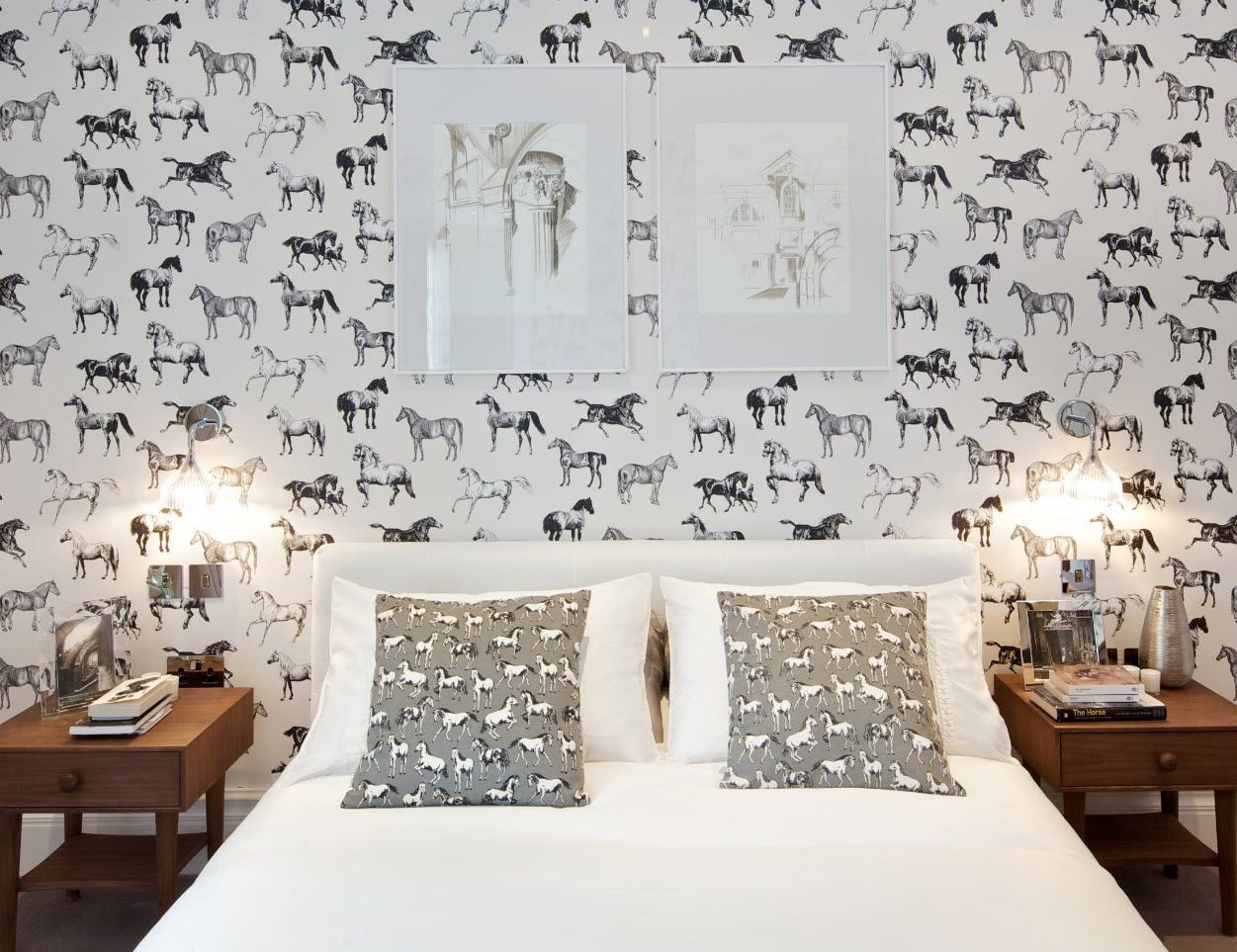 Neutral Wall Tones and Bright Accessories
Remember that patterned wallpaper should be combined with homogeneous surfaces. For example, incorporate the couch and armchairs in the living room. Black and white drawings look great in the company of walls of the following colors: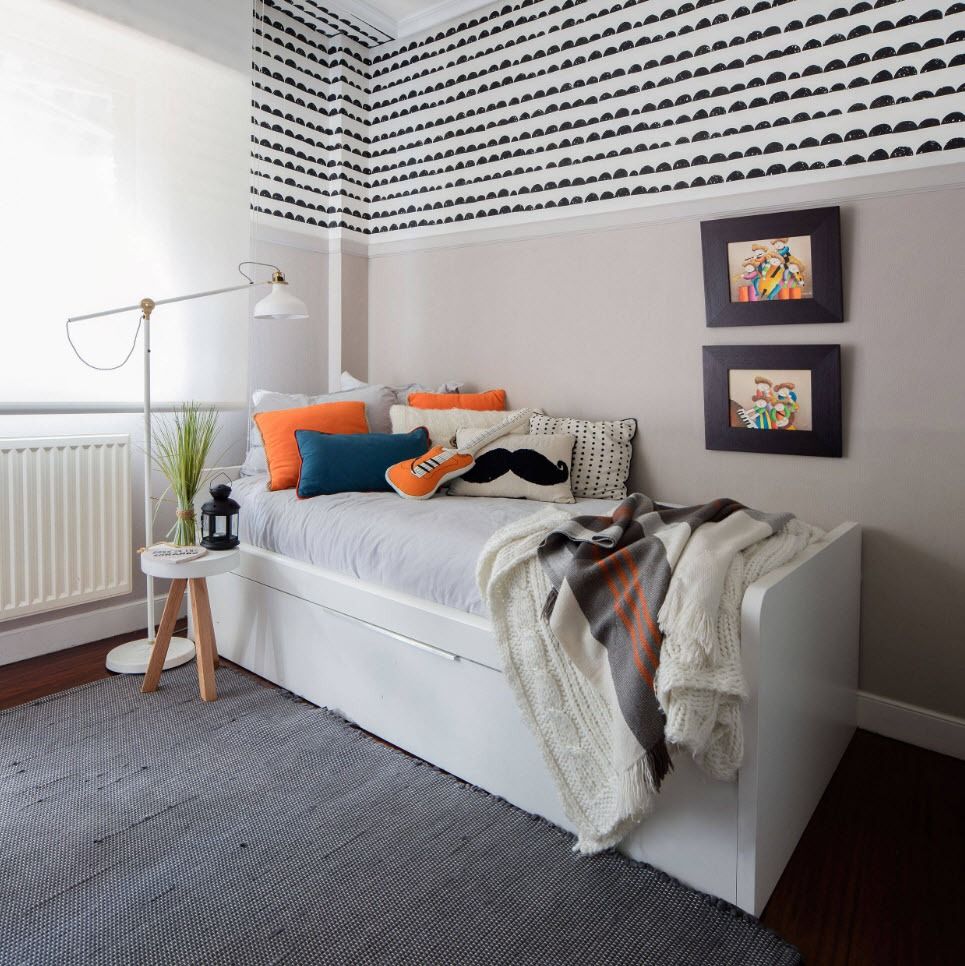 Thanks to this combination you can put accessories of a more saturated palette in the room, for example:
Inclusions in such colors immediately enliven the interior.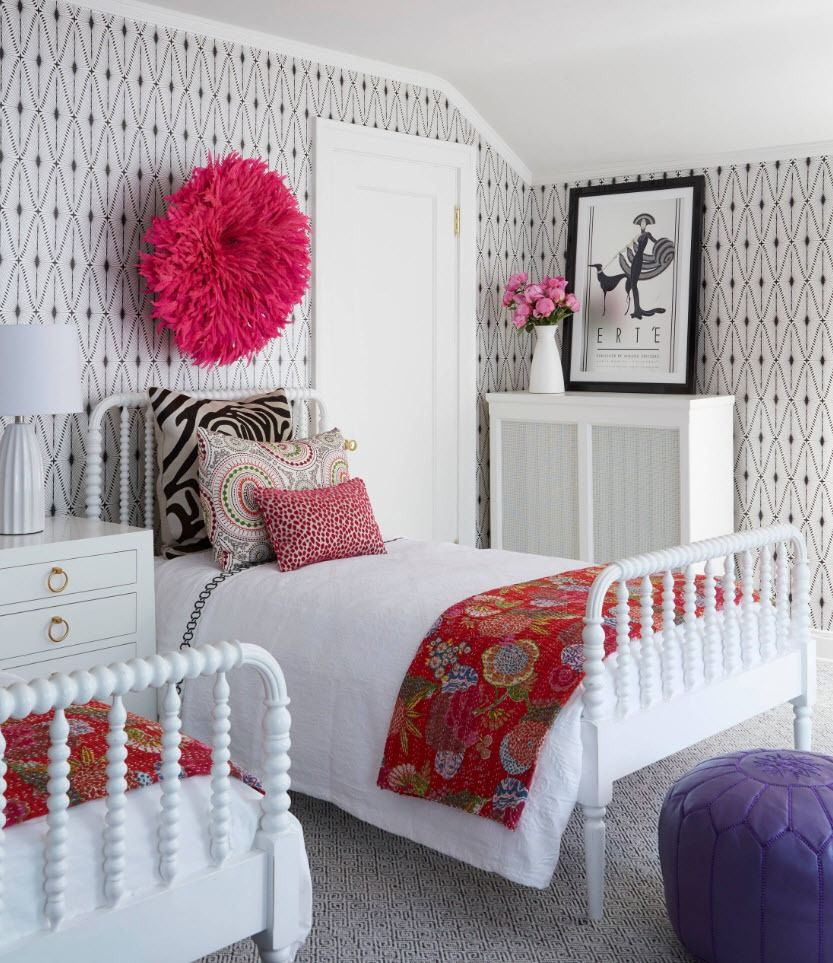 Advice! Be careful not to overdo it with bright colors. It may turn out that there is a lack of order inside, and the whole arrangement is chaotic.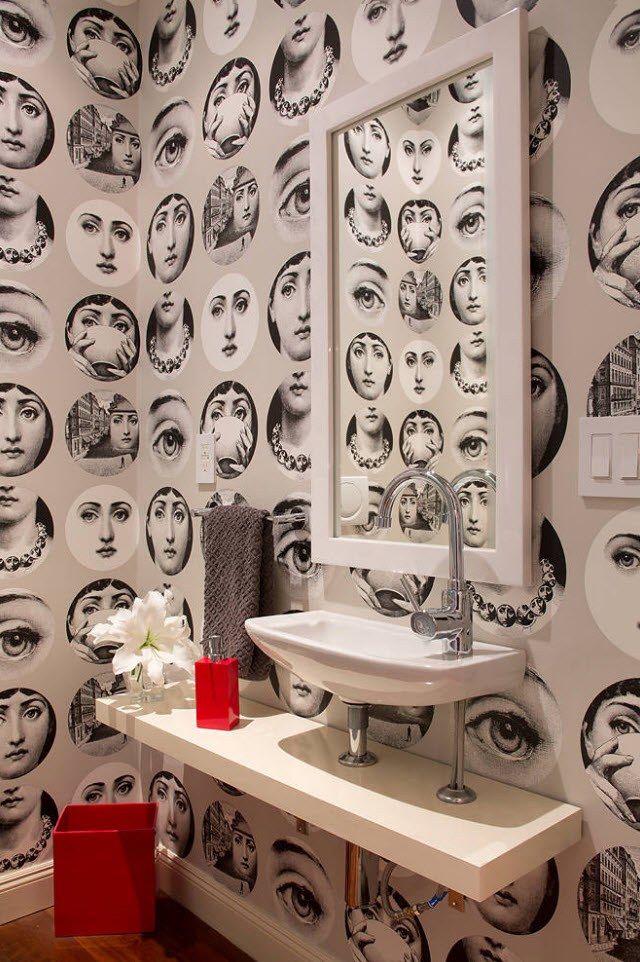 Black and White Accents
Black and white wallpaper can be placed on the wall which you want to highlight by creating an interesting background. Hence, it is not advisable to apply it throughout the entire interior, because such an arrangement can be suppressing and tedious.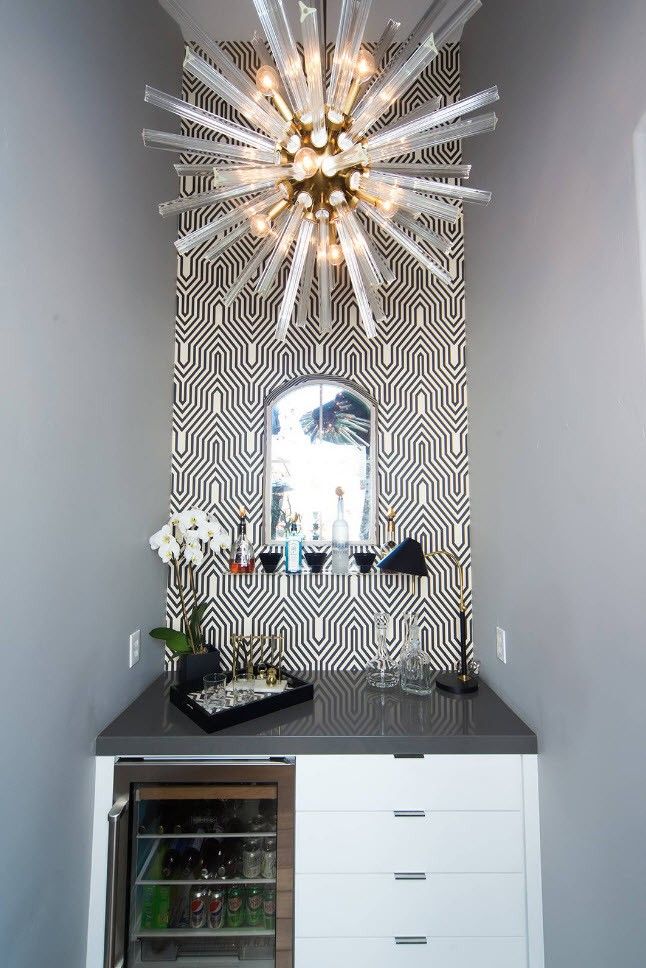 Black and White Wallpaper: Which Pattern to Choose?
It would seem that black and white wallpaper should be a homogeneous, simple wall decoration. However, modern manufacturers offer extremely diverse products, adapted even to the most refined tastes and original interiors. Today there are black-and-white wallpapers in almost all possible models – geometric and floral. Supporters of soft lines will find samples of plants, animals, or glamorous prints for themselves. And the fans of the classics choose black-and-white wallpaper in stripes. Against the background of such surfaces, black expressive furniture or large scaled lamps looks great. You will consider patterns on wallpaper as pictures on clothes. You can combine wide stripes on wallpaper with narrow ones on curtains or on pillows. A great idea is to combine soft floral wallpaper with geometric stripes or circles.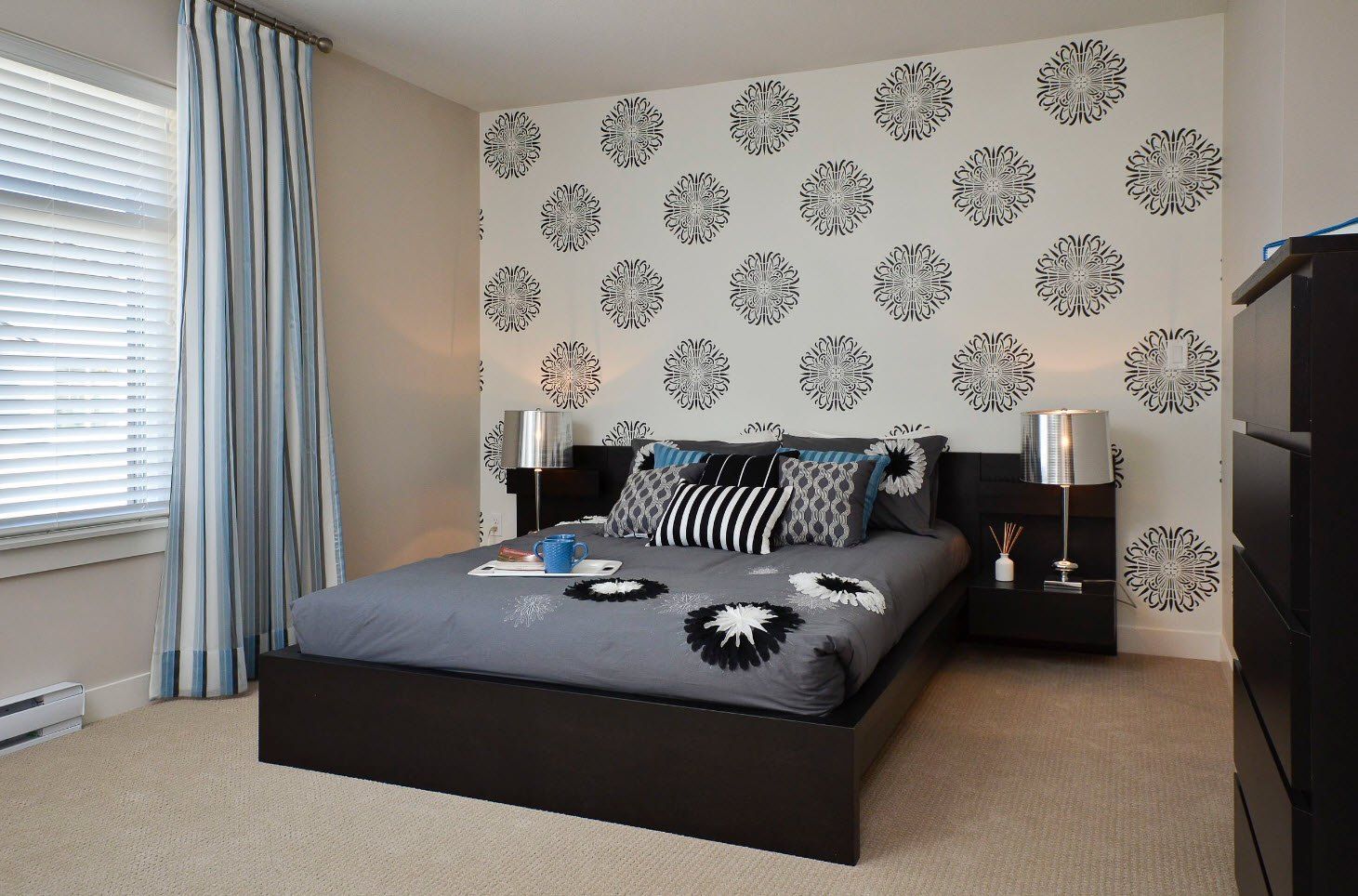 However, the universal nature of the combination of black and white does not mean that you can choose anything without caring about the end result. The main motive and the characteristic atmosphere of this drawing should be also taken into account:
abstract geometric patterns emphasize the modern character and add depth to the rooms;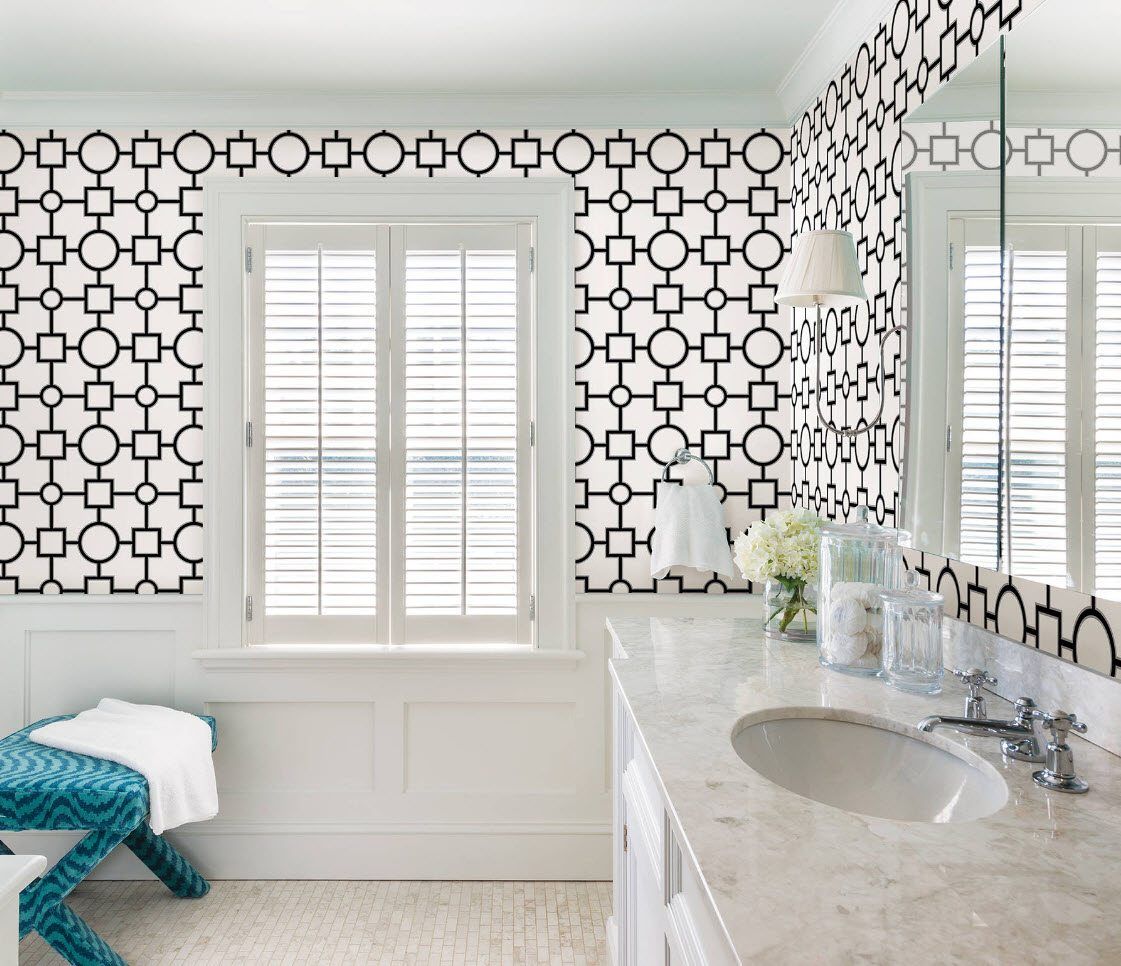 motifs, made through the use of photorealistic technology, will give a retro-effect;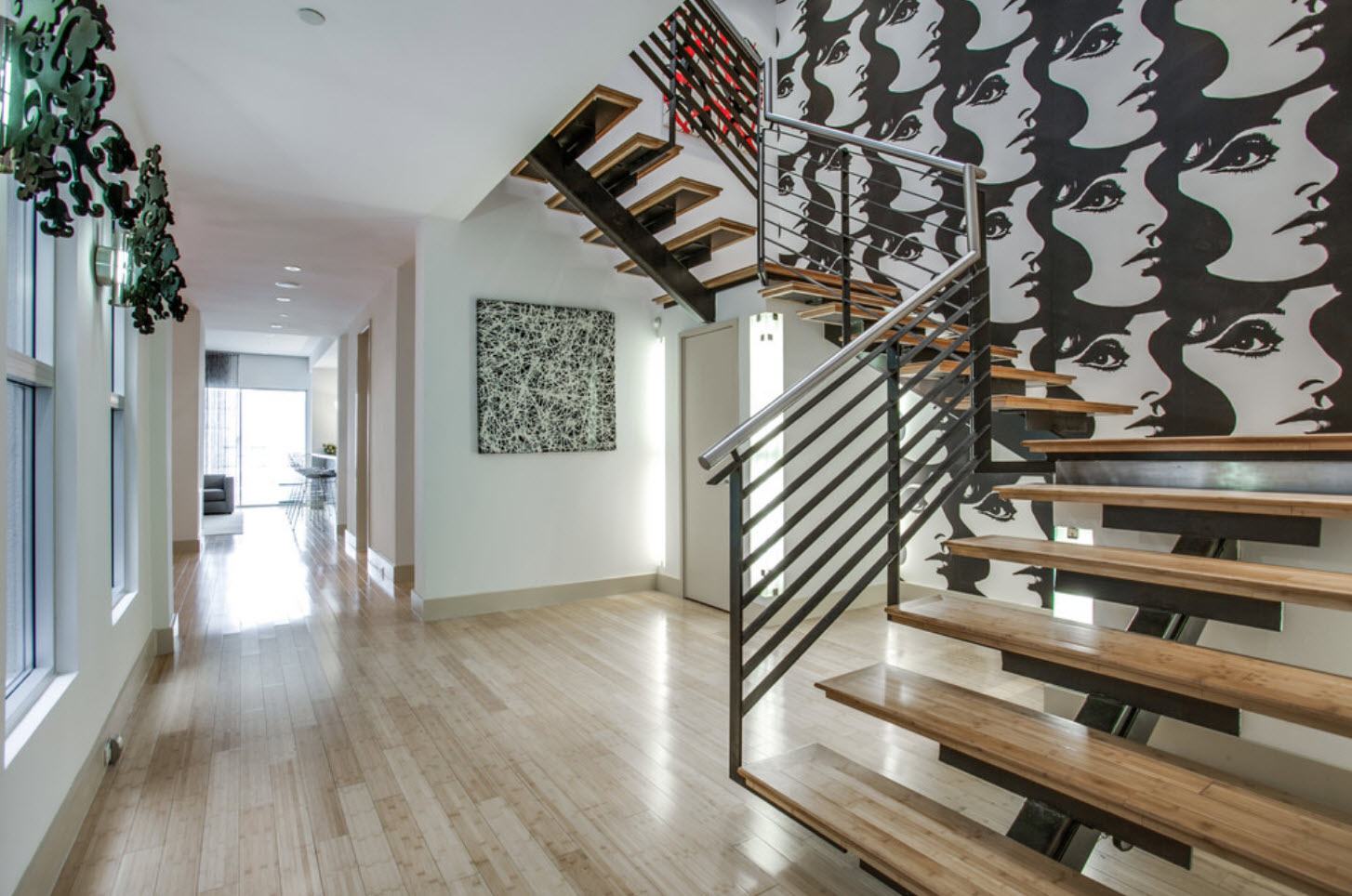 strips, located vertically or horizontally, can optically change the proportions of the interior;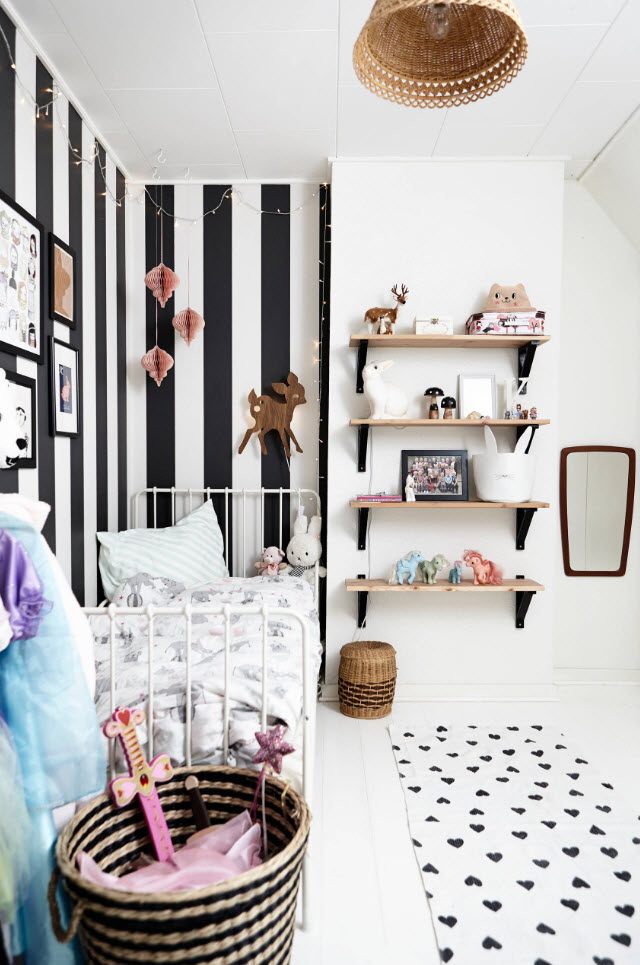 the use of floral motifs will help creating a delicate female interior.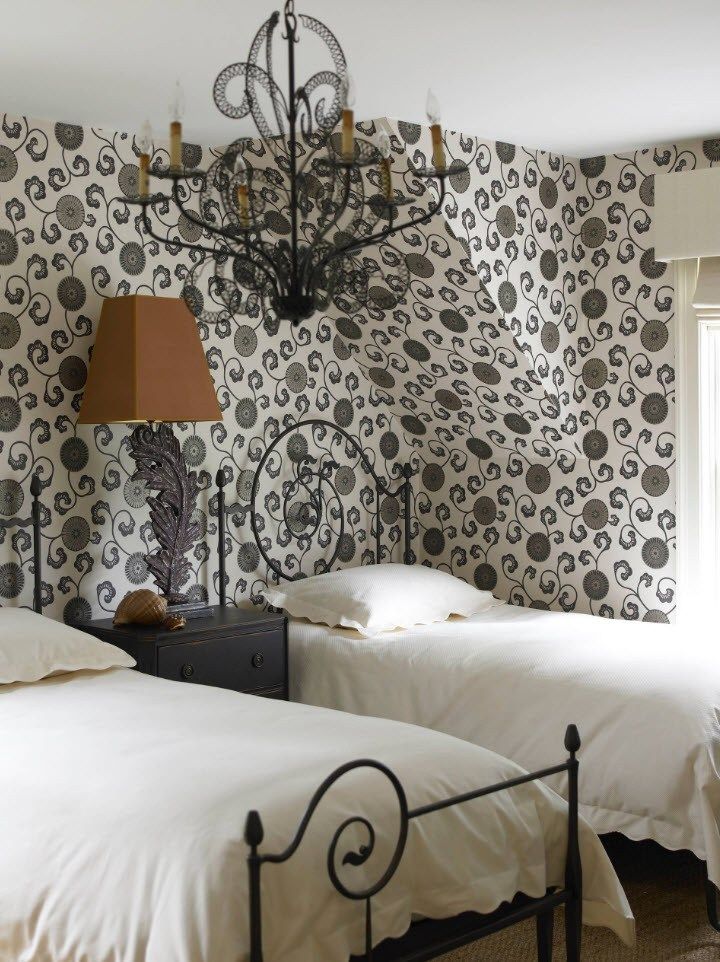 Advice! If you decide to choose a large pattern on the wallpaper, you should think about using more voluminous skirting on the ceiling. Such white decorative items beautifully complete the interior and give it a classic elegance.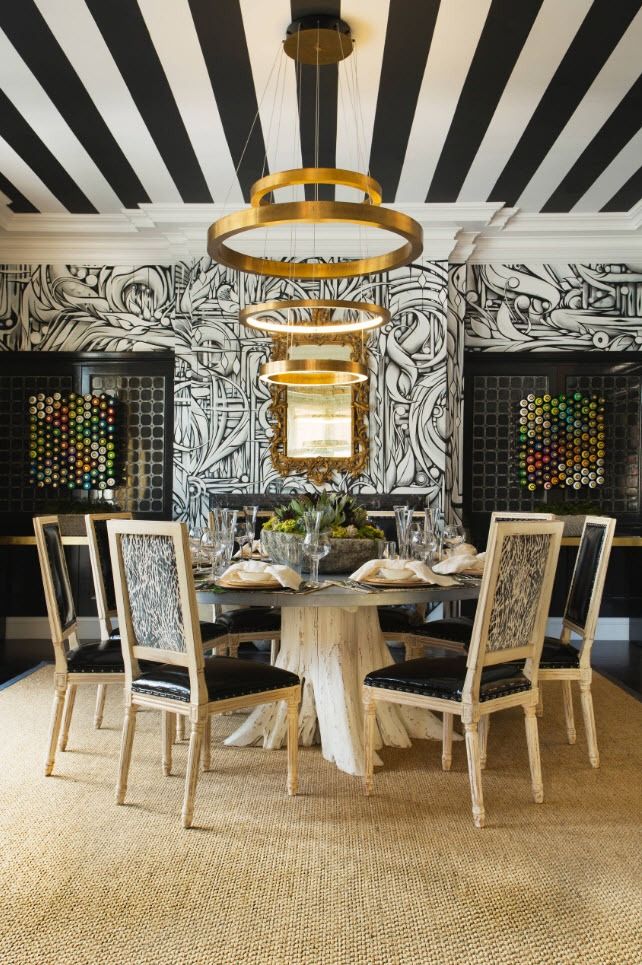 Black and White Wallpaper for Different Rooms
Your choice regarding the advantages of black or white wallpaper should depend on what room you want to use and what effect you want to achieve. If the interior is small, the wallpaper option with the predominance of white is the best option. Thanks to this you can decorate the room and visually increase it. A bright color will also draw more light. In the case of wallpaper with a predominance of black, it is better to use it in a certain area of ​​the room, rather than on all walls, if you do not want to make the design gloomy. Dark colors applied to walls can visually reduce the space and subtract a few inches of space. But in large rooms or for some styles (African, Vintage) they are welcome.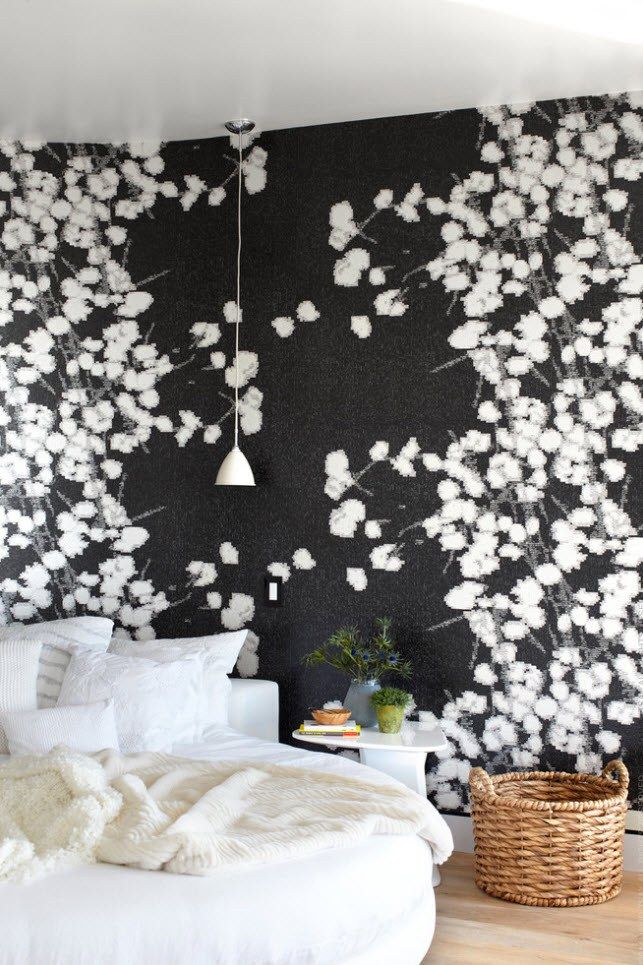 Large, clear drawings are a great idea for black and white wallpaper in the living room or corridor.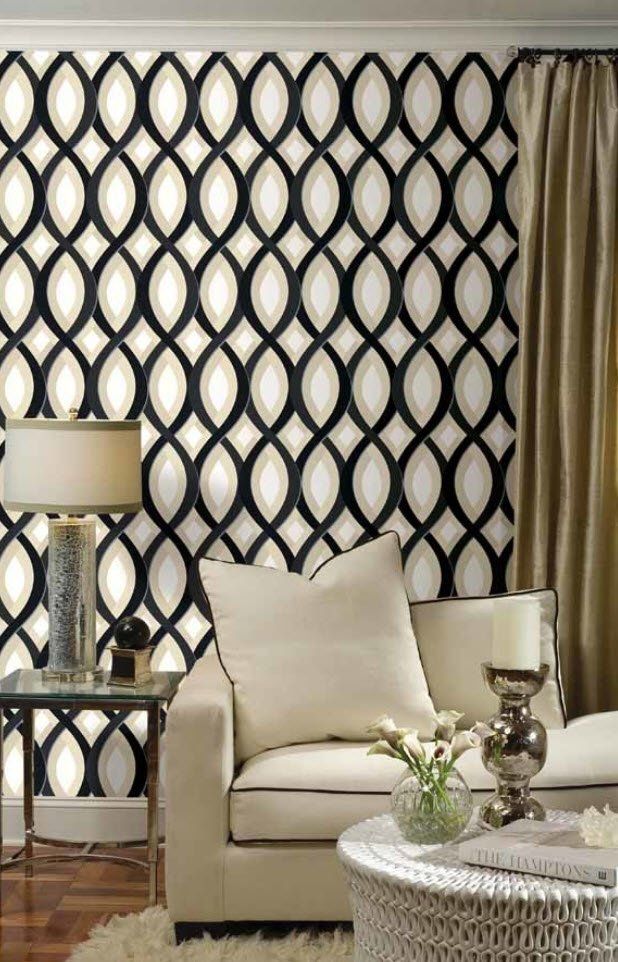 Smaller, thinner patterns on the wallpaper work fine in the bedroom. But it really depends on what you like about the interior design. Large transparent strips on the wallpaper can also look great in the large bedroom.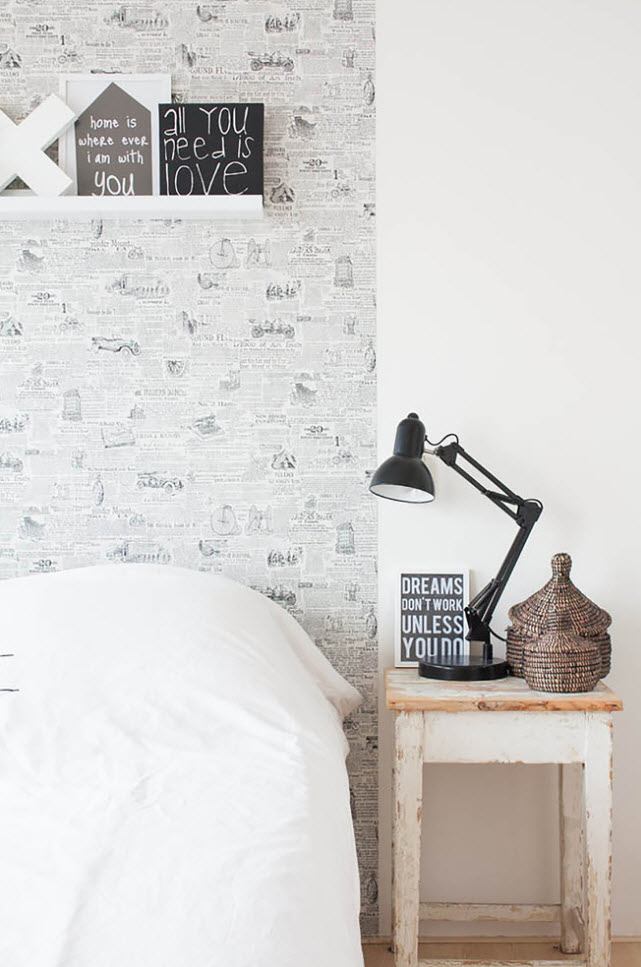 Wallpaper in black and white can also appear on the wall of the kitchen or in the bathroom, which has no direct contact with water.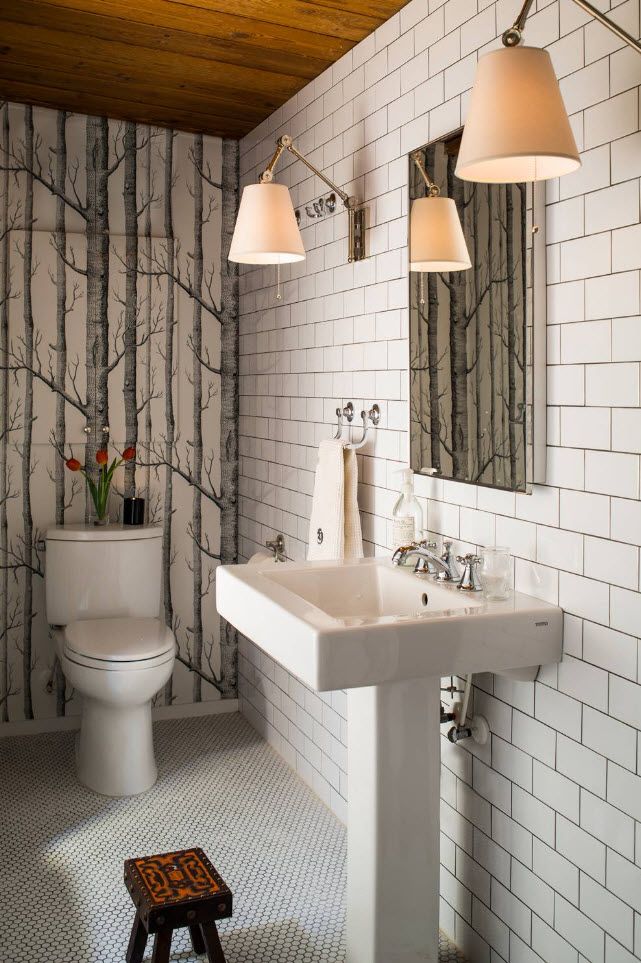 There is black and white wallpaper that will fit perfectly into the children's room. These are, for example, designs of black stencils or paintings on a white background for children painting or inserting drawings there.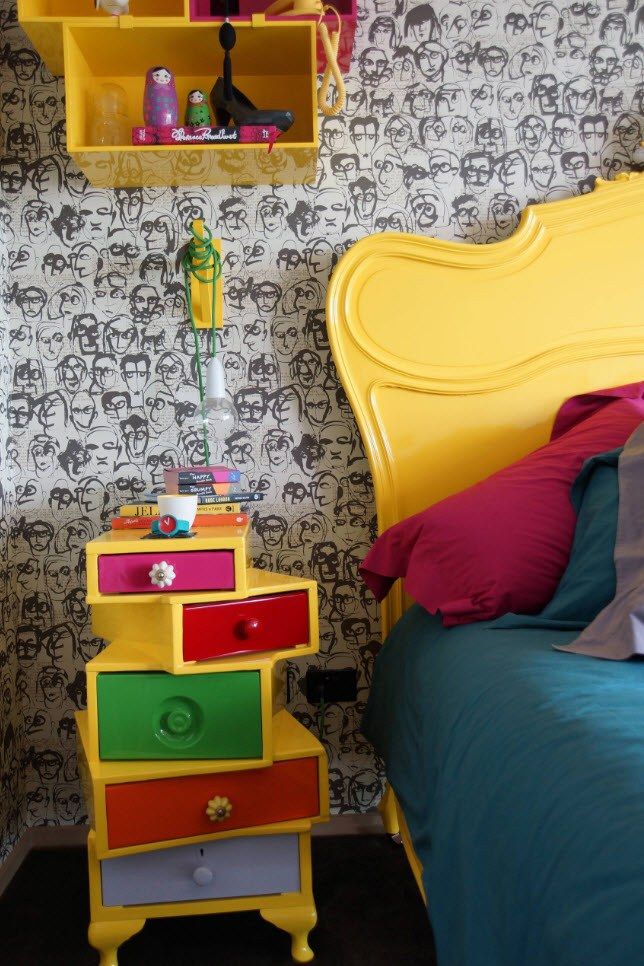 Black and white is an endless combination of colors. Decorative wallpaper in these shades is an ideal offer for self-confident people who appreciate strong and bold motives in interior design. Black and white wallpaper perfectly combines with both modern and classic decor. Together with homogeneous additives, it will create a unique atmosphere in each room. Do you still think about how to use the wallpaper in your house? If so, take a look at the presented photo-gallery. You will find a lot of ideas for inspiration to make the right decision.