Marine style house interior design is a freshness, lightness and simplicity, fanned by the smell of the sea, the breath of a light breeze and sunshine. There is an opinion that the marine style is most suitable for country houses, beach houses and luxury villas. But the use of marine motifs and style is appropriate in the city, as part of the apartment or private house decoration. There is no need to use objects with strongly marked marine theme – hang ropes all over the room or buy curtains with anchors and steering wheels when you designing the space. Nautical style is diverse in its manifestations, motives and methods of space design, but it tends to ease and simplicity. To arrange a room or entire apartment according to this stylistic direction, you need to stick to a light palette for surface finishing, use natural colors for furniture, often artificially aging or weathering material, and do not forget to use striped prints and white-blue or blue-beige variations of decor, lighting and other interior elements.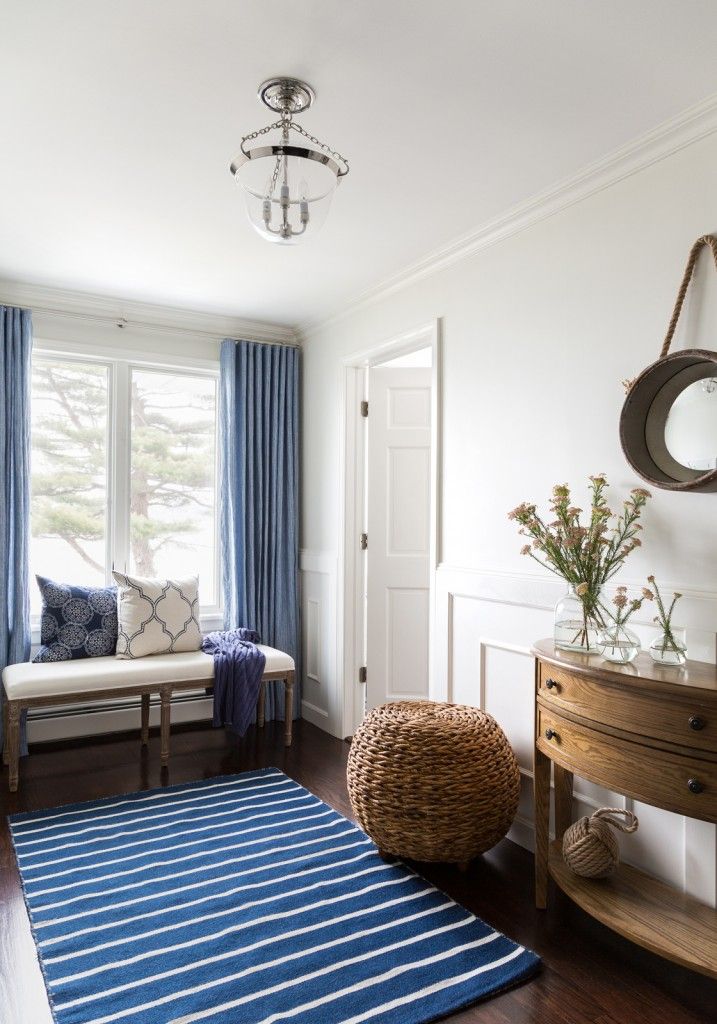 As an example of successful interior in a private house, we would like to demonstrate the methods to decorate the dwelling in Marine style. Spacious and bright premises are filled with sunlight, radiate freshness and lightness. They give owners a sense of freedom and balance, emotional peace and tranquility. Making a living in a marine style gives the room a light, bright and fresh image. Snow-white walls and ceiling allows to expand the space visually. A floor covering made of natural wood brings a touch of natural warmth in a rather cool atmosphere. Light upholstery, its natural texture contribute to the comfortable and attractive atmosphere, convenient arrangement of soft seating areas.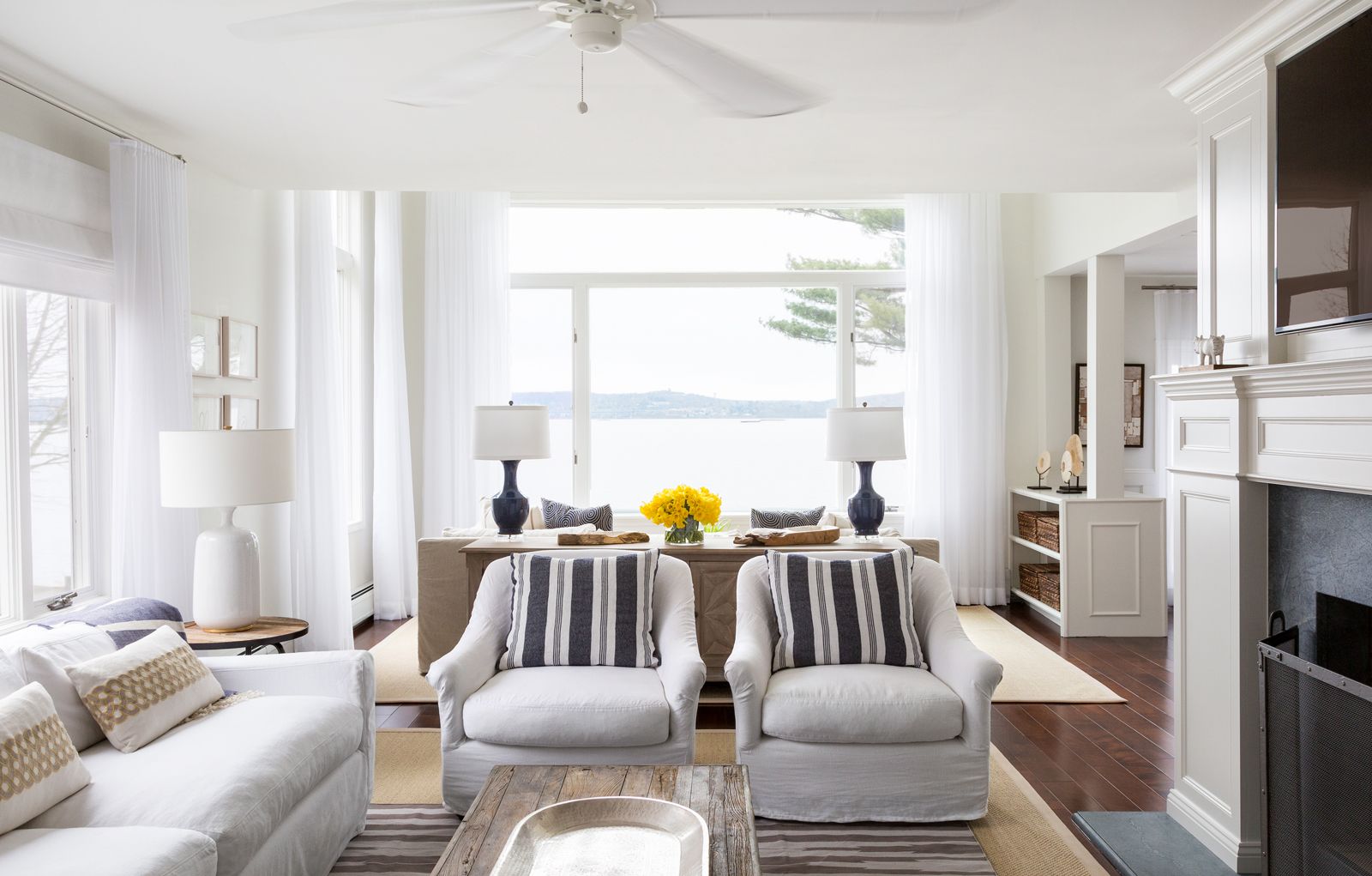 Zoning of spacious room comes at a very conventional level. Border of rest segments are marked with furniture and carpeted floors. And though the furniture in the two areas is almost the same, the differences are present in the textile of cushions, design  of the table lamps and accompanying furniture models – low tables and chests.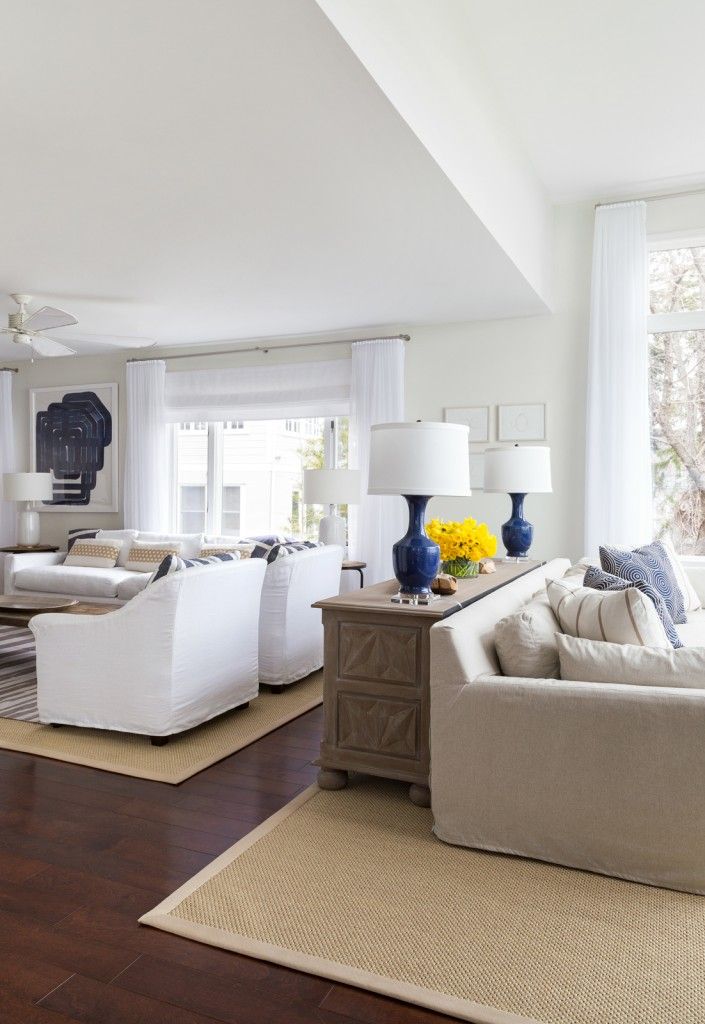 Visual expansion of the space is also real thanks to the distribution of tone color palette from the bottom of the room, decorated in dark natural tones, through beige palette prevailing in the furniture and moving to the top of the room, where we already see only white tones. Only minor blotches of bright, colorful flowers as decoration of lighting and live plants, disturb the overall light, pastel color of  the space.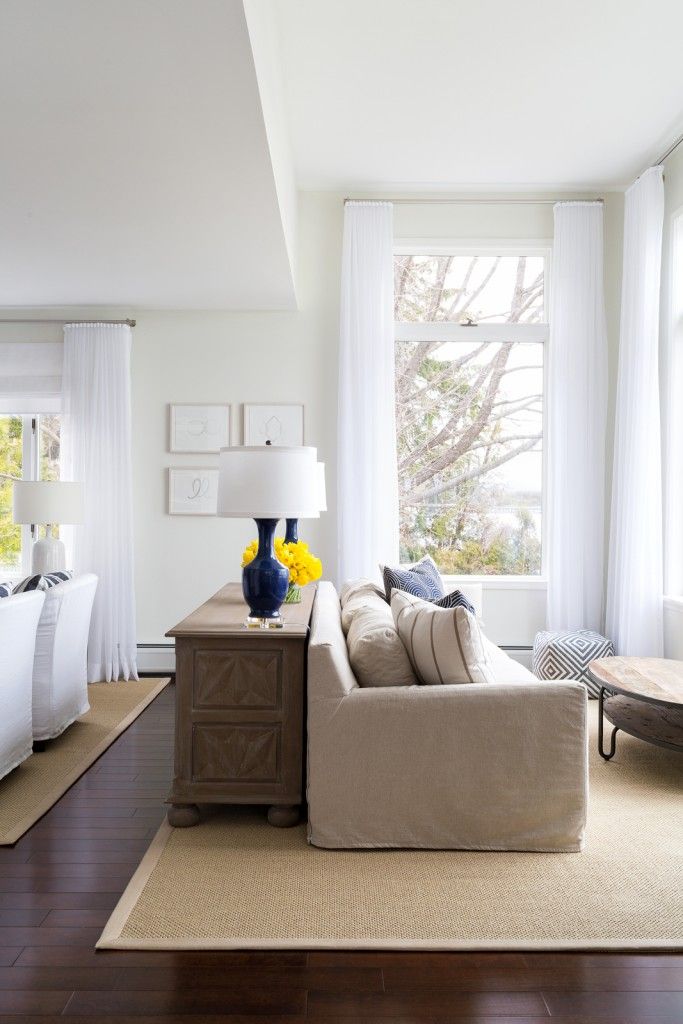 The recreation area by the fireplace is not just usual arrangement of modern living, but almost mandatory attribute of a comfortable and relaxing holiday in your own home for many stylistic directions. If in the northern regions decorative component of the hearth concedes to practicality for obvious reasons, in the southern regions of our country or in city apartments, where there is simply no possibility of the construction of the duct, it is possible to confine with a decorative part of fireplace as focus of attention.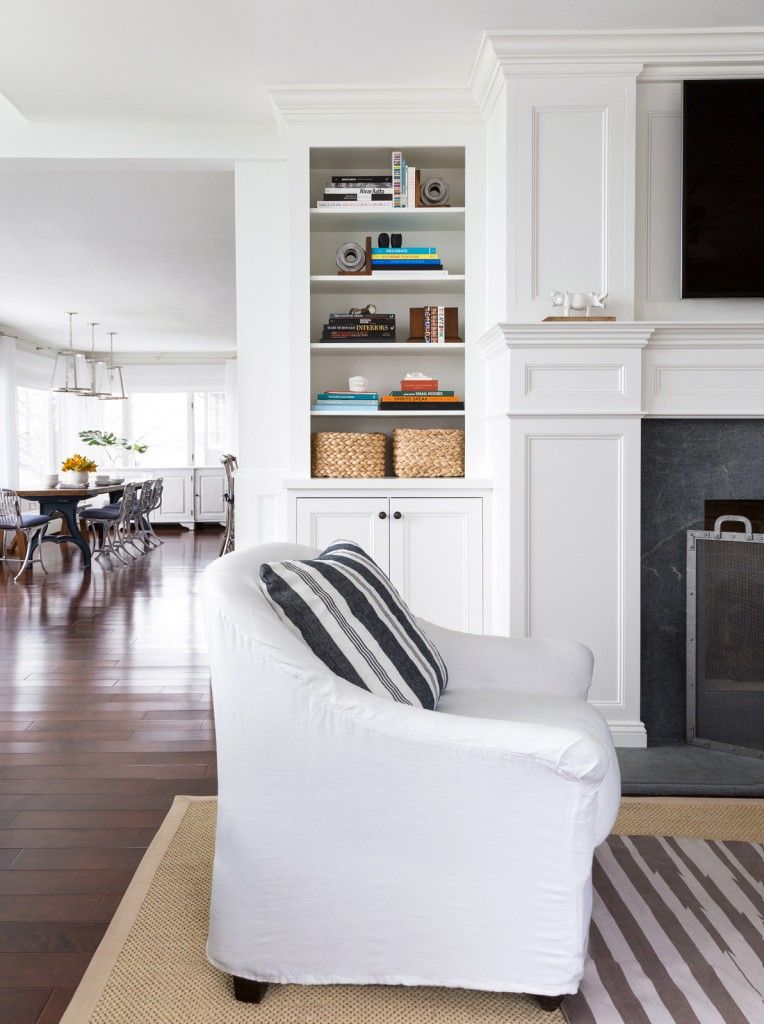 Striped print is one of the few mandatory requirements that apply to a room decorated in a nautical theme. It is not necessary to use a palette of blue and white stripes for the fabrication of textile or as a material for shades of floor lamps, lighting fixtures, and even chandeliers. The easiest way is to reflect this coloring in cushions` textile, curtains. It can also be used to beautify a carpet and wall decor in the form of panels.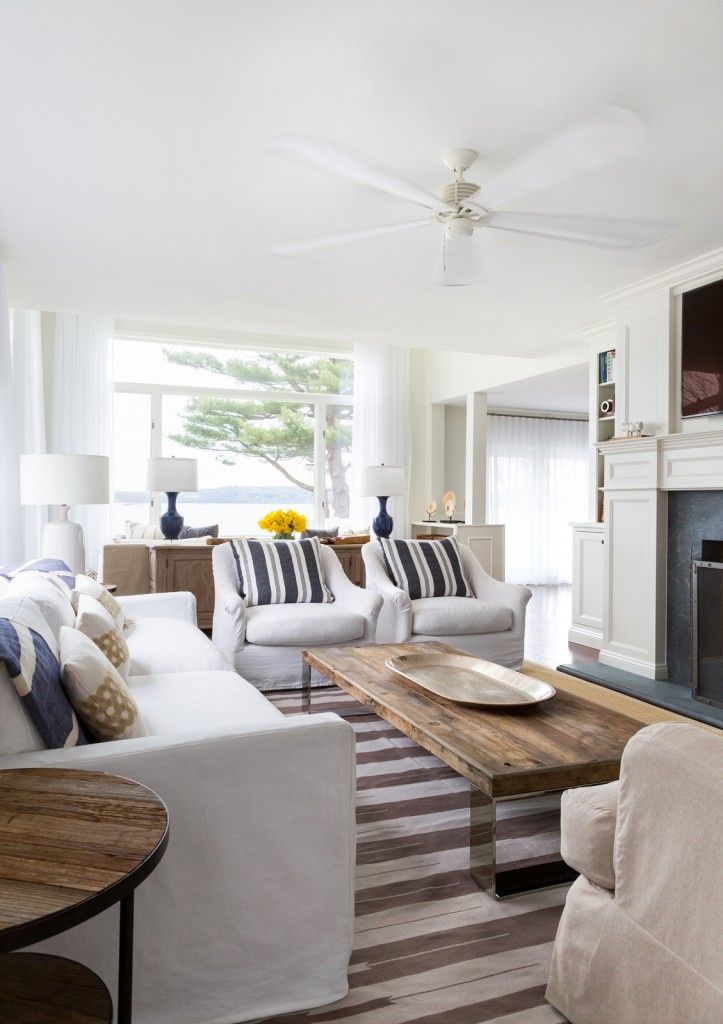 Sea stylistics is closely related to the use of natural materials – wood, weaving dose or rattan, bamboo items and even straw. Undoubtedly, furniture and decor made of wood or manufactured as the high-quality simulation of natural materials will look more organic as part of the urban dwellings.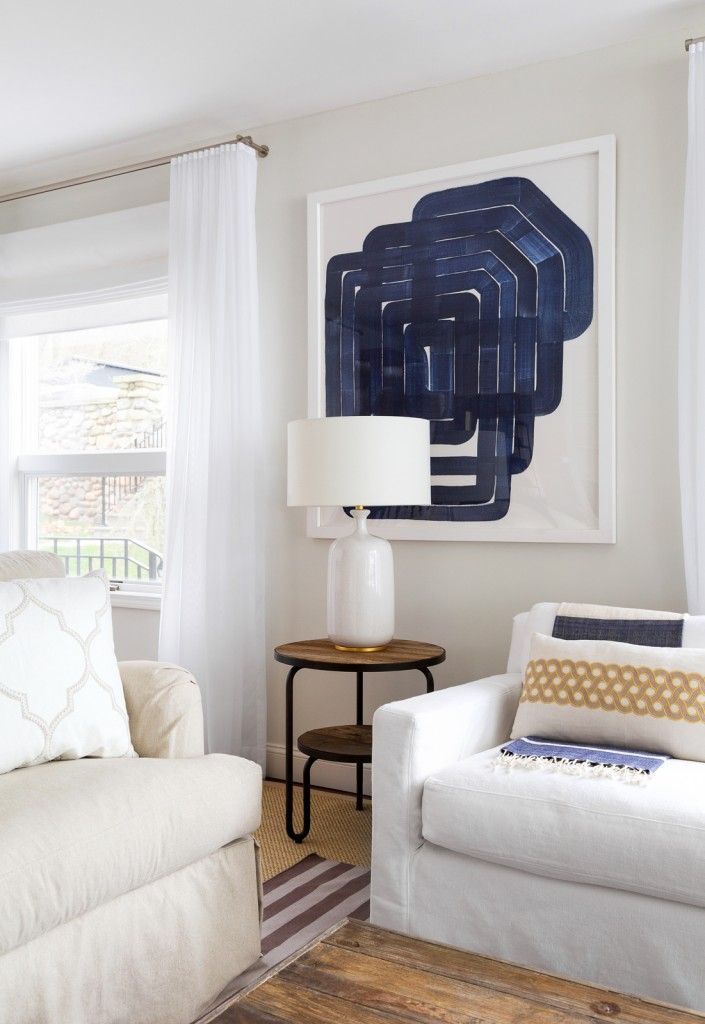 Open layout in the distribution of space between the kitchen and dining area allows you to keep a sense of spaciousness and ease which is present in the living room. Snow-white room with large windows is literally bathed in streams of natural light. The colors in the furnishings and decoration of the kitchen-dining room contributes it along with the huge windows. The white facades of the kitchen cabinets, intermittent with sheen of stainless steel coupled with textile upholstery in blue tones, create a cool atmosphere of the kitchen and dining space. Furniture items of wood and floor covering, in their turn, are "responsible" for bringing warmth and brightness to the interior.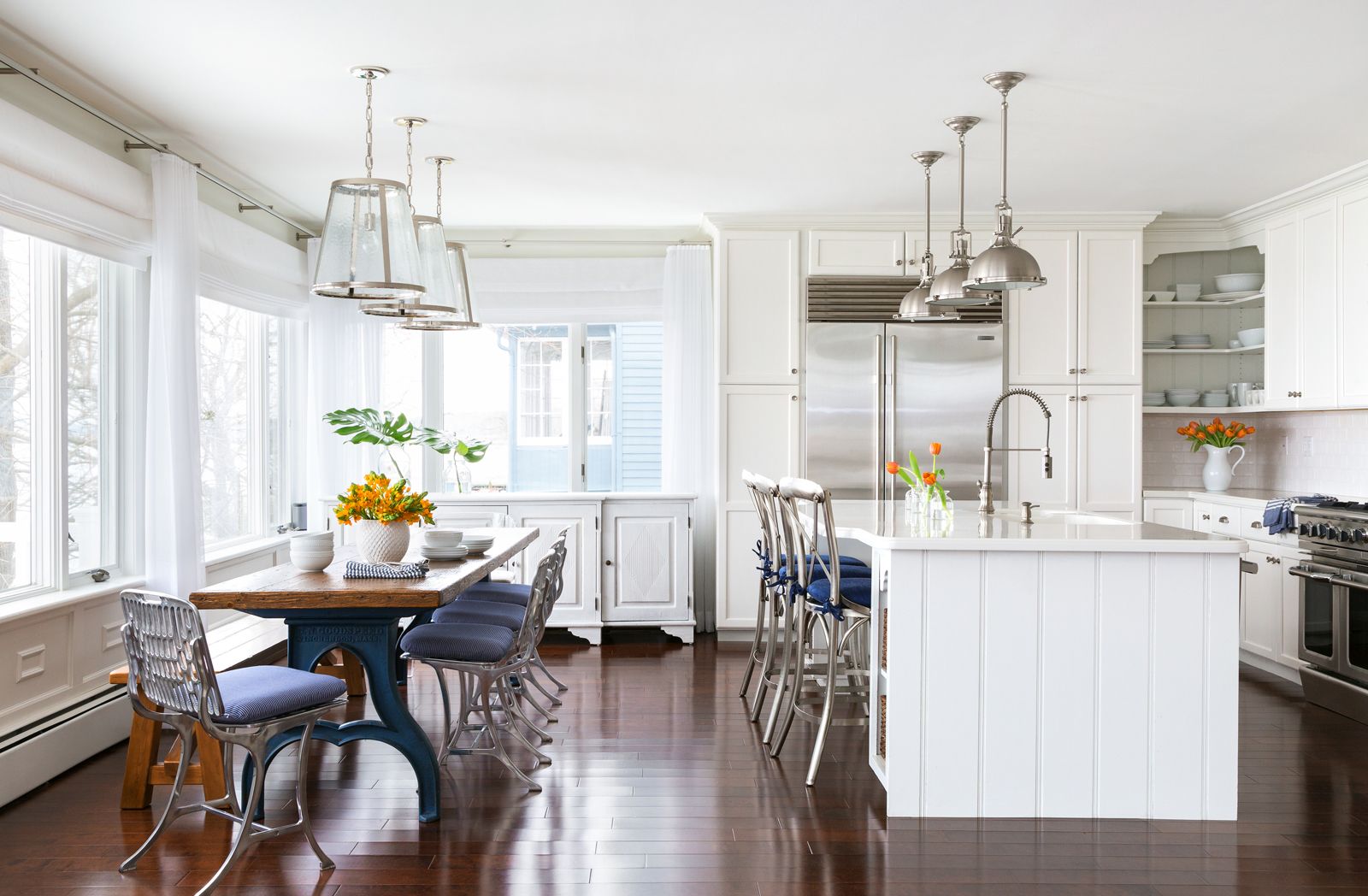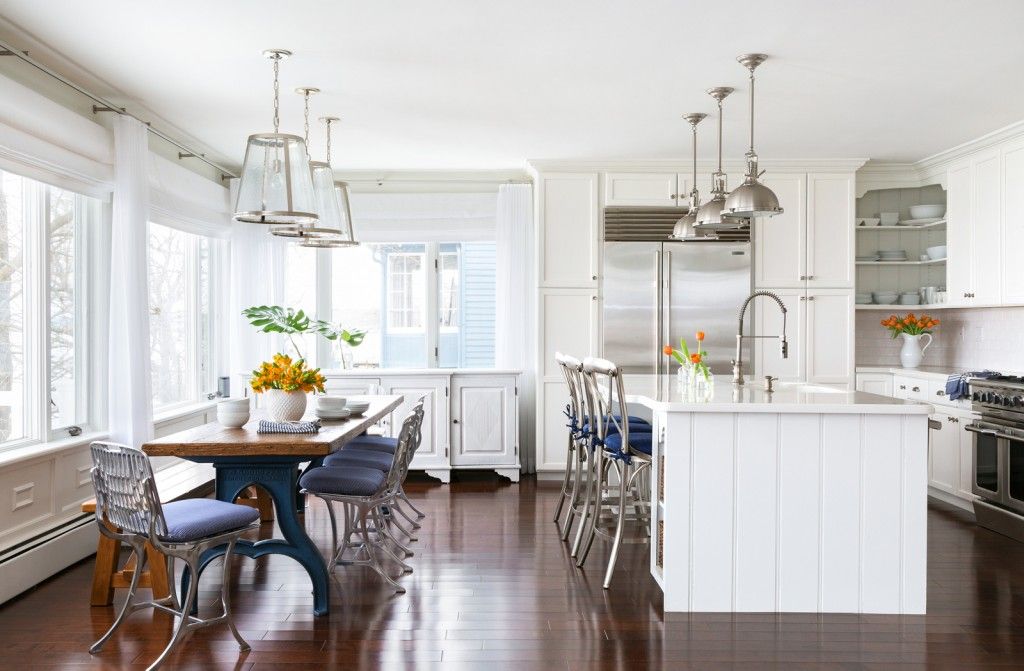 The original dining area is represented by a spacious dining table with wooden top and painted dark blue legs, a bench in a country style, made of the same material as the countertop and comfortable chairs with a metal frame and soft seats. The composition of the three hanging lamps with elements made of transparent plastic and stainless steel is rounding out the image of the family meals and dinner parties area.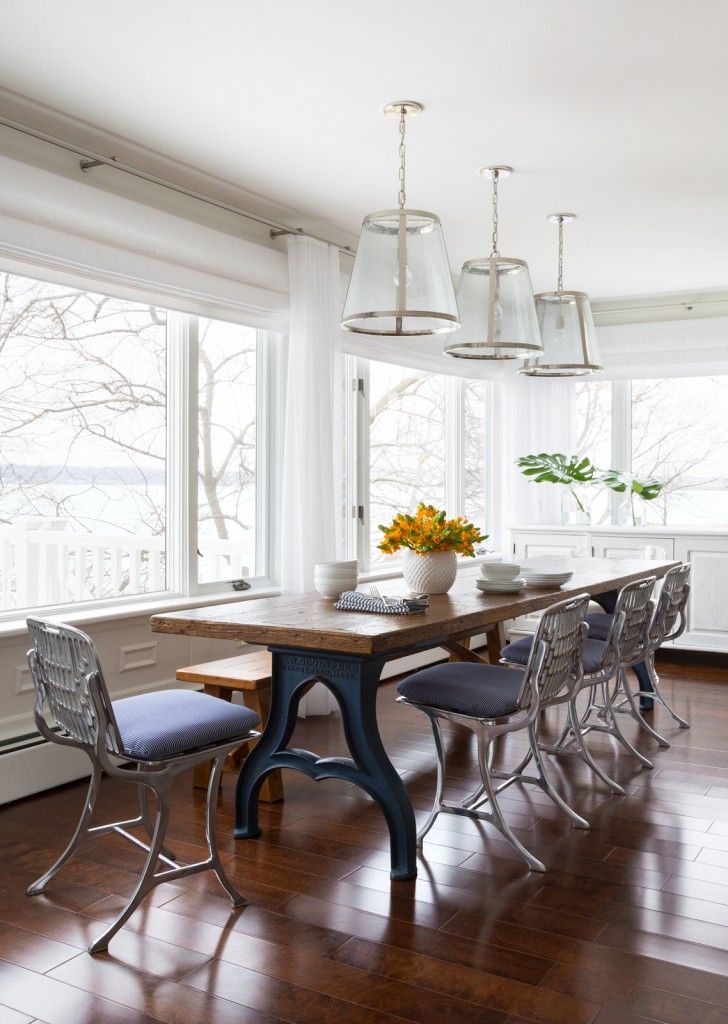 Bedroom in nautical style is peace, quiet sleep, ease and simplicity. In this room there is no distraction, it does not irritate eyes. As a rule, white or light pastel walls and the ceiling is combined with the use of wood for flooring. In the southern regions ceramic or stone tiles for decoration floors can be applied, but then you need to take care of the mat or light carpeting at least in areas near the bed .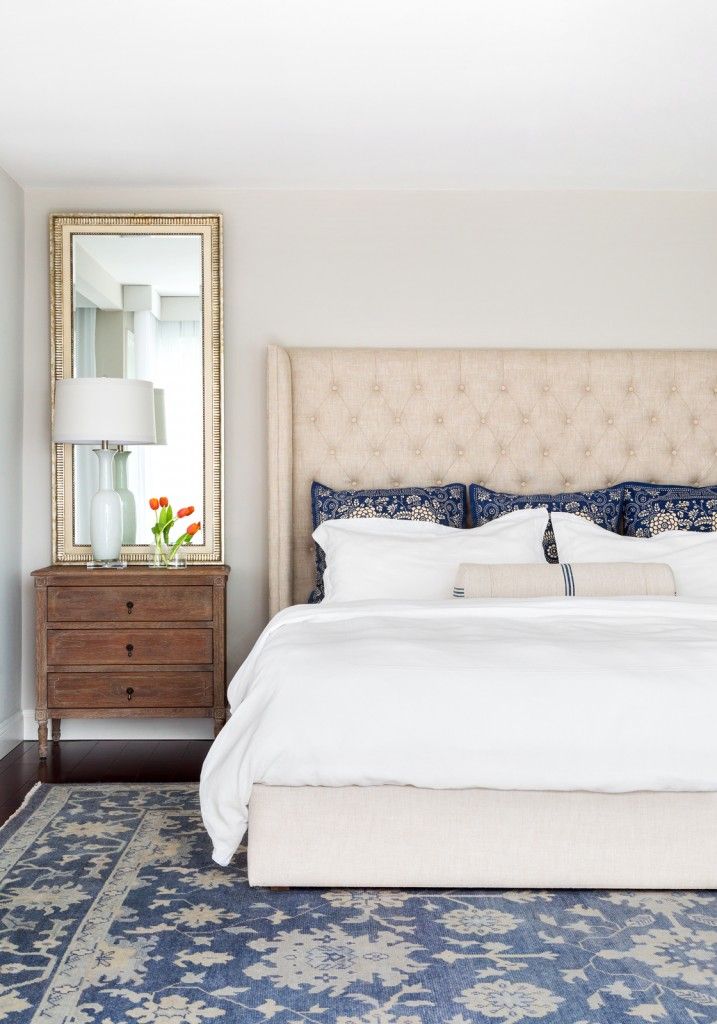 Bathroom and other utilitarian rooms in the house, decorated in a nautical theme – are bright, clean and fresh breathing spaces. Light colors are used not only for decoration, but also the furniture of the room and its lighting system and even the decor, you can create a character that we usually expect from the room for water procedures – clean, light, giving a feeling of comfort, relaxation and freedom.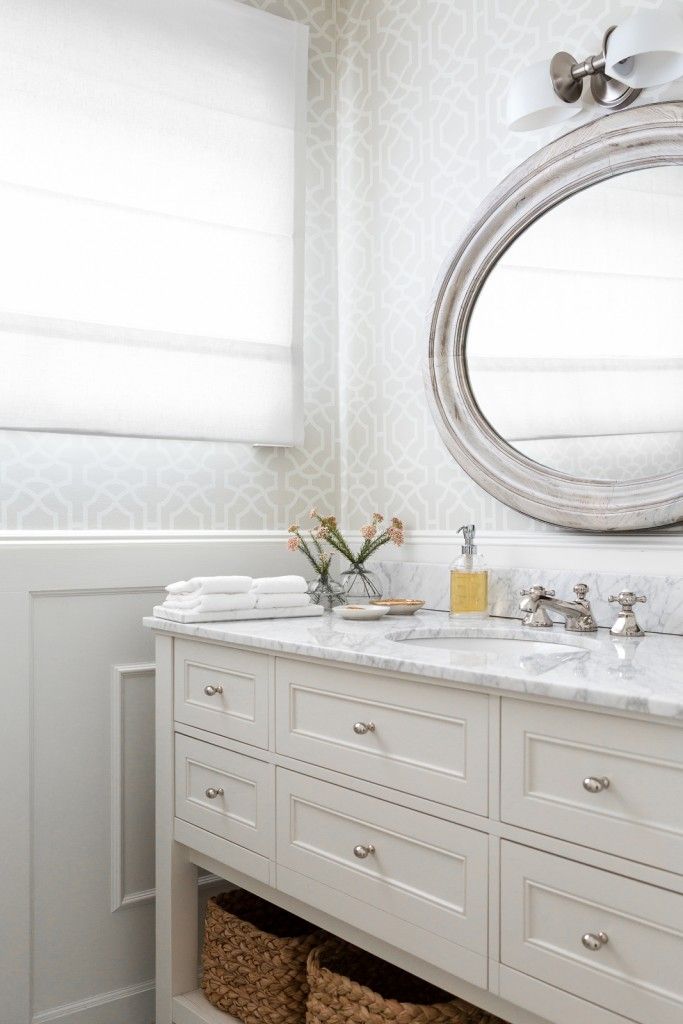 Taken after http://chango.co/portfolio/hudson-waterfront-colonial/