If you have a a large private house or mansion with several bedrooms and bathrooms, then you surely have a master bathroom. It is usually the one adjacent to the master bedroom or the bedroom of home owners. Interior design of the master bathroom echoes and is inseparable from the concept of the master bedroom design. This two rooms are complementing one another to provide maximum comfort and relaxing abilities for the hosts. And we don't say only about the hygienic purpose of the bathroom. In "master" role it should combine more functionality than simple bathroom. And what so special about this utility room, we are going to talk further, at the same time exploring master bathroom design ideas with real interior photos.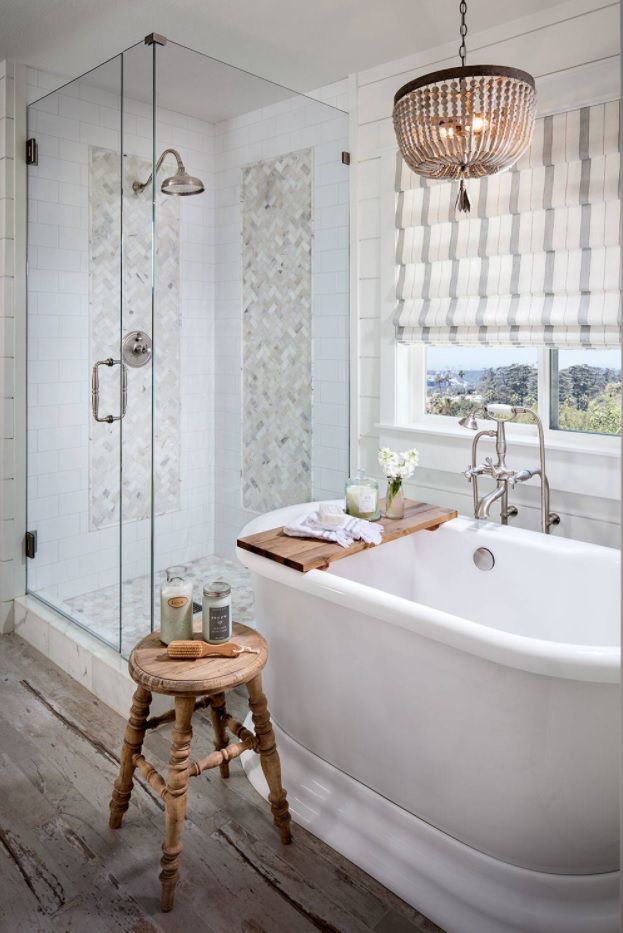 Classic style for master bathroom
The majority of master bathrooms are located in large private houses and mansions where people are gravitating to Classic style. And this is not for a reason. Modern stylistic is about minification and functionality on a small space. If you can boast with large bathroom, the most epic look it will have when decorated in Classic.


Classic premises are implying the corresponding zones. So, how about the boudoir? No doubt, there is a woman in the house, so she will appreciate such a possibility right at the bathroom.
As we already saw it above, Classic is good in combination with natural, e.g. wooden materials. The wood will be fantastic complement for any bathroom. You can find almost any decorating materials for you master bathroom of specially prepared wood for any area and surface. Dark noble sorts of wood look especially striking in large premise but should be dosed. Light wood and lacquered white wood can be used in pair as complementary materials. You can do accentual zones of the interior by mixing the colors of wooden trimming.
Marble, ceramic and stone for master bathroom
We can distinguish a whole series of interiors which are somehow transient from Classic style to modern stylistics but have both treats present. Usually, people say that such spaces can be attributed to Casual style. But it is not quite right. We will dare to say they are combined examples of the interior design. But what do all of them have in common? It is the wall and floor finishing materials: marble, stone, ceramic tile or imitation of expensive natural materials. Latter are no more inferior to natural analogues not in user qualities, nor in appearance.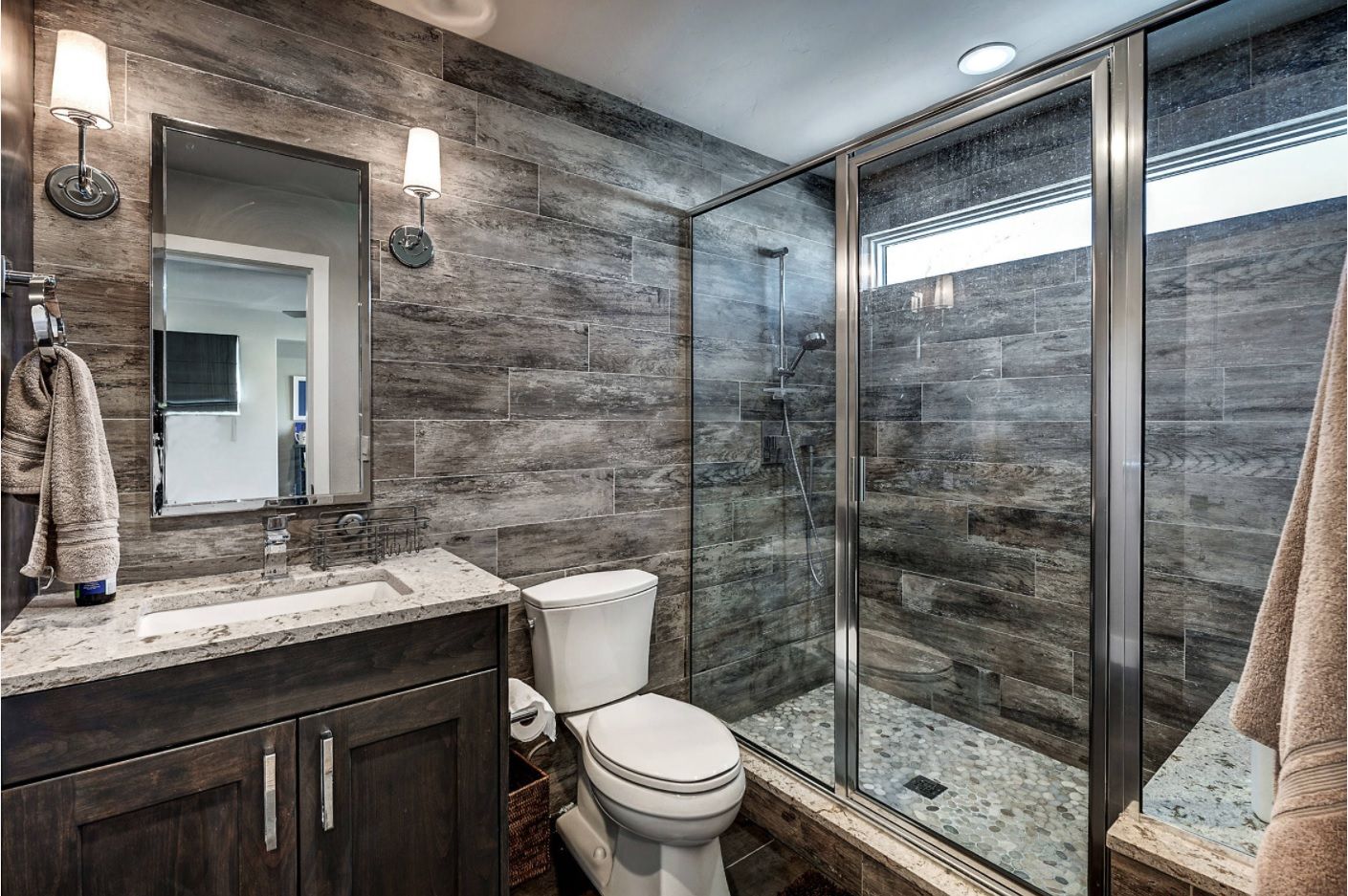 Many of the combined interiors gravitate to Mediterranean or Oriental styles. But the overall atmosphere can't be called neither but combined of two and more styles.
It is also to create successful interior just with painted walls. We will put the example of it below in order you should not think it can't be done without expensive natural materials or their analogues. Ceramic tile is used to highlight the artificial fireplace. And the mosaic is trimming the bath zone.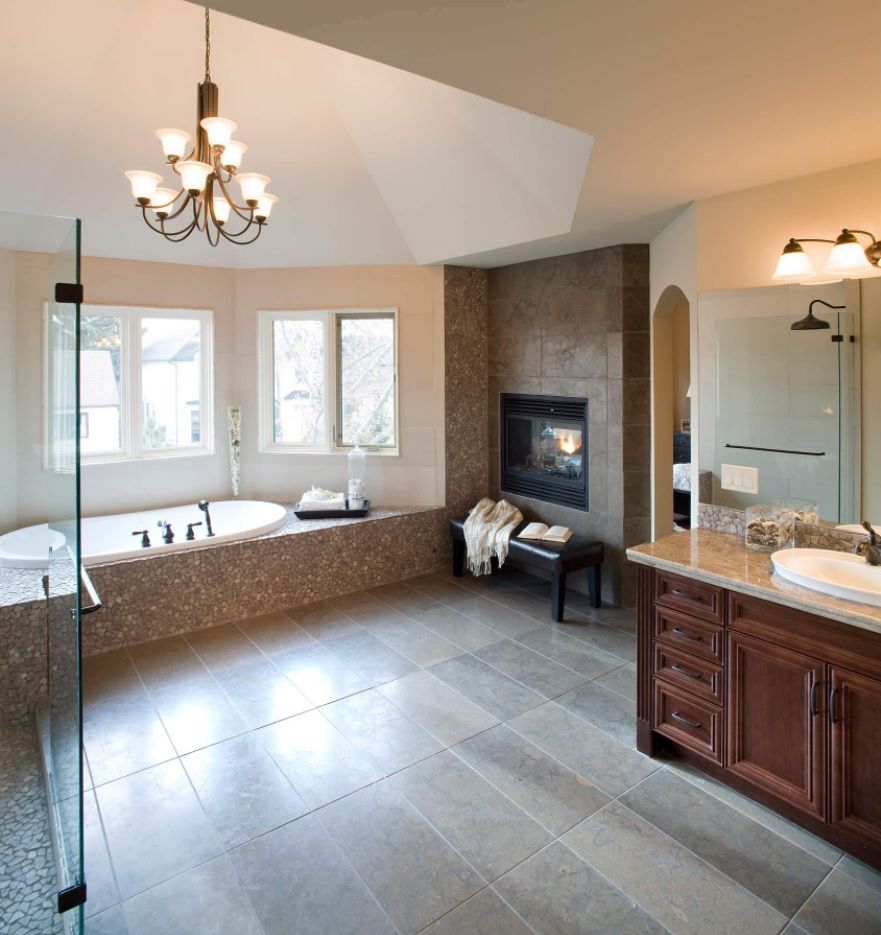 Modern styles for master bathroom
If you already designed your home according the Modern thematic, then it is natural choice for your bathroom. Also, modern styles are the lifesaver idea for those who have small apartment. And if you live in a block of flats with two bathrooms, you can opt minimalistic Modern.
If the space is not the main reason to choose Modern, you can move to Scandinavian or Minimalism which look perfect in any interior
It is not a problem to put the boudoir or hygienic zone into the bathroom too. They can look organic and even attractive when successfully designed. Of course we wouldn't deny that it is almost impossible to create such a masterpiece of interior by your own.
Many of modern apartment and studios have open layout. So it would be strange not to capitalize on competent zoning of your space. Especially, if the partition can appear as the functional element: built-in vanity or storage system.
Use lighting to emphasize the functional zones. Modern style is impossible to imagine without artificial lighting and built-in fixtures.