Stainless steel is an old friend of every kitchen in the world. We all have all manner of pans, kettles, dishes of steel. Somebody are lucky to have refrigerators or extractor hoods which surfaces are glisten with inviting speckless steel surfaces. But today we'll speak about unexpected role of stainless steel at the kitchen. As it turns out, we can have metal backsplash as stylish design ideas for kitchen interior. Let's review this contradictory material for finishing of your working zone at the kitchen.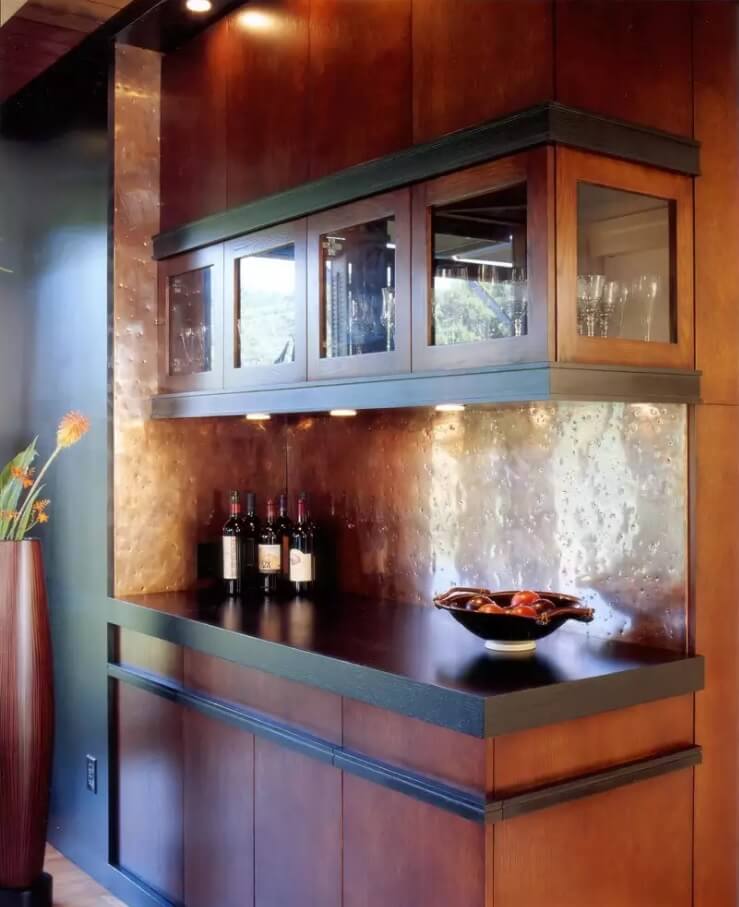 Metal backsplash as stylish design idea for kitchen interior. Praise the material
First, we need to determine for ourselves that steel backsplash is pretty "cold" design element though requiring proper lighting or bright colors of the kitchen facades. Otherwise you're risking to turn your kitchen into lifeless utility room or gloomy operational room.
But we also can't admit it looks nicely with another stainless interior elements or appliances. It can be hob, sink, tap or whatever. Even shiny surface of granite tabletop can be considered as one in a row.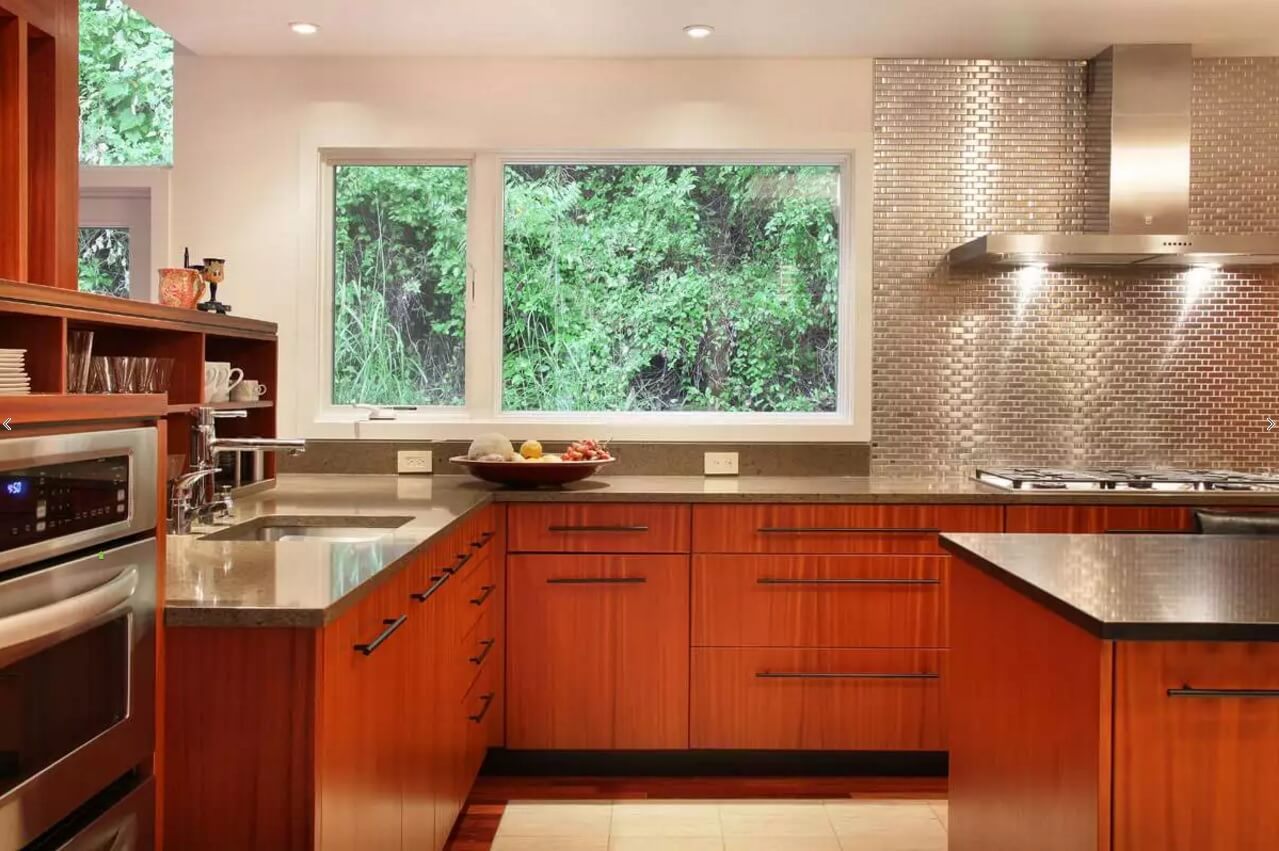 If we speak about the advantages of such backsplash at the kitchen, we can't forget to tell about its hygiene, high resistance to all kinds of microorganisms and durability. It doesn't lose its appearance through years, doesn't afraid of water and therefore doesn't require special care.
But the biggest advantage is it's full unpretentiousness in primary finish of the wall and it's form. It can hide almost any defect fast and at the large area. You'll be free of providing ideally smooth wall surface. Also, it can take very wide range of forms due to the plasticity of the material. It makes such backsplash almost universal option when it is fast and budget renovation needed.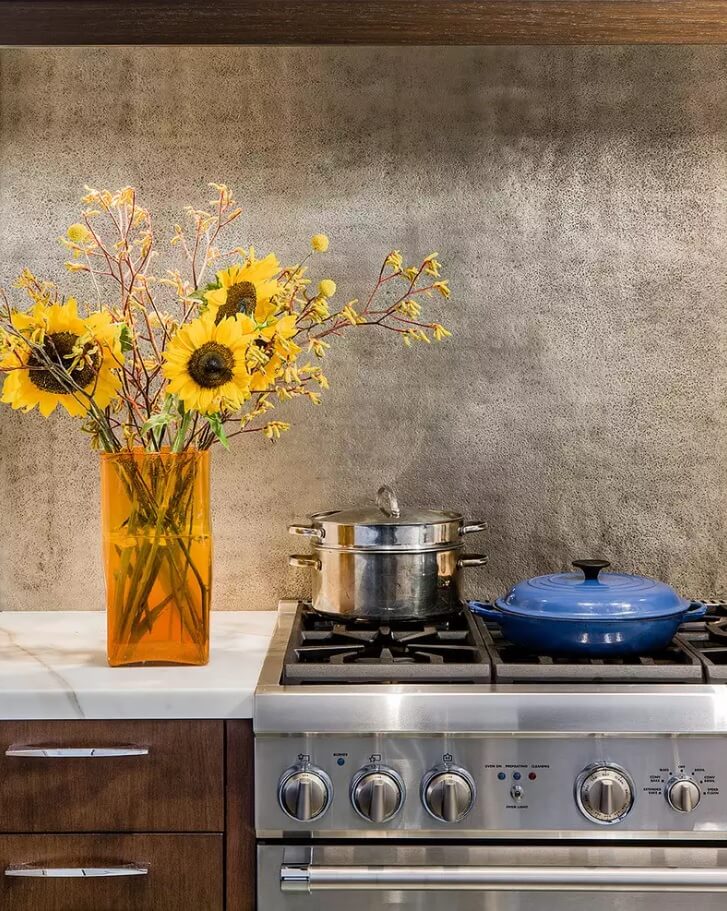 Also, stainless steel is a very ductile material. It can be easily used for backsplashes of any form and almost any pattern to be stamped on it. Therefore, it is ideal for kitchens with complex or irregular geometry.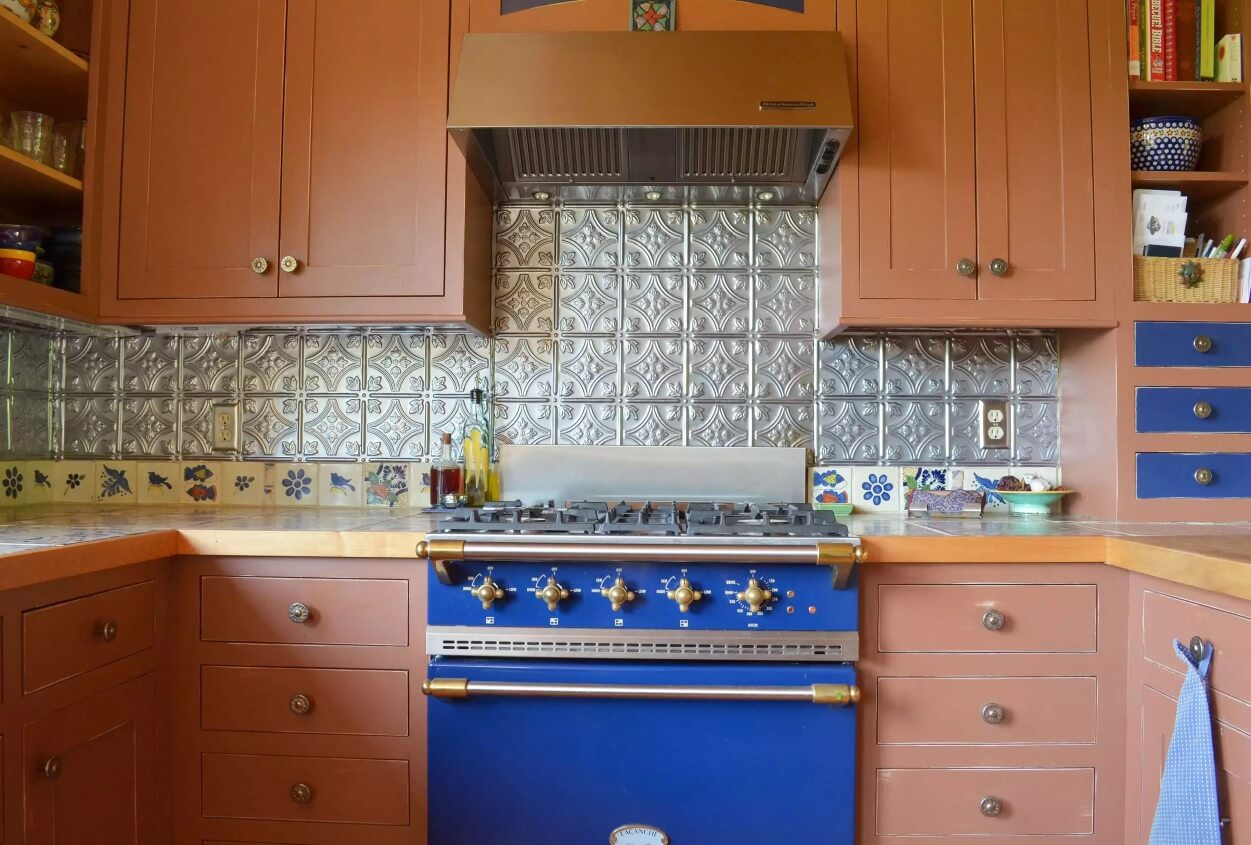 Metal backsplash reflects considerable amount of light. That makes the room visually bigger and brighter. By the way, such backsplash will certainly harmonize with other metal elements of the interior (handles, appliances etc.) You would also agree that metal splashback would look relevant even in the bathroom.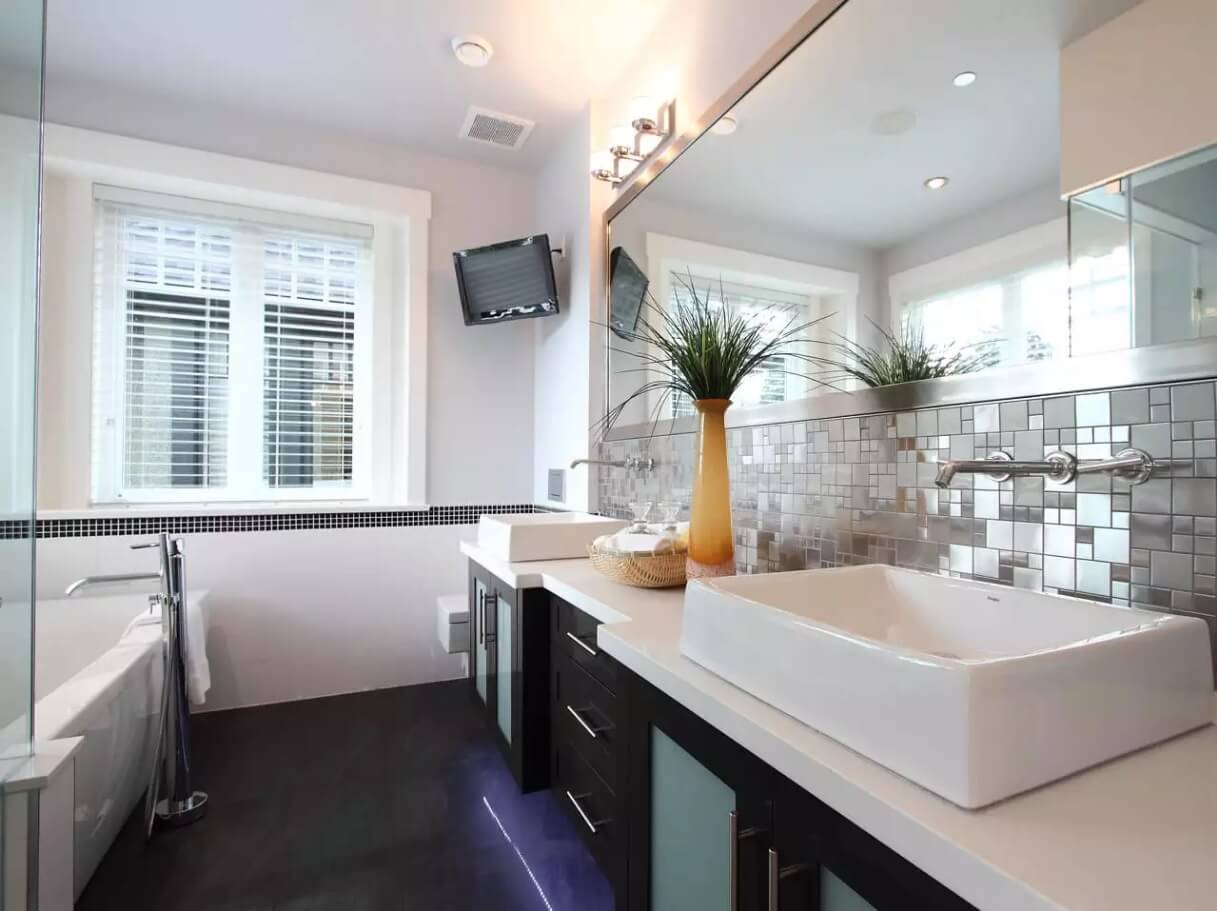 Consider the cons of the metal backsplash
The biggest claim to any metal interior decoration is it "coolness". If you live in the dull cold location with minimum of greenery outside the window, it is not recommended to use metal decor. It will make your home more lifeless and cold. But it all depends on the taste of the owner. Because you can choose for example kitchen facades in joyful colors and harmonize two contrasting materials, thus animating the whole area.
Another negative moment about using the metal backsplash relates to its low resistance to mechanic and abrasive impact. Stainless steel is rather fragile material to stand the direct hits with heavy objects or rubbing with metal brush. It is especially true for glance surfaces. So you should use soft fluffy cloth or wisp and mild detergents to keep your backsplash clean.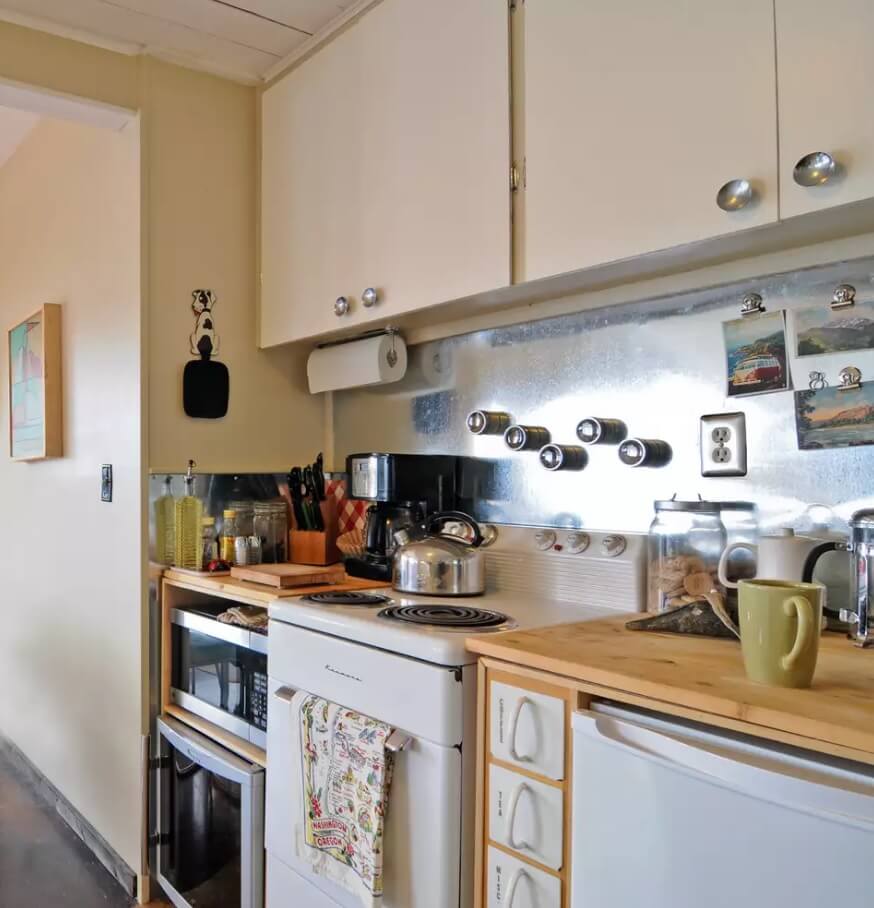 The most relevant means to clean the surface of metal backplash is the vinegar and warm water. Thankfully, these remedies are always at hand in the kitchen. Use it right after the contamination of the surface with acids of fruits as it doesn't require capital cleaning. Vinegar is ideal to rid of the fingerprints and making the steel shine.
You can even polish your metal kitchen elements at home. Dry the metal, take 1-2 tablespoons of olive oil, out it on the dry clean cloth and apply it to the metal. You'll see the positive effect right after couple of minutes!