We offer you a photo tour through the rooms of the country house which exterior and interior design is based on the game of contrasts and implementation of natural materials in a modern design.
Approaching to homeownership, at once it becomes clear that its owners are practical and modern people. Facade of homeownership with simple and clean lines, with high levels of geometricity creates  impression of robust capital structure not without a certain amount of visual appeal.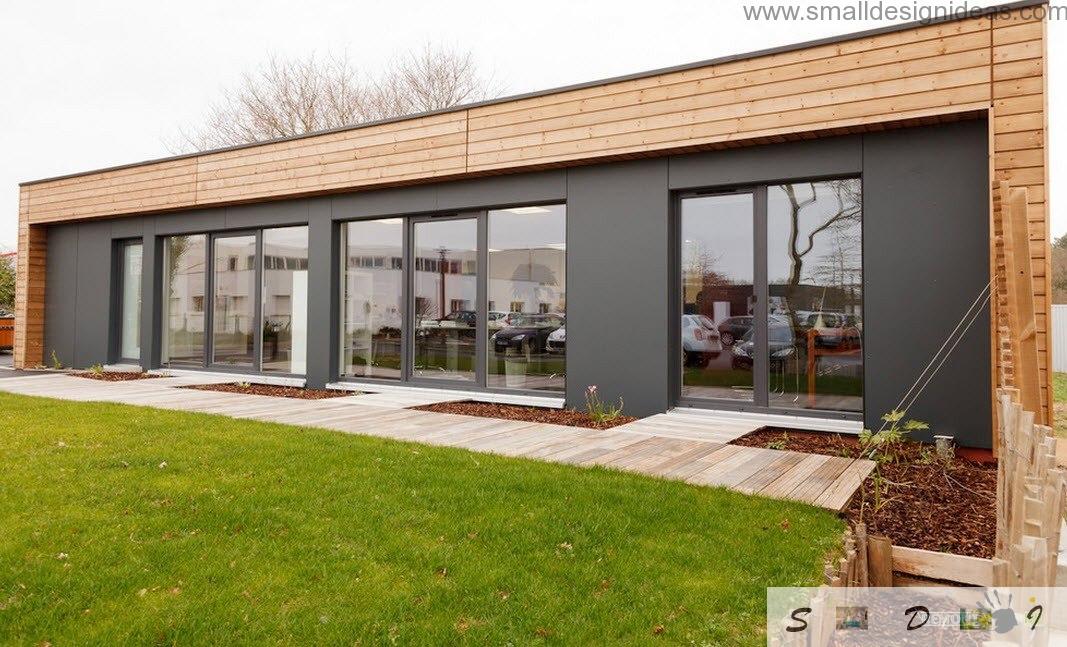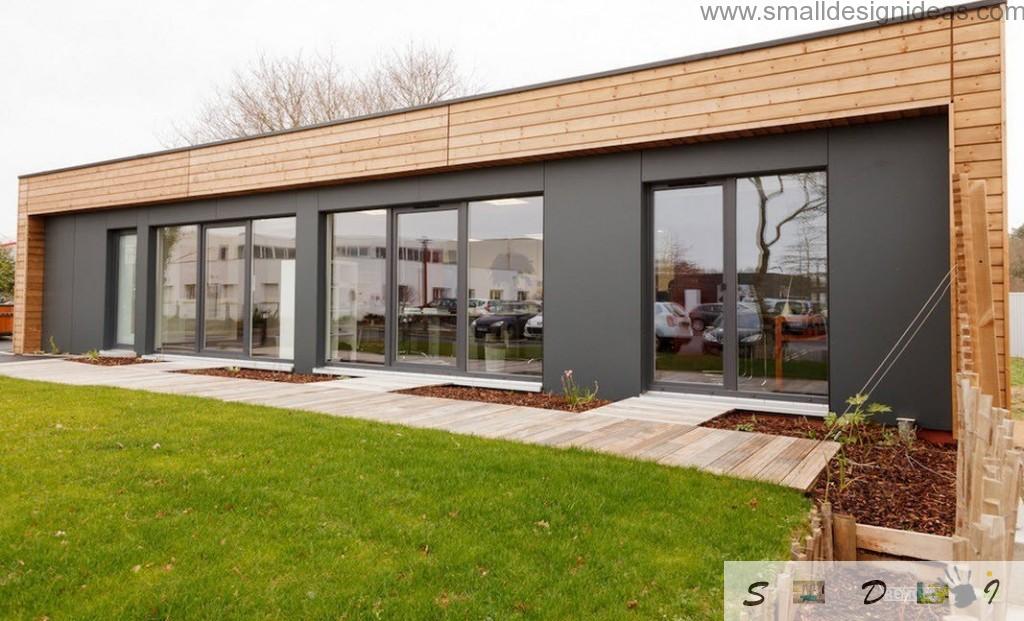 In modern buildings of private homes a combination of glass and concrete is increasingly dominating. On the other hand, the partial wooden lining can add to the "industrialism" of the building facade a touch of heat, suburban life motive.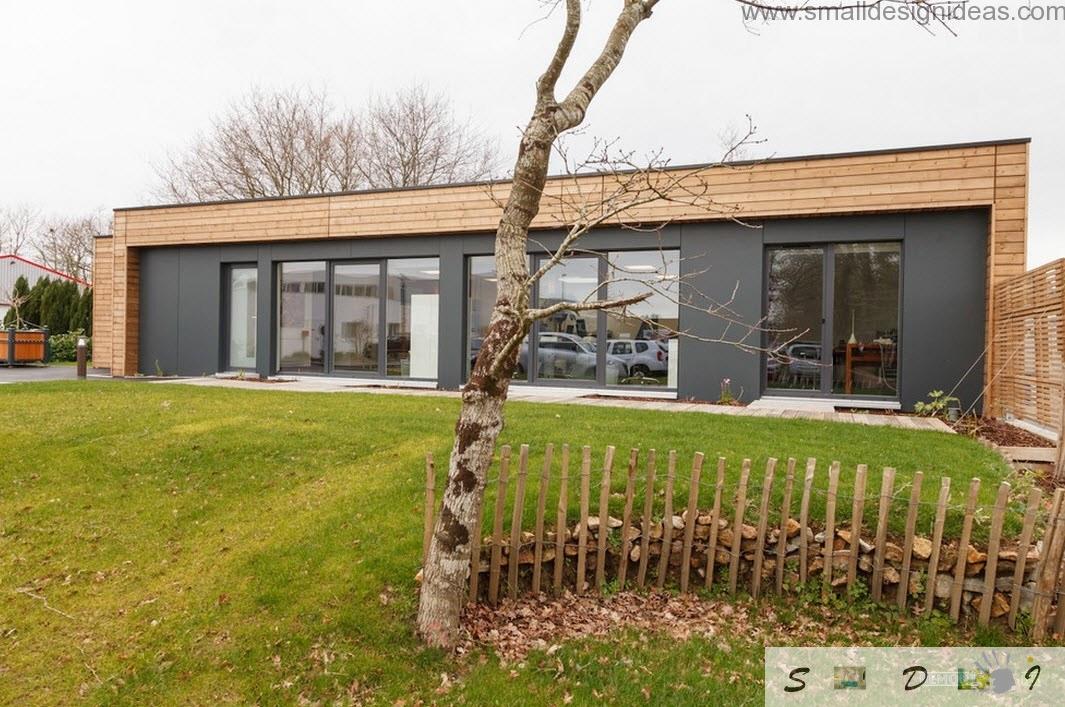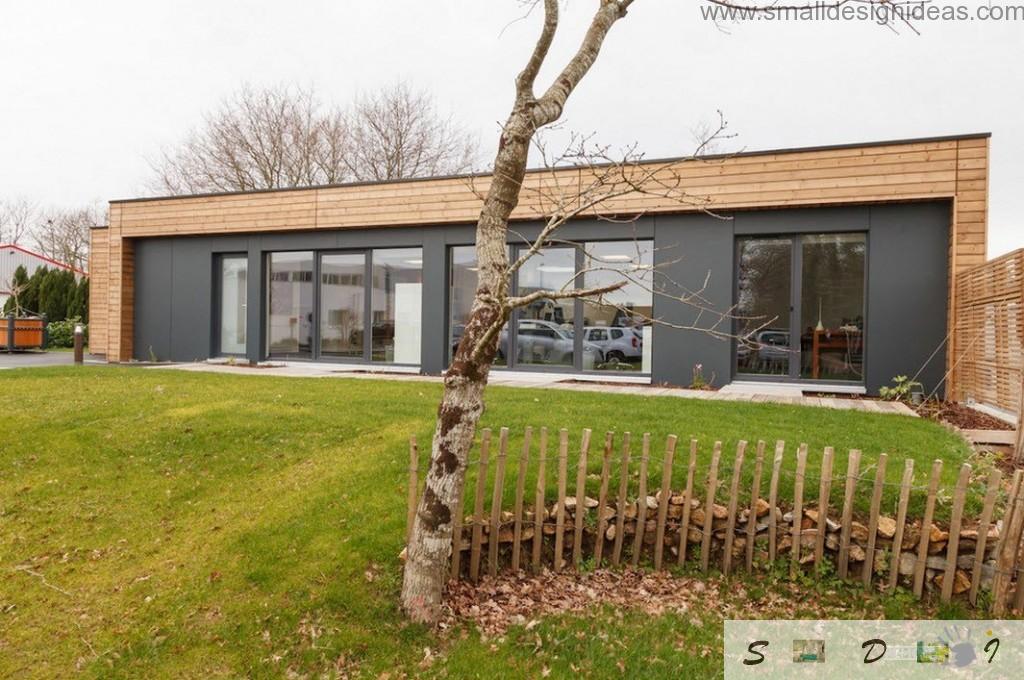 Large panoramic windows and doors not only provide an interior space with sufficient natural light, but also make exterior home ownership easier and even non-trivial.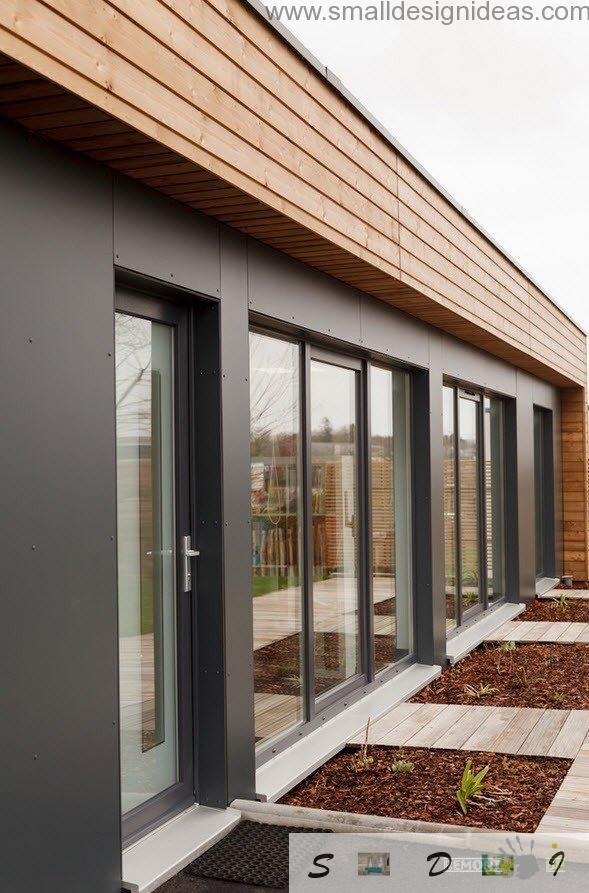 But let's take a closer look at some of the interior rooms of the farmhouse. Let's start our tour with a small living room that combines the functions of a common lounge and dining room. Modern style country house interior design mainly consists on the spacious room, decorated in a neutral color palette, perfectly lit thanks to the large glass windows and doors, which take place almost from floor to ceiling. Contrasting dark window frames and doors have become a decoration of one of the white walls of a large room. The use of stoneware tiles as flooring is a very practical solution, given that the living room has a terrace and backyard.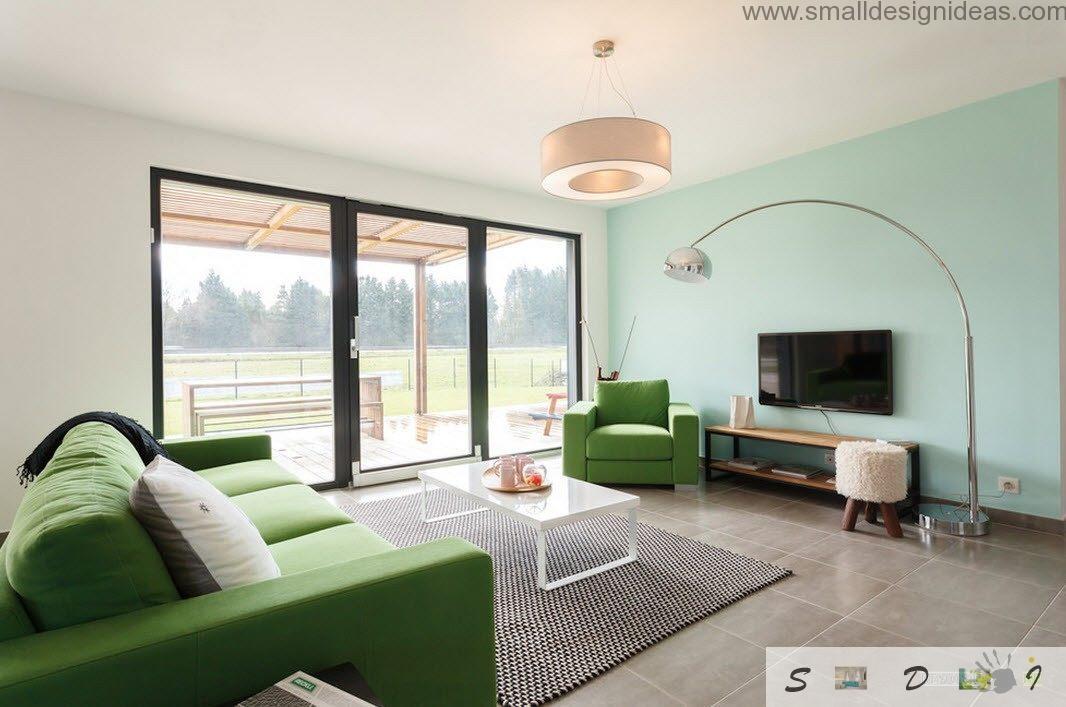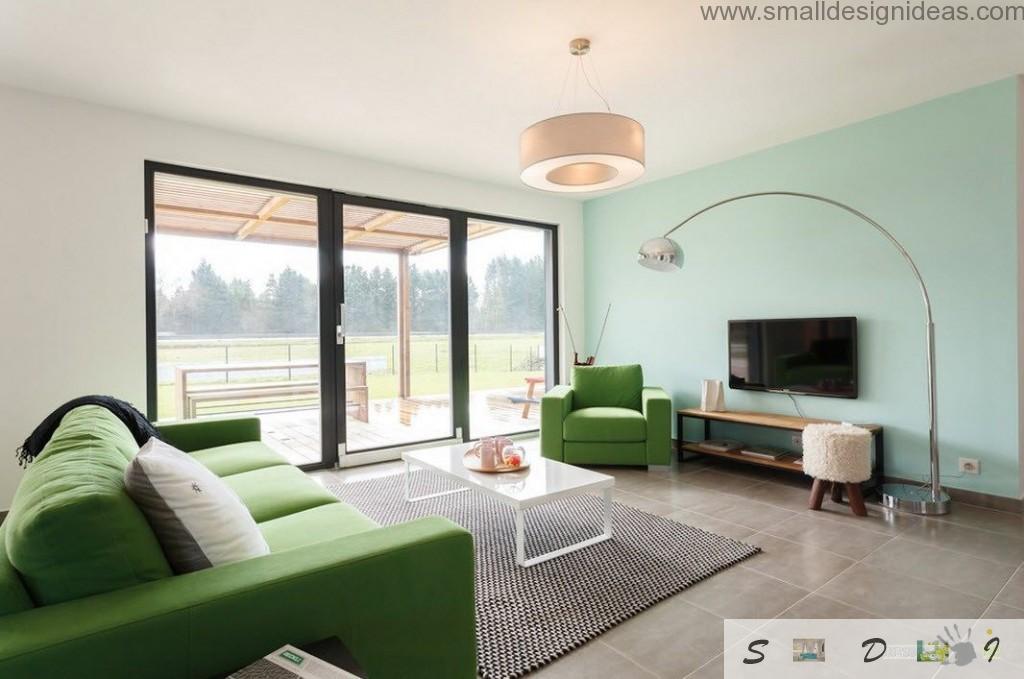 Soft furniture with upholstery of saturated color of fresh grass became not only the component of the recreation area the living room, but its contrasting design element. Its simple shape and sleek design provides an opportunity to focus on the beautiful color. Several sources of artificial lighting is used in the living room. Hanging lamp is on each segment of the room. But near the TV-area have been organized a reading corner and for local lighting here was installed arched floor lamp with a chrome surfaces.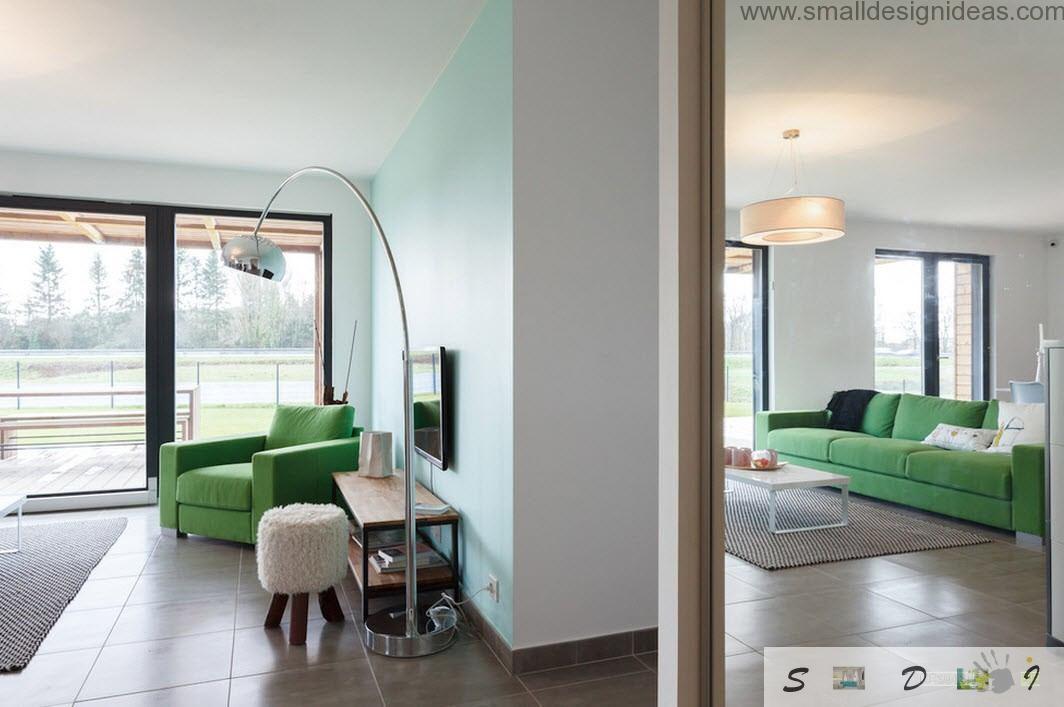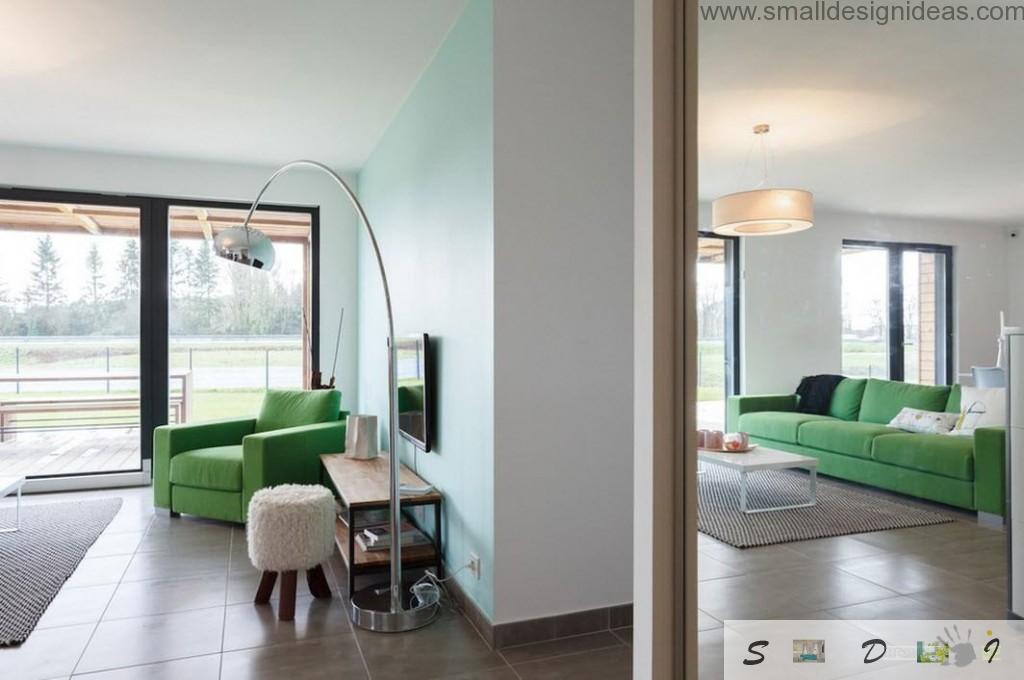 The concept of creating a design in Art Nouveau style is always based on the convenience and comfort, coupled with an attractive appearance. In the cozy atmosphere of a country house it's always a practical environment, pleasant color palette, furniture and decoration which does not cause trouble to owners, simple to operate with and maintain. For example, a simple design coffee table and carpet which was very easy to care for because of its artificial origin.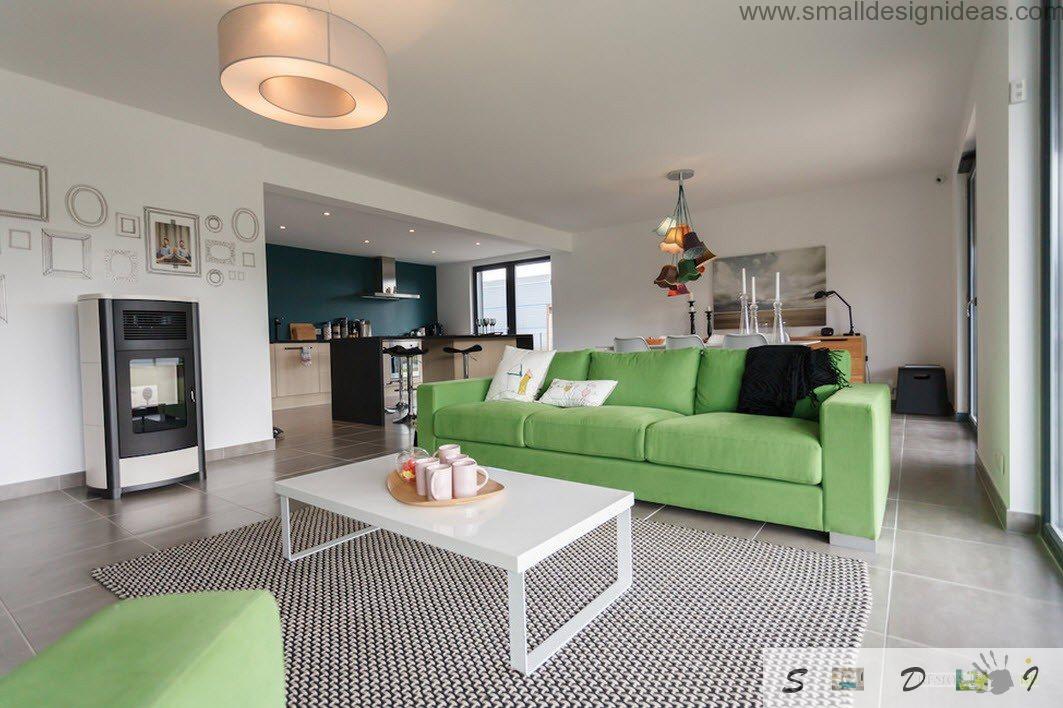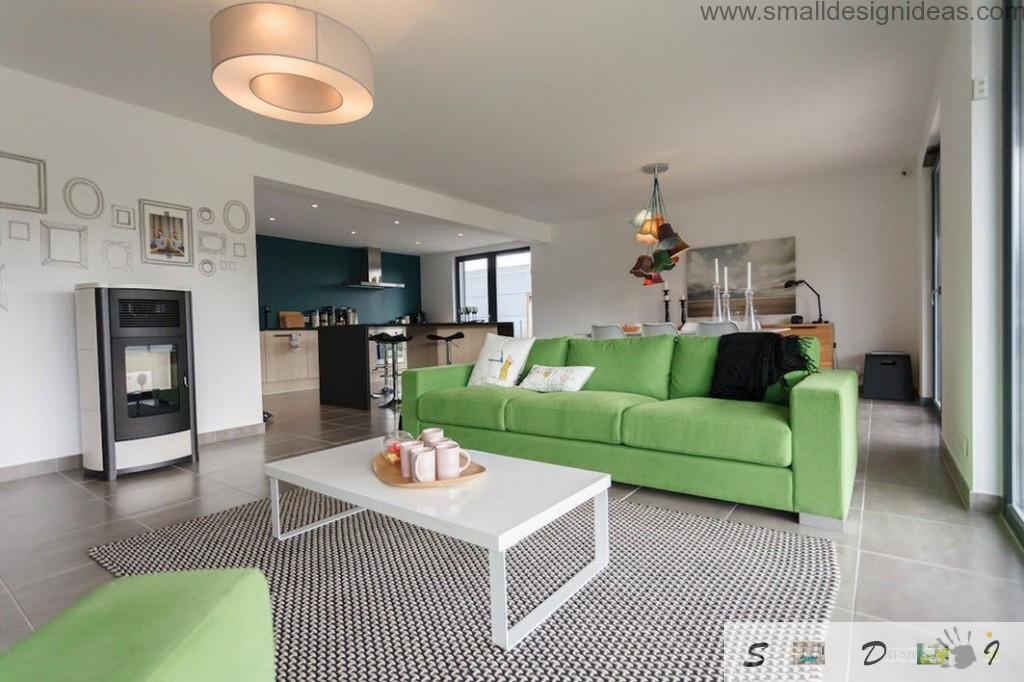 But even in a simple and somewhat minimalist environment it is important to pay attention to the little things, that make up the overall impression of the room. Dishes and coasters, textiles and cushions – such additional items of interior are carrying not only functional load, but also serve as decoration of the overall space.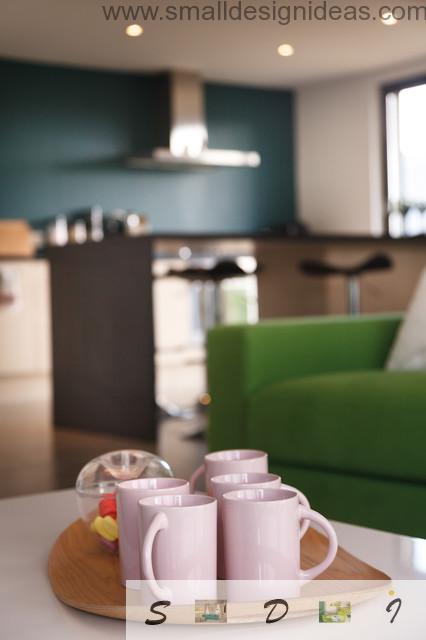 The original composition of painted frames for photo was decoration of one of the white walls of the living room. Such minor deviations from the style traditions, using of your own imagination, allows you to create not only unique, but also a personalized design space.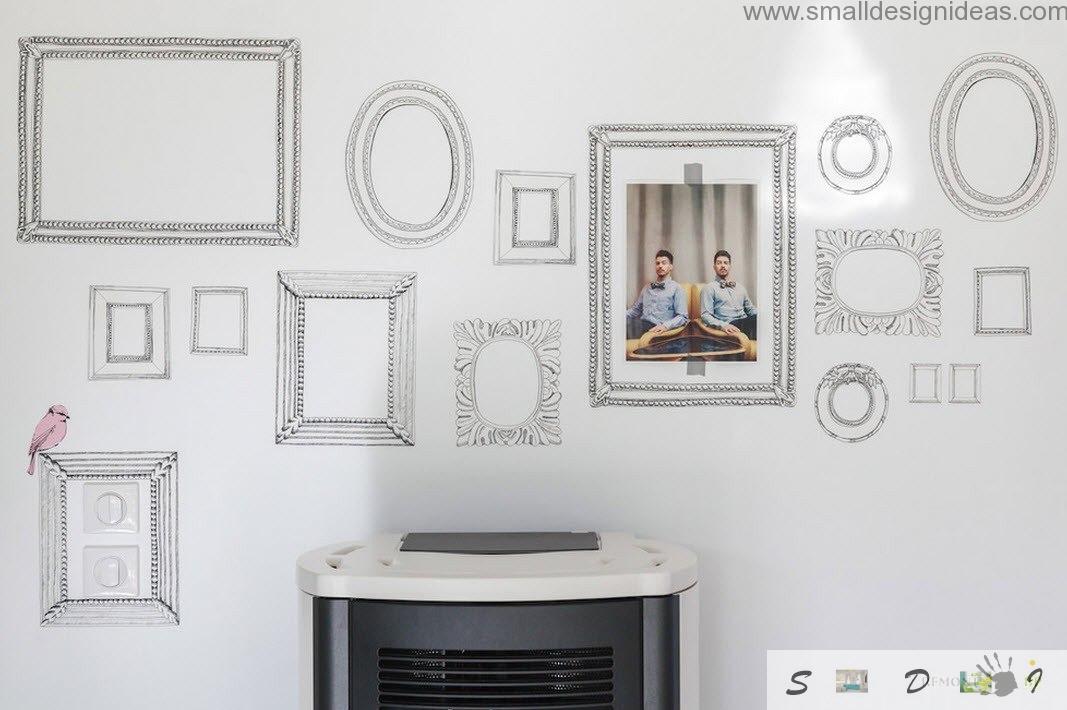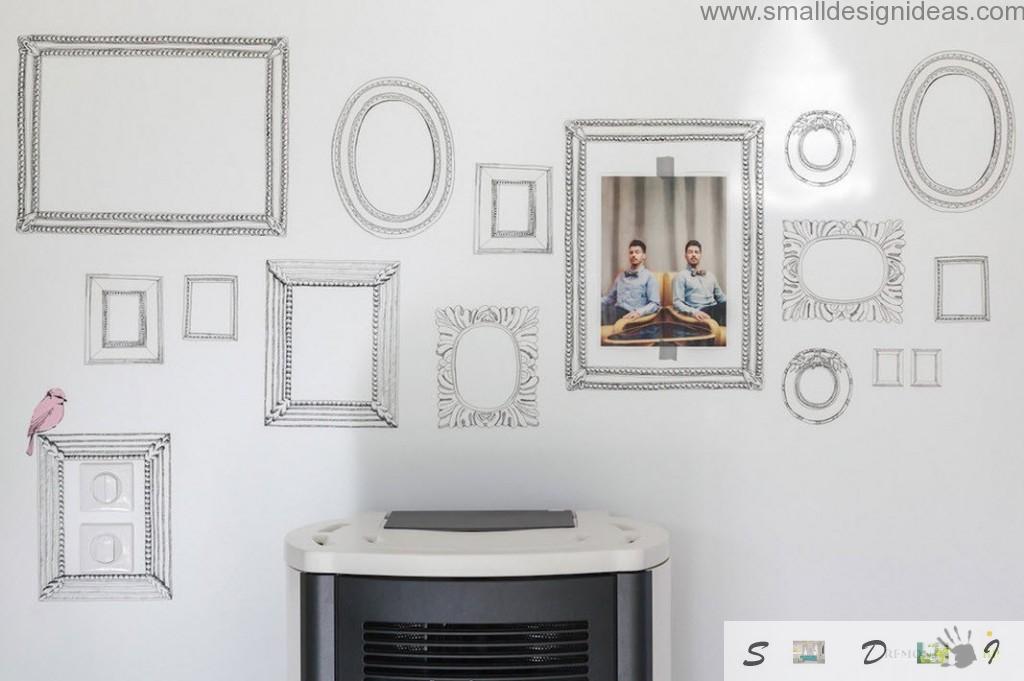 With just a couple of steps from the recreation area of the living room, we find ourselves in the dining segment. Lightweight, white dining table on a metal frame and chairs with seats of the same shade and wooden legs have finished the composition of dinner group. In addition to the carpet, which allocated the dining room area, this room has functional segment and a lighting fixture – a hanging chandelier of unusual design consisting of several shades in floristic style, made of different shades. This designer lighting fixture become a real godsend for the dining area and its highlight as well.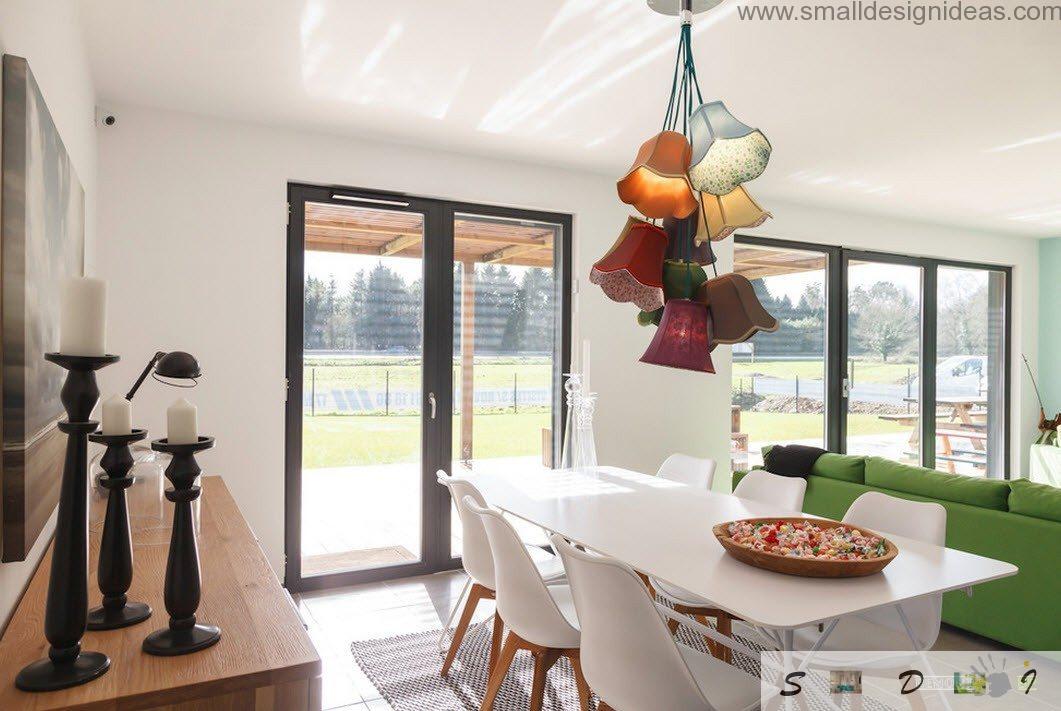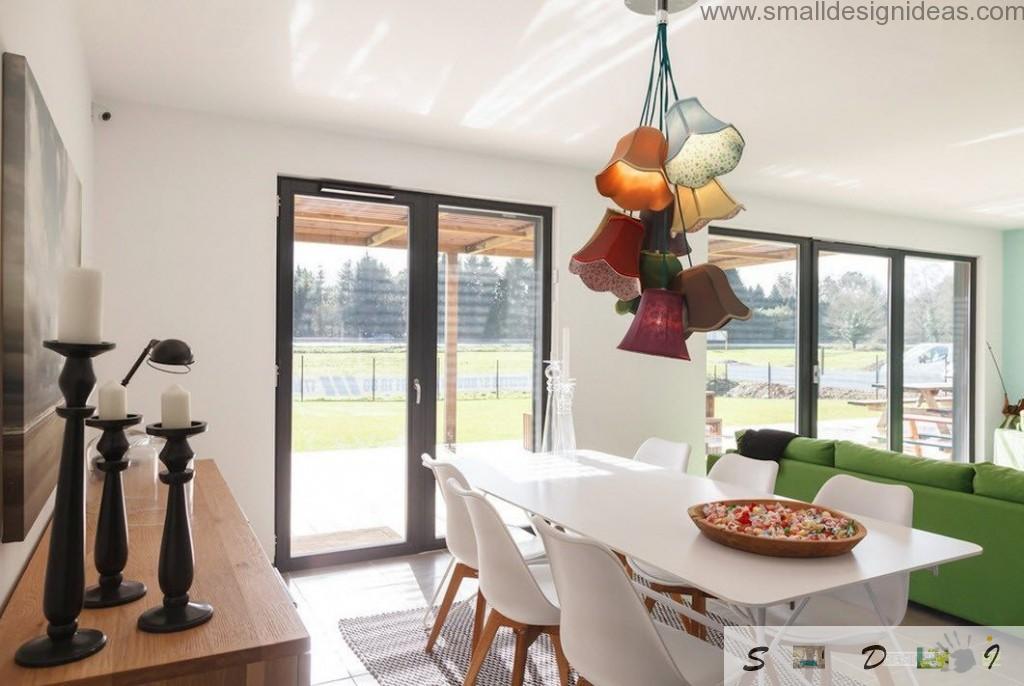 Flooded with natural light space with a snow-white trim seems to be even more spacious. But even pastel tones become accents against this background, not to mention the dark kind of windows and doorways, candlesticks on a wooden dresser and a small chair of original design.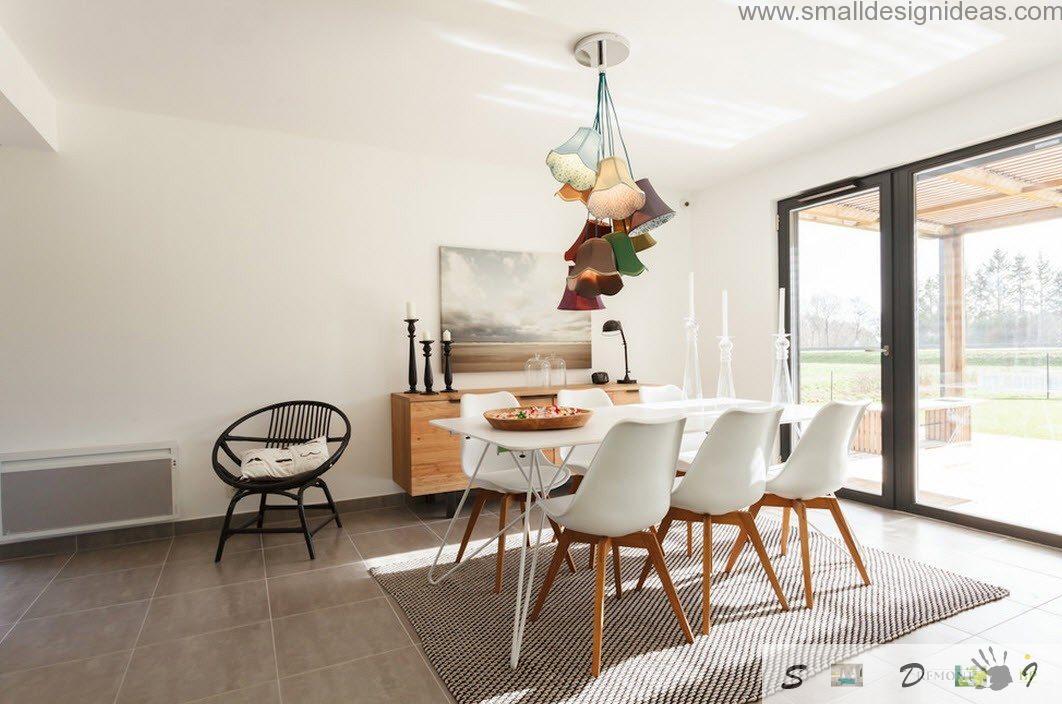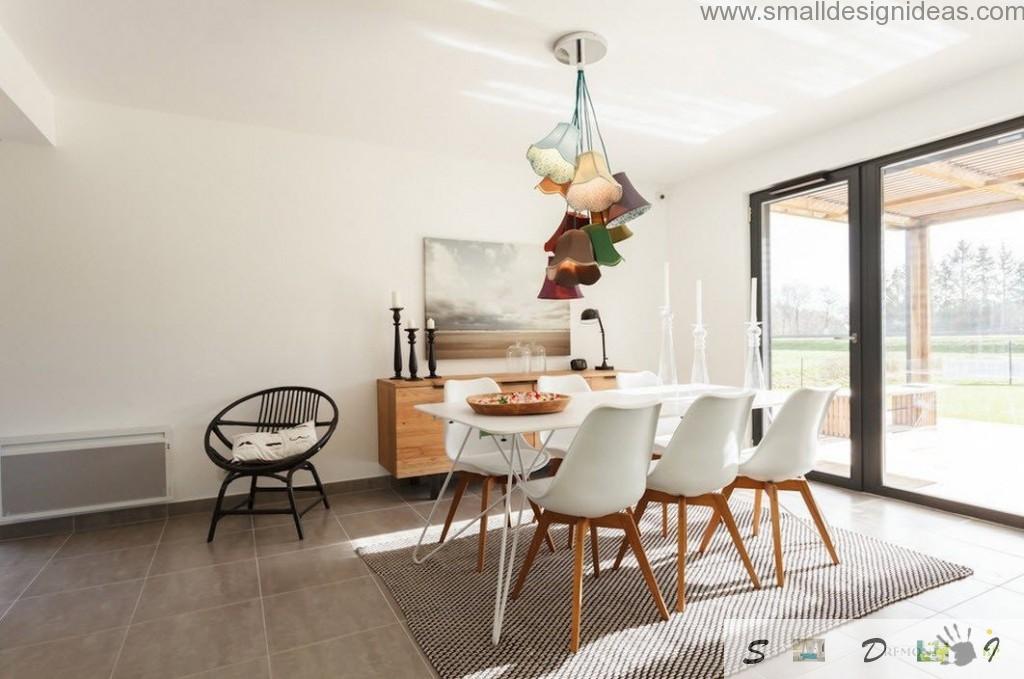 To get to the kitchen area, you just need to take a few steps out of the a living room premise combined with a dining area. The spacious whitewashed room only one wall at the working surfaces of kitchen space designed as accent one in a dark emerald color. Due to the impressive wall-to-wall size of the kitchen ensemble and island accommodation, it was managed to place all the necessary appliances, storage and work surfaces without the use of top-tier kitchen cabinets.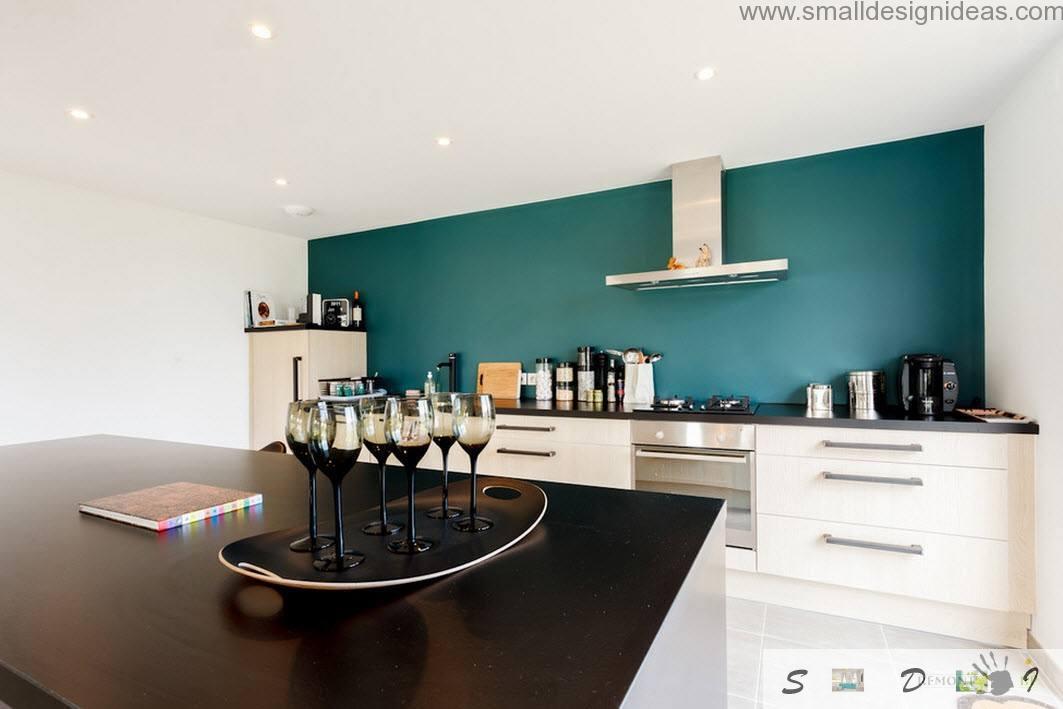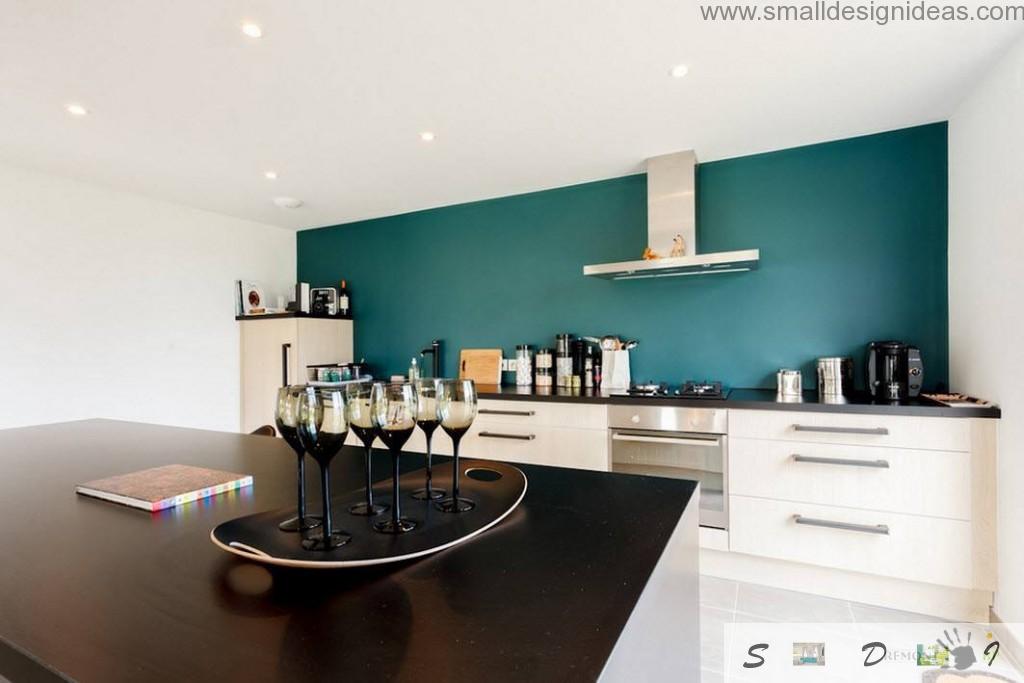 The combination of bright facades of kitchen cabinets and dark countertops has not only brought the contrast in the kitchen area, but also added some dynamism to environment.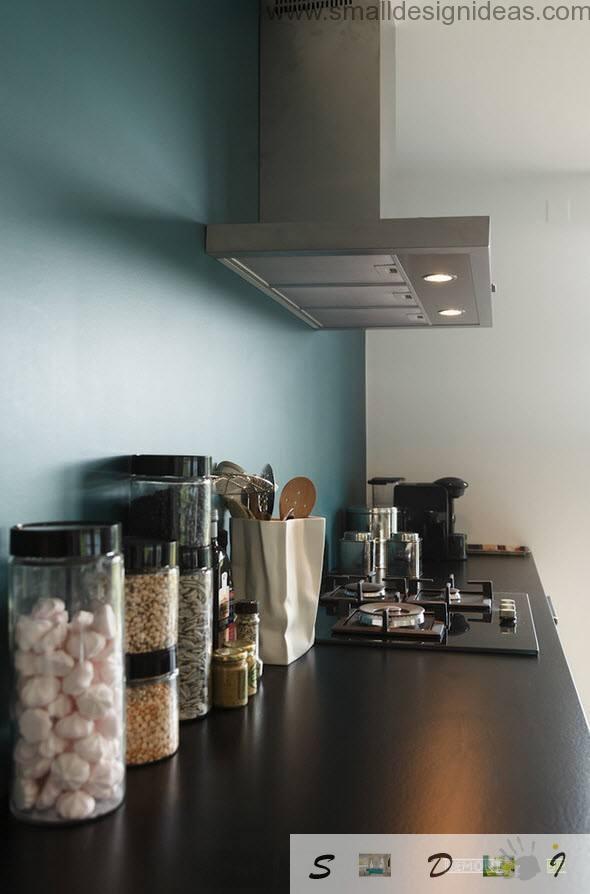 In the back yard of suburban home ownership there is an open wooden terrace with comfortable and practical dining areas for the organization of outdoor dining.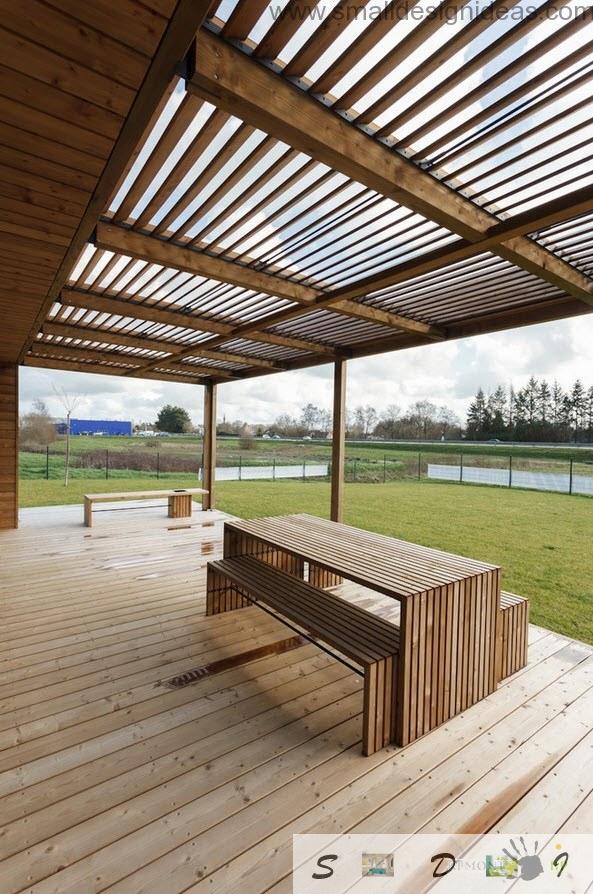 Another composition of wood as a roomy table and benches attached to it. It can serve for both leisure dining group or place of board games at the open air.