Are you ready to transform your home office? If so, use the home office decorating tips that are found here and you won't be disappointed.
Contents: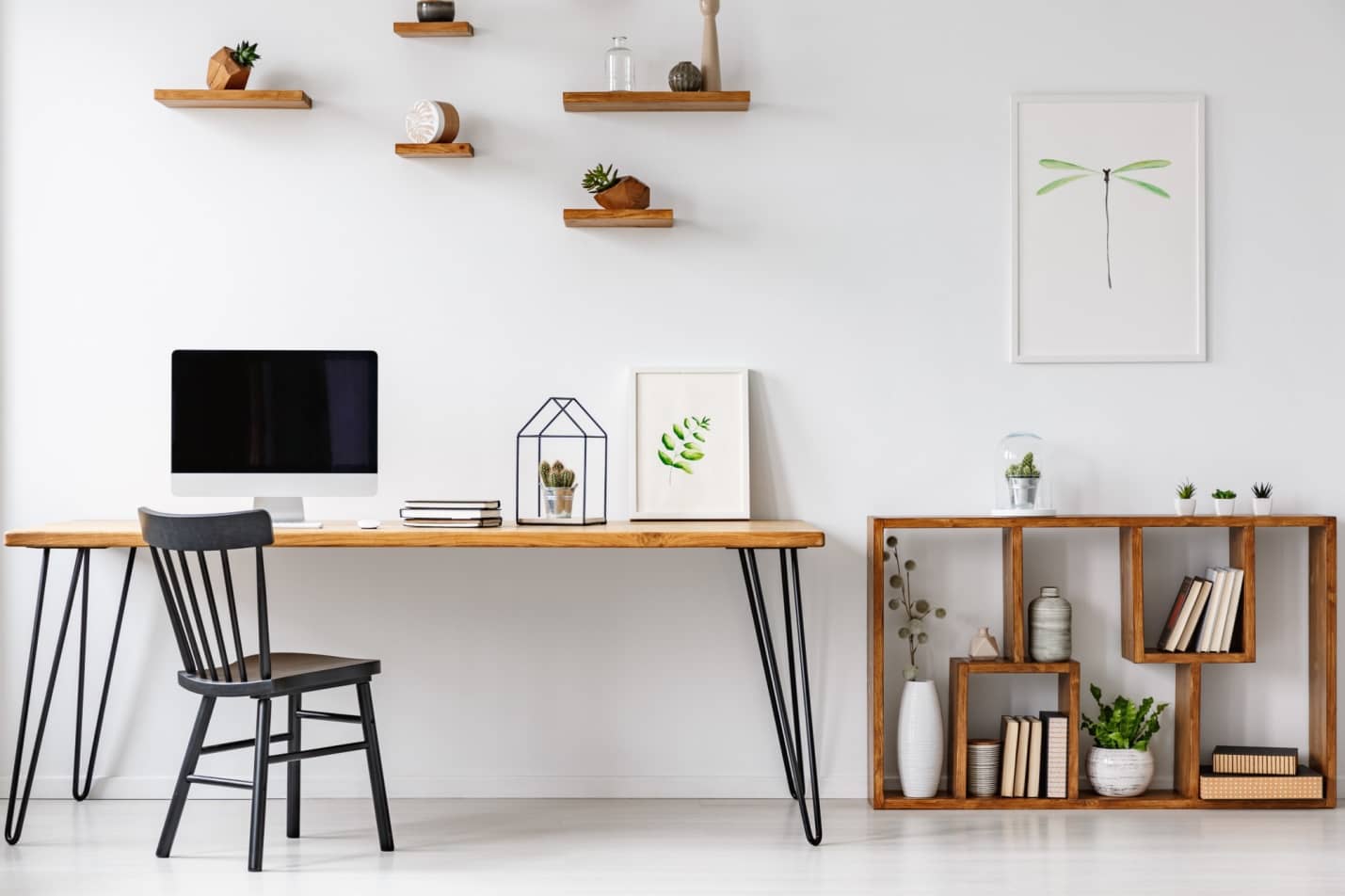 Home offices have always been a must for busy professionals, but with the rising popularity of telecommuting, they are more necessary now than ever.
Over 3.7 million employees now work from home to some degree. It's set to rise as telecommuting is becoming more profitable for both employees and employers.
With that, however, comes the need for a dedicated working space – and not a simple space. You have to decorate it in a way that you will love working there.
Take a look at our home office decorating ideas below and fall in love with your office.
The most important home office decorating idea we can give you is about organizing. Even if you don't have the nicest furniture pieces and you can't afford to add décor items, your home will look nice and clean with proper organization.
Get enough storage space for everything you need to put in the office. Want to display your awards and certifications? Dedicate a shelf or space in the wall for them.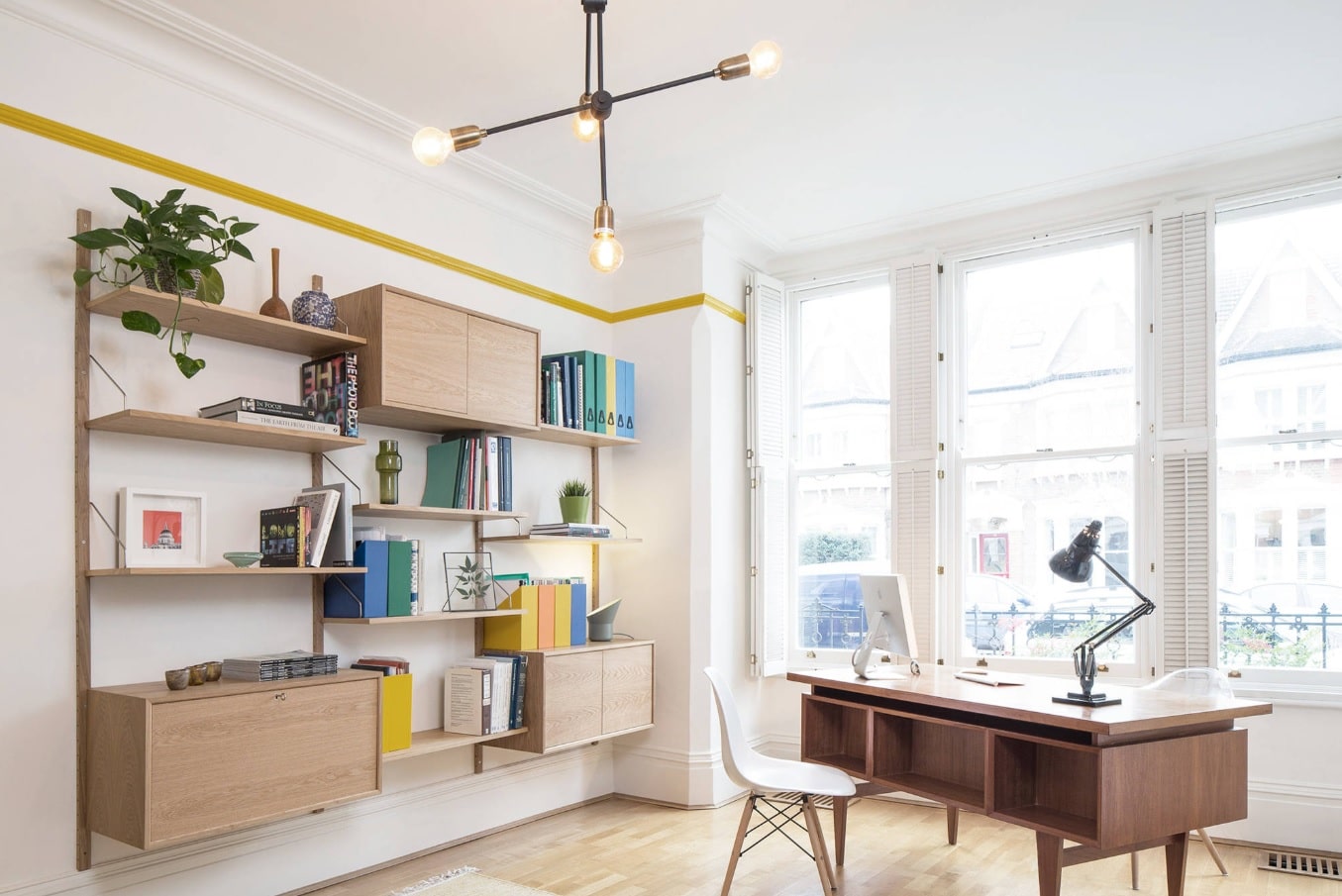 Your tools and materials should be inside drawers, books in cabinets, and pens out of sight. Buy more storage space if needed to keep your desk free of clutter.
You have to keep in mind your habits while decorating, though. If you file away things quite a lot, get a filing cabinet and place it near your desk.
Do you use your printer often? If so, place it somewhere you can access it without difficulty.
You have to make your home office design work for you, too.
The cords of your devices contribute a lot to clutter in your home office. Even if you have a clean, well-decorated space, the sight of cords will take away its beauty.
If you can't hide it, attach it to the edges. For the cords on your computer, for example, hook them to the edges of the desk and then to the legs. To keep them off the floor and out of sight, use a decorative box and hide the extension cord inside.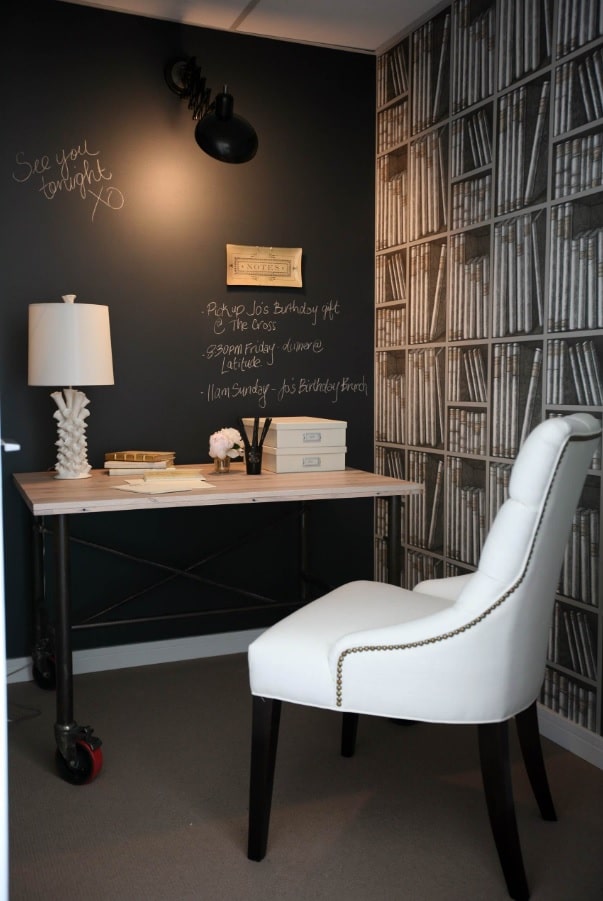 Sometimes, you don't need to hide them, but you have to make sure they look neat. To do this, position them in straight, parallel lines and use hooks to attach them to the surface. You may even make an artwork out of them if they're long enough.
If you have the budget for it, have a contractor install more electrical outlets in the room. Your cords won't have to cross the room to get to an outlet ever again.
As much as possible, get a room with at least one window to let natural light in. This study found that natural light improves the health and wellness of workers. Employees working in a room where the sunlight flows in are much healthier and more productive than those confined in a stuffy space.
If you don't have much choice in rooms, get lighting that mimics the color of the sunlight. LED lights can produce blue light, which is the color of daylight.
Some lights can also change to warm amber later in the day. Many offices use this to help their employees maintain their natural circadian rhythm.
Get a smart light, if you can, that has this technology to help you combat the bad effects of artificial lighting.
A home office is still a part of your home, and although we recommend staging it to look like an office for optimal productivity, we also recommend keeping its design consistent with the other parts of your home.
Have a modern French theme going on in your house? Use the same theme when designing your home office. If that's not possible, place some modern French elements for it to have something to tie it into the rest of your house.
It should feel like an office that fosters productivity, but it should also still feel like home. This will make you still comfortable enough to spend long hours in there.
Make sure your home office space has something you love – something that screams "you." Paint a wall your favorite color or get a beautiful wallpaper with your favorite pattern. Choose decorative items with that color or get a seat in that color.
If you like being cozy, drape a fur blanket over your chair. This is a simple trick to upgrade the visuals in your home office.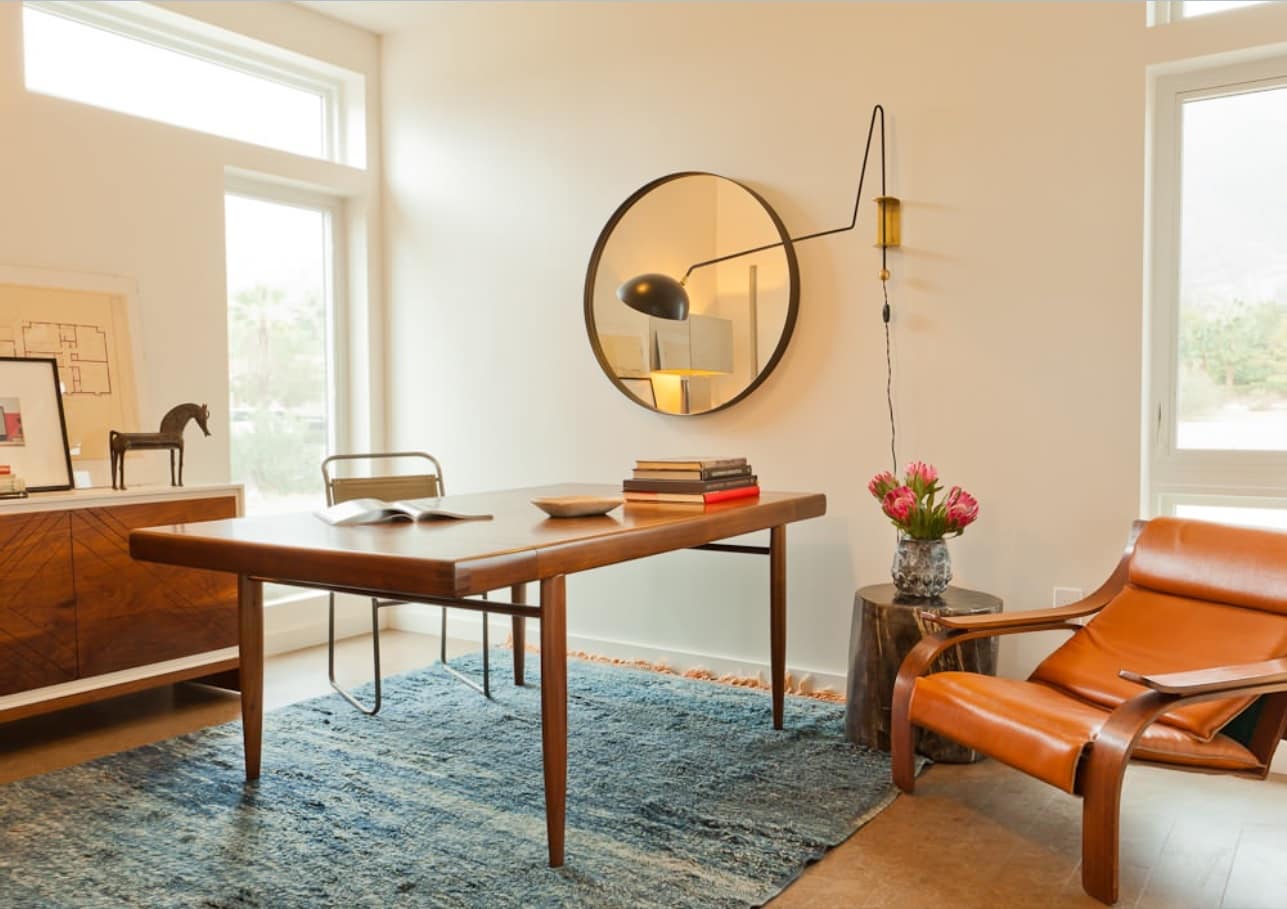 Other home office ideas that will help you make it your own include displaying one or two of your favorite stuffed animals or characters. Place pictures on the wall or your desk – pictures of you, your family, your pet, or that drawing your child did of you.
Make it "you" – working in a space that makes you happy and unrestricted will bring out your best performance.
The floor space isn't the only space you have in the room. Be smart and make use of the abundance of vertical space in your home office.
Buy tall cabinets and create vertical storage. You can even DIY a shelf where you can put additional items, such as books and small plants. Some DIY projects will also allow you to hang cups and other containers for your smaller items.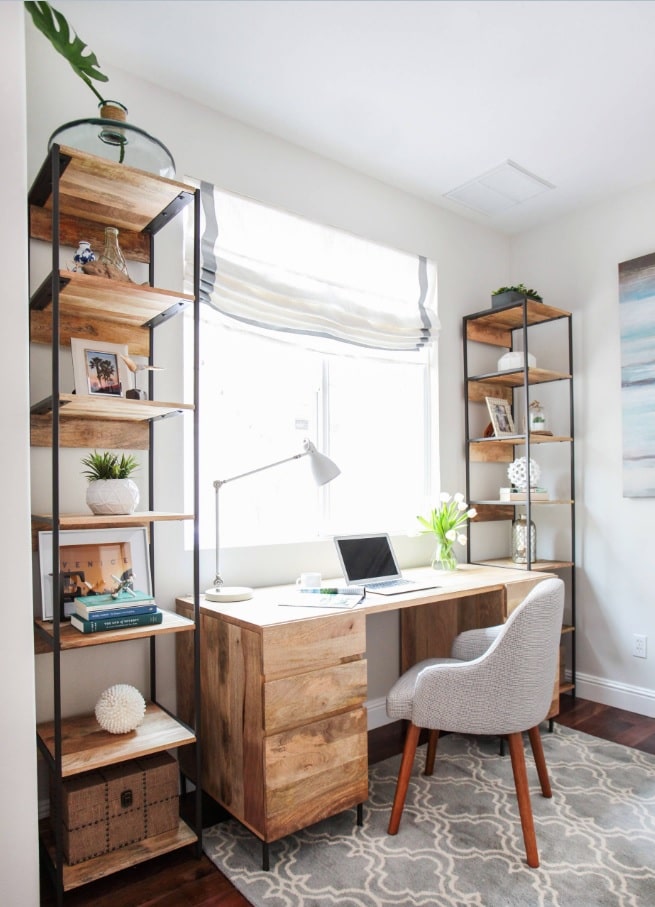 Instead of putting them on your table, hang your awards on the wall. Hang your calendar, as well, along with your clock, pictures, mirror, and more.
If you have open shelves, buy baskets where you can put your files and other items. In this way, they don't look like clutter and you still have easy access to them. Open shelving also looks great if you have great organizational skills.
It would be nice to have a huge home office that can house all our equipment, furniture, and décor. However, we often don't have much choice in that matter.
If you have to make do with a smaller space, choose furniture pieces that won't take up all the space. Follow our tip above about maximizing your vertical space. Make sure every item you have has a permanent home, even the ones on top of your desk.
Choose a less bulky table or have one custom-made so that it will follow the shape of your walls. Some custom-made furniture designs have the desk and the cabinet in one. This creates a seamless look and is a huge space-saver.
For comfort, choose an armchair over a loveseat. But unless you're expecting to entertain clients in this office, it's not always necessary to have an extra chair.
Make sure your office chair is comfortable and ergonomic, though. This blog will walk you through the different chair designs.
You'll spend most of the day in front of your desk; what's beyond it can also impact your mood and attitude.
It can be depressing to have a blank wall staring at you every time you glance up at your desk.
If you have a beautiful view outside your window, why not position your desk and chair in front of it? Every time you want to relax your eyes, you can lose yourself in the view outside for a while.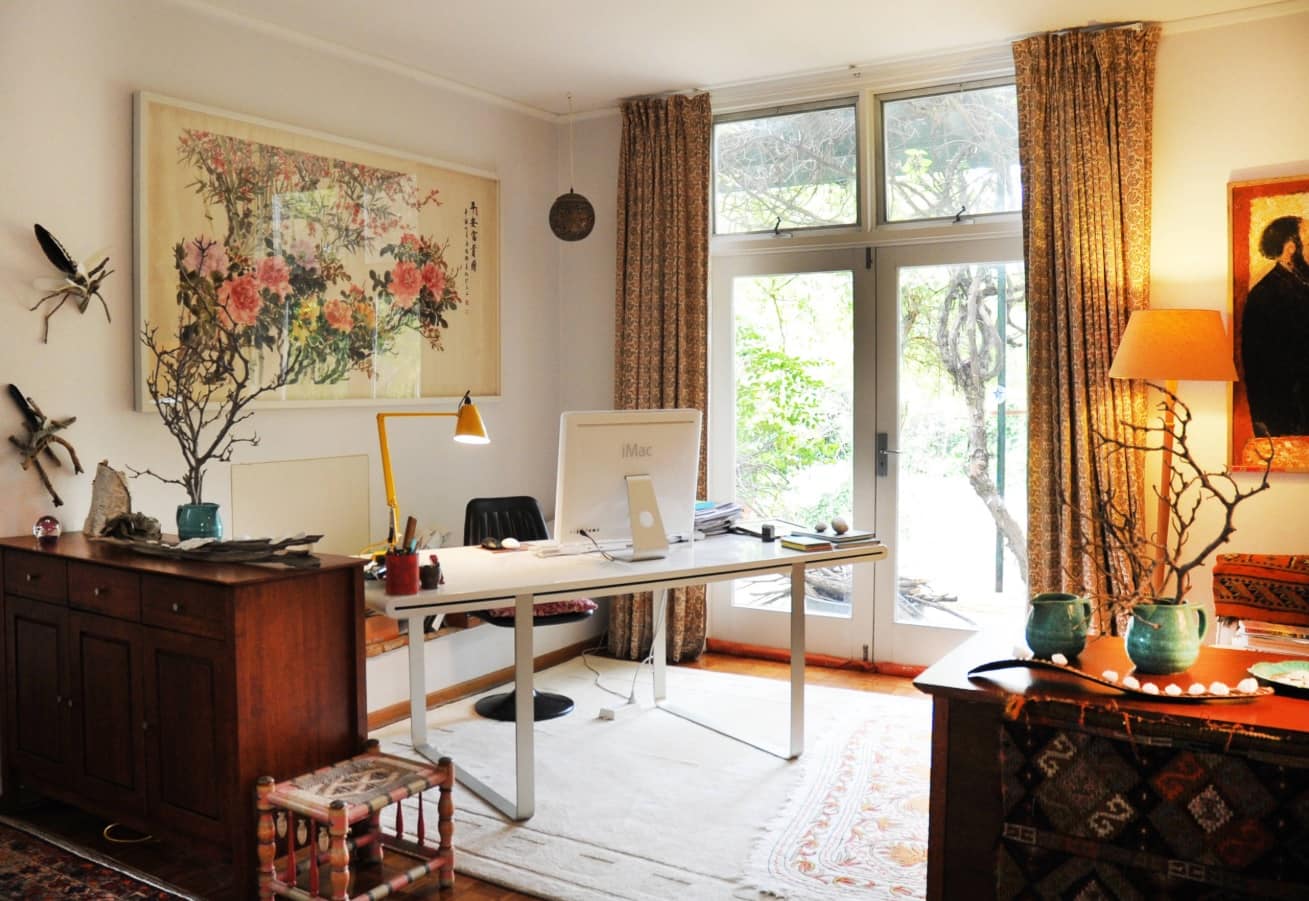 No windows or no breathtaking outside views? No problem – get a beautiful painting and hang it on the wall opposite your desk. Anything that would bring you joy, like plants, or pictures, or some other décor piece, place it there.
If there's a door there, always close it so you'll only see the artwork behind the door. This will also allow you to avoid any distractions.
If you like seeing the hallway, however, make sure to keep it clean.
Did you know that green offices see more productive and healthier employees? Those who work in a green environment get a 26% cognition boost, giving them a clearer mind for decisions. They also skip work less and sleep better.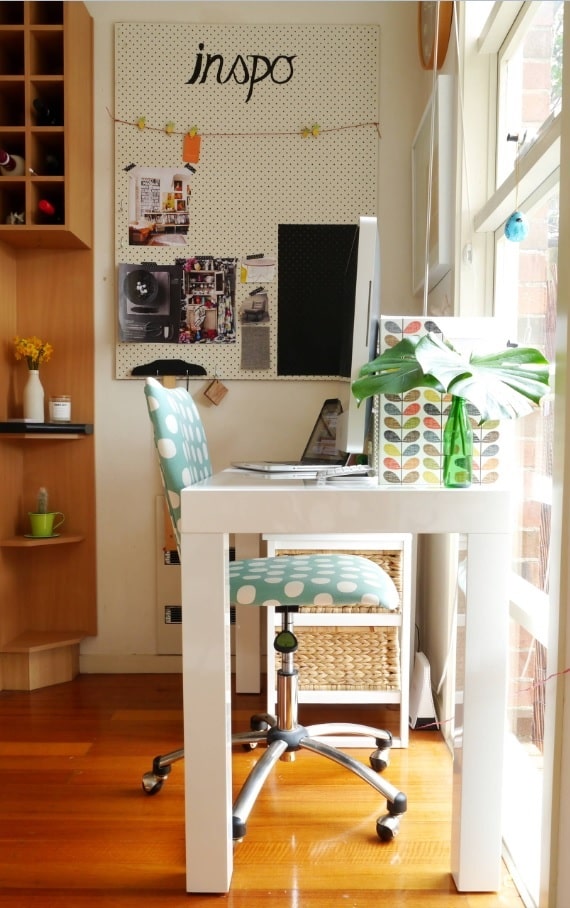 You can have a green environment in your home office, too. All it takes are a couple of plants on your desk, on the floor, or on your wall. With the outbreak of the COVID-19 at the beginning of 2020 this recommendation achieves some extra value with limitation of your movement. This and all the other advice is great to keep you focused when working from home.
If you don't have what they call a green thumb, start with low-maintenance indoor plants. Most succulents are great at not dying, but if you want leafy plants, spider plants, rubber trees, and Dieffenbachia are good options. Pothos are great indoors, too, because of their air-purifying characteristics.
Place them where you can always see them while sitting at your desk. The green color relaxes your eyes, while the sight of nature clears your mind. They provide great visuals to any space, too, no matter which theme you have in the room.
Transform a Room with These Home Office Decorating Ideas
Follow the home office decorating ideas above and you will have a home office you will love working in. If you can't find a job you love, find a space you love working in, at least.
If you liked these home office decorating tips, read our other guides today, and find more useful ideas.