Did you know household cleaners contain harmful ingredients? If you want to learn how to make a basic floor cleaner at home, we can help.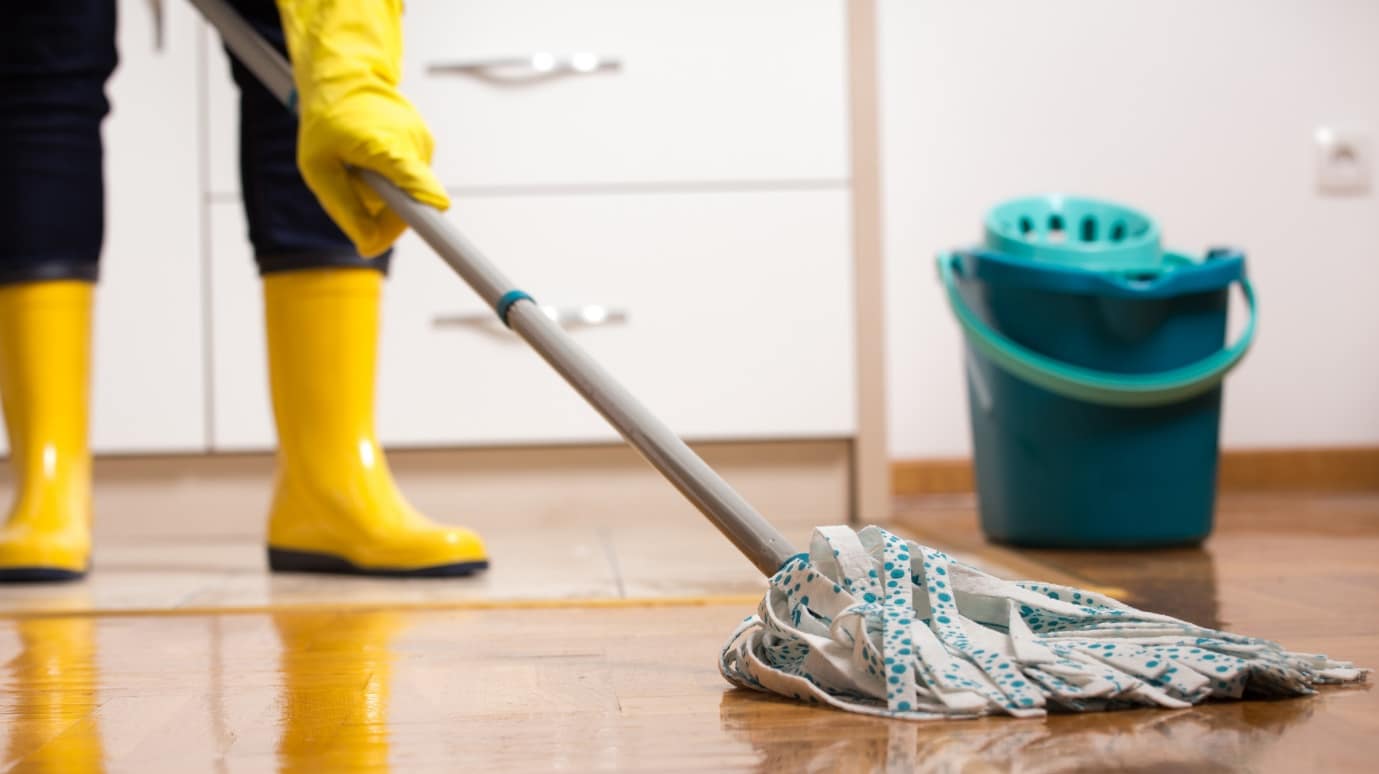 In this guide, we'll go over the best DIY floor cleaner. Try our different recipes until you find your favorite one.
Want to learn more? Keep reading.
Create a Basic Floor Cleaner
If you want a basic cleaner with two ingredients, we have the recipe for you. The basic cleaner's made from vinegar and distilled water. You'll need four ounces of vinegar and one gallon of distilled water.
Mix the vinegar and water in your mop bucket. Make sure you stir it well. Add a few drops of tea tree essential oil or lemon essential oil if you want.
When you mop the floor, make sure you dip the mop into the cleaner but wring out the excess liquid. Clean the floor in sections, wringing the mop out and dipping it as you go.
When you use a damp mop, the floor won't take too long to dry.
Natural Multi-Purpose Cleaner
Sometimes, you might need a tough cleaner that will cut through grime and dirt. You can use this recipe on different surfaces around your home.
You'll need four cups of warm water, one teaspoon of Castile soap, and five drops of essential oil.
First, you'll want to mix the essential oil, water, and soap in a spray bottle. Shake the ingredients together.
Next, you'll want to spray the solution on an inconspicuous corner to make sure it won't damage your floor. If you have hardwood floors, don't skip this step.
Bug Repellent Floor Cleaner
During the warm months, pests and bugs can creep into your home. You might have spilled something in your kitchen, and ants will come to the area.
Before getting the insecticides, try a homemade cleaner first. You'll need two ounces of dish soap, two ounces of Castile soap, and one gallon of water.
Then you'll add four drops each of lavender, peppermint, orange, and pine essential oil. Next, you'll add two drops of lemongrass, cedarwood, and tea tree essential oil.
Combine your ingredients in a bucket and mix it well. If you have wooden floors, you should replace the dish soap with Murphy's Oil Soap.
Once you mix the soaps and oils, pour in your hot water. Dip your mop into the bucket and get rid of excess water. Wipe the floor beginning at the farthest corner.
The essential oils will repel the pests and insects. The fragrant combo of oils will make your home smell fresh.
Don't forget to buff the floor. Use a dry cloth to polish your wooden floors and restore the shine while getting rid of excess oil.
If you have water damage on your floor, learn about hardwood floor repair water damage.
Disinfect Your Floors
You may have disinfected your floors with products like ammonia or chlorine bleach.
Create a natural alternative. You'll need two cups of warm water, four ounces of distilled white vinegar, and two teaspoons of liquid dish soap.
Add two ounces of rubbing alcohol and five drops of essential oil. You'll combine your ingredients in a bucket or spray bottle.
Spritz the area in front of you as you clean and wipe it up with a microfiber mop. If you use a regular tangle mop, make sure you wring it out until it's only damp.
You don't need to rinse your floor after using the cleaner. You can let it air dry.
Use a Natural Stone Cleaner
Natural stone flooring is challenging to maintain. Stones tend to be porous and will absorb excess liquid. Stone cleaners aren't cheap either.
For an alternative cleaner, try half a gallon of water and three teaspoons of mild dish soap. Make your solution by filling the bucket with the water and adding the soap. Mix until you see it bubble.
Next, you'll need to dip your mop into the bucket. Wring the mop until it's damp. Sweep your floors with overlapping strokes. After you finish, rinse the floor with clean water to remove any buildup of soapy residue.
Get Rid of Carpet Stains
Stains can be frustrating to deal with because they aren't easy to remove. If you act fast after the spill, you can get rid of most of the stain.
Before using a commercial product, try a natural stain remover instead. You will need to apply baking soda to the carpet. Baking soda is effective on vomit, urine, or other stains.
If it's a new stain, blot the excess fluids first. You can create a paste using an equal amount of water and baking soda. Apply the mixture to the stain and rub it in with a sponge or small brush.
Another option is to sprinkle the baking soda on the wet stain to absorb fluids. Leave the baking soda on the area until the powder turns into a crust. Vacuum up the baking soda.
To deodorize your carpet, mix essential oils with baking soda. Spread a thin layer on the carpet and let it sit for a couple of hours. You'll then want to vacuum the carpet to get rid of the extra powder.
Now You Know How to Make a DIY Floor Cleaner
We hope this guide on homemade floor cleaners was helpful. Try these homemade cleaners on a small inconspicuous corner first. Use a DIY floor cleaner the next time you need to mop the floors.
Browse our other helpful resources on home, real estate, and more.