If you are wondering about how to organically inscribe the work of art in the interior of your own home, this publication of the design project of individual homeownership may be useful to you. Many original and unusual wall pictures house interior design ideas are skillfully blended into the overall decor of the real homes, made by mixing of modern and classic styles of the interior. Surprisingly, even within the framework of a utilitarian space, modern art look not just fitting, but also organically combined with the rest of the furnishings in the house.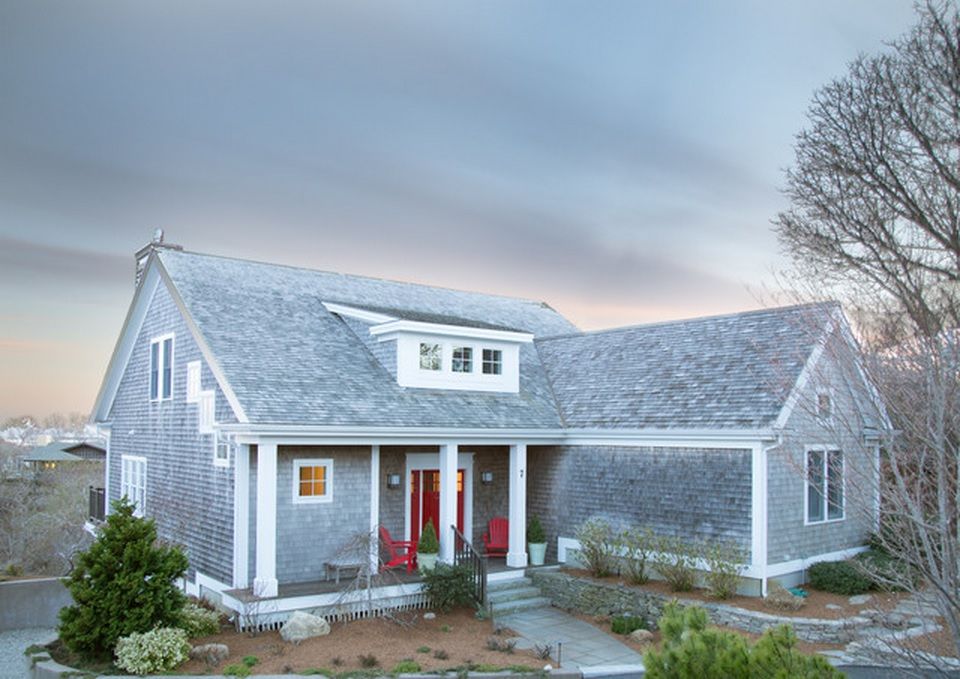 Entering into the house we find ourselves in the spacious lobby with the largest painting from the work collection of art masters. You must create an appropriate background – pick a neutral color palette, restrict the design with the most basic models of lighting fixtures (if you want to ensure your work individually illuminated at night)to make picture look really impressive. Depending on the size of the picture, it can be as wall lights and ceiling mounted light fixtures with rotary mechanism. If it is enough to provide an acceptable background and lighting for a picture, then we need to take care of decent stands for with small sculptures. Think about  tables and other pieces of furniture that can be sufficiently neutral so as not to "drag" attention to themselves, but will look attractive and will make worthy accompaniment for sculpture.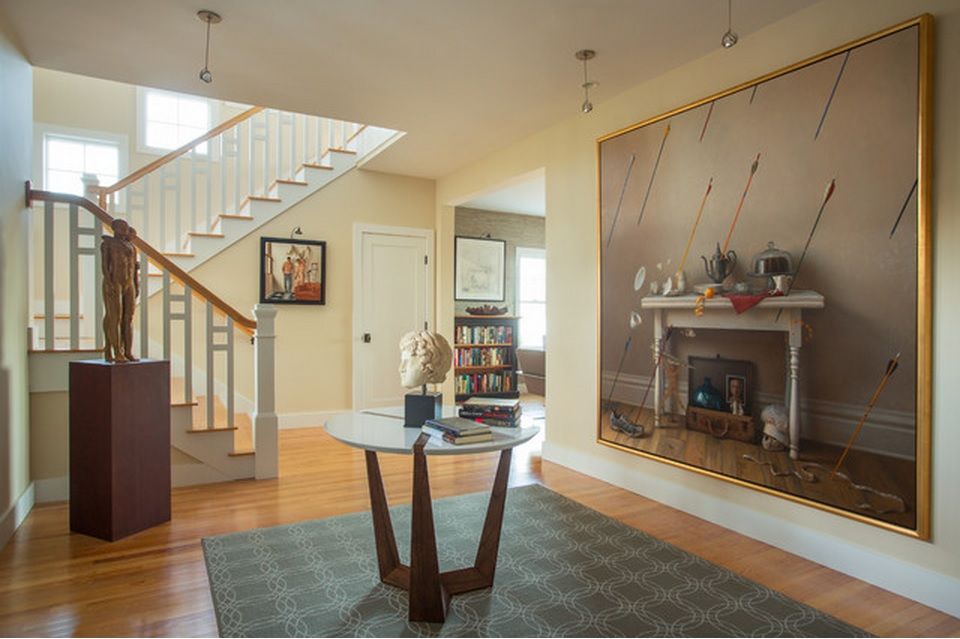 Then we pass into the large room that connects the kitchen, dining and living room thanks to its open layout. With this arrangement of the functional segments a significant amount of storage space is saved though maintaining a sense of spaciousness and freedom of movement. This spacious room is still decorated with light yellow finishes for walls and polished wooden planks for flooring. For such a bright and sunny radiating heat space, it wouldn`t be useful  to put a little cold palette. The use of blue and gray shades to design a backsplash in the kitchen area, textile decoration and carpeting in the living room segment and elegant implementation of the celestial blue in the dining room space.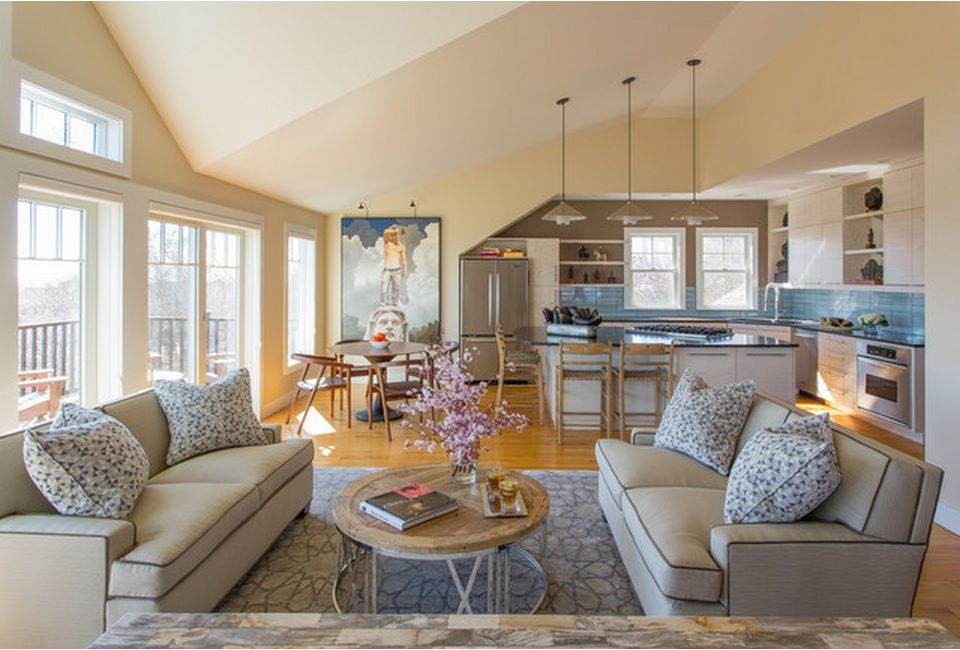 Wall Pictures House Interior Design Ideas at Dinings
For a small dining area, designed for four people, the original image on the modern work of art become the highlight of the design. Round wooden table and chairs of unusual shapes of the same material have very expressive look with a picture of a cool palette.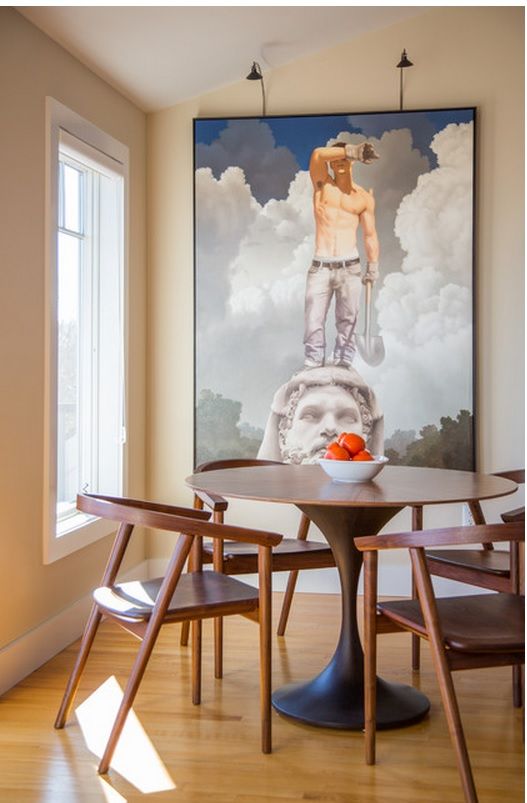 In a spacious dining room, specially designed to accept guests and hold dinners both furniture and the picture looks different. Natural wood color of the capacious dining table and black color of chairs with backs are reflected in the design of the frame for the big picture. This work of art is illuminated by devices attached directly to the subframe. Pastel wall decoration palette is relevant neutral background for decorative accent.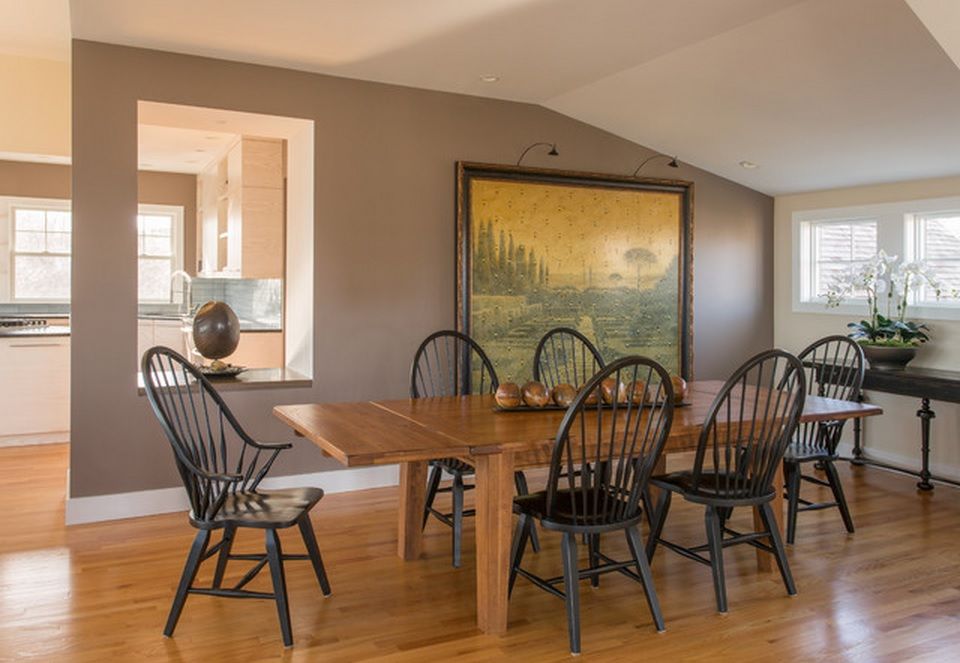 Wall pictures help to decorate living
Here placed more capacious segment with sofas, fireplace and a video area in continuation of the living room, which we saw earlier. Despite all soft furnishings are of different by color and texture of the upholstery, the whole composition looks very organically as a result. This small circle of the most convenient places for recreation is connected by a large original coffee table. Fireplace and TV above it have become integral attributes of comfortable and cozy living room for many homeowners and designers. Natural and technological relaxants go "hand in hand" in many modern interiors for a long time. And, of course, wall decor – a small picture on a light background accent wall cladding made of wooden paneling looks impressive and effective.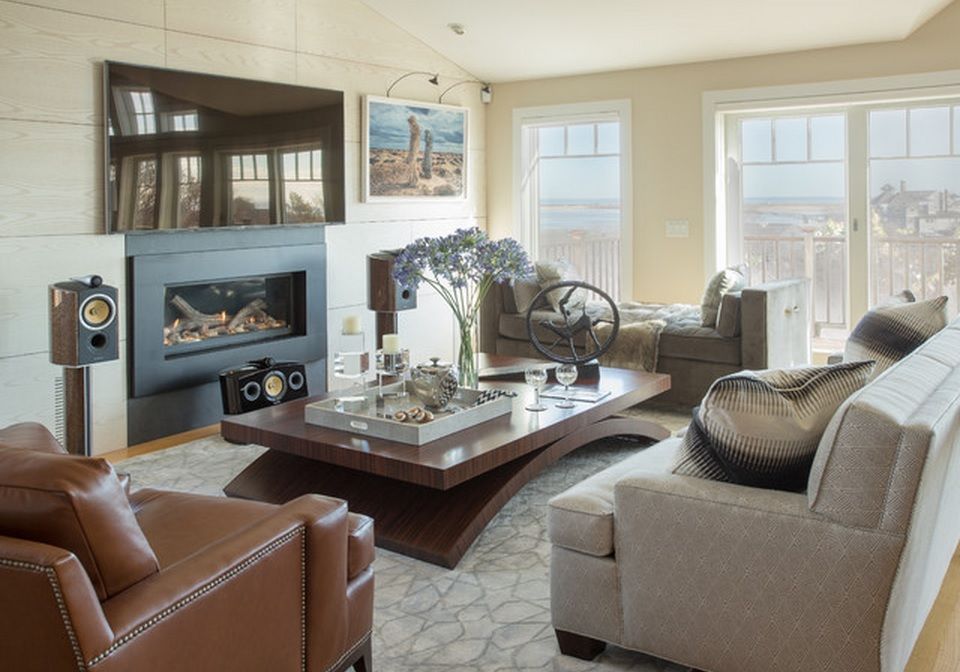 Another living room is decorated with no less coziness and comfort, attention to decor, textiles and original selection of lighting fixtures. Chocolate color of chairs` leather upholstery, sofa textured textile, wicker rattan coffee table made organic and attractive ensemble. Light blotches of light blue color in the decor, fixtures and elements of textiles, not only added a variety of color to the interior of the living room but also complement its image with freshness and lightness.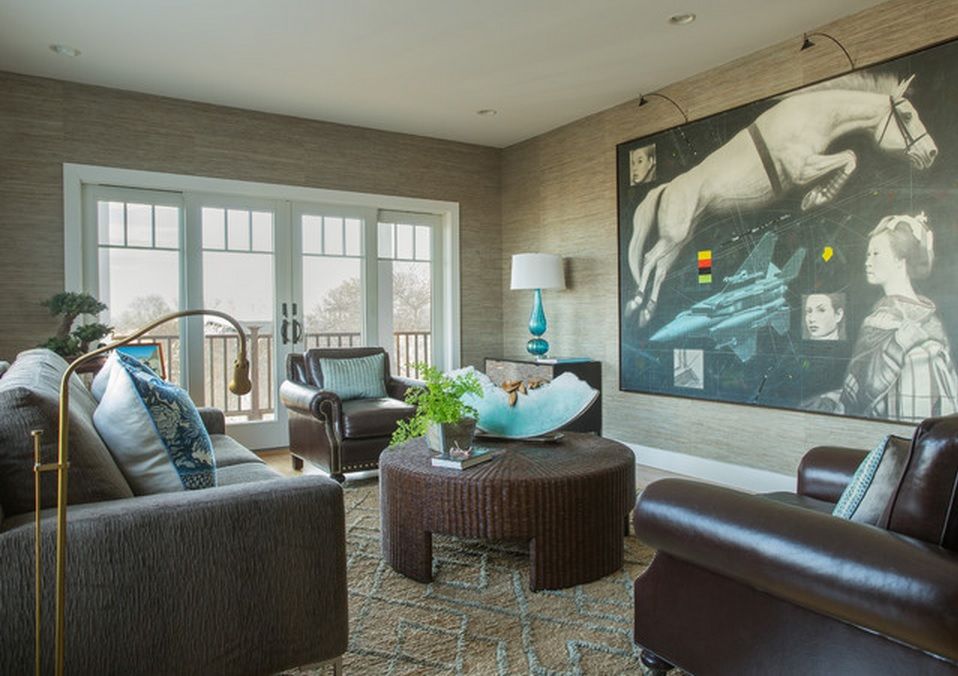 Decorating of the walls in the living room has a darker color and fairly pronounced texture. But it doesn`t interfere the artwork on the wall. The fact that the painting itself is much darker than all the artwork that we have met before in other rooms. Designers were successful in blending very subtle parallels between colors found in wall decor and put these shades togetherin the interior of the living room.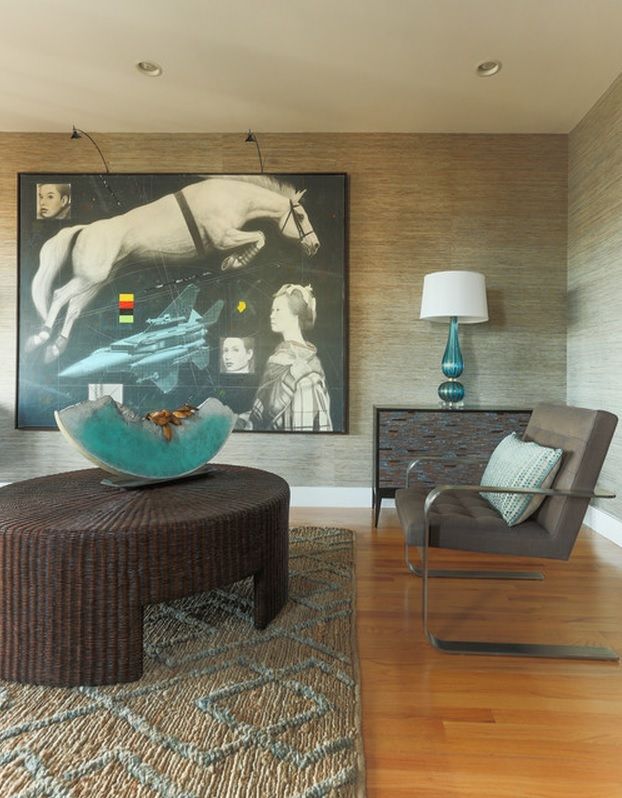 Bedrooms
The bright spacious bedroom with finishing in pastel colors is decorated with paintings actively. Sand and beige shades in the design of the bedroom became the perfect backdrop for bright pictures in dark frames. Even central element of the bedroom, bed with upholstered headboard and textile frame upholstery, is given by the wayside with such colorful artwork. In addition to bed and the accompanying bedside tables with lamps, it is enough space for the organization of a small relaxation and reading area in spacious bedroom.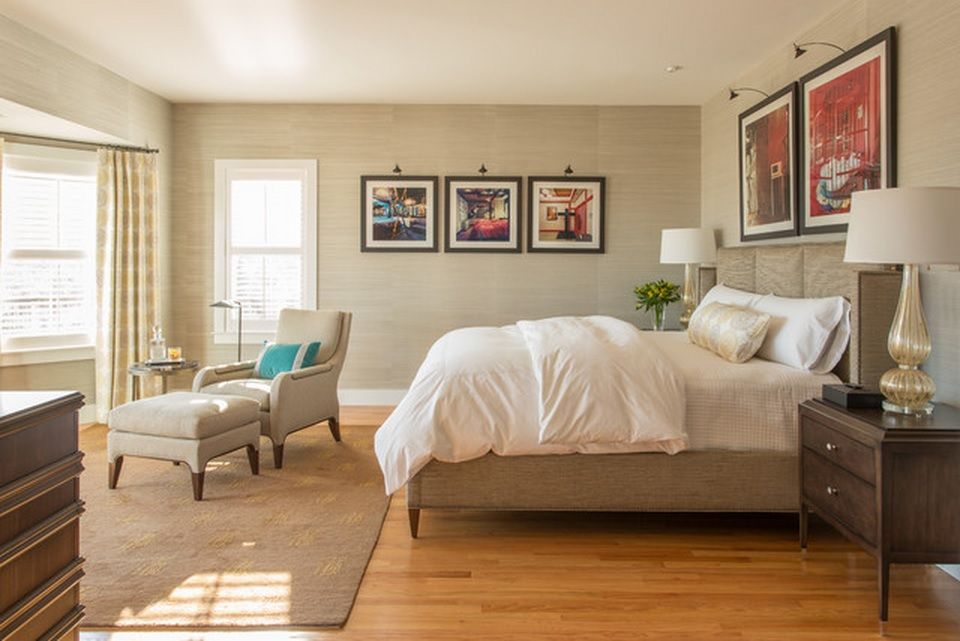 Interior of the second bedroom looks darker and contrasting. All thanks to the original execution of a large bed and attendant pieces of furniture – bedside tables and a roomy chest. This choice was dictated by the use of artistic works with dark colors and black frames. Asian motifs in the interior are viewed both in the paintings, some elements of decoration and even furniture and decor of the bedrooms. Here was found a space to install the cozy chair with a metal frame and soft upholstery and a small table-stand with mirrored surfaces.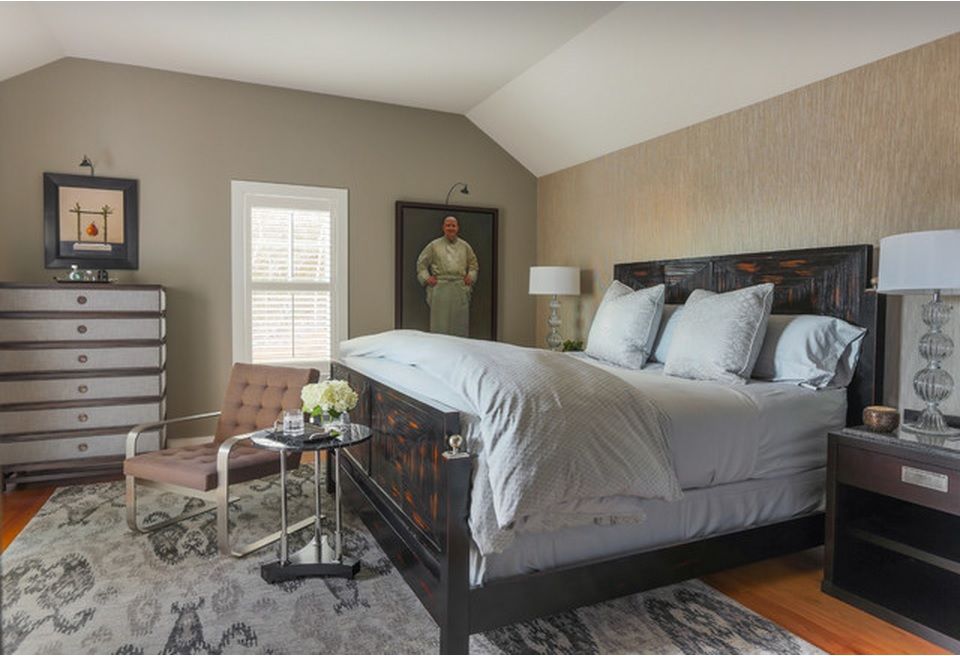 The use of gray (the most neutral of all the soothing tones)  for finishing has created cozy and comfortable atmosphere in which it is easy to relax and enjoy a deep sleep. Light silvery shine of furniture, mirrored surfaces and light gradient on the curtains give the room a modern look and add a certain amount of mystery to the image of the bedroom.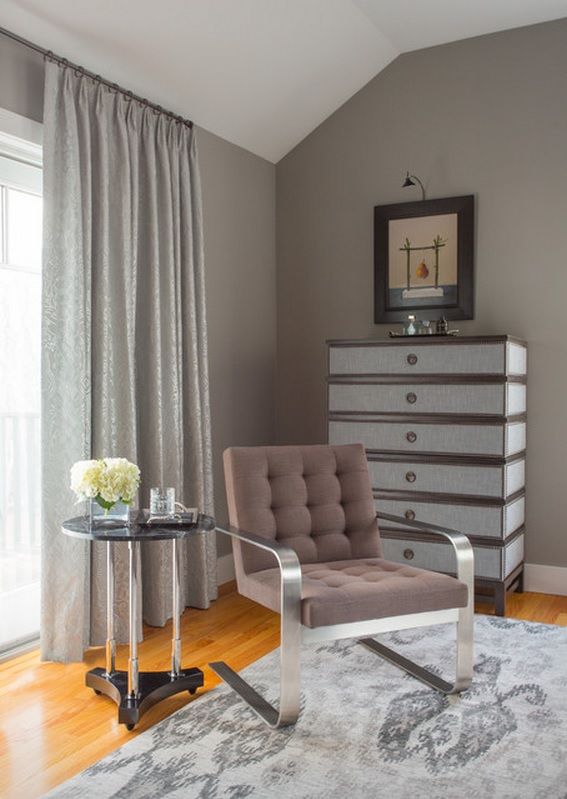 Sunny interior of this light bedroom was literally created for bright and colorful pictures of a dark background. Light yellow tint of the walls and the warm, bright tone of the wooden surface looks great with bright works, golden frame of one of the paintings and unusual color upholstery chairs in a recreation area.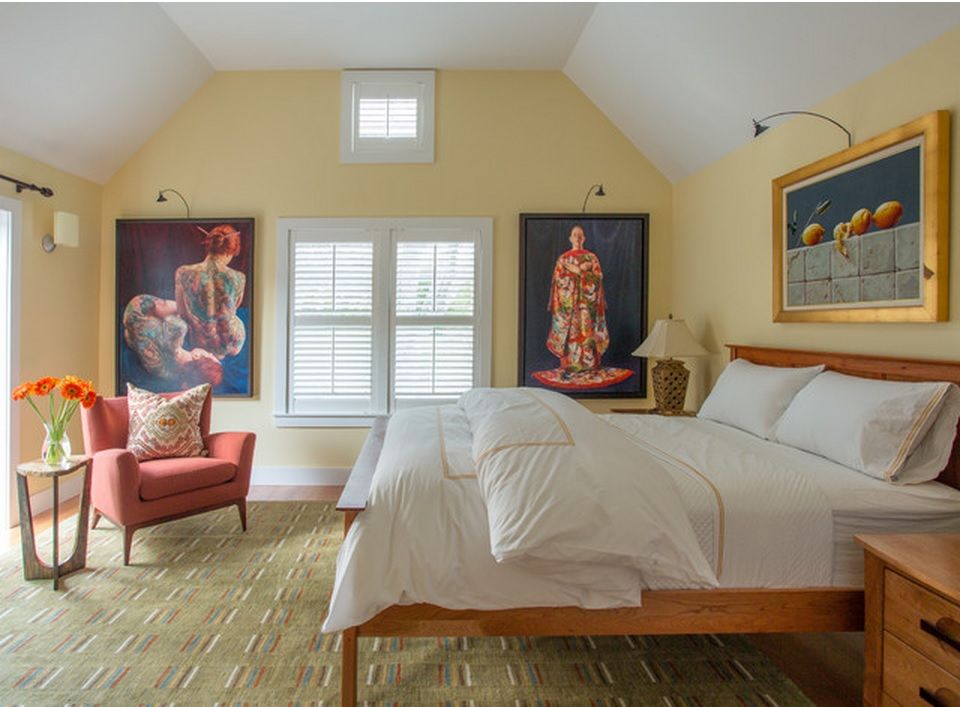 All bedrooms in a private house with a collection of paintings provided with small relaxation and reading areas. This room for rest and sleep is no exception – a comfortable chair and a small table-stand have arranged a cozy area by the window.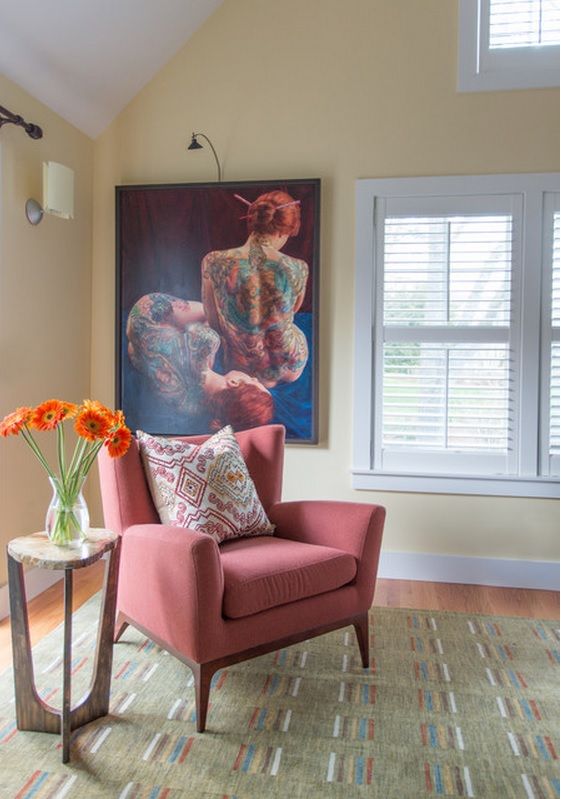 Bathrooms
There is nothing surprising in the fact that utilitarian areas of the house, whose owners are lovers of fine art on the walls, have a place for pictures. For example, in this sand-and-ocher bathroom paintings designed in the corresponding color too. Finishing, which organically combined the mosaic cladding and pasting the walls with waterproof wallpaper, became the perfect backdrop for a couple of small art works.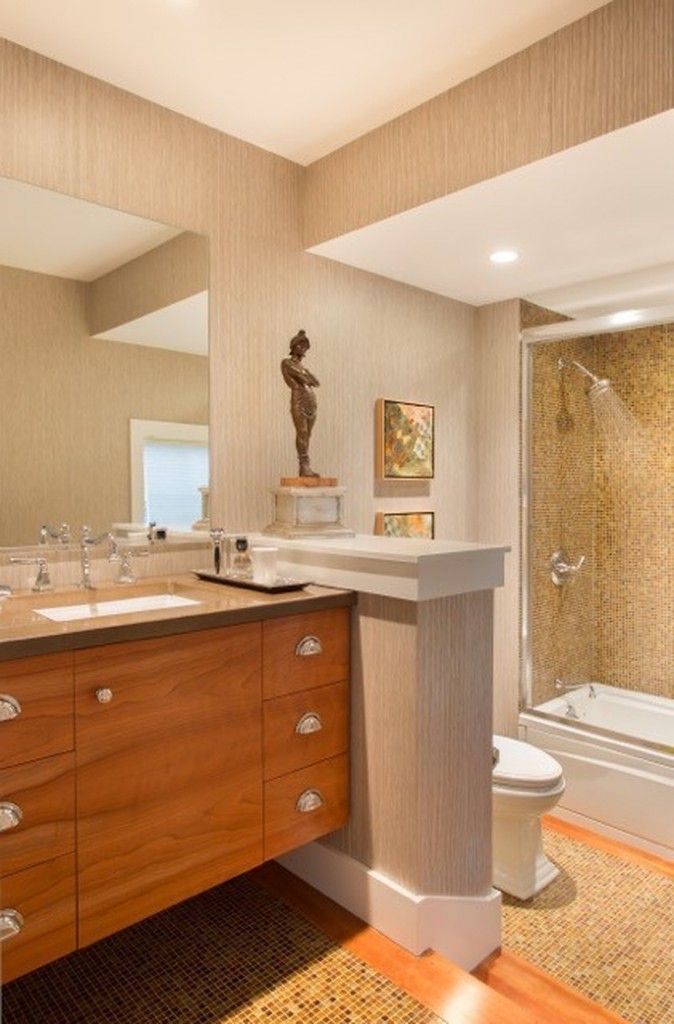 The second bathroom interior has a slight bias towards Asian motifs in the design in order to match the picture that adorns the wall utilitarian space. Asian motifs are reflected in the choice of color palette – calm, neutral tones creating a relaxing atmosphere. And also in the predominant choice of natural materials (or very successful their imitations) for the decoration of floors and bathtub backsplash, with lots of storage drawers under the double sink.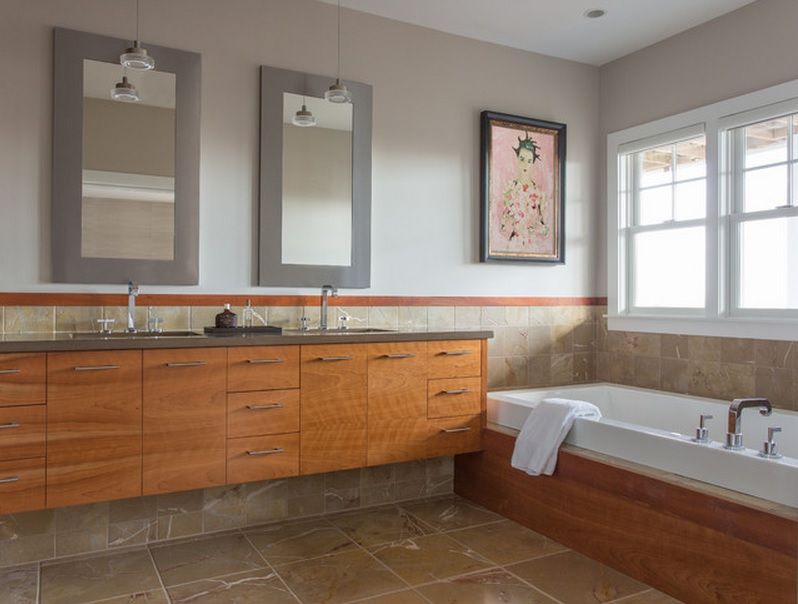 Another small utilitarian space – a toilet located in the attic is decorated with as much taste. There is virtually no surfaces exposed to moisture impact in this room, so water-resistant finish wallpaper with fine print is appropriate but not necessary. The combination of white, gray and wooden shades had created a harmonious and attractive but discreet alliance.