Chic bedroom with a queen size bed, bedside tables, dressing table and another chair, floor lamp, a small bedside stool, huge windows and even better with a balcony with a sliding system of glass from floor to ceiling and a separate room for the wardrobe is the dream of everyone, don`t you agree!? But what is the reality? And it is that the whole dream tears apart with no chance to be implemented, as in the standard urban apartments bedroom is occupying only about 130 square feet. And in such conditions there is not much room for creativity.
But you should not despair, because even in such position you can create the perfect atmosphere for rejuvenation during the night. Yes, you can`t put a lot the furniture in a room, and you`ll have to give up on the dressing room. But there are few ideas you will really like. It is 130 square feet bedroom interior decoration ideas area will be discussed in this article.
Where to start renovation?
As it happens in any other room decoration, all starts with a rough work. However, in order to have an idea of ​​what kind of work should be performed in the room you need to jot down a sketch of the room, which will reflect every possible niche and projections on both as on the walls and on the ceiling, up to the wall and ceiling moldings.
And then as in any a difficult logical problem, we should go from the reverse, because how can you draw a sketch without to determine what style will fit the interior of the bedroom yet? In its turn, the style of the room will depend on the furniture you like. Hence, it turns out that before you begin to repair it is necessary to choose furniture for the room and think about how it will be arranged. At the same time you do not have necessarily buy it, but take a closer look at what you like. Next, you should decide whether the room will have decorative niches in the walls and ceiling, and whether they will be combined with the selected furniture. For example if your choice was the classic bedroom suite, the room is not appropriate to be curved multi-niche backlit. This combination will not look harmonious. But wide baseboards and ceiling panels, skirting framed walling in which knead bra – is ideal.
How to choose the style of interior design
First and foremost when choosing the style of the room you should be guided by your own tastes and preferences, it is only owner of the bedroom could say in which the atmosphere he feels himself cozy and comfortable. This is a simple truth that everyone knows. However, do not neglect such nuance as that for a small room are most suitable such interior styles as the of minimalism, Provence, modern, hi-tech, as well as Japanese, Scandinavian and classic style with a minimum number of small parts in the design. But the lush and rather cumbersome pretentious interiors with numerous decorative elements in the 130 square feet bedroom will look not just simply appropriate, but absolutely tasteless.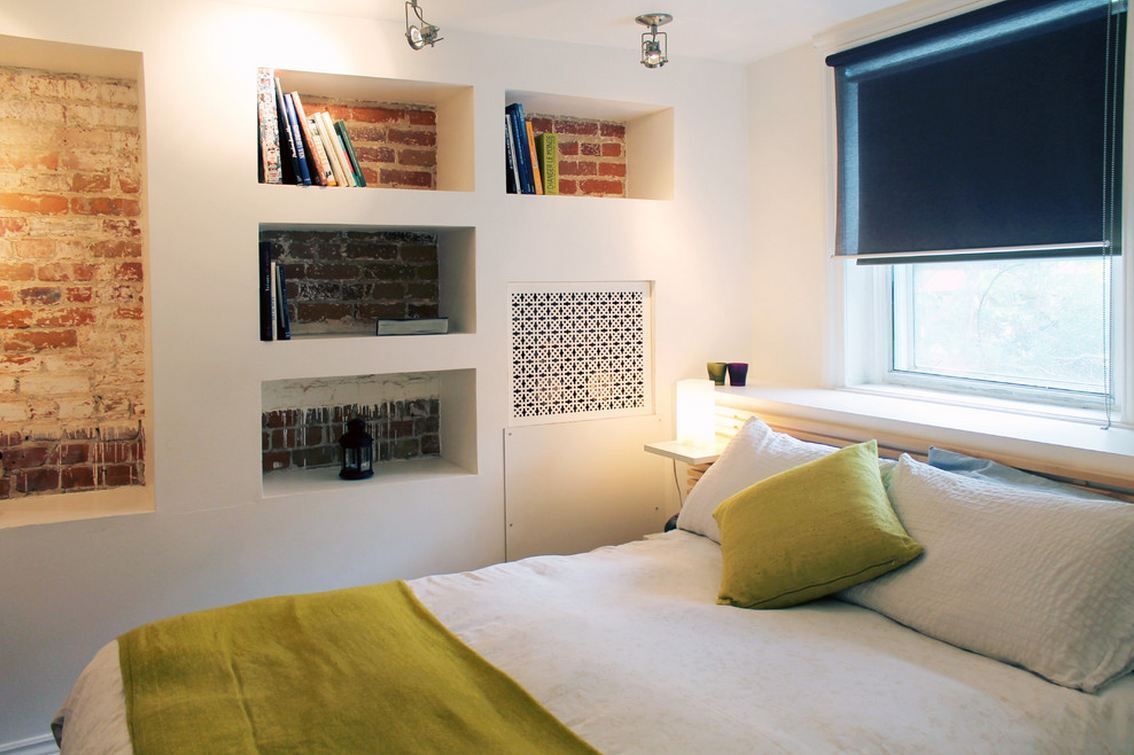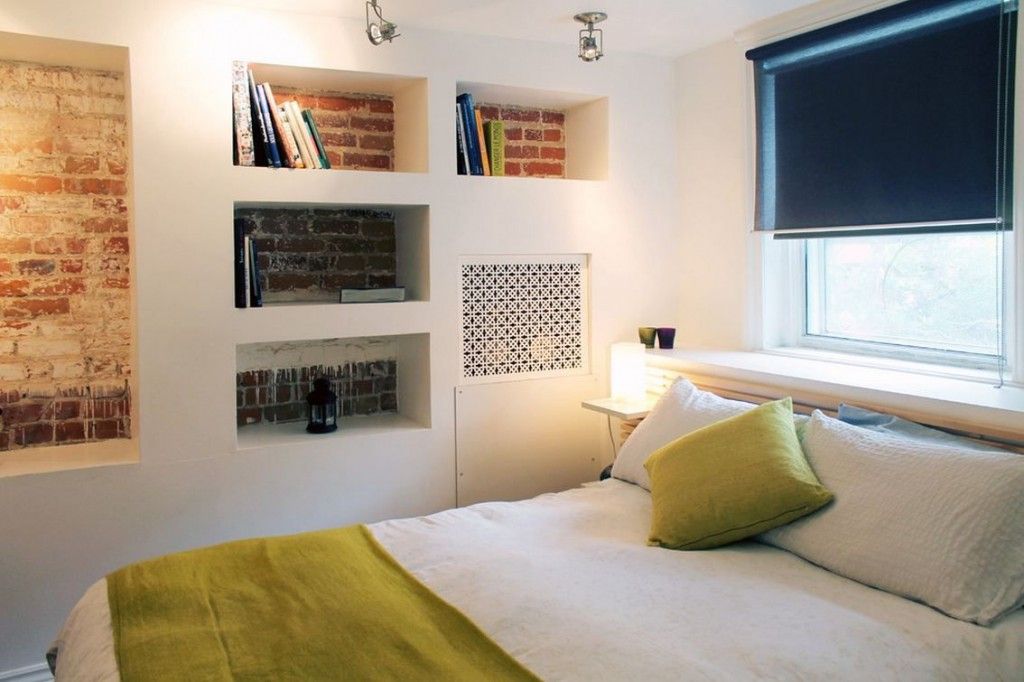 Basic rules for the small bedroom interior
As in any small room, in the bedroom area of ​​only 130 square feet all design ideas must be sent out to make the space as easy and spacious as possible. To do this, designers use several techniques that are used in the areas of space:
Ceiling
White ceiling will be look the most advantageous in the bedroom of only 130 square feet. Win-win situation is glossy suspended ceiling, which will make the space more voluminous. However, if you do not like glamorous shine, we can confine with either matte PVC film, or simply paint the ceiling in white.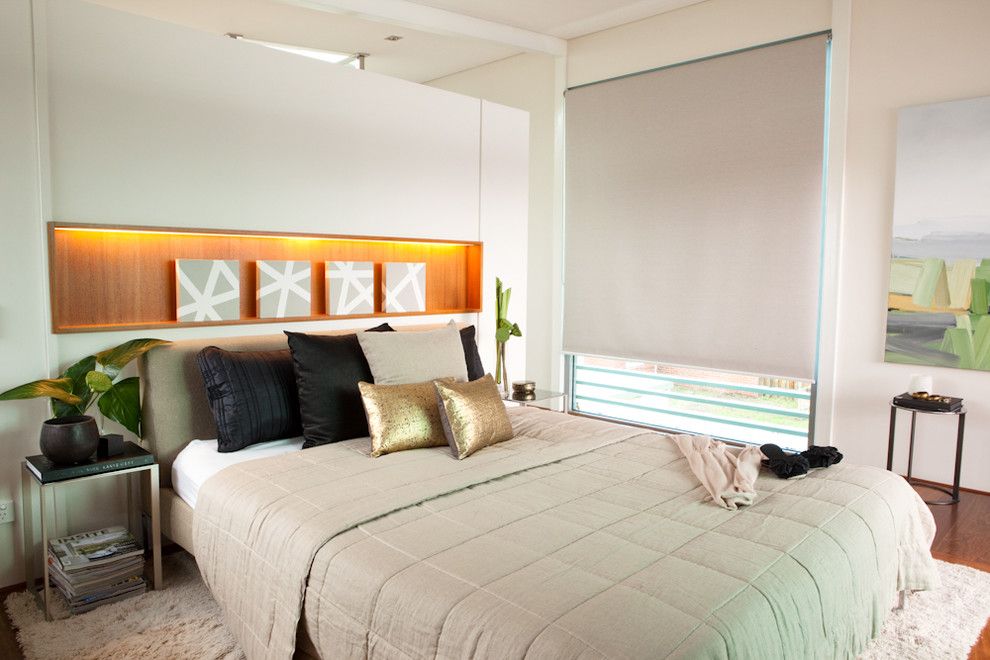 Flooring
it is worth noting that an important role when choosing a floor covering is played not only by color that should be combined with other elements of decoration, but you also need to lay it in the proper direction. For example, if the floor is wooden, it is best to be laid diagonally. Special drawing while laying a visually expand the room.
Walls
Many of us will agree that dark walls reduce the space. But if you make a dark headboard, or some sections of the walls, such a finish would look quite interesting. If you plan to lay a rug in the bedroom, it should be of small size, so as not to burden the interior.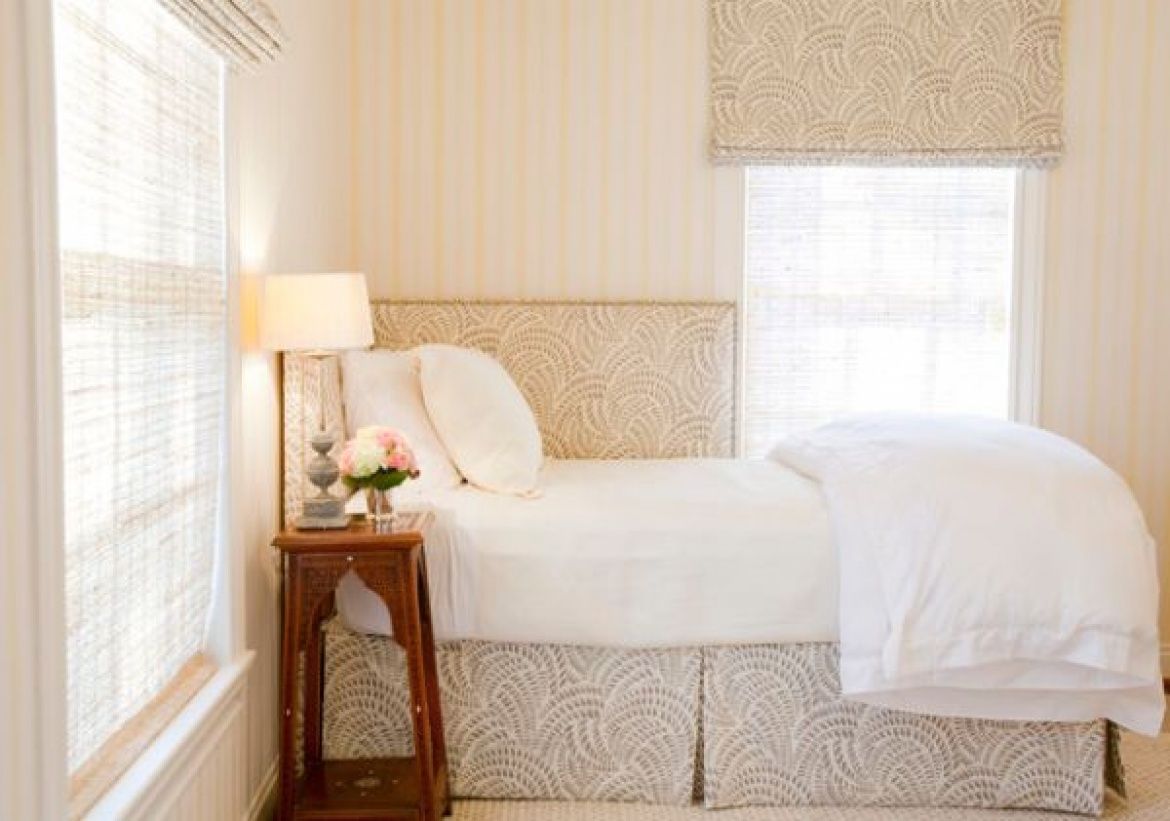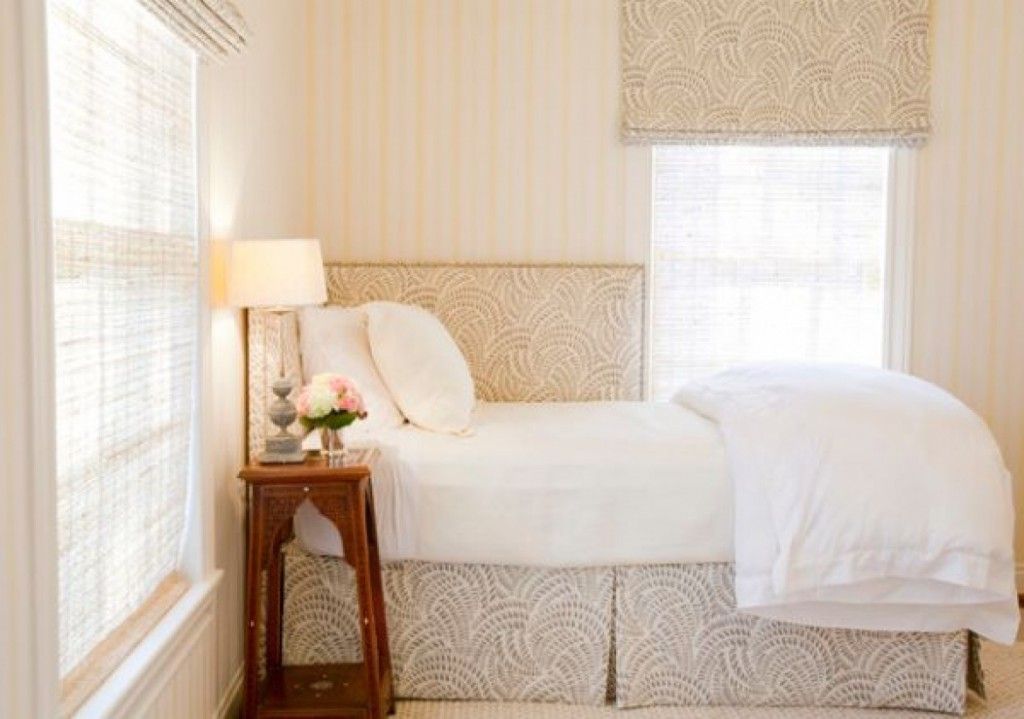 Window
Making window openings should be given special attention if you want to make your room more spacious and brighter. Translucent fabric of light shades is more preferred in such a small space. However, if the entire interior is built on contrasts, the heavy curtains will look quite harmoniously. If you are not a fan of the classic version of curtains, but inclined to close the window from prying eyes in the evening – Roman blinds would be an ideal option for your interior. They can be used as a separate element, as well as combined with different types of curtains and tulles.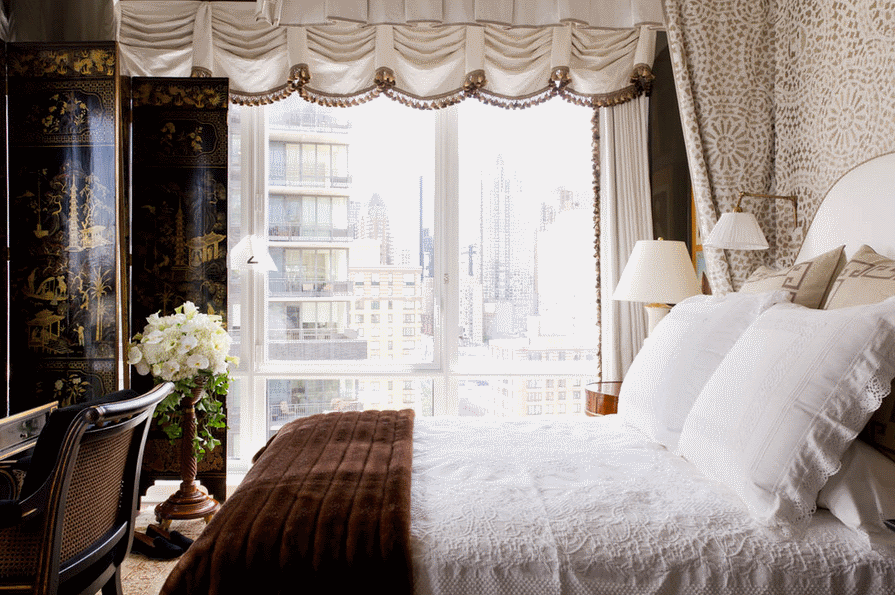 Furniture
Bed without any doubt is a major element of the interior of the bedrooms. And the very design of the bed sets the tone throughout the room, which directly affects on how easy and spacious the bathroom will look. If you disagree, then make a little experiment: cover your bed with the light veil at first, then use the dark one. Consequently analyze in which case the room was lighter. Naturally, light colors make the room more spacious. Therefore, if you are pursuing this goal, the preference should be given to light tones of furniture and textiles.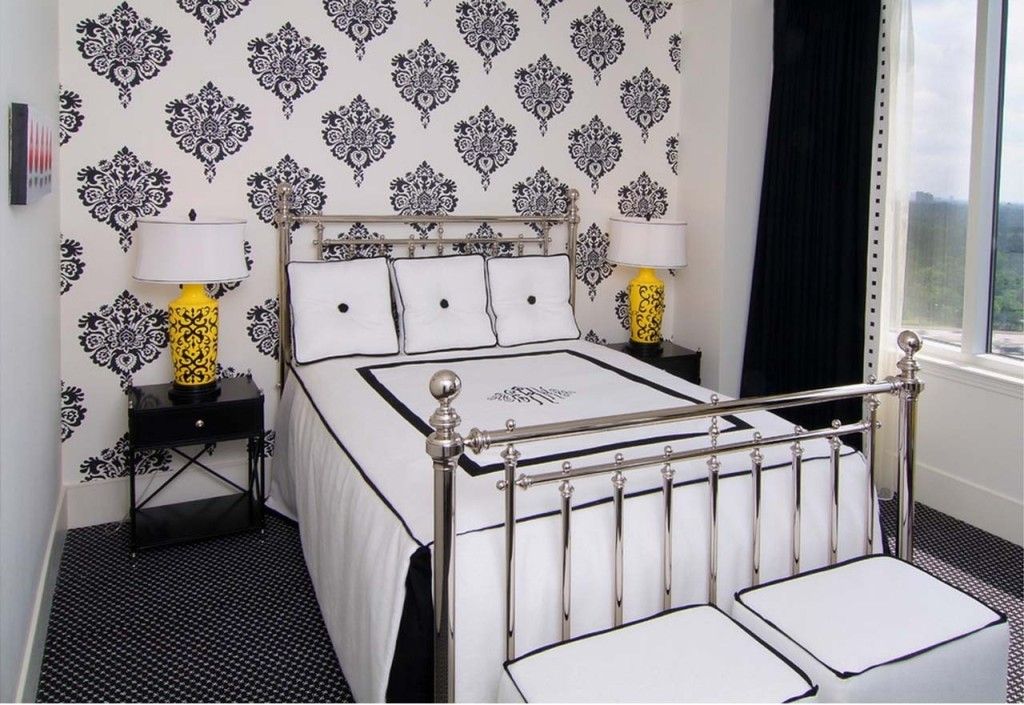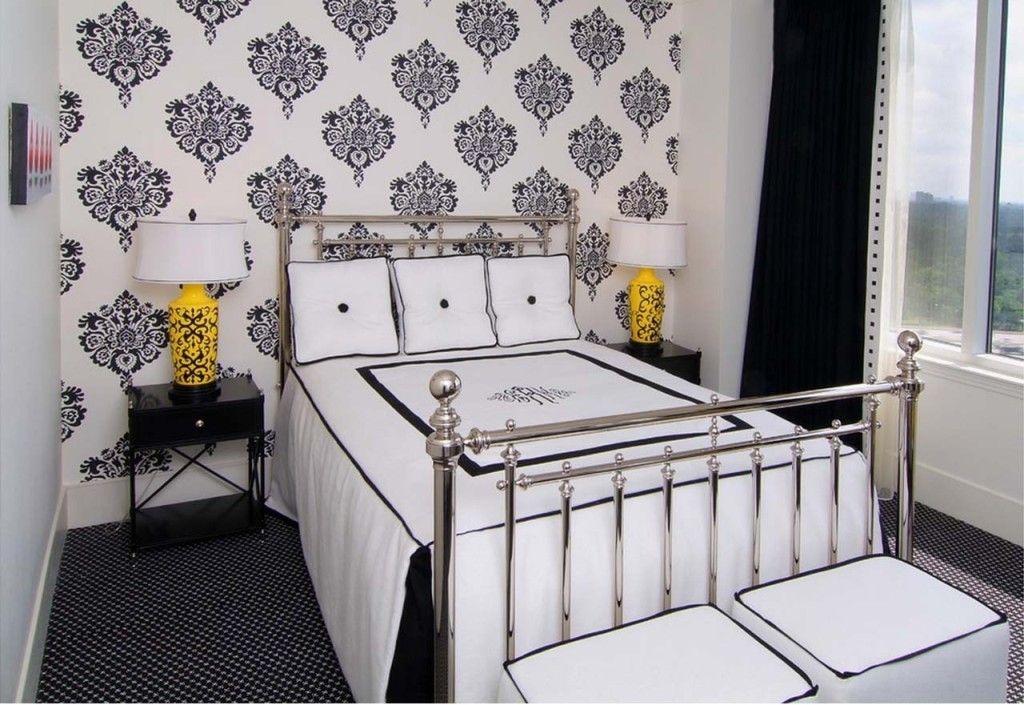 Decorative detail
It may sound strange but the number of decorative elements also affects the overall ease of the space perception. The more decorations are in there, the heavier interior.
130 square feet bedroom interior decoration ideas. Creating the interior out of the rules
The rules for creating a harmonious interior in a small bedroom are rather recommendation than precise instructions. And ignoring them does not mean that as a result of departing from conventional techniques you wouldn`t be able to create a cozy atmosphere. It is clear that a bedroom in bright colors, looks quite impressive. Nevertheless,  a classic combination of white with black or beige with chocolate color, and for the more daring personalities – red with a black and white – looks no less interesting. Moreover, we can imaging a huge number of such combinations. The contrasts can be either in the finishing of surfaces, and the color of furniture and textiles. The only condition for such interiors is just to not overload it with the colors.
colored wallpaper in combination with calm tones of furniture and textiles has an exquisitely elegant look in the bedroom, but this interior is more suitable for the young and energetic people who are confidently looking to their future. While calm and clear contrasts will appeal to more respectable and mature people.