What is the costliest room to renovate in your home? The answer is the kitchen, but not far behind in terms of cost is remodeling the bathroom. You can complete a major overhaul to push the bathroom above the kitchen in terms of cost. However, you do not have to take out a second mortgage to come up with design ideas that will make your bathroom beautiful.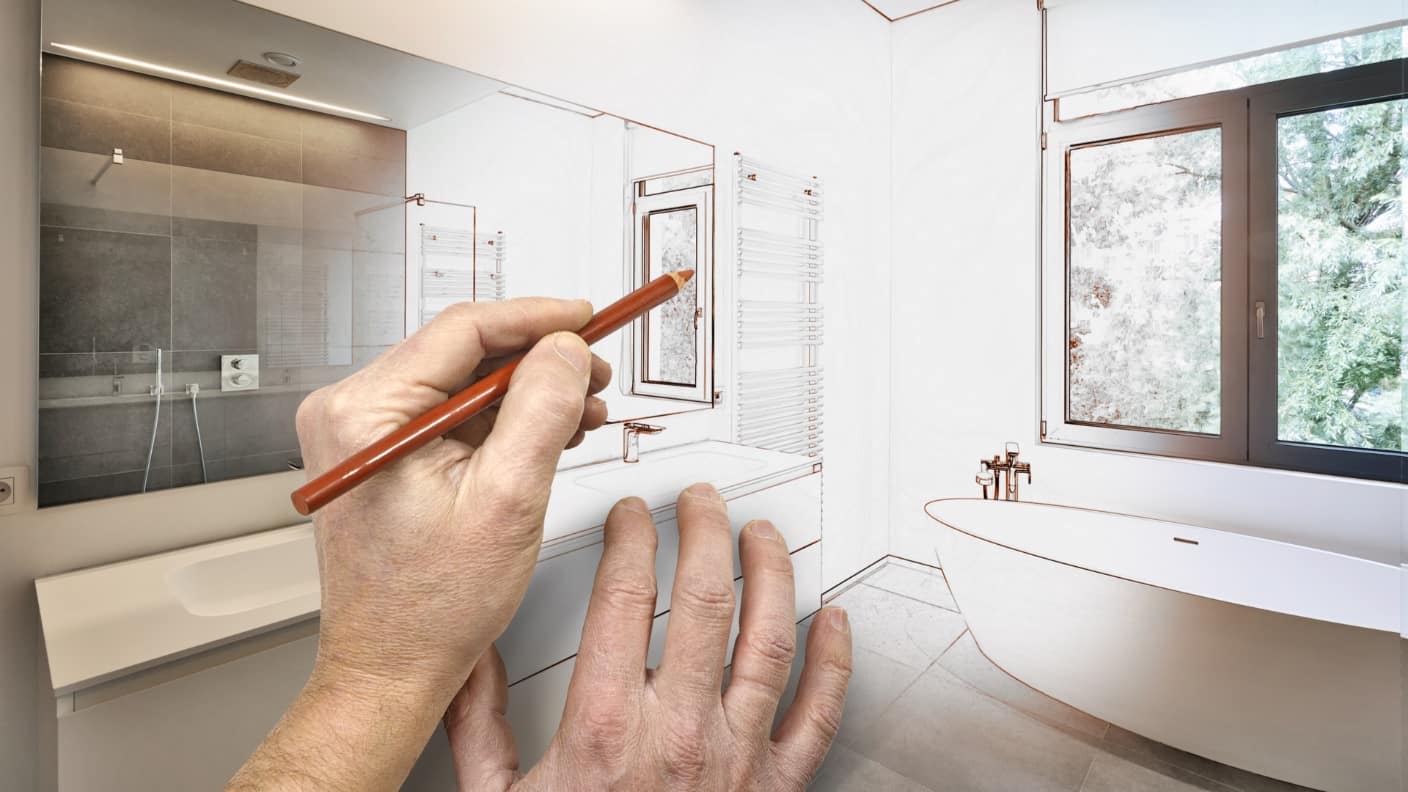 Let's review why a bathroom remodeling project is a good idea, followed by five design ideas that will turn an ordinary bathroom into a room décor masterpiece.
Benefits of Bathroom Remodeling
From installing an affordable antique brass faucet to adding a mosaic tile design on the floor, renovating the bathroom delivers four long lasting benefits.
Boost in Home Value
By replacing outdated accessories such as lighting and shower curtains, you can see an increase in the value of your home that runs into the thousands of dollars. Contemporary and more energy efficient sinks and bathtubs will bring a higher return on your home improvement investment as well.
More Room
Are you tired of bumping into someone else when you use the bathroom? A remodeling project that expands the square footage of your bathroom allows you to add more furniture such as open shelving and a medicine cabinet. You can brush your teeth, while a roommate or family member draws water for a hot bath.
Modern Luxuries
One of the most popular bathroom remodeling trends involves bringing some of life's conveniences into the room where you soak in the tub or enjoy a soothing massage delivered by a smooth running machine. Think watching television while you warm your weary bones in the bathtub.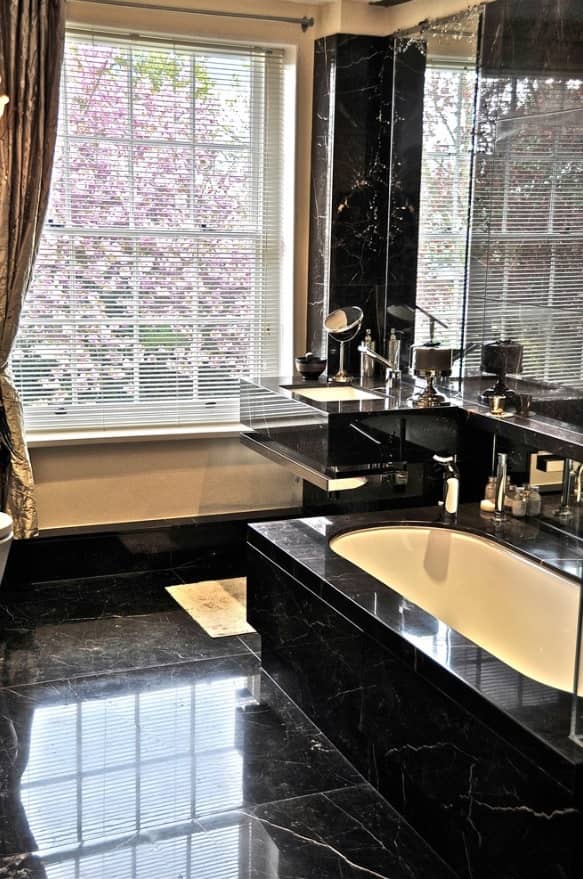 Going Green
The Environmental Protection Agency (EPA) recently released a study that show around 10% of American homeowners have added more energy efficient fixtures and appliances in the bathroom. The 10% of homeowners have achieved cost savings that exceed $1.5, as well as consumed 70 billion fewer gallons of water.
Install a Bathroom Countertop
You might think installing a bathroom countertop runs counter to our goal of achieving a new look, without busting the home improvement budget. However, adding a new countertop, which you can see at Marble.com, can bring you a healthy return on investment in your bathroom remodel.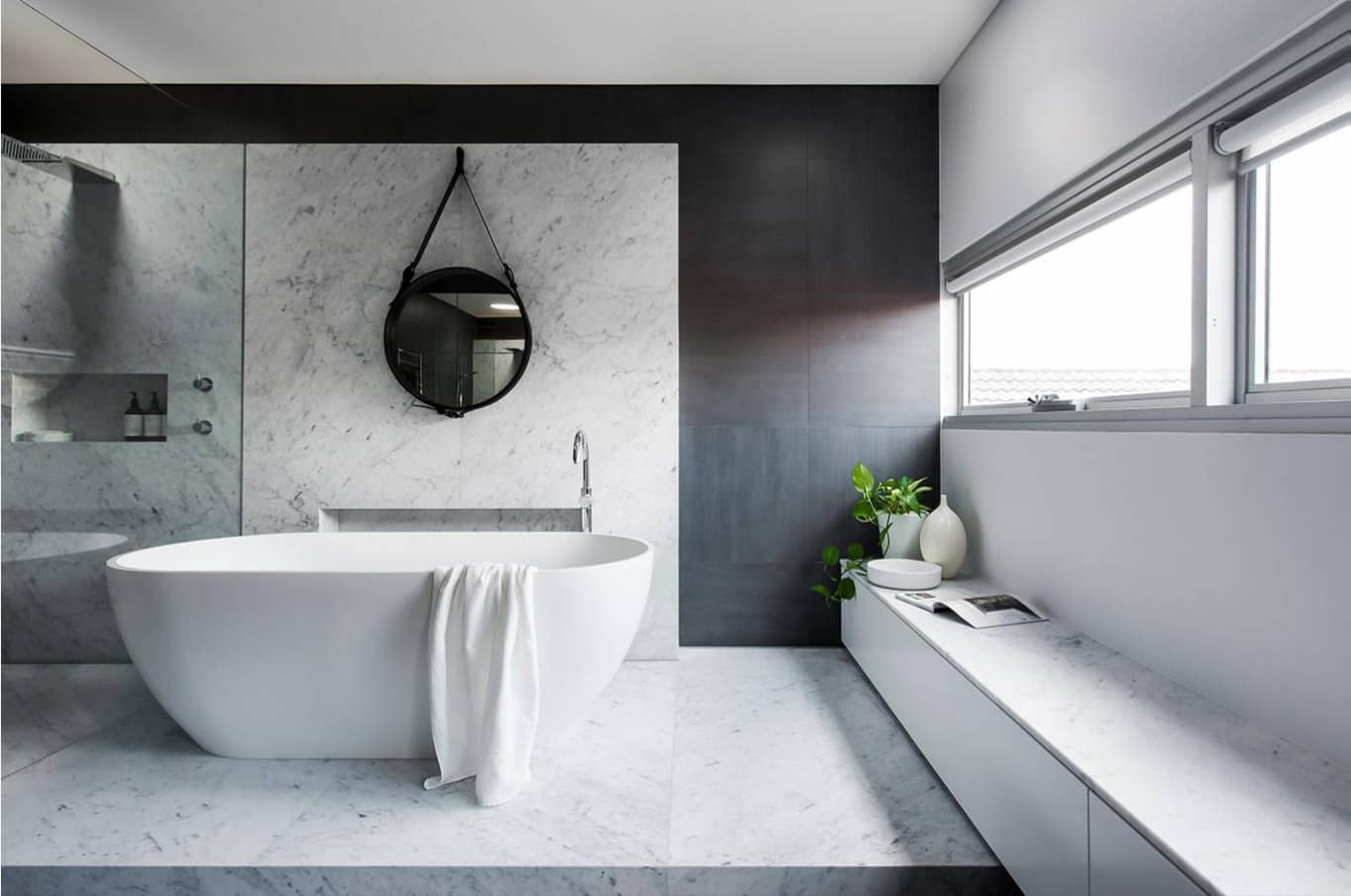 Let's look at four popular countertop materials that will not bust your home improvement budget.
Granite
Granite represents one of the standard materials for bathroom countertops. With stunningly attractive veins that move back and forth against beautiful specks and swirls, a granite countertop enhances the luxurious feel of any bathroom design. The rugged material never stains, as well as maintains its pristine appearance even after prolonged exposure to heat and moisture. Although the material sits at the high end of the cost range, it adds incredible value to your home by lasting for many years.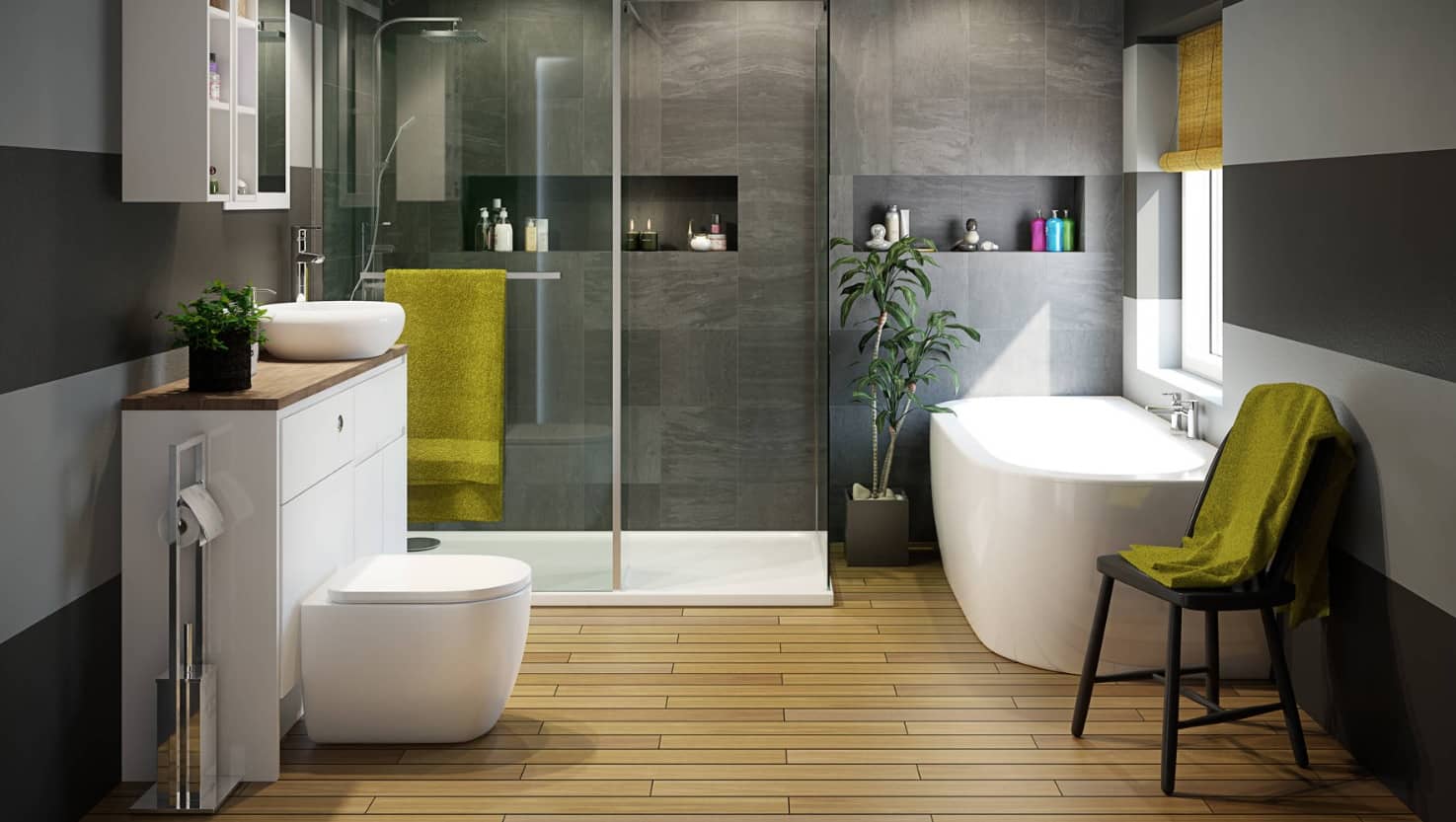 Marble
For the ultimate in luxury, no other countertop material compares to marble. The glistening sheen of the sleek material when exposed to both natural and artificial light generates a visually appealing glow that improves the ambiance of any bathroom. Marble can stain, depending on the type of the material you select for the countertop. Yet, the durable material can take a pounding, which happens often in most bathrooms.
Laminate
This low cost countertop material is ideal for homeowners that operate on tight home improvement budgets. Coming in a wide variety of colors and patterns, laminate gives you plenty of flexibility to change the look of the bathroom. Progress in the manufacturing of laminate given the material a more natural stone appearance. Laminate resists dents and scratches to make it the perfect material for a bathroom countertop. You need to be careful with placing hot equipment on the surface of a laminate bathroom countertop.
Tile
Tile is available in a seemingly endless combinations of colors, textures, and patterns. Resistant to high temperature objects like curling irons, tile also handles water and it is simple to clean. However, grout lines can stain, which means you need to use a thin scrub brush to return tile to mint condition. Tile is an excellent countertop material for homeowners that want to unleash their creativity by developing a stylish mosaic.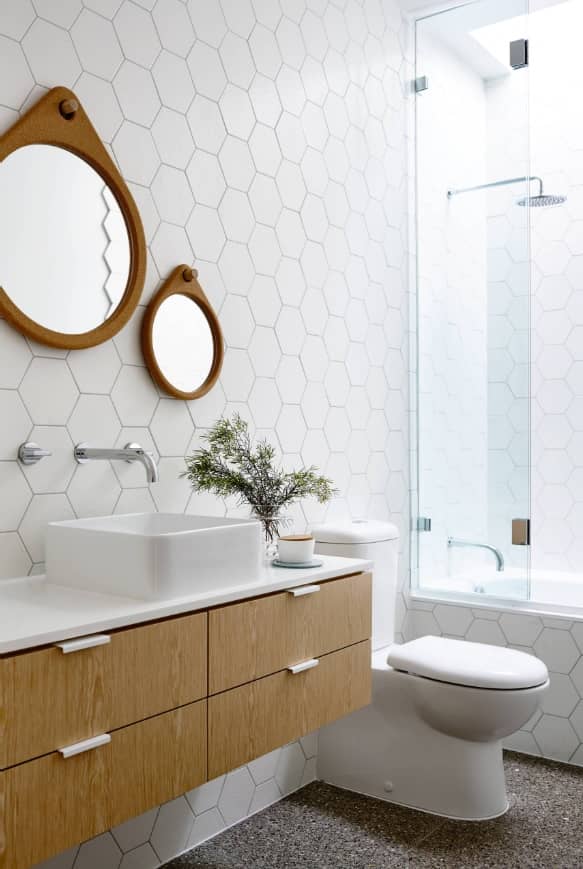 Change out the Mat
Not everything you do during a bathroom remodeling project has to be complex, or even cost you a bunch of money. Take the dirty or tired looking mat that greets everyone that enters the bathroom. A grimy looking bathroom mat tells your guests that the bathroom is not a room you care much about. Change out the dirty bathroom mat by adding a Persian or Turkish rug that scream panache.
Get the "Hang" of It
When you were a child, you probably heard an adult say "Everything has it place." Use that mantra when you decide to remodel the bathroom. A bathroom can quickly look like it has fallen into disrepair when clutter begins to diminish its design appeal. Add hooks and rings to hang towels and wash cloths, as well as include a portable hanger for hanging bathrobes and other types of clothing.
Brass and Copper Elegance
First impressions are important for bathroom designs. Perhaps no other design idea leaves a longer lasting positive impression than the positive impression left by brass and copper bathroom fixtures. Both metals do a wonderful job of reflecting light to produce a shiny effect that boosts the energy of the bathroom. You can add a brass extension for hanging a mirror and/or install copper hand rails to keep everyone upright and balanced.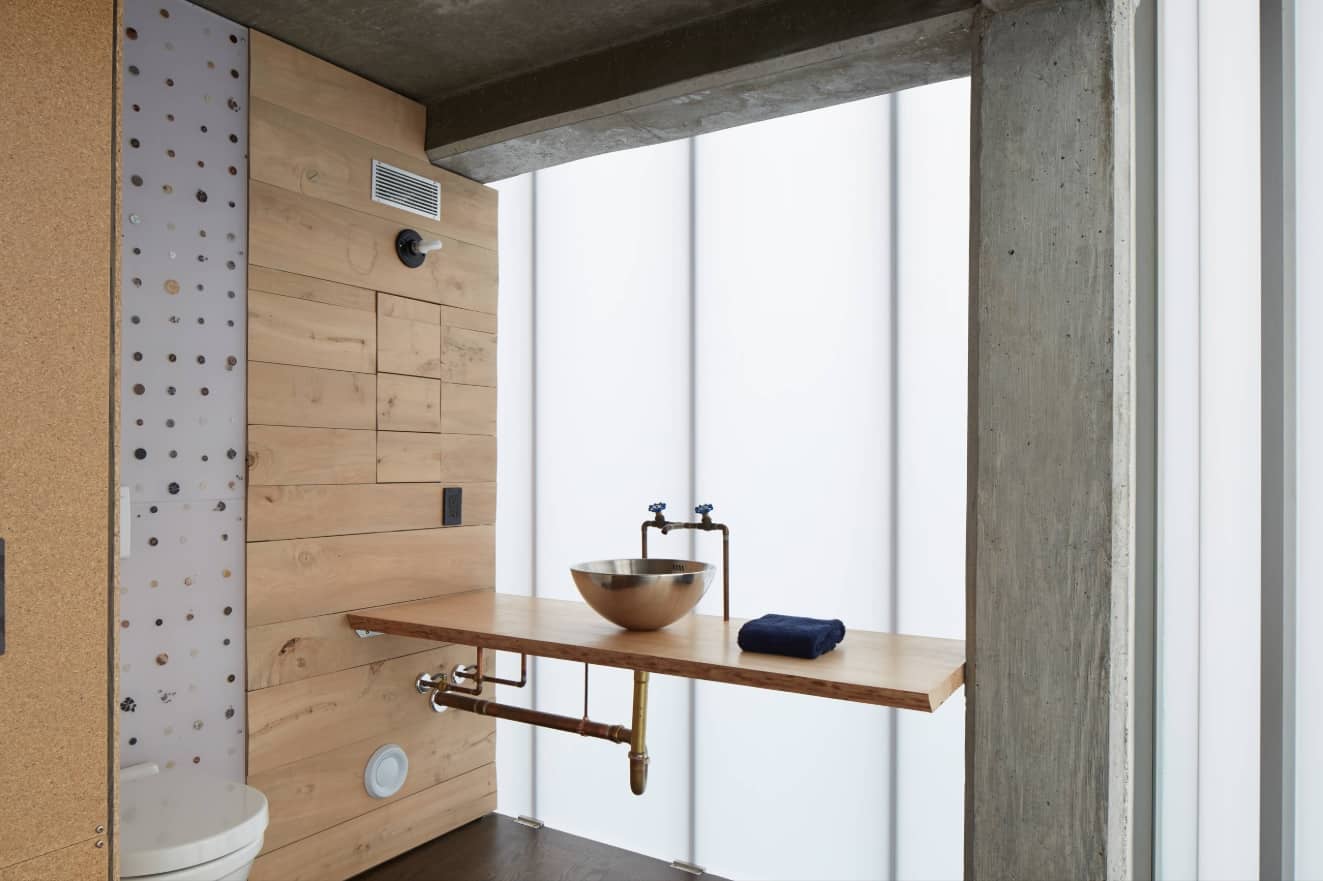 Lighting Matters
Overhead bathroom lighting goes a long way towards creating the type of upbeat ambiance you want for the high traffic room. You need to add enough overhead lighting, without going overboard to produce an appearance that resembles the look of a Hollywood movie set.
Here are some tips for bathroom lighting:
First on the ceiling, and then work down every wall
Stay away from overhead lights that shine direct, narrow beams
Balance in illumination is key
Shine light on the bathtub
LED offers the best source of illumination
Equal light strength pointed at both ends of the bathtub is the best way to illuminate the bathroom fixture. LED lights do a great job of conserving energy, which ends up saving you money on the monthly electricity bill. Recent technology advances have produced LED lights have more power, as well as create a warmer glow. You can also go with MR-16 bulbs, which offer the design flexibility of dimming different lights strategically placed in the bathroom.
One more thing about lighting. By simply opening up the shades covering the window, you invite the brightest bulb into the bathroom.
The sun.