Standing desks, which have become a popular product in the furniture industry, allow the user to do their work while sitting in a chair or standing straight. Compared to conventional desks and tables, standing desks offer two solutions based on the user's preferred way of working.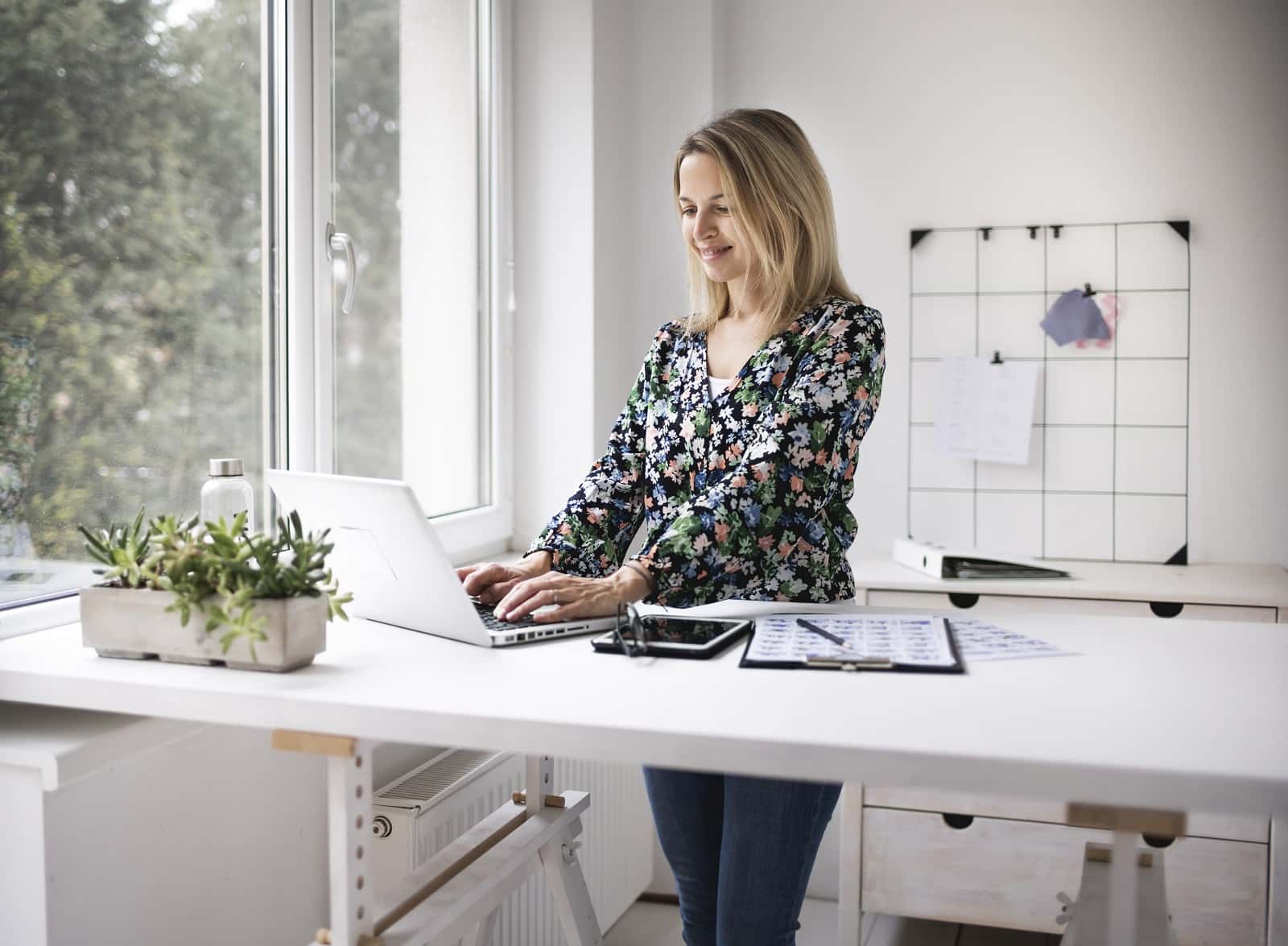 Furniture retail company, IKEA, has been a steady and reliable furniture provider to households for the past decades. As a leading maker of office solutions, their office and study tables are obviously of excellent quality. But do they produce good quality with standing desks? If you want to get an affordable and reliable standing desk, it's worthwhile considering all these standing desk alternatives designed for ultimate functionality, innovation, and design.
In light of this, here are five factors you should take into account when shopping for a standing desk:
Height Range
Standing desks would be useless without achieving the right standing and sitting height suitable to your needs. Therefore, take a look at its height range, which you can easily see on the product's label.
Essentially, the table's height range should depend on the individual user's height. Make sure to bring the user with you to the furniture store to test out your options. If you're purchasing online, be wary of height measurements.
Also, the Business and Institutional Furniture Manufacturer's Association (BIFMA), as accredited by the American National Standards Institute (ANSI), provides a set of furniture standards to achieve safe working environments fit for work, learning, and healing. According to their guidelines, a standing desk should be adjustable from a minimum 22" height to 46.5" of maximum height.
Manual vs. Electric
You can either manually or electrically operate a standing desk. As the name implies, a manual standing desk needs a manual operation to adjust its height–by controlling a hand crank sticking out on the desk's side. On the other hand, electric standing desks have a more effortless operation as they already come with a complete set of buttons required to operate the desk.
Since electric standing desks exist have a prebuilt system made by the manufacturers, it's both difficult and expensive to deal with them if the unit breaks down. With a manually operated standing desk, fixing damages can be more accessible and affordable.
Another advantage of manual sit-stand desks is they don't need electricity to operate, but they can be inconvenient for physically weak people. Because of technological advancements in furniture today, there's no doubt that electric standing desks will become more convenient and easier to use for all kinds of office needs.
Regardless of your choice between manual and electric operation, keep in mind to use your standing desk correctly so you can make the most out of your equipment.
Weight Capacity
Sit-stand desks should always possess durability and stability. This means that it shouldn't wobble or collapse from any movements done by the user. A durable and stable standing desk should also have a good weight capacity, which dictates how much weight you can regularly place onto the table.
The engine power of the desk goes into its lift capacity. The higher the lift capacity, the higher its durability and safety. When searching for a standing desk, compare the weight capacity with the weight of the items you plan to put on the table. You should never exceed the set weight limit of the manufacturer. Putting too much weight and pressure on the desk can damage the actuators of the desk, shortening the unit's lifespan.
Tabletop Material and Size
The operation method of standing desks makes them special, but you should never forget another noticeable component: the tabletop. Like ordinary tables, standing desk tabletops are made of a variety of materials, such as:
Natural wood
Medium-density fiberboard (MDF)
Reclaimed wood
Plastic
Steel
Without question, natural wood is the most classic and durable option, but it needs proper and consistent care. For cheaper options, engineered wood is a good option since it's light and durable.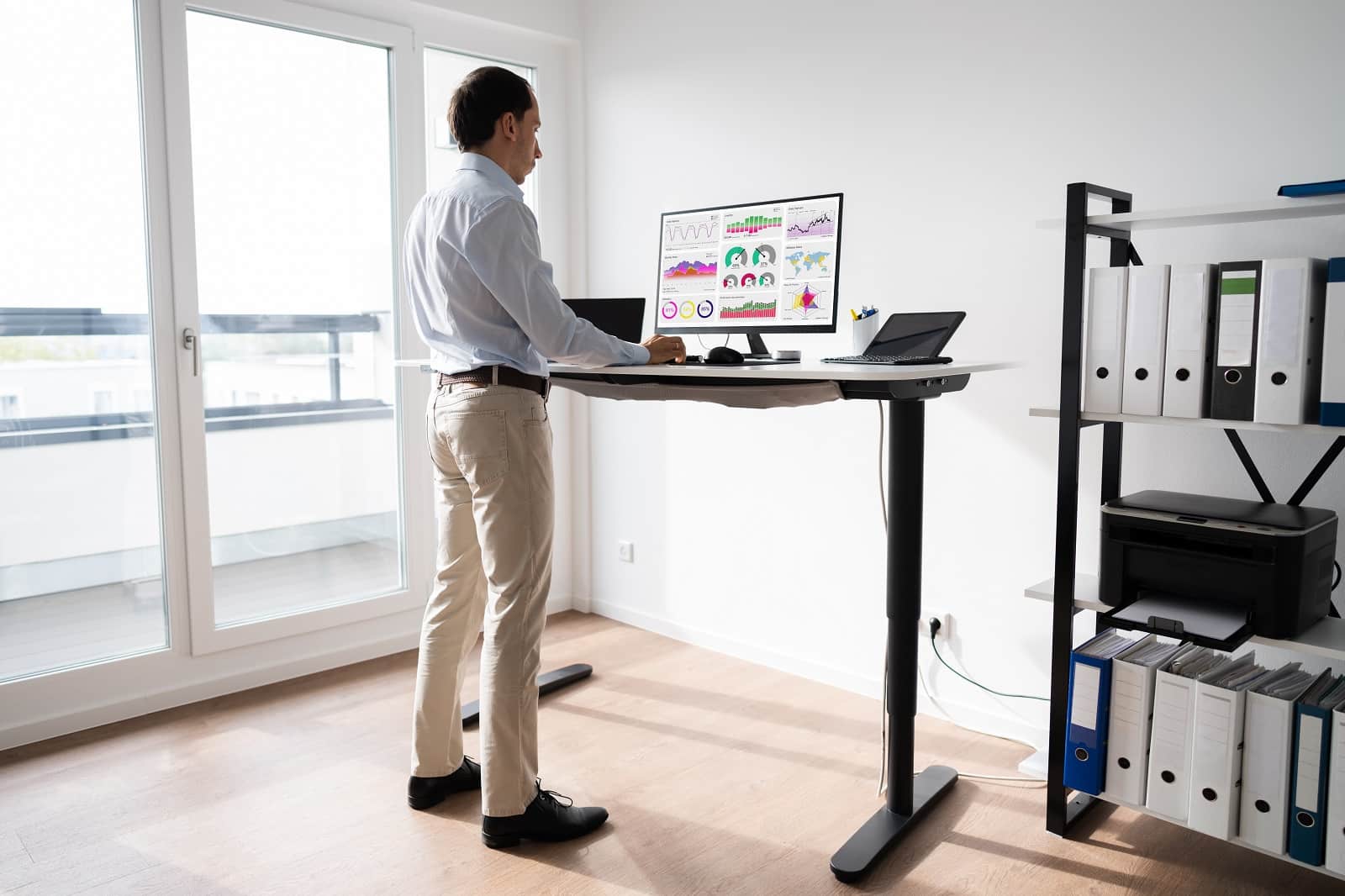 Aside from the tabletop's material, the size will also be an essential deciding factor. Whether you're using the standing desk for your work or study, you should go for a smaller size as much as you can to prevent yourself from adding unnecessary clutter. However, it still depends on your needs.
Programmability
Technology never fails to reach different aspects and fields of industry. Standing desks can now be programmable, allowing users to customize the height for standing or sitting. This means that you can now choose from various presets, add automatic reminders, and many more.
If you have the fortune to splurge on a programmable standing desk and your nature of work aligns with its capabilities, investing in one can be truly worthwhile. Programmable desks can save a lot of your time as they have the memory to adjust what's comfortable for you. It also has a higher weight capacity than non-programmable ones.
Endnote
Standing desks are the perfect go-to furniture for people alternating their work and study hours sitting and standing. If you're on the market for an excellent standing desk, take note of these factors to help you choose the suitable sit-stand desk for your needs, preferences, and budget. By doing so, you can arrive at a decision you won't regret!