Among lovers and connoisseurs of architecture with the flavor of ethnic historical basis, Acadian style rightfully takes its popularity in the US and Canada, being in harmony with the local natural peculiarities as stormy winds and damp winters. However, this architectural style is so universal that it shouldn't be limited to small spread areas and will be relevant almost anywhere in the world. So, let's somewhat quicker overview the most out of Acadian style home design. We are going to get closer to its key features, decide on why it is so popular and how to implement it in different locations.
Content: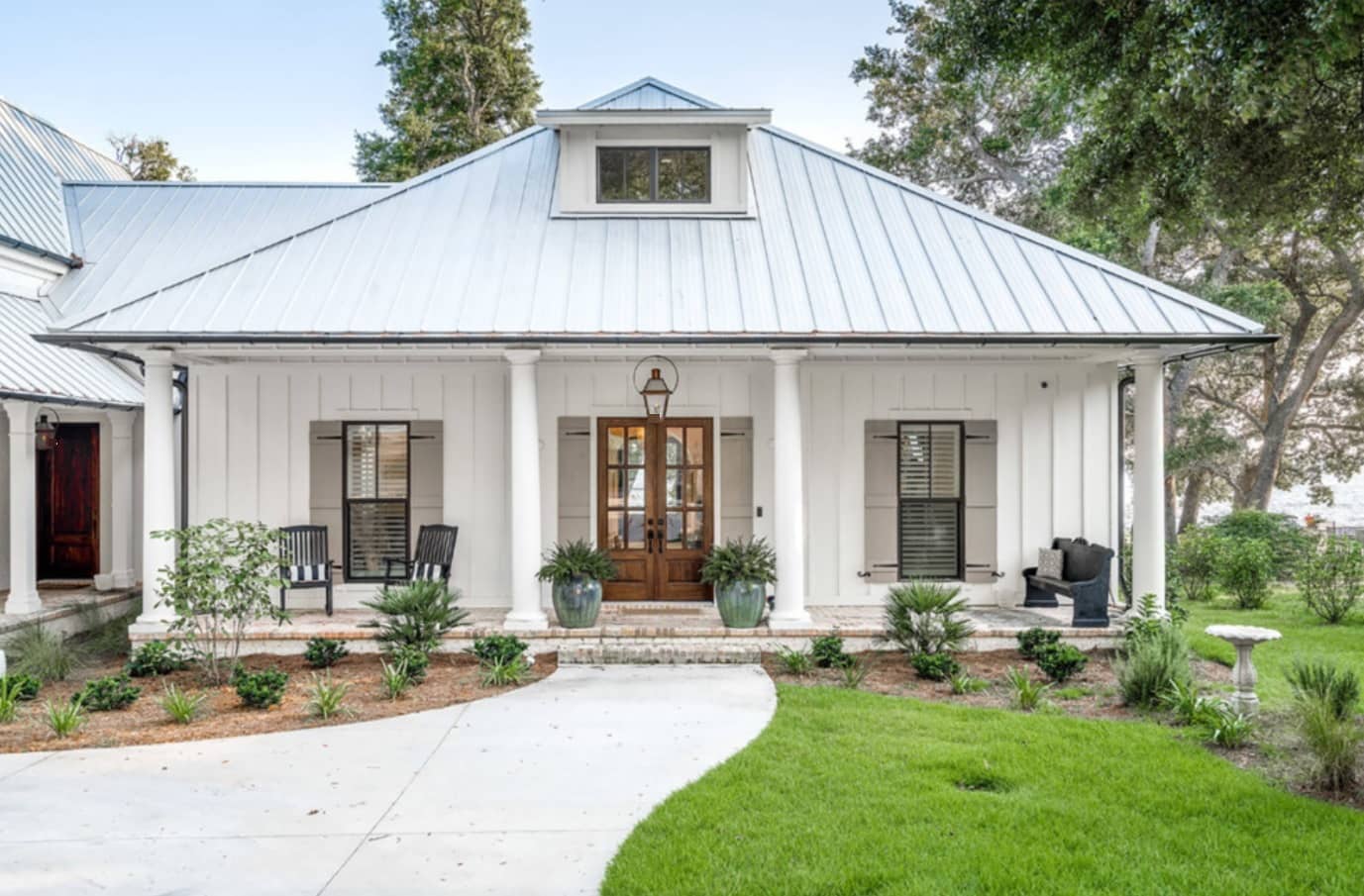 Acadian Style Home: History of Origin
This style firstly originated in Canada, Nova Scotia (which was also called Acadie by local citizens) at the middle of XVIII century. Of course, the Acadian style has a strong influence of West European culture and includes some traits of French Provence houses and Colonial style. After the moving of Acadians to the South to modern US states of Louisiana, Mississippi, and Alabama. Also, the ethnic endonym of Acadians who were (often forcefully) relocated to Louisiana changed. Now we know them as Cajuns. However, the name of the architectural style Cajuns bring with them to the new lands remained. It was in mid 18 to 19 centuries. Some of the houses (like Thibodeaux House, circa 1820) are preserved to this day. But the modern vision and philosophy of the exterior and interior of the houses changed greatly since then.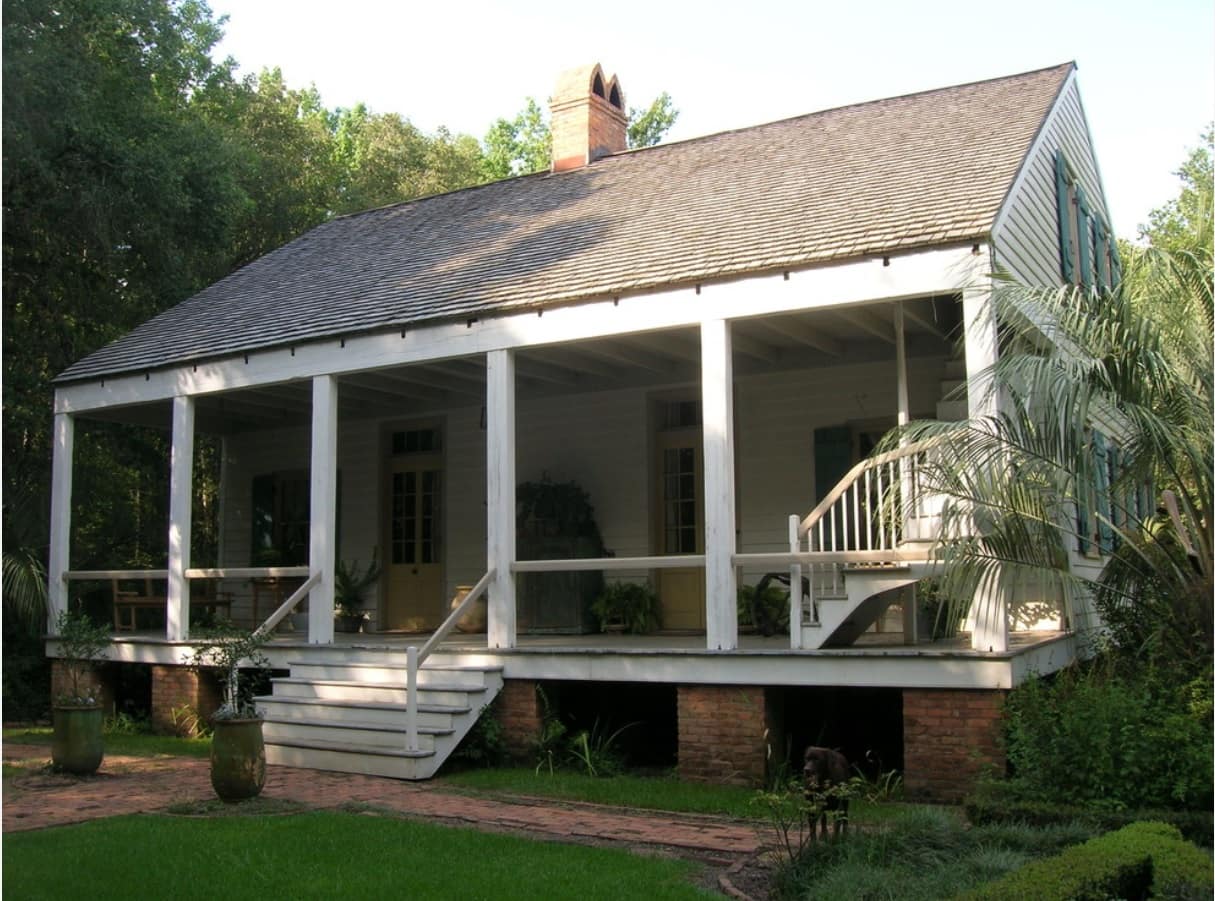 Key features of Acadian houses
With moving to the South, the original Acadian style of the houses has changed. Alterations comprised the design of the roof, porch, windows and some small elements. Eventually, the main features that can distinguish the Acadian style home are:
Steep hip (can be multilevel) roof. This design gives out the European origin of the style and nice for cold winters with big amount of snow that can ice up during thaws and can become a huge problem to the flat roof;
Single story. Acadian style gravitates to ranch or cottage architecture forms. However, there is no big deal to build a multistory house designed following Acadian style;
Brick/stone masonry exterior. Another similar to European Colonial style feature. Early Acadian houses were finished with wooden (cypress) facing. The modern exterior is much more durable and maintainable;
Long covered porches (usually on two doors and with columns). Acadian style implies the outdoor living (patio) zone at the front of the house;
Shutter windows. Again, the construction is great protection against stormy blows of wind.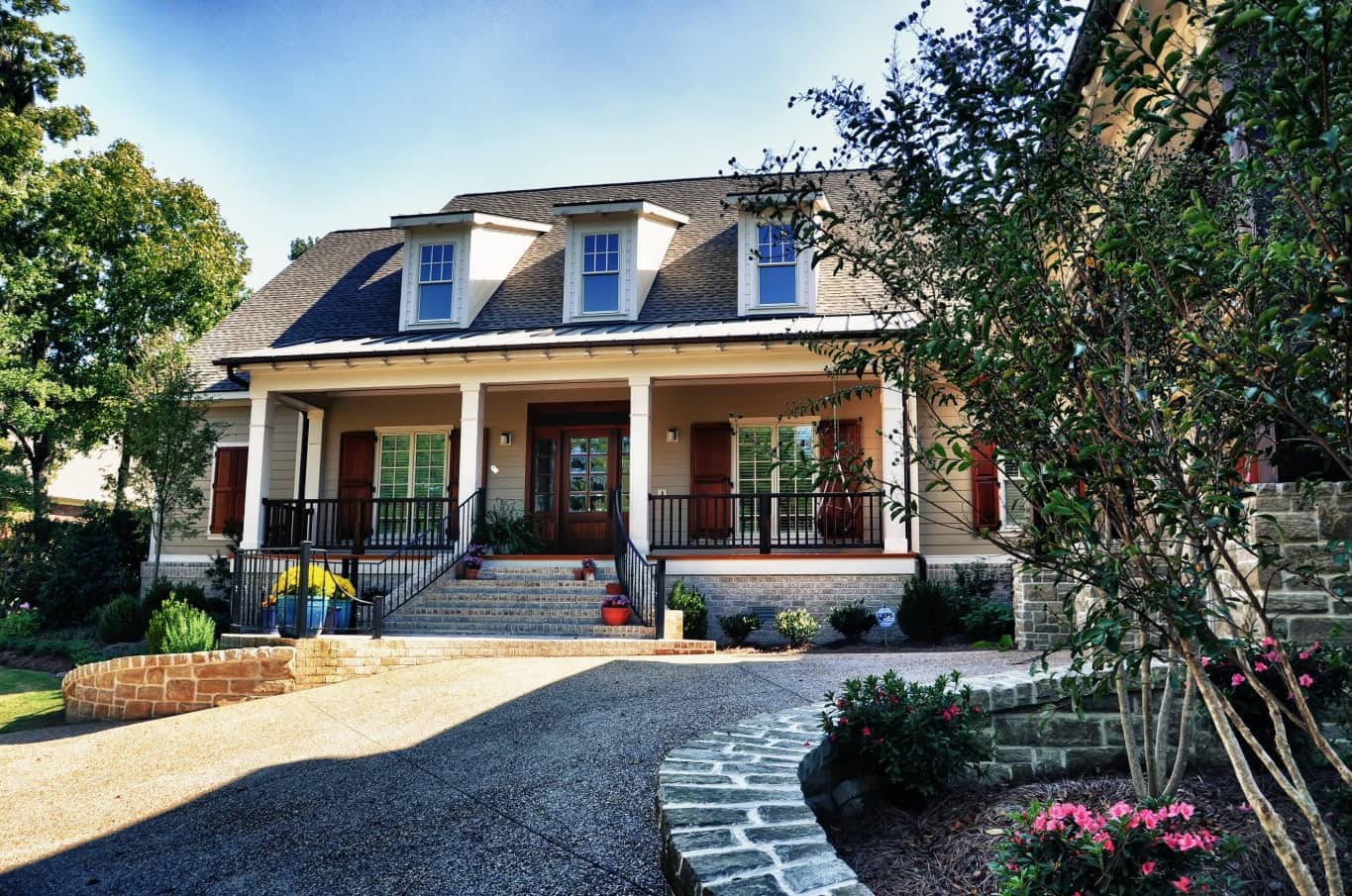 As we already mentioned, the house usually has two front doors that lead to dining/kitchen and to the hall (or great room). Another feature of the Acadian house is a large master bedroom that once was called garçonnière, which means "boys room".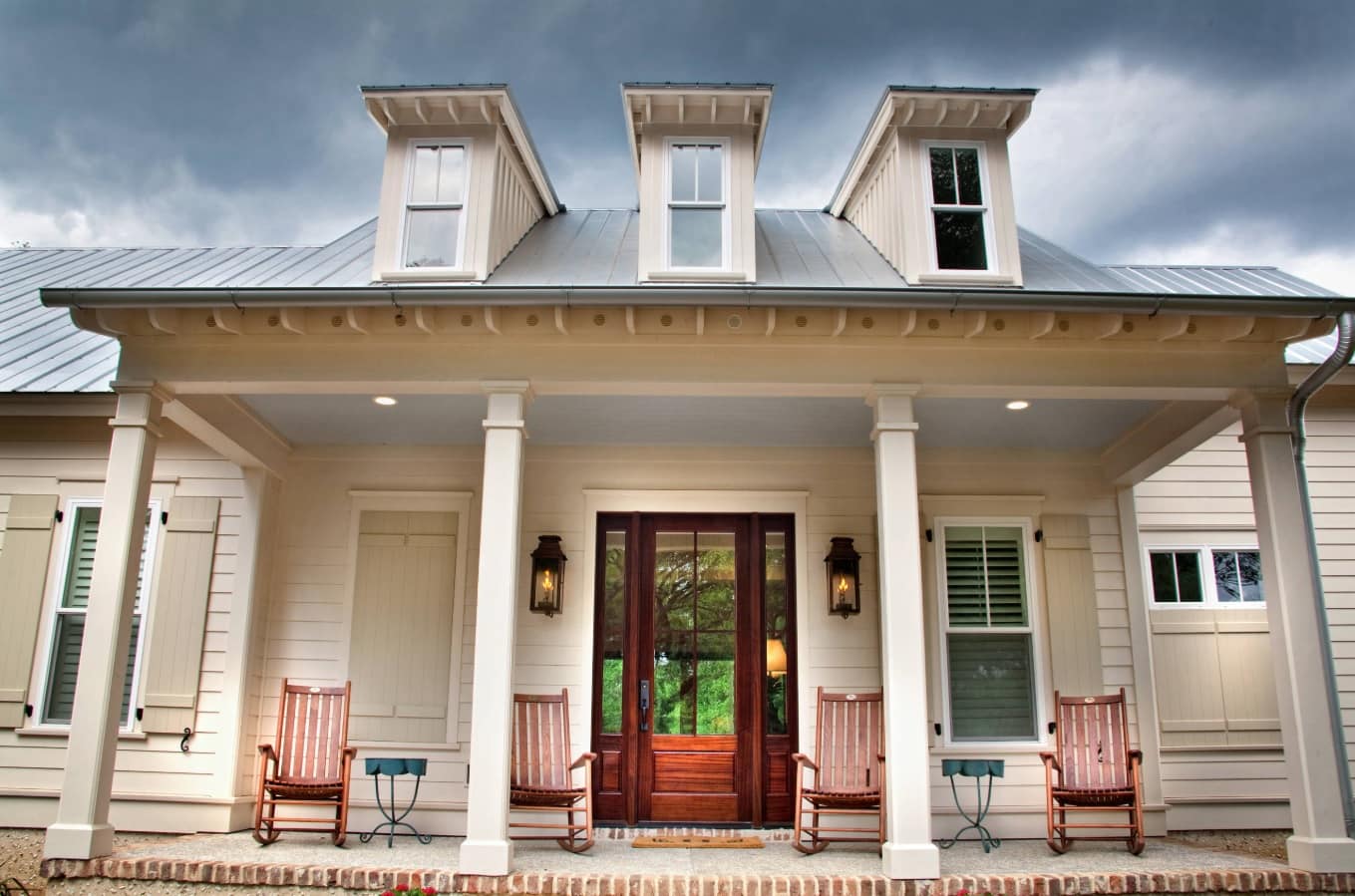 Why Choose Acadian Style Home?
What makes such houses so special and popular? As a buyer, anyone wants to see a universal solution for all seasons and long stay. As well as anyone wants his or her house to be durable, easily maintained and redesigned. Many people also imagine the ideal living space with all the necessary rooms for the family and guests. Fortunately, Acadian style home meets all the main requirements. It is very simple but effective in design, has easy cater for the stone exterior; it is widely customizable in planning.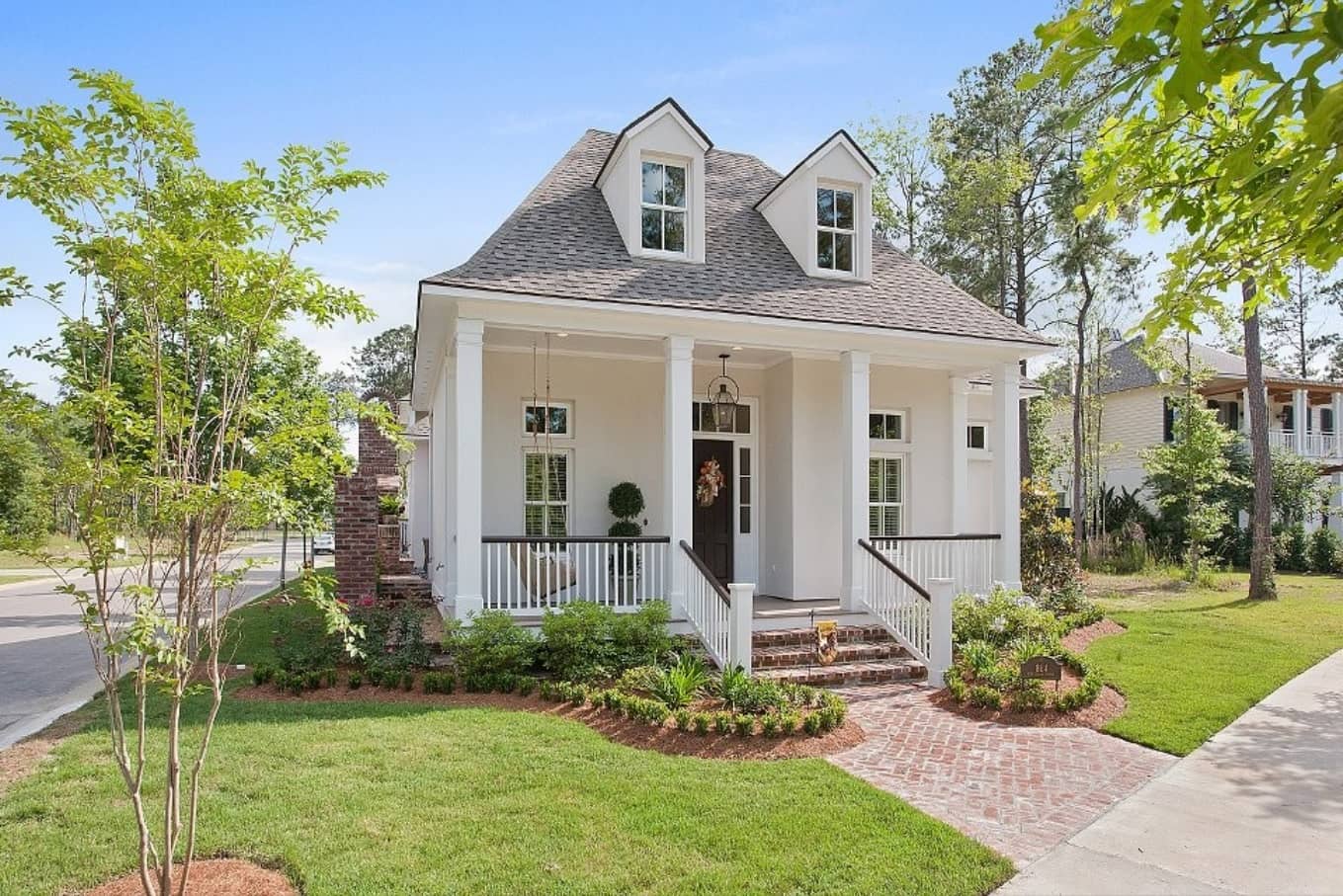 House Plans
Speaking about the effectiveness and simplicity of the Acadian style homes we could not overlook the house plans to show you the most out of the advantages of the style. The real examples will be right by the way. Also, you can order a unique house plan online or from a local architect/designer.
Stone Exterior 1600 Sq Ft Ranch House
We found ourselves in a simple designed Southern house with the stone trimmed exterior. Nevertheless, this house can boast with large spaces and 2 car garage. This would be a great fit for a small family of 4-5 persons. Moreover, you can see that not all the Acadian style principles are followed. That is where the versatility of the style unleashes at full.
4-Bedroom, 2200 Sq Ft Acadian House with front Patio
Here we have a proportional large house of the Acadian ranch type with hedged porch. Greatly elaborated plan allows placing 4 bedrooms, large living, 2 bathrooms, foyer, closet and a couple of other facility rooms under a single roof. Unexpectedly, we can see the house that can meet all the modern expectations from comfort living and incarnates the Acadian style at once.
3-Bedroom, 1600 Sq Ft European Plan
Not a very large house is able to accommodate a large master bedroom that has a window to the yard, jack and jill bathroom, and garage. Skillful space distribution lets the house include all the functionality on a comparatively small area.
The plans are presented by theplancollection.com where you can find even more spectacular designs.
Modern Stylistics of the Acadian Houses
Contemporary Acadian style home has all the modern conveniences. You can find a semi-separate large kitchen with bar, island, butcher block and pantry; dining room, master bathrooms, and bedrooms.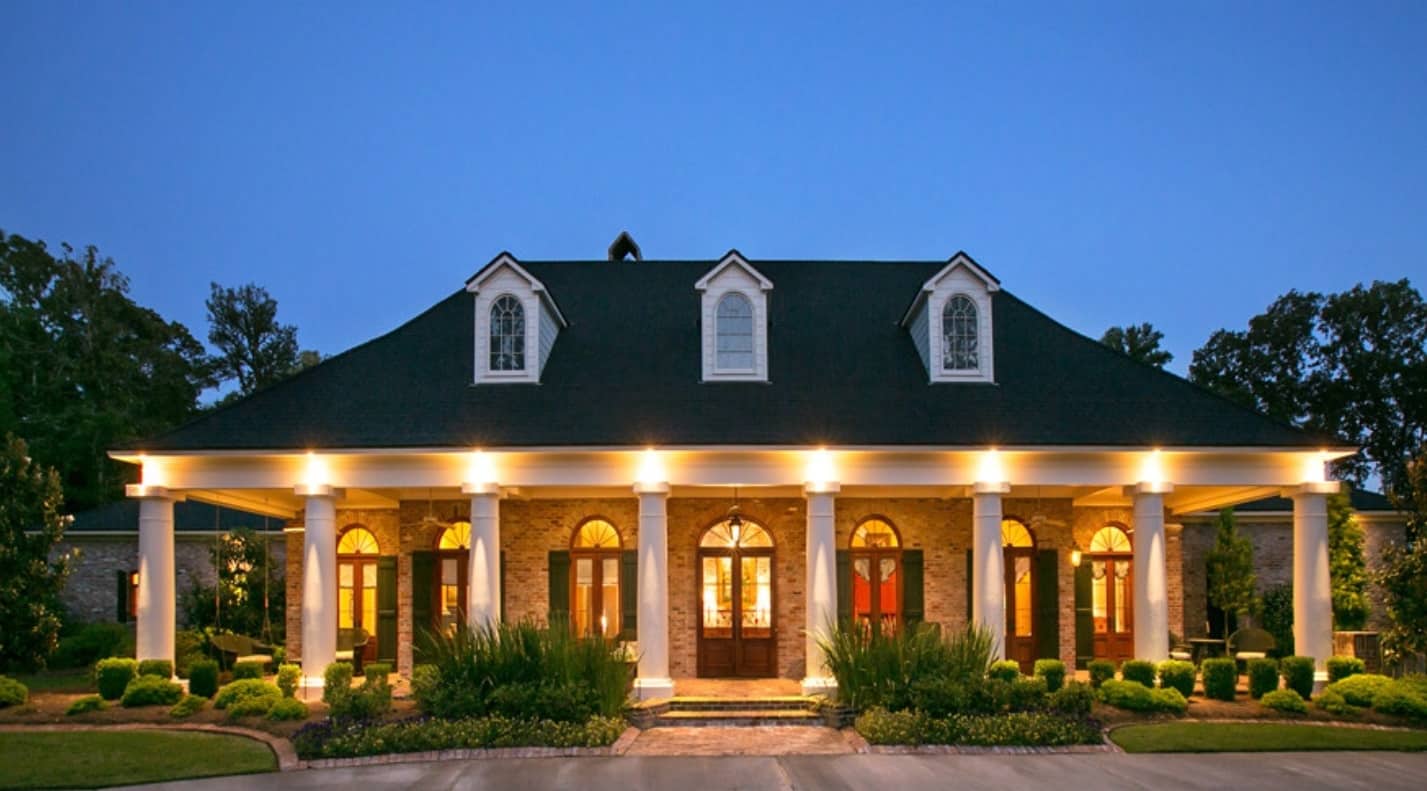 Open to modern expectations, the Acadian house is highly alterable: you can add the large room instead of kitchen-living combination or hearth room instead of the pantry. Additionally, modern houses almost always include a front located garage for 2 cars. It would never be superfluous to mention that Acadian style houses and their territory are ready for all kinds of modern security updates to make your stay really safe.