When choosing a floor coating, the new epoxy flooring system really stands out from other options.
It may be challenging to put money on an epoxy floor or choosing the appropriate flooring solutions. Several factors, such as installation costs and the downtime that will occur during the installation process, can affect your final decision.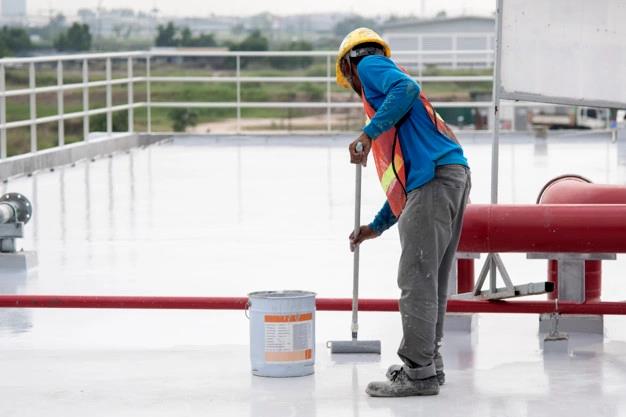 However, the importance of choosing a good solution depends not only on cost but also on service life, safety, durability, etc.
With a variety of commercial, industrial, and office flooring options, the first things to pay attention to are the space requirements:
Does the surface have to be resistant to chemicals, slips, or moisture?
Do you need the ability to handle heavy loads?
Does the surface have to withstand heavy foot traffic?
Do you need resistance to high or low temperatures?
Do you have to meet certain sound, building, and safety specifications?
Selecting a proper contractor for epoxy flooring is important as well. UltraSyntec is an award-winning contractor and has been serving its clients since 1996.
Many companies' flooring solutions do not necessarily support the current state and use of their facilities. This is primarily because of the high cost associated with replacing flooring systems.
However, not addressing this issue can cause damage to employees, visitors, and customers, increase maintenance time, which can result in costly renovations that will require downtime for the business.
What is Epoxy?
The primary feature of an epoxy coating would be that it varies scientifically from traditional floor coating.
A resin floor consists of a two-component epoxy resin system: a combination of polymeric resin and a hardener, similar to the epoxy adhesive.
When combined correctly, the epoxy resin and polymer interact with each other, allowing each substance and the floor itself to have a chemical bond.
A solid polymer that is flexible, resistant to corrosion, and has outstanding binding to the surface is formed from the chemical reaction.
What is an Epoxy Floor?
A flooring layer composed of numerous coats of epoxy resin added to the floor to a depth of approximately two millimeters applies to the easiest concept of epoxy flooring. When considering epoxy flooring, there is always uncertainty.
Epoxy flooring is an epoxy coating with a thickness of at least two millimeters, as described above. Any epoxy surface is usually referred to as epoxy flooring that is less than two mm thick.
Why You Should Consider Epoxy Flooring
Resin and epoxy flooring are popular in various industries, from food manufacturing and processing to hotels and restaurants, warehouses, and distribution centers, to aviation, transportation, education, retail, and even remodeling. A resin floor can meet many utility requirements, such as:
Impact Resistance
Installing high-strength epoxy floor coverings can provide any high-flow surface with the strength it needs to withstand extreme pressure and heavy use.
Standard concrete flooring systems cannot always withstand high traffic or heavy wear and impact, and they soon start to show signs of damage. This requires costly and time-consuming demolition,  repair, and repainting.
Stain Resistance
It provides a faster cleaning process and saves time and money when repairing stained surfaces.
Durability
The epoxy and resin surfaces are tougher than concrete or some other substance and more reliable.
They have such a long lifespan and can be repaired or removed, thereby lowering servicing and restoration costs without removing the original flooring.
Resistance to Humidity
Moisture leakage from concrete substrates is a common problem that occurs in many installations.
Moisture can cause degradation of the flooring material and unsightly blistering, severely affecting the floor's performance and substantially reducing its life.
In contrast, epoxy flooring is more heat and corrosion resistant, easy cleaning, friction coefficient, quick healing, implementation speed, and several other benefits.
The Installation Of Epoxy Flooring?
For a successful installation, properly preparing the base material is important. The type and extent of preparatory work before veneering a concrete floor depending on the concrete's type and condition, the degree of exposure, and the coating system used.
The concrete must be free of dust, debris, and any other contaminants. Without proper preparation, a weakened layer will form on the concrete surface leading to several problems down the road.
When purchasing new flooring systems, common problem companies face is whether they need to shut down a facility for the installation.
It is worth noting that many large contractors will stick to their schedules to ensure minimal business disruption.
Choose from fast curing epoxy or polyurethane solutions that can be used within 24 hours, significantly reducing downtime.
Choosing the Right Flooring Contractor
It is necessary to consider one of these when selecting a reputable flooring contractor. They must have proper experience in installing floors in a particular environment.
Ideally, contractors who choose to manufacture and install their products are a bonus. A single point of contact eliminates the hassle of managing multiple vendors throughout the project, making it easier to manage the project.
Good contractors are also good at managing the project from start to finish, eliminating stress for you, the client.
Questions You Should Ask
Here are some crucial questions you should ask when hiring a contractor:
Are the products safely utilized? Were they clear of toxic solvents?
Is there a danger of producing poisonous fumes while the product is mixed?
Will these products harm employees and those who will be in close contact with this material every day?
Is the product environmentally friendly?
Is the contractor technically qualified?
How to handle chemical waste after completion?
Conclusion
Lastly, a good flooring contractor will provide a post-treatment care plan that includes recommendations for extending the life of the flooring and follow-up visits to resolve any issues.
Here are some tips for choosing a good commercial contractor.
From the beginning to the end of the project, customer satisfaction must be the key, including after-sales service that is covered with the price quoted.
Good flooring experts will regularly visit your site after installation to fix any issues and make sure you are happy with the new flooring.