Bathrooms in apartment of the last century, sometimes had an area of ​​less than 4 square meters. there are premises with total area less than 2.5 sq.m. Still, it was rather an exception. Currently, most of the apartments from the so-called old housing stock, can "boast" with room for water treatment area of ​​about 4 square meters And as we all understand, we should be placed not only bath or shower in this modest room, but all the attributes of bathrooms – toilet and sink. This is a pretty realistic task while successful arrangement of plumbing. You can also achieve a free space in the bathroom. Let's see the details of how you can position the attributes for water and hygiene, to decorate the room and what accessories to use to achieve not only comfortable accommodation, but also the expansion of visual space.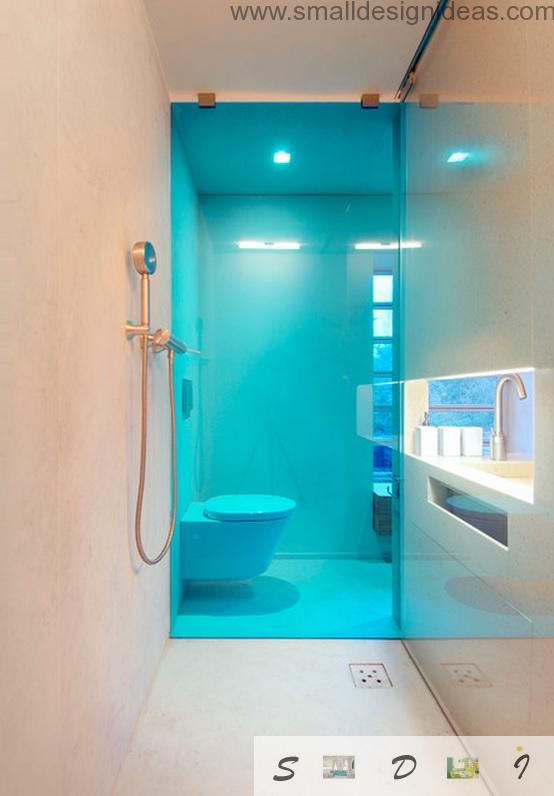 For bathrooms of extra-small size, there are not so many rules of design that help visually expand the space:
Use light colors to finish;
the use of the lighting system at several levels (a ceiling lamp is not enough);
the use of a mirror;
If glass is used, it is best to choose the transparent option;
use the least possible amount of furniture, only the necessary storage.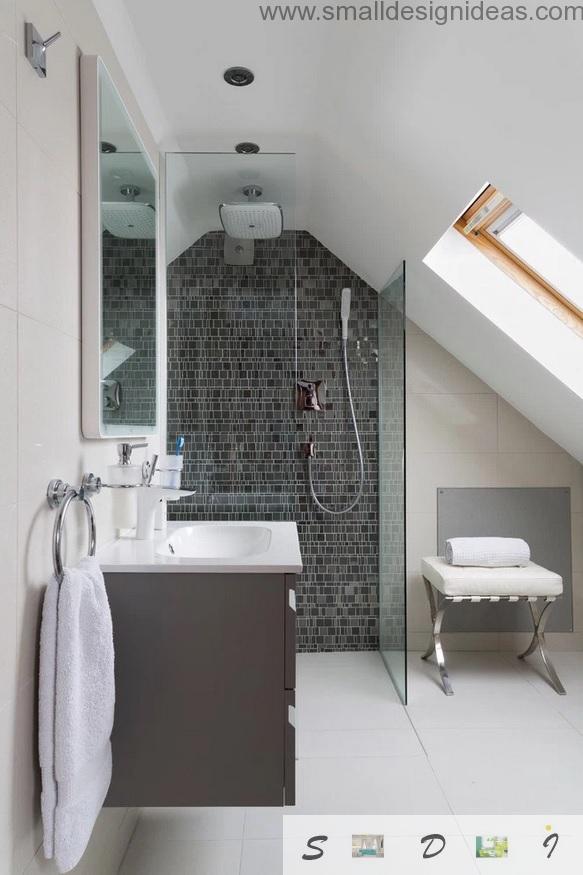 But there are some constructive ways to use all available space on the bathroom with upper efficiency. For example, you can set the so-called "console" toilet which tank "is recessed into the wall." Due to such design you save about 20-30 cm of usable space, and we understand that in an incredibly compact and functional bathroom every centimeter counts.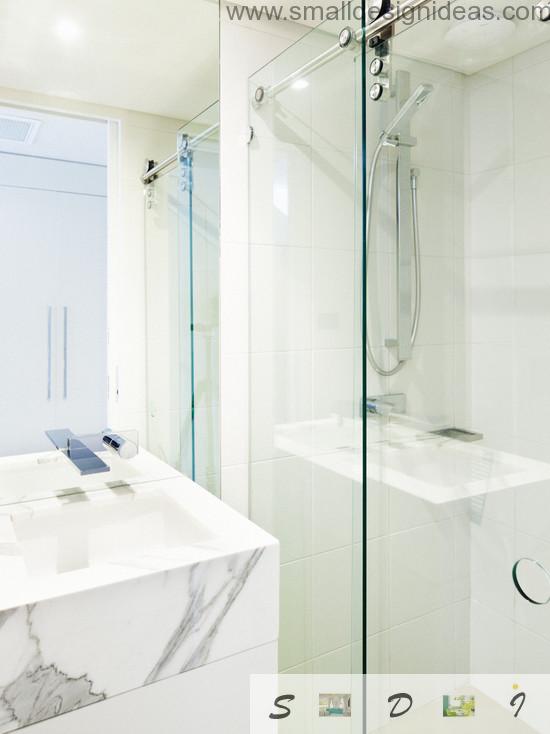 Through proper use of niches for water systems can though small, but still the place for storing of toilet paper and detergents.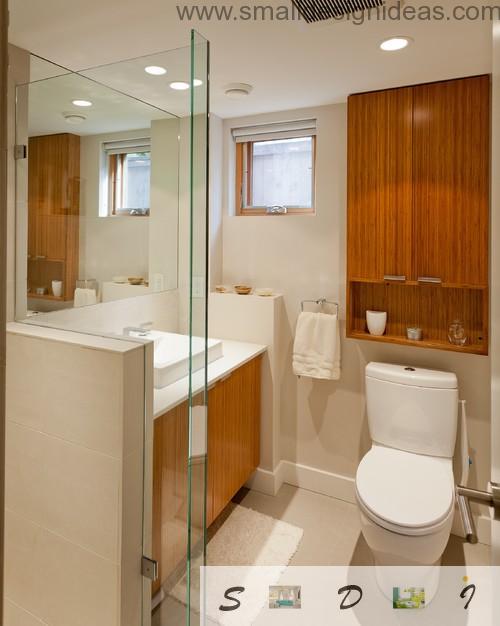 Sometimes to increase the usable space of the small bathroom, you must move the doorway to release the whole wall for the installation of bathtub.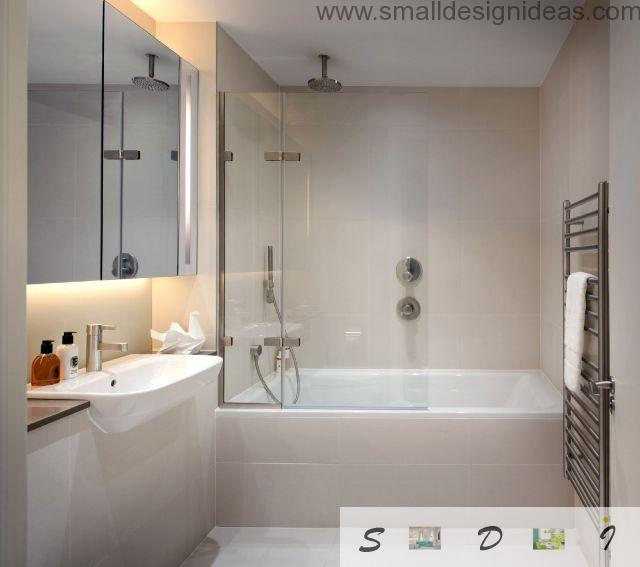 If you remove the bath and install in its place a shower cabin, part of vacant space can be used for embedded systems storage. Will it be open shelves for storing towels and bath robes or closed cabinets for washing and cleaning agents – it`s up to your decision.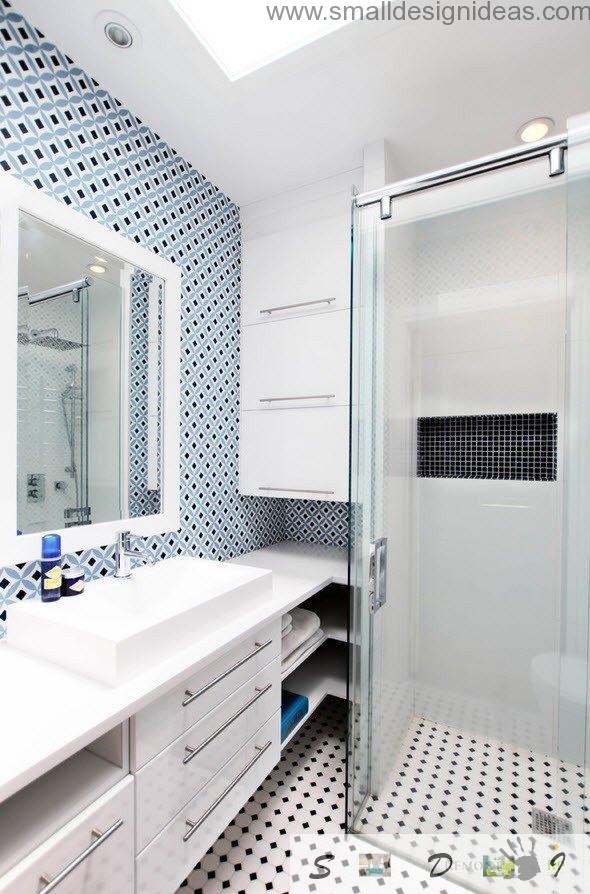 Extra small bathroom design ideas for finishing
In fact, the bathroom area has virtually no impact on the choice of a way of finishing. It is obvious for everyone that the surface with the highest humidity can`t have a better finish than ceramic tiles and mosaics. It is them we often see in the shower and on the splashback near a bath tub in the design projects throughout the world. The spacious bathrooms of private houses, a bath can be placed even in the middle of the room, and in this case, there are far more features for the walls, including the use of water-resistant wallpaper. In a room for water treatment with an area of ​​4 m, it is obvious that the bath is located at one of the walls and that it will be most loaded in terms of temperature differences and intense moisture.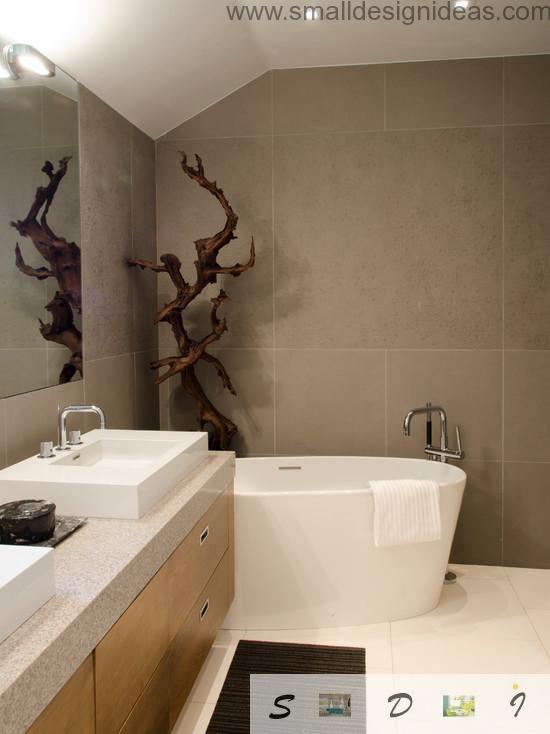 Ceramic tile
Ceramic tile is the most popular tiles for bathroom surfaces exposed to constant moisture. Ceramic tile is not only high quality moisture and temperature resistant material. It is durable, reliable and relatively inexpensive material for finishing any surface. Among the disadvantages of ceramic tiles as bathroom surface finishing can only be admitted complexity of installation and high cost of some tile types.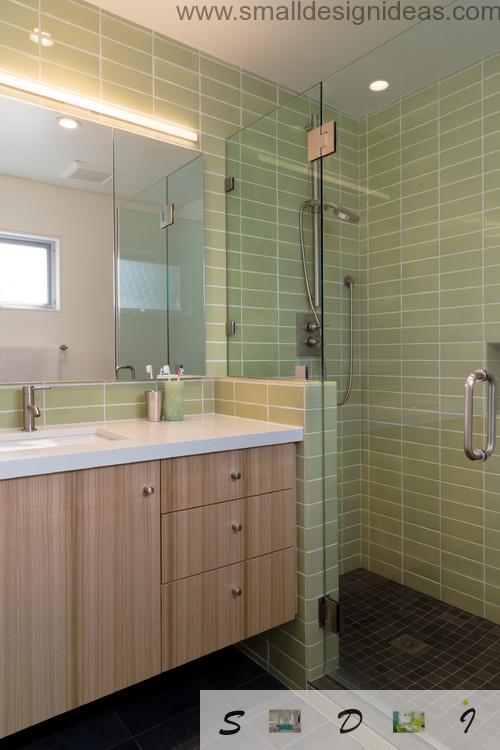 Ceramic tiles "Metro" is a rectangular plates, which are usually construct a brick work, is one of the most popular types of tiles for decoration bathrooms for many years. White tiles "Metro" is usually paired by a dark grout to create a contrasting appearance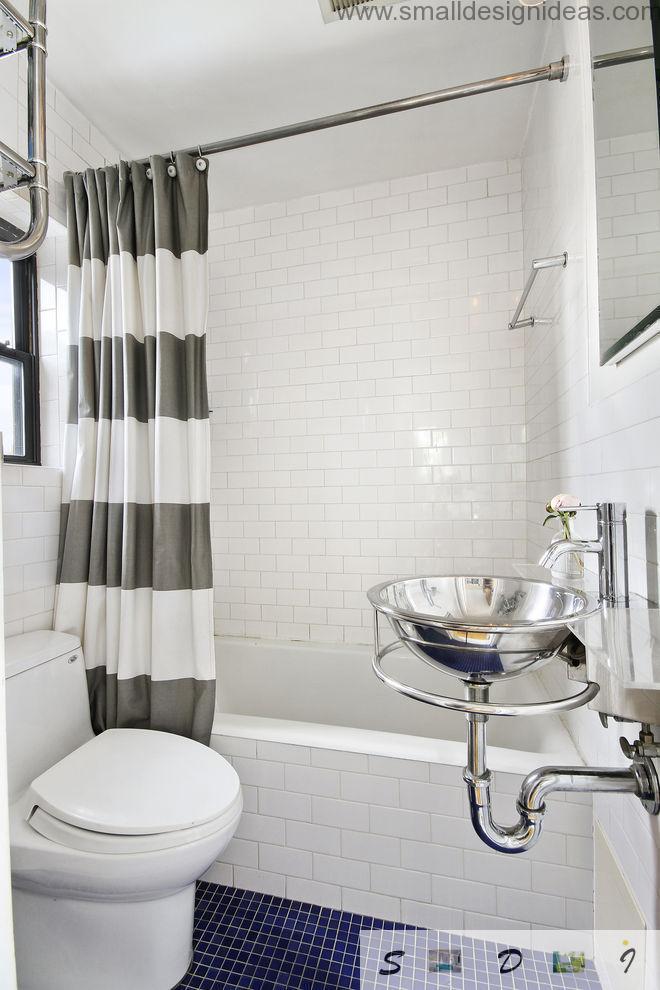 Porcelain tiles are tiles with high properties of mechanical stability and resistance to cleavage, previously used mainly for floor lining. Now you can find many design projects with walls and floor of a bathroom decorated with tiles of the same color and size. The impressive size of such tiles provide a high rate of installation, but more waste (it all depends on the shape of the room and its design features).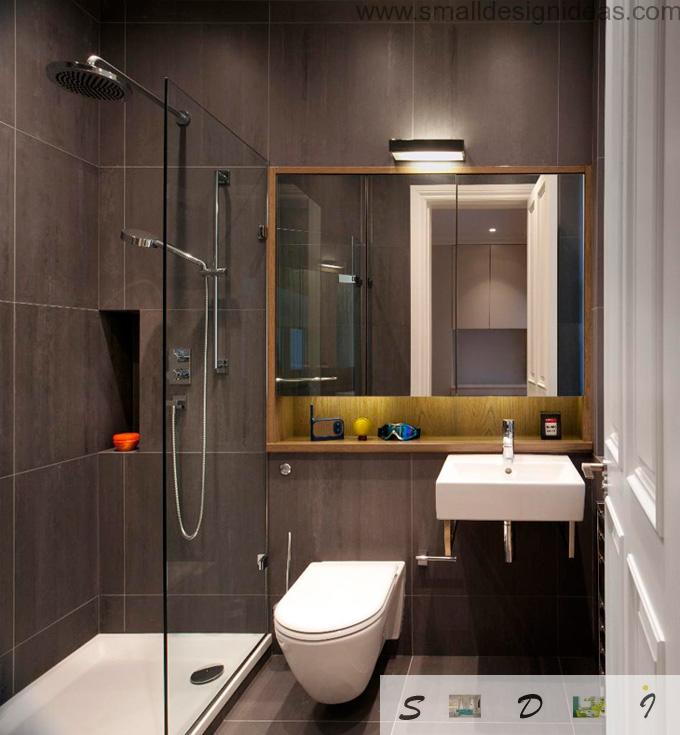 Mosaic
Mosaic, along with ceramic tile has all the advantages for the possibility of a durable cladding of surfaces exposed to high humidity and temperature extremes. But this material has its own dignity: opportunity of facing complicated surfaces and forms (round, arched niches and ledges). Mosaic can be applied to absolutely any surface material, including tub or sink. Dark blue mosaic fits perfect to furnish this shower cabin in the snow-white bathroom – light, cool image, full of ease and tranquility is comfortable for most homeowners.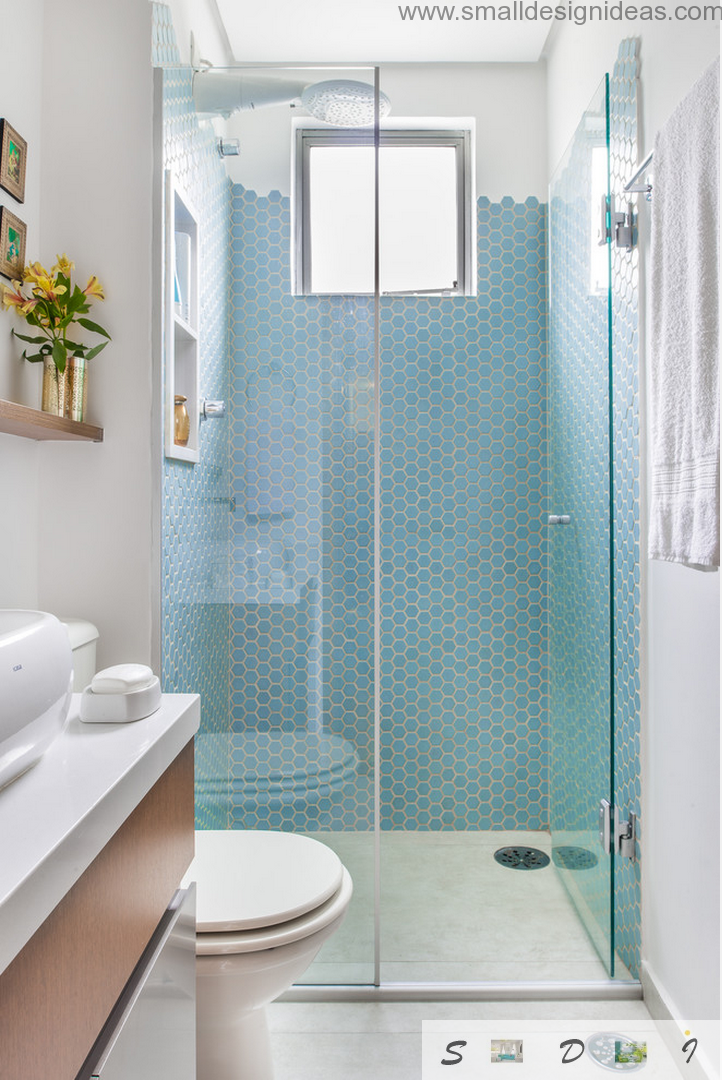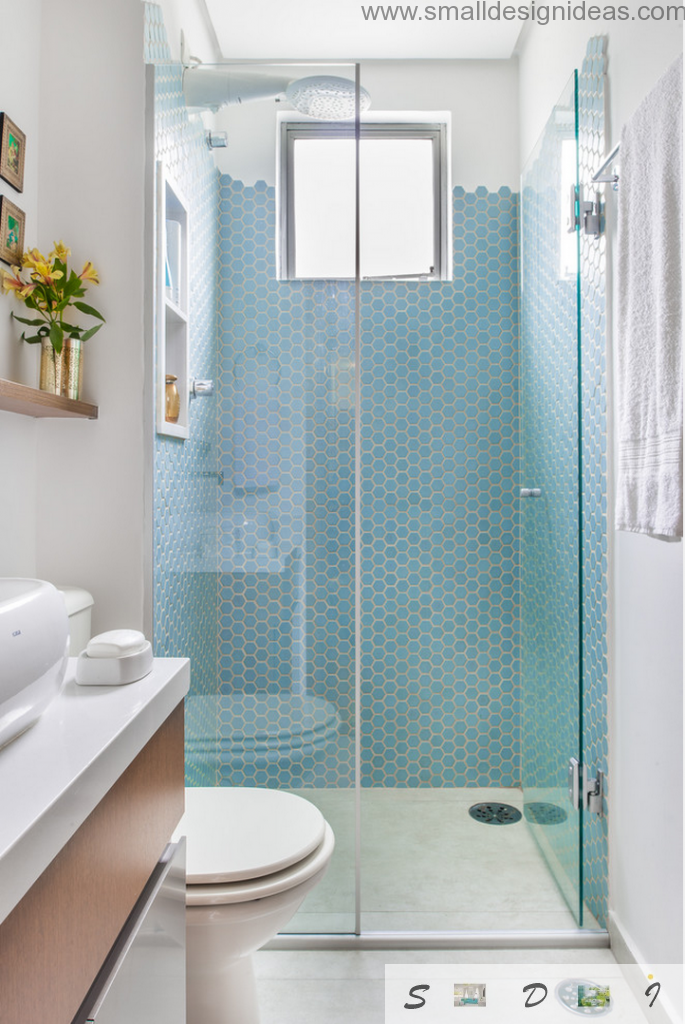 As a rule, mosaic with small chips (elements) is available in the form of small blocks of square or rectangular shape, which accelerates installation rate very much. Figure mosaic, called "pixel", is very popular for decoration of bathrooms exactly – contrasting, interesting combination of several shades of one color look very impressive.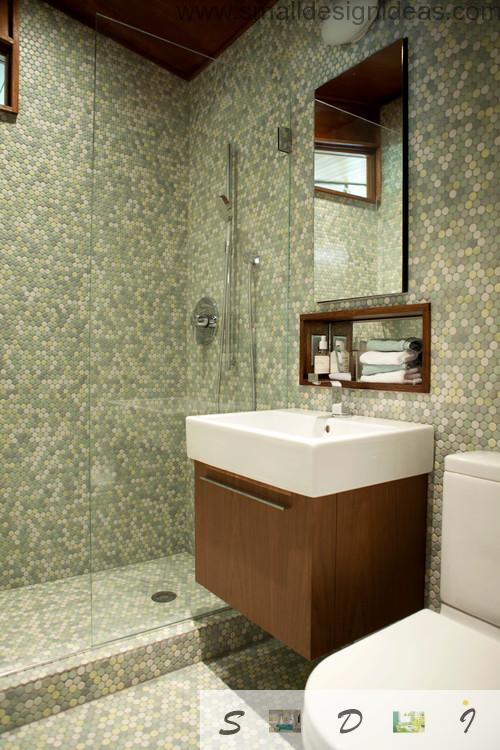 Mosaic is perfect for decorating the individual elements of the room – edging around the perimeter of the room, allotted space around the mirror or sink, zoning segments of water and sanitation procedures.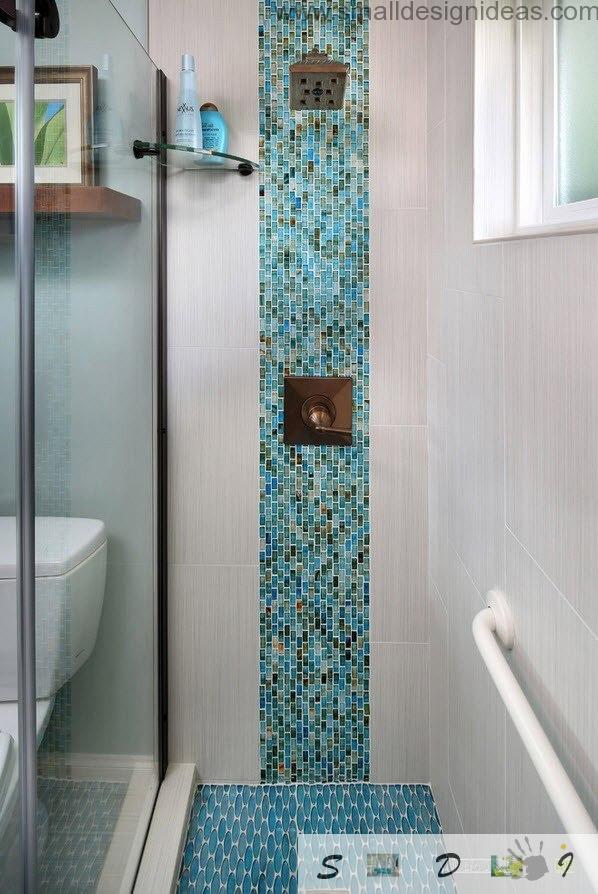 Waterproof plaster and painting
This finishing material is most often used in areas with the lowest humidity: sector under the ceiling, space near the toilet and on the opposite side from the bath. The rich color palette, low cost and opportunities for self-application is pushing many homeowners to use these decorative materials. Among other advantages may be noted the simplicity of changing the image of the bathroom, what is definitely not the privilege of tiles or mosaics.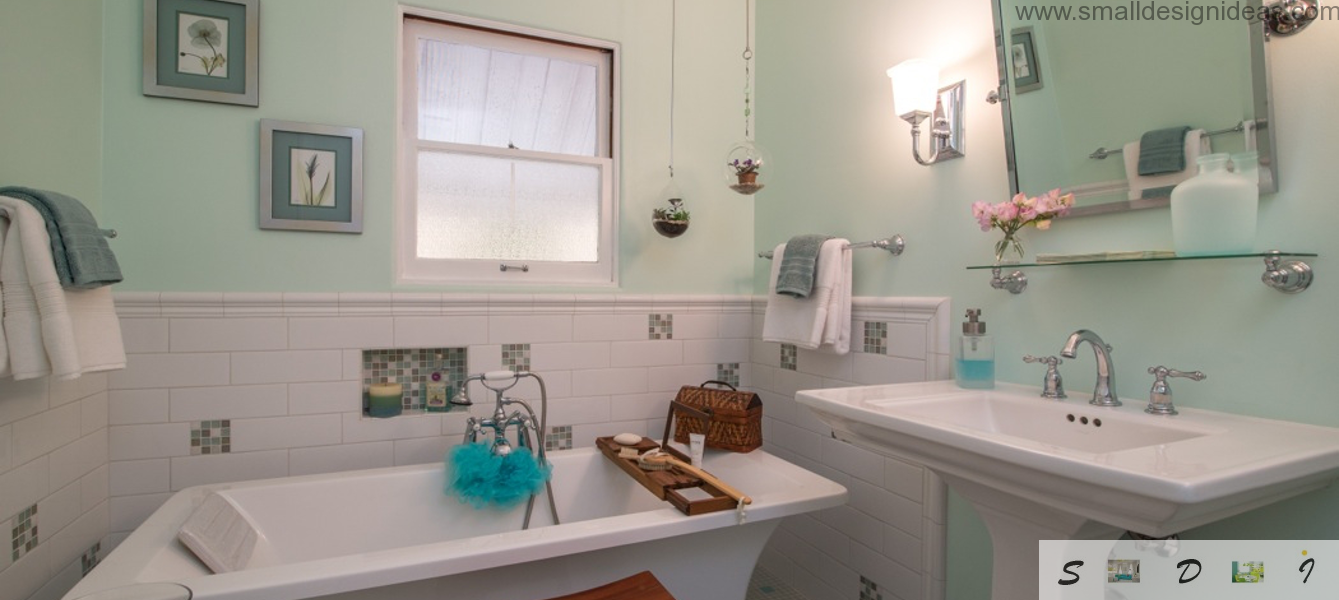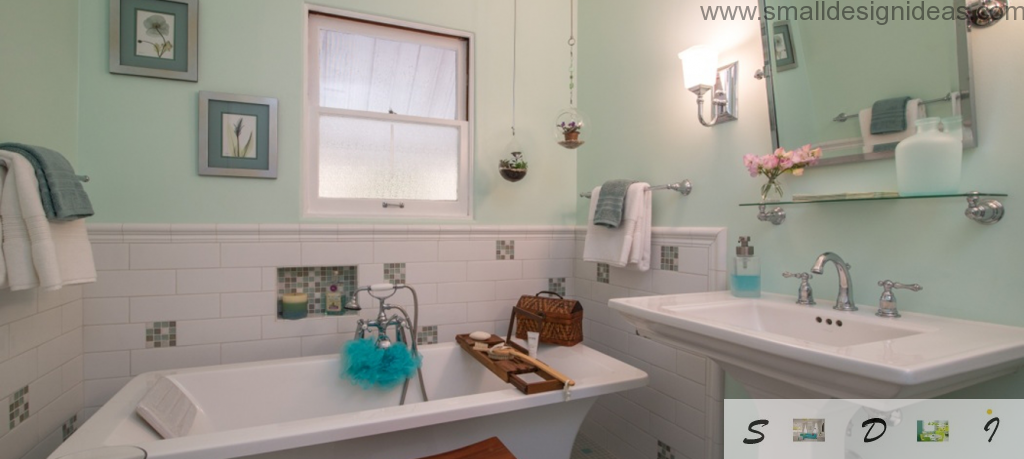 Obviously, in the wettest places, such as a shower and a splashback near a bathtub, sink can not be used painting and plastering of the surfaces. Such refurbish will not stand even a year.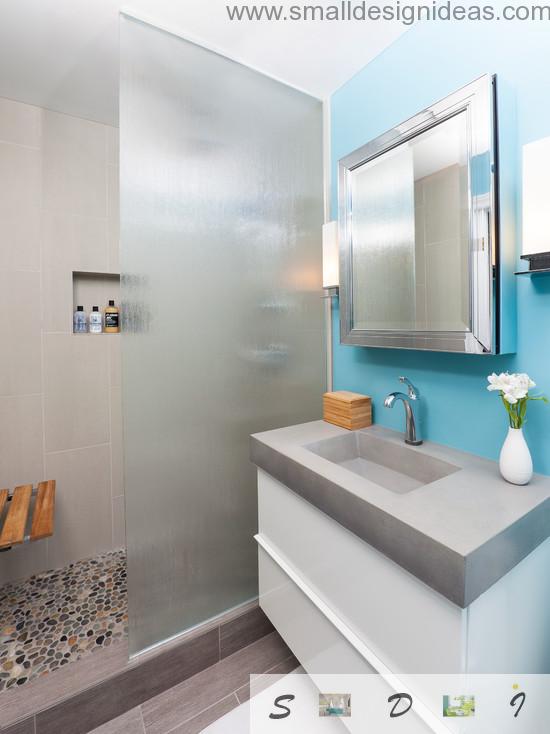 Vinyl washable wallpaper
Until recently, the wallpaper was rare guest in the bathrooms for obvious reasons of rapid wetting and very short life. Currently, vinyl washable wallpaper are able to tolerate a low level of humidity very worthy. But even under such conditions their placing near the work areas is not desirable. And the wall near the toilet or exit is a good place. With motley pattern or bright colors you can create accents in the interior of even a extra-small bathroom.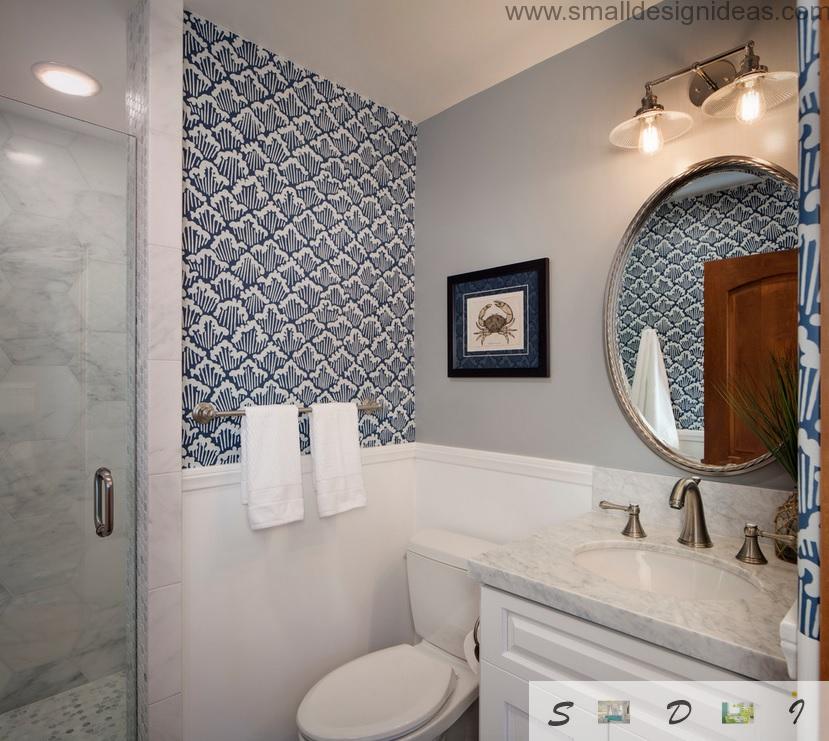 The color palette in a modest sized bathroom
Of course, light and even snow-white palette is the first thing that comes to our mind when planning the color scheme of the premise with very small area. White color not only visually expands the space, but also helps to relax, clear your mind, soothe the emotions after a hard day and get ready for bed. But absolutely white bathroom can evoke association with the sterile hospital operating room. To avoid an unfortunate comparison, it`s enough to bring a couple of accents, bright spots into the interior of the bathroom. This may act as part of the trim and also as accessories. You can simply hang a bright towels and put a rug next to the sink. Combining these simple "diluents" colors (and doing it with little financial cost), you can bring changes into the image of room for water procedures.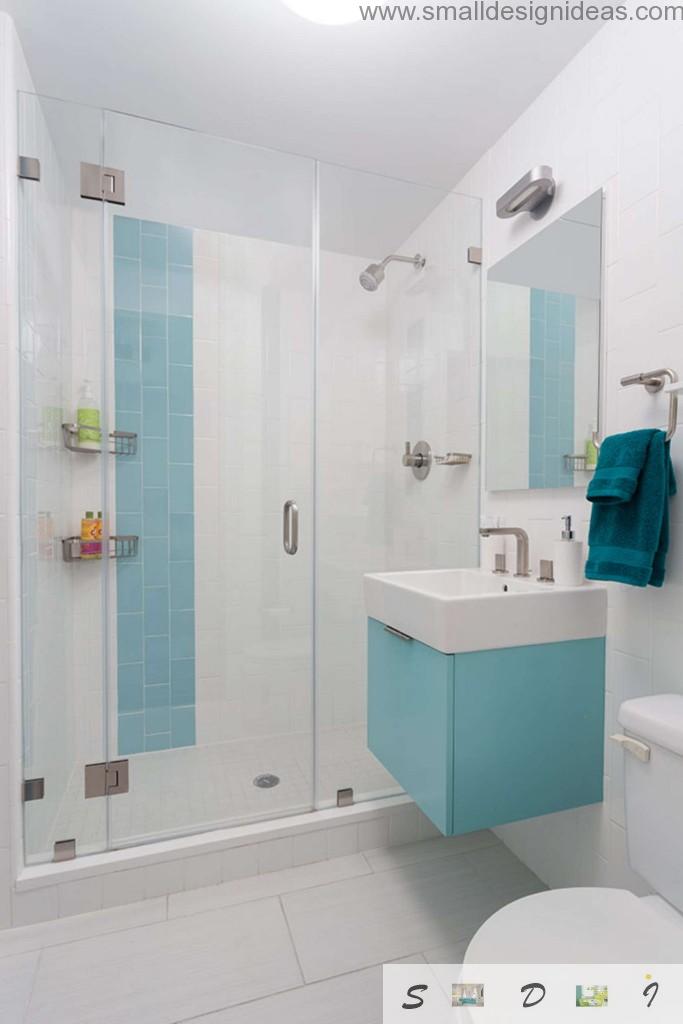 Bright accents in the bathroom`s snow-white finish look very impressive, charge you with vivacity in the morning while carrying out the necessary water and hygiene procedures.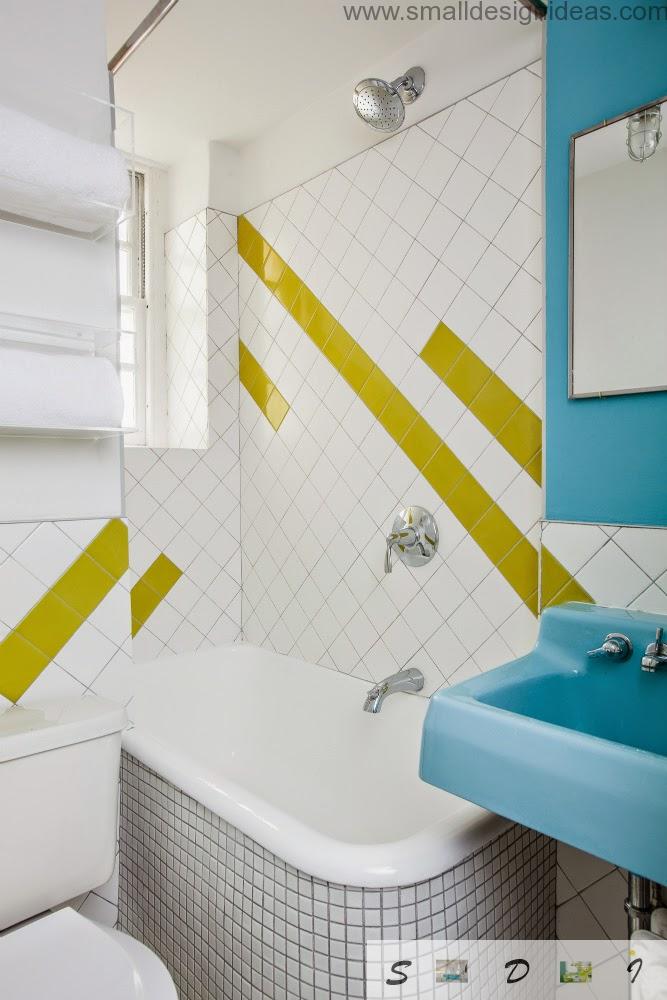 Using only the white ceiling and upper wall parts of the bathroom and colorful ceramic tiles for the rest area for decoration leading to the creation of interesting, positive, and even the elegant image of the room.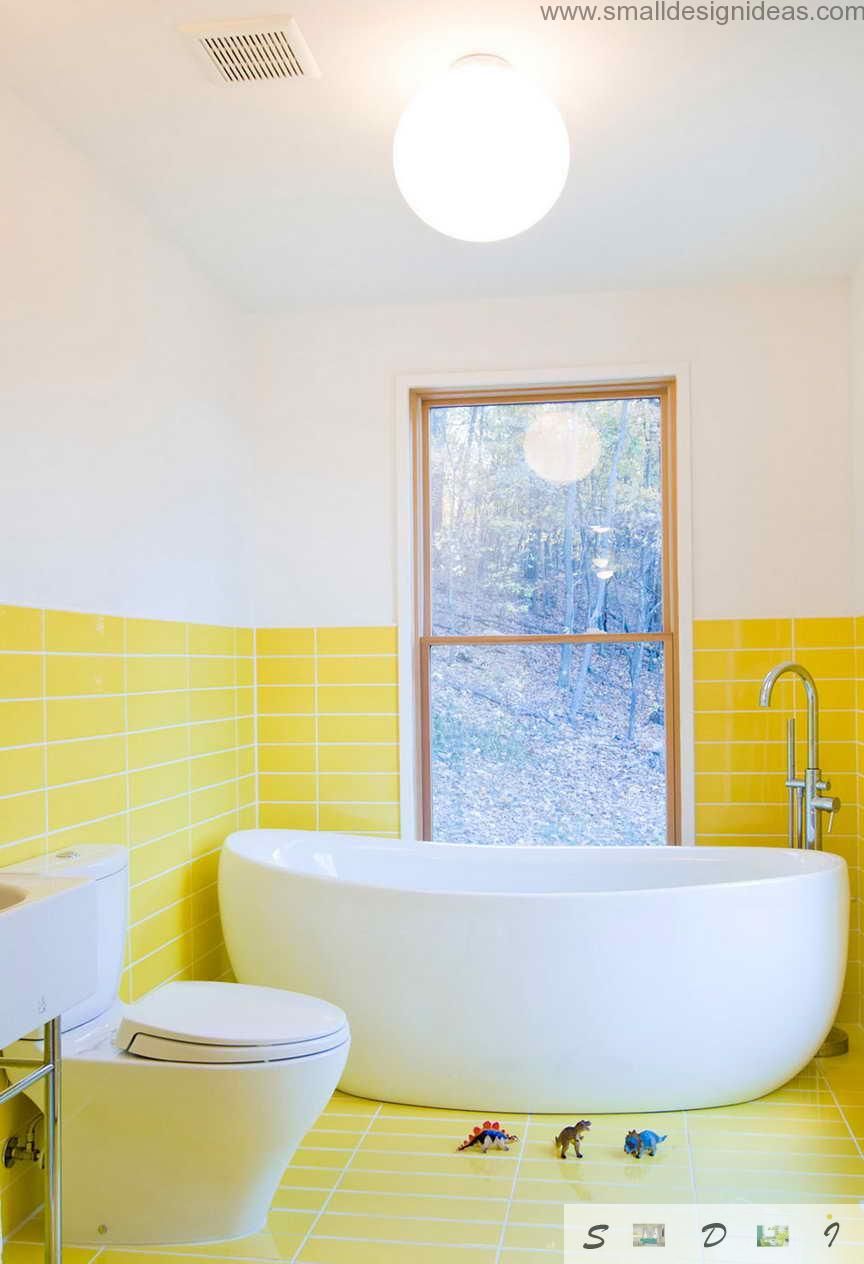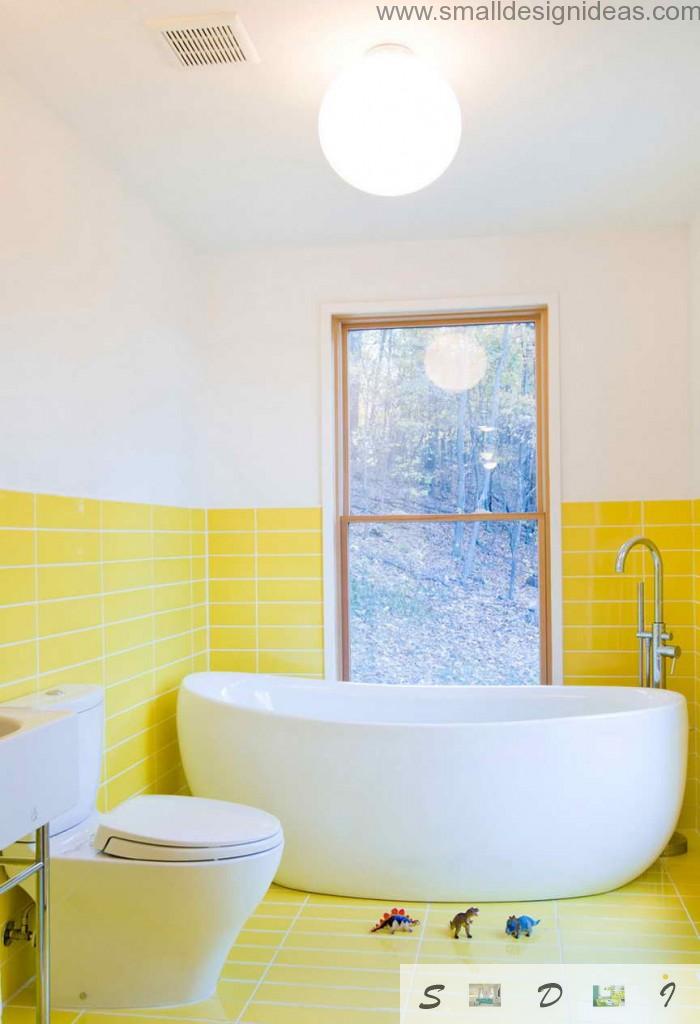 Light beige palette for design of bathrooms is quite common option. This is not surprising, because the beige tone affects very beneficially our psyche, creating a warm and comfortable atmosphere for bathing and relaxation.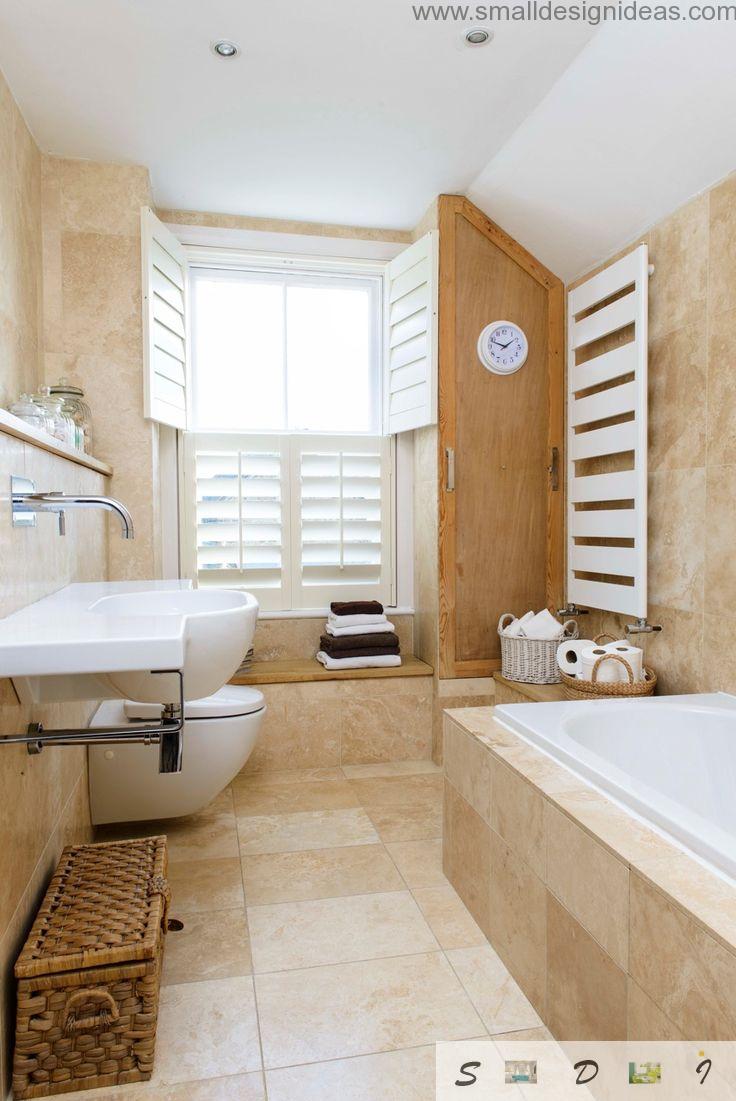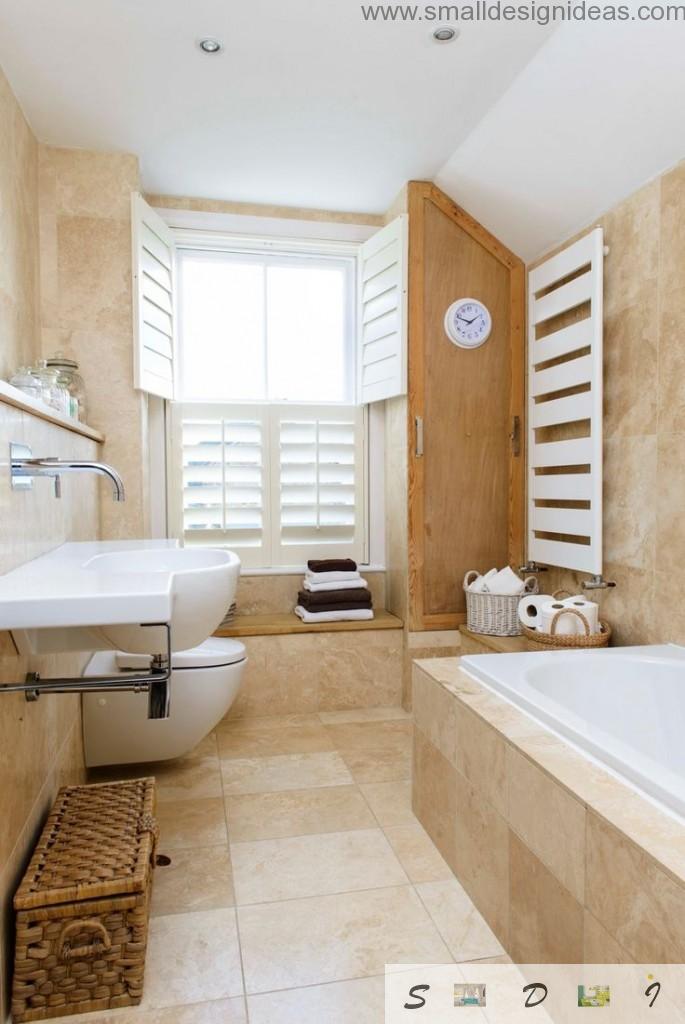 Create a contrasting interior bathroom with the classic combination of black and white tones is a snap. It is only important to remember that for small rooms it is better to stick to snow-white palette and use dark tones dosed, making accents.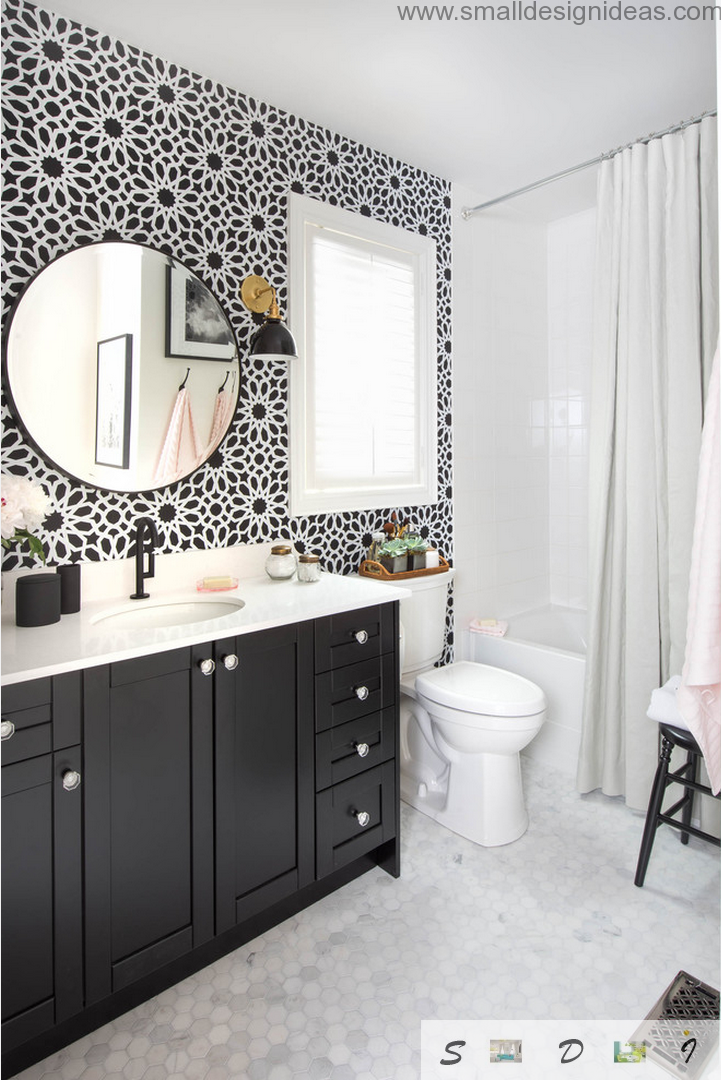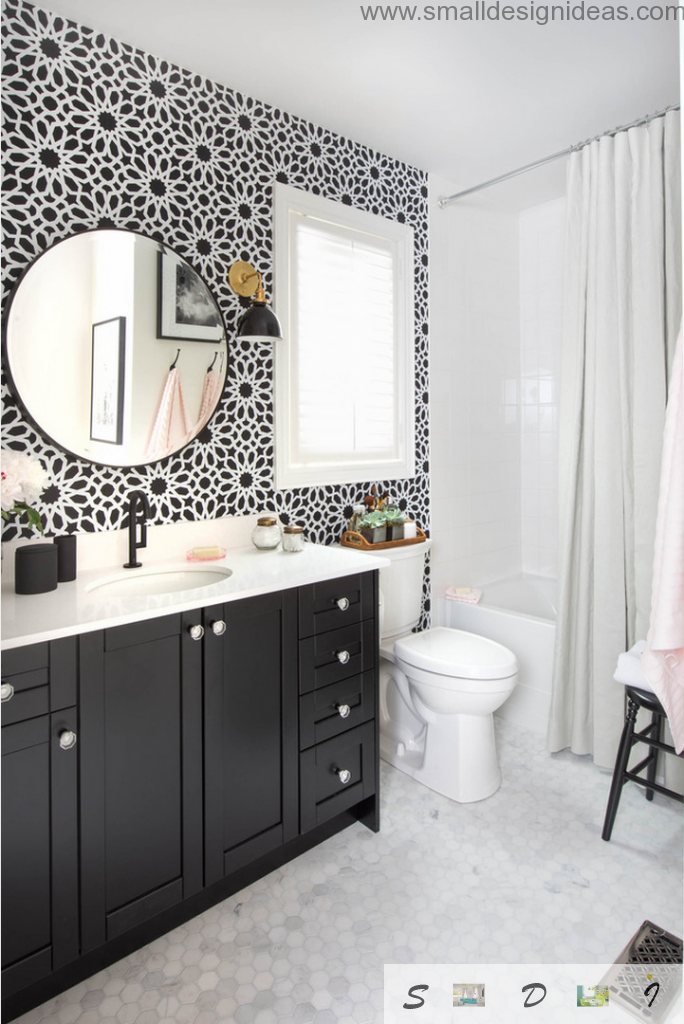 Choosing a compact, multifunctional furniture and sanitary ware
Modern sanitary ware manufacturers offer us many interesting options that can not only save valuable space of the small bathrooms, but also can perform several functions at once. While planning a compact arrangement of the bathroom, be sure to pay attention to the so-called combined sanitary engineering. For example, a bath room combined with a shower is a successful embodiment of the at least two functions in the same area. In general sale there are small shell-lilies, which can be installed on the washing machine (if the installation itself is required in your bathroom). It is obvious that such design significantly saves space of the extra-small sized bathroom. It is only necessary to take into account that such shells are suitable for those homeowners whose washing machines are front loading. In addition, existing models of toilets, combines the functions of a bidet. This plumbing can be presented in two forms – for the first you will need to install a mini-shower near the toilet, and the second appears as water supply system built into the lid of the toilet (there are even models with the possibility of heating water). The second model is a win-win variant for small space as it does not require additional facilities and expenses, but the initial cost is quite high.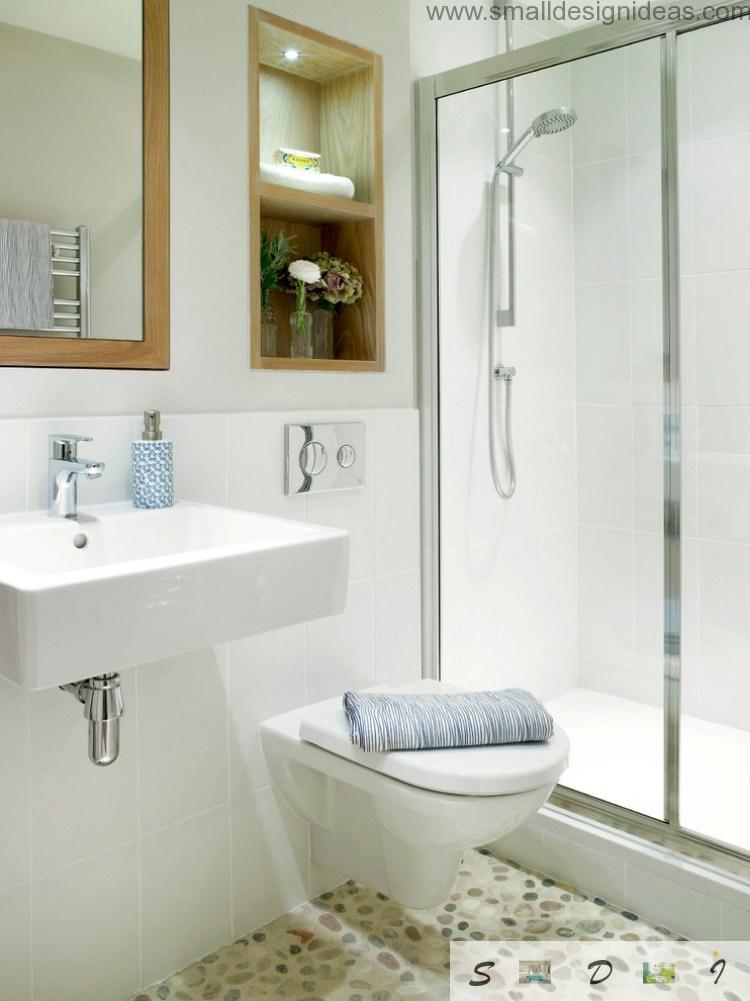 Shower located in the bath is the most common form of combination of two useful function within a small space. It is best to provide a bath with a glass partition in the area of ​​the water attributes. But some models look excellent with waterproof curtain.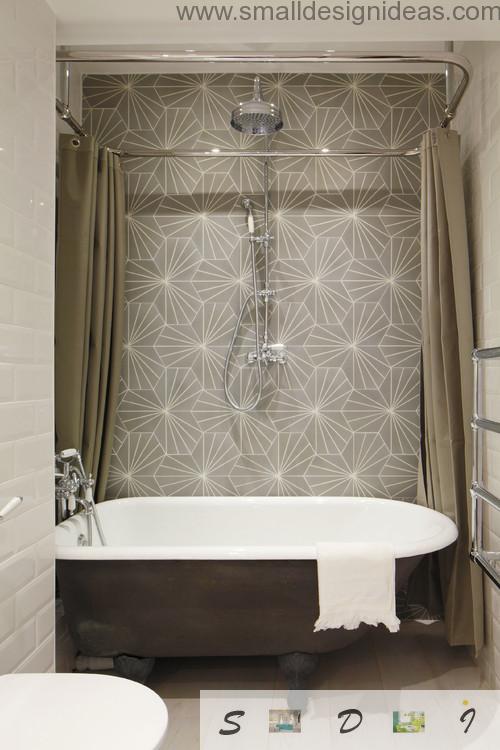 If you have a separate room for toilet arrangement, there is no need to integrate it into the bathroom, the installation of a shower and a large tub is possible even in the room with an area of ​​less than 4 sq. meters.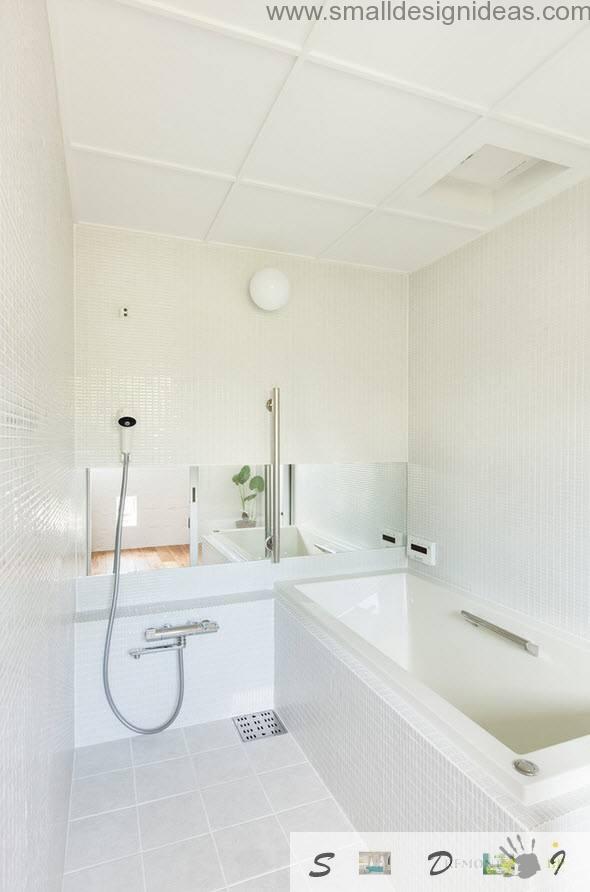 The only piece of furniture in small bathrooms usually is a cabinet, or any other storage system located under the sink. Its main goal is not only the ability of the storage of useful items and accessories for water treatment, but also to bring a variety of color and texture to the interior of the room. Not to mention the fact the space of drawers or cabinets hide water communications.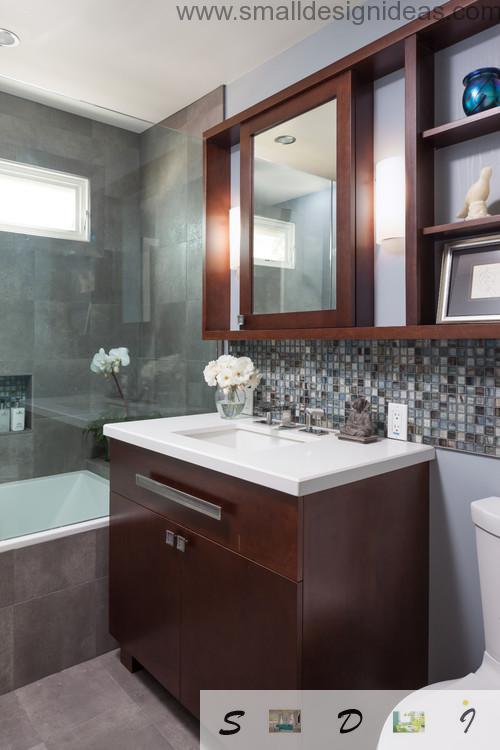 Small space of the bathrooms are pushing the owners to the interesting design techniques. For example, the arrangement of shelves for towels at the ceiling above the toilet area. They do not interfere, and can serve as a fairly roomy storage system.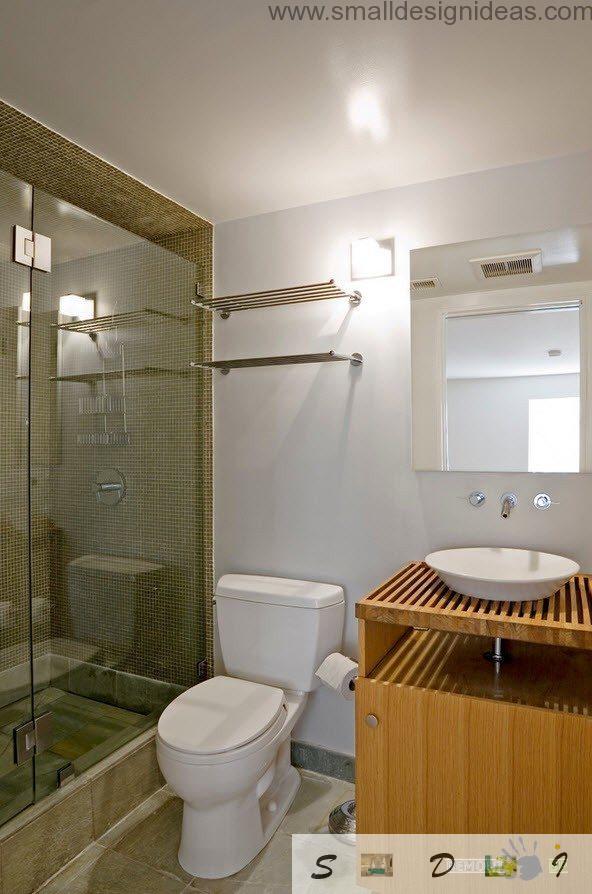 Shallow hanging lockers with mirrored doors have two functions of providing you with a mirror and storage for drugs, for example.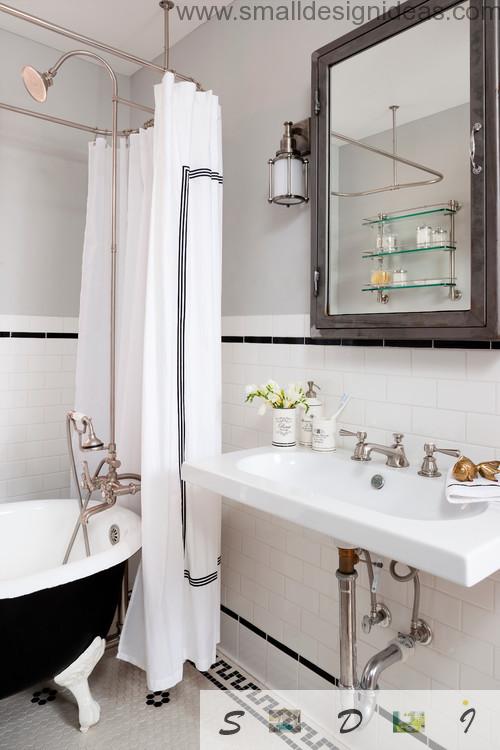 Unusual plumbing or how to integrate interesting patterns in a small space
An interesting form of a bath can be a highlight of the interior. For most of these models simple, neutral finishes is sufficient. They will still be the focal center of the room.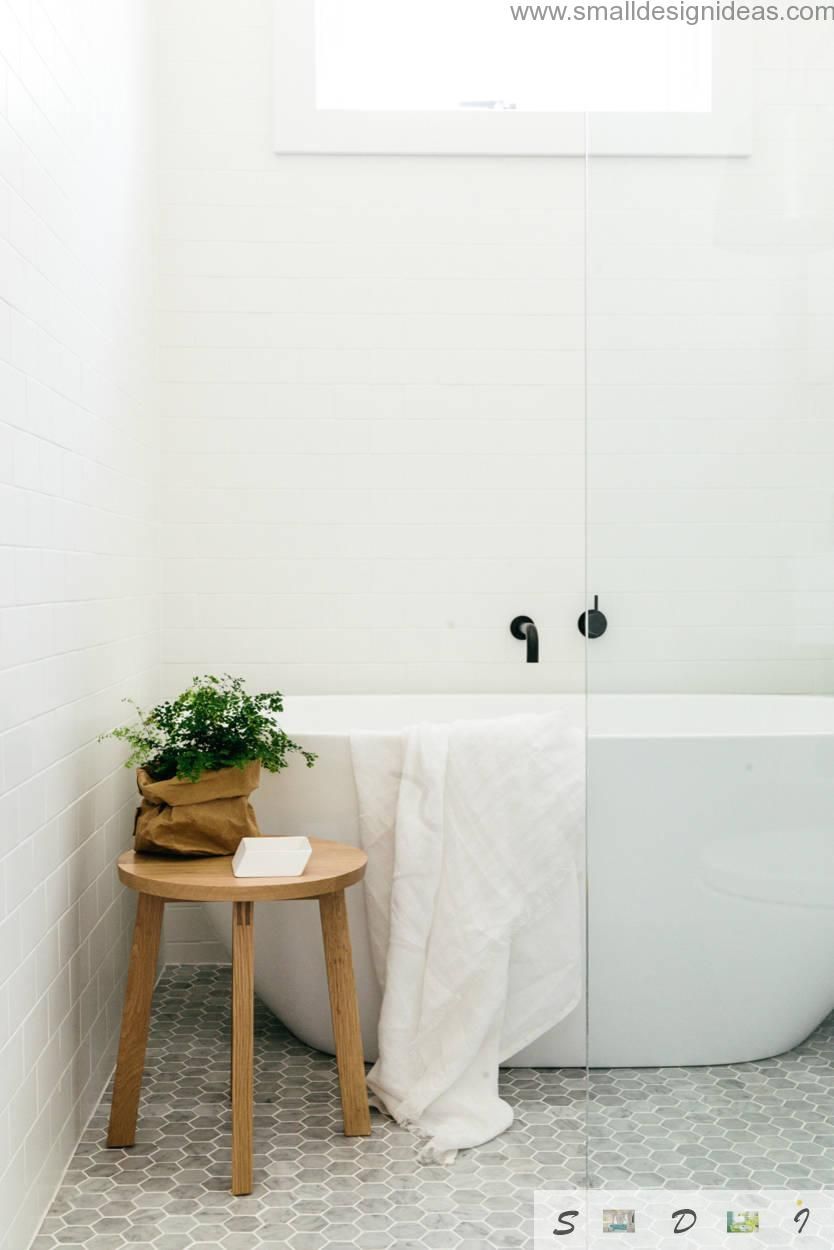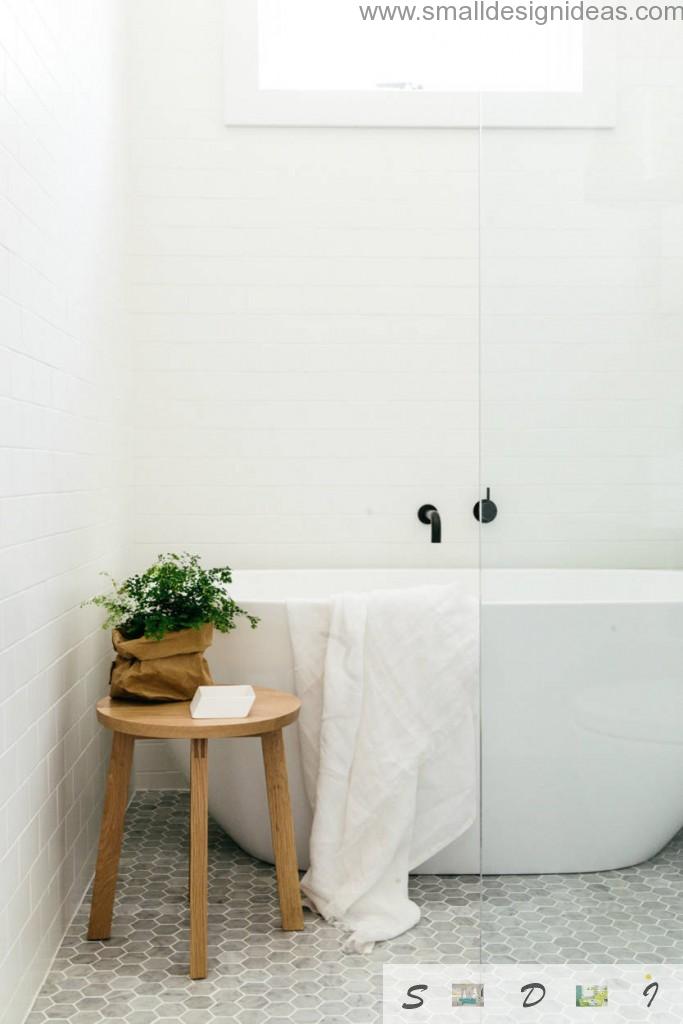 Unusual sink can decorate a room of small size and even define the way of its design, becoming a focal and coordinating center.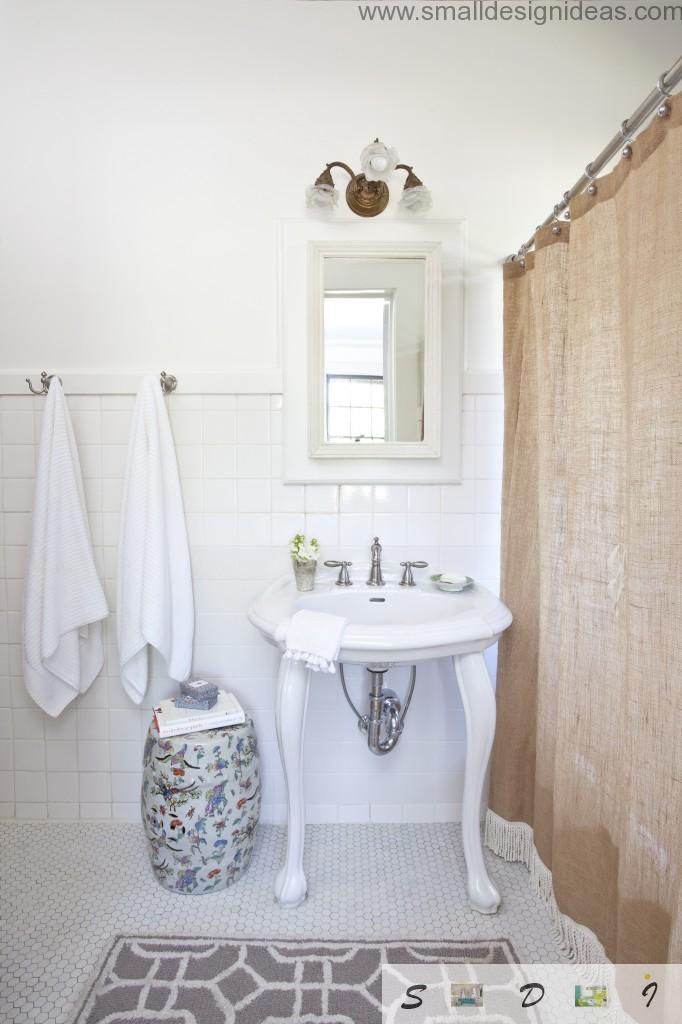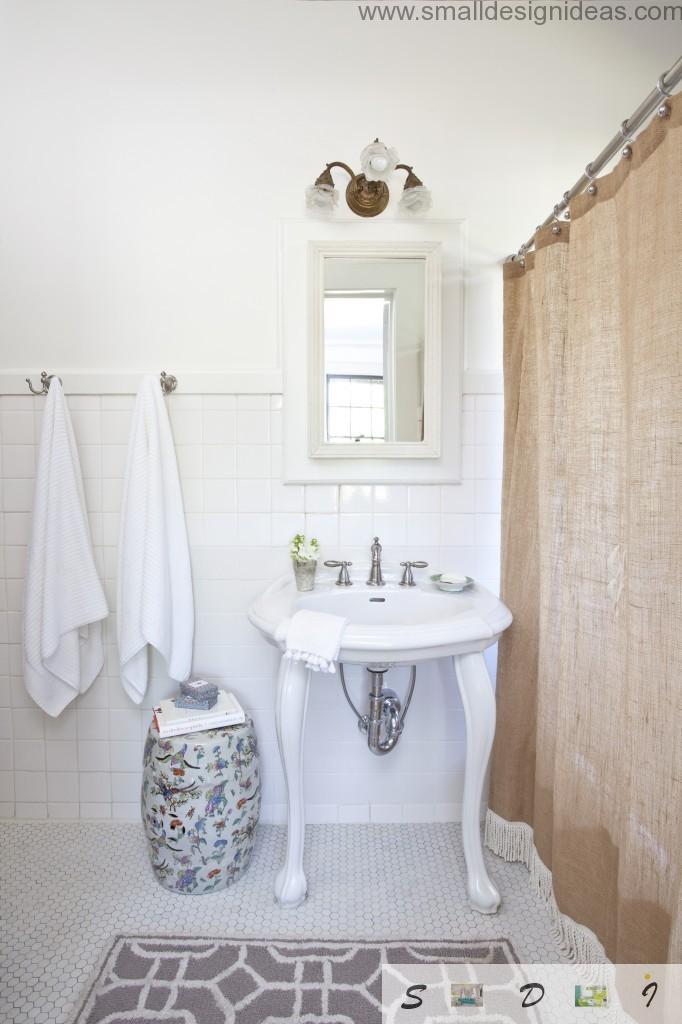 Decorating a bathroom with an area of ​​4 sq. m
Only at first glance it may seem that the ceiling of modest premises does not need decoration and it can only make `em heavier. If you correctly use embedding plumbing, chose a color palette that visually expands the space, so for the slightest decor is always a place. For example, you will still hang a mirror over the sink, so why not to use an interesting frame for it? If your tub needs a curtain, then why not to make an effort to select it and not to find a non-trivial model?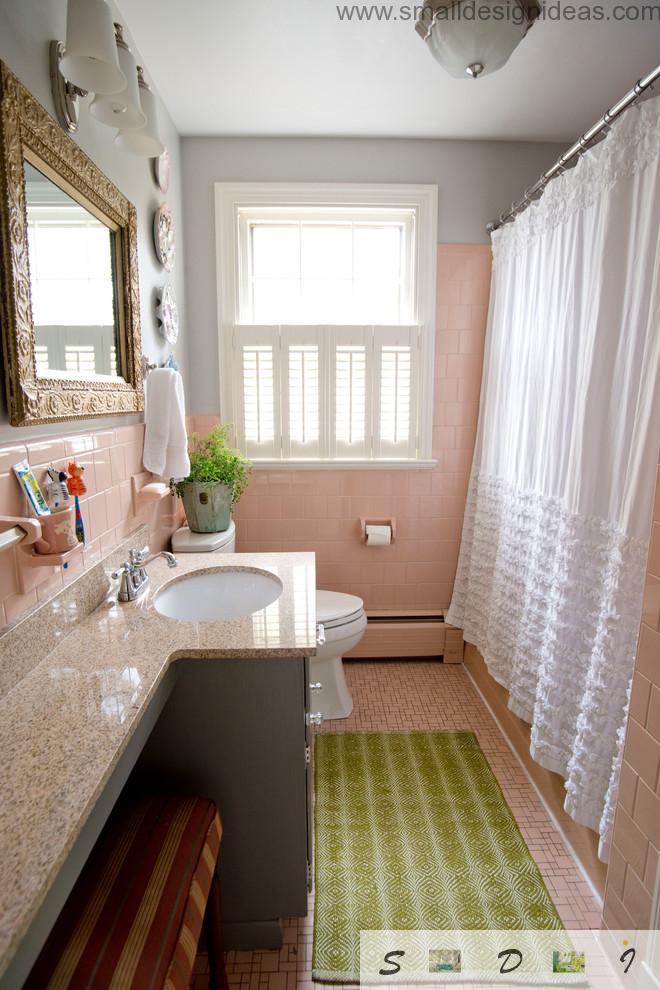 Living plant, located in the bathroom with a contrasting interior dominated by white, will not just look spectacular and dilute colors of the room, but also will become a bright accent.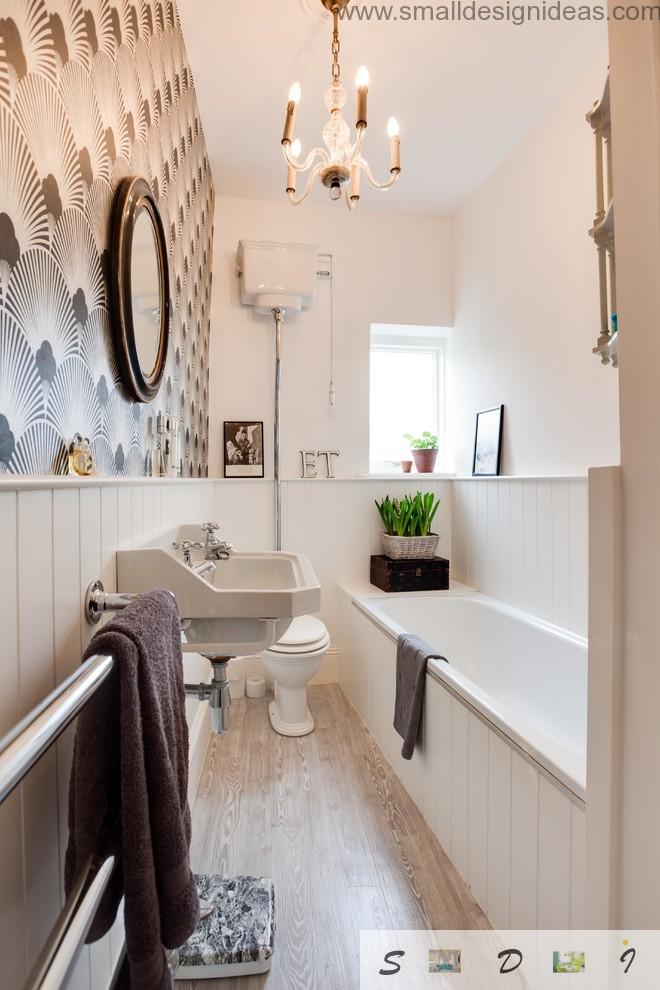 Not every bathroom has a window and accordingly there is the need for its decoration. But for the rooms with natural light as the decor of the window opening roller or Roman shades made of waterproof material that looks very similar to a conventional textiles are best option.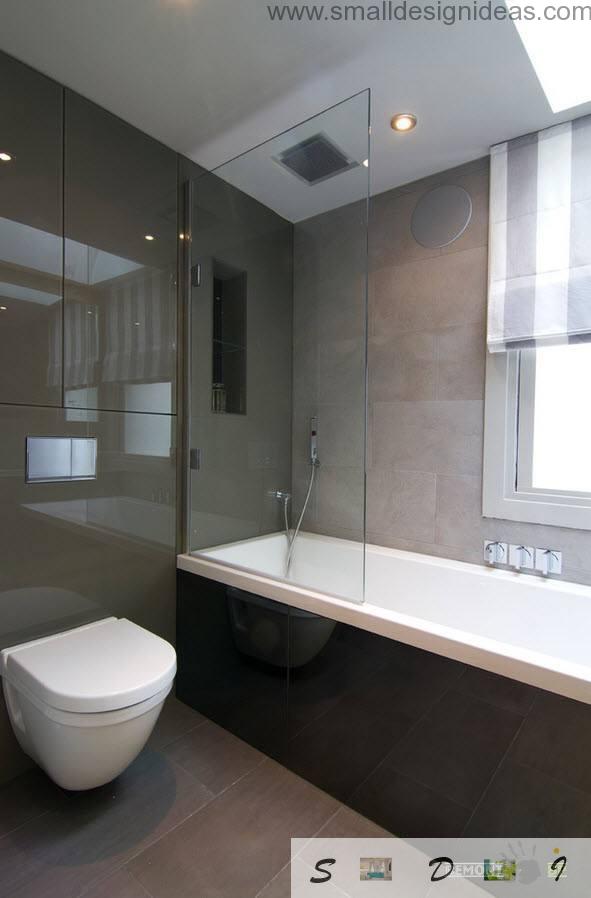 The lighting system performs two functions simultaneously: in addition to providing the required level of illumination of the room, also decorates it. Even for the extra small size of the bathroom, as a rule, bare ceiling chandeliers or lamps are not enough. It is also necessary to provide sufficient illumination of mirrors with built-lighting or wall sconces.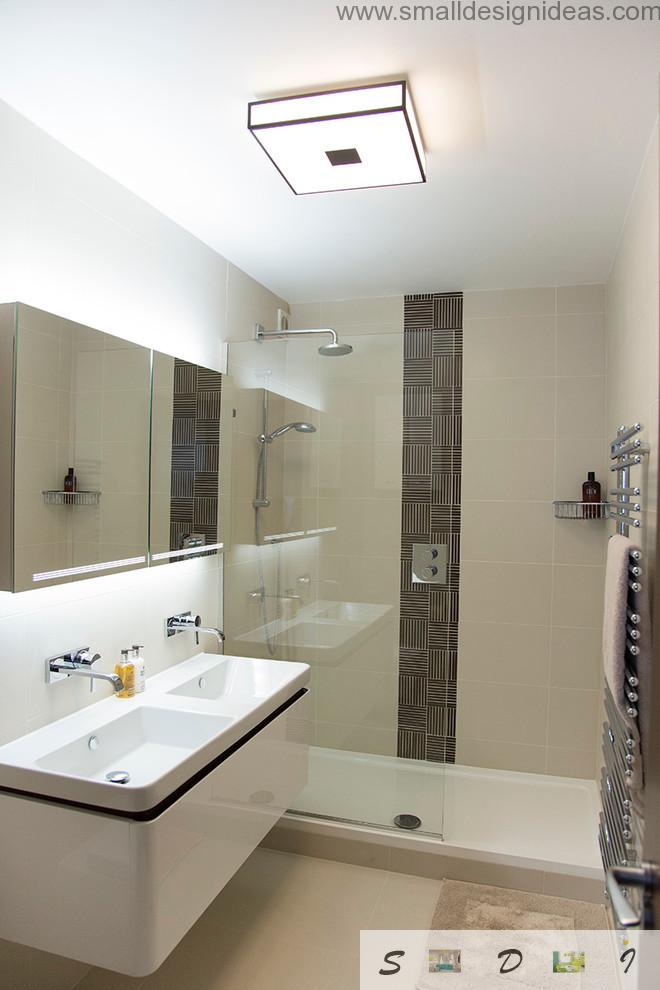 It is not customary to use suspended lighting fixtures – chandeliers in the bathrooms. But if the chandelier is not located in an area of ​​high humidity, ie over the bath, such an option may be provided taken into account compliance of the conducting electrical wiring rules in areas with high humidity.