Trees are majestic and make gardens enchanting. They shade us in summer and when autumn comes, our children play in the leaves.
If we had it our way then trees would live forever but like us, they die. And when they do, we have tree stumps.
There are many things to do with tree stumps to make your garden beautiful. The possibilities are endless and all you need are some tools like a chisel, hammer, and a chainsaw.
If your chainsaw is not in good condition, you don't have to get a new one. Instead, get yourself a chainsaw sharpener. For the best chainsaw sharpeners, know which ones are the best by doing your research.
With the help of your tools, you can transform your garden into a fantasy world. Because tree stumps allow you to become amateur woodcarvers. And you can go all out with your imagination.
Here are just some examples of great tree stump ideas that beautify gardens. They are not difficult to make at all. All you have to do is take your time with the tree stump project.
Gnome House
Do you have gnomes in your garden? Well, a great thing to do with your tree stump is making it into a gnome house. It will be adorable and people will love the creativity.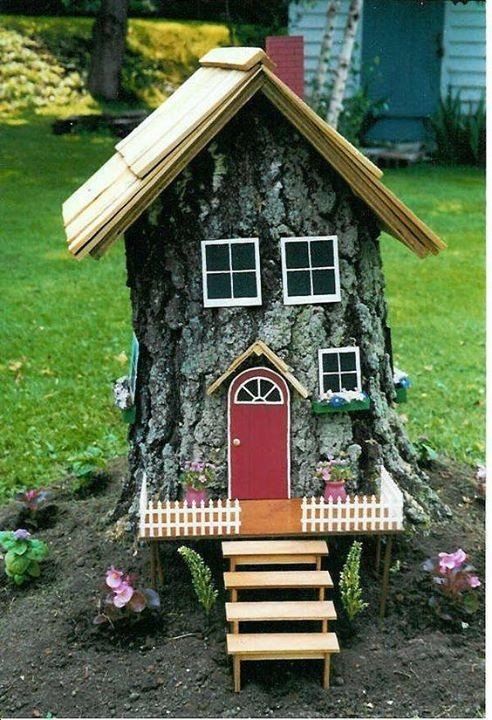 To make a gnome house, you'll need a chainsaw so that you can carve out the general shape. Don't forget to carve out little doors, windows, and a roof.
Next, take your chisel and hammer and add some details to the surface to give it character. This will take time but it will look good. It's also good training for you as a woodcarver.
Now that you have the structure, you can get creative and decorate the house. You can do anything you like but just keep in mind that its meant to look like a house. So ask yourself, what does a house have?
You can make little chairs and maybe even a fence enclosure. You can make little lights and small roads leading to the house. The more functional it looks, the better.
Fairy Garden
A fairy garden is another wonderful idea and designing it will bring out your inner child. When you're making a fairy garden, incorporate nature into your design and scatter tiny toys around.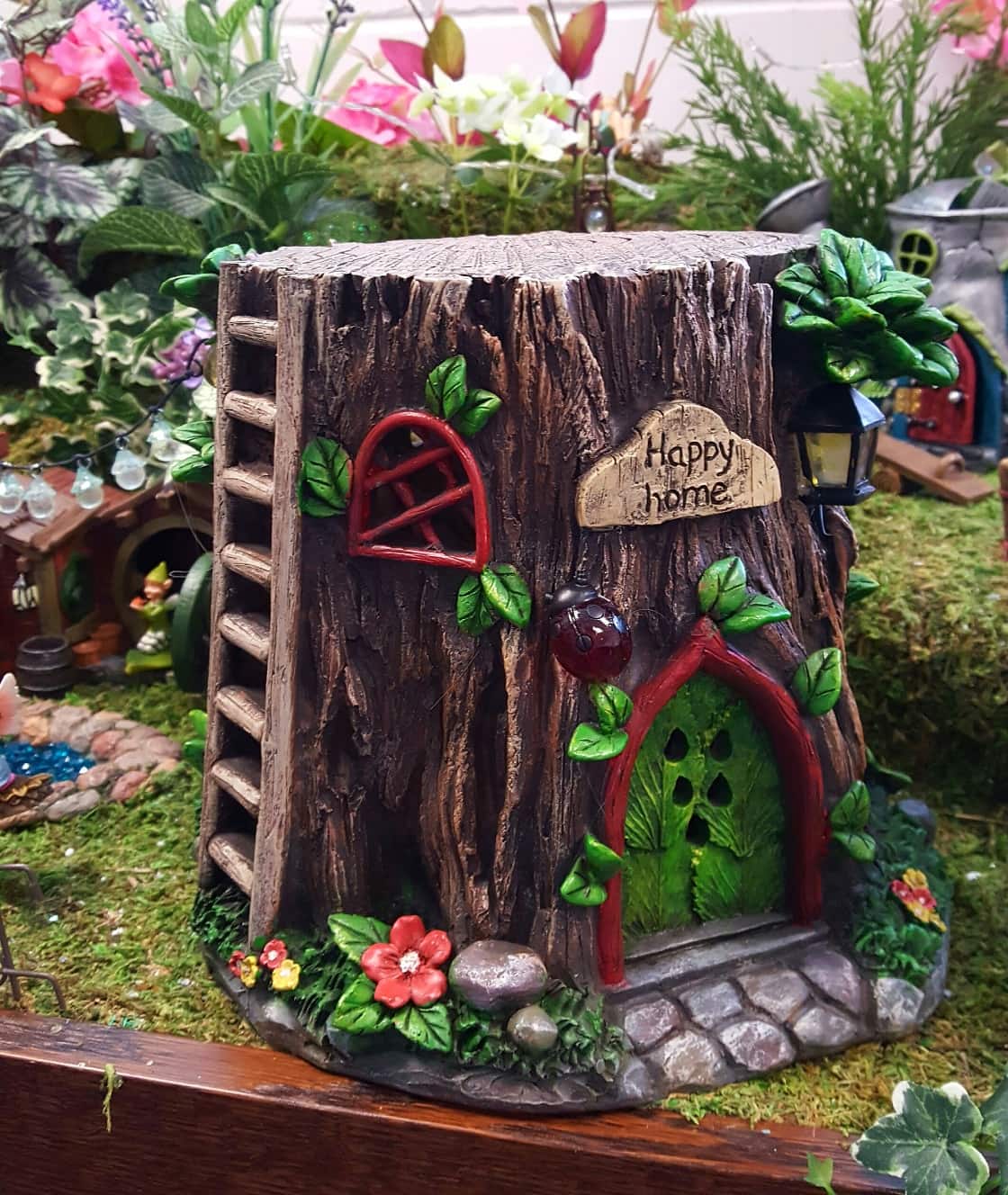 Photo credit: https://www.fairygardensuk.co.uk/shop/tree-stump-happy-home-house/
First, craft the stump into the foundation. Take chunks of wood out of the top of the tree stump. Next, fill the hole with fertile soil and plant tiny flowers to make the fairy garden.
Next, decorate the tiny sized garden with little fences, little water features,  and lights. You can scatter some treasure here and there like coins and candy.
Finally, don't forget the actual fairies. You can get tiny fairy dolls in your local toy store. So, get yourself a bunch and place them in your fairy garden.
Birdbath
A birdbath is a wonderful idea and it will make your garden bird-friendly. Furthermore, the birds show up and help with insect problems.
So first, make sure that the stump is tall enough. After all, you don't want your lovely birdbath to be in reach of cats. The higher the birdbath, the better.
You need a big bowl that's going to act as the bathtub. A terra-cotta dish will look beautiful if you're not sure what sort of bowl to use.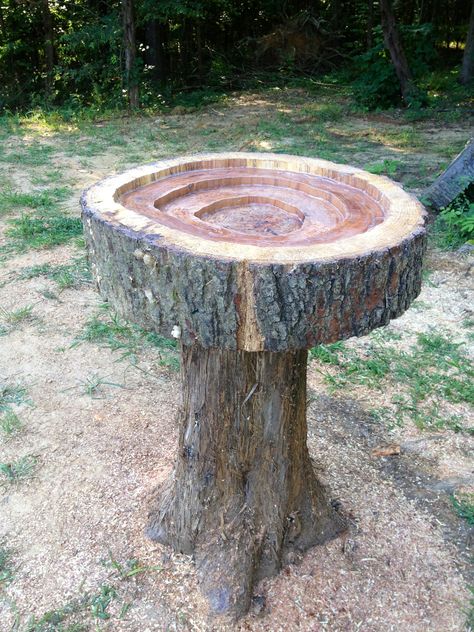 Add some stones to your birdbath and consider getting a little solar fountain. Next, get a smaller bowl and fill it with grains. It's a little incentive for your birds to come and visit regularly.
Finally, after building your birdbath, get creative with the body of the tree stump. You can carve out decorations and figurines with a chisel and hammer. The result will be both stunning and functional.
Tic-Tac-Toe Table
A Tic-Tac-Toe table is a wonderful addition to your garden. Just imagine a small table-sized tic-tac-toe table with two stools on each side. It gives you something to do with your kids in the garden.
Making a tic-tac-toe table is easy. You don't have to do much wood carving on the actual stump. Just make sure that the top of the stump is as smooth as possible.
Next, get a wooden tabletop and permanently nail it into the top of the tree stump. It doesn't have to be a fancy tabletop. On the contrary, it's better if its just regular wood.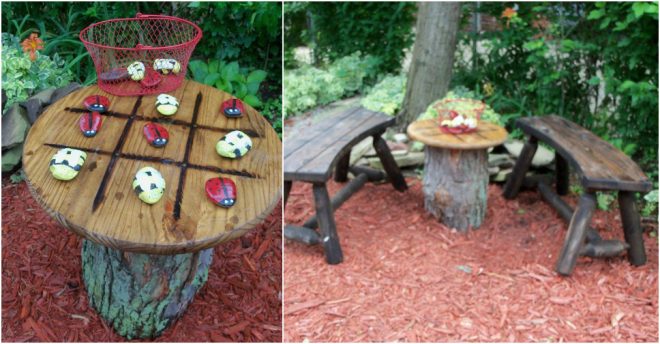 Carve in a tic-tac-toe board on the surface of the tabletop. You can do this with a chisel and hammer. Don't be shy to add extra details to the surface of the table.
Now that you have a tic-tac-toe table, add some stools on either side. Your garden game board is now ready for tournaments.
Throne
One amazing thing you can do to a tree stump is to transform it into a throne. Who doesn't like to sit on a great throne and imagine unmatched power and wealth?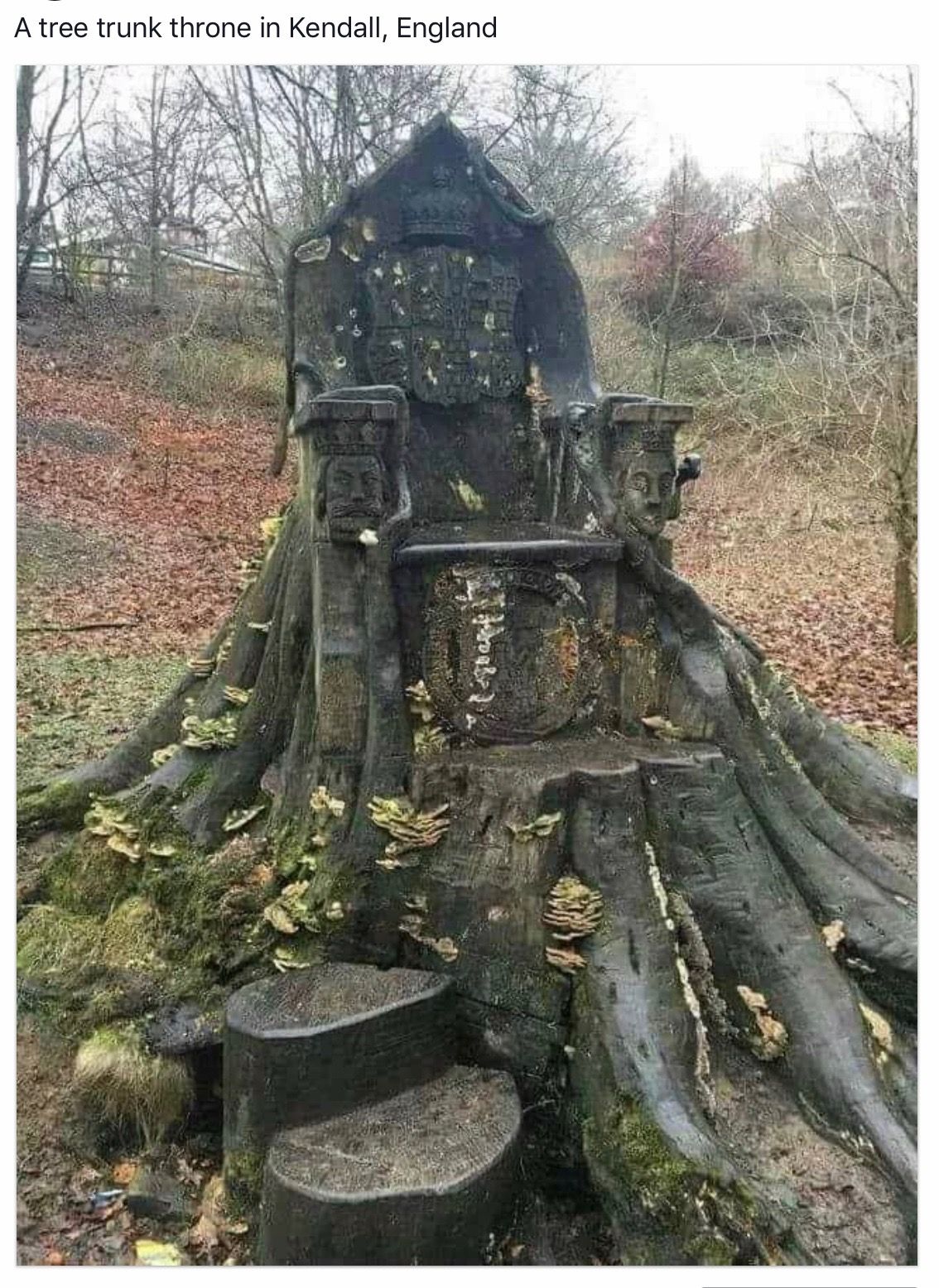 The design of the throne can be as extravagant as you want. In order to create one, you need a wide wooden stump. If your wood stump is not wide enough, consider creating a throne for your child.
Use a chainsaw to carve out a throne from a big tree stump. Take out your chisel and hammer and do some creative wood carving. You can get a lot of ideas from the Internet.
The throne will be a fabulous addition to your garden. Just make sure that the surface of the seat and hand rests are smooth. After all, you don't want anyone to get splinters.
Conclusion
You can decorate your garden with tree stumps instead of removing them. Be as innovative as you can as the sky's the limit when it comes to woodcarving. And you don't have to be a professional woodcarver to make your garden an enchanting place.
Some tools you'll require include a chainsaw, chisel, and hammer. Other than these tools, you can use pretty much anything lying around the house. Just make sure that the result is safe for everyone.
You can transform a tree stump into a great throne, birdbath, a fairy garden, or a gnome house. Or you could fashion it into a tic-tac-toe table for your kids. The possibilities are endless!