We know it's difficult to make perfect choices when it comes to decorating or adding more functionality to your home while keeping your wallet in check. Luckily, designers have just the right tip on how to beautify space – a cozy bedroom, an inspiring workplace, a smart and trendy kitchen, an intimate bathroom – by using the most versatile piece to dress up your house: window treatments!
Contents:
Since trends change just like the seasons, what's essential for you when thinking about the best window treatments is exploring what's in and out of style, while making sure you can adapt these trends to what clicks with you, your own style, vision, budget, and needs.
To discover what great taste looks like and how it can be affordable, we talked with Loganova Shades – a custom window treatment company designing their products in NY and handcrafting them in Toronto.
So let's dive into the latest styles, fabrics, and color trends for modern window treatments that will easily dress up your dream home! From classic, organic colors to metallic details, expressionist patterns to smart function, there's nothing that can't inspire you!
1.  The Calming Blues
We had to start with the color of the year, as announced by Pantone – the classic blue. Endlessly soothing, marine-inspired hues draw confidence and peace especially when it comes to setting the right mood for truly being "at home". No matter the room, a blue window treatment is a versatile and timeless choice for anyone looking to balance their thoughts and add more simplicity to the harmony of life.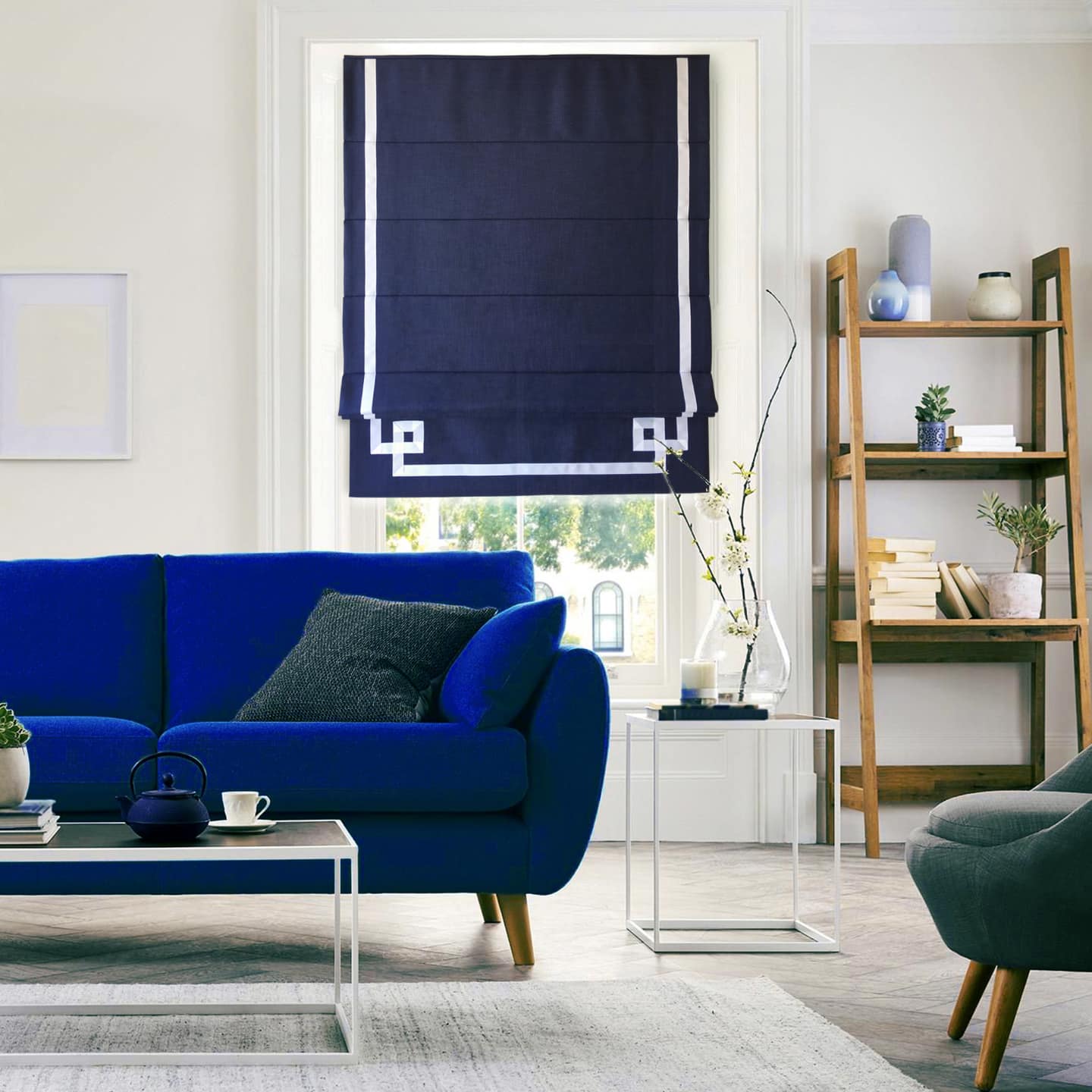 When it comes to Roman blinds' chromatics, blue tones are ideal for accessorizing a workplace where you need to make room for fresh, new ideas and gain more clarity. For example, choosing a custom Roman shade made from high-quality faux linen in marine, indigo, or seafoam-inspired colors will add the elegant touch you want and the privacy you need in a living room.
It's such a versatile option to incorporate into your home decor that you can also accessorize the kids' bedrooms with a deep blue window treatment, in style for free-spirited ones! The cerulean aesthetics will perfectly "temper" the messy and playful vibe of kids' rooms, giving them a sense of positivity and confidence in their superpowers!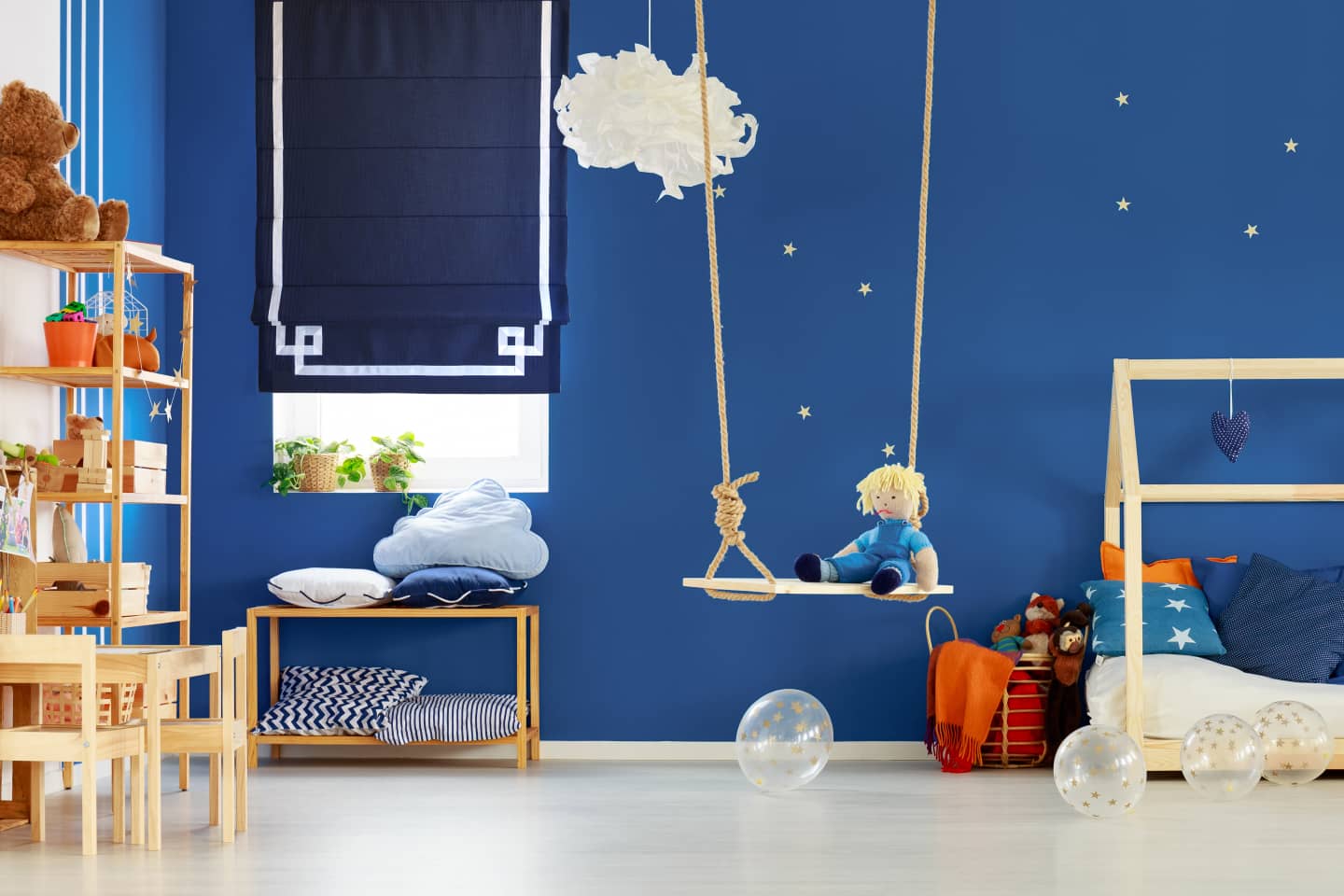 2.  Metallics for Subtle Extravaganza
The devil is in the details, even when it comes to making the slightest changes. Opt for metallic accents that will definitely be in style for a while, especially when it comes to accessorizing a living room, a dining room, or even a fancy kitchen. Such eye-catching details look amazing when crafted into simpler, more neutral window treatments. The stylish mix of metallics with simple hues and premium fabrics is what gives a strong sense of personality and class to any room, no matter how simple the overall decor.
For more freedom of choice when customizing this kind of blind play with different neutral-coloгred luxurious fabrics with metallic threads, like a chic Flat Roman shade suitable for French doors and kitchen windows. The geometric pattern is dazzling, yet subtle enough to counterbalance any excessive extravaganza in a room. It comes in light-blocking and gentle colours like ivory and lavender.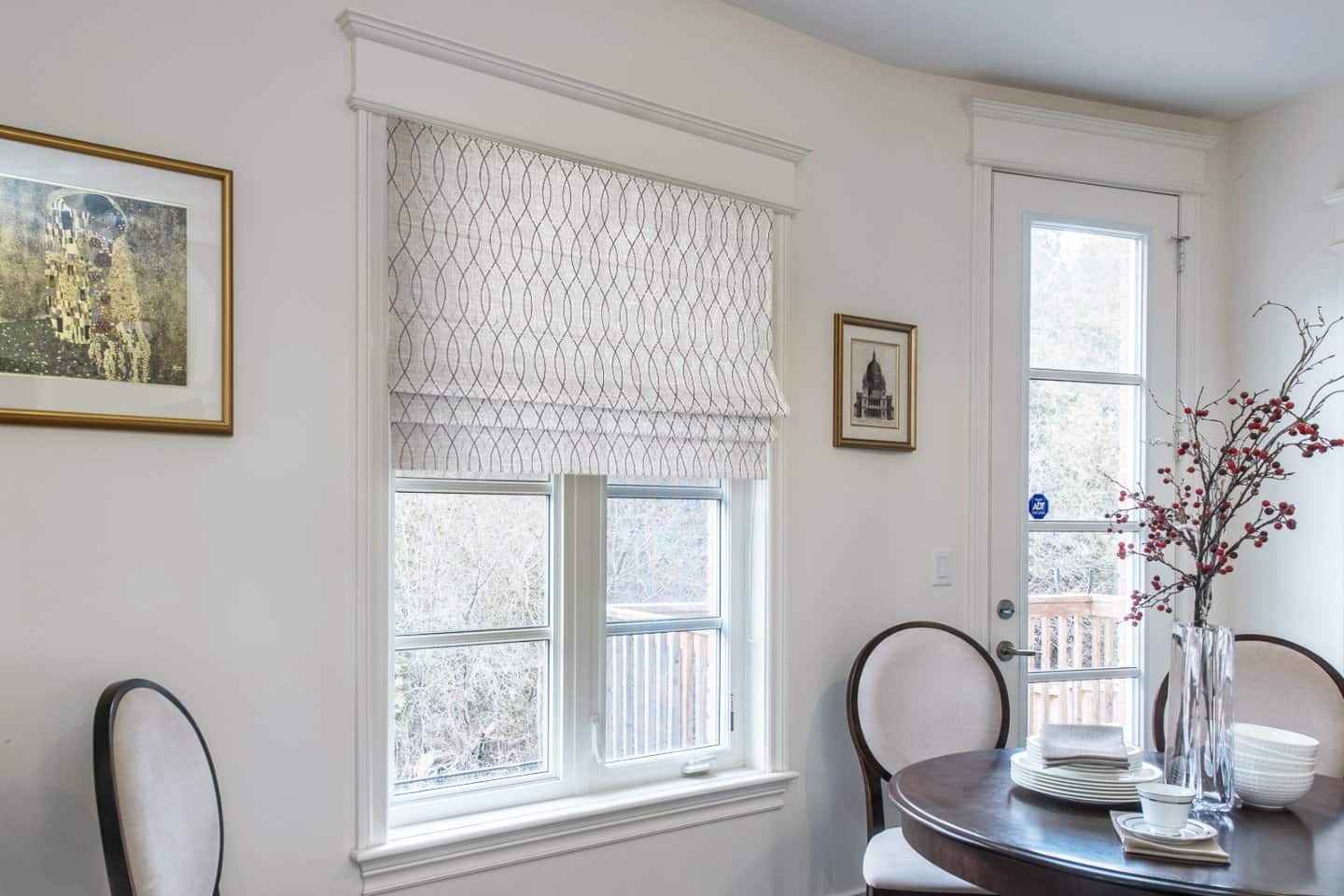 3.  Ethereal Fabrics that Unravel Stories
With the new year's trends, we see a stronger shift from eye-popping colours and materials to what mother nature taught us best: a feeling of serenity and a sense of luxury through the simplicity of natural, gentle, sunny tones like warm beiges and delicate whites, also shimmery, softer fabrics.
You can easily opt for custom-made sheer Roman shades handcrafted from high-quality fabrics. Dress any window or French door and enjoy bringing natural light into the room, but also make any bedroom or study room gorgeous in its simplicity.
These sheer window treatments, made with diaphanous fabrics, are ideal for any room with white walls or wooden furniture. They gently complement the decor – especially in spaces where you cannot make drastic changes.
Sheer Roman blinds are a popular trend because they can change the atmosphere in any room. They work as delicate, partially room-darkening blinds without adding drama to the news story you design. Check below the beautiful custom-made London sheer window treatment, called "Lucky Earth", as a source of inspiration!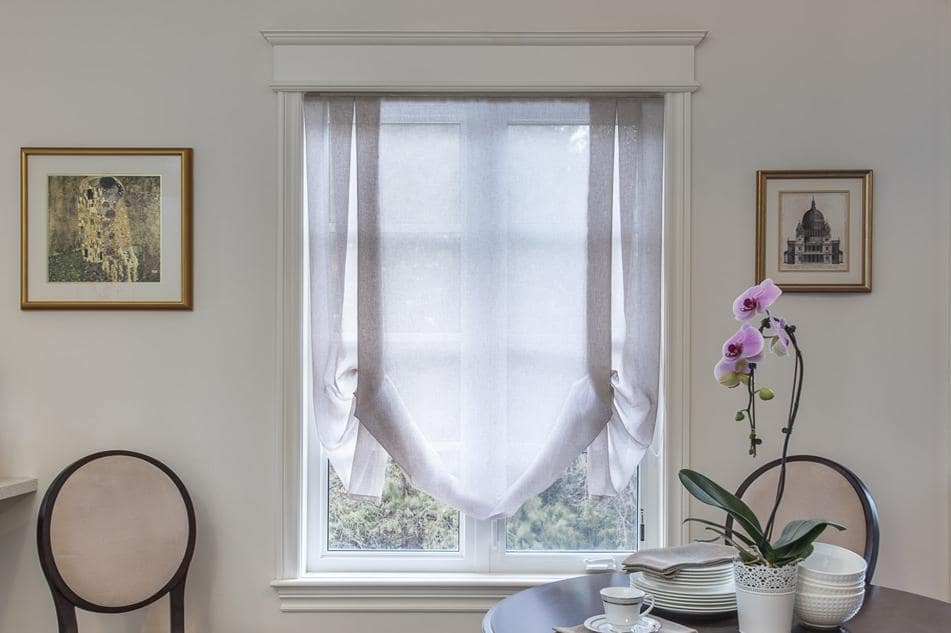 4.  Abstract, Expressionist Patterns
However, sometimes more is more, especially if you have a strong artistic flair or enjoy reflecting your bold statements in your home. "A stylish window treatment that sparks delight and actually creates more space for self-expression could come in surprising geometric patterns and exciting bold chromatics. Don't be afraid to leap into the pool of expressionist inspiration!", Loganova Shades encourages us.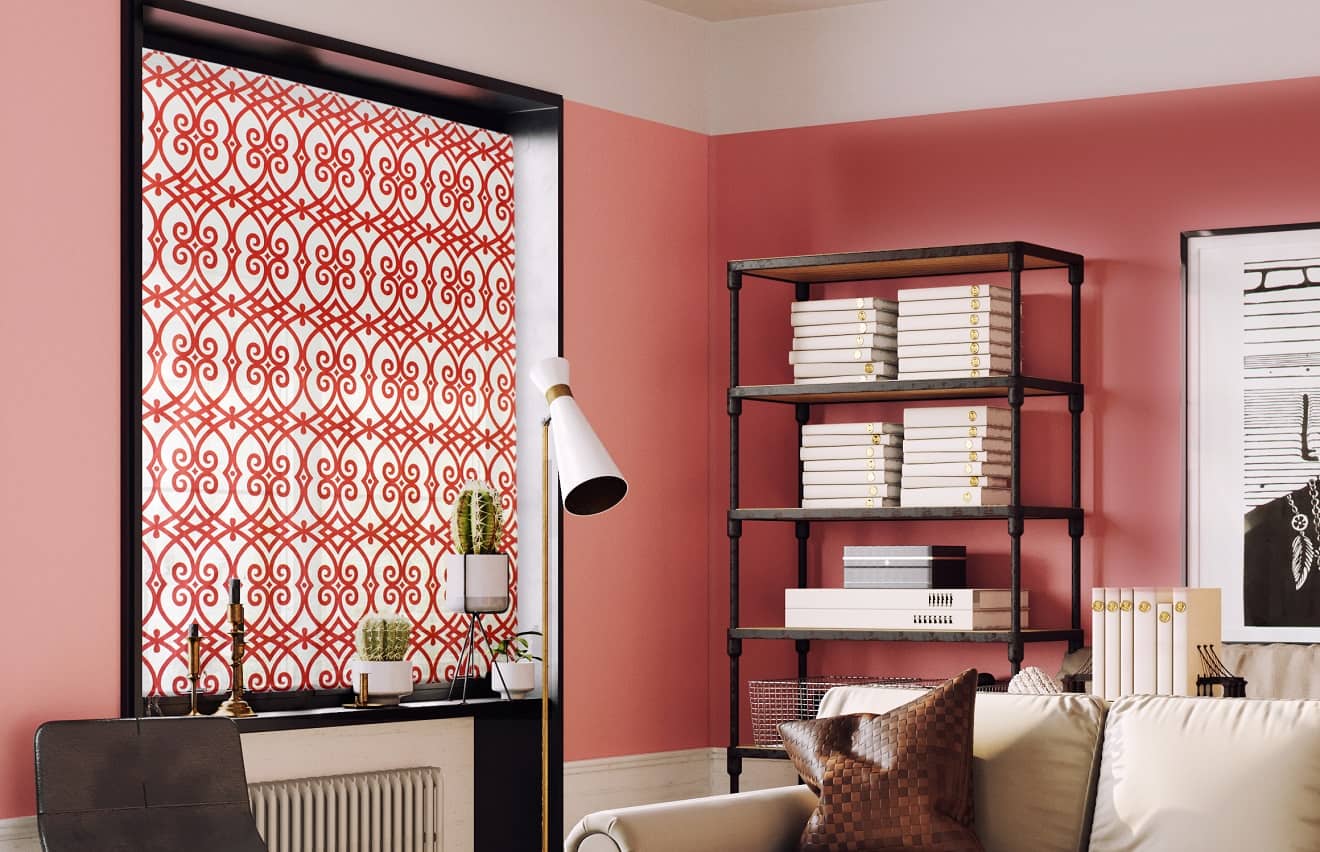 But there are plenty of beautiful, accessible options to choose from when it comes to abstract, expressionistic window treatment trends. A custom linen Roman shade with a blue floral pattern oozes class and style and is perfectly suited for a French roof or a sophisticated large room where you can throw an impressive party. You can opt for elegant blackout fabrics that offer you the privacy and noise insulation you need in times of joy and laughter!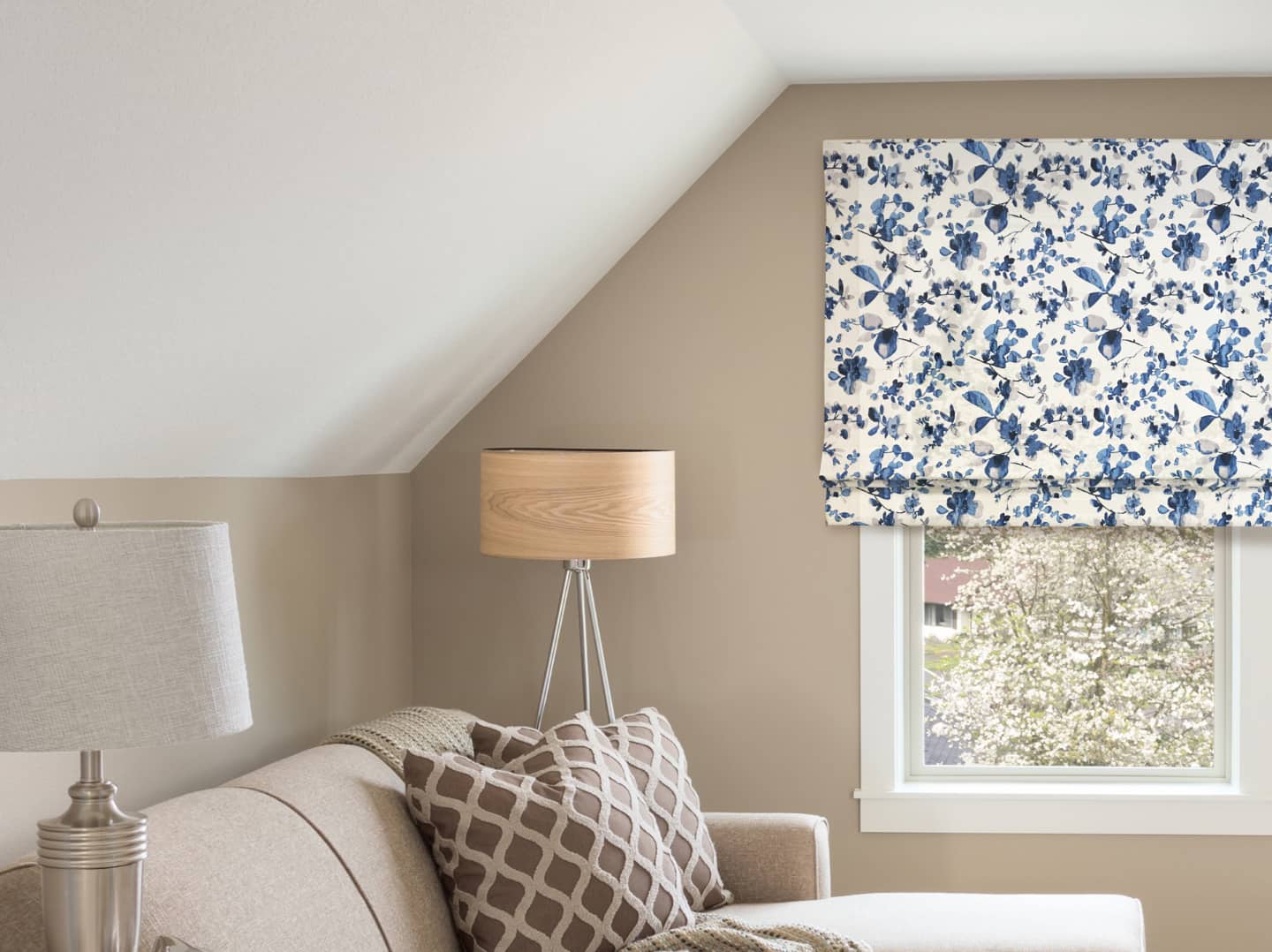 5.  Colour Contrasts
For those of you who simply love vivid colours, there are some cutting-edge (literally!) window treatment ideas specifically designed to spark wonder and get attention through well-balanced contrasts. Punchy colours add more impact to a room and tell an exciting story to guests you welcome while instantly uplifting the mood. These splashes of colour don't have to be all over the place to inspire joy and send good vibes.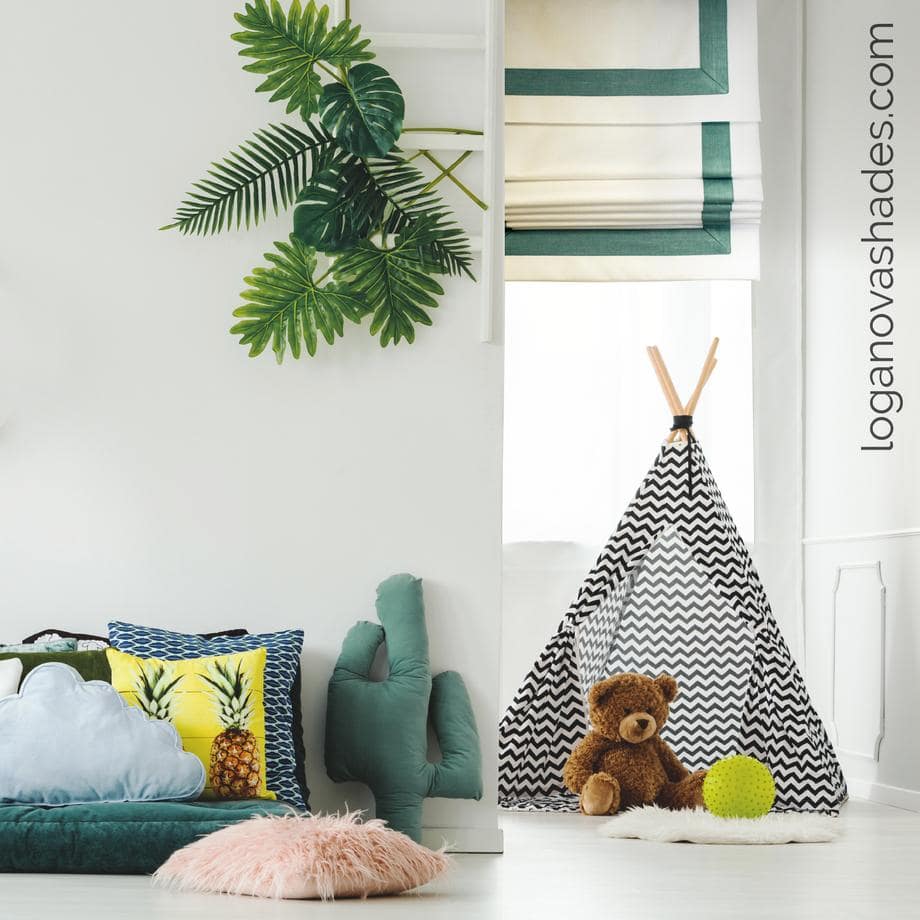 On the contrary, Longanova Shades suggests a minimalistic approach. You can choose a window treatment handcrafted with lavish white fabrics and bold, colourful dashes that create depth and attract interest.
You can choose such contrasting designs for a home office, a large bathroom, or a busy kitchen makeover – for the latter ones, opt for a long-lasting, blackout faux linen window treatment. It helps you enjoy complete privacy and moisture protection, is easy to clean, and doesn't get attacked by mold.
Since coastal-inspired hues are in style this year, go for blue or jungle green shades, with seafoam border and valance.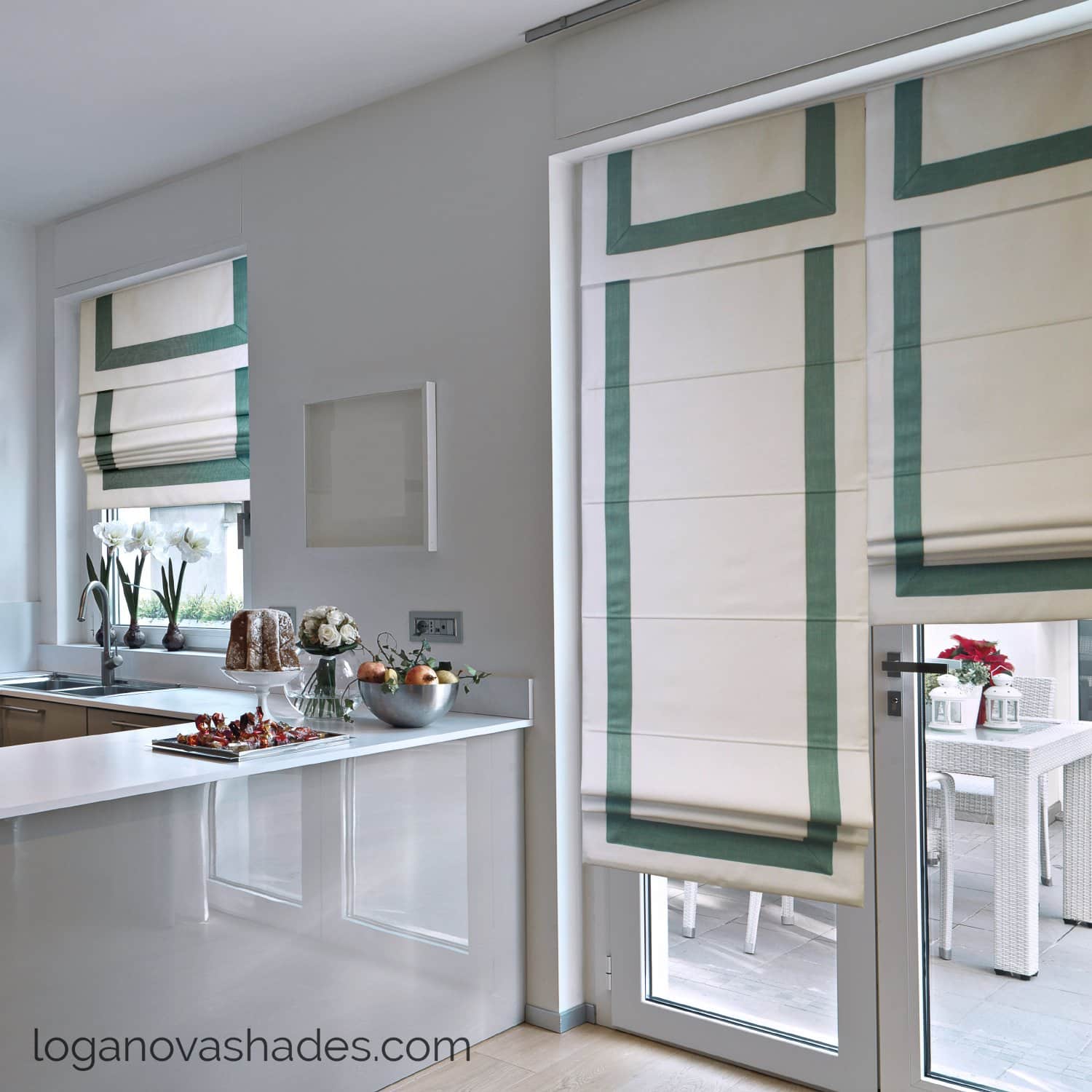 6.  Function, Function, Function!
Last but not least, one of the highlighted trends refers to embedded technology. A Roman shade has an aesthetic role, as well as a functional one. Due to the growing need for smart living and more automation, functionality appears organically in the overall design, especially when it comes to busy rooms such as the home office, kid's room, kitchen, bathroom. When it comes to choosing such window treatments, a great investment can be custom shades with cordless motorized control mechanisms and crafted from highly efficient fabrics such as blackout linings that can block 99.9% of light and help insulate against noise. This is essential in rooms where you want full privacy and intimacy, as well as protection from outside noises or allowing your children to play without worrying about the neighbours.
Modern blinds can offer valuable energy efficiency as well, keeping away unwanted cold or heat, and preventing warmth from leaking out of the room. Pick a relaxed window treatment that comes with a beautiful floral pattern and a top-quality blackout fabric. We're talking about laid-back flair, perfectly suited for a relaxing time in the bathroom!
It kind of feels nice to be able to invest in dressing up your house and save money at the same time, isn't it?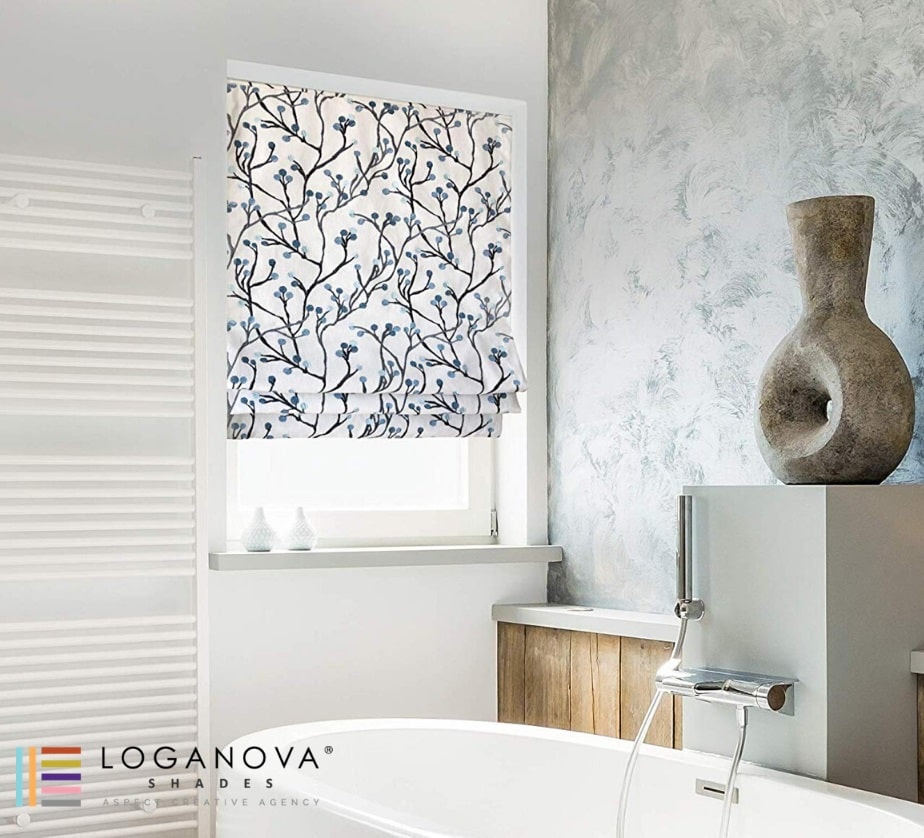 What Window Treatment Trend Is In Style For Your Style?
We hope you now have so many gorgeous and affordable options to choose from, given the trends we highlighted in this article. The sky's the limit, as you can see, but you can always find more inspiration in the Loganova Shades collection of custom-made, contemporary window treatments.
Whether you choose abstract patterns to unleash your creativity or choose the more serene and peaceful feeling provided by blues or other nature-inspired colours, there are plenty of window treatments for all tastes and styles. We think it's worth investing in your ultimate dream home by blending both fashion and function.