A reliable power leaf blower is a piece of must-have equipment when it comes to lawn care and garden leaf cleaning jobs. While this job can also be done with the help of the good-old rake, but then how feasible is it spending a considerable amount of time and efforts where you can get it all done in minutes, and with the least efforts.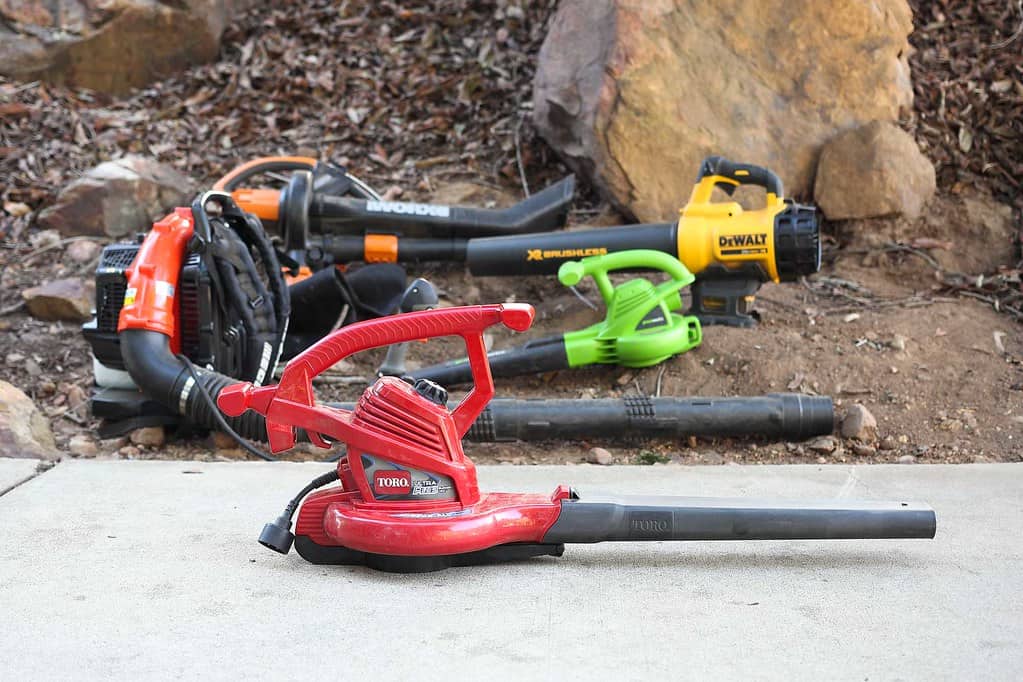 But then choosing the right type of equipment for your yard work can be daunting as this billion-dollar industry market offers some of the broadest range of leaf blower varieties depending on the technology, design, features, specifications and a variety of such factors. Besides, there are a couple of other external factors that you also need to take care of while choosing the best leaf blower for your yard. So to make it all easier, here are the essential things that you need to look for to make sure you spend on the right purchase and get the best leaf blower for your yard.
Understanding the Basics – Types of Leaf Blowers Available within the Market
While the market offers an abundance of manufacturers, leaf blowers are mainly available in three main variations depending on its design and utility. They are classified as handheld leaf blowers, backpack leaf blowers, and the walk-behind leaf blowers.
Handheld leaf blowers are comparatively low-powered, yet easy to handle for its compact size. These blowers are an ideal choice for kids and elders who like to spend time lawn-caring. On the other end, backpack leaf blowers are larger in size, power, capacity, and can weigh as much as 45 pounds. Since handling such weight can be quite a problem to deal with in a long run scenario, the pressure is distributed on the shoulders by backpacking the machinery behind.
The walk-behind leaf blowers are quite easy to use as the whole system comes rested on wheels, and you can easily navigate it from behind. However, the overall cost is one issue when affordability concerns are taken into consideration as this machine can cost anywhere between a thousand dollars to $15000 and above depending on the size, power, and add-on features.
Choice of Power That You Need to Consider For Your Leaf Blower
Powered leaf blowers get their energy from two primary sources, that is, electricity and gas. The electric variants again consist of two different types of leaf blowers, namely the corded electric leaf blowers, and the cordless – battery-powered leaf blowers. The electric leaf blowers come in different sizes depending on the nature of the purpose. The corded leaf blowers are lightweight compared to the cordless ones as they don't require the massive battery, and are quite low in terms of emission & noise pollution at the same time.
On the other hand, leaf blowers can also be gas-powered. There are two main variations in gas leaf blowers depending on the engine cycle capacity as the 2-stroke engines and 4-stroke engines. 2-stroke engines require fuel that is a slight mix of gasoline and lubricant for smooth operation while the 4-stroke ones don't require additional oil for fueling, but need to undergo regular maintenance. These machines are bulky, relatively heavy and noise at the same time, however, they are a no-compromise when it comes to power, and usually deliver more than expected. All they demand is a little care and regular maintenance.
How Big Is Your Yard Area?
The proper choice of your leaf blower also depends on the size of the lawn, yard or garden that you consider leaf-cleaning. If the area you plan to clear is less than a quarter acre, light-duty or handheld leaf blowers are the right choices. For cases, if the yard area exceeds the above, you might need a heavy-duty large capacity leaf blower to get the job done.
Besides, corded electric leaf blowers have the limitation of reach, which is directly proportional to the length of the cord. A battery-powered may do the job in such a scenario. Moreover, the gas leaf blowers are also available in handheld and backpack versions, thus taking the mobility constraint away.
Specifications & Rating Measures Related to Leaf Blowers
Rating specifications of a leaf blower are another essential factor that you need to understand before purchasing a leaf blower for your yard. Here are a few such specifications that you will find on almost all leaf blowers and which may come in handy while choosing the right equipment for you.
Blowing Capacity
The blowing capacity of a leaf blower is measured in CFM (Cubic Feets of air blown per minute) and MPH (the speed at which air is blown in miles per hour). While machinery comes with either of the rating specifications, the former one is considered a more relevant and trusted unit for measuring the blowing capacity. Also, do check if the ratings so measured are mentioned with, or without a nozzle to get an exact idea of the overall blowing capacity.
Power Specifications
The power specifications are specified in the electric leaf blowers in terms of volts (V) and amperes (Amp). In contrast, in case of gas leaf blowers, the same is specified using the cubic centimetre (cc) capacity of the engine.
Noise Related Specifications
Noise is another issue that's related with this equipment, and you will have to keep a check on the standard measured set as for your locality and make sure you don't select the one with a noise level exceeding the desired. This rating is usually mentioned in decibels (dB) and is available in the manual and equipment specifications.
Vacuum Function Related Mulching Ratio
If expecting vacuum functioning in your leaf blower, do keep a close check on the mulching capacity ratio. This rating samples the relative amount of leaves that it would be mulching and storing in a bag compared to non-mulched ones. Usual ratings are 10:1 or 16:1. However, a lot of it also depends on the type of leaves, due and wetness conditions apart from other factors.
Device Maintenance
The last thing that you would want to look for is how much demanding is the equipment in terms of maintenance. While the electrically powered substitutes are less demanding for support, they still need regular clean up from time to time, or their performance is affected. The troubles can be more if you use a battery-powered leaf blower as it would require you to manage the battery as well due to its limited run time.
Gas-powered versions also require regular maintenance which could be more than its electrical counterparts apart from handling the gasoline and fuel storage.
Variable Speed and Nozzle Changing
You wouldn't want to hurt your garden area. At the same time, you clean up the dead leaves around, so consider going for a variable speed blower and different nozzle sizes to handle the sophisticated areas and tight corners of the space you clean.
With most of the influencing factors covered and explained, the last of the remaining things you will have to look for is the liberal return policies and extended warranties. With this part of customer satisfaction being sought from the manufacturer's end, and taking all the factors as mentioned earlier into consideration, hope you will find the best leaf blower for your yard and garden area.