We all know that the studio is the smallest apartment home in the community. Space is a luxury and a cramped area can certainly dim your mood. But renting a small space is never permanent. There are certainly some techniques that you should use to maximize your space. After all, you will need to use every square inch to store and layout all your stuff.
What is a Studio Apartment Home
A studio is also known as efficiency is the smallest residence in a larger apartment community. Usually, this is best served for one person. Although 2 people potentially could live in the space, it would be extremely uncomfortable.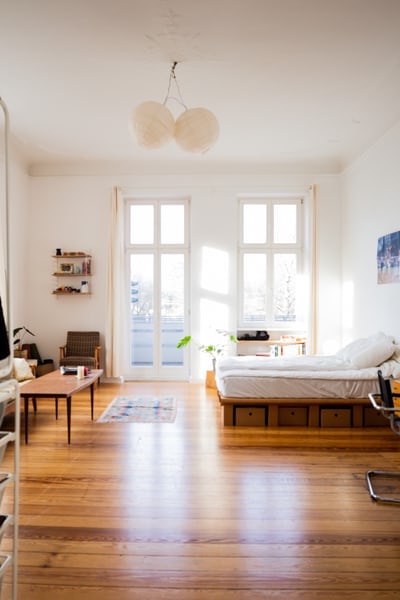 The efficiency encompasses just one total room plus a bathroom. There are no dens, studies, or plus rooms. The only reason anyone would want to rent a studio is that it's almost always the cheapest room in the community. Typical square footage for a studio might be between 300-500 square feet.
Choosing The Right Furniture
When you lease a studio, you will have to think about what furniture will make the most sense in your new space. You won't have the luxury of having too many pieces. You will only have space for the basics. This usually includes a bed, desk, and maybe a chair.
If you're moving out of your parent's house or just graduated from college, you probably don't have much stuff to bring with you. This will make things easier. But if you're coming from a larger home or residence, then you will need to give away or sell some of your stuff. It just won't fit in a studio.
Did you know that you can purchase furniture that will serve more than one purpose!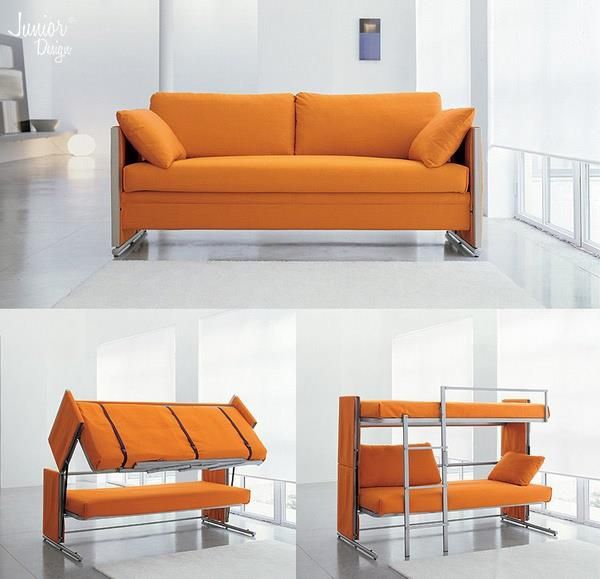 Many couches fold out into a bed. There is even a coach on the market that turns into a full-size bunk bed with a ladder. This means you could have friends stay over!
Tips to Create More Storage Space
Remember space will be a luxury. You will need as much as you can. Be sure and see if your studio comes with a closet. if it doesn't you will have your work cut out for you
Store stuff under your bed
Store belongings under a coffee table and sofa
You want to purchase a bed that rests on top of a frame. The higher the bed is in the air, the more vertical space you will have. This will allow you to purchase see-through crates. Cram as much of your stuff in these see-through boxes and push them under the bed.
If your boxes aren't transparent, then you will need to label them so you know what's inside. You will be surprised at home much stuff you can fit in them.
Spaces Must be Multi-Functional
If you start to get a little stressed about the lack of space, start to think about how you can have your space serve more than one function.
You can entertain guests in the middle of the day with an expandable coffee table or sofa. At night time when it's time for you to go to sleep, the furniture can fold up and turn into your bedroom.
Create Separation of Spaces
You can certainly create separate "zones" or partitions that serve as dividers that help to turn one room into two. You might use a set of bookshelves to separate your sleeping area from your living room.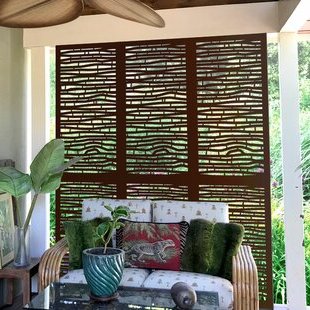 Credit: https://www.wayfair.com
You can still view your entire apartment and this gives you the feeling that you have a full-size one-bedroom apartment home. Also, you just created a storage system with that bookshelf. You don't have to put books on them. Get creative!
We have seen some renters enclose their bedroom area with curtains. This helps to create the idea of a bedroom. When they go to sleep at night they simply close the curtains from both ends. Be sure and ask your leasing agents for additional ideas. There are some studio apartments in the Woodlands TX that have great floor-plans and just need someone with an imagination.
Curtains also can serve as partitions helping to divide up your studio into 2 separate rooms.
Get Even More Creative with Space
Although studios don't have the square footage of its counterparts, they do have the same vertical space. Don't be afraid to employ this to your advantage. You need to think about putting wall shelves into use.
Now you can get more stuff up off your floor and into the air. This will also create the feeling that your room is bigger than it really is.
What to Take-Away
Although efficiency apartment homes are small, all you need to employ are a few good ideas to make you feel comfortable
Use furniture that serves more than one purpose
Storing items under beds and coaches will be a must
Think about using curtains to created separate mini-rooms