Stains can leave your countertops to look cheap and ugly, necessitating the need to learn how to clean bathroom countertop stains. That will not only help you keep the countertops clean and durable but also make your bathroom looks more beautiful and attractive.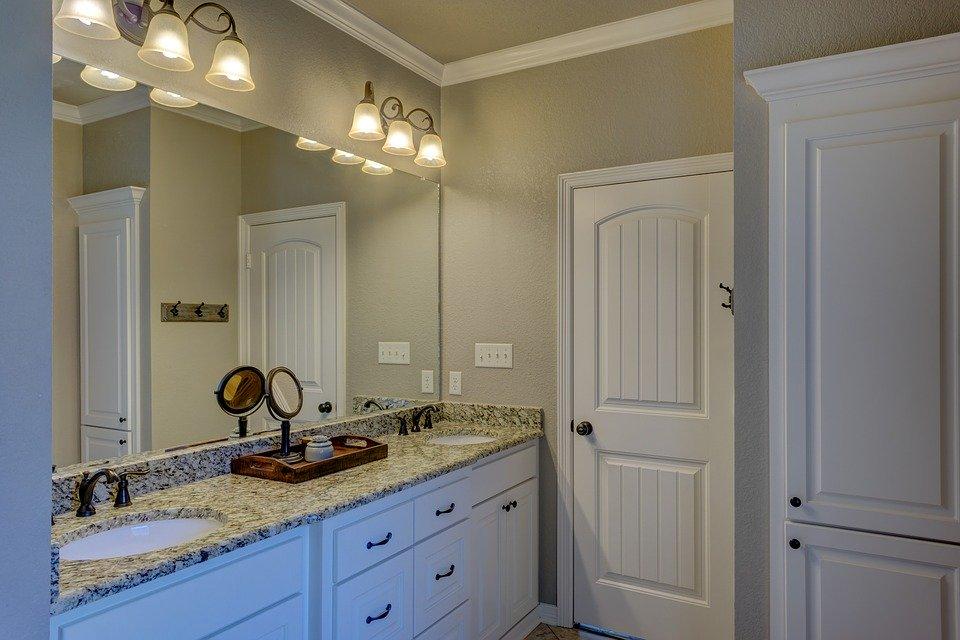 However, the cleaning methods for each bathroom countertop vary depending on the type of material used, whether marble, granite, wood, glass, stainless steel, or laminate. That's why it's essential to understand the cleaning and maintenance needs for each material.
In this article, we explore the cleaning methods and expert tips for bathroom countertops based on the material used. Keep reading and learn how to remove the countertop stains.
1.    How to Clean Granite Countertops
A granite countertop is one of the most beautiful, sturdy, and durable countertops in the market. It's much resistant to liquid stains, but if stained, its heat-resistant nature and non-susceptibility to scratches make it easy to clean.
Tools for Cleaning
Here are the things you need to clean and remove the stain on bathroom countertops.
Soap and warm water
Baking soda
Plastic Wrap and Tape
Microfiber cloths
Cleaning
Add some mild soap into warm water then wipe and rinse the granite bathroom countertop using the mixture. You can wipe it further using a microfiber cloth to shine it up. However, you should not use acidic and abrasive cleaners that may scratch the countertop.
Removing Stains
When removing oil-based stains, apply a baking soda paste to the stain and then cover it with a plastic wrap. You can tape the wrap's edges and leave the stains covered for a few days or at least an overnight. Finally, rinse off the paste to remove the stains.
Sealing
You should test if the granite countertop needs sealing using a water droplet test. In this test, you apply water droplets on the countertop and leave it for 15 minutes. If the droplets get absorbed, seal the countertop using a sealer specifically designed for granite.
2.    How to Clean Quartz Countertops
Quartz is one of the sturdiest and most versatile materials that can make your bathroom look more beautiful and luxurious. Thankfully, companies like Caesarstone can help you design sleek quartz bathroom countertops as per your desired style.
Tools for Cleaning
Quartz countertops are nonporous and easy to clean. Here are the things you need when cleaning and removing stains from your quartz bathroom countertop.
Nonabrasive sponge
Microfiber cloths
Nonabrasive surface/glass cleaner
Water and dish soap
Cleaning
Quartz countertops don't require much maintenance like other countertop materials. You only need to dip the soft microfiber cloth in soap and warm water mix and use the damp cloth to wipe the quartz tops gently.
Removing Stains
Quartz countertops are highly resistant to stains. But if stained with substances that can't get cleaned using soap and warm water, you can use a nonabrasive sponge and glass cleaner to remove the tough stains.
Sealing
Quartz is a nonporous and moisture-resistant material that does not require any sealing, making it the best for bathroom sink countertops.
3.    How to Clean Marble Countertops
A marble countertop looks luxurious as it brings a lot of style and elegance to bathrooms. It is naturally nonporous, making it easy to clean using liquid cleansers.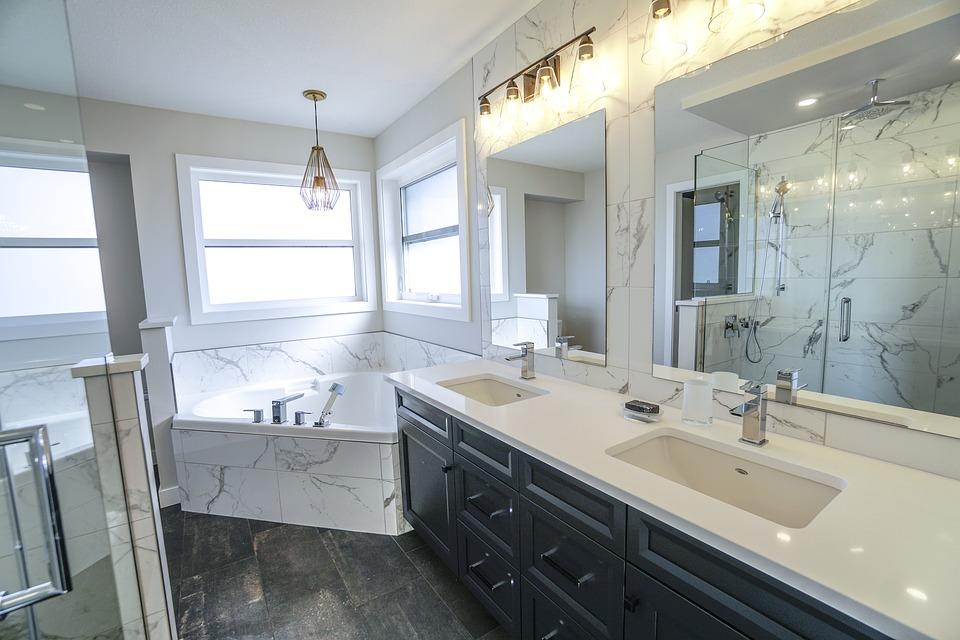 Tools for Cleaning
Here are the tools you need to clean and remove the stain on bathroom countertops.
Soft and clean cloth towels
Dishwashing liquid soap
Warm water
Cleaning
Soak a clean cloth in water and use it to wipe the bathroom countertop. Immediately after wiping the countertop, dry it using a clean cloth to prevent water spots and streaks from forming on it. Warm water mixed with the dishwashing liquid can help in deeper cleans.
Removing Stains
Acidic liquids like soft drinks, orange juice, and wine can stain and etch marble surfaces permanently, necessitating the need to blot them as soon as they spill on the countertops.
Sealing
You should first test if the marble countertops require sealing using the water droplet test. If the countertop absorbs water droplets within 15 minutes, consider sealing it using a sealer designed for marble surfaces.
4.    How to Clean Laminate Countertops
Laminate countertops are resistant to moisture and virtually need low or no maintenance practices. So, they are easy to clean and maintain.
Tools for Cleaning
Here are the materials you need to clean and remove the stain on bathroom countertops.
Baking soda
Microfiber cloths
Warm water
Household cleaner (mild)
Cleaning
Soak the microfiber cloth in warm water to make it damp and use it to wipe the surface of your laminate countertop. Remember to use a mild household cleaner when cleaning.
Removing Stains
Using water, prepare a paste of baking powder and apply it on the stained surface. Leave it for about 5-10 minutes and then remove it. Finally, rinse the surface with clean water.
Sealing the Countertop
Laminate countertops do not need sealing, rendering them ideal for bathrooms. However, you shouldn't scrub the baking powder when cleaning because it's slightly abrasive.
5.    How to Clean the Stainless Steel Countertops
Stainless steel is one of the best materials to use as your bathroom countertops because it's nonporous, durable, and easy to clean.
Tools for Cleaning
You need the following items to clean and remove stains from the bathroom countertops.
Warm water and dish soap
Stainless-steel cleaner and polish
Microfiber cloths
Baking soda
Cleaning
Dip the fabric in a water-soap mixture and use it to wipe the countertop. You can also use a stainless-steel cleaner that is nonabrasive to remove smudges from the countertops.
Removing Stains
It's no doubt that stainless steel is resistant to stains. However, it can get stained when scrubbed using abrasive cleaners. A baking soda paste can help you remove the stains.
Sealing Steel Countertops
You don't need to seal stainless steel countertops because they are nonporous. However, you may polish it using the stainless-steel polish to shine it up.
Final Words
Cleaning your bathroom countertops every day is essential as it helps you maintain high hygienic standards. Besides, it makes your bathroom surfaces look neat all the time. Now that you know how to clean bathroom countertop stains form different types of materials, you need to find out what your countertops are made of and clean them appropriately.